Secondary Science
Our aim in the secondary science department is to build on the good practice of the science curriculum taught in primary at Hollinwood Academy. We do this by offering a 'hands on', challenging, and dynamic 5-year science curriculum, across Key stage 3 and 4.
Lessons in secondary science are planned to match the needs of our learners as well as stimulating their curiosity and enthusiasm. The 5-year scheme of learning provides a wealth of opportunities for students to investigate and experiment. We want our students to have fun in science, and to enjoy learning about the world and how it works – this underpins all aspects of planning and deliverance of the curriculum.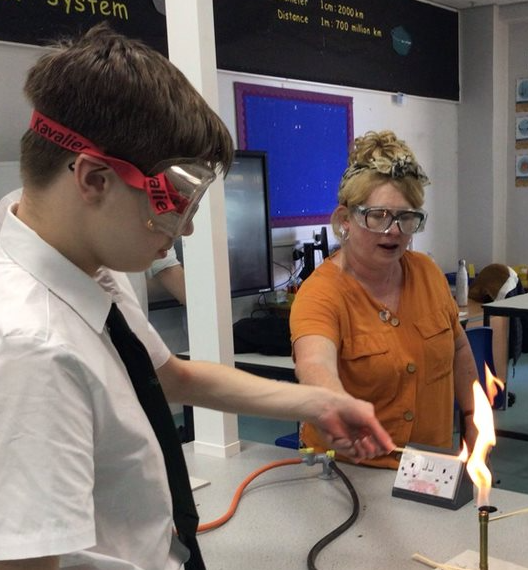 Key Stage 3 students follow a science curriculum using the AQA Activate scheme of work (Kerboodle). There is a clear spiral of progression through year 7, 8 and 9 and it is part of a 5-year scheme which feeds into the AQA GCSE Trilogy Scheme of learning in year 10 and year 11.
Topics throughout the scheme are divided into topics from the strands of Science (Biology, Chemistry, Physics) with Working scientifically (Scientific enquiry) embedded into the learning in every topic. There also will be learning tasks that involve problem solving with the emphasis on mathematical skills, and appropriate tasks to promote disciplinary literacy across the KS3 Science curriculum.
The KS3 Science Curriculum in the main body is delivered by 2 specialist Science teachers who are responsible for differentiating and adapting the scheme of learning to meet the learning needs of each child.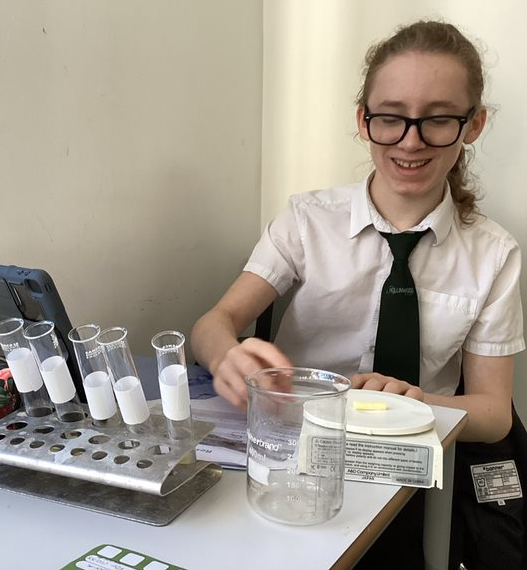 Topics are usually taught in year groups, with an allocation of 4 periods a week, however there can be flexibility around teaching time depending on ability, group dynamics, and availability of equipment and laboratory time.
Topics for each year group as follows –
Year 7
Scientific enquiry, movement, particle model, speed, interdependence, acid and alkalis, human reproduction, variation, earth's structure, energy, cells, separating mixtures, sound.
Year 8
Plant reproduction, metals and non-metals, universe, elements, potential difference, and resistance, breathing, types of reaction, energy transfer, respiration, light, periodic table.
Year 9
Evolution, climate, contact forces, digestion, magnetism and electromagnets, chemical energy, gravity, wave effects, earth's resources, work, wave properties, inheritance, heating and cooling.
The KS3 Science scheme of learning builds upon prior knowledge and the progression of the skills of the pupils. By the end of year 9 we aim for pupils to have a secure understanding and knowledge of key science concepts. It is our intention for pupils to enter the next part of their journey, KS4, with a secure level of proficiency in all the 4 areas of science – biology, chemistry, physics, working Scientifically
Key stage 4
For the students in Key Stage 4 at Hollinwood Academy, the Science Curriculum is delivered according to needs and abilities of the pupils, and specifically according to each pupil's aspirational destination.
This can include pathways following the programme of study for external examination qualifications such as:
* AQA GCSE Science Trilogy
* IGCSE single award science
* AQA Entry Level * Unit Awards
At Key Stage 4 science is usually taught in year groups, with an allocation of 5 periods a week. We use Kerboodle AQA GCSE Combined Science Trilogy scheme (which does include a scheme of learning for AQA Entry level). The Key Stage 4 curriculum is delivered over a 2-year time frame which follows directly on from the three year activate scheme, making it a thorough 5 year scheme of learning (using the platform Kerboodle).
Teaching and Learning Approach
Our approach to teaching and learning is fundamentally student centered. We ensure we know and understand the specific needs, difficulties and learning styles of our students and how we can best support them in their learning during their science lessons.
Our schemes of learning provide regular opportunities to build on literacy, problem solving and numeracy skills, and a variety of different types of activities for independent, group and paired working, including working on experiments and investigations. Many of our students have communication difficulties and so benefit from learning tasks that includes multi-sensory, and kinesthetic activities.
Medium Term/ Long Term Plans
Units of work are taught in a series of sequential lessons that are planned and structured in a way that builds on students' previous knowledge and understanding and spirals in progression from the start of key stage 3 to the end of Key stage 4.
We follow long-term and medium-term plans, which can be viewed in detail here:
Key Stage 3 Science Learning Journey
Key Stage 4 GCSE Trilogy Science Learning Journey 
Assessment
On entry into a year group/key stage pupils are formatively baseline assessed and data recorded. From September 22 this will be recorded using the frameworks for Science on the Evidence for Learning APP.
All pupils are assessed formatively at the beginning of topics/units and given summative tests in the areas of Biology, Chemistry, Physics and Enquiry (Working Scientifically) throughout Key Stages.
KS3 Assessments include:
· Formative assessments(baseline)
· Summative End of topic tests from topics listed above
· Level assessed investigations
· Level assessed research tasks
Key stage 4 Assessments include:
End of unit tests for:
– GCSE AQA Trilogy
– AQA Entry level will need to take 3/ 6 tests depending on single/double award entry
Required Practicals/investigations:
– GCSE AQA Trilogy
– 21 experiments set by the board
– Entry level
– 3/ 6 investigations (depending on single or double award)
End of course Examination
GCSE AQA Combined Science- Double award-Trilogy
6 x 1hr 15 min written Examinations
2 x Biology, 2 x Chemistry, 2x Physics
Examination entry-Higher Tier – Grades 9- 5 Foundation Tier – Grades 5 – 1
Pupils will be awarded 2 GCSE passes (Double Award)
Using technology to enhance learning in science
As all our learners have their own school iPad, we offer access to a multitude of additional online educational content. We are presently using Showbie Learning platform to facilitate learning for our youngsters using the iPad. This enables us to support our learners with digital learning resources and support material e.g. interactive quizzes, demonstrations of experiments, videos of explanations, verbal explanations, directed reading resources and downloaded PowerPoints/slides for support.
The availability of a range of digital tools and services (apps, games, websites, etc.) is allowing us to offer many different and bespoke approaches to learning. In fact, some of our learners have been involved themselves in finding, trialing, and choosing a digital material that suits them.
Examples of APPS and websites that we use include
· Freesciencelessons.com
· Primrose Kitten
· BBC bitesize
· My-gcsescience.com
· Seneca learning
· Kahoot
· s-cool.co.uk
· NASA
· Royalsociety.org