Primary English
"The more that you read, the more things you will know. The more you learn, the more places you'll go."
Dr Seuss
At Hollinwood Academy, we believe in the teaching of Communication, Reading and Writing Skills as the foundation for successful learning.
It is our aim across the Primary phase to develop these skills in all of our children.
Communication – We provide English lessons that can be adapted to suit all leaners through a variety of approaches so that they can become confident communicators.
Reading – We stimulate a love for reading by choosing accessible and engaging stories or texts, which inspire our learners to become passionate readers.
Writing – We provide all learners with a range of literacy skills for life, to support them now, and in the future.
English Lessons at Hollinwood Academy
Our English lessons are delivered daily, tailored to the needs of our learners.
Teaching is delivered by our highly skilled staff, using a blend of experience and knowledge, supported by the purposeful use of technology.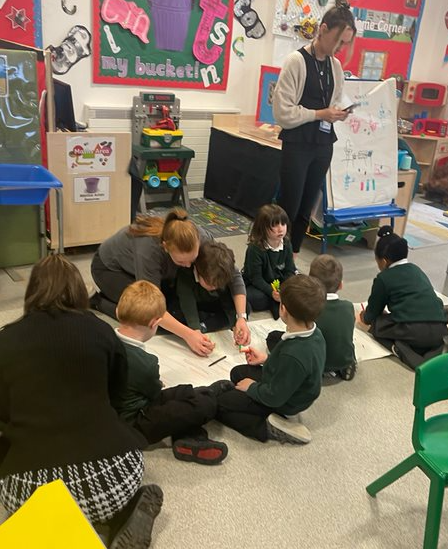 Read Write Inc
Read Write Inc has been introduced across the Primary stage to deliver Phonics and English lessons with a view to developing reading, comprehension, grammar and writing skills.
The impact of Read Write Inc has been fantastic for our learners.
Medium Term/ Long Term Plans
The lessons are structured and repetitive, building on their phonetical knowledge, bolstering their vocabulary and improving their understanding of grammar.
Assessment
We have recently switched over to Evidence for Learning as our assessment tool. We evidence the steps the children have made in phonics, reading and writing. We formally test
the children in Read Write Inc every term.
At the end of each book, the children complete a comprehension to assess their understanding. Some groups also complete a spelling test
each week.
The Literacy Tree students complete an end of book comprehension assessment as well as weekly spellings.
Ongoing assessments are done for writing also using Evidence for Learning.
Technology & Tools
To support our learners, we use a range of apps. The children enjoy going on Epic! where they can read and listen to books.
Learners use ABC star to support with handwriting.
We also use colourful semantics, Wiggle to Squiggle, Literacy Tree, See & Learn and Big Write.