Early Years Foundation Stage
During their time in the Reception class the children's learning covers the 7 strands of the Early Learning Goals:
Personal, Social and Emotional Development
Communication and Language
Physical Development
Literacy
Mathematics
Understanding the World
Expressive Arts and Design
Our creative, personalised curriculum centres on a different theme each half term and learning is designed to be meaningful, purposeful and engaging. The topics follow a three year cycle throughout Reception and Key Stage 1: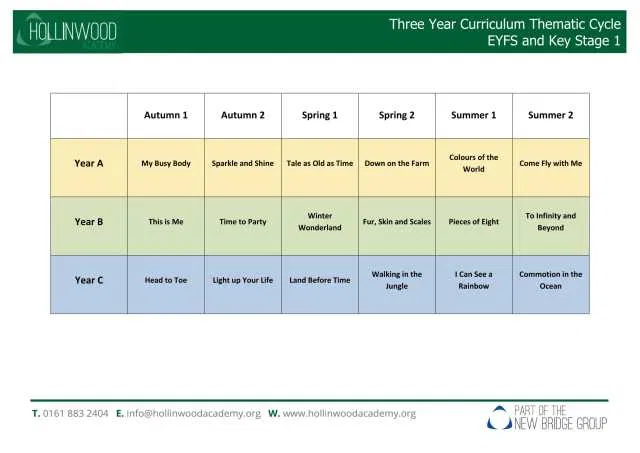 Through this thematic cycle we deliver cross-curricular learning opportunities for each child to develop their skills whilst providing a wealth of opportunities to engage, practise, rehearse and make links between their learning.
During Literacy the focus is on developing the children's awareness and enjoyment of books, listening and understanding whilst also developing their speaking, listening and writing skills and giving them a good knowledge of phonics. We use the Read Write Inc. Phonics programme and the Oxford Reading Tree.
In Maths the children take part in counting songs and activities and play sorting and matching games whilst also learning about space, shape and measurements.
Each topic enables the children to learn more about their world, people, communities and technology.
Throughout all their learning we aim to help children develop the skills to communicate their likes and dislikes, manage conflict and understand that people are different in a variety of ways and how to accept this. The children learn how to take turns, engage in conversations, respect other people's beliefs and opinions and accept when things may not go how they would like. We encourage and support children to learn how to look after themselves and to take responsibility for their own environment, actions and health. In addition, we work to develop their emotional understanding and help them learn how to respectfully express their likes and dislikes.
In Reception the children also access learning through Continuous Provision where teachers support the children in developing their play, language and social skills whilst learning. This time provides opportunities for children to extend their sensory experiences whilst also having time to practise new skills and learning.
Further details on the Government's Early Years (under 5s) Foundation Stage framework (EYFS) can be found here and you may also find the following guide helpful: Development Matters – EYFS Overview.
For more information on any aspect of our curriculum, please contact us.