Results and Performance Tables
You can view the performance information about Hollinwood Academy via this link:
Hollinwood Academy Performance Data
Key Stage 2
The figures show the 'scaled score percentages' for the results. This is a mark of 100 which you can see on each child's individual scores. 100 means that the child achieved Expected Standard. (AS)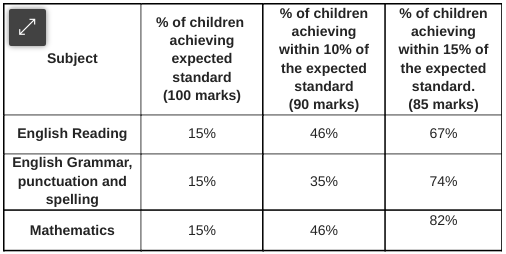 The government will not publish KS2 school level data for the 2021-2022 academic year.  The last available public data is from the 2018 to 2019 academic year. It is important to note that the data from that year may no longer reflect current performance.
Year 11 destinations
·       Four students went to Oldham College
·       Six students went to Hopwood Hall
·       Six students stayed within the NB MAT
GCSE Percentage Summary
GCSE Results Subject Comparison
Given the uneven impact of the pandemic on school and college performance data, the government has said you should not make direct comparisons between the performance data for one school or college and another, or to data from previous years.