Key Stage 1
During their time in Key Stage 1 the children continue to access the curriculum using a range of topics, each typically studied over the course of one half term. Science, Art, Computing, Design and Technology, History, Geography, Music, PE, RE and Personal Development are all included at an appropriate level in addition to Literacy and Maths.
As well as aiming to create confident learners, we also aspire to encourage children's self-esteem, communication and social skills both through their everyday learning and in focused activities.
Our creative, personalised curriculum centres on a different theme each half term and learning is designed to be meaningful, purposeful and engaging. The topics follow a three year cycle throughout Reception and Key Stage 1: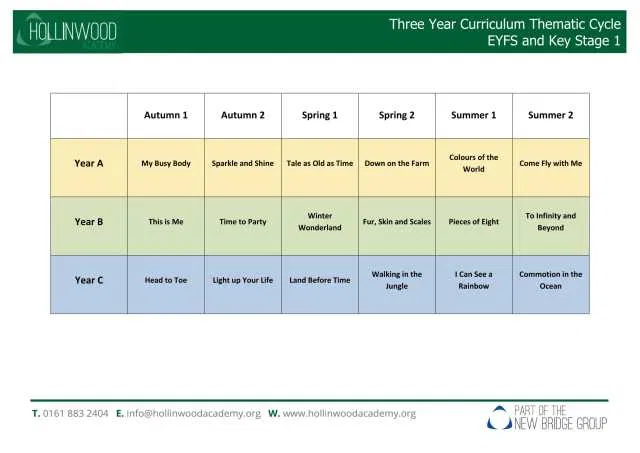 Through this thematic cycle we deliver cross-curricular learning opportunities for each child to develop their skills whilst providing a wealth of opportunities to engage, practise, rehearse and make links between their learning.
Where possible, we aim to incorporate our English lessons into these topics, to fully immerse the children. In English, we cover a range of text types from non-fiction writing such as labels, lists, signs, letters, instructional writing and information texts. The children learn how to write fictional stories which include different settings, characters and story structure. Throughout Key Stage 1 the children continue to develop their understanding of grammar and sentence structure, from using punctuation, joining words and sentence openers to choosing interesting words and beginning to add detail.
We encourage our children to become independent and confident readers. They acquire skills that enable them to find details from what they have read as well as inferring information and communicating their own opinions. We continue to use the Read Write Inc. Phonics programme and the Oxford Reading Tree.
In Science the children study a variety of subjects from our body, living and growing, healthy diet, the seasons, weather, light and dark, plants and animals to floating and sinking. The children learn how to set up a fair experiment, gather results and question what they have learnt. The emphasis throughout all their learning is on having enjoyable hands-on experiences that allow them to broaden their knowledge, make progress and achieve.
In RE and PSHCE (Personal and Social Health and Citizenship Education) we aim to help children develop the skills to communicate their likes and dislikes, manage conflict and understand that people are different in a variety of ways and how to accept this. The children learn how to take turns, engage in conversations, respect other people's beliefs and opinions and accept when things may not go how they would like. We encourage and support children to learn how to look after themselves and to take responsibility for their own environment, actions and health. In addition, we work to develop their emotional understanding and help them learn how to respectfully express their likes and dislikes.
In Key Stage 1 the children also access learning through Continuous Provision where teachers support the children in developing their play, language and social skills whilst learning. This time provides opportunities for children to extend their sensory experiences whilst also having time to practise new skills and learning.
For more information on any aspect of our curriculum, please contact us.