Blog 08.09.2023 
Welcome to the academic year of 2023/24. I really hope you've had a relaxing and enjoyable summer break and it has been lovely speaking to the children and young people about what they have been doing over the summer.  
Our new Reception children have done amazingly well coming to their new school. I'm pleased to say we have had lots of happy, smiling faces and also new year 7 and in-year students who have joined us this week it has been a pleasure seeing you settle into your new school. The start of a school year is always an exciting time but even more so when the students arrive at school and I got to see their faces as they walked into the new outdoor play area to ask what was happening. It was brilliant to explain to the children and young people that this would be their new playground. I understand how important outdoor play is for students' physical health, social skills, and overall well-being and I can't wait for the students to access this when it is complete.  We are working with premises to get this completed as soon as possible. 
Over the summer, we have had two new state-of-the-art science laboratories fitted at Hollinwood Academy that have been specially designed to enhance the learning experience and help our students explore the exciting world of science. The new science laboratory will provide numerous opportunities for your students to engage in hands-on learning experiences and cultivate their scientific curiosity. Through practical experiments and observations, they will have the chance to witness scientific concepts come to life and make connections between theory and real-world applications. I know Ms Daniels and her science team are thrilled with the new space and the students have given the new labs a big thumbs-up of approval.  
As we look forward to the year ahead I have been busy finalising key documents with the senior leadership team and the governors. Part of this process is analysing the achievements that all of our children and young people achieved over the last academic year and the results are amazing.  
Firstly, I am delighted to inform you that our Key Stage 2 students have shown remarkable progress in their English reading SATs. This year, 89% of our students were within 15% of meeting the national standard, which demonstrates a significant improvement from the 67% achieved in 2022. This accomplishment is a testament to the hard work and dedication shown by our students, as well as the support provided by you, their parents and guardians. We are immensely proud of the efforts put in by all the students who participated in the KS2 SATs, and their exemplary behaviour and resilience during the assessments have been commendable. 
Furthermore, I would like to extend our warmest congratulations to all of our Year 11 students on their recent GCSE results. We take great pride in their accomplishments and commend them for their remarkable dedication and perseverance, particularly considering the challenges and disruptions they have faced. Throughout their time here at Hollinwood Academy, we have witnessed their passion, commitment, and resilience in their studies, and it was heartening to see so many smiling faces on results day as they obtained the grades they had worked so hard for. 
I would also like to express my sincere gratitude to the dedicated staff who have worked tirelessly to support and guide our students to ensure they are well-prepared for their future endeavours. Their unwavering commitment to our students' success is truly remarkable, and we are eager to witness the achievements and accomplishments our students will go on to realize in the coming years. 
Over the holidays, Oliver (one of our key stage 4 students), has been actively involved in a campaign. 
Oliver has taken it upon himself to campaign in support of keeping the Ashton gym/pool open. He has shown incredible dedication by organizing and participating in three demonstrations outside the facility. In addition, he has managed to collect over 7,000 signatures for the petition, both online and through paper-based means. 
I'm delighted to inform you that Oliver's efforts have caught the attention of the media. He has been featured in the Tameside Chronicle and has also had the opportunity to share his story on Tameside Radio. These platforms have given him the opportunity to raise awareness about the closure of the gym/pool and the impact it would have on the community. 
We are now hopeful that Tameside Council and Active will take note of our collective voice. It is truly devastating to see such an important community facility facing closure due to a lack of funding.  
I want to commend Oliver for his relentless determination and his commitment to fighting for what he believes in. His actions are a testament to the values we aim to instil in our students – empathy, activism, and the importance of community involvement.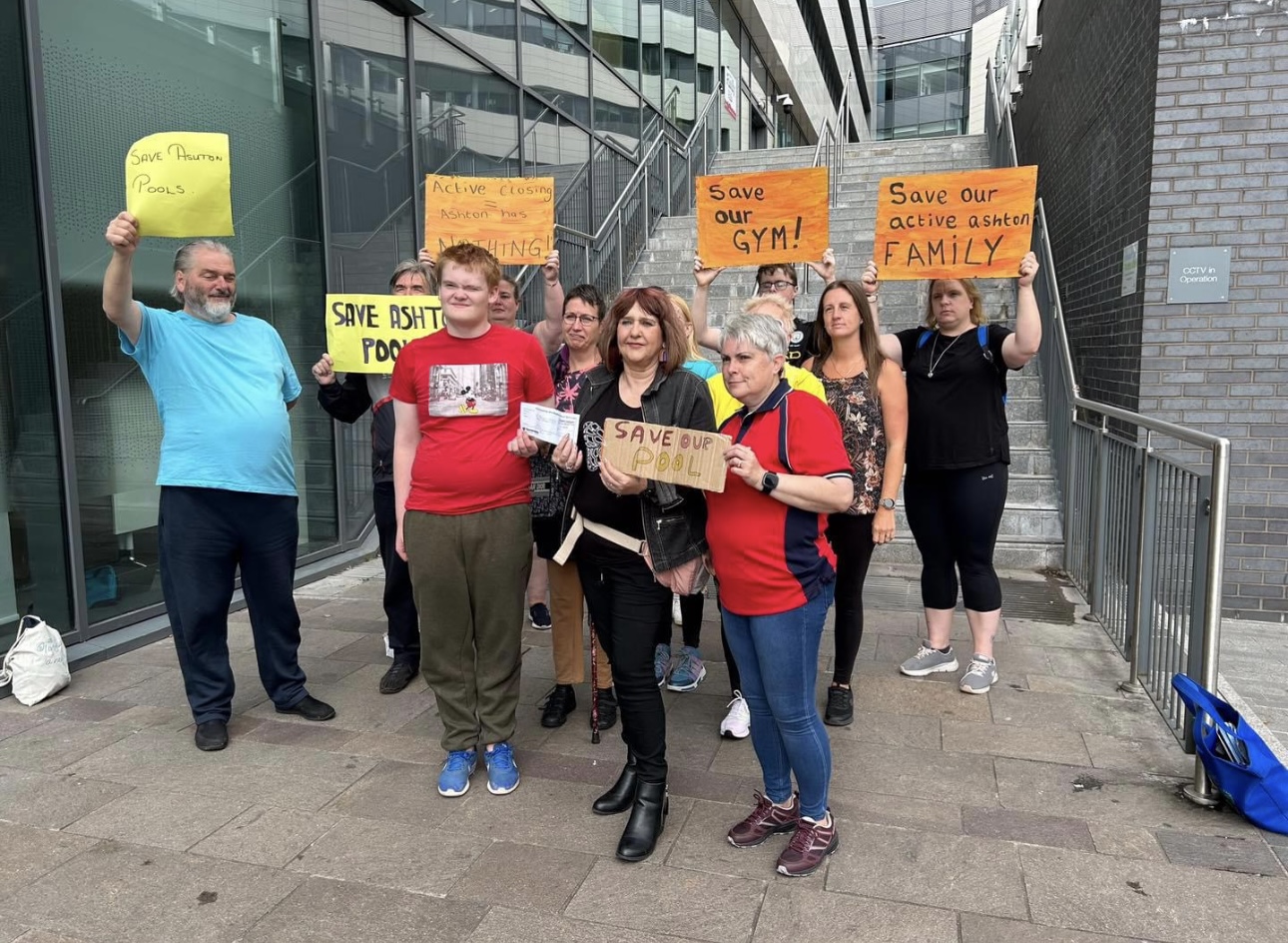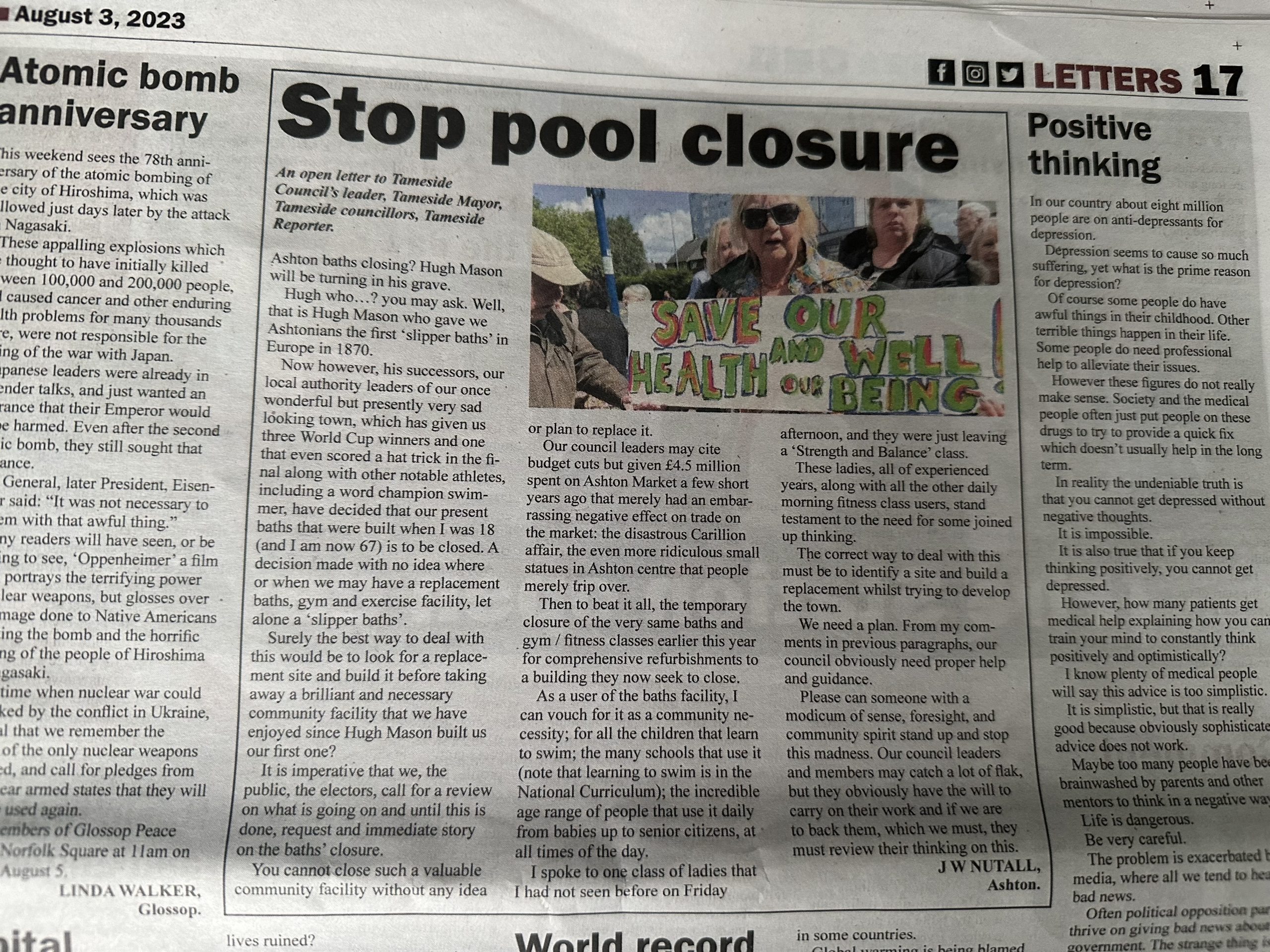 On Thursday afternoon, I had a meeting with the new CEO Mrs Clare John and the rest of the executive team. It was brilliant to listen to Clare as she shared her short, medium and long-term goals for the New Bridge MAT. Mrs John will be visiting Hollinwood Academy on Thursday 14th of July to meet with myself, the senior leadership team, staff and most importantly our children and young people. We are looking forward to welcoming Mrs John to Hollinwood Academy and working closely with her. 
As I finish my first blog for this week, I do have to inform our families that we said goodbye to Natalie Ames, school Administrator, this week. Natalie has been an outstanding asset to the school. There has been no job too big or too small for Natalie, she is efficient, professional and proactive in her approach to support the school and wider community. I know many students, staff and families will miss Natalie as they rely on her capability to find solutions to their problems.  
I would like to take this opportunity to thank Natalie for her loyalty and consistent support over the years. Natalie has worked at Hollinwood Academy for six years and is equally as sad as we are to be leaving. Natalie has made the decision to relocate to Leek with her family and I am very proud to share that she has secured a new role as an office manager in a primary school closer to her new home. We wish her lots of luck and best wishes for a successful future and demand she does not become a stranger to Hollinwood Academy. Good luck Natalie and we wish you all the best.  
I hope you have a lovely weekend. 
Mrs Millard