Blog 31.03.2023
As we finish for the spring term I would like to share with you the children and young people who received a Head Teacher's Award for this half term. Well done to you all and keep up the hard work…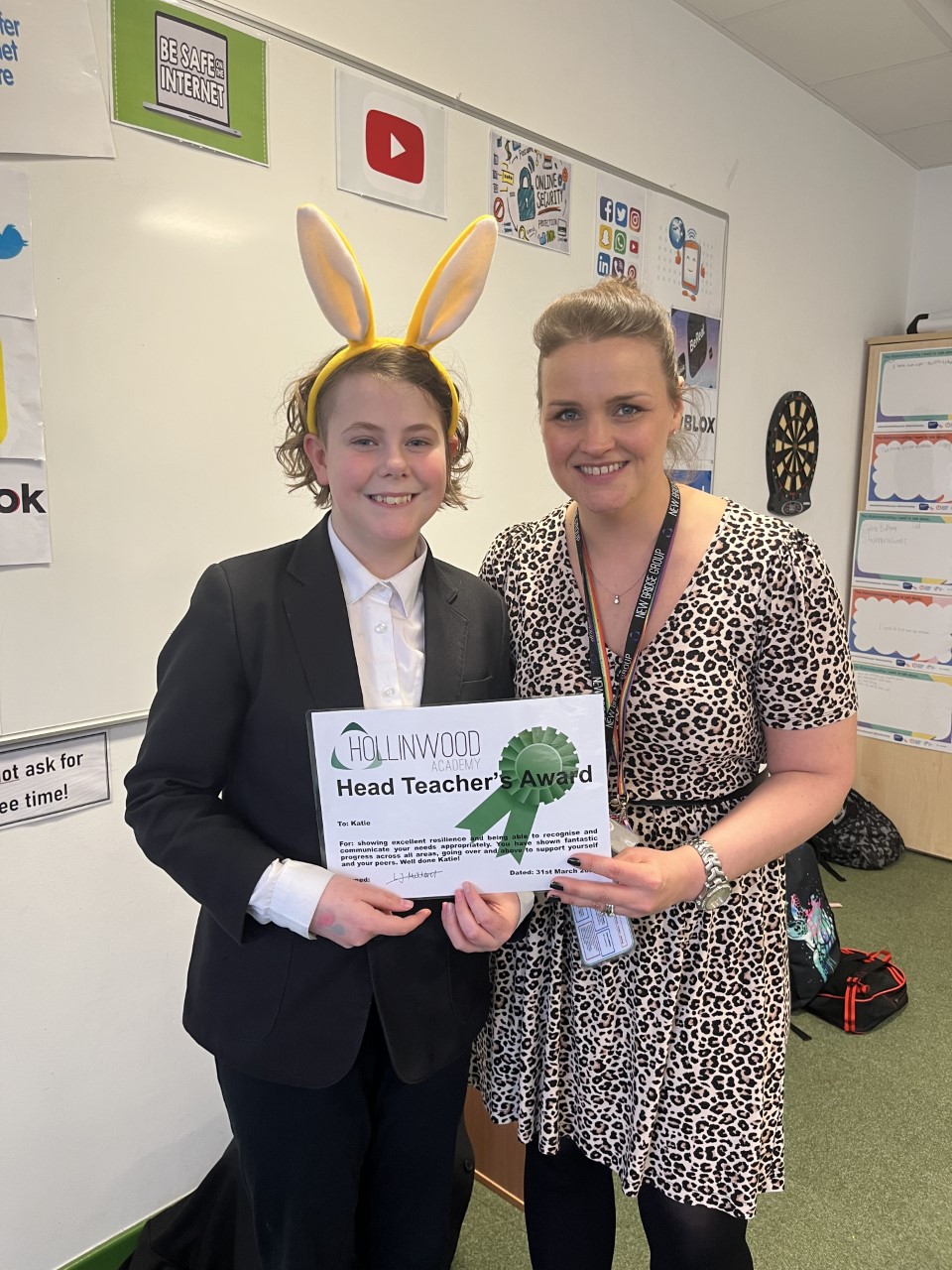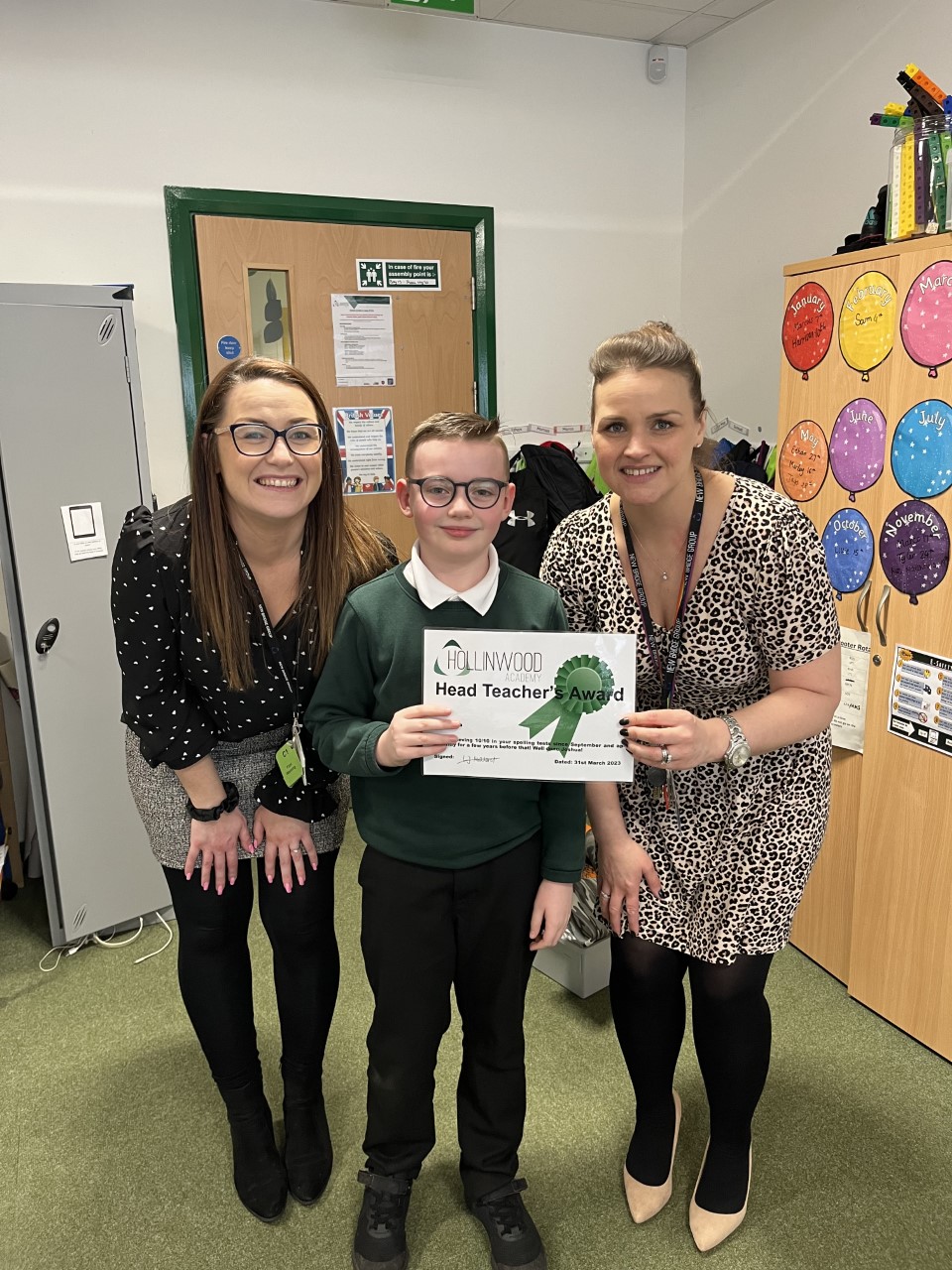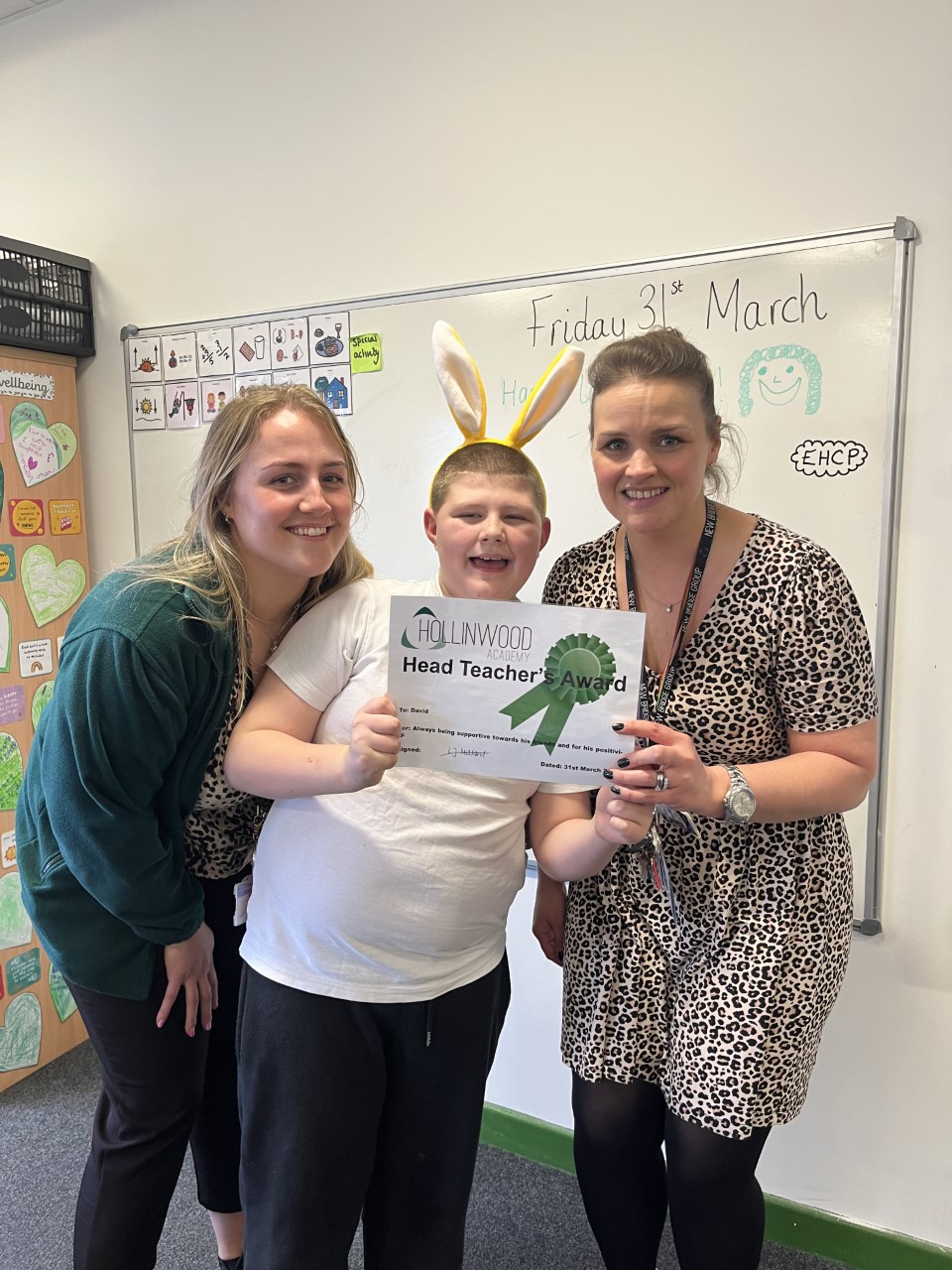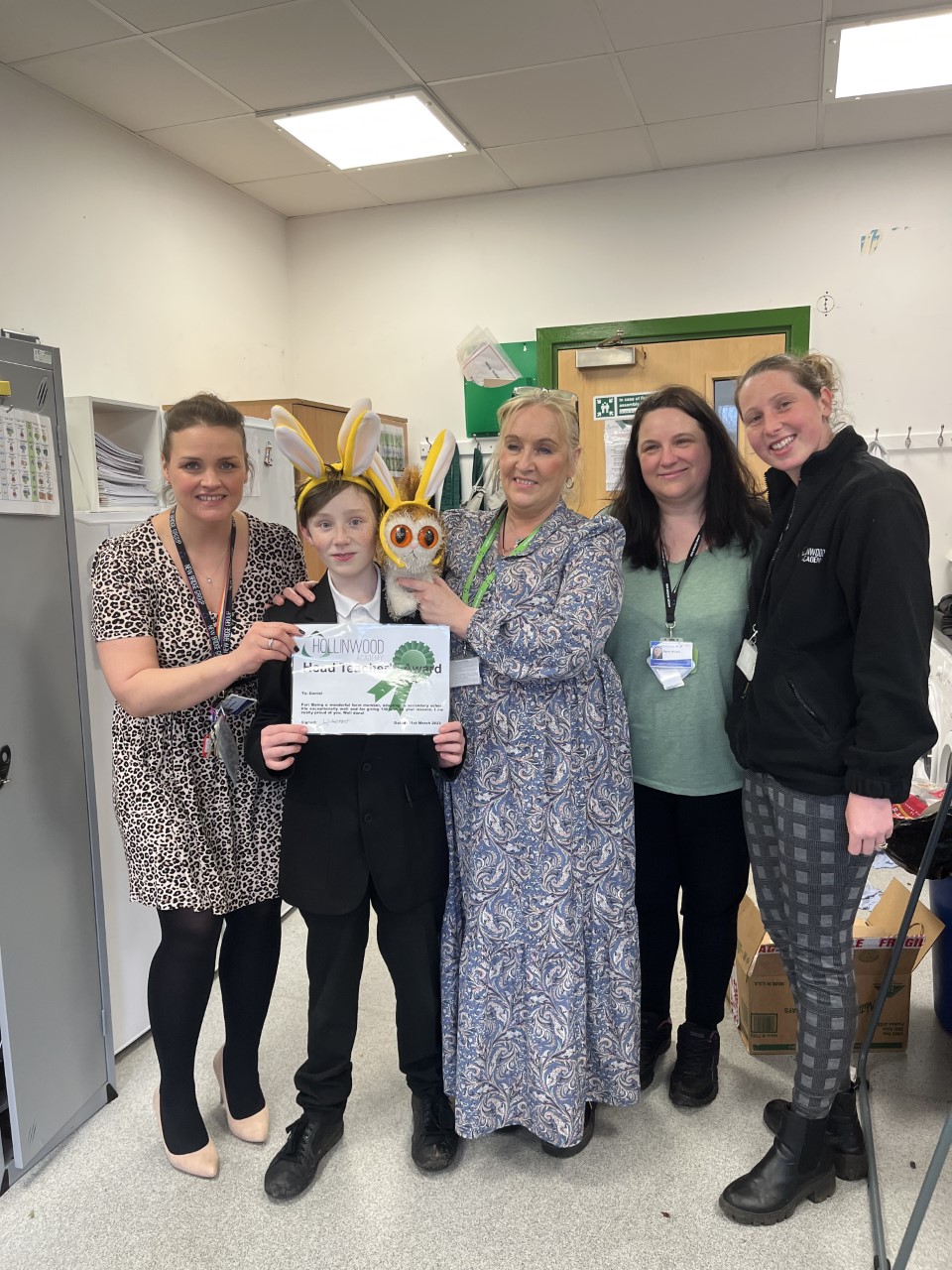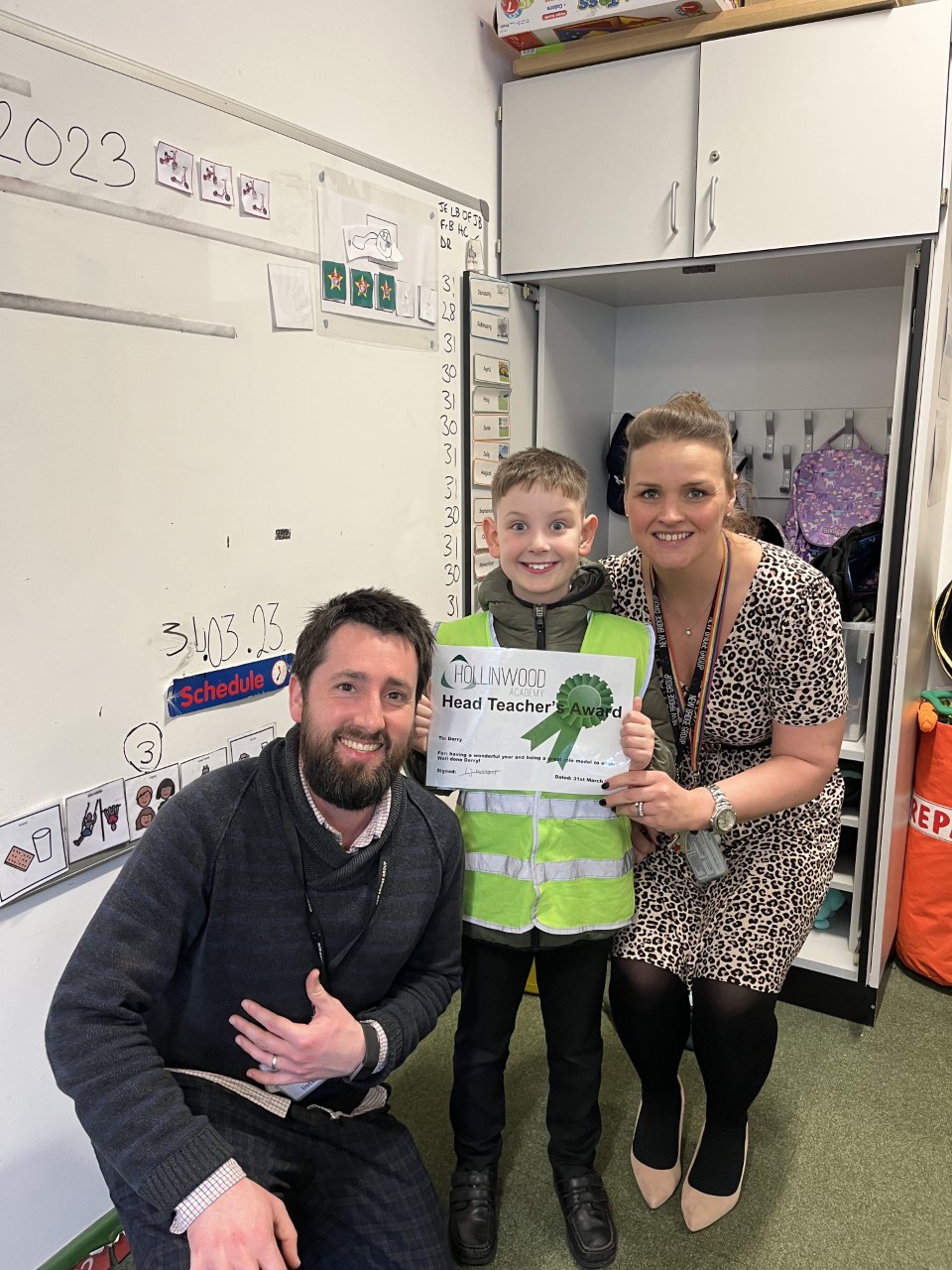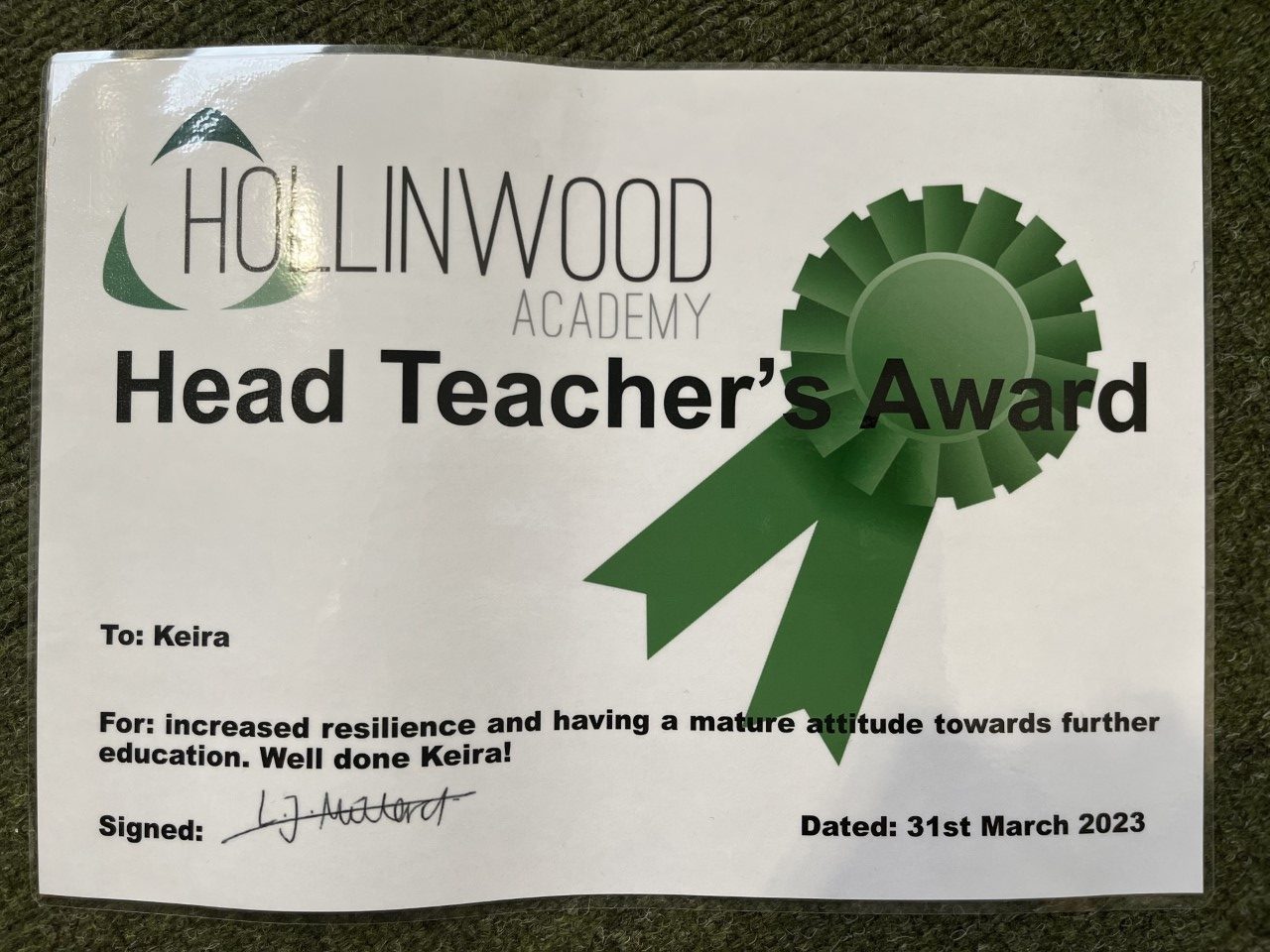 On Friday we celebrated Easter by participating in an Easter Egg Hunt around the school site that the student council organised. We searched for pictures of numbered eggs and embraced being outside and active before our half term. Whilst completing the hunt, we raised funds to support Dr Kershaw's Hospice by wearing bunny ears as we hopped, skipped and jumped around the route. The funds raised aim to provide the vital help and support doctors and nurses provide for patients who require care, comfort and dignity in our community at a time when they are vulnerable and need our help the most. As whole school we raised an amazing £130.00.
Just to inform you, Dr Kershaw's have requested that we do not publish any photos of their mascot, as they aim to launch him in June. This will correspond with the story we are writing to support their brochures.
While we stick with the Easter theme, the school council organised a whole school competition for our children to enter and win an Easter Egg. We had lots of entries and some great Easter drawings and Easter stuffed socks, after much deliberation myself, Miss Gordon and Mrs Needham picked the following students' entries as our winners:
Primary
1st Sofia
2nd Jacob
3rd Blaire
Secondary
1st Sofia
2nd Liv
3rd Mariam and Jack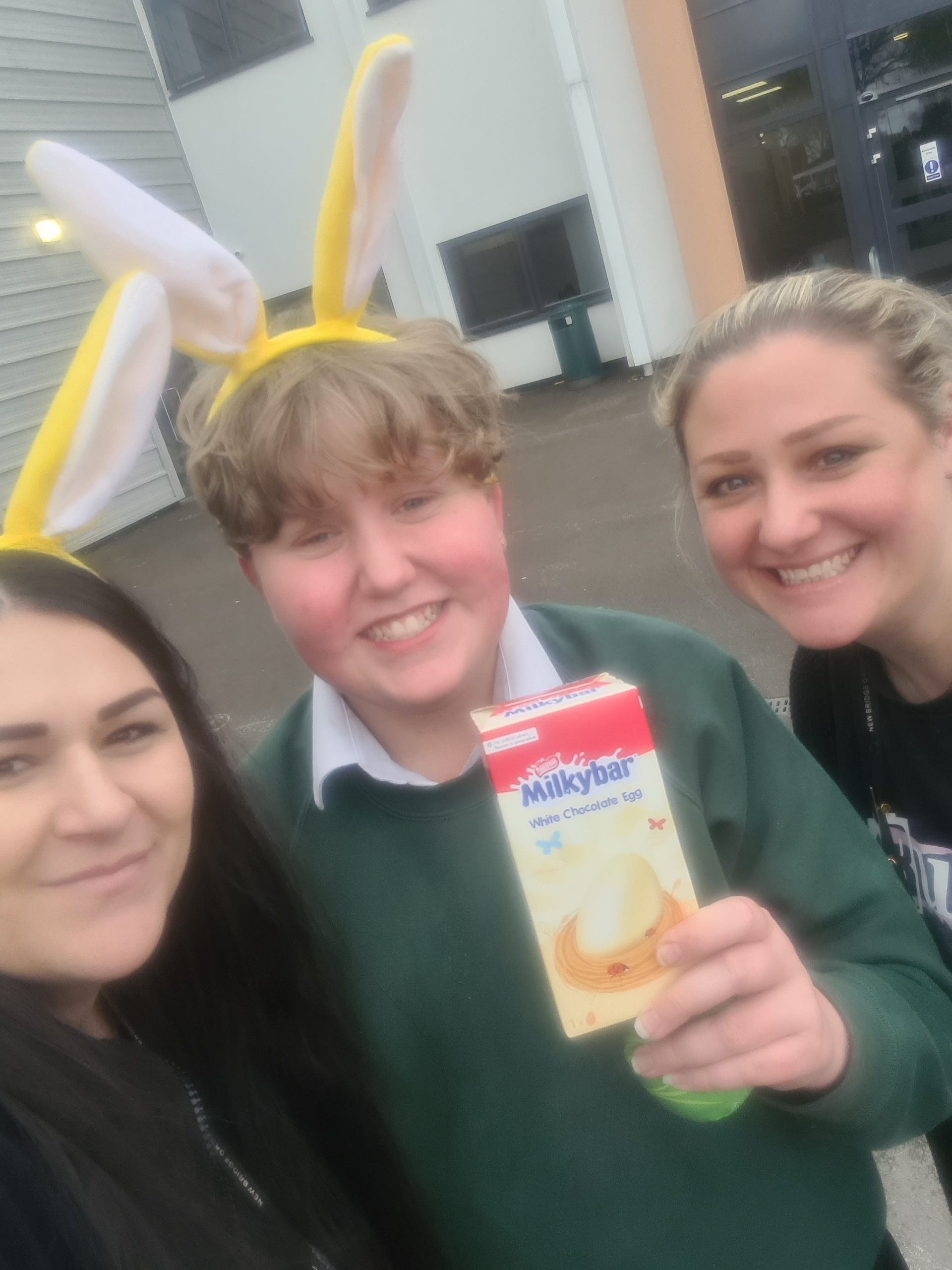 I would just like to thank all our student council children, young people and Dr Kershaw's for a fantastic day and the students really enjoyed themselves. Also, a big thank you to Miss Tootill and Ms Rashid for running our school council sessions as they really do have a positive impact on student voice and life here at Hollinwood Academy.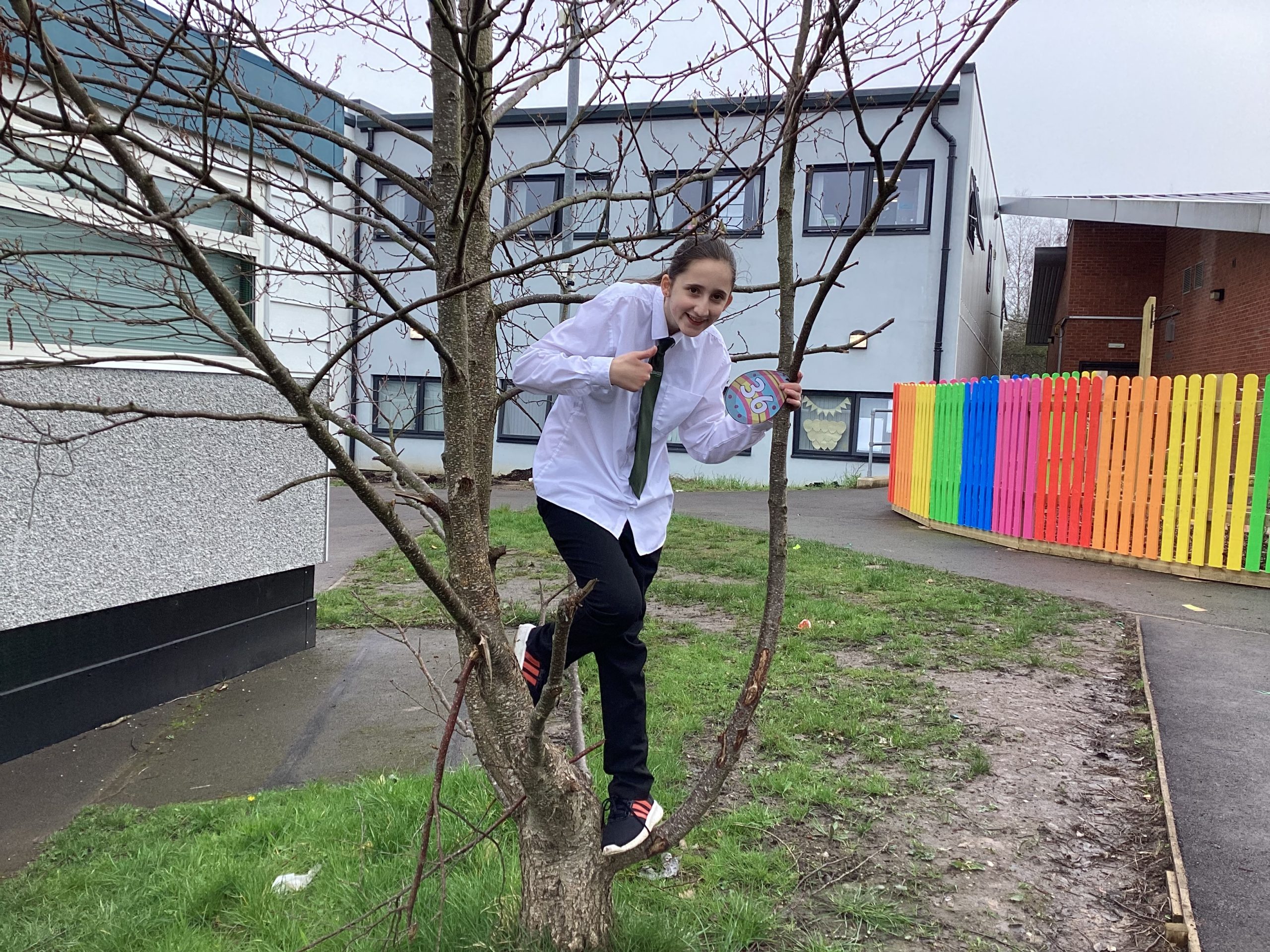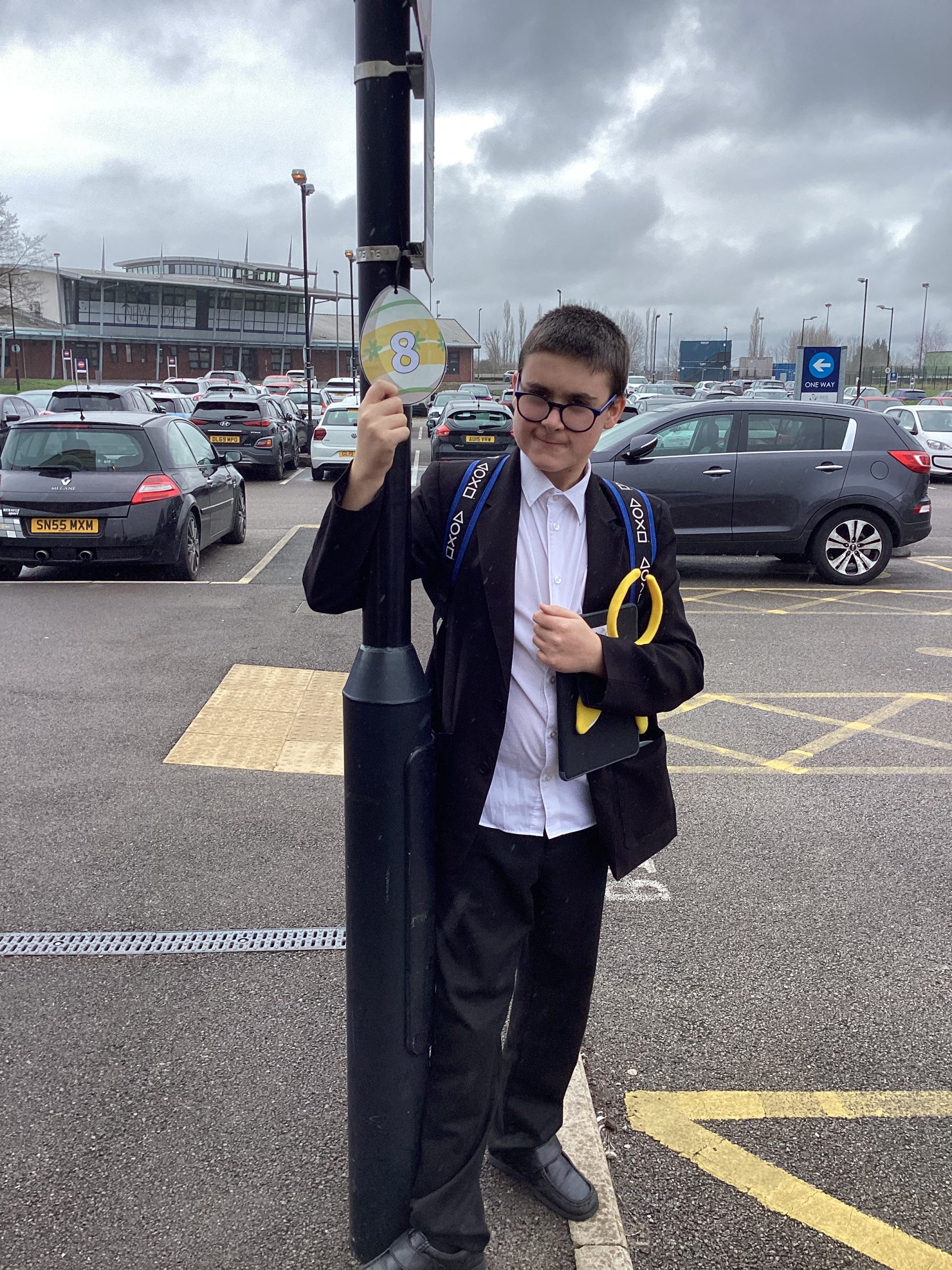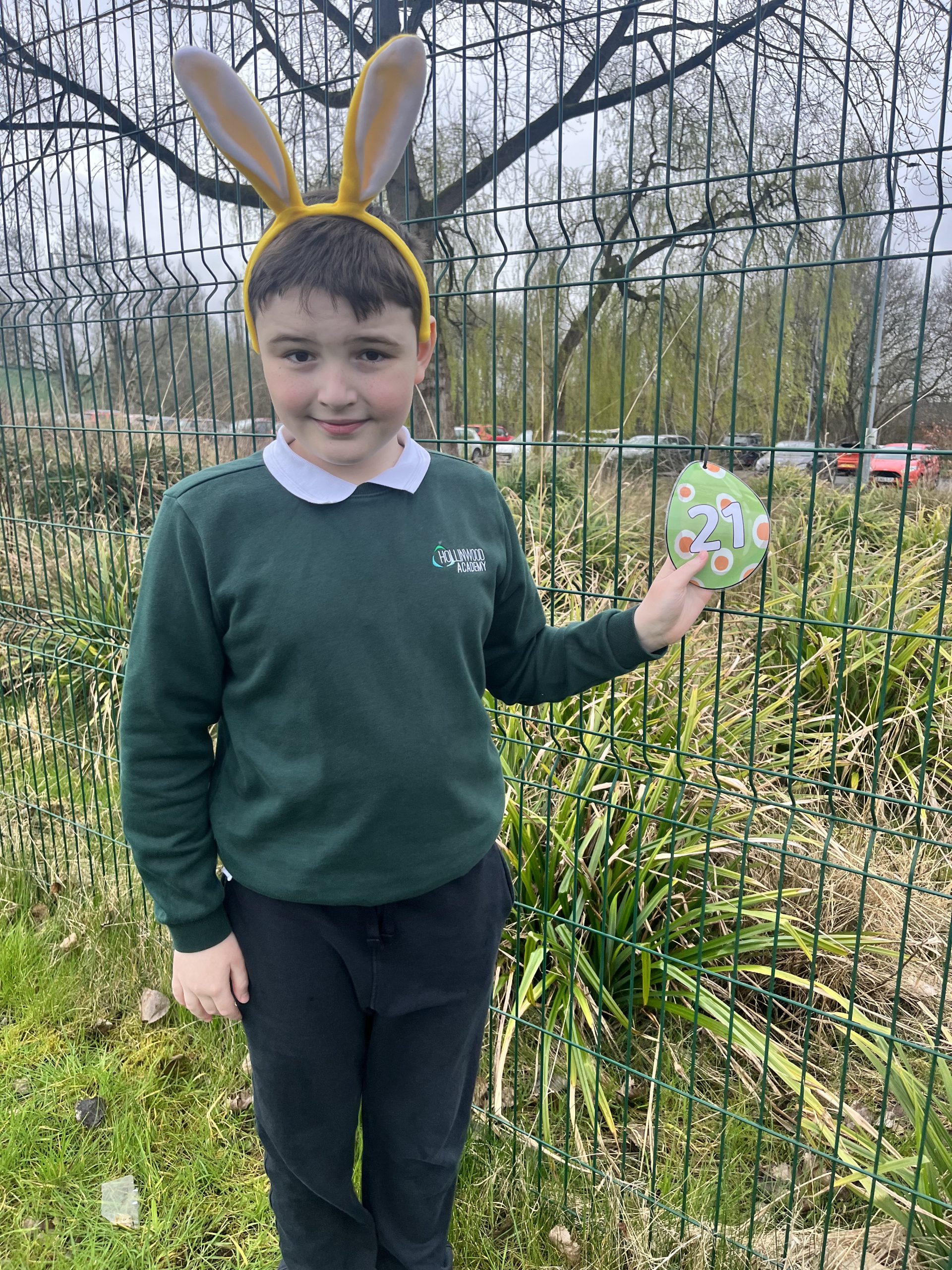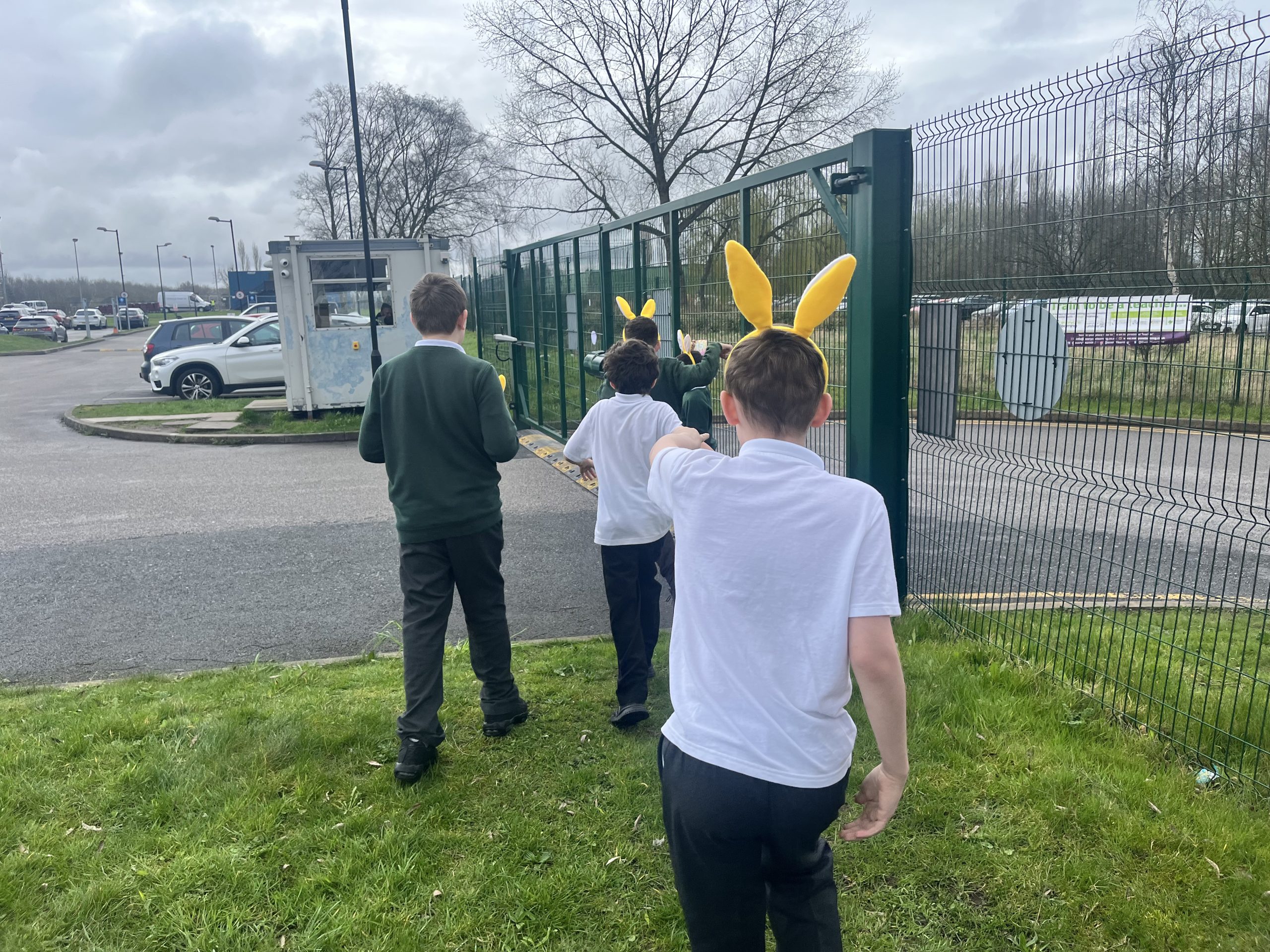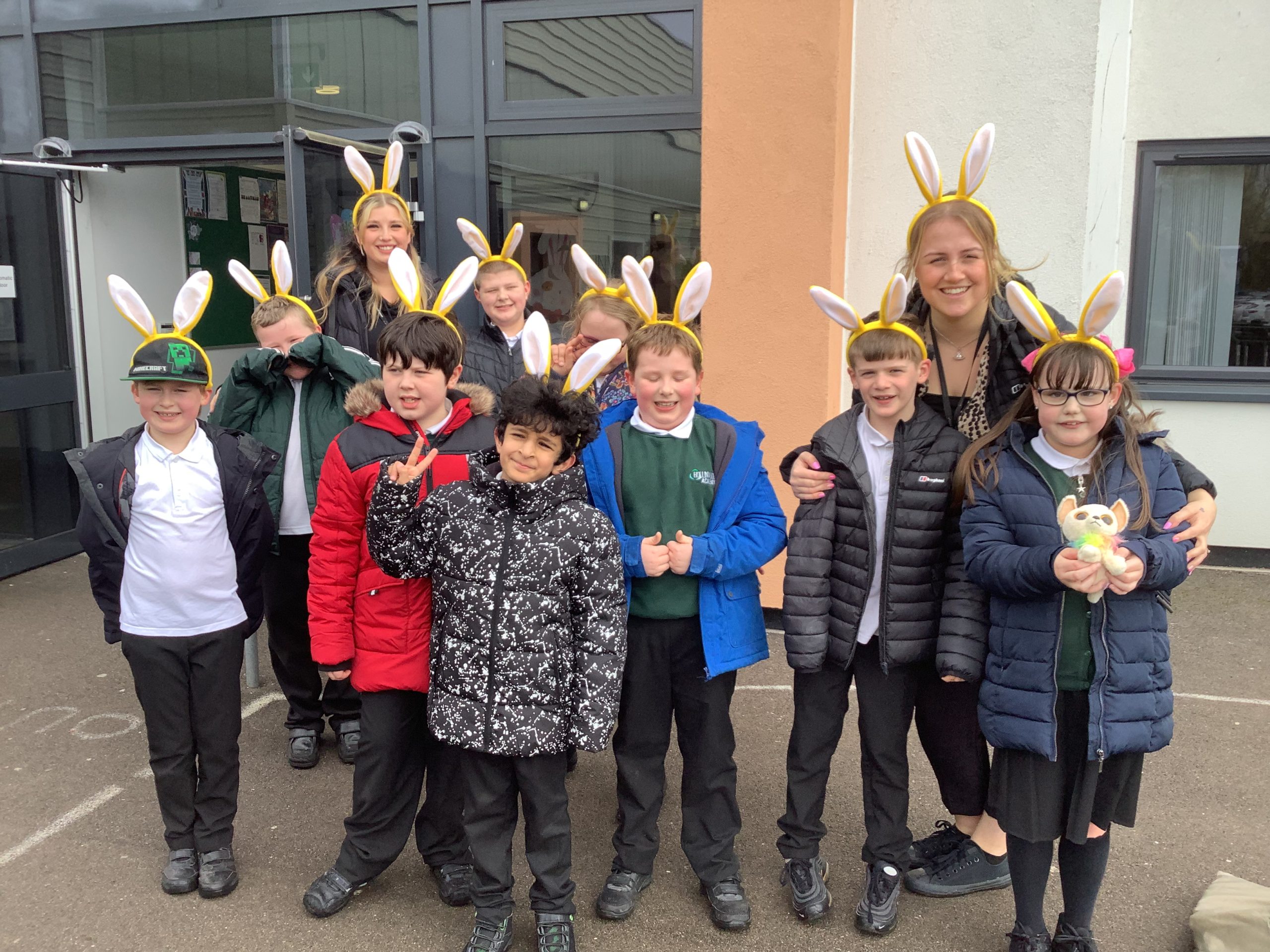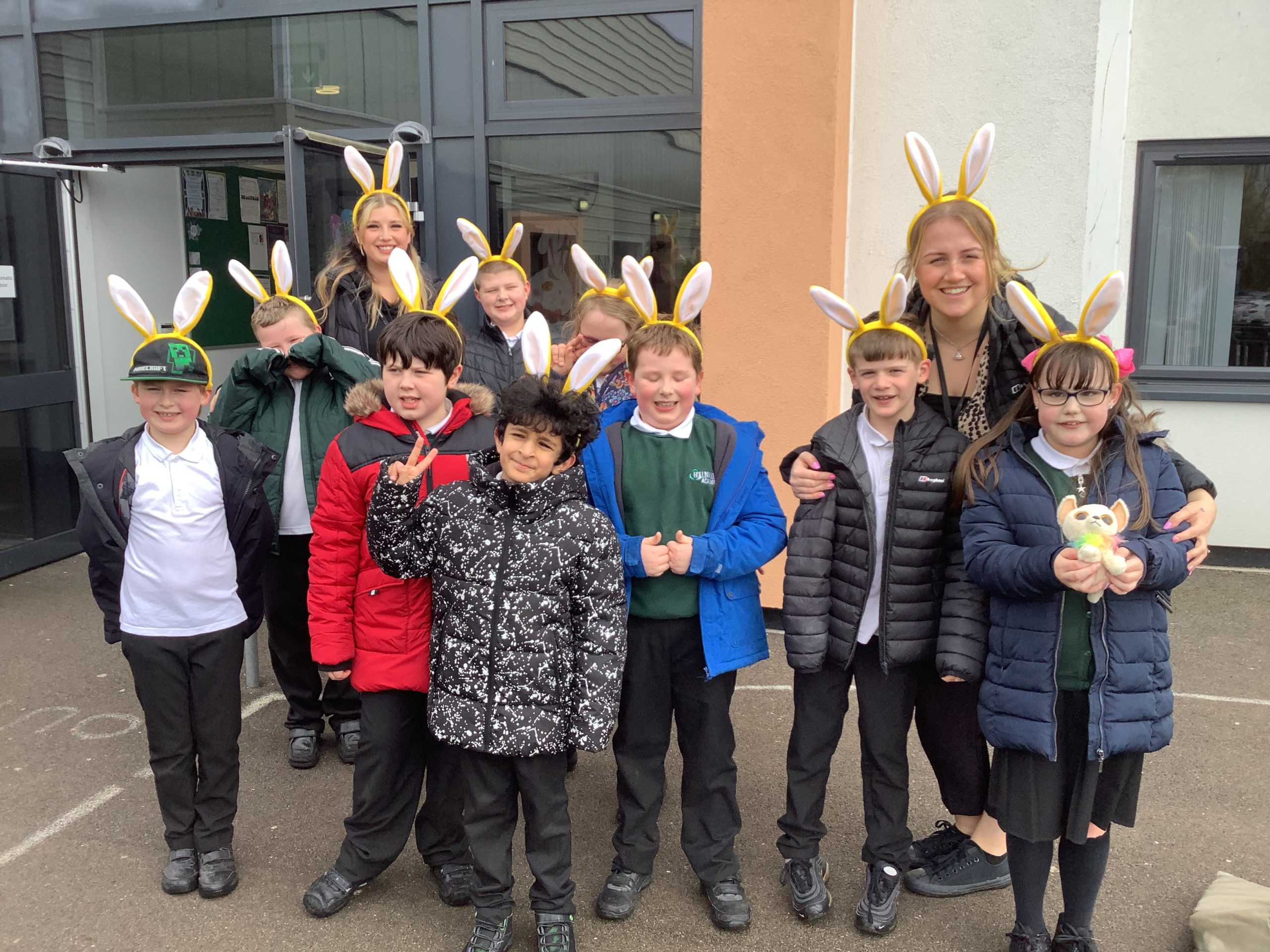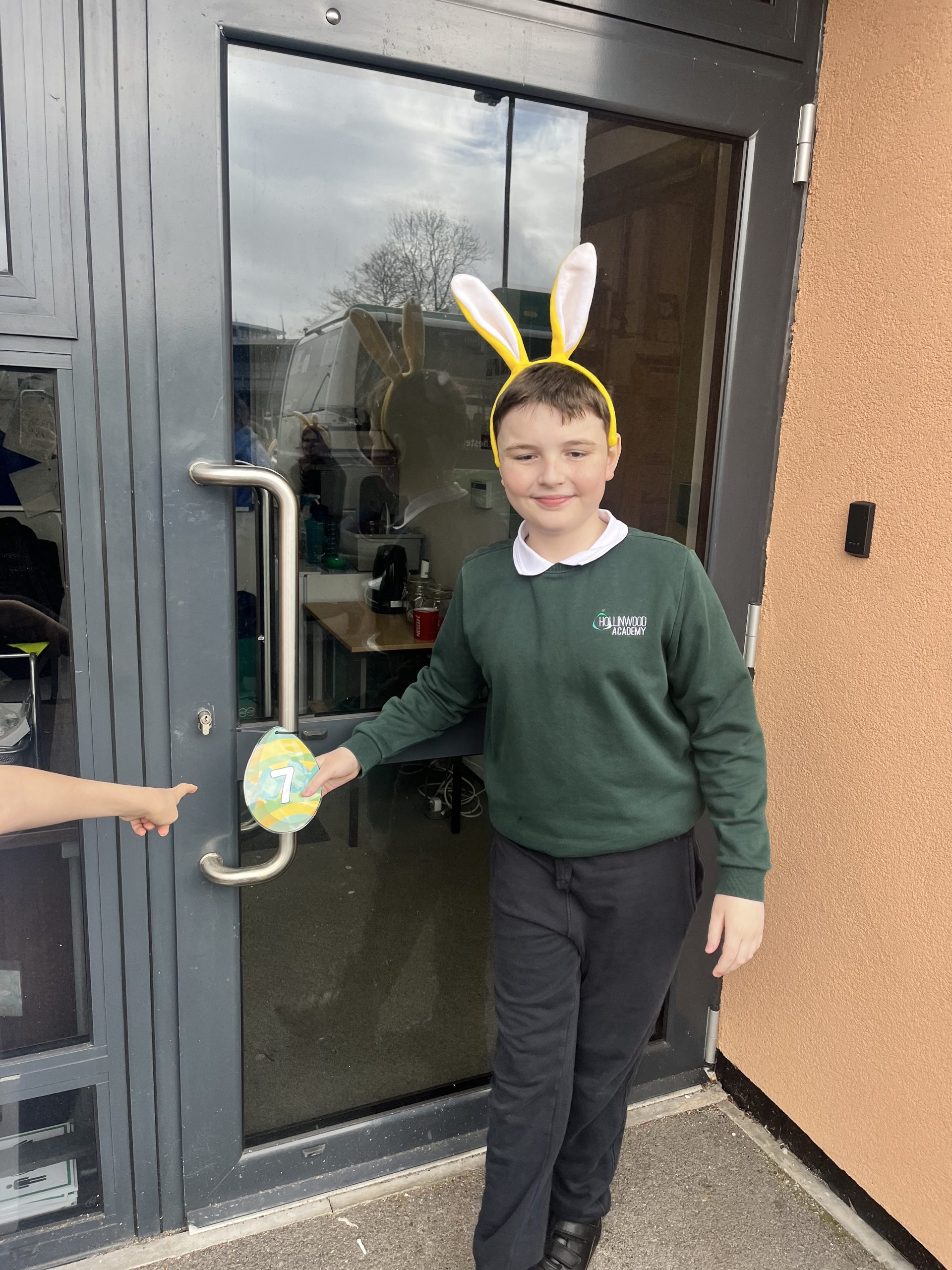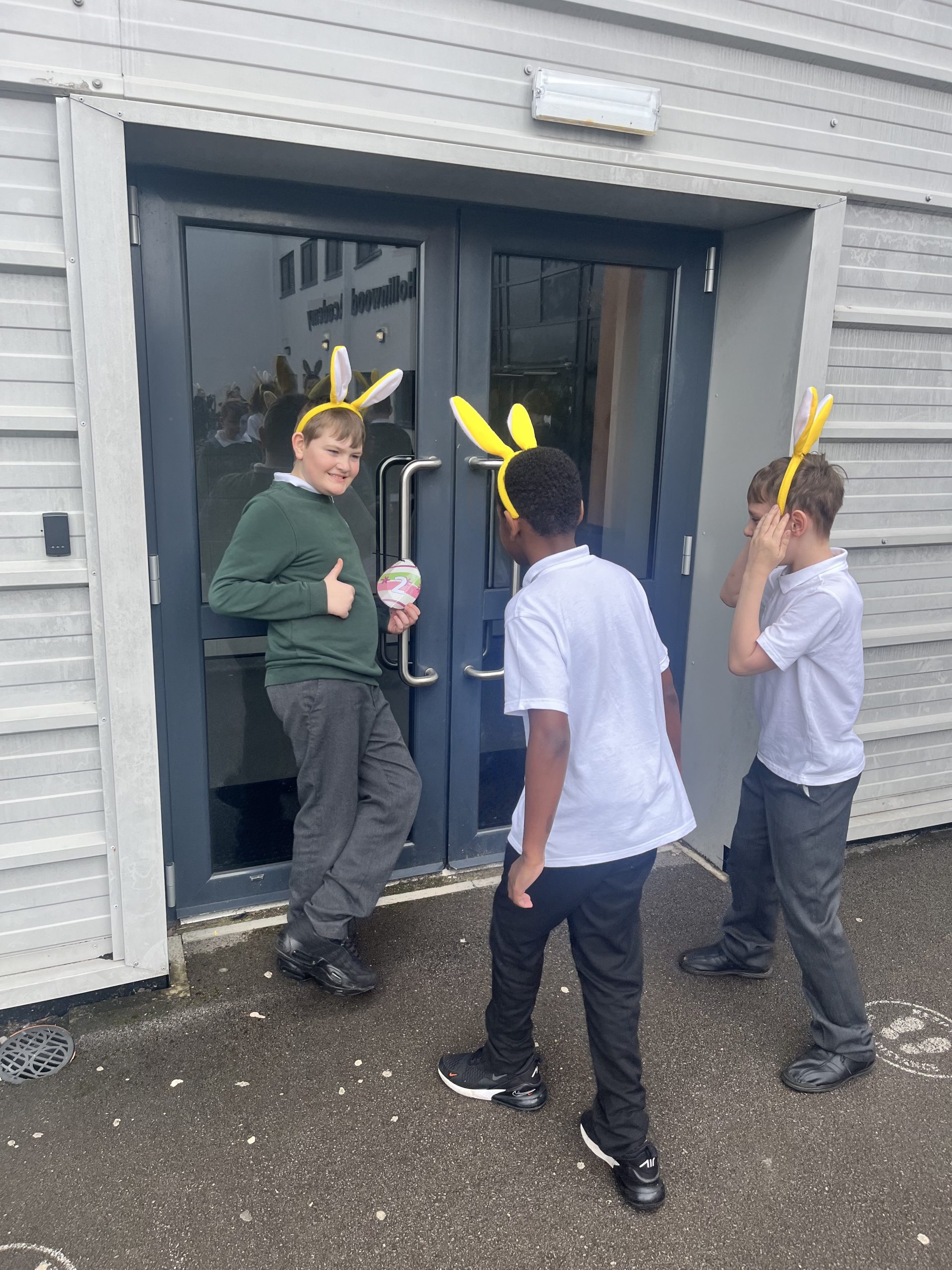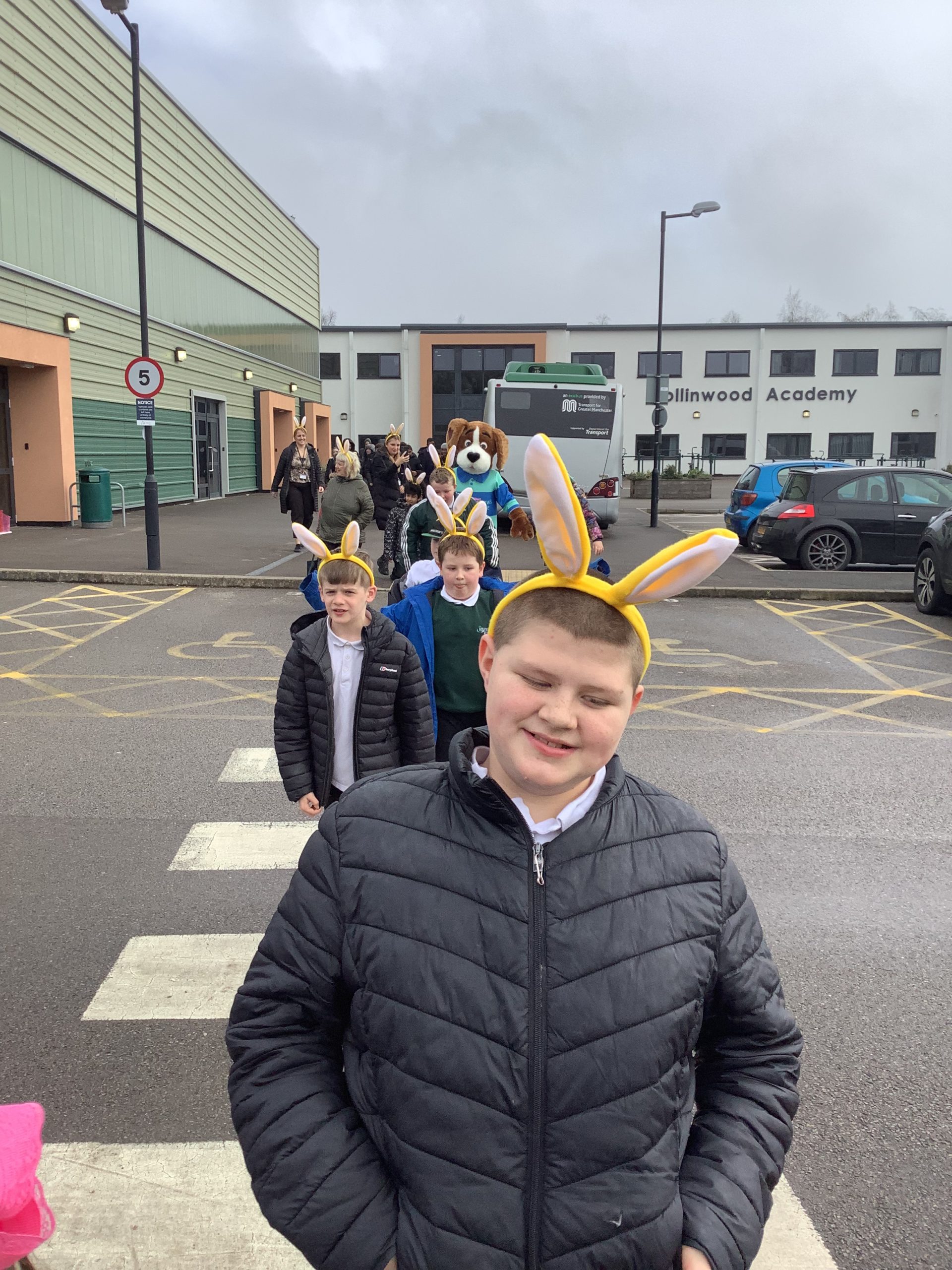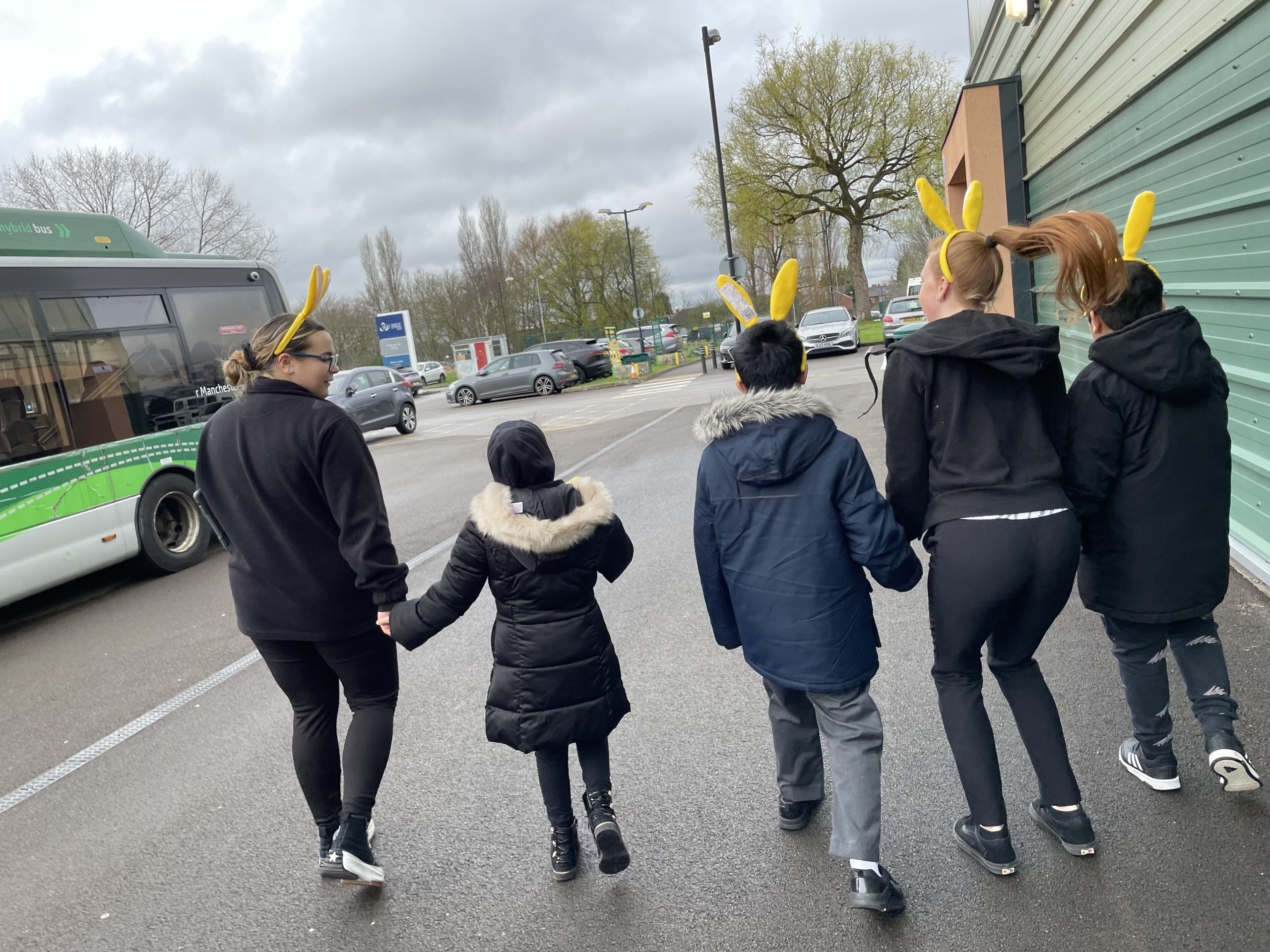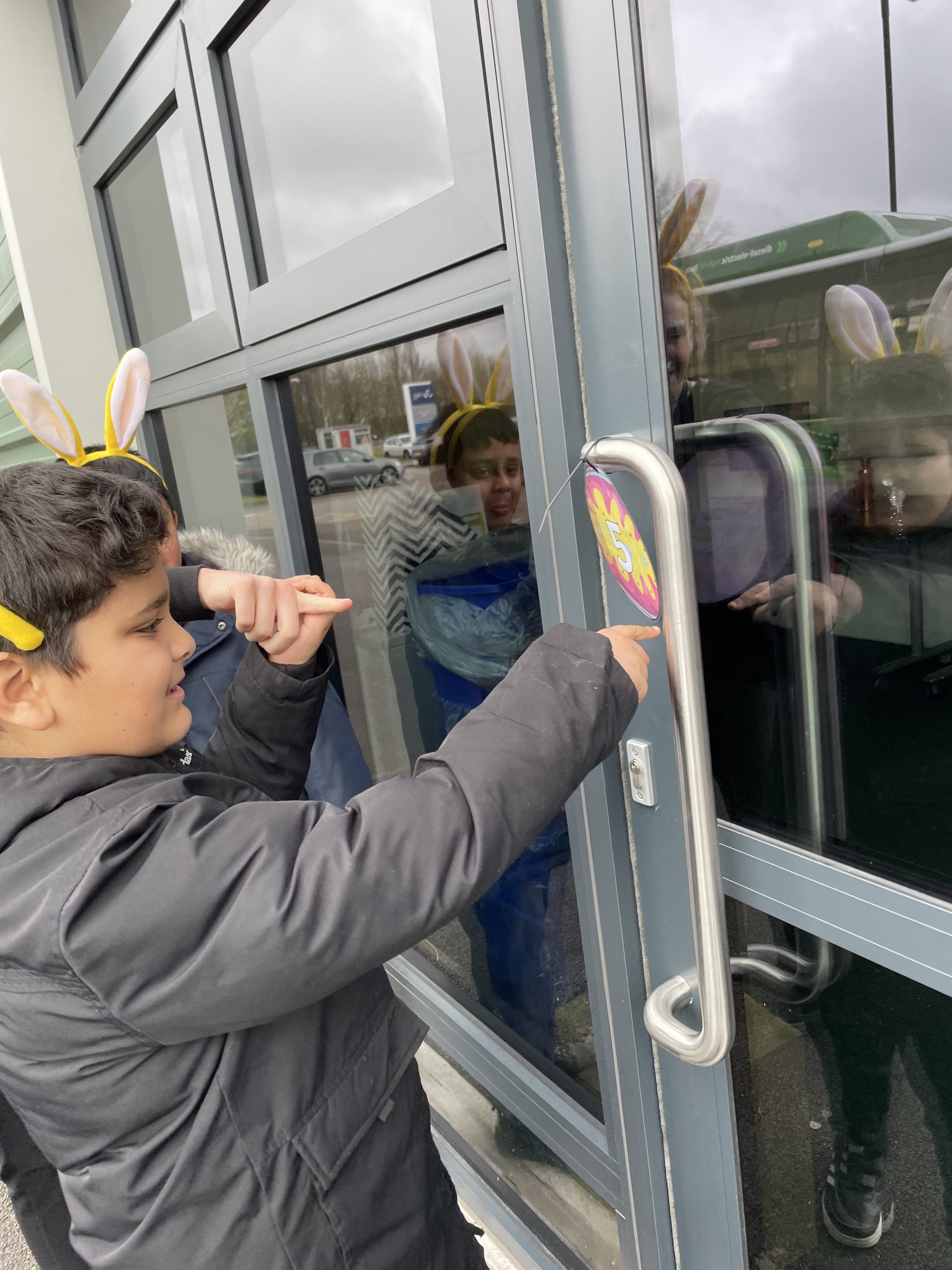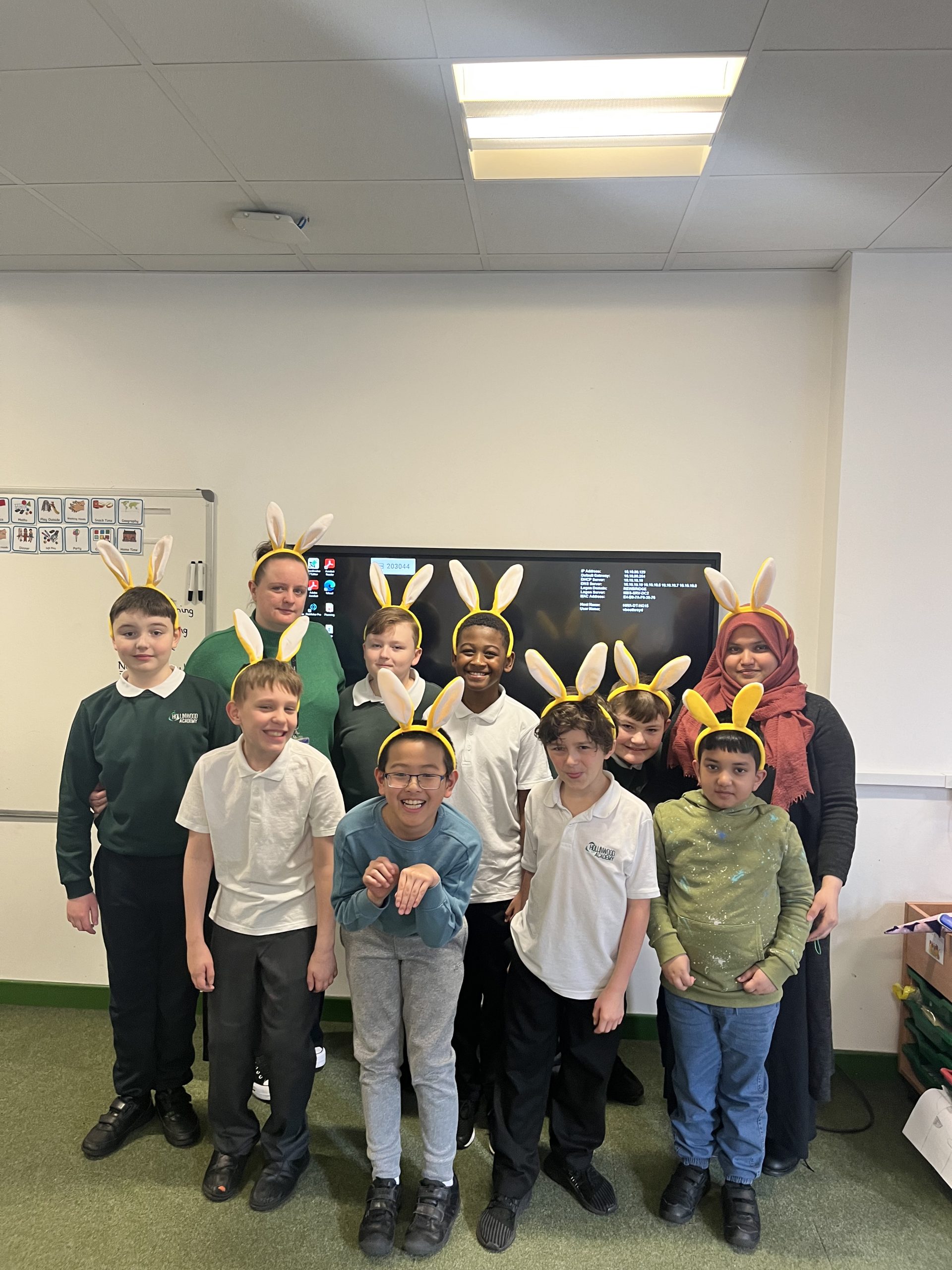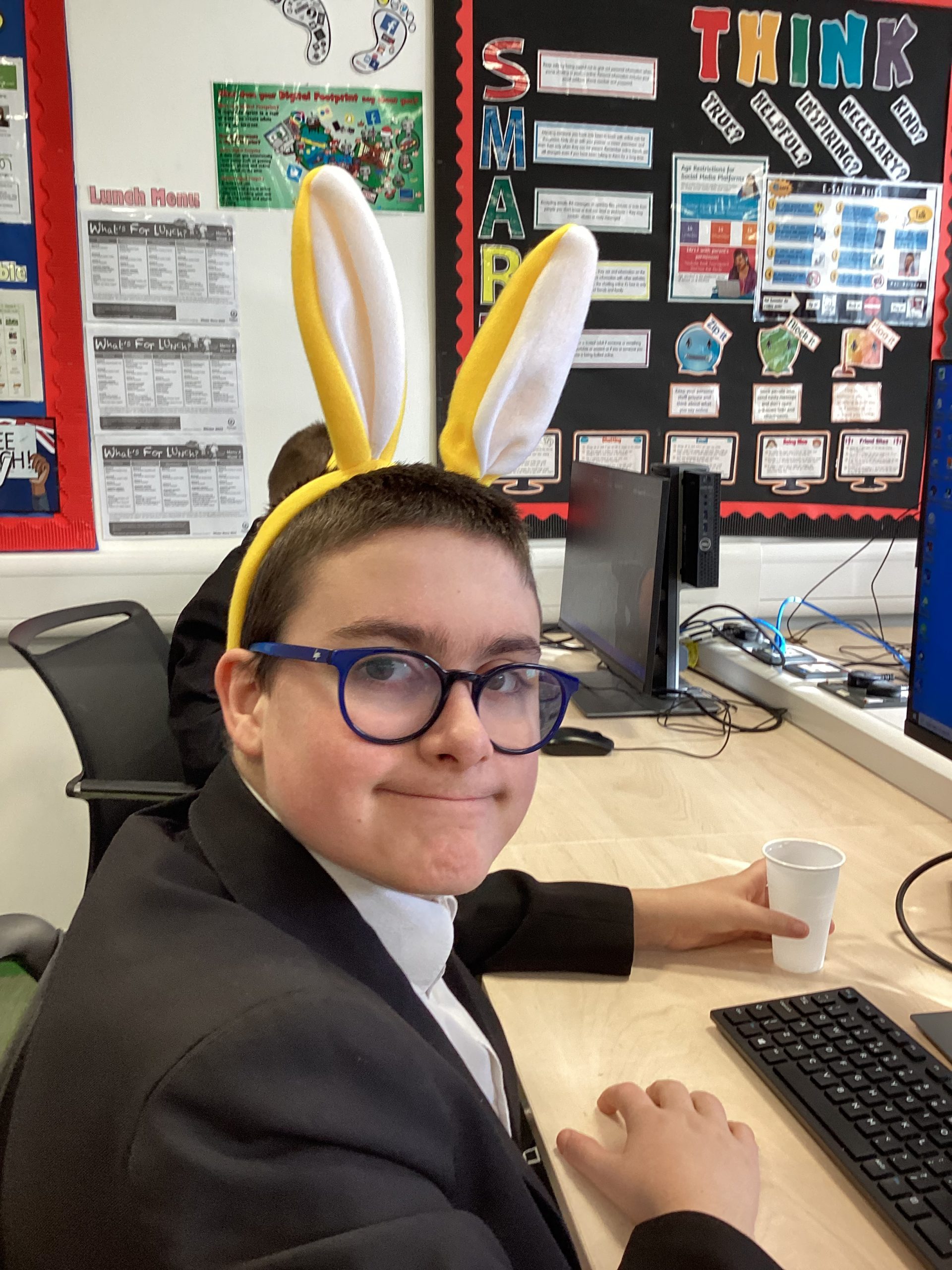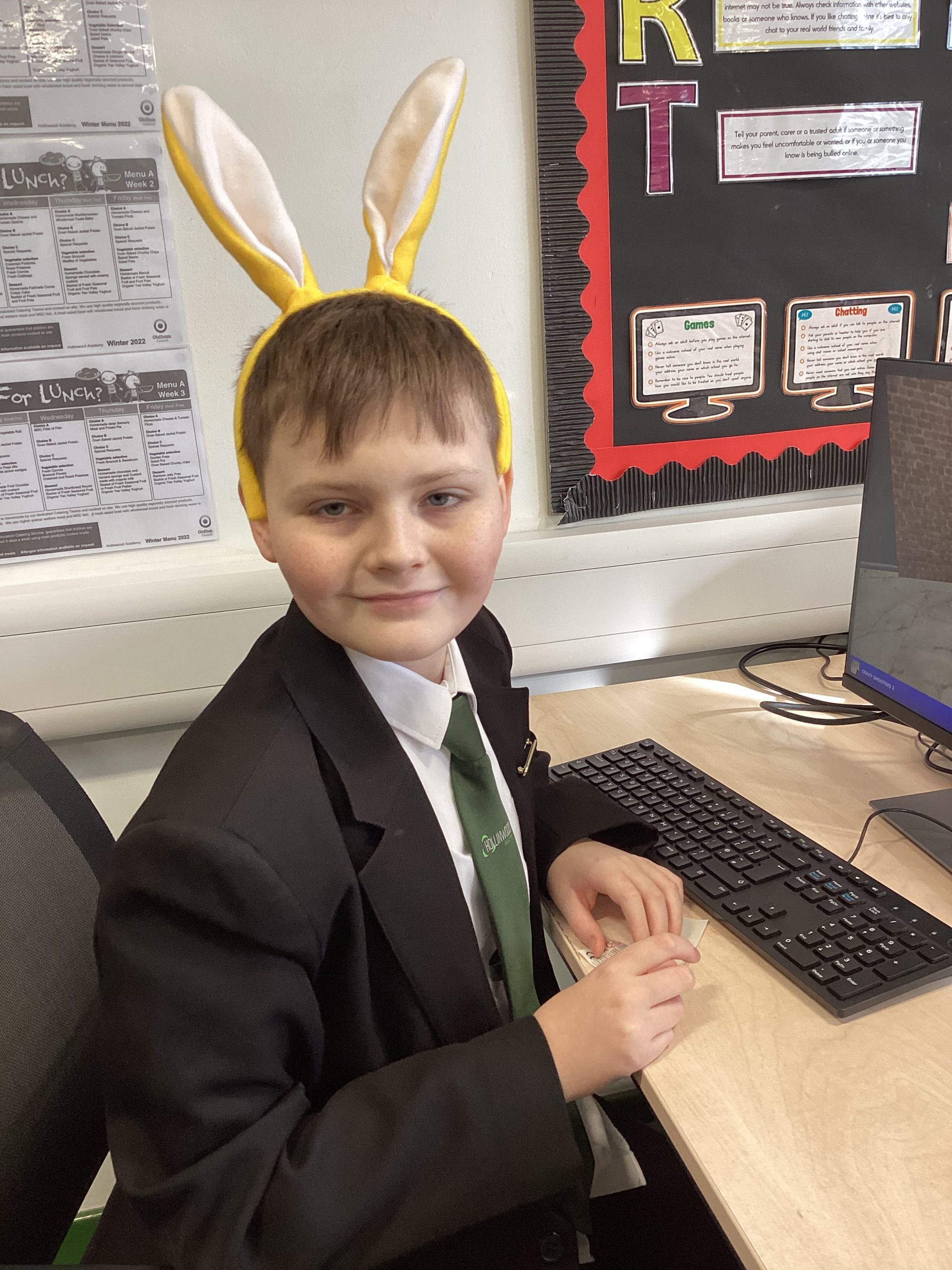 Let's see what some of the classes have been doing starting with Miss Oakley's class…
"Here in year 1, we can't believe it's the end of another term, where has the time gone?
As usual we have been working so hard in all areas of our learning. We have thoroughly enjoyed our topic of 'Down to the farm', we have played with the animals in mud, milked cows udders and explored so many books about farms and animals. The children have been so engaged and excited about this topic, we have sung old MacDonald so many times that the children have mastered the sounds all the animals make and sometimes even the way they move.
In phonics this week our sounds have been 'u u umbrella' and 'f f flower'. We have been busy in the tuff trays using mini cocktail 'u u umbrellas' to keep our toys away from the rain and trying so hard with our pencil grip to write our 'u' words. In addition to this we have been mark making in flour and finding the fish!
Our class have been using our amazing new app snapcore this week in many of our lessons. We have used it to play a weather game, where the children watch a video and then use snapcore to tell us what the weather is. We made playdough chicks using snapcore to request items that they would need from playdough to googly eyes. It is incredible to watch them use this app and see their confidence soar.
As Easter is very quickly approaching it is only fair that we add the theme into some of our lessons. In Maths the children have been making patterns on Easter eggs, matching the number of chicks to the correct number, and weighing different eggs filled with Easter treats to explore the terms 'heavier and lighter'. In Art we have been printing with potatoes, creating a pattern, and then choosing our desired colour to print with making the effect of Easter eggs. Lastly, it isn't Easter without Easter nests which needs no description but YUM!"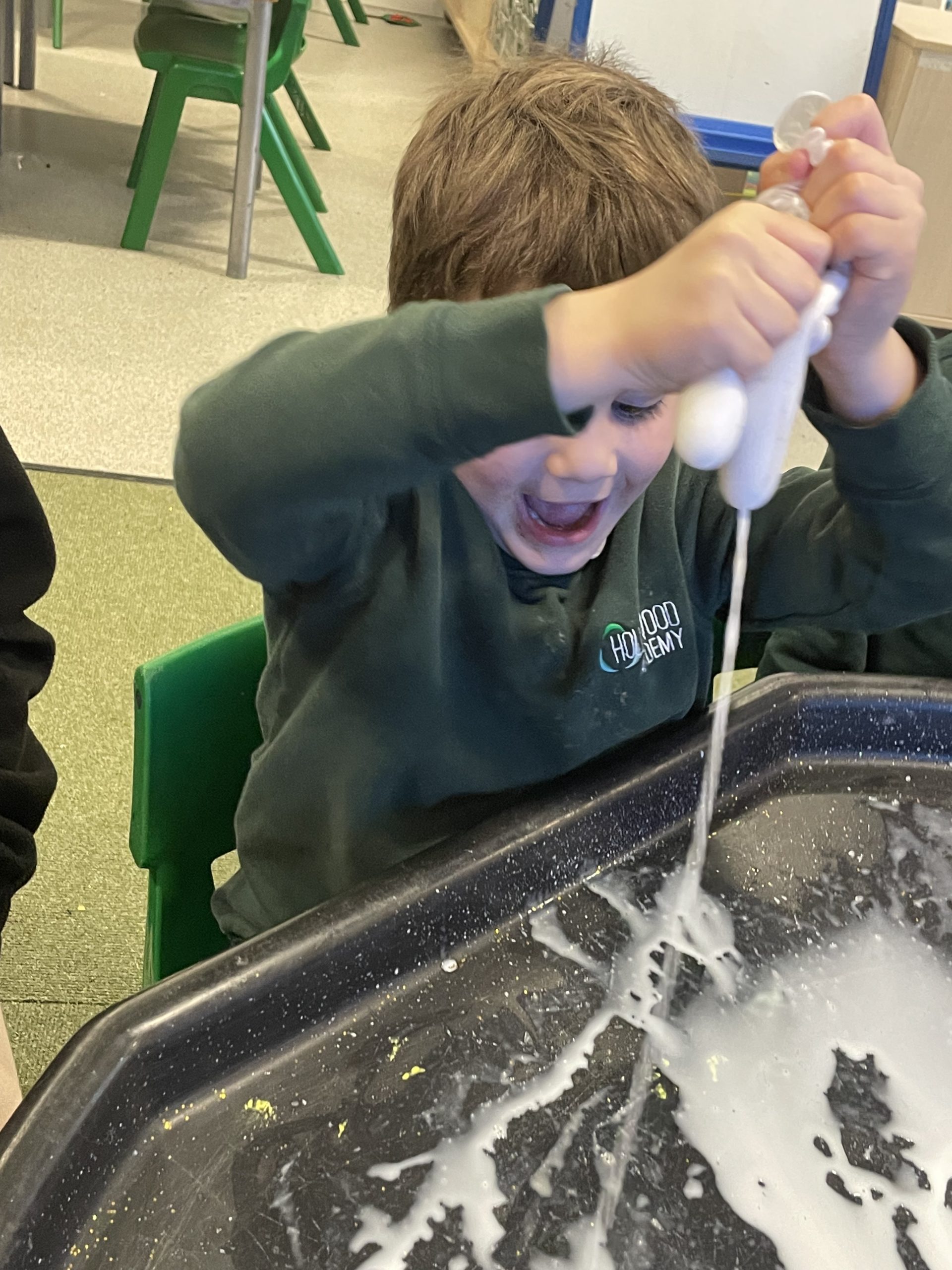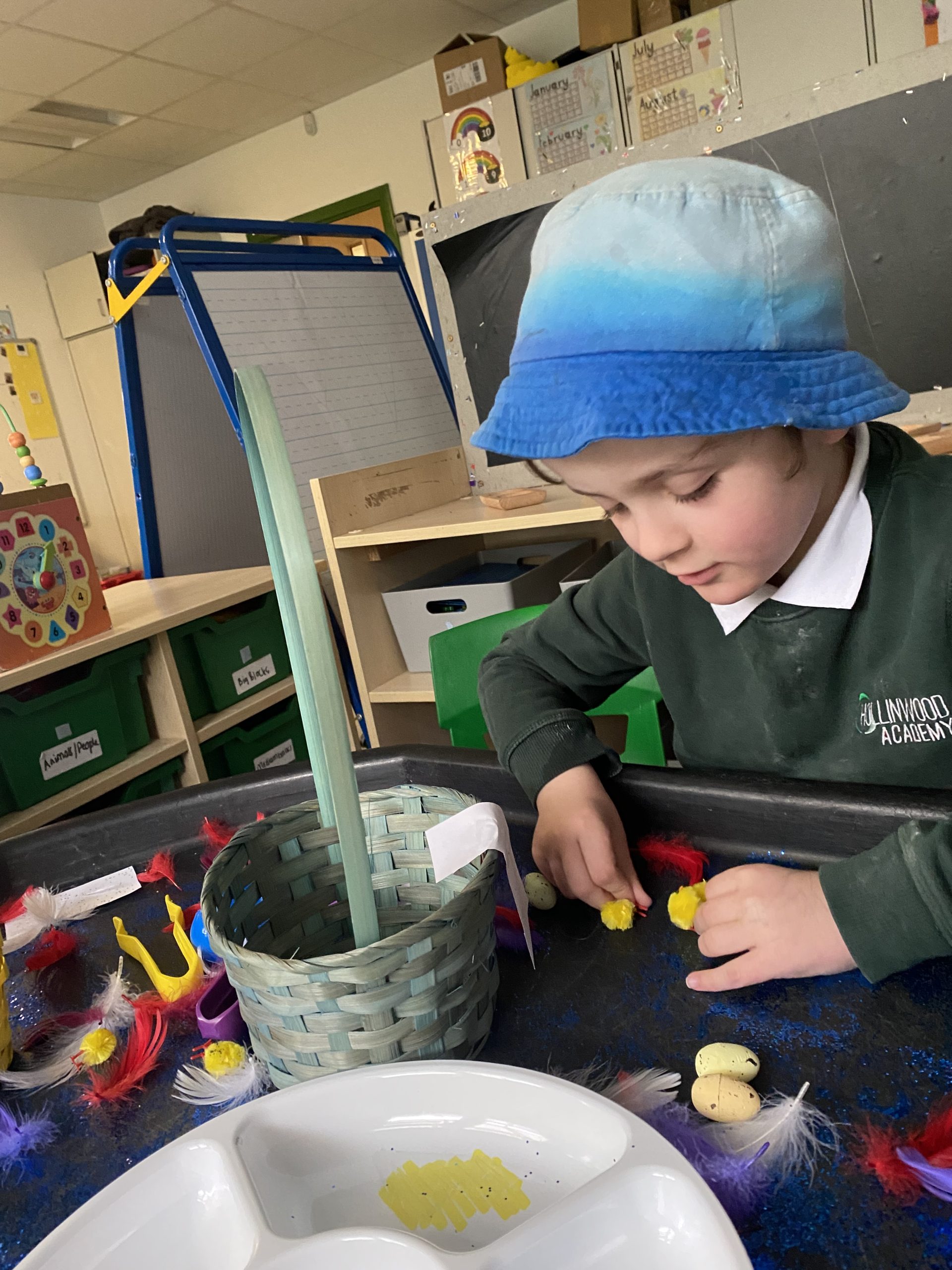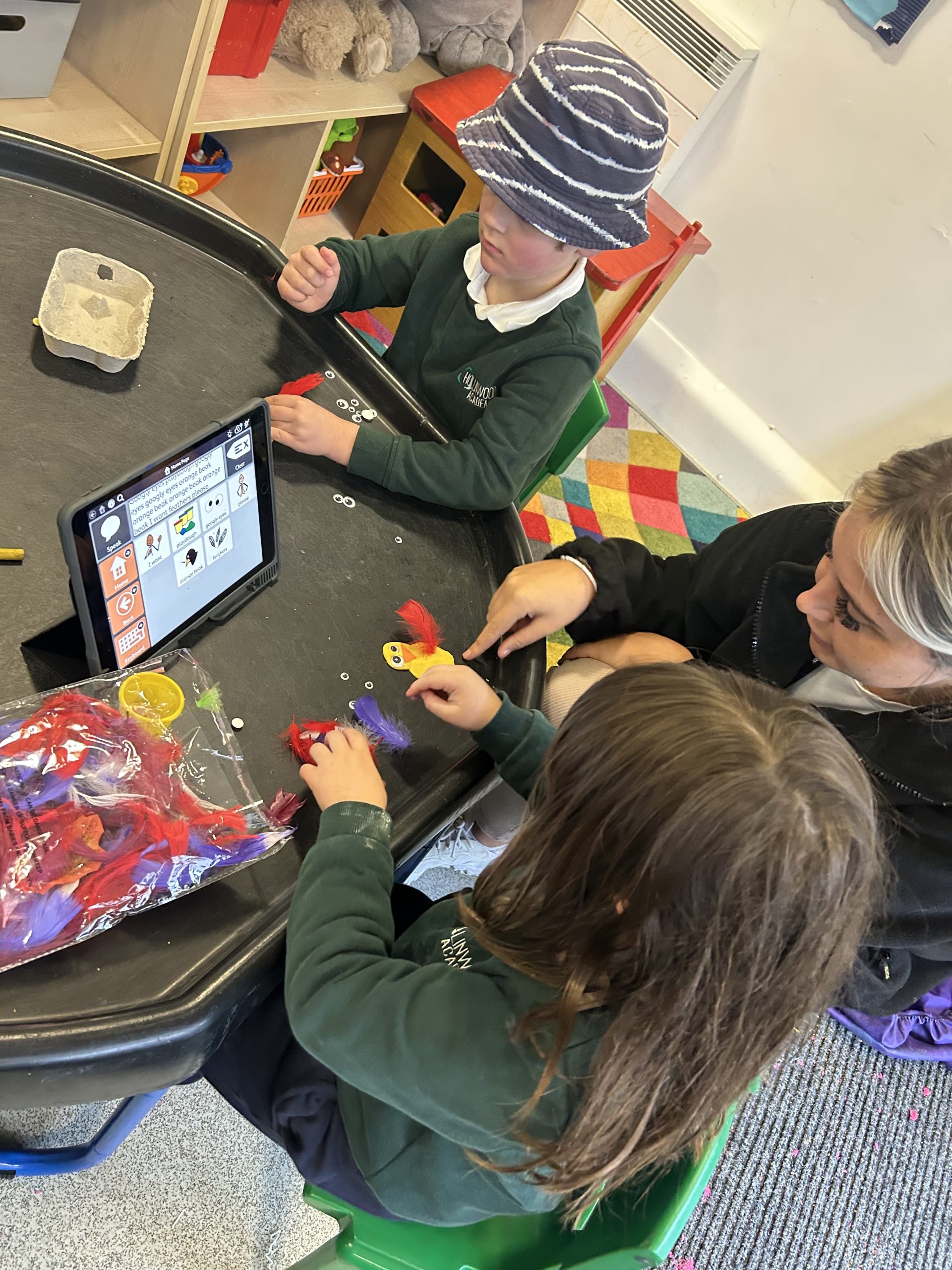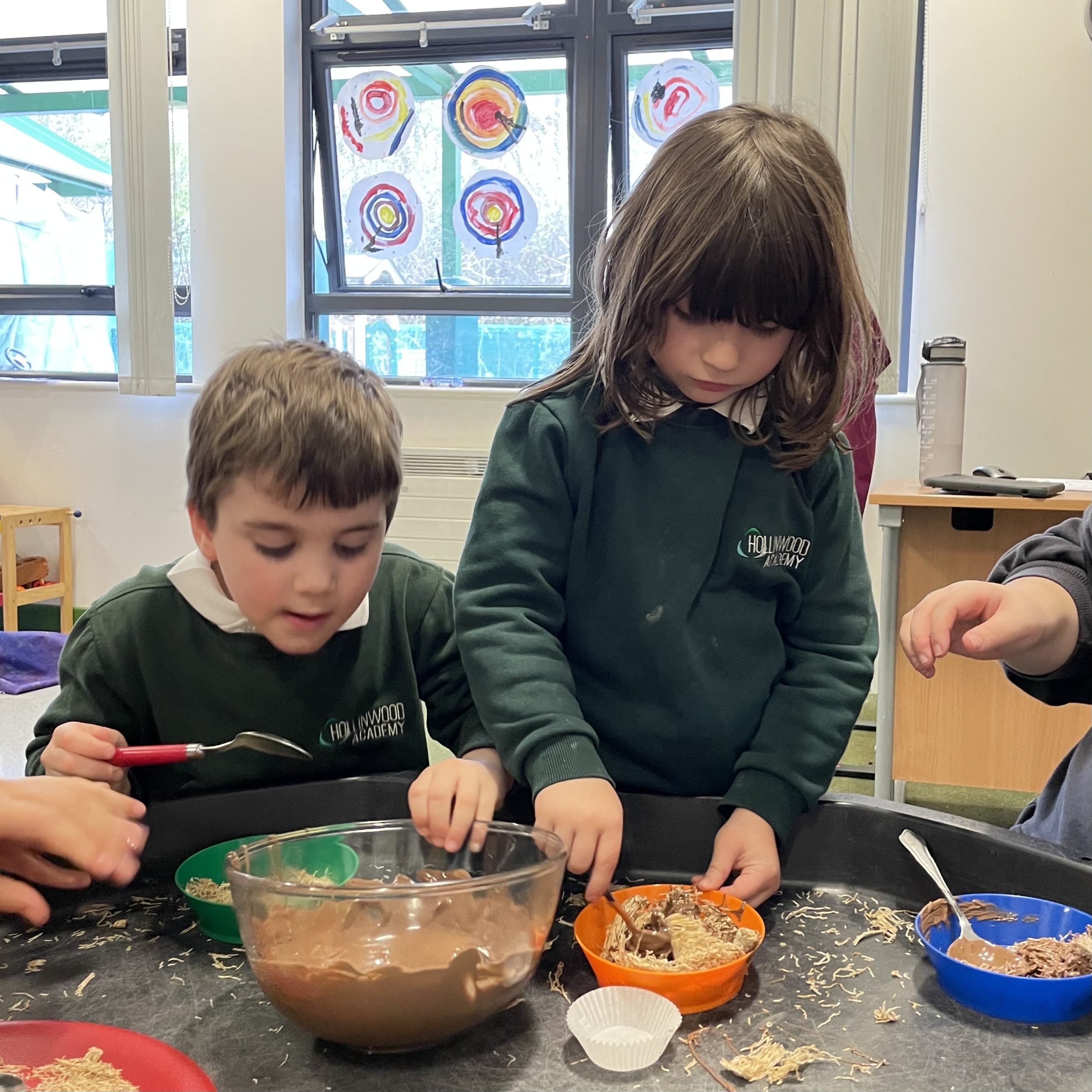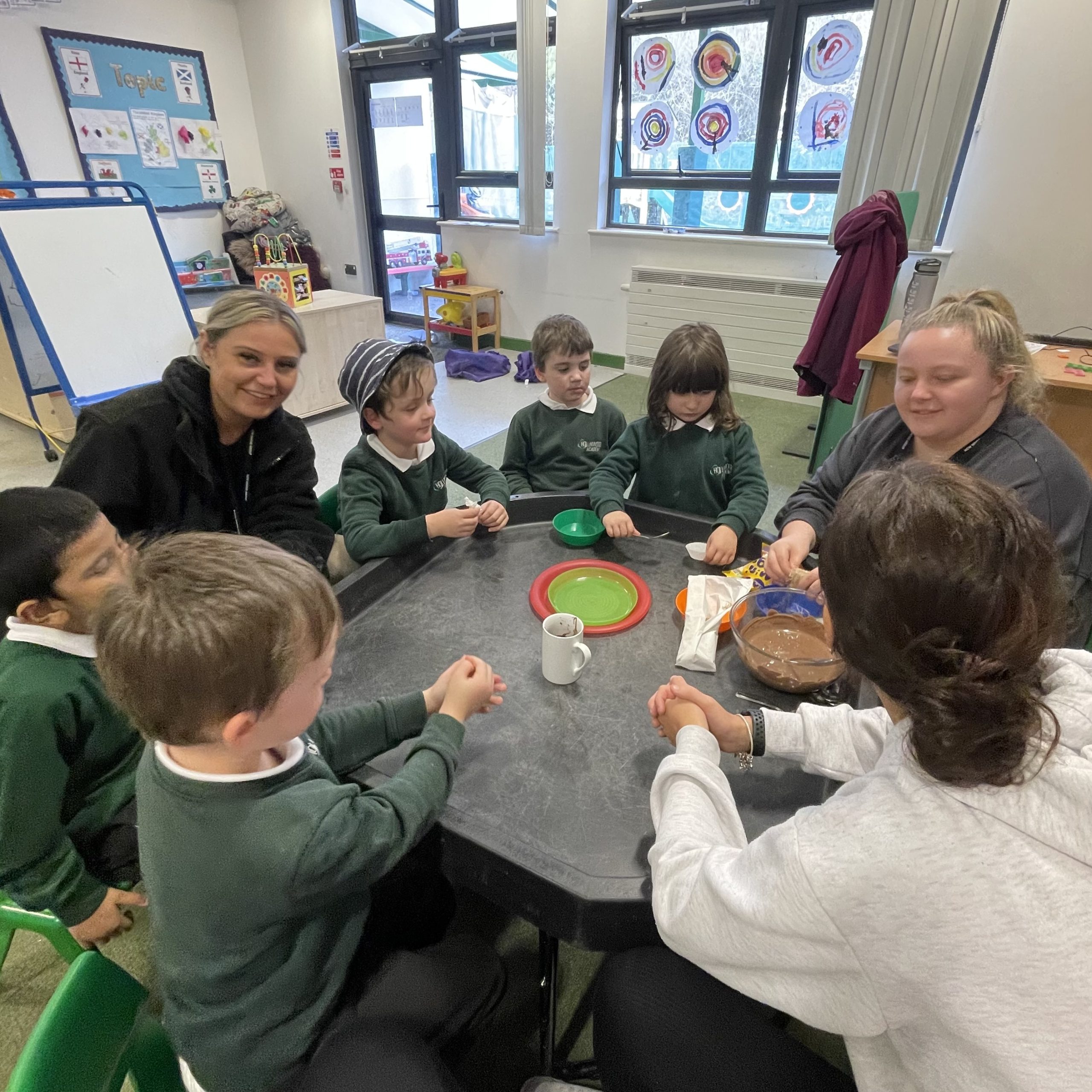 Now to Mrs Jones' form and over to Olivia…
"I am Olivia, the School Council Representative for 10RJS.
What an amazing term we've had! Everyone in this class has tried their best with their work, and I'd say this is the calmest term we've had since transferring to this class.
In options, GCSE Art students chose their own theme to follow, I chose outer space, Katie chose pop art and Rio chose portraits. Since Wednesday was our last GCSE art lesson of the term, we all did our own things, I painted a picture of Shiver from Splatoon 3, Katie drew a Dalek from Doctor Who, and the video she watched really helped, and Rio drew portraits of other people.
In DofE, the class walked around Castleshaw, Alexandra Park and Hartshead Pike.
In GCSE Food, Kurt, or his preferred name KLABAPSC (anti bullying ambassador previous student councillor) has been looking at intense and organic farming, free range chickens and has been cooking some amazing food!
On the 27th of March, we had a maths test, and I'm happy to say we've all aced it!
I would like to remind everyone to please keep an eye on what your kids do online. This will ensure that everyone will be safer in and out of school.
And we can't end this term without congratulating the School Council! We have been working towards a qualification for mental health with Anita, we have discussed self-regulating, children's mental health, and who we can go to if our mental health is poor.
Our ideas for events were good too, we talked about where we would like to go for reward trips and what we should do for Easter.
By far, the most popular idea was an Egg Hunt, in which we collaborated with Dr Kershaw to bring the students the best hunt they have had in school.
I hope they enjoyed it!
I hope everyone has a fab two weeks off!"
Olivia and class 10RJS.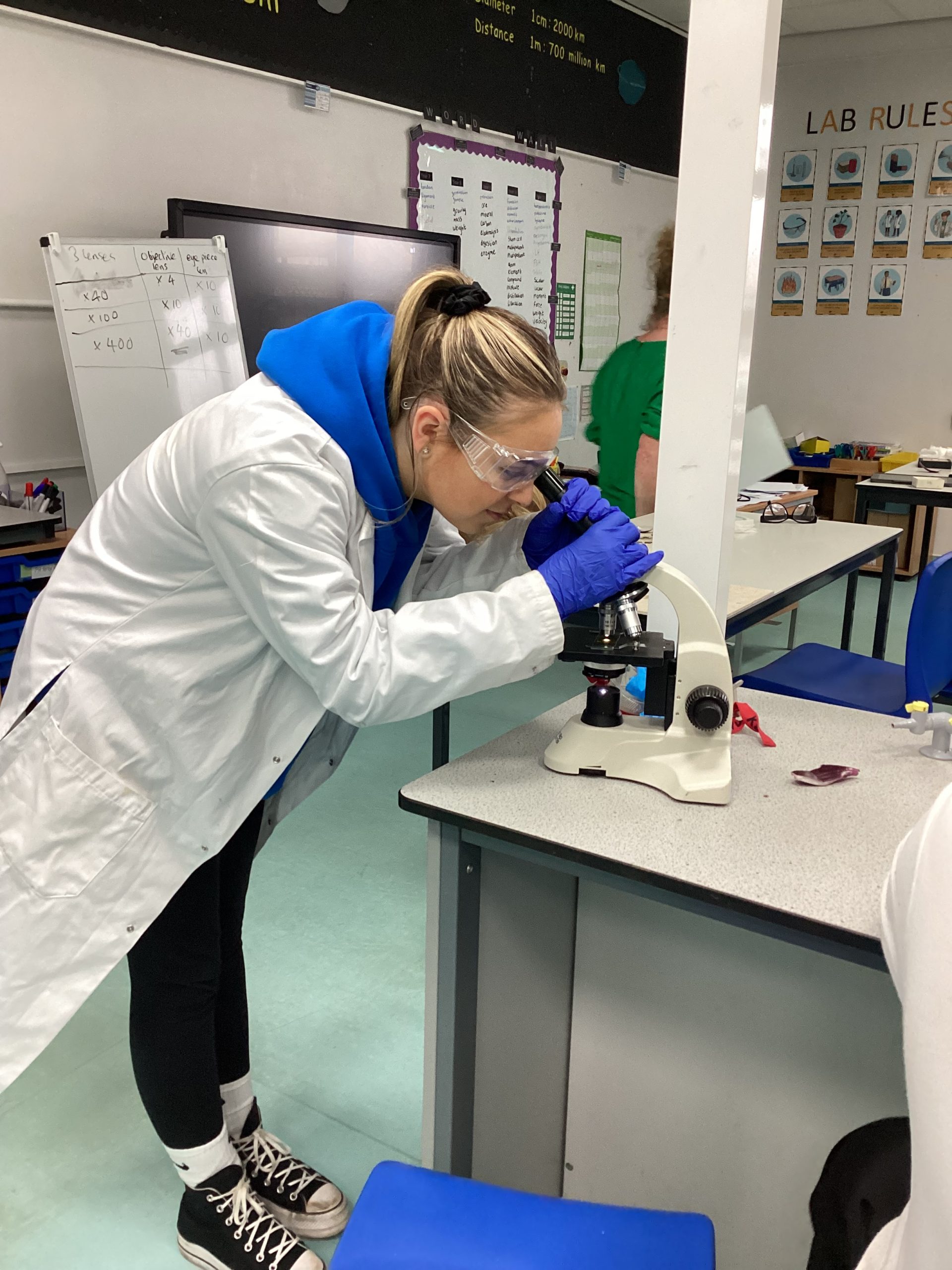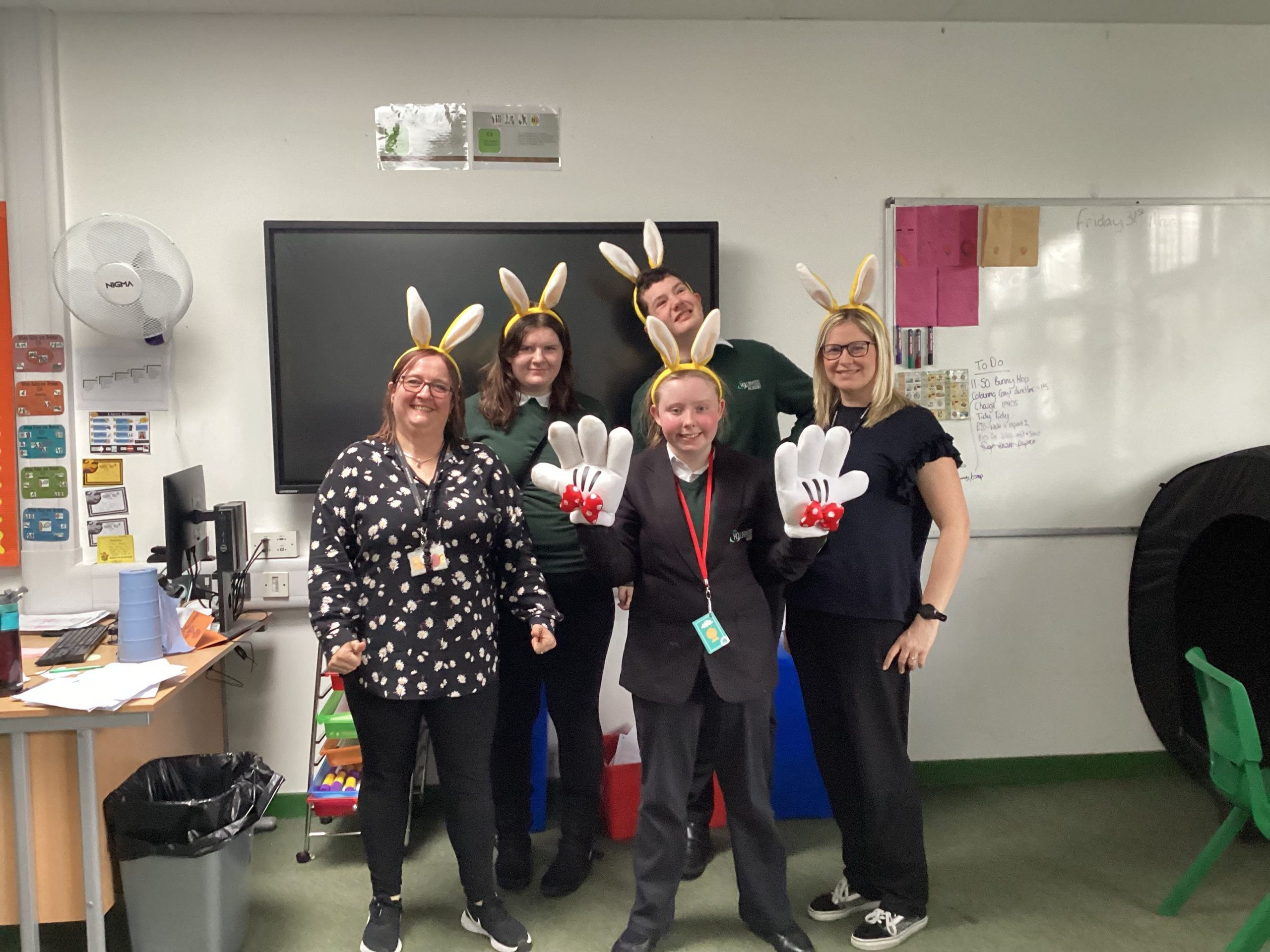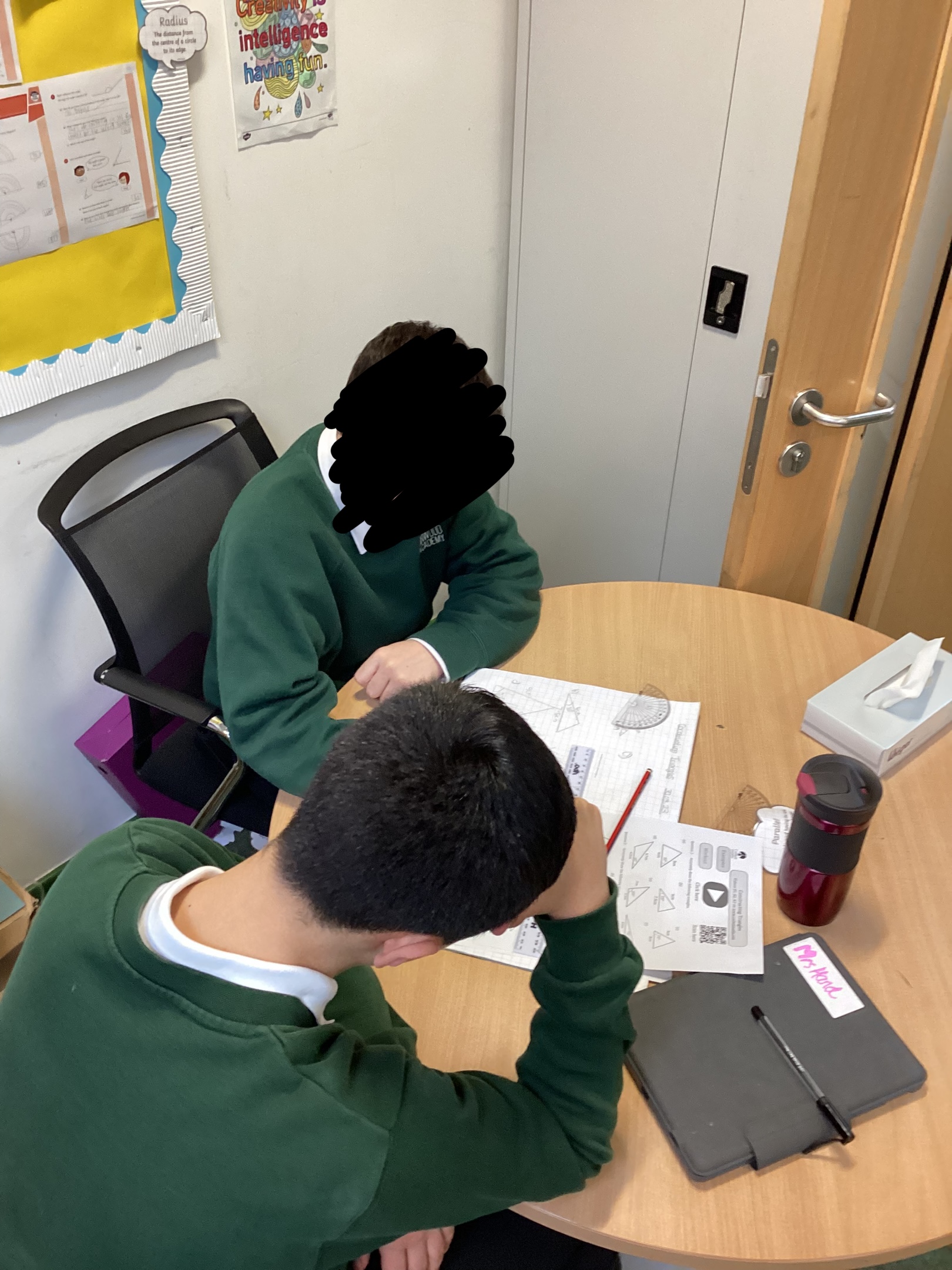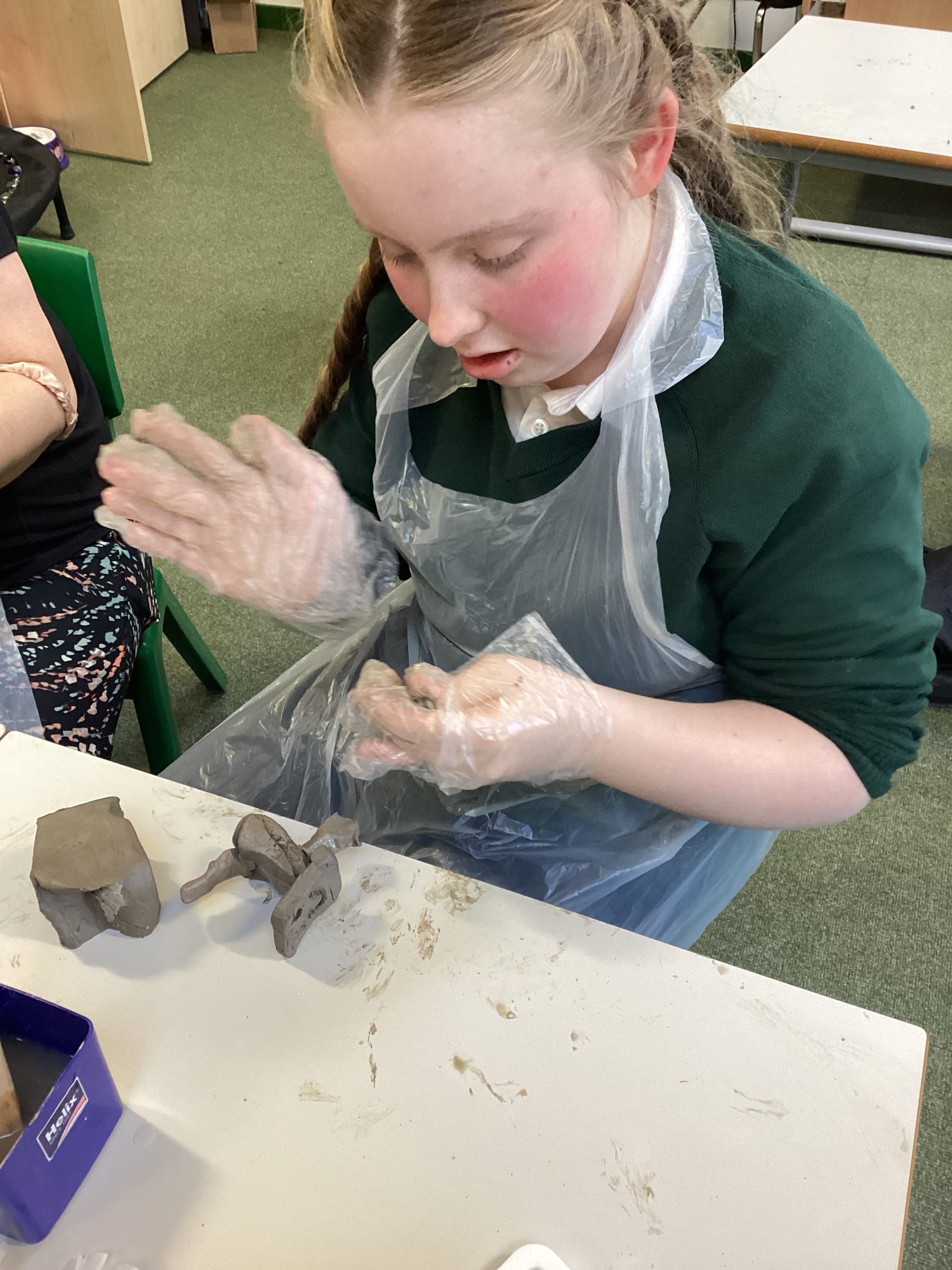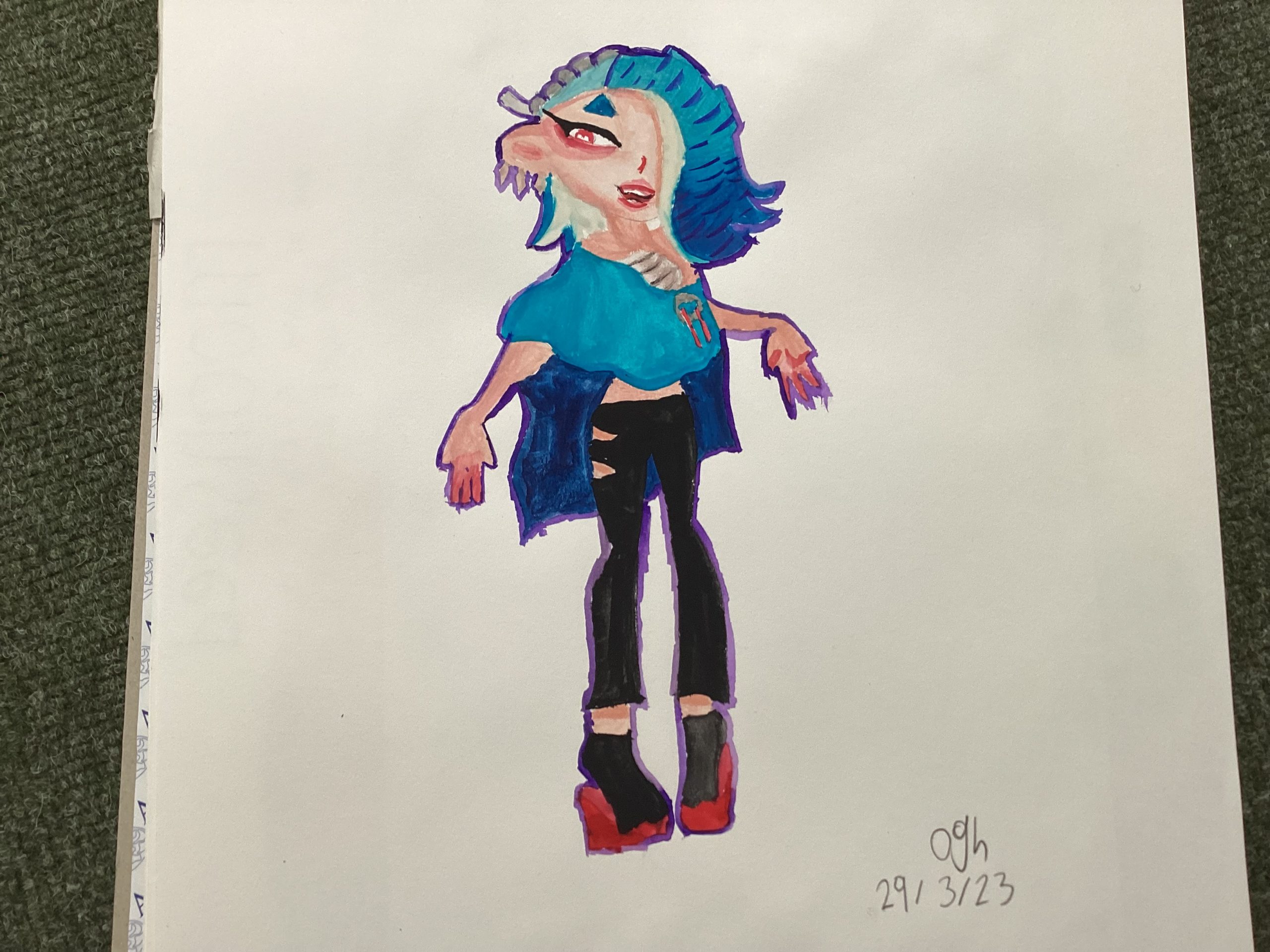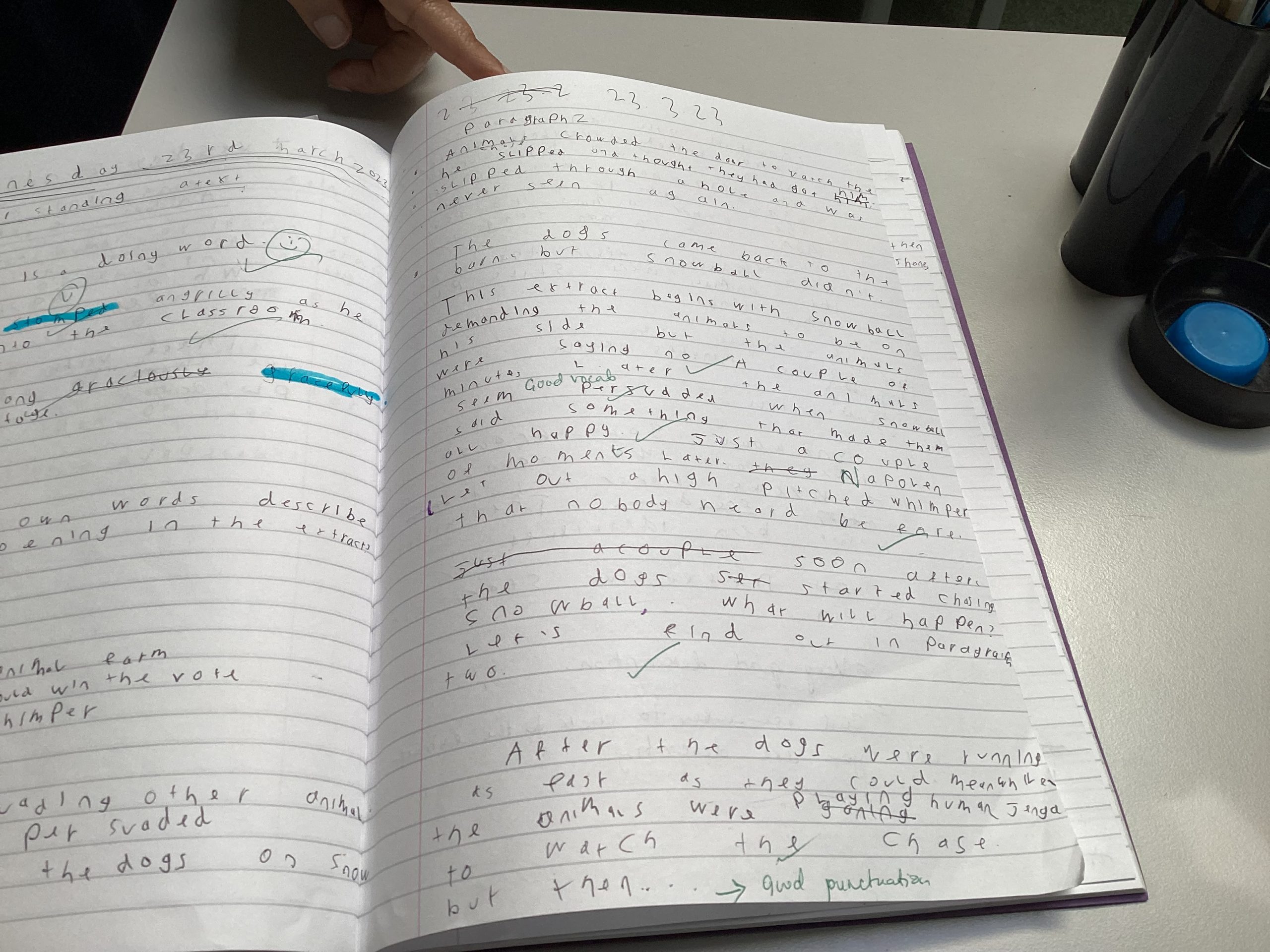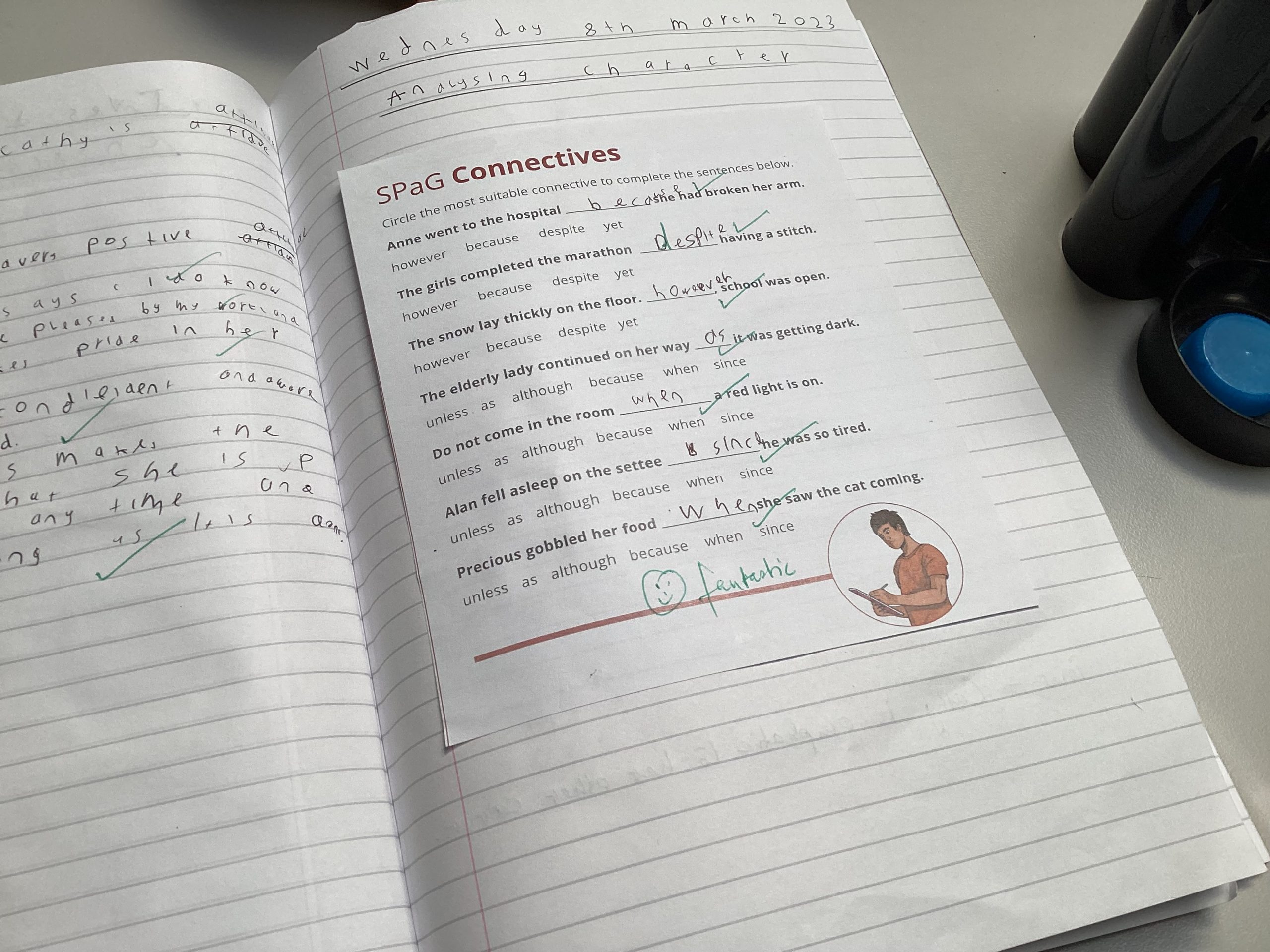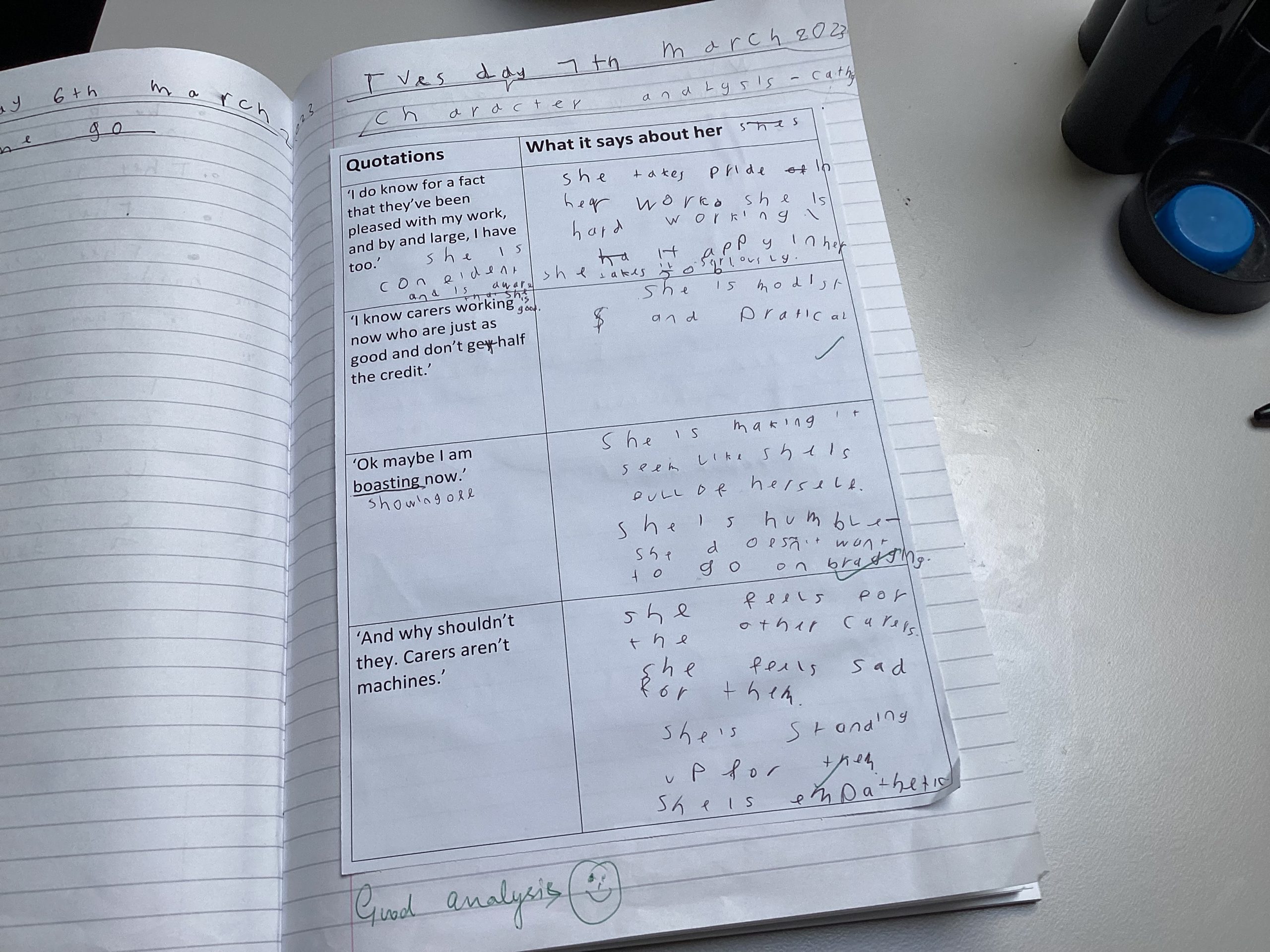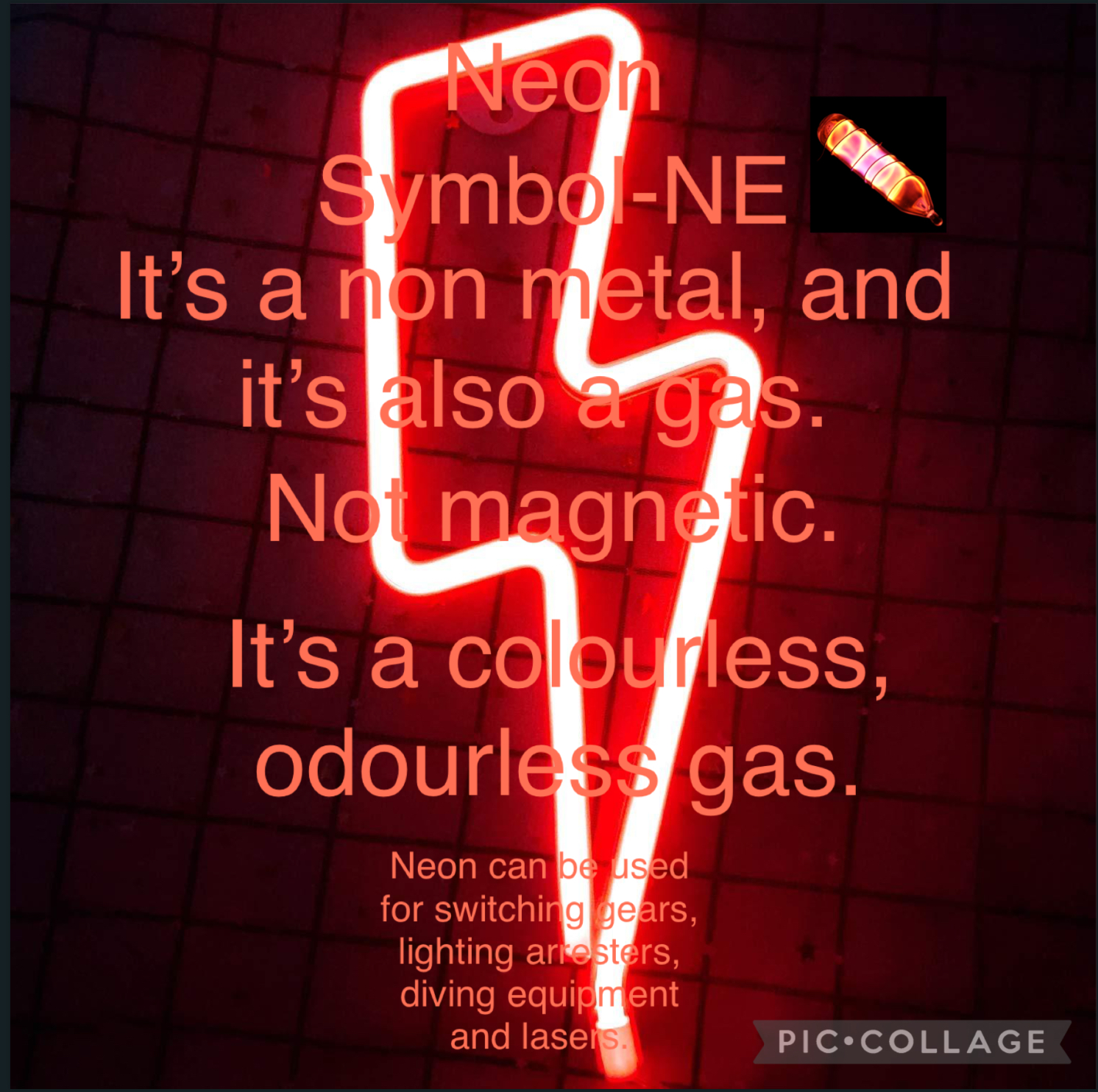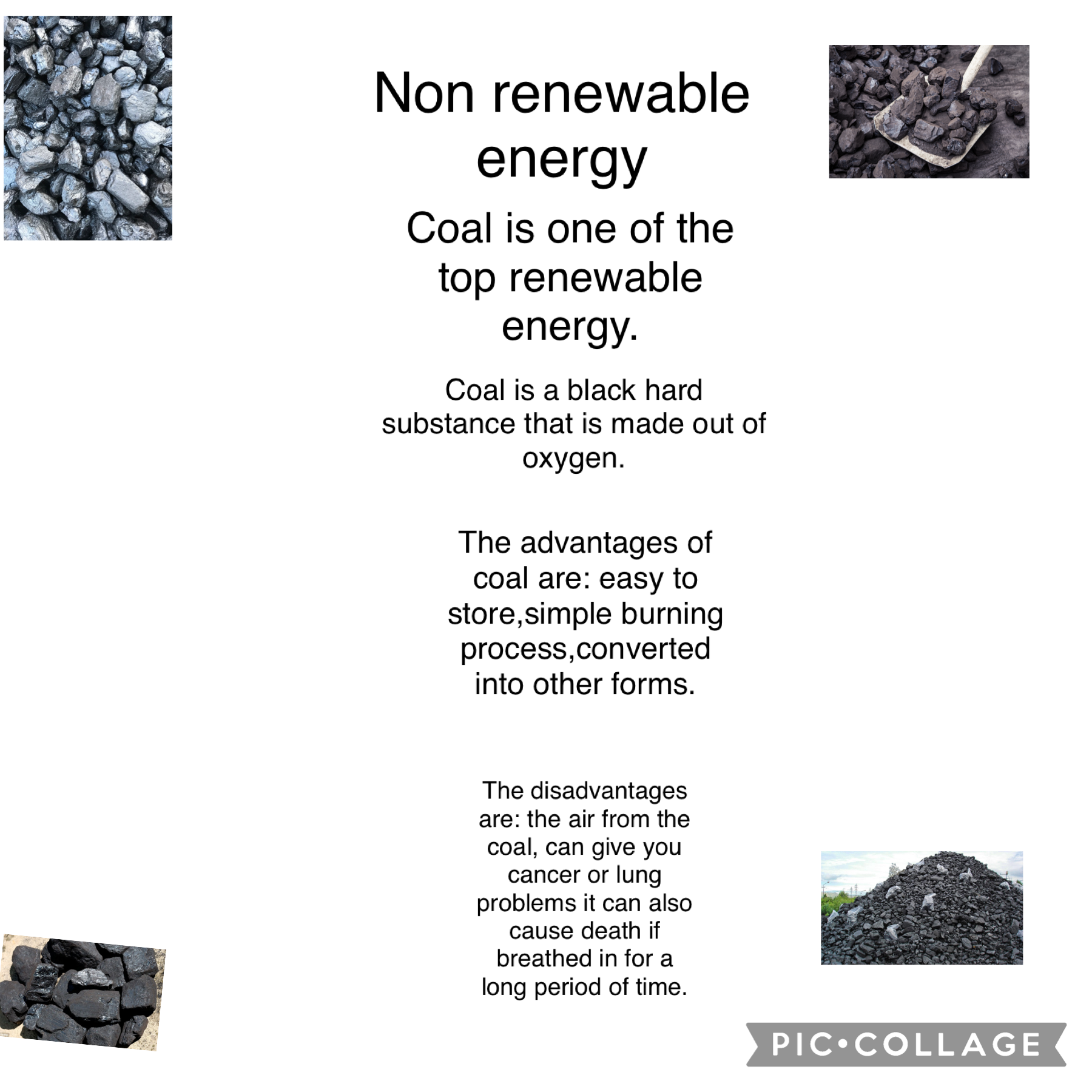 Now to our amazing SUPER STARs and HWA Creative STARs
Mrs Lerigo's STAR of the week is Diana for really coming out of your shell and showing us your little character and personality, you shine very bright Diana, we think you are amazing!
Mrs Lerigo's HWA Creative STAR is Roma for some amazing work creating bunny rabbits in preparation for Easter.
Miss Meadows' STAR of the week is Maja for tracing her name independently during task time.
Miss Meadows' HWA Creative STAR is Noel for excellent attention and good eye contact when completing tasks.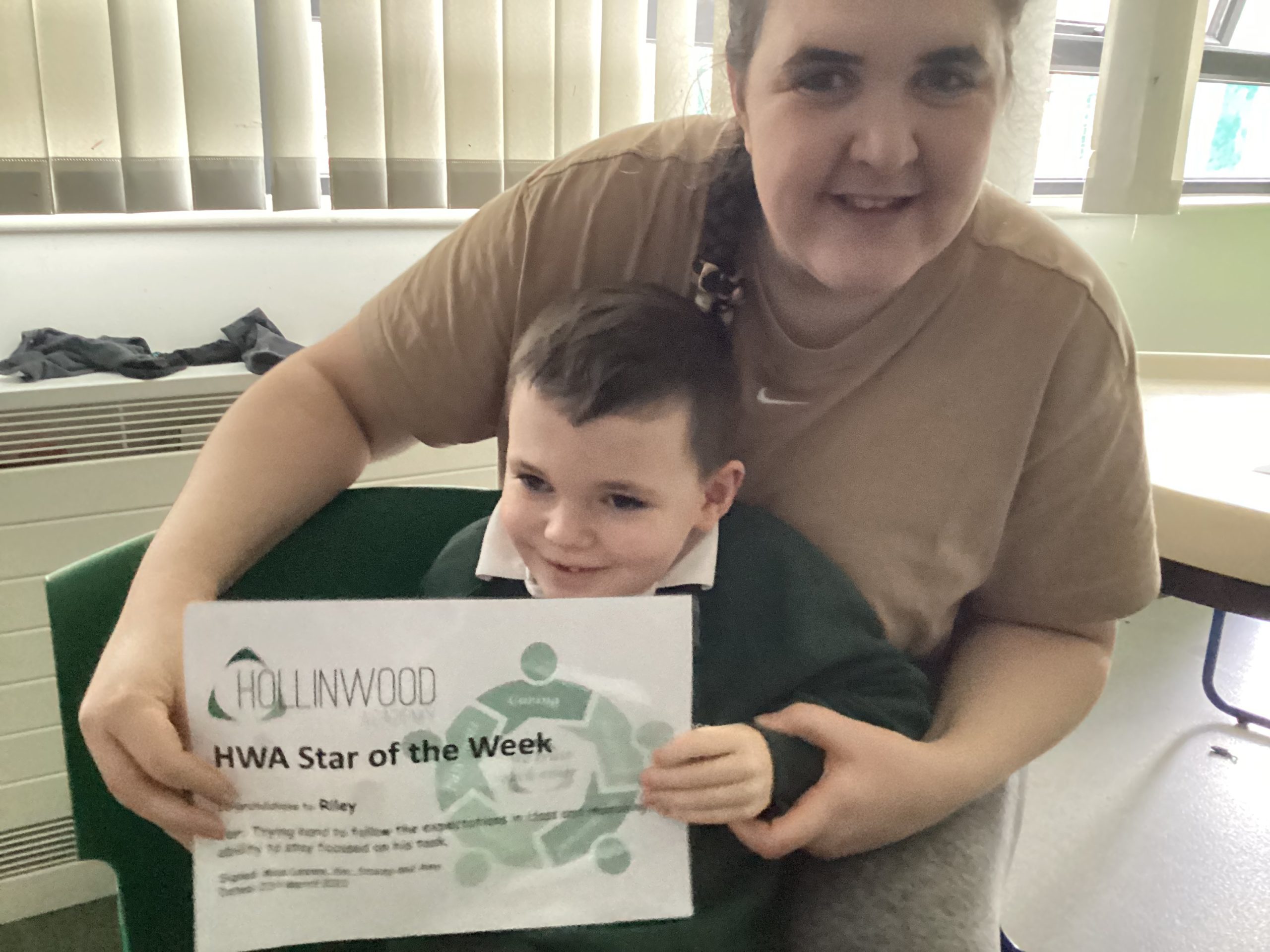 Mrs Woodhead's STARs of the week are Kai and Maleek, both for making excellent behaviour choices and following staff direction to regulate himself.
Miss Pietraszewska's STAR of the week is Stanley for engaging in learning fractions in maths!
Miss Pietraszewska's HWA Creative STAR is Maya for participating in the primary Easter competition and designing beautiful bunnies!
Mrs Halkyard and Miss Hulme's STAR of the week is Isaam for having a fantastic half term and for always trying his best.
Mrs Halkyard and Miss Hulme's HWA Creative STAR is Shane for creating a beautiful flower in his own time.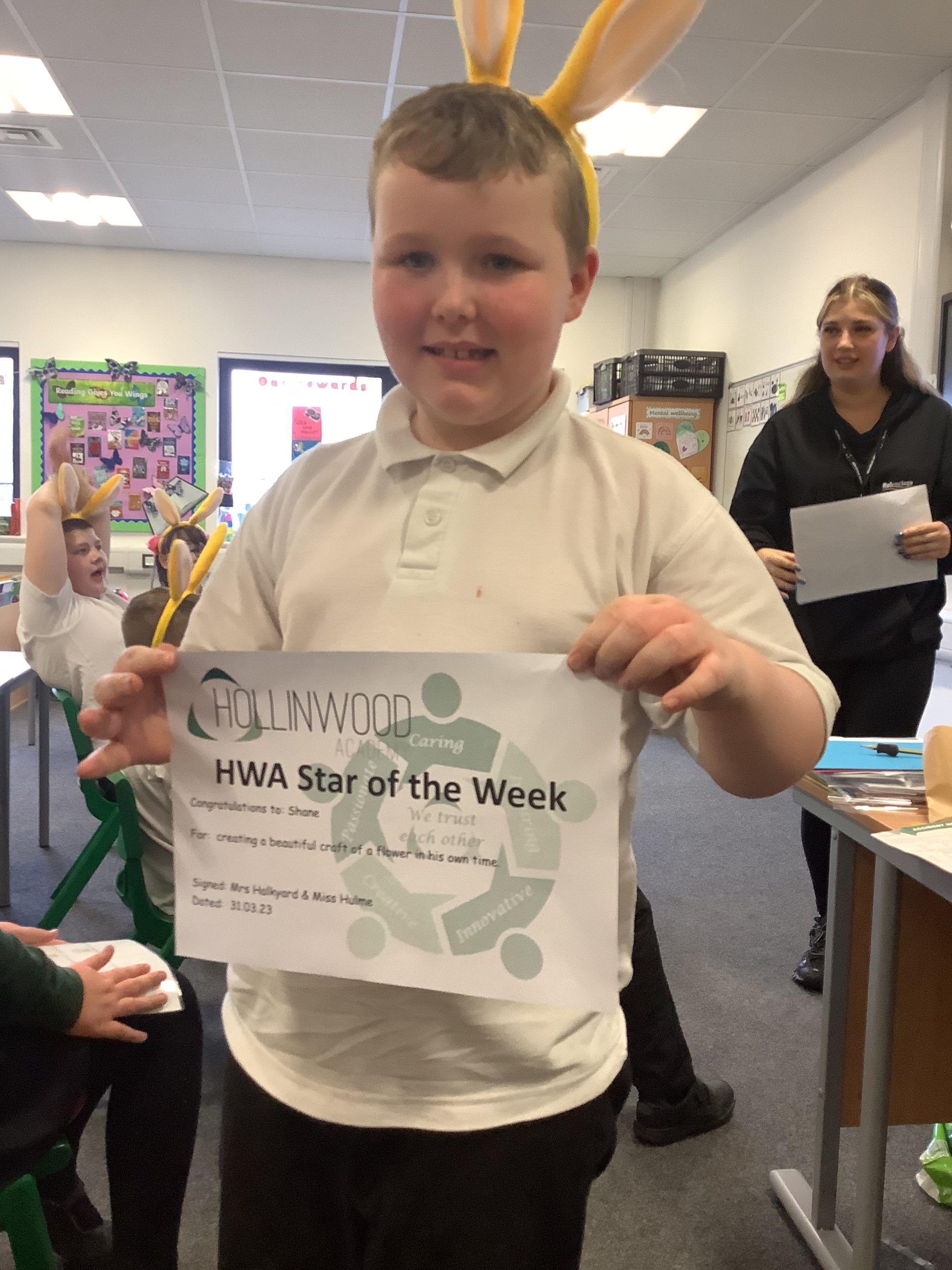 Mr Corrigan's STAR of the week is Derry for a great listening this week.
Mr Corrigan's HWA Creative star is Brooke for being really creative in both her lessons and free time this week.
Mr Corrigan's WOW moments goes to Jason, Faiha and Jared. Well done!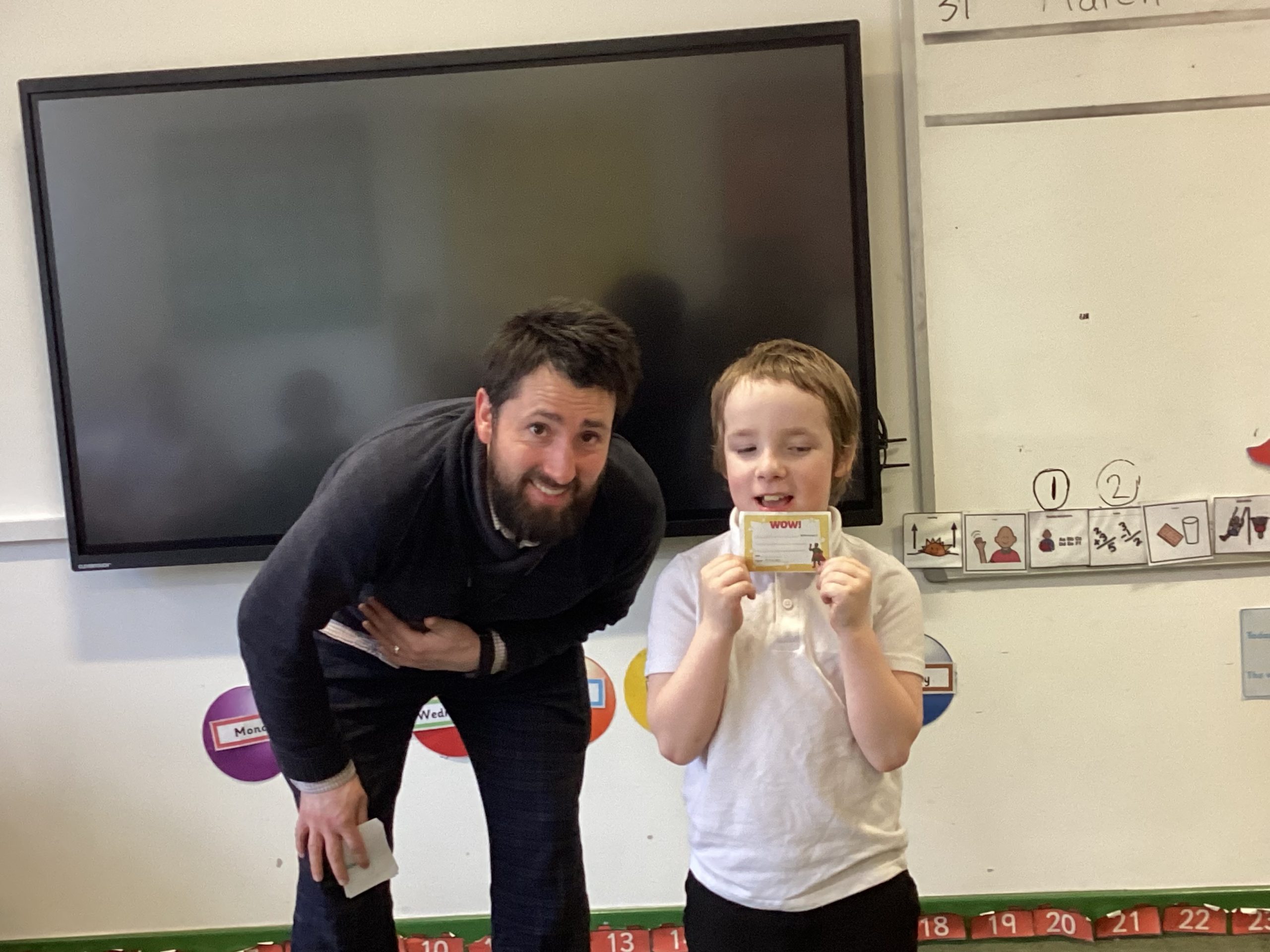 Miss Prescott's STAR of the week is Gerard for trying his best in all our lessons
Miss Prescott's HWA Creative STAR is Ebon for his creative science work.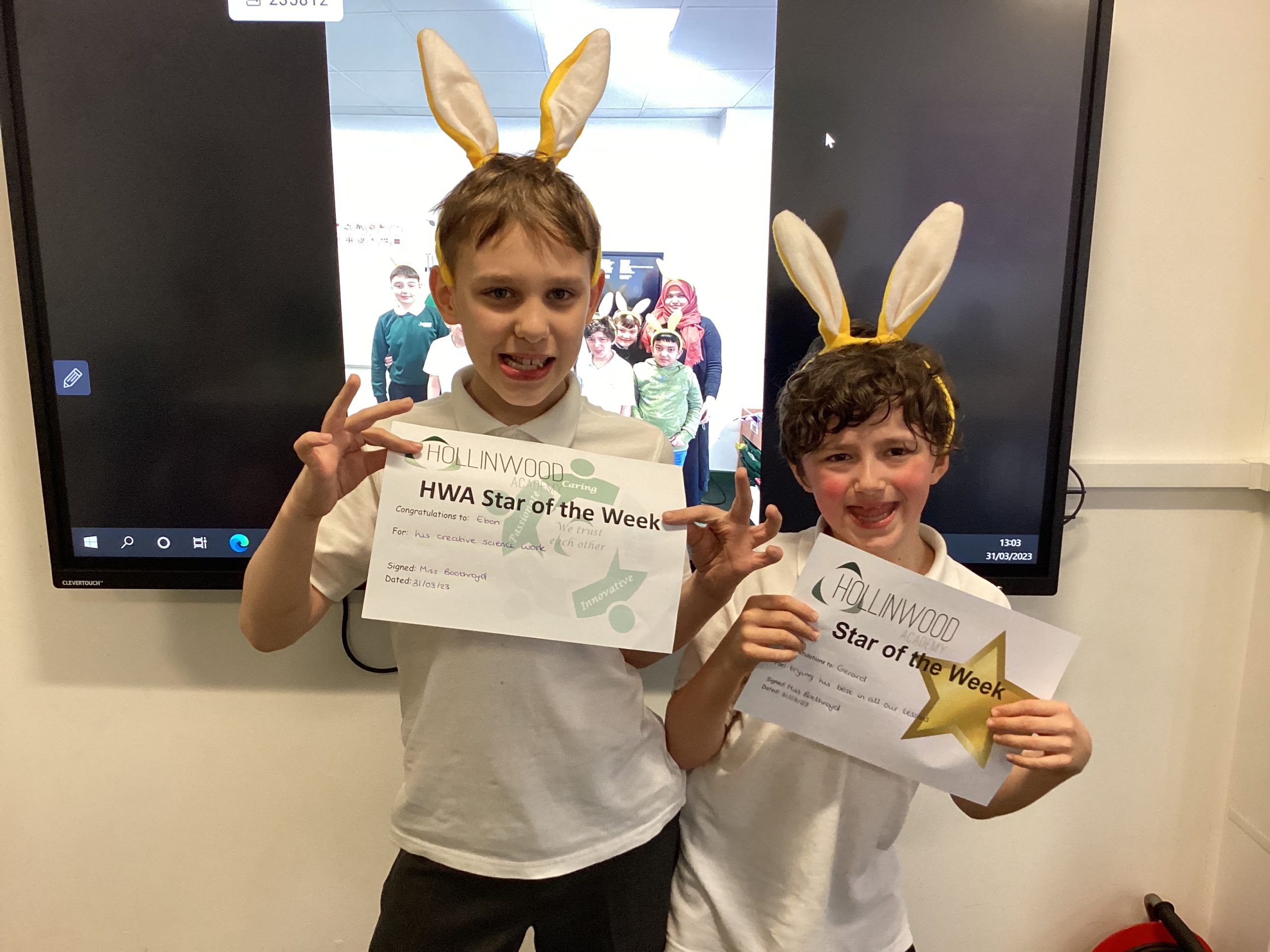 Miss Tootill's STAR of the week is Fatima for amazing work in all of her lessons.
Miss Tootill's HWA Creative STAR is Jake for always being creative in and out of class.
Mrs Davies' STAR of the week is Daniel for having a fantastic week.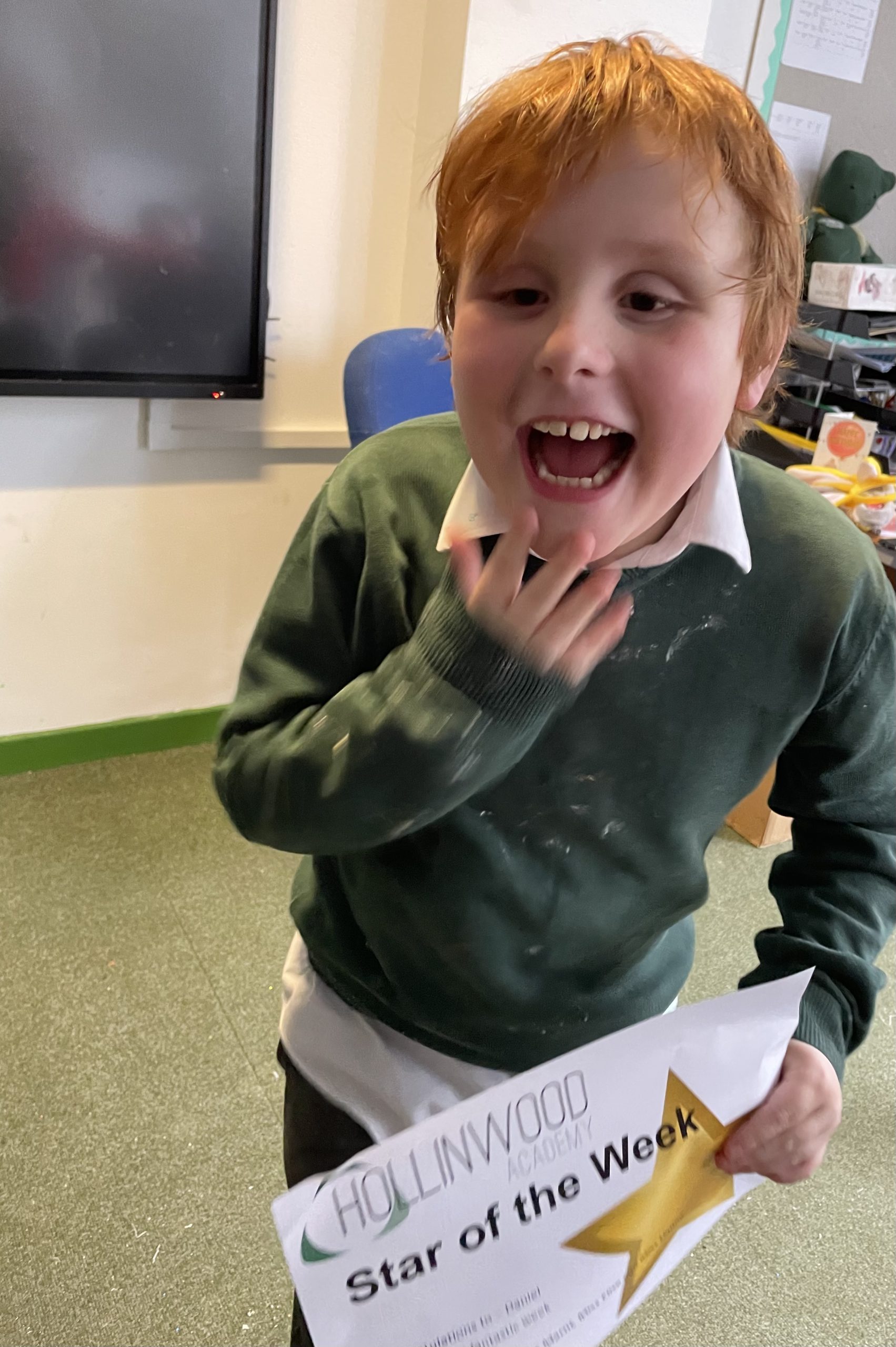 Miss Parkinson's STAR of the week is Oliver for trying hard and asking for help in lessons this week.
Mrs Parkinson's HWA Creative STAR is Daniel for making a very creative poster about Autism during intervention.
Mrs Matthew's STAR of the week is Marco for some good work in English and showing improvement in focus in lessons.
Mrs Matthew's HWA Creative STAR is Andie for showing great resilience this week in English and SPaG.
Well done to our secondary Hollinwood Academy STARs this week: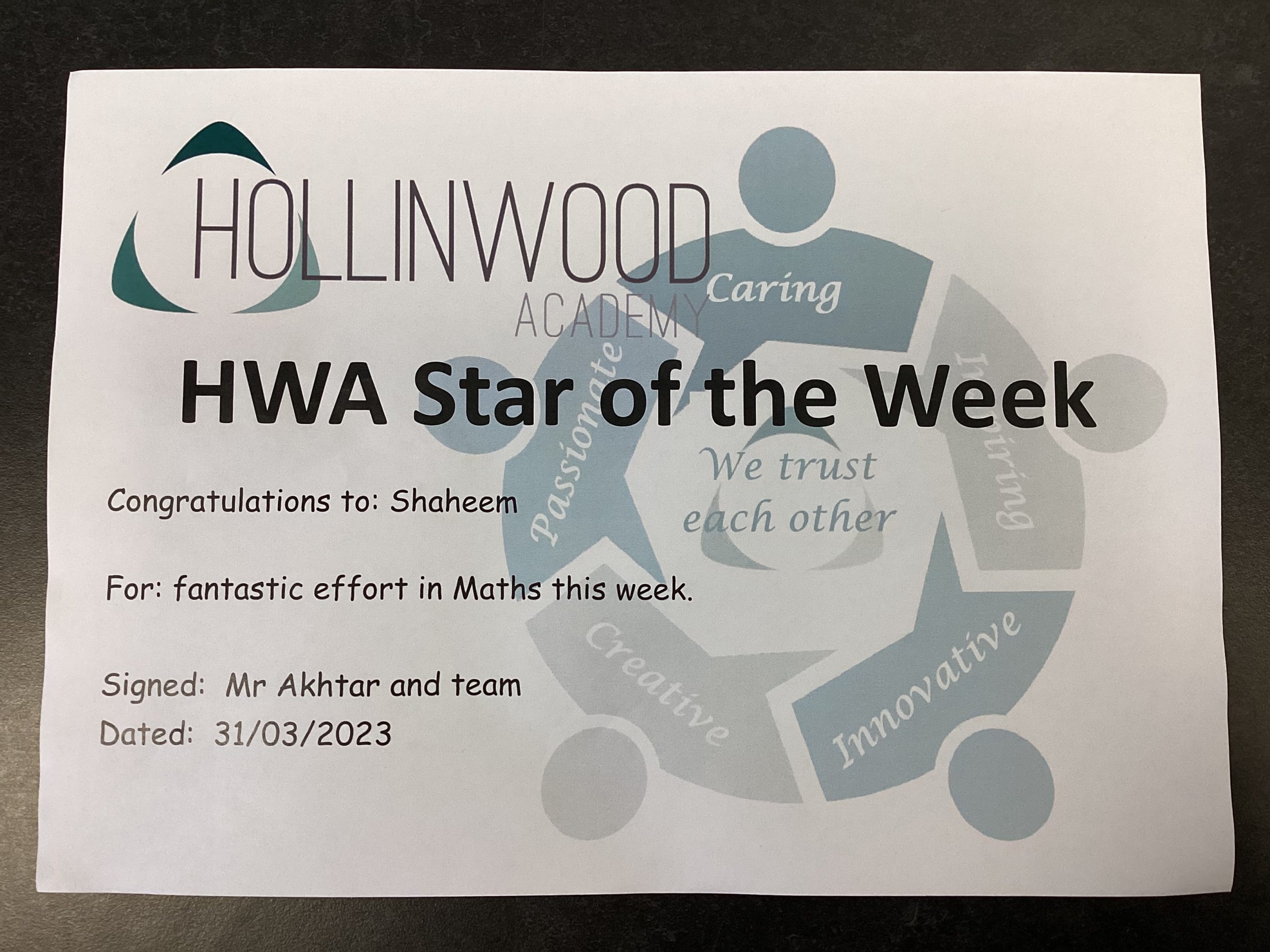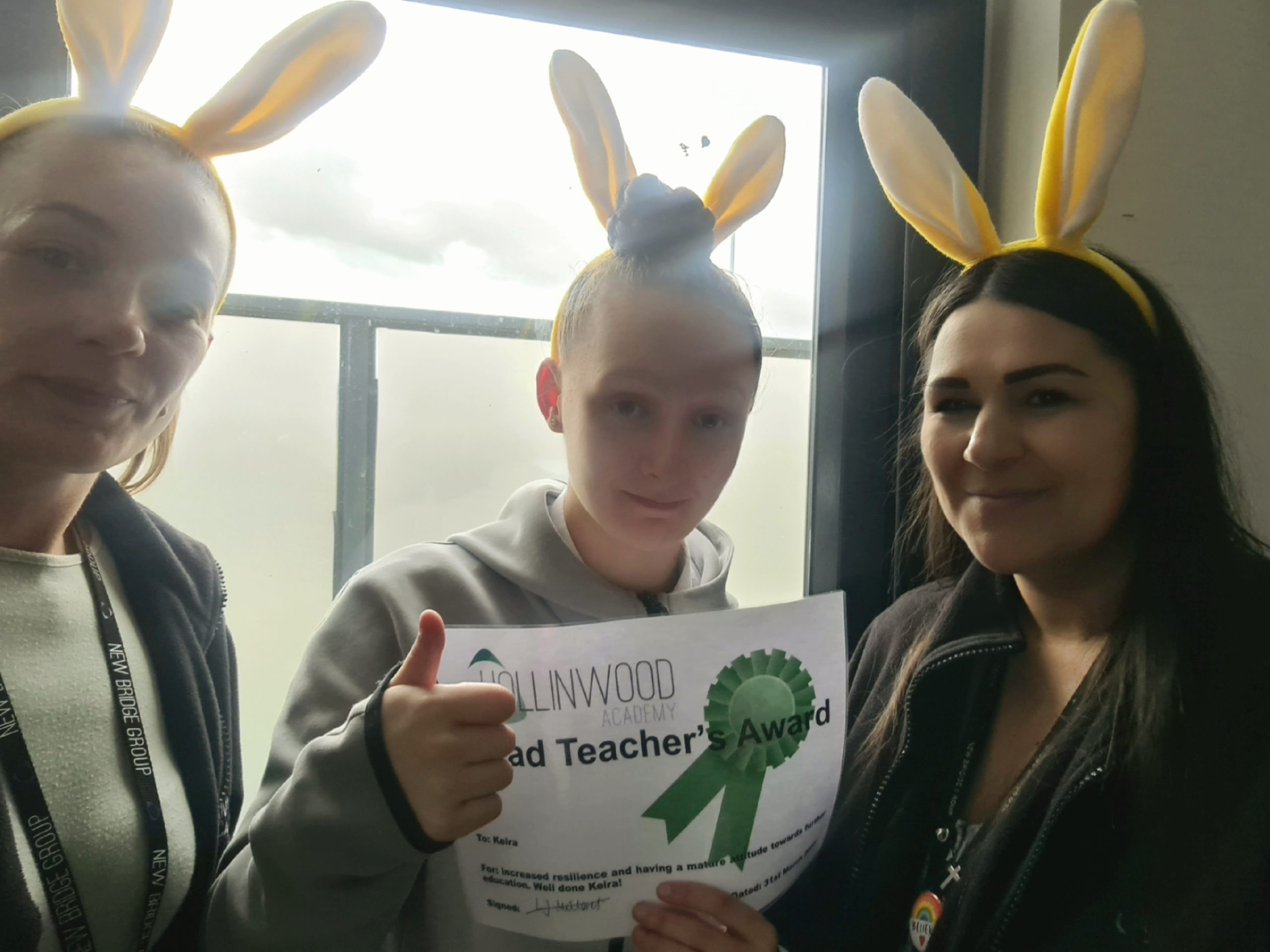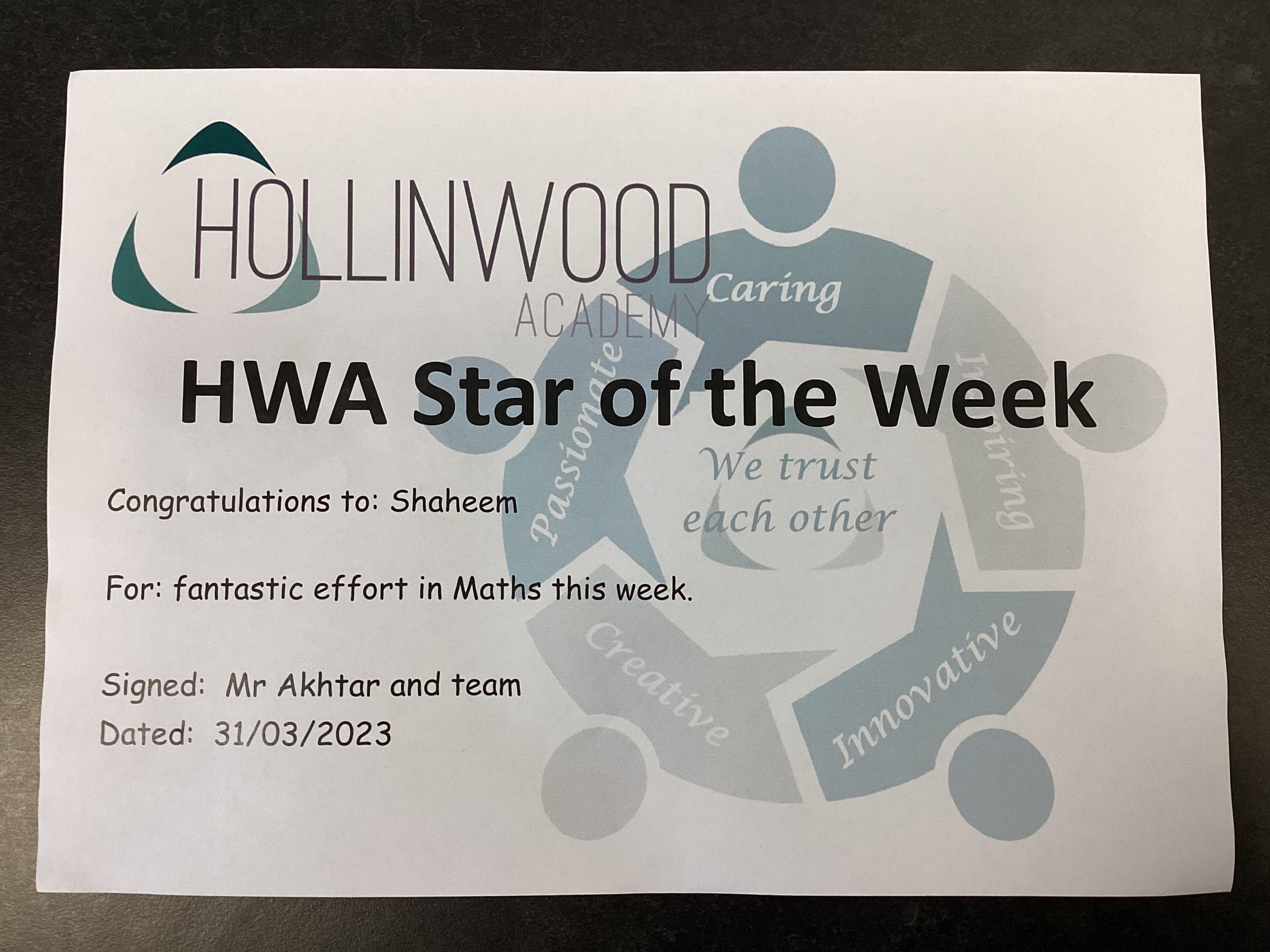 Finally, I would like to say, on behalf of Hollinwood Academy, governors and trustees a huge thank you to Miss Wheeler for supporting our children and young people over the years. Miss Wheeler has supported across school in various roles and has shone more recently in her role as pastoral support assistant. Miss Wheeler will be missed dearly, her support for both staff and students has been invaluable and her selfless approach has impacted on both wellbeing and personal development. Miss Wheeler is leaving Hollinwood Academy to pursue a career within the police service. This is an excellent opportunity for Miss Wheeler, and one we know she will embrace and become a very successful addition to the team. Goodbye and good luck Miss Wheeler.
This leads me on to congratulate and welcome Miss Gold as our new pastoral support assistant. Miss Gold has a wealth of experience and is very keen to get started. I am confident she will be an asset to the team.
I hope you have a lovely Easter break and I look forward to hearing about the children and young people's break as we return to school on Monday 17th April. I am heading to London with my family and Isla my youngest daughter cannot wait.
Mrs Millard