Blog 24.03.2023
On Monday evening, we held our spring full Governor's meeting and there was a lot to discuss and challenge received in the two-hour session. During the meeting, the Governors received an update from myself regarding the school, numbers, planned building work, premises, progress made against EHCP step targets and outcomes, standards and attainment in science, ICT, HRE, RSE and employability. Discussions were then had regarding an admission variation, safeguarding and attendance, prevent risk assessment, fire drill and the wellbeing of children, young people and staff. We then reviewed the school development plan and the progress made this term including the safeguarding reports, procedures and training. Mrs Tushingham also gave an update on the February summary account, draft budget for 2023/24 and also discussed and agreed a number of policies. The meeting was held in the Wellbeing Hub as I wanted to showcase the amazing work that happens within this classroom and the positive reintegration back into the school community that we have seen for a number of our students. The governors were thrilled to hear about the Wellbeing Hub and this will be featured in our spring newsletter.
On Wednesday, students from KS3 and KS4 represented school in a multi academy trust basketball tournament. Students played to a very high standard and even reached the final which they won 3-1. Well done to all of the students involved and we would like to thank Mr Darnbrough for organising an enjoyable event.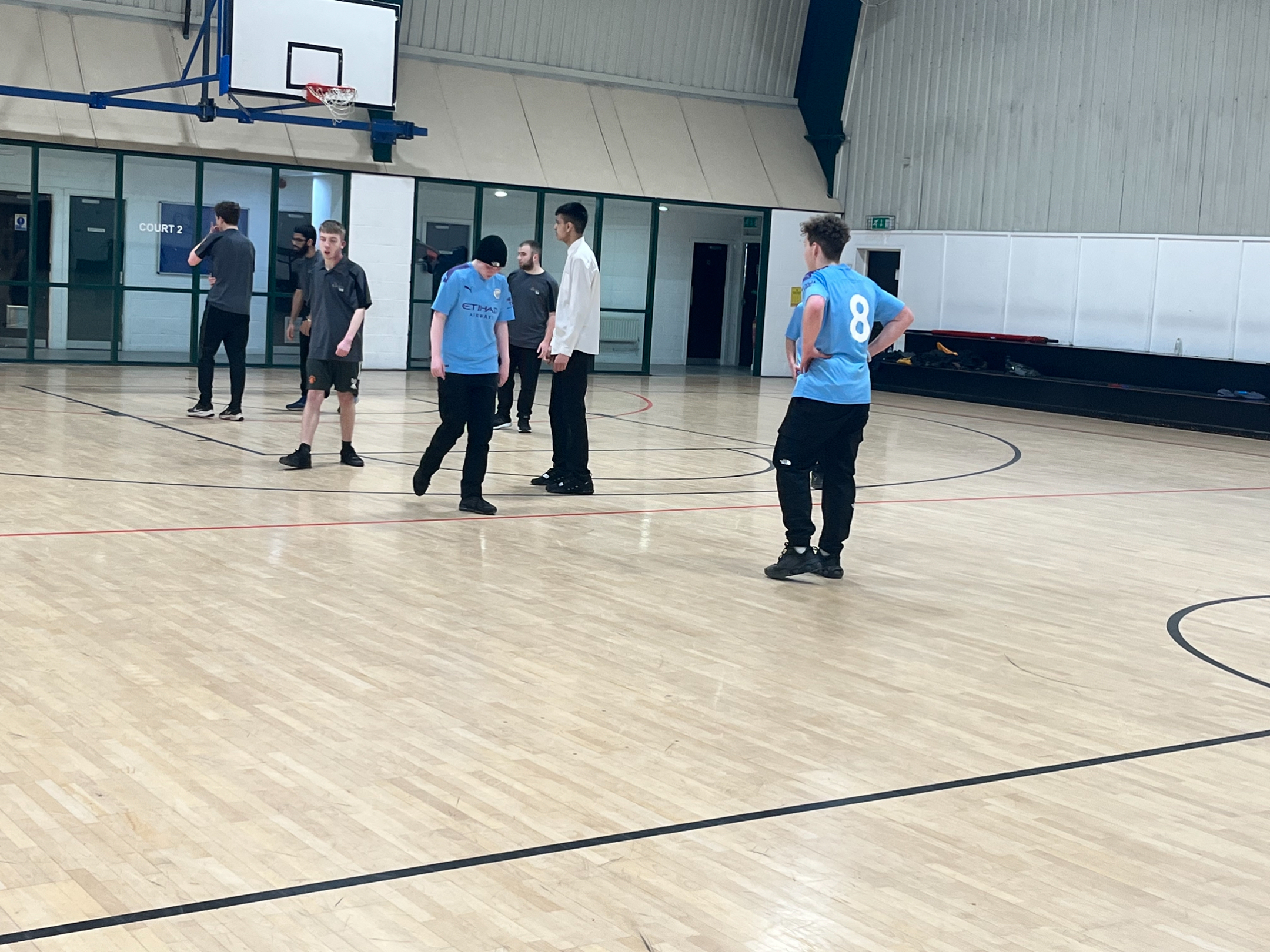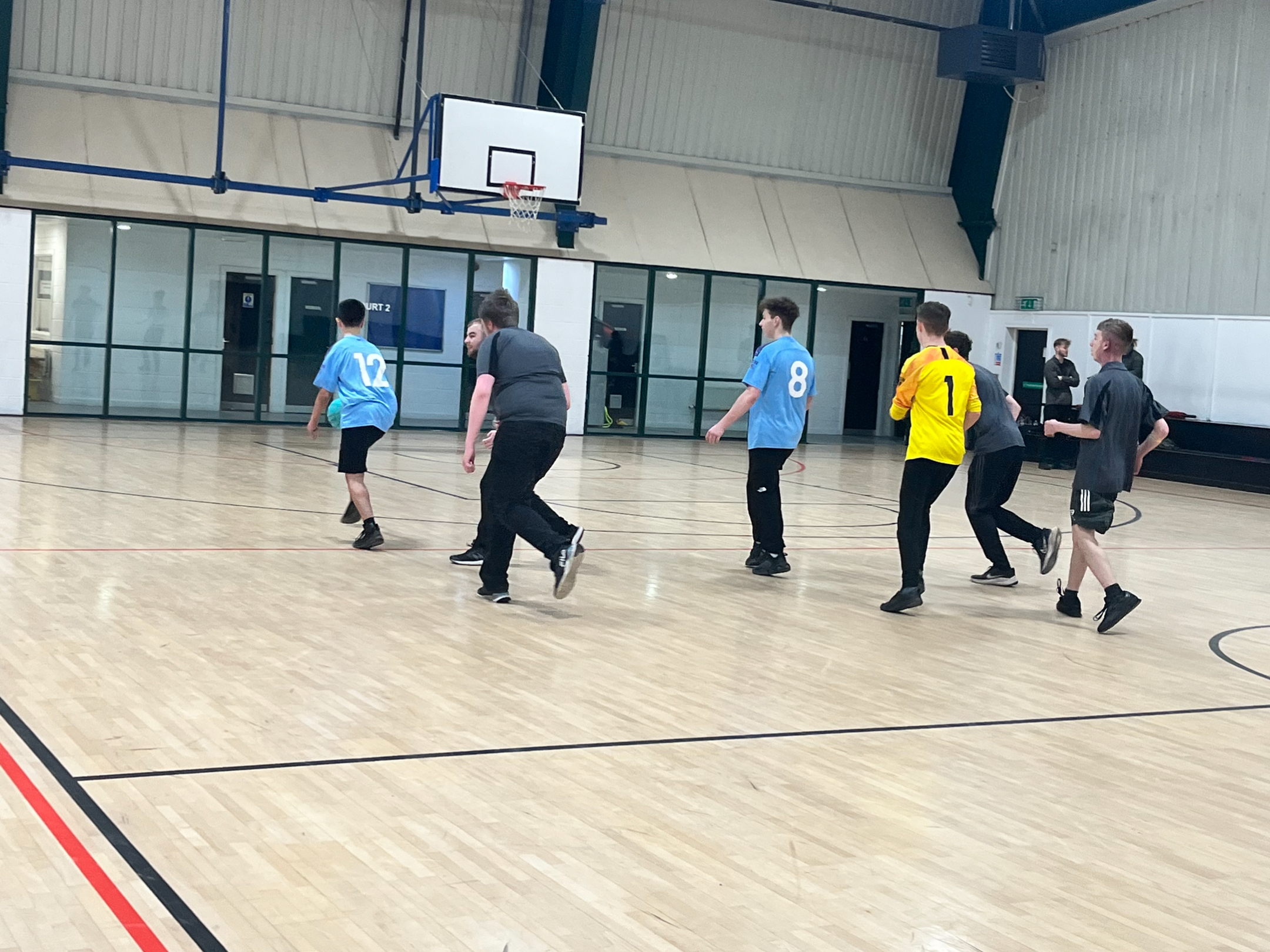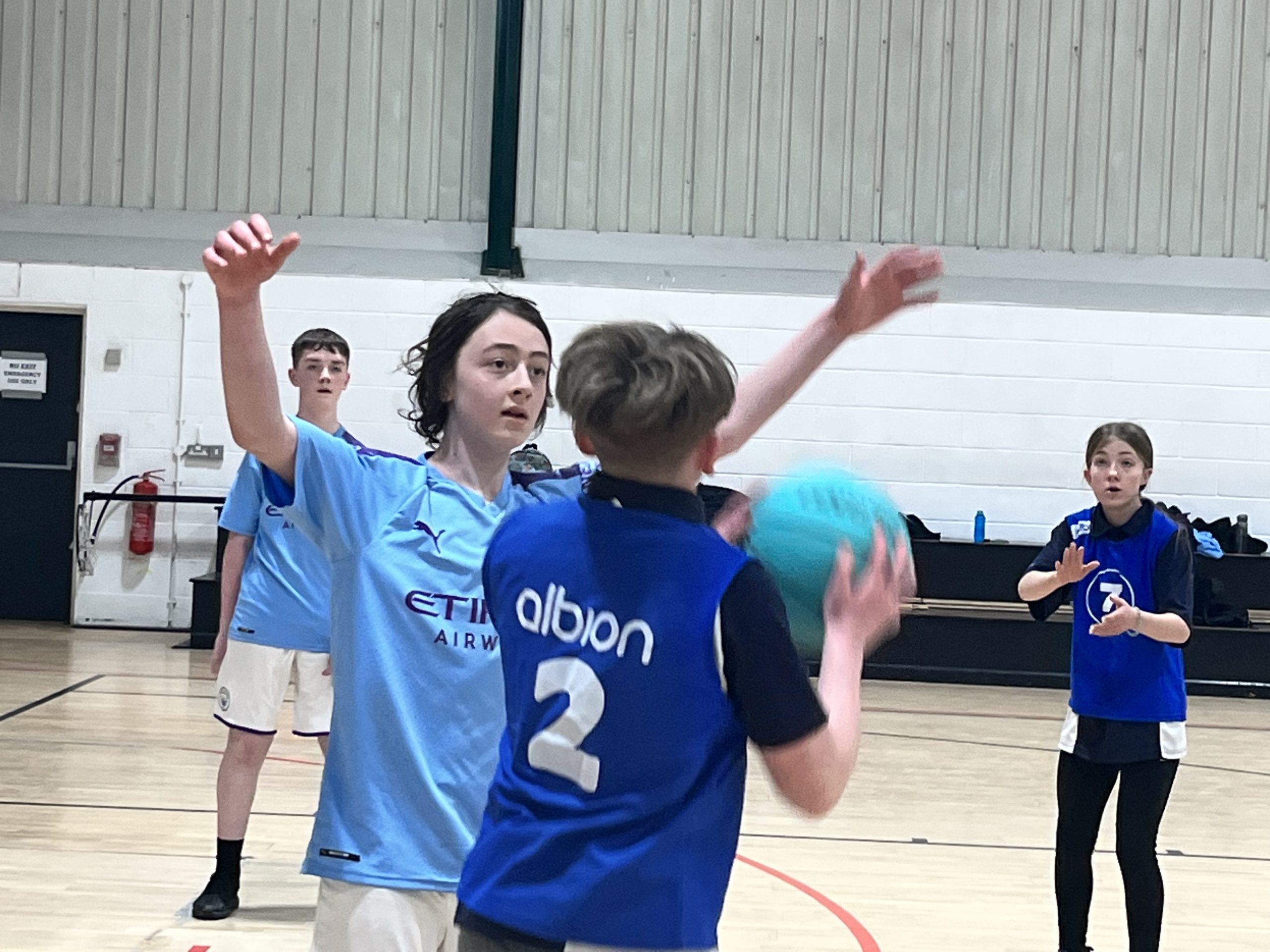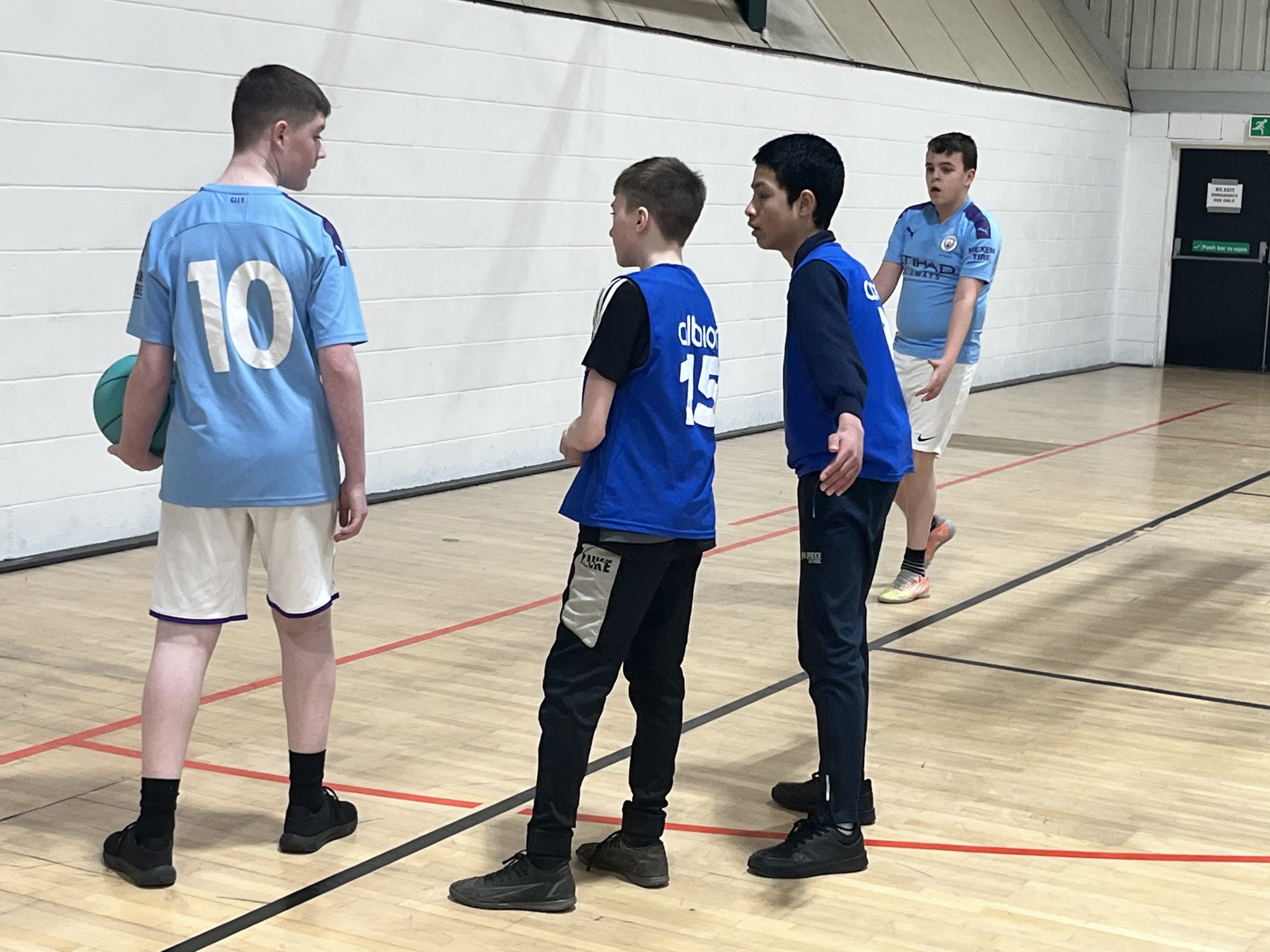 During careers week members of staff from across the school displayed posters showcasing previous jobs and skills which they have developed during their career journeys. Did you know that here at Hollinwood Academy we have a staff members who have previously been dog groomers, a trainee vicar, ride operator at Disneyland Paris, make-up artist and a blogger? Staff have showed that over their careers they have learned skills important to them today such as organisational, communication and employability skills.
This past month students in KS4 have visited Hopwood Hall and Oldham College. We have had Matt Leigh from Greater Manchester Apprenticeships in to talk to students about what is available post 16. Scott McKeown has been in from Newbridge College to deliver presentations as to what is on offer post 16 in the Newbridge group, students will be timetabled soon to visit and have a look around.
Vicky our Positive Steps Careers Advisor has been working hard to collate next steps for our Year 11's. She has also started to book in Year 10's to start looking at their destination plans. We are also starting to look in to work experience placements with local employers, if you know someone or can facilitate this in your workplace please can you email rebecca.jones@newbridgegroup.org with some details.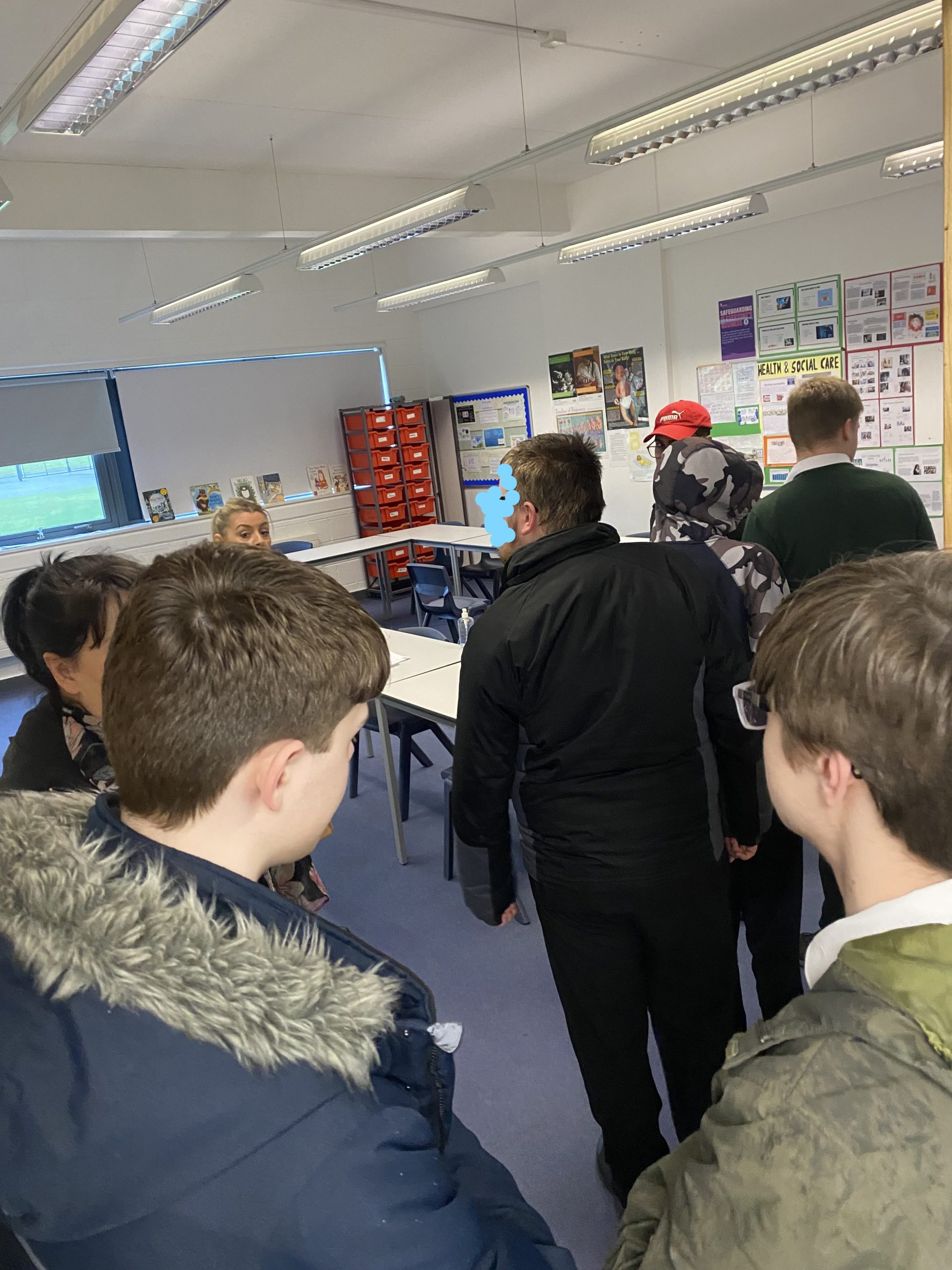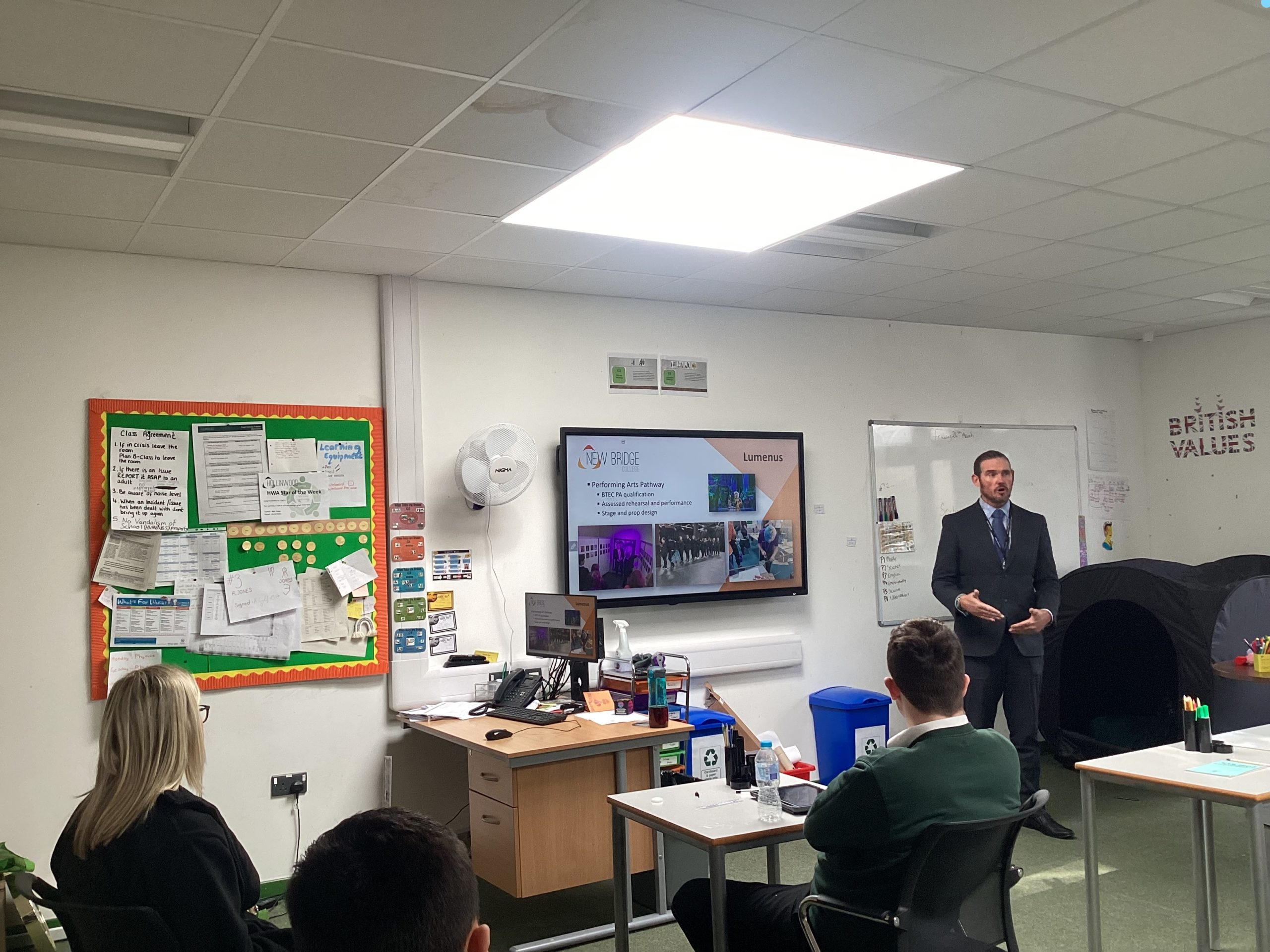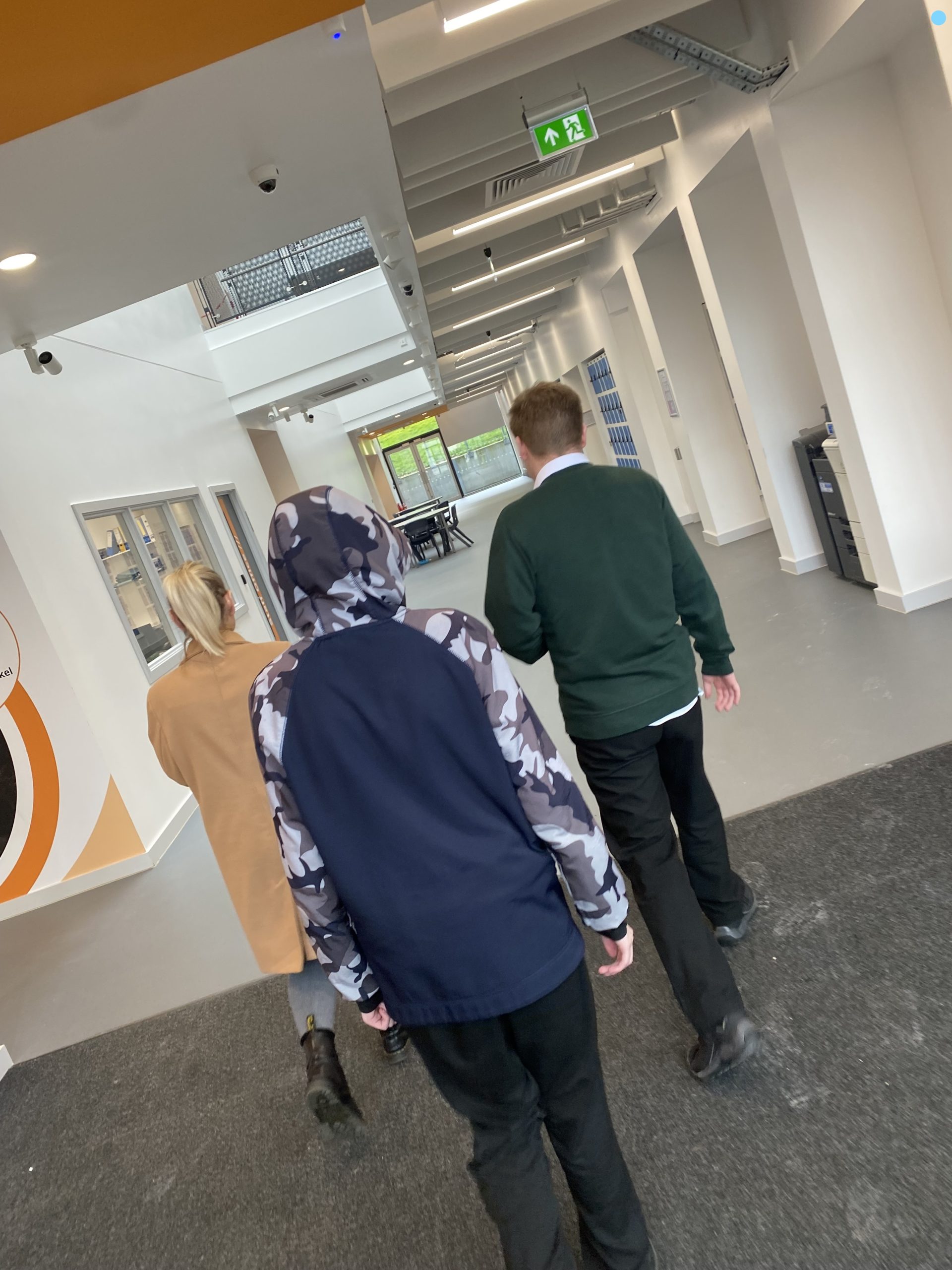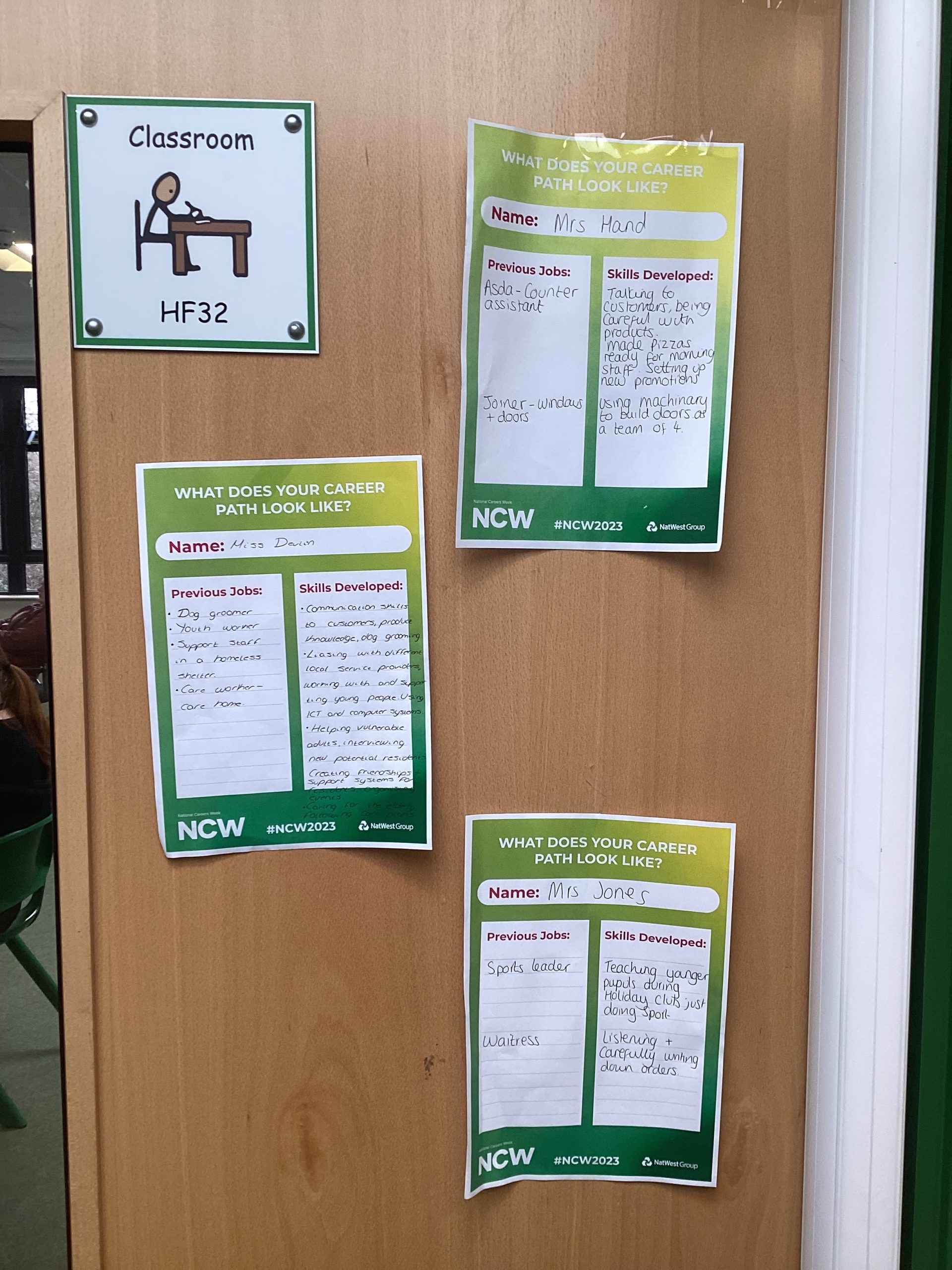 For the past three weeks, science has exploded here at Hollinwood Academy.
You will remember in Mrs Needham's blog last week, the secondary students were investigating a crime scene and they had three suspects, Lou Lumpy, Drew Drexel and Timmy Trett. We ended last week's blog on a cliffhanger as the students investigated the crime to identify the murderer… here was the final outcome
The pathologists' and forensic corner's reports indicated that poison, not a head injury, was the cause of death.
The small amount of blood found at the site can be attributed to the fact that the head injury was a flesh wound.
In light of the evidence and the reports, Drew Drexel, suspect number 2, is the guilty party.
He has been detained while awaiting trial.
An attempted murder case is also being tried against Suspect 1 (Lou Lumpy). Since he could have saved the victim if he had dialled 999 as opposed to leaving the scene.
As part of the STEM BRITISH science week activities and MARS Day the Year 9 nurture class have been studying the Solar system. On MARS day, the 7th of March 2023, the students were able to take part in a live we chat with Tim Peake, the British astronaut. They were really excited and they even asked him questions, they were so invested in his talk and the answers he gave. It was a real privilege to take part in this and the students were fascinated and amazing ambassadors for the school. Following the talk, the students created their own solar systems.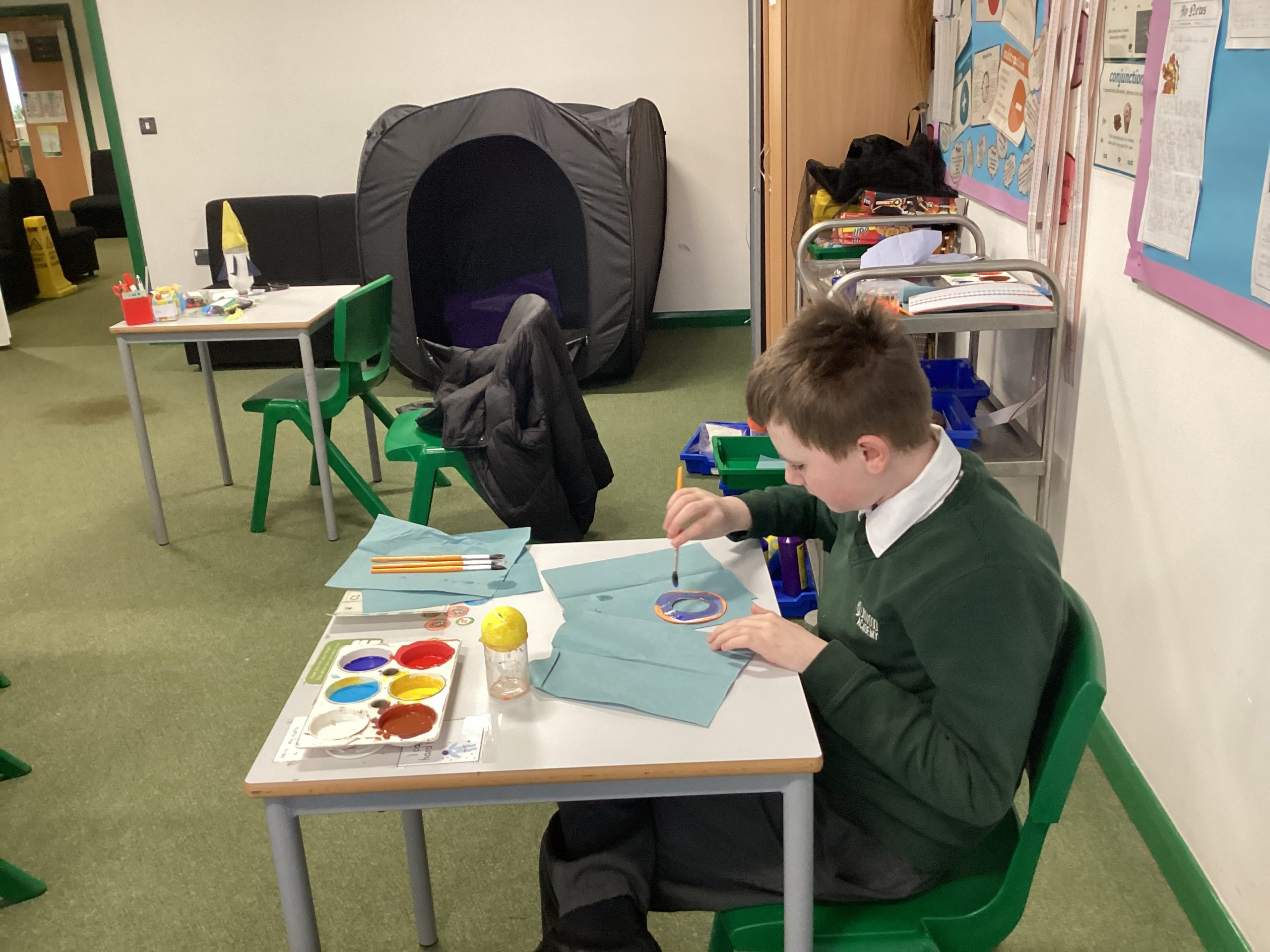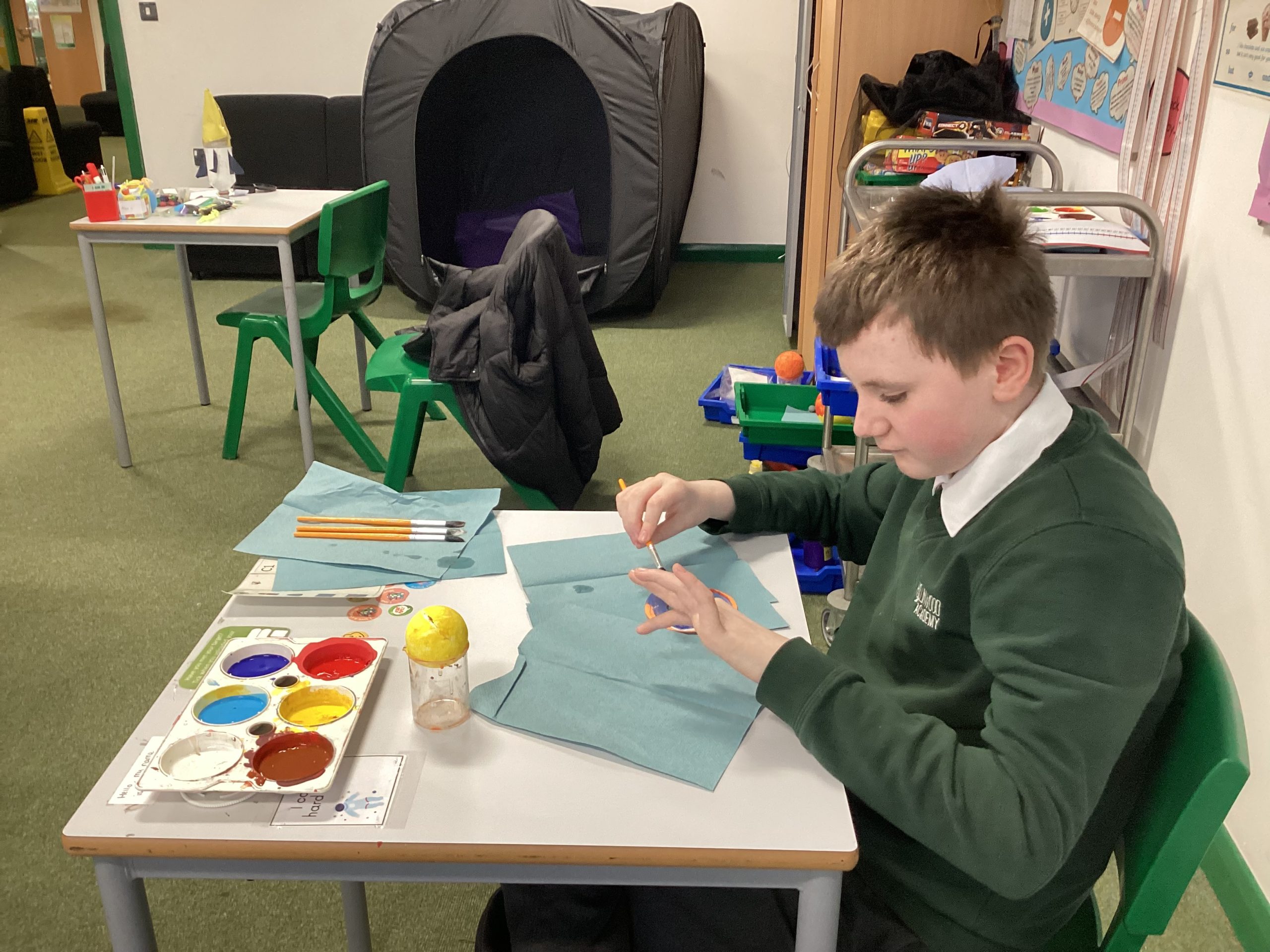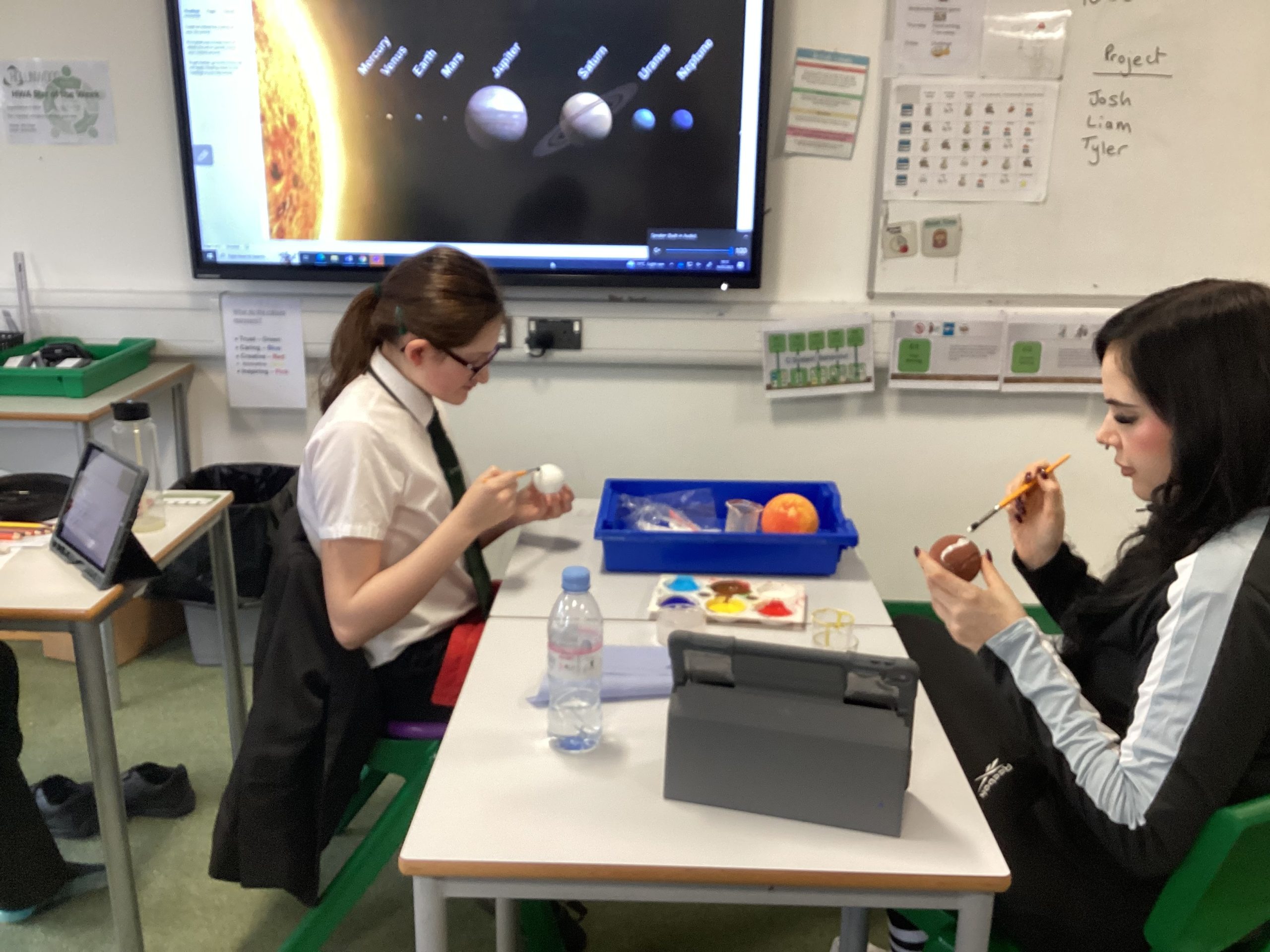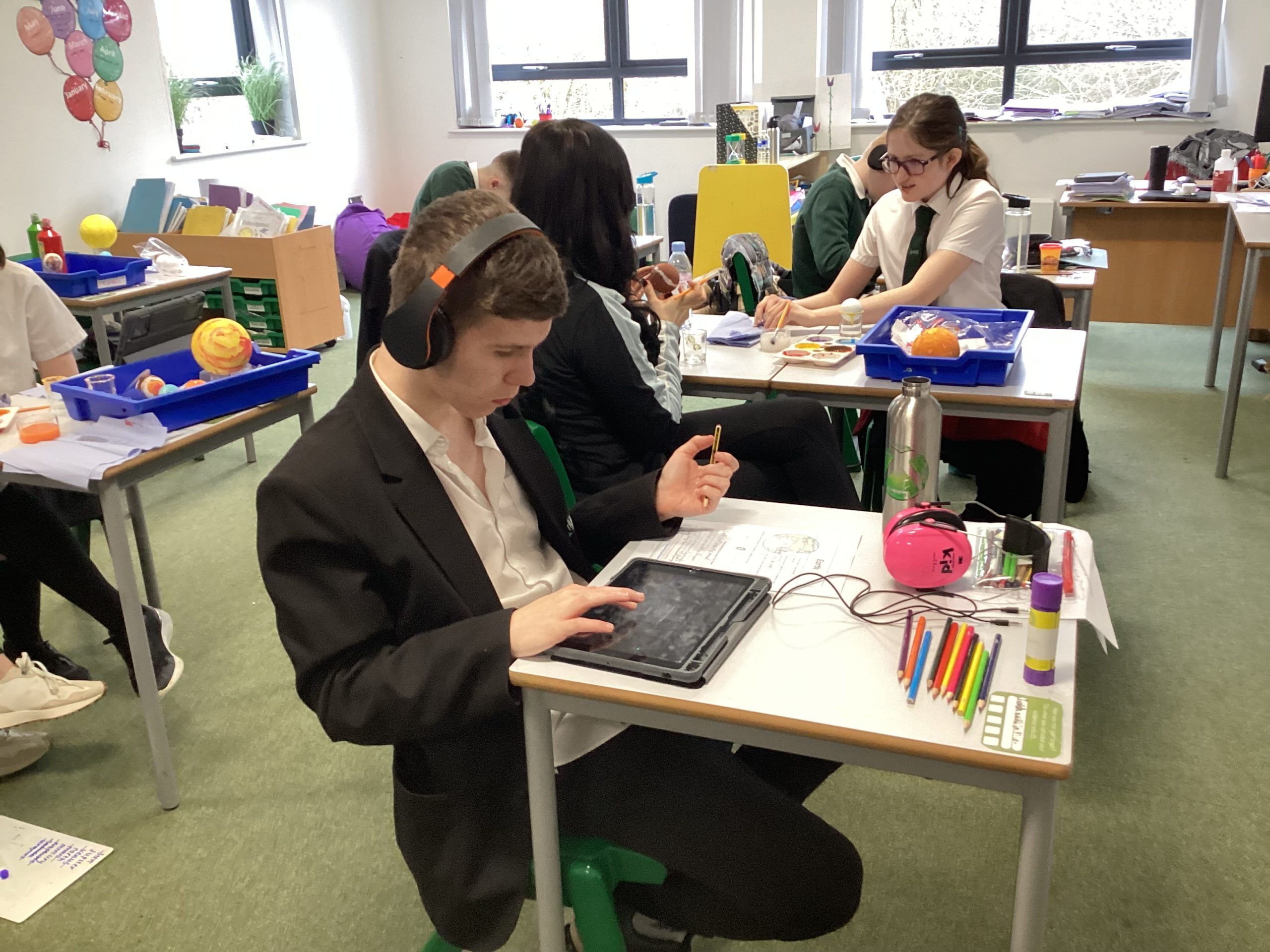 On Friday, our primary children finally got to celebrate British Science Week and how exciting it was. Our KS1 and communication classes had an opportunity to take pictures in the Space photo booth and feel like astronauts! Some said their dream is to go to Space one day!
The children also had a special visitor in their classroom, a scientist and they observed some great experiments. For example, the children learnt how to blow a balloon with baking soda and vinegar or that the oil will not mix with water. However, the most exciting element was to meet Mr High Five, the children made themselves!
The KS2 classes have been participating in Forensic Science. They had to investigate who broke into our school at night! The suspects left fingerprints, blood, shoe prints and a t-shirt! This was challenging! The children had to observe, collect data, compare and even share their fingerprints to make sure the suspect was not one of them.
The hard work paid off as they broke the code and finally found suspects… Laura Millard and Louise Needham!
The children are great detectives and received medals for their hard work. Well done, everyone and a special thank you to Miss Pietraszewska and Miss Sharaf.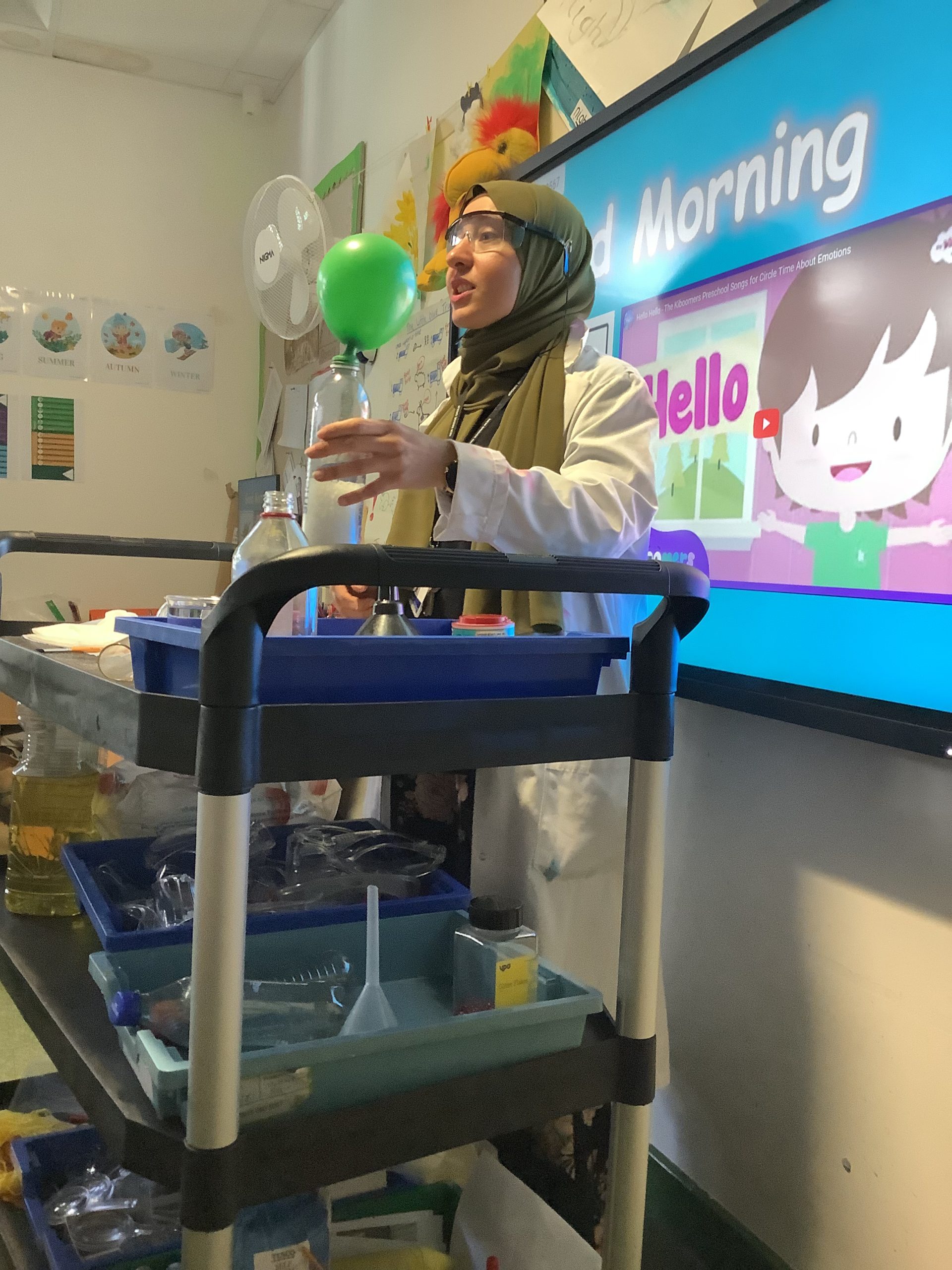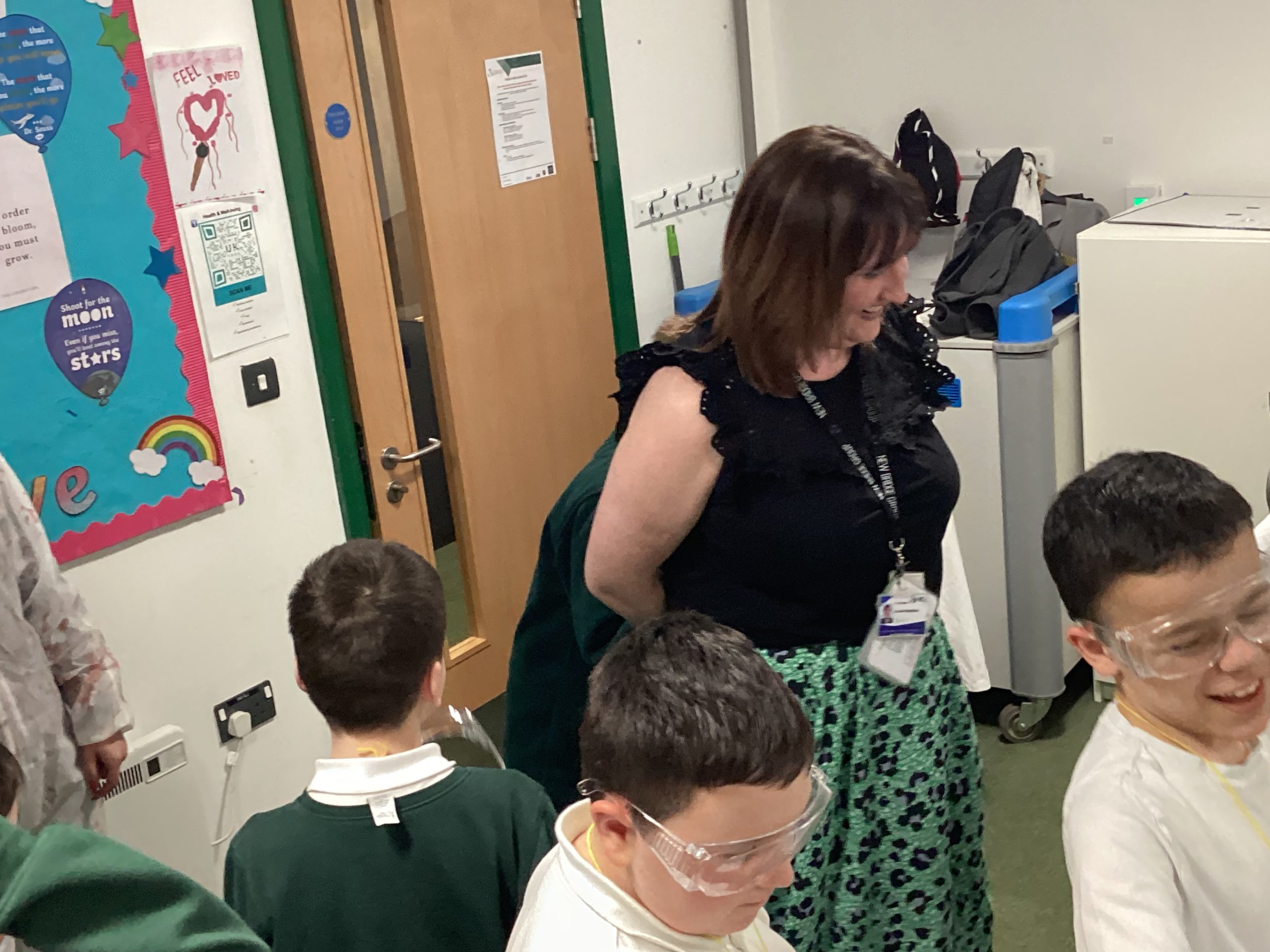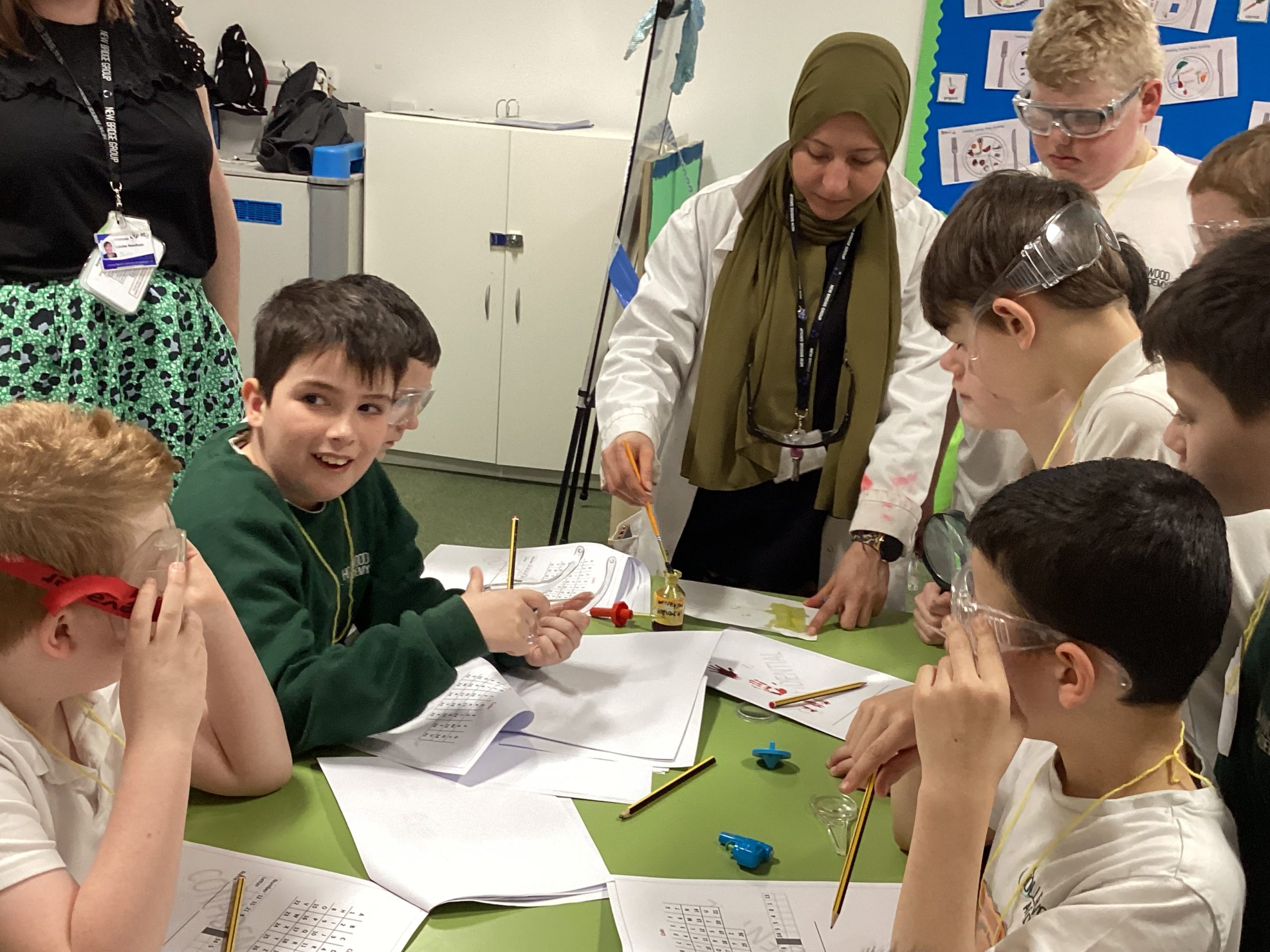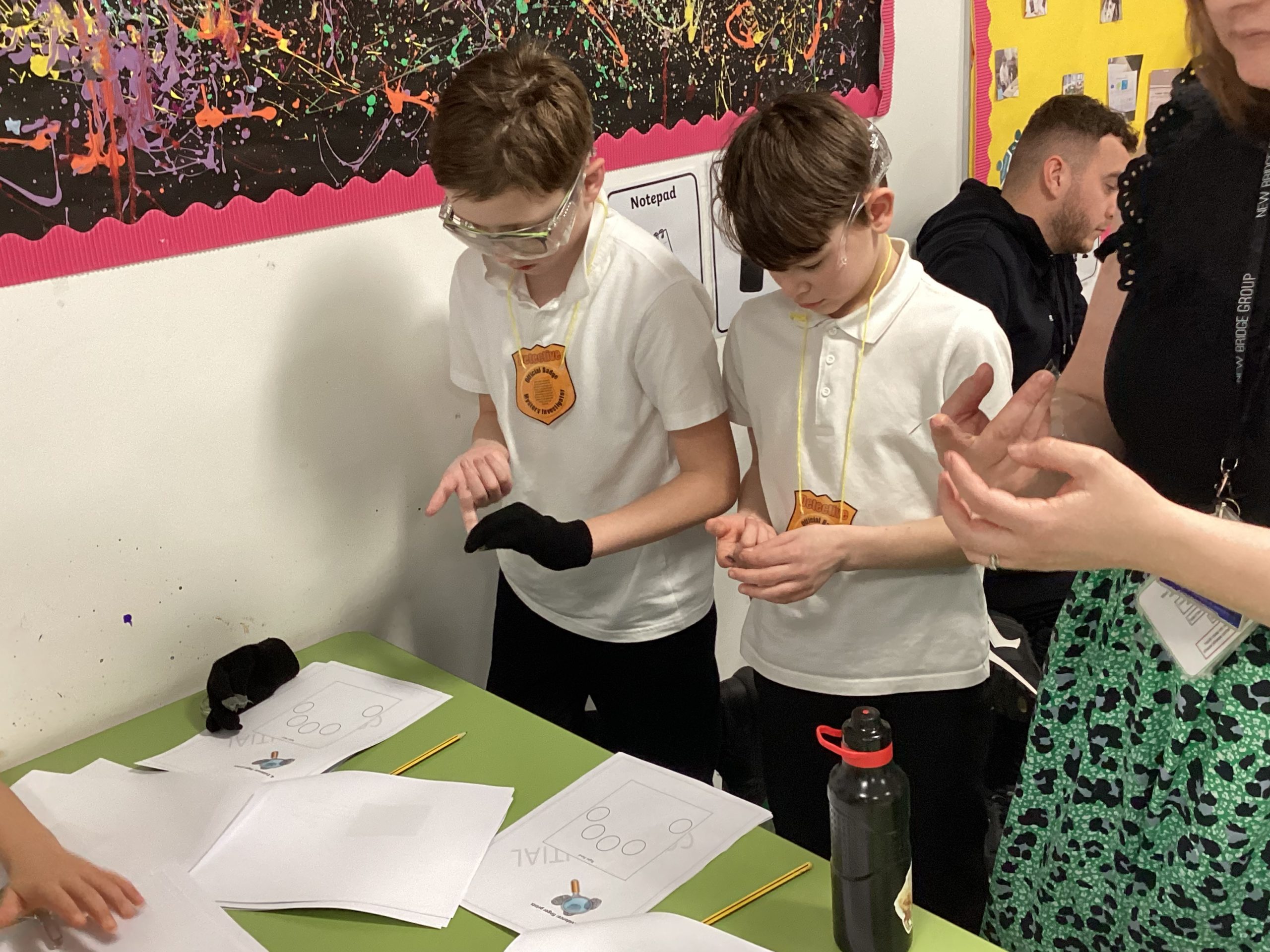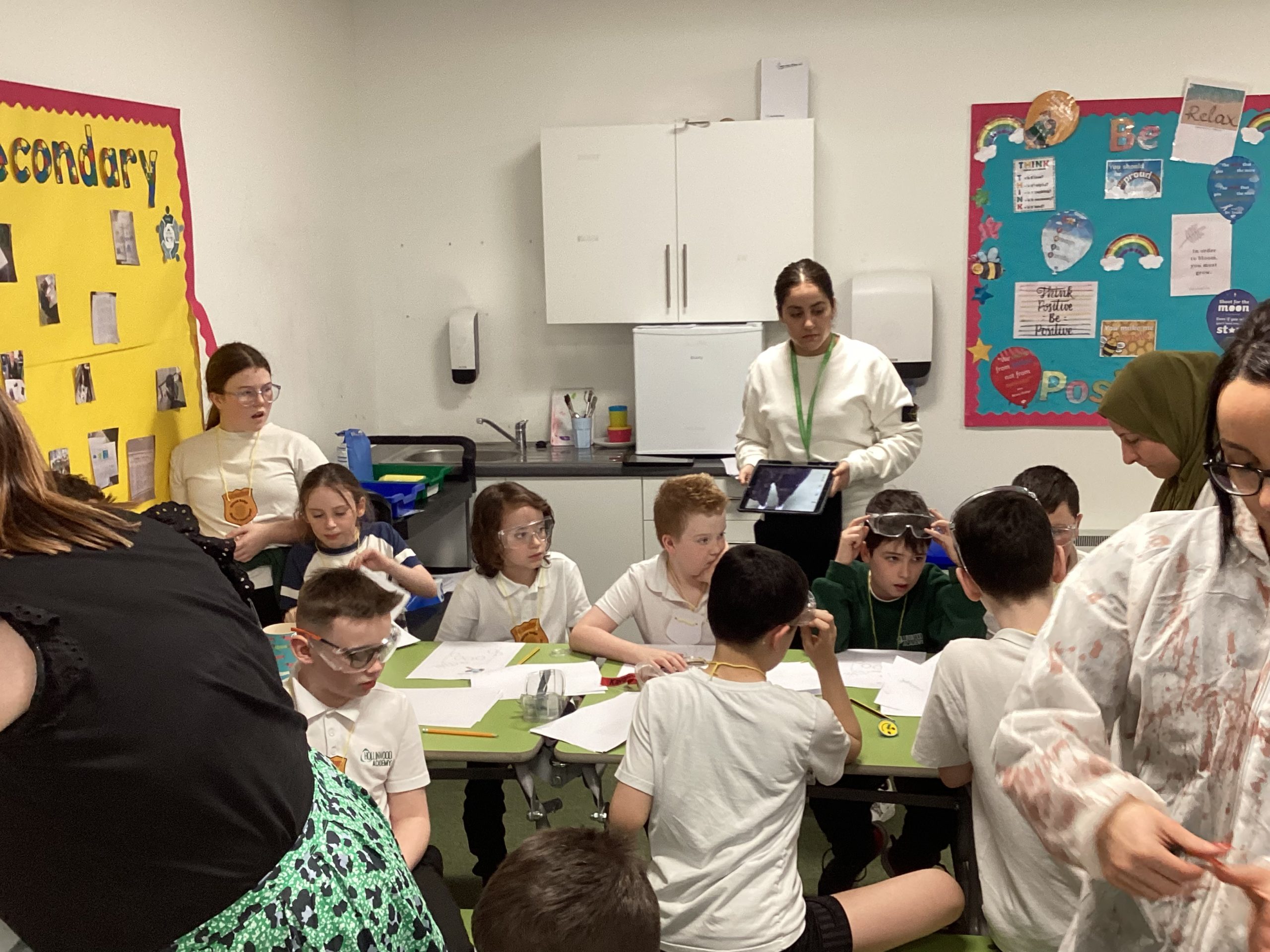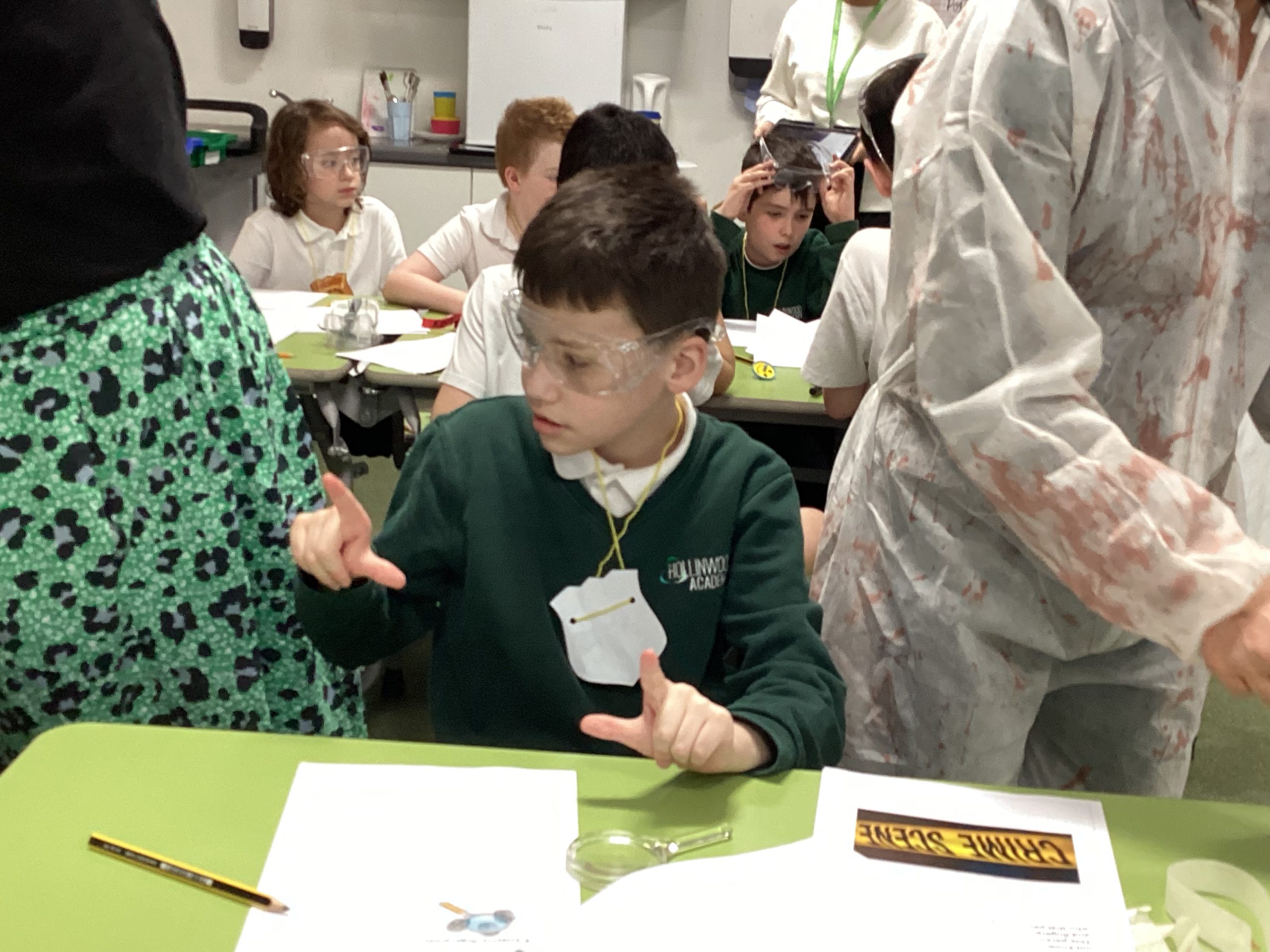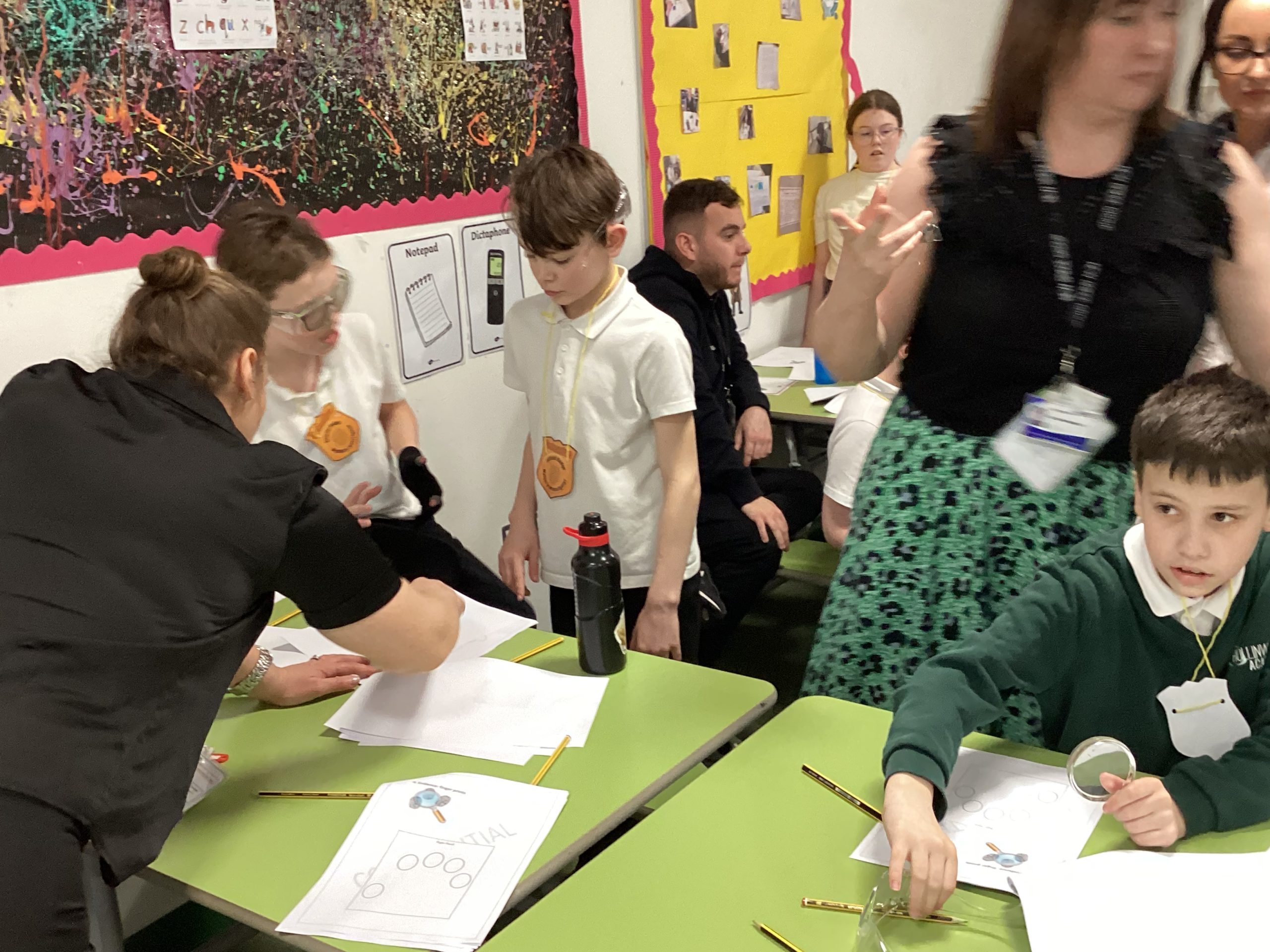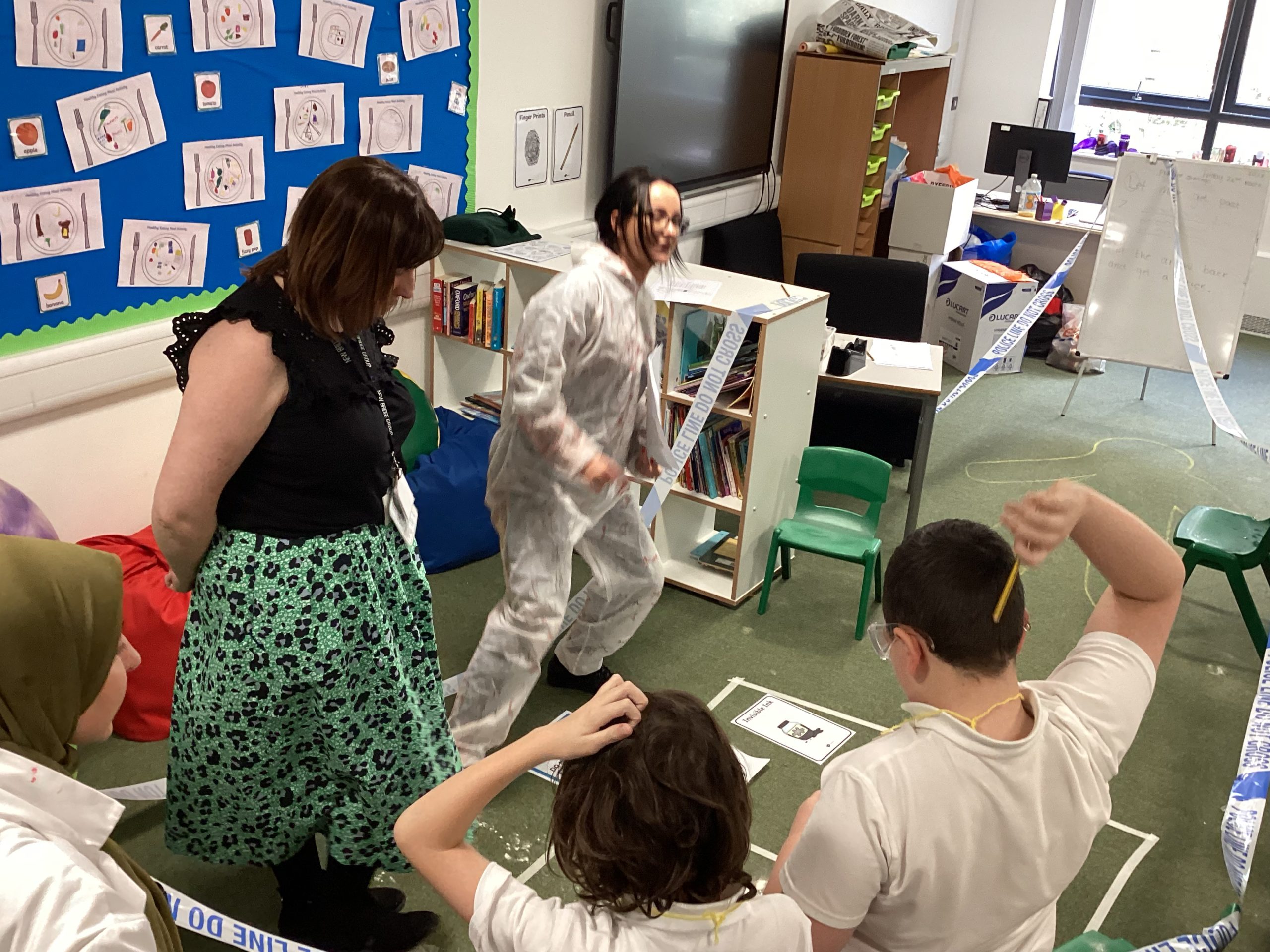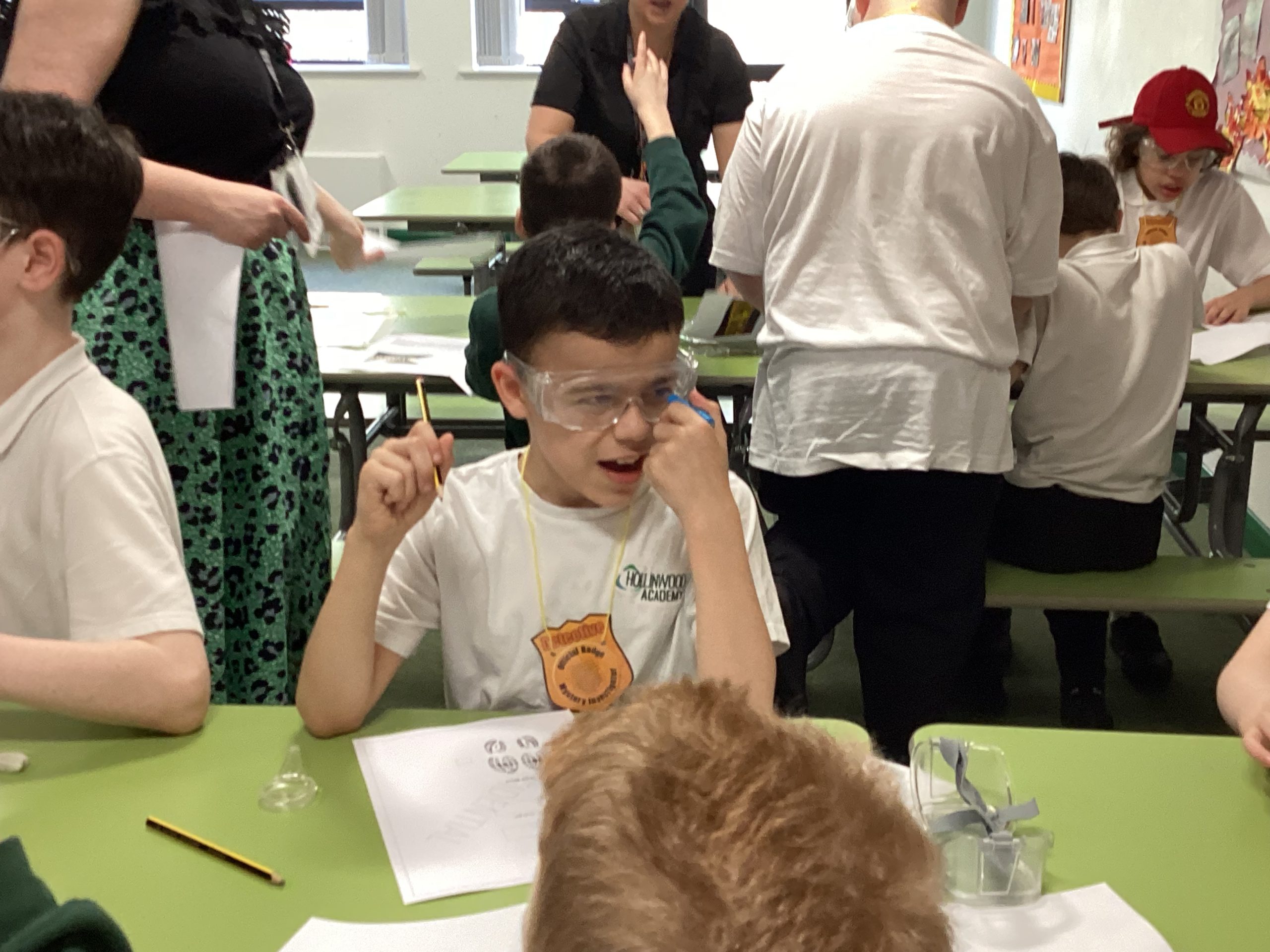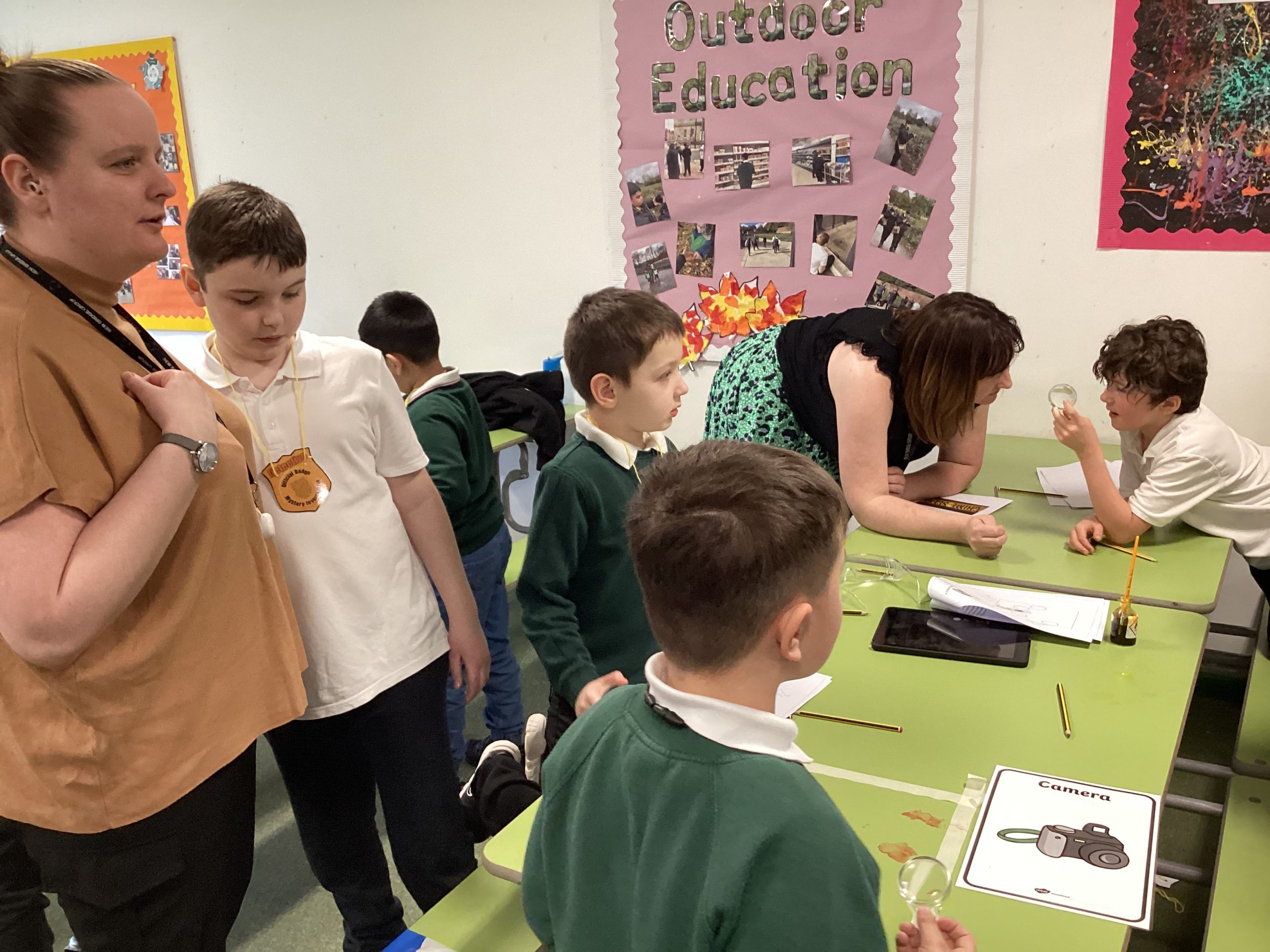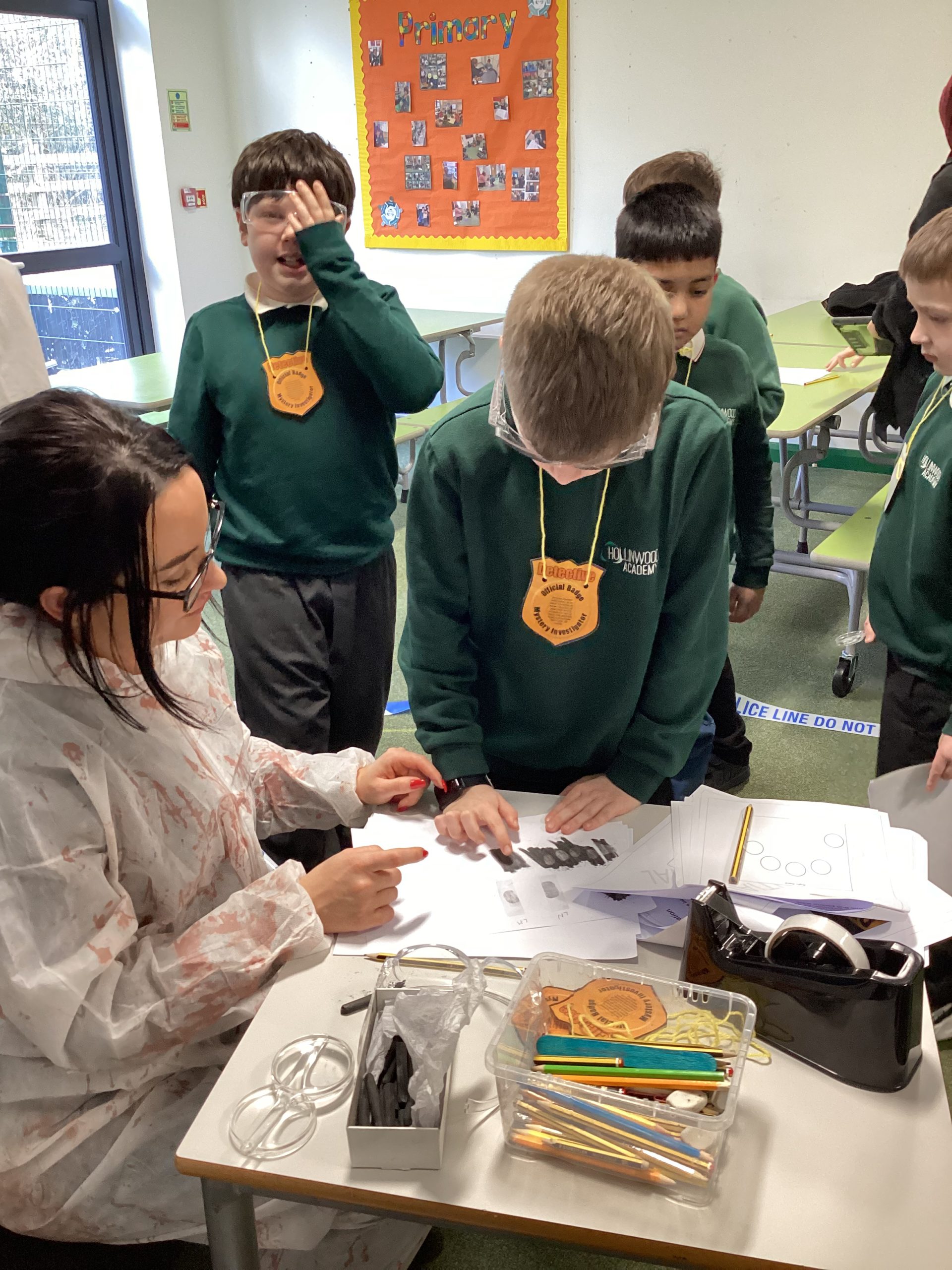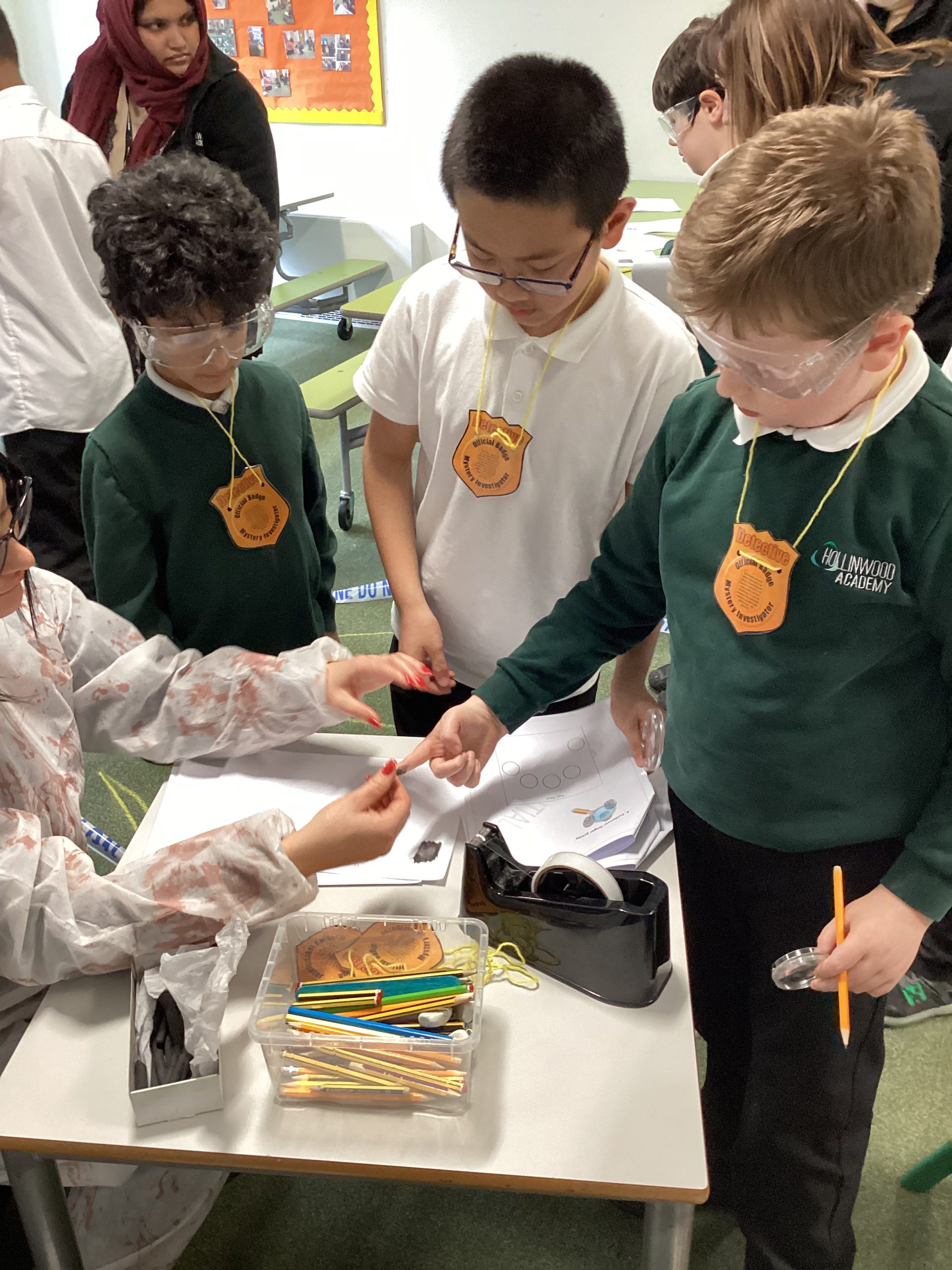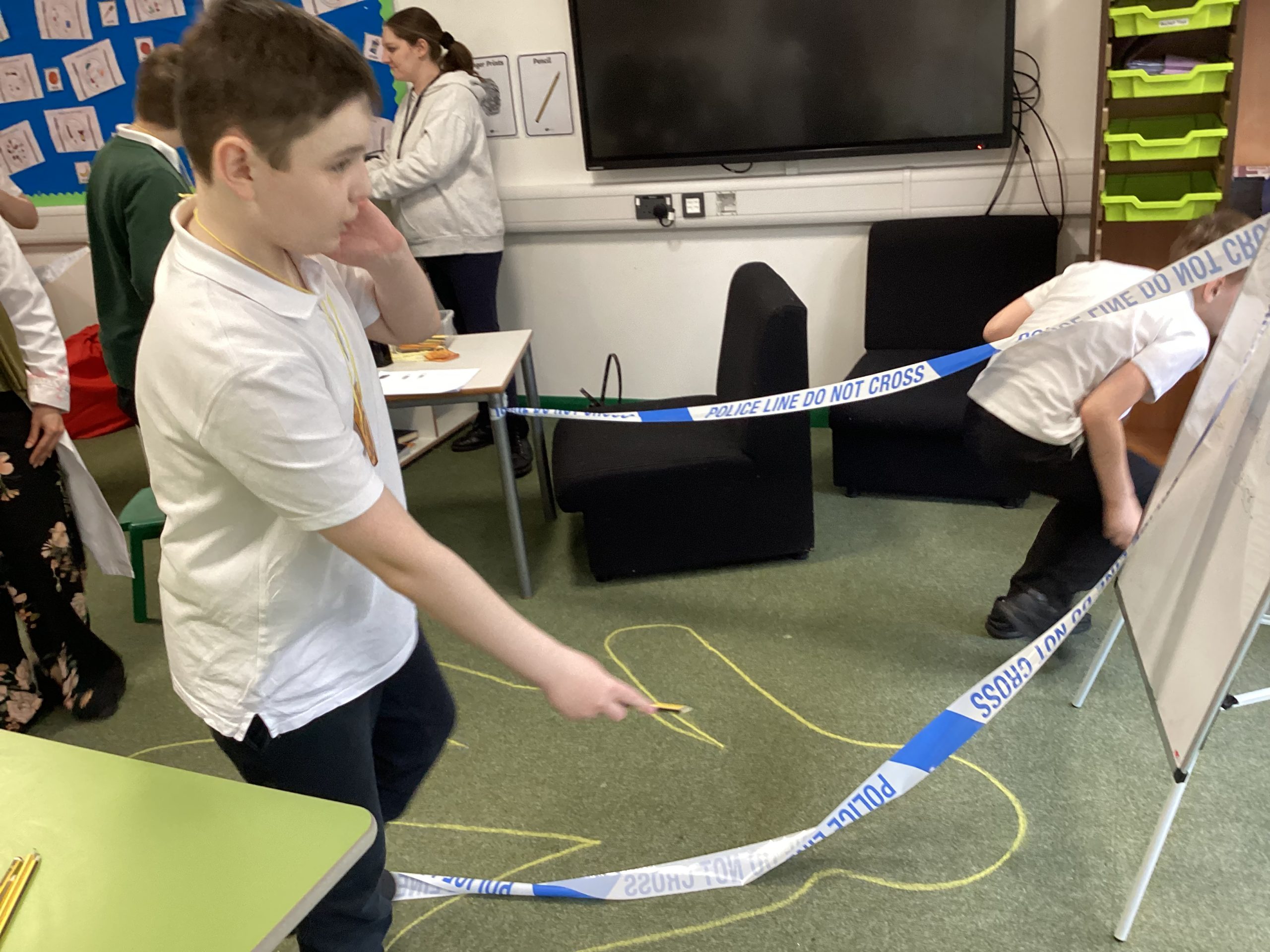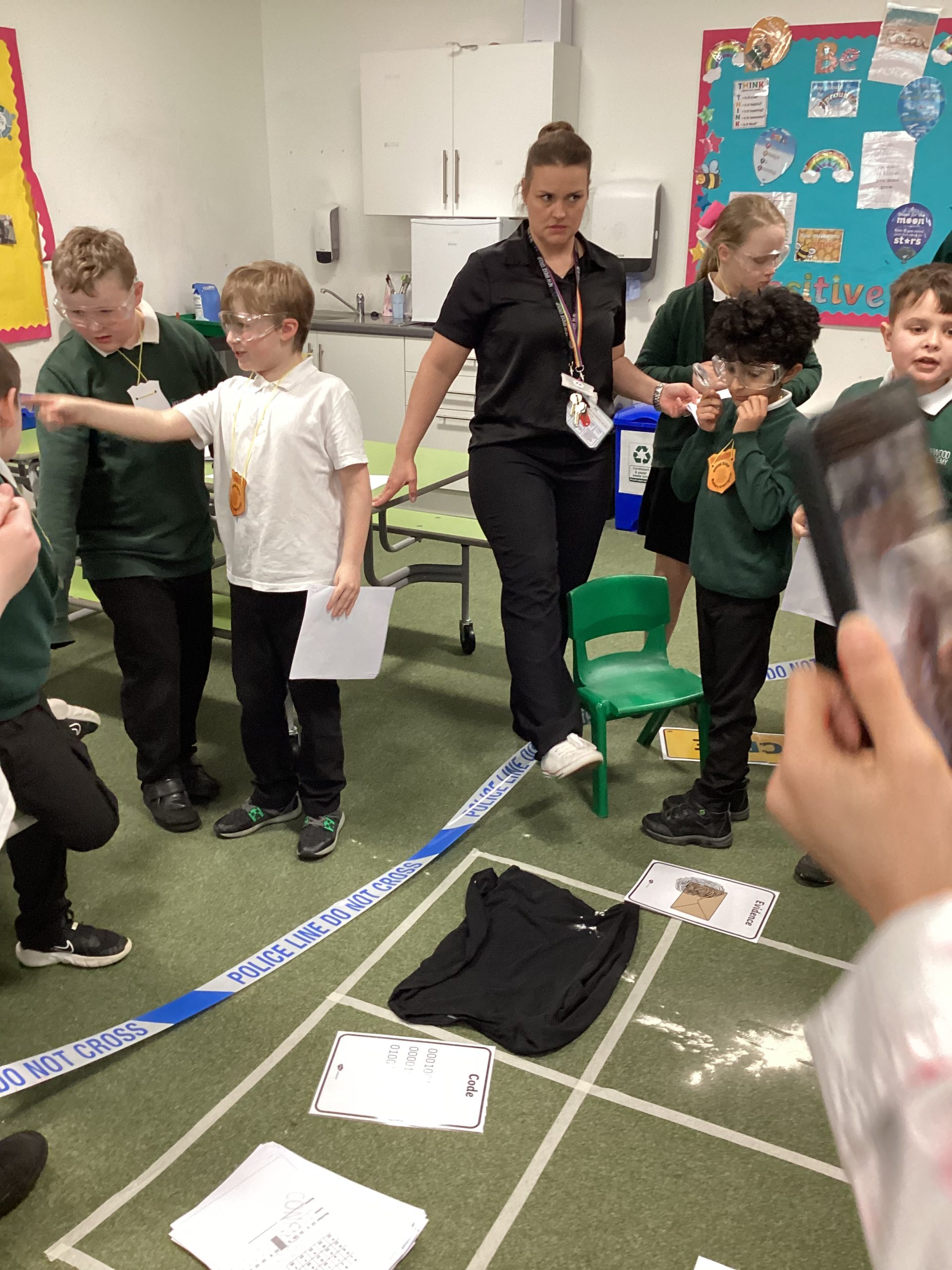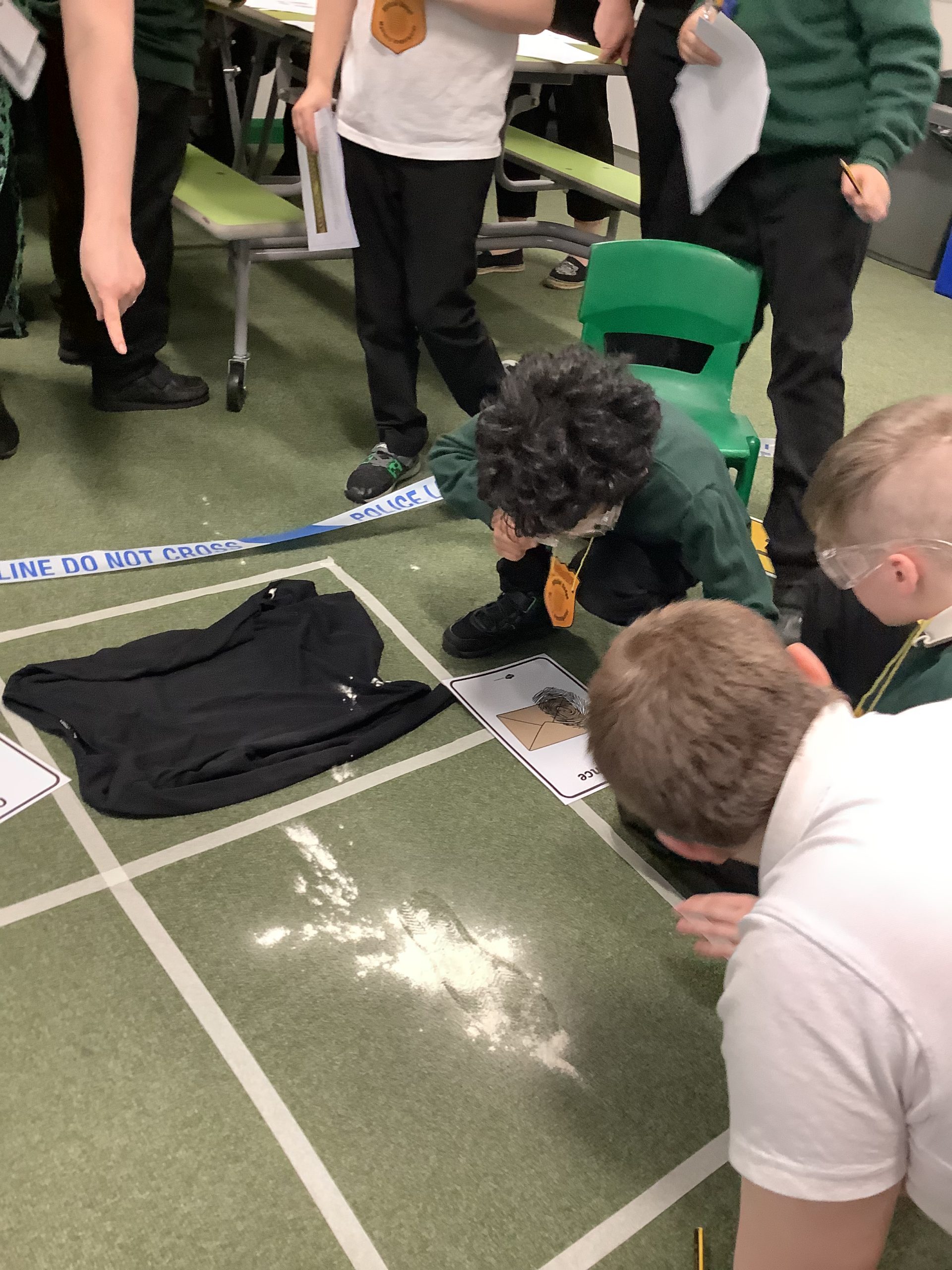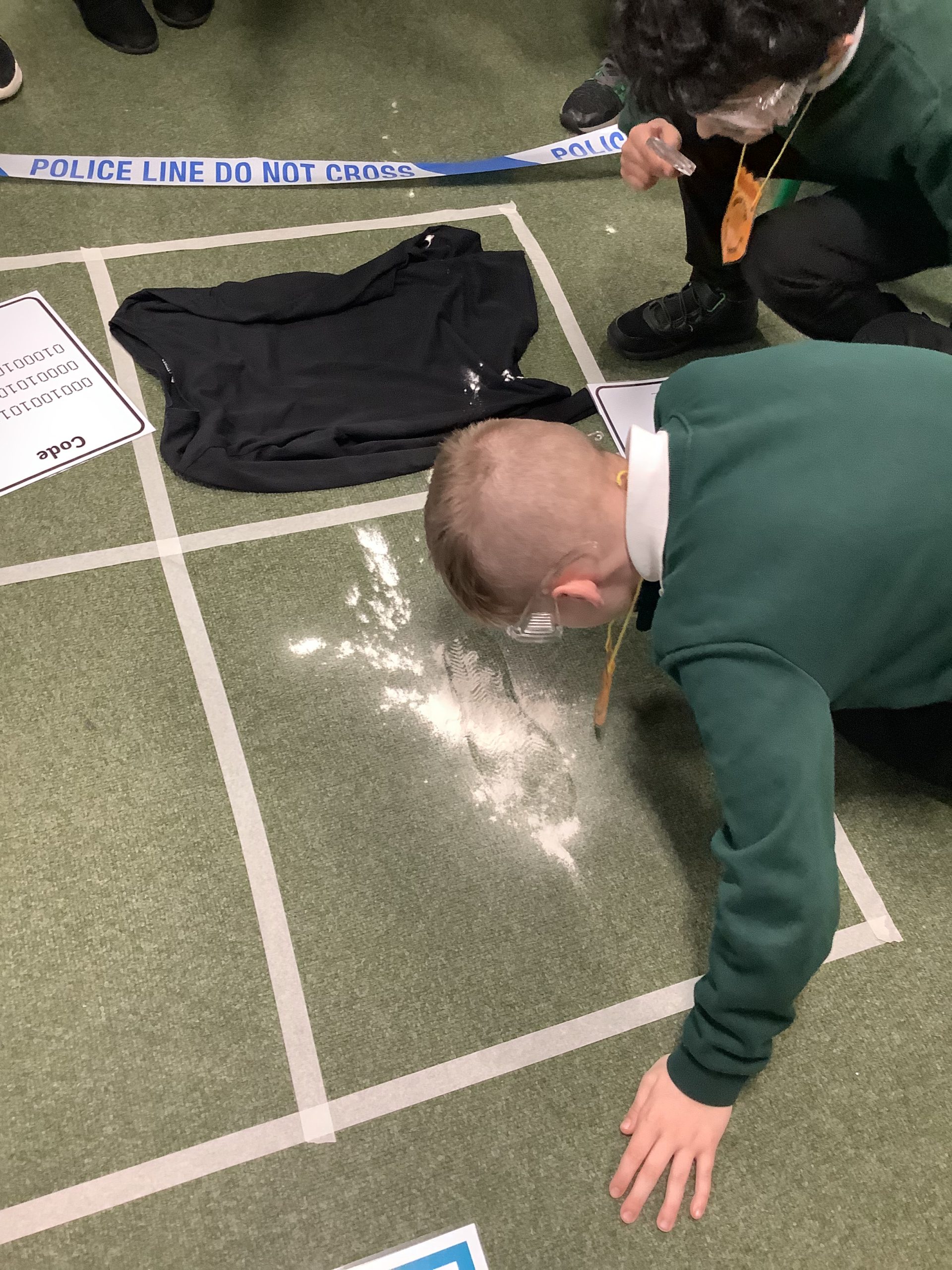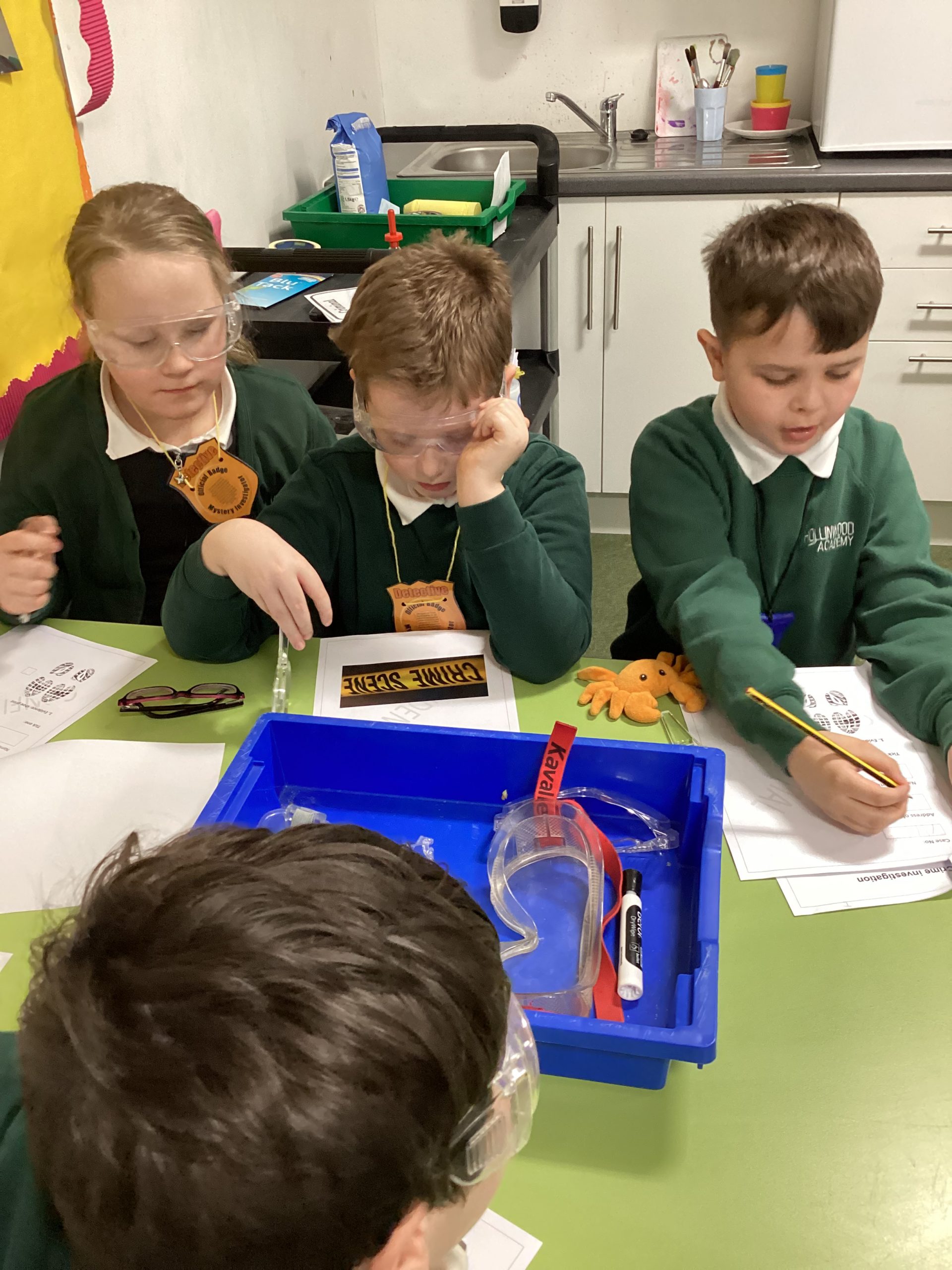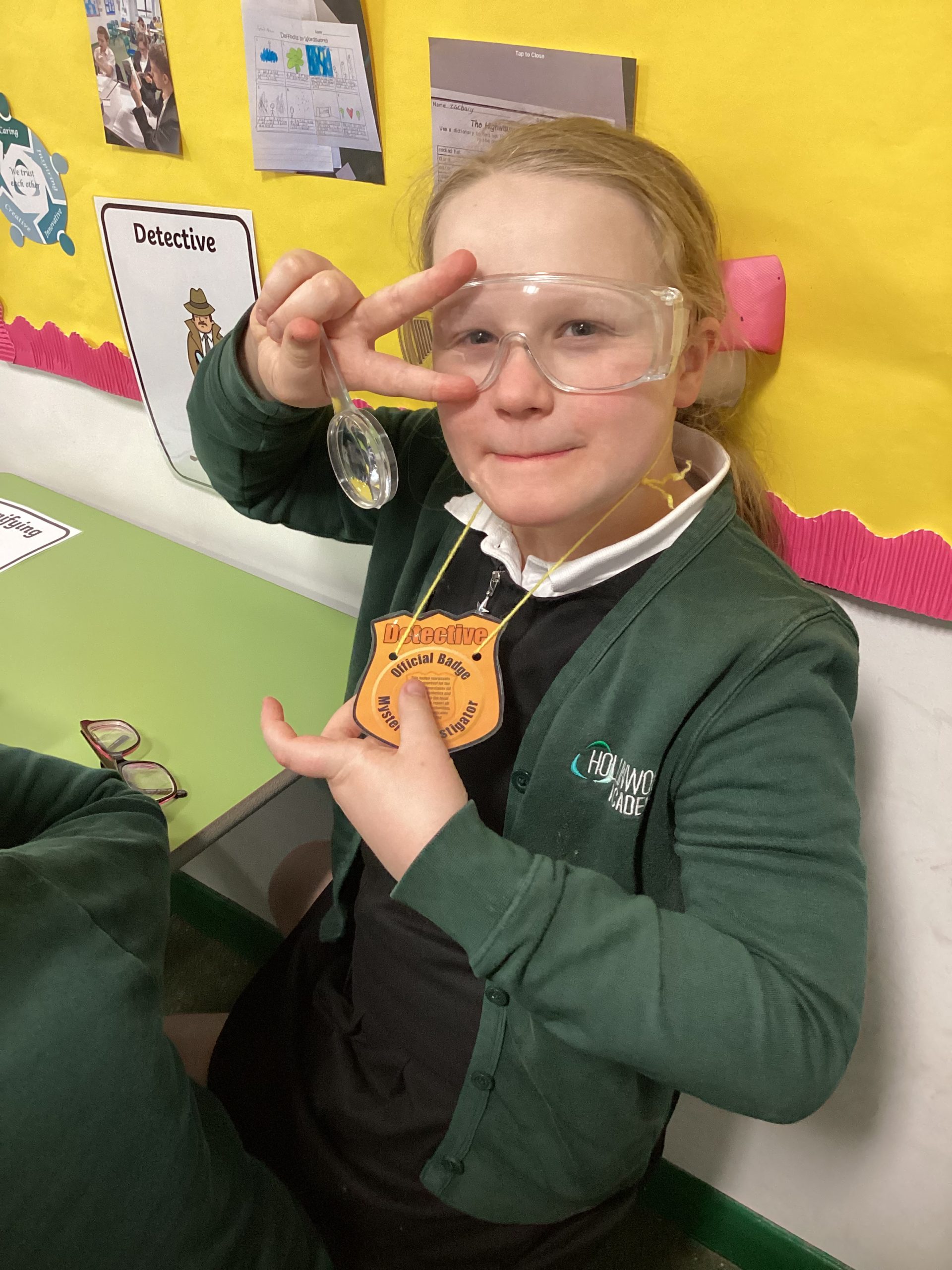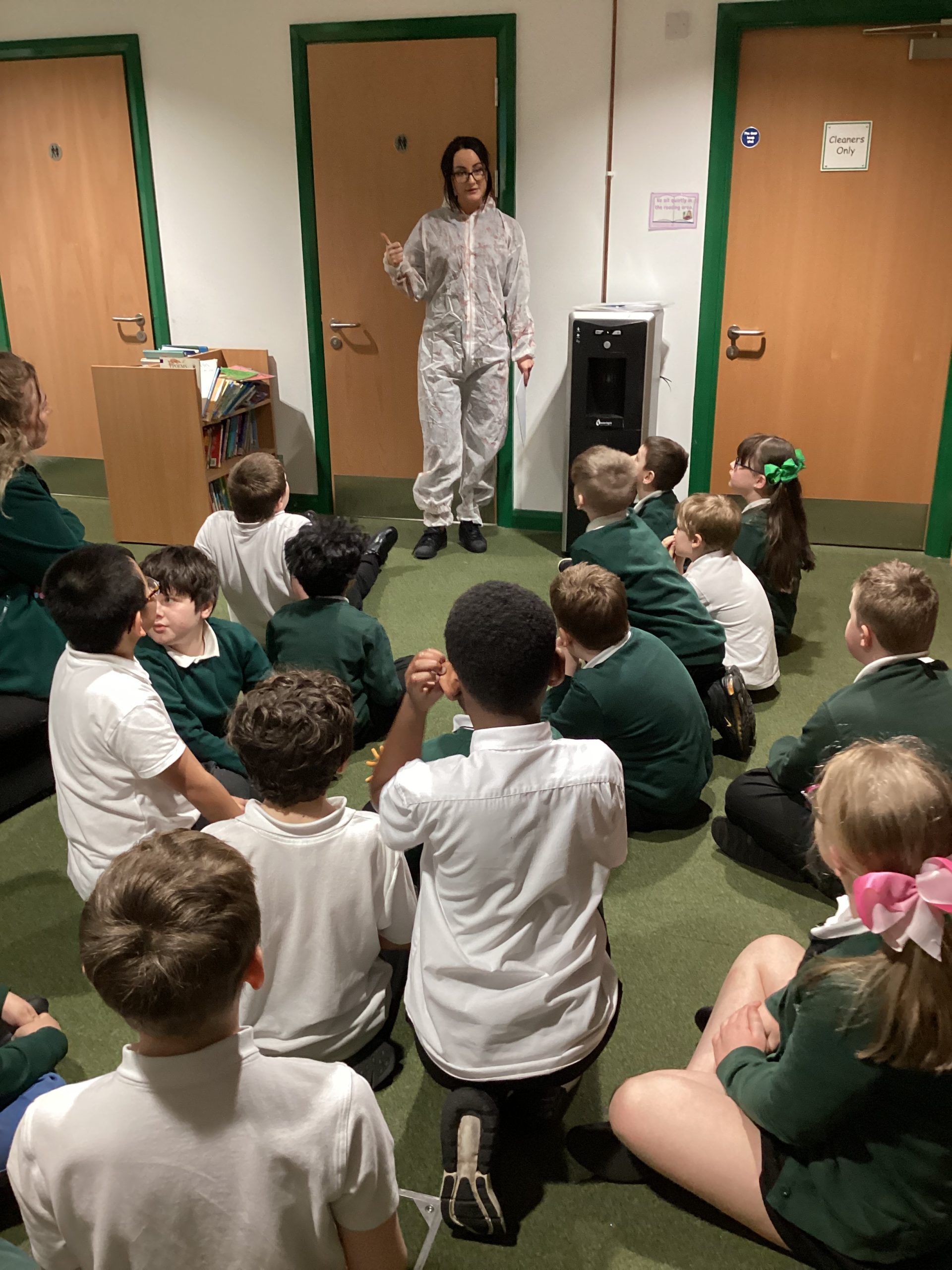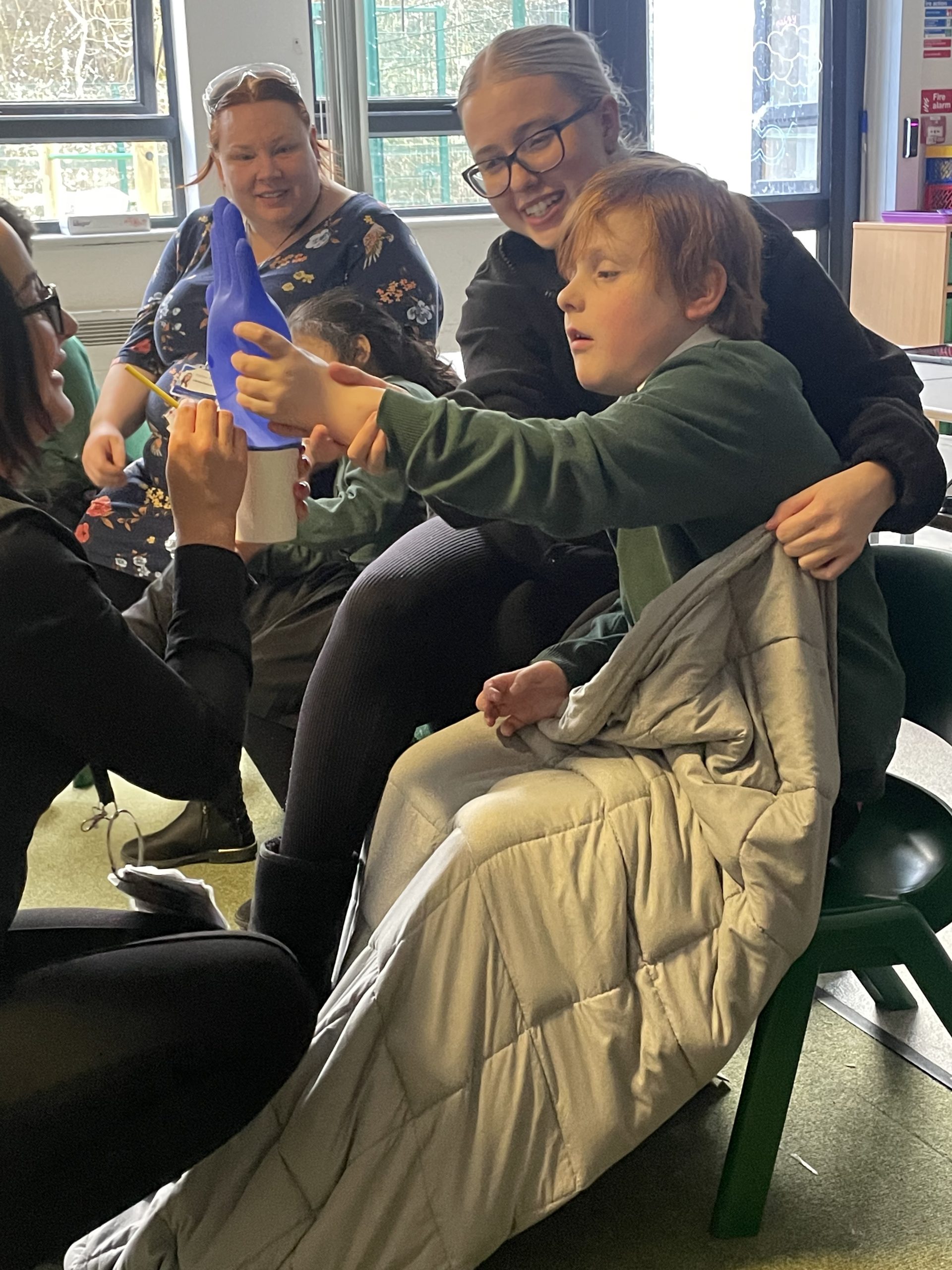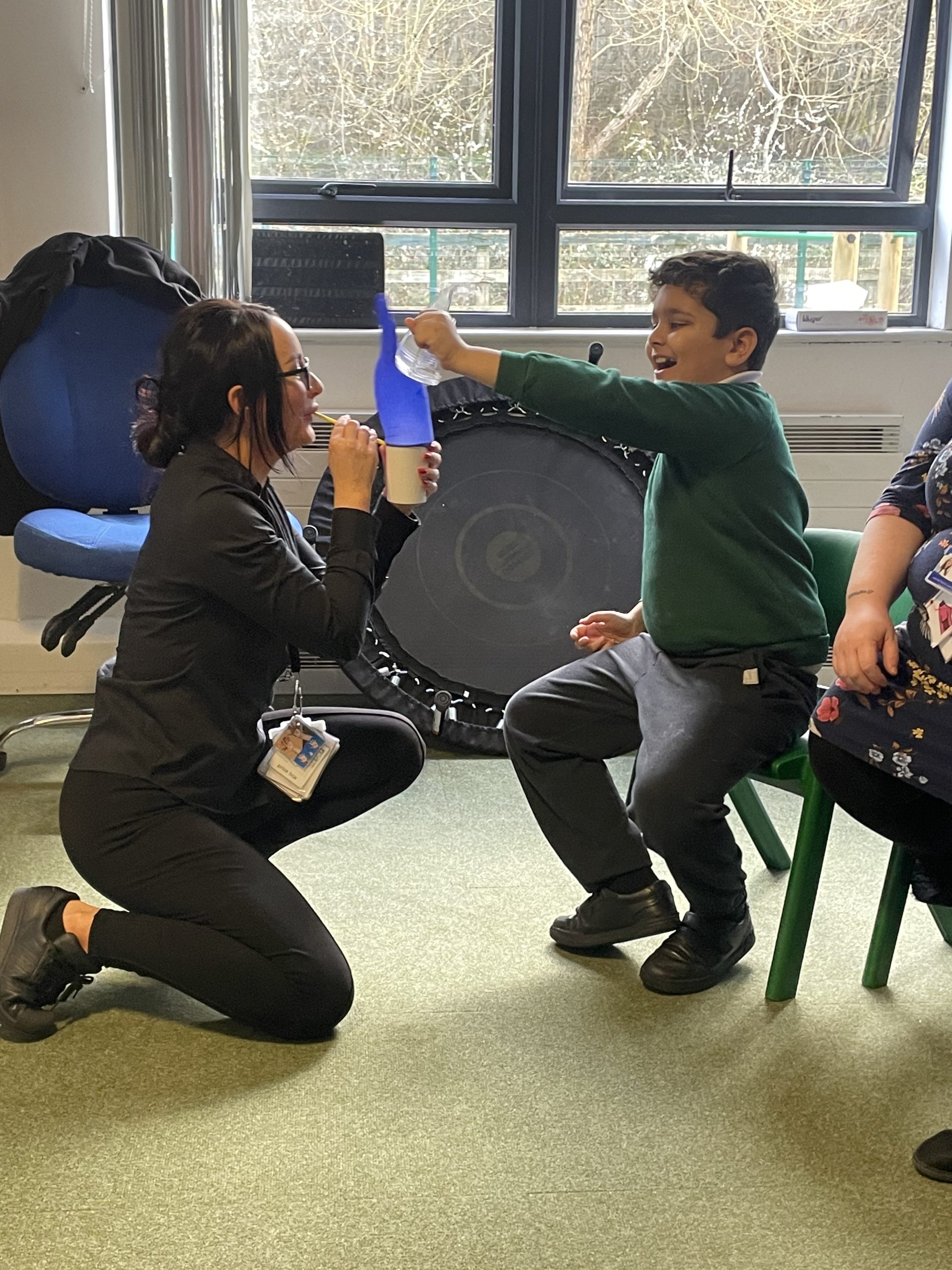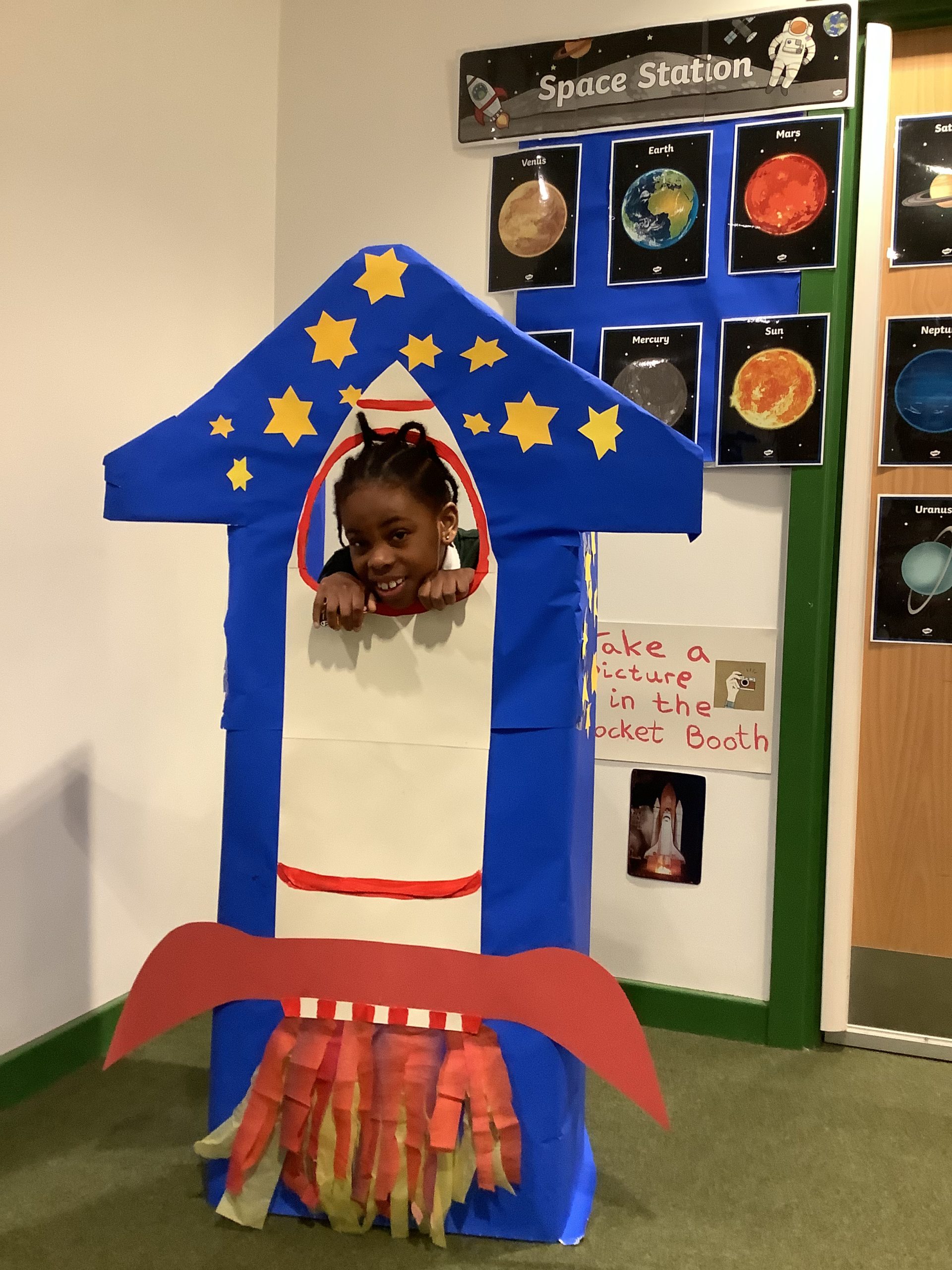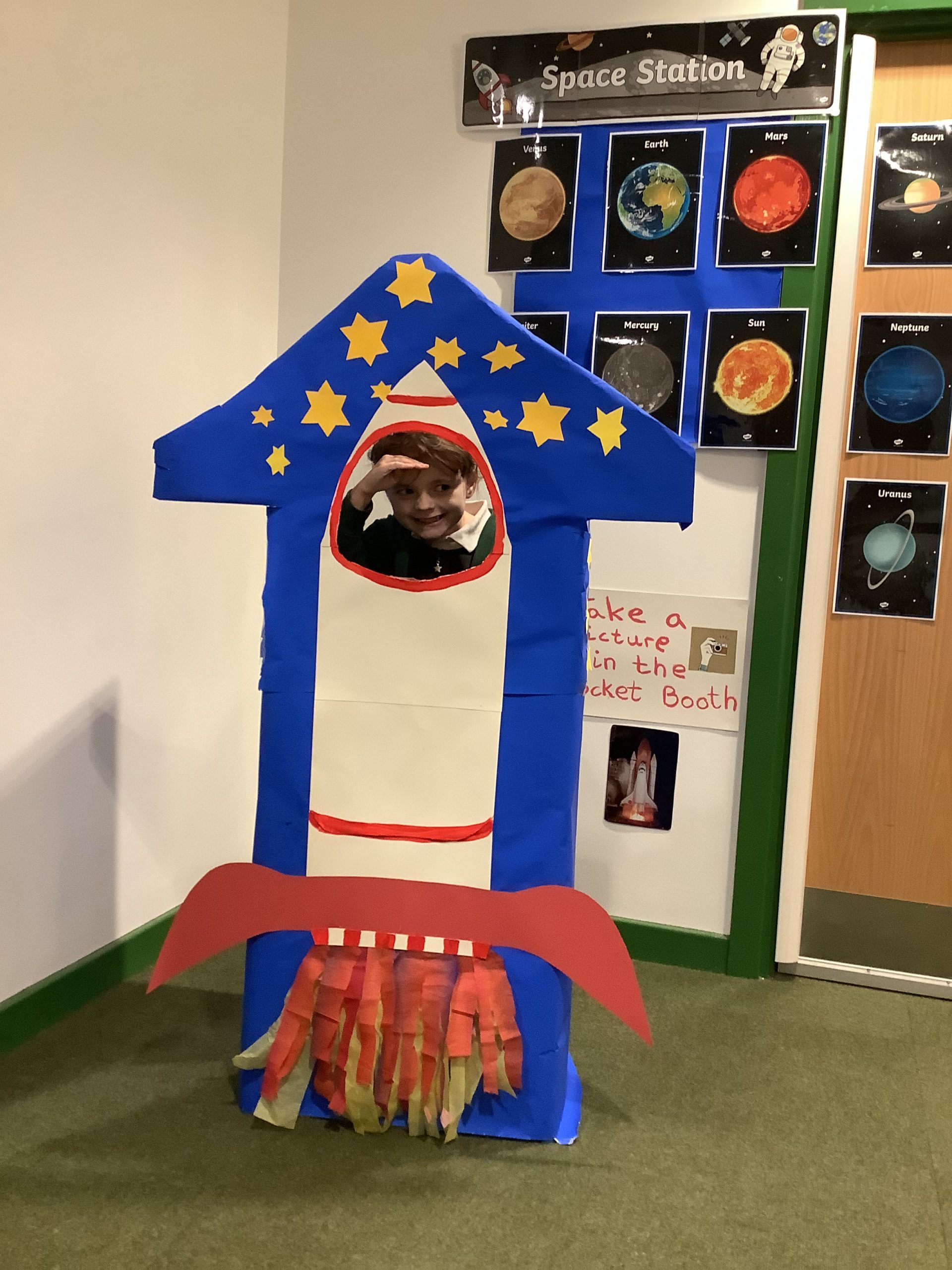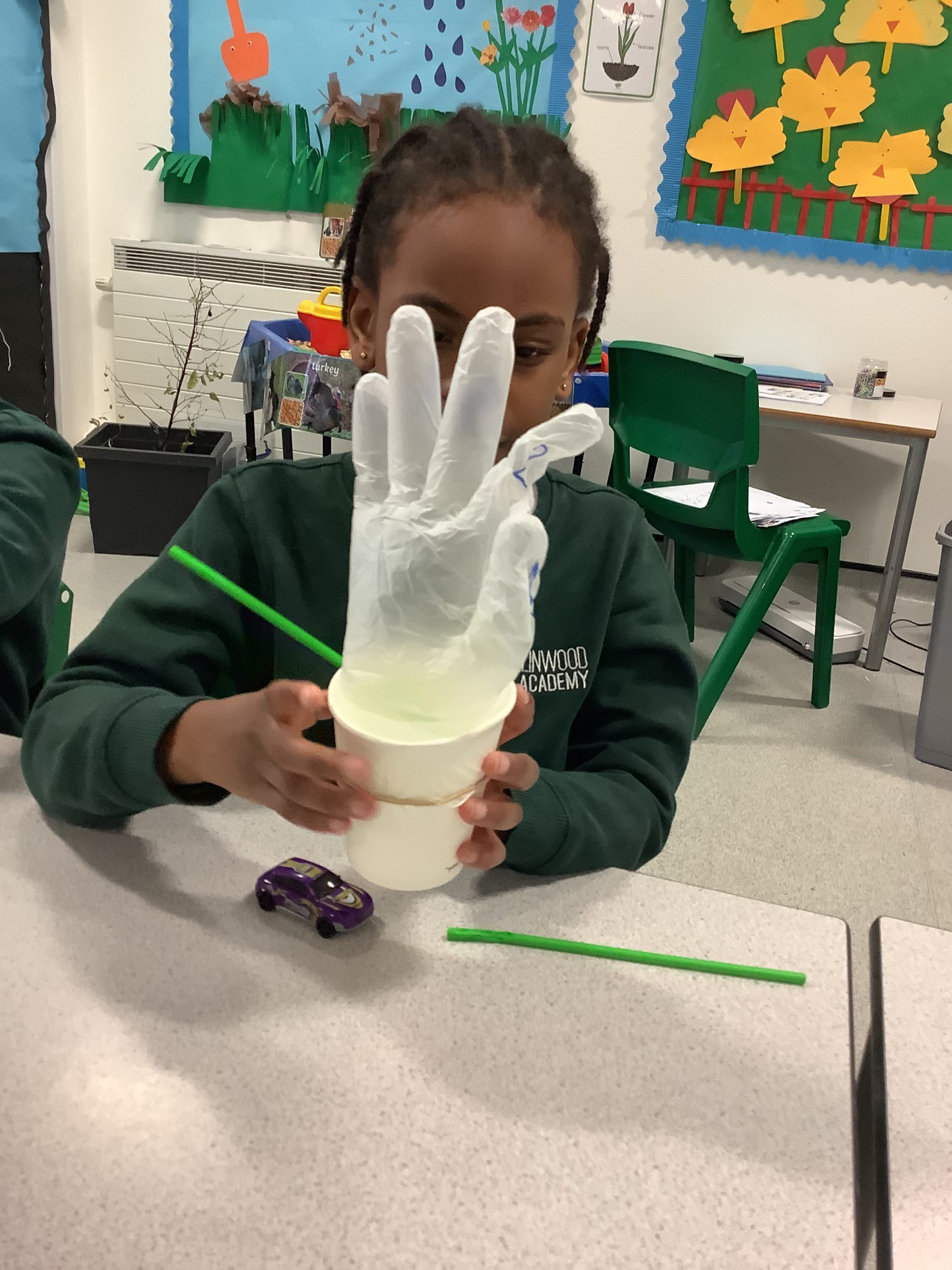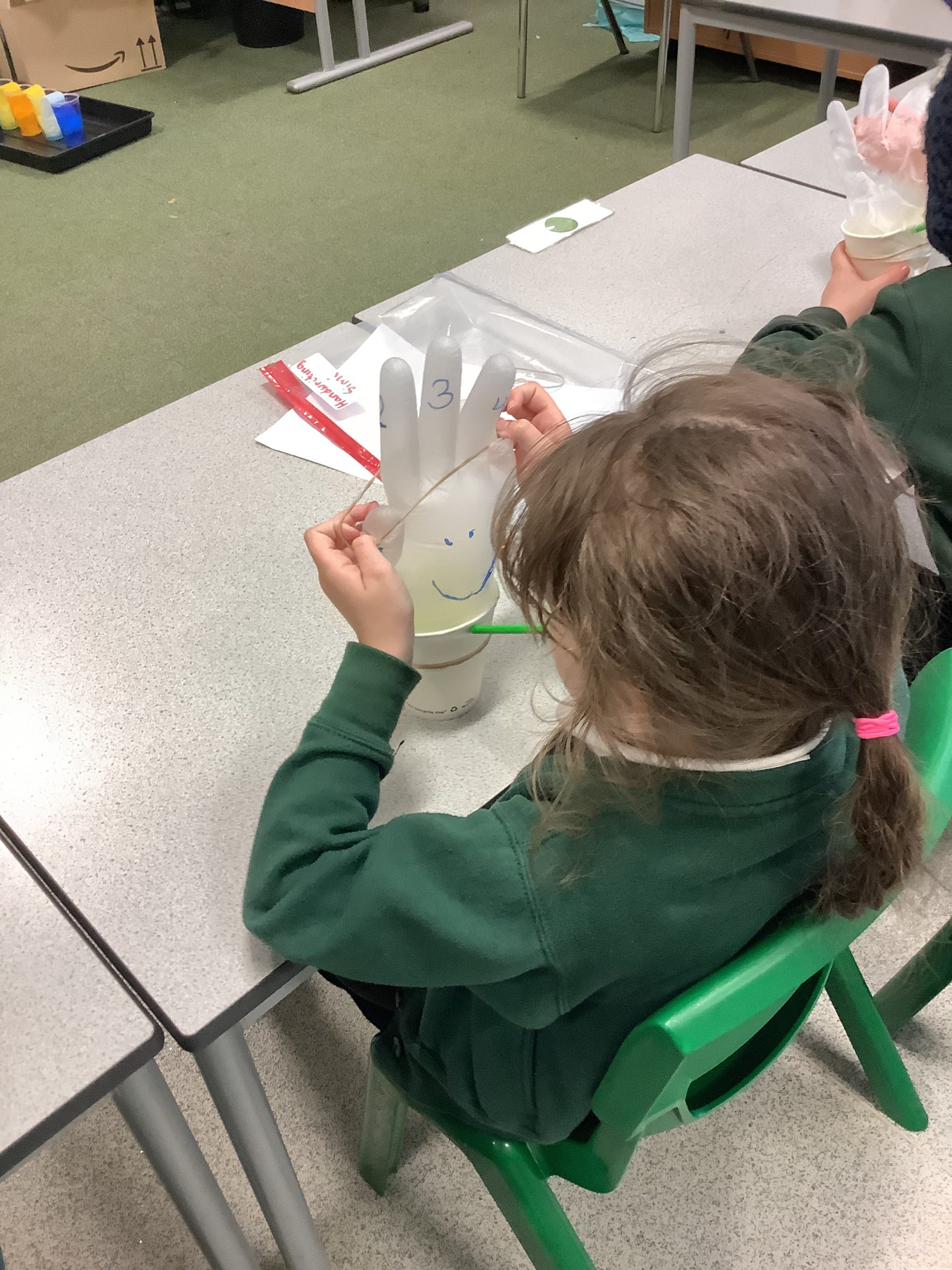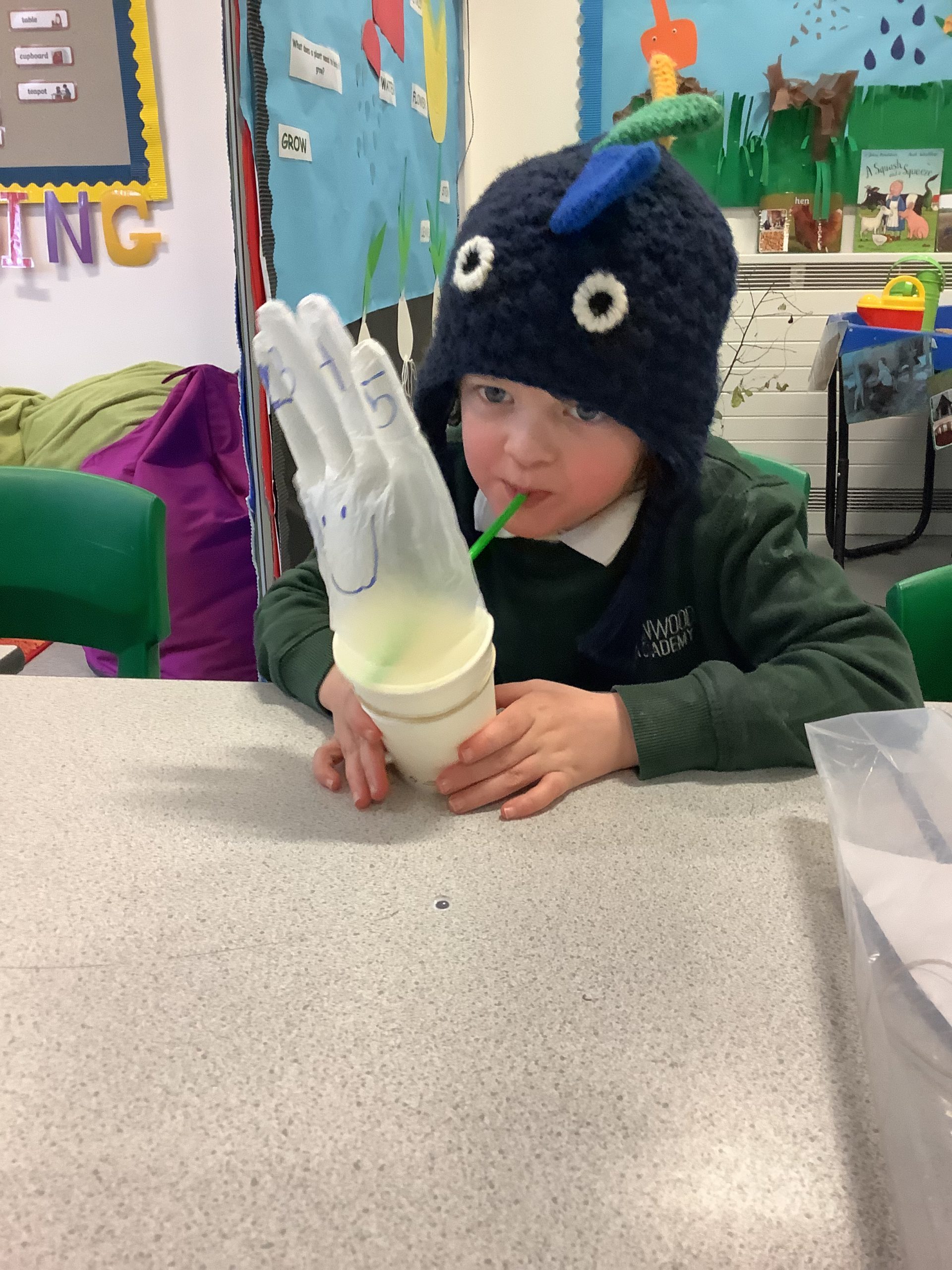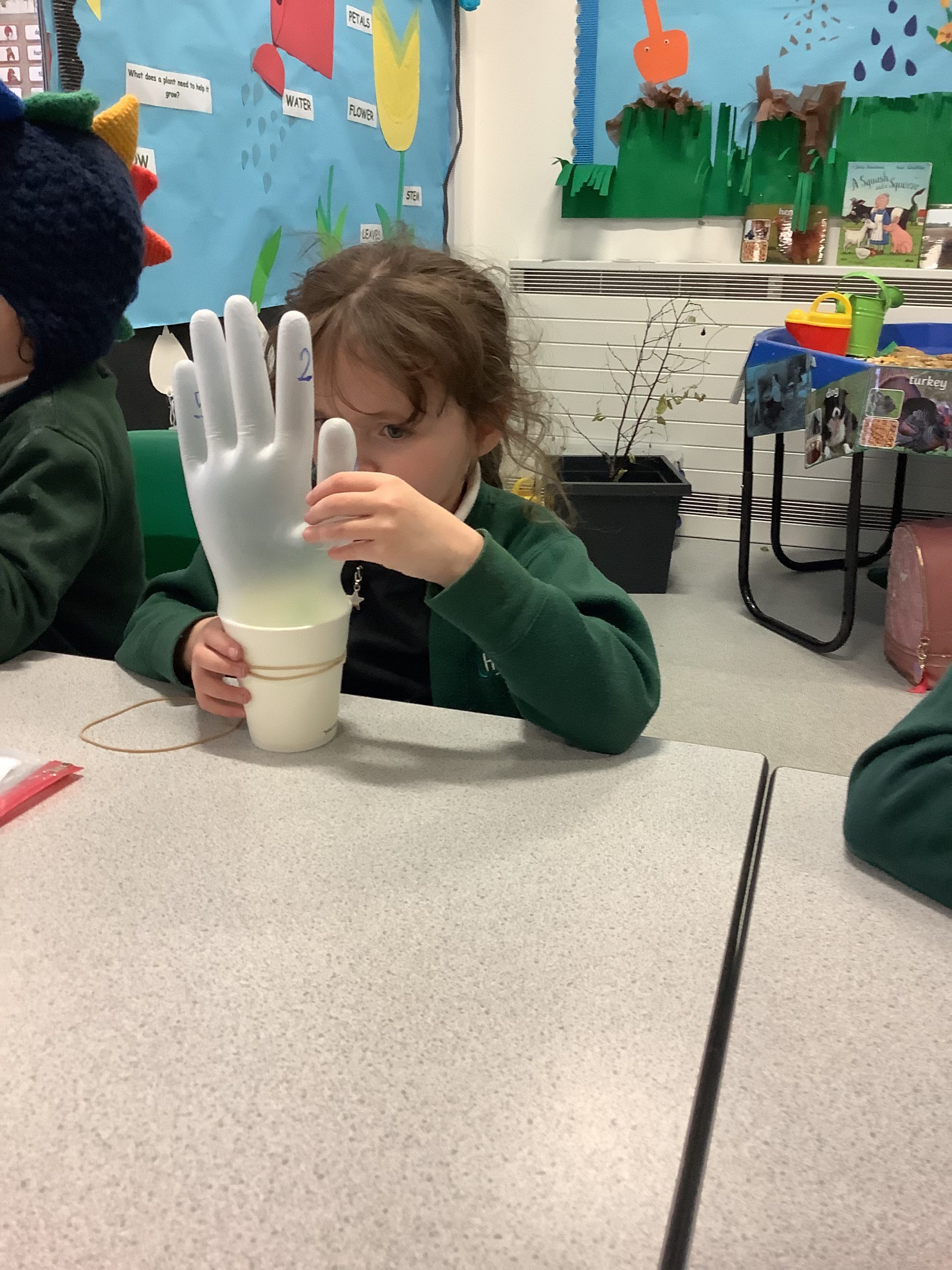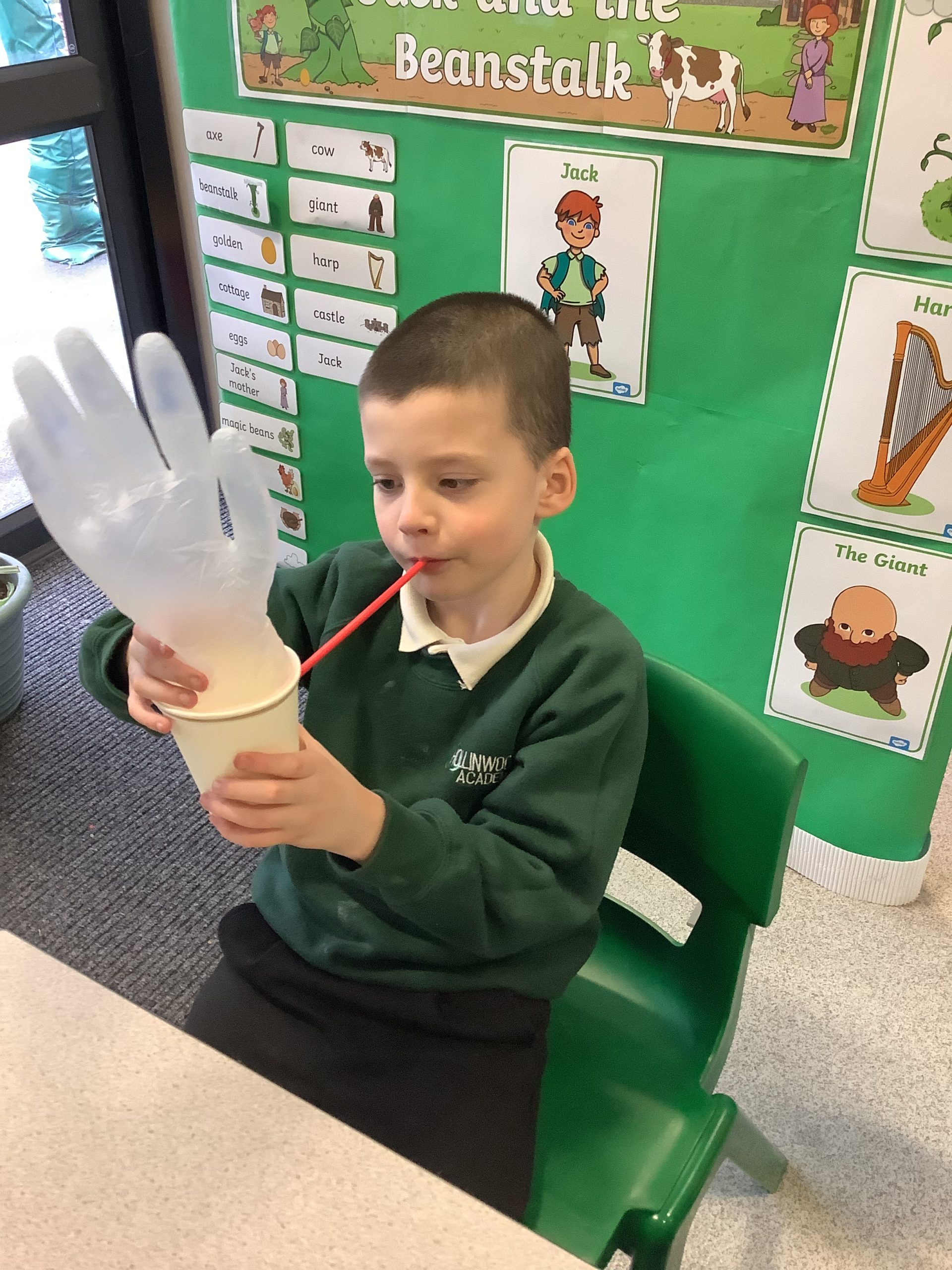 Let's see what some of the classes have been doing starting with Mr Corrigan's class…
"Our Maths topics this half term have been length, height, mass and capacity. We have been measuring our heights and comparing objects in class with capacity.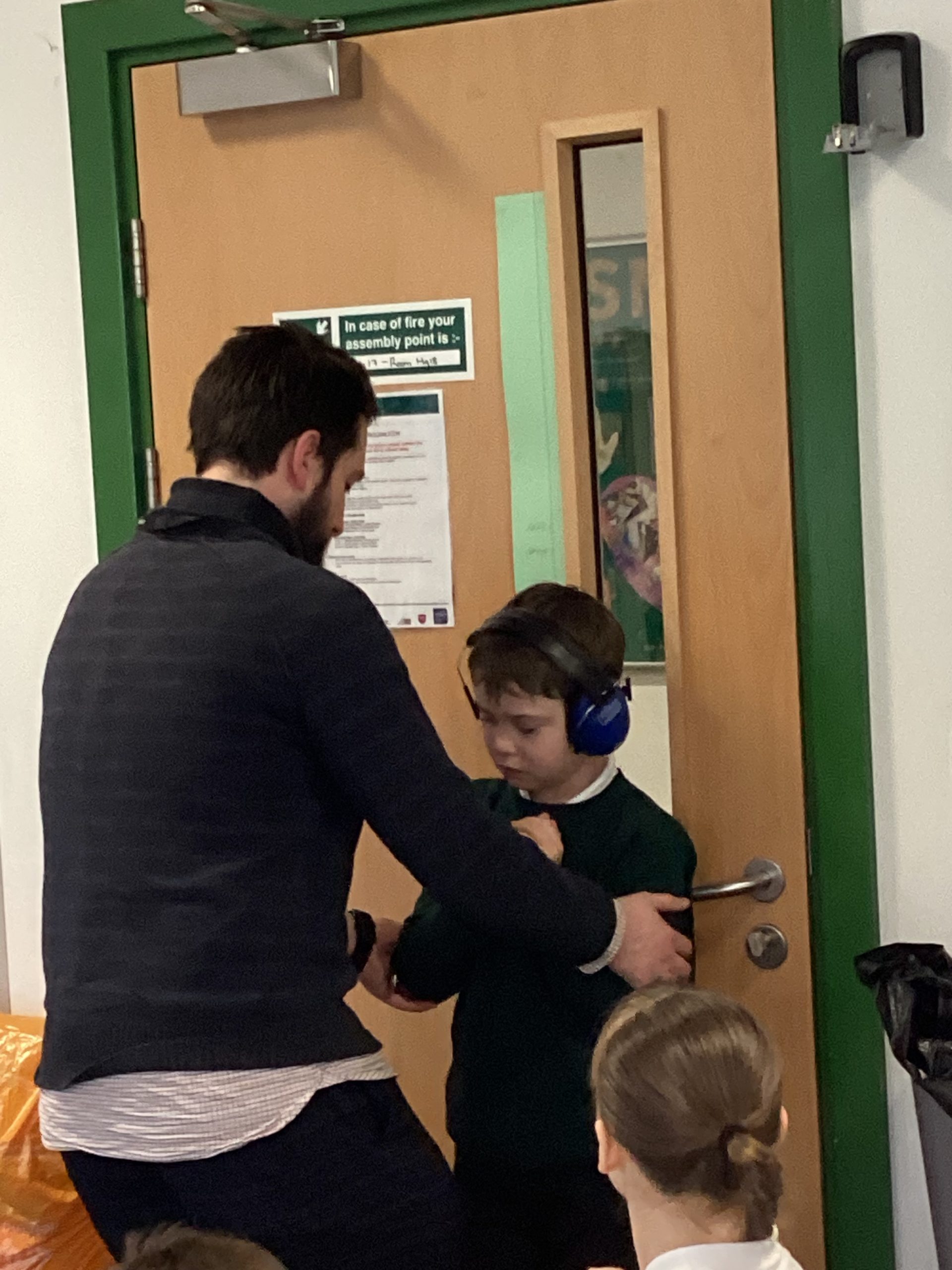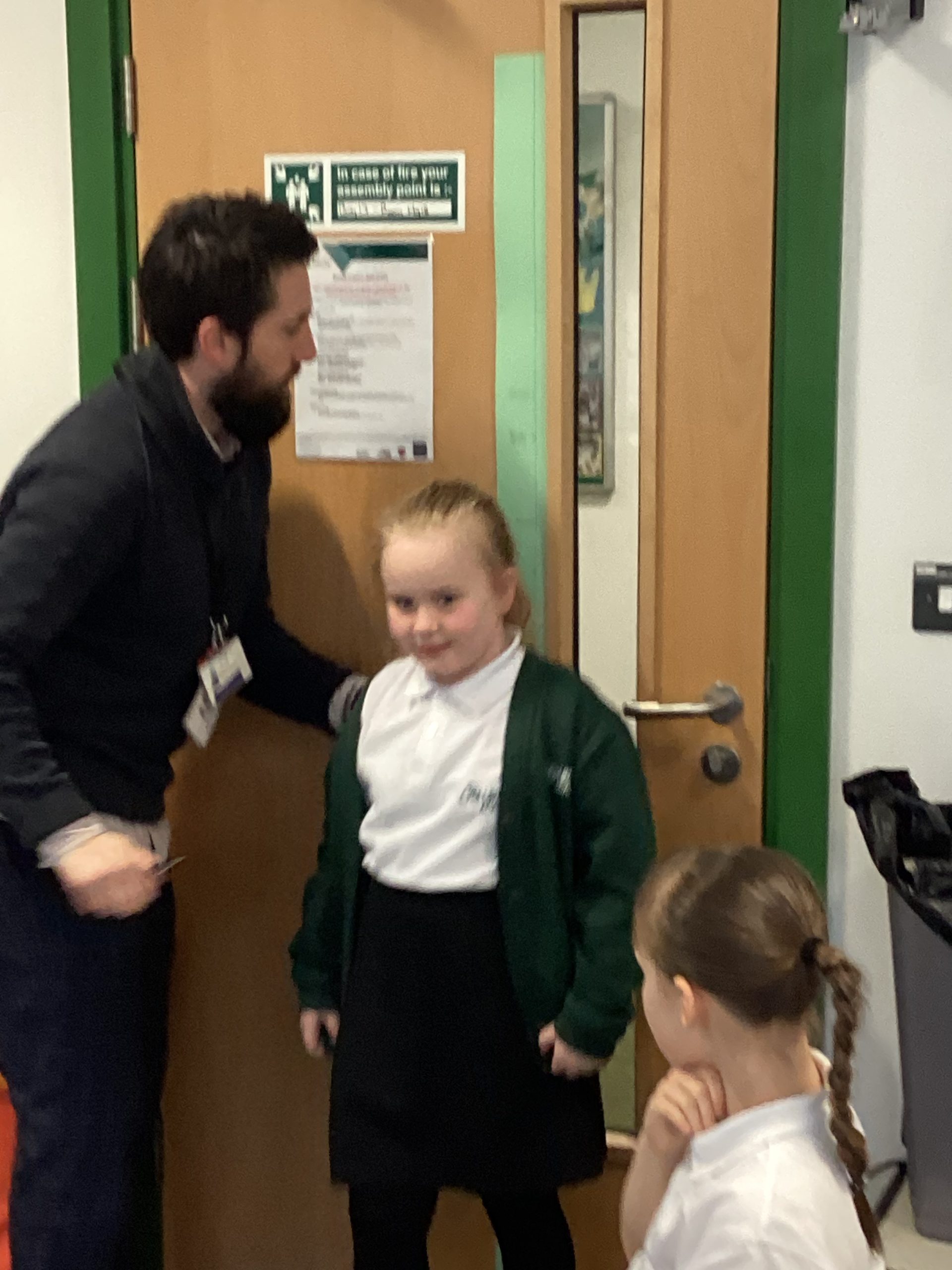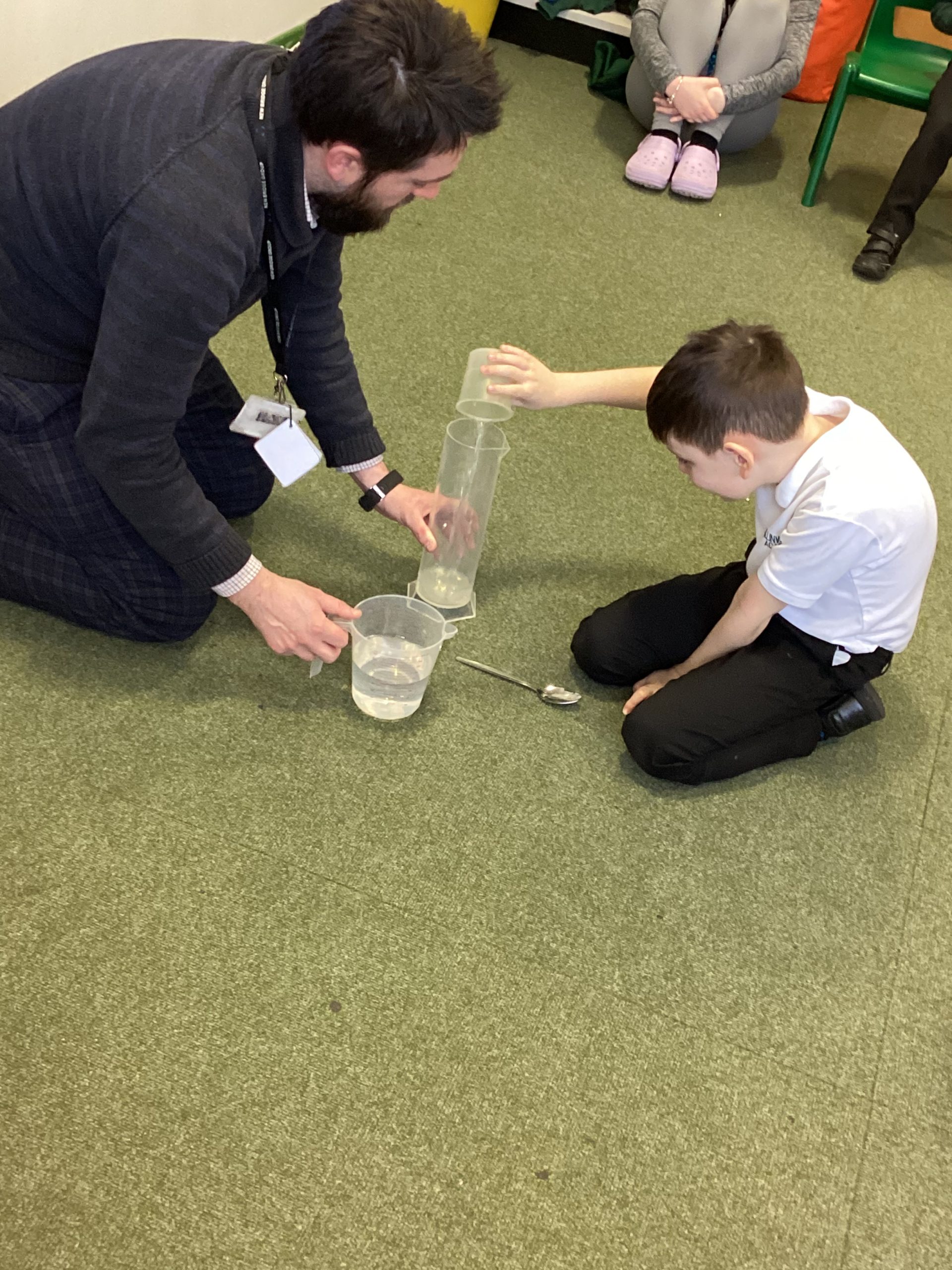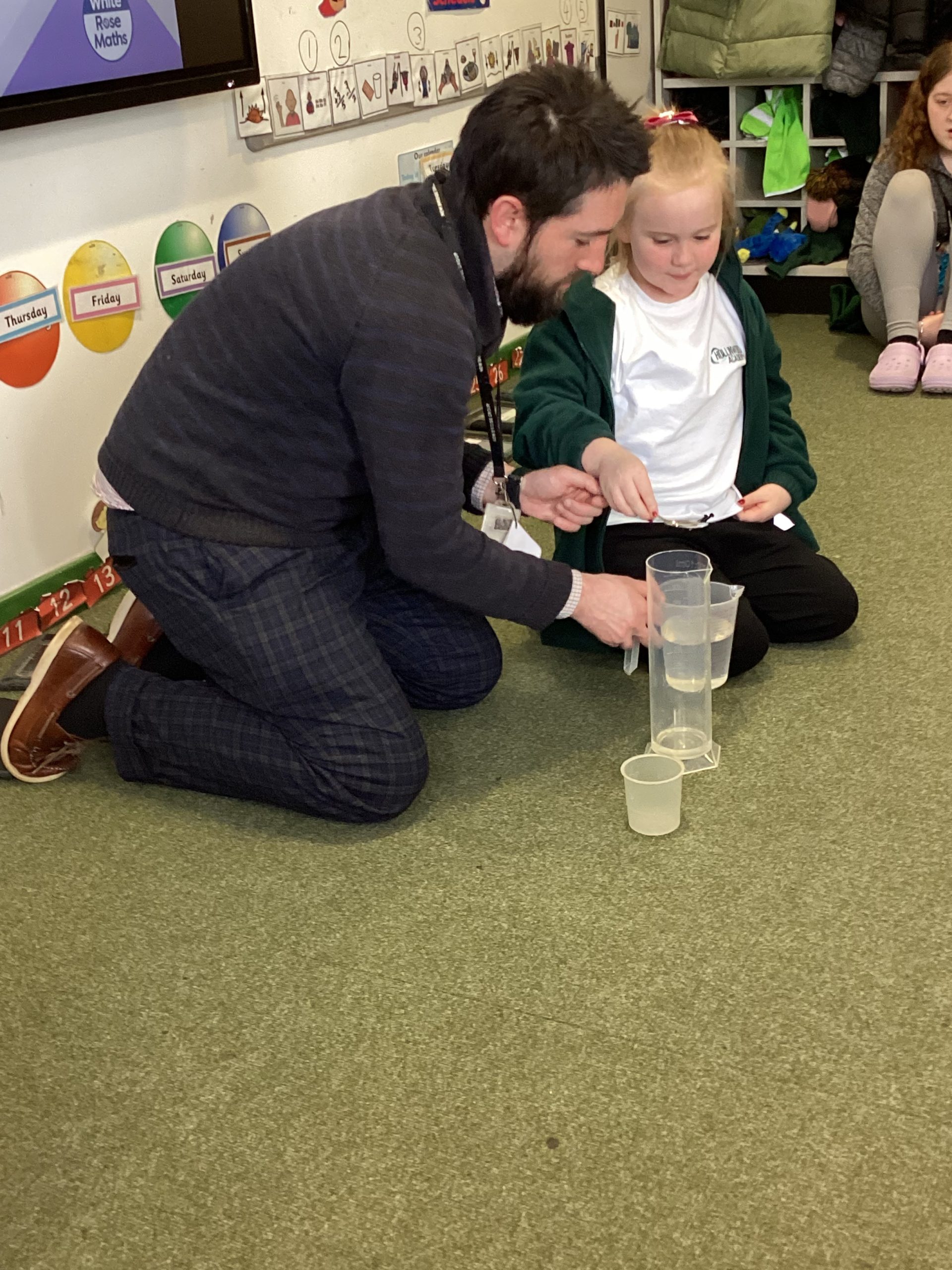 The class have been labelling the parts of plants and learning what they do in Science this half term. Through our experiments we have discovered each part's role in keeping the plant alive and what happens if we take them away.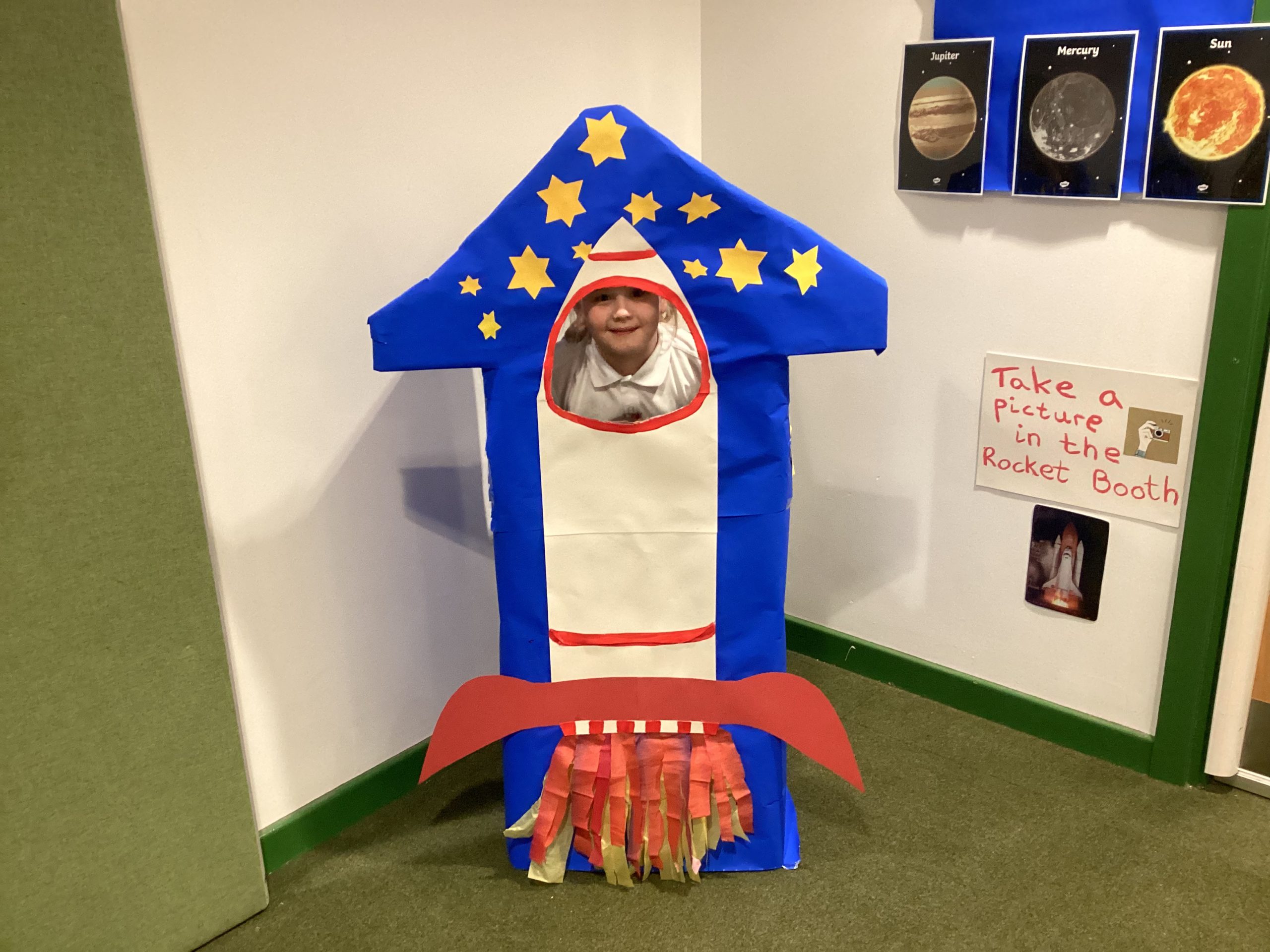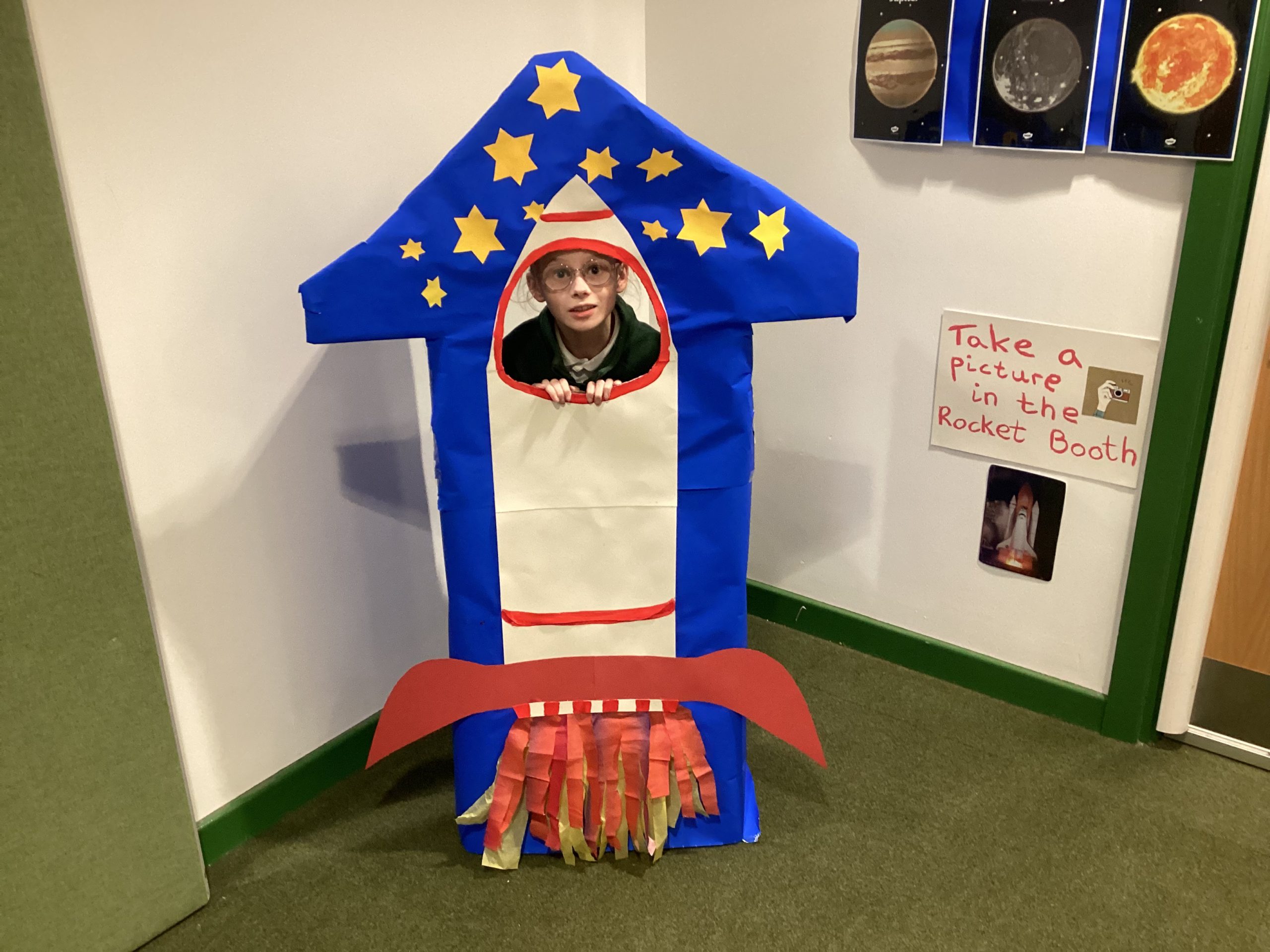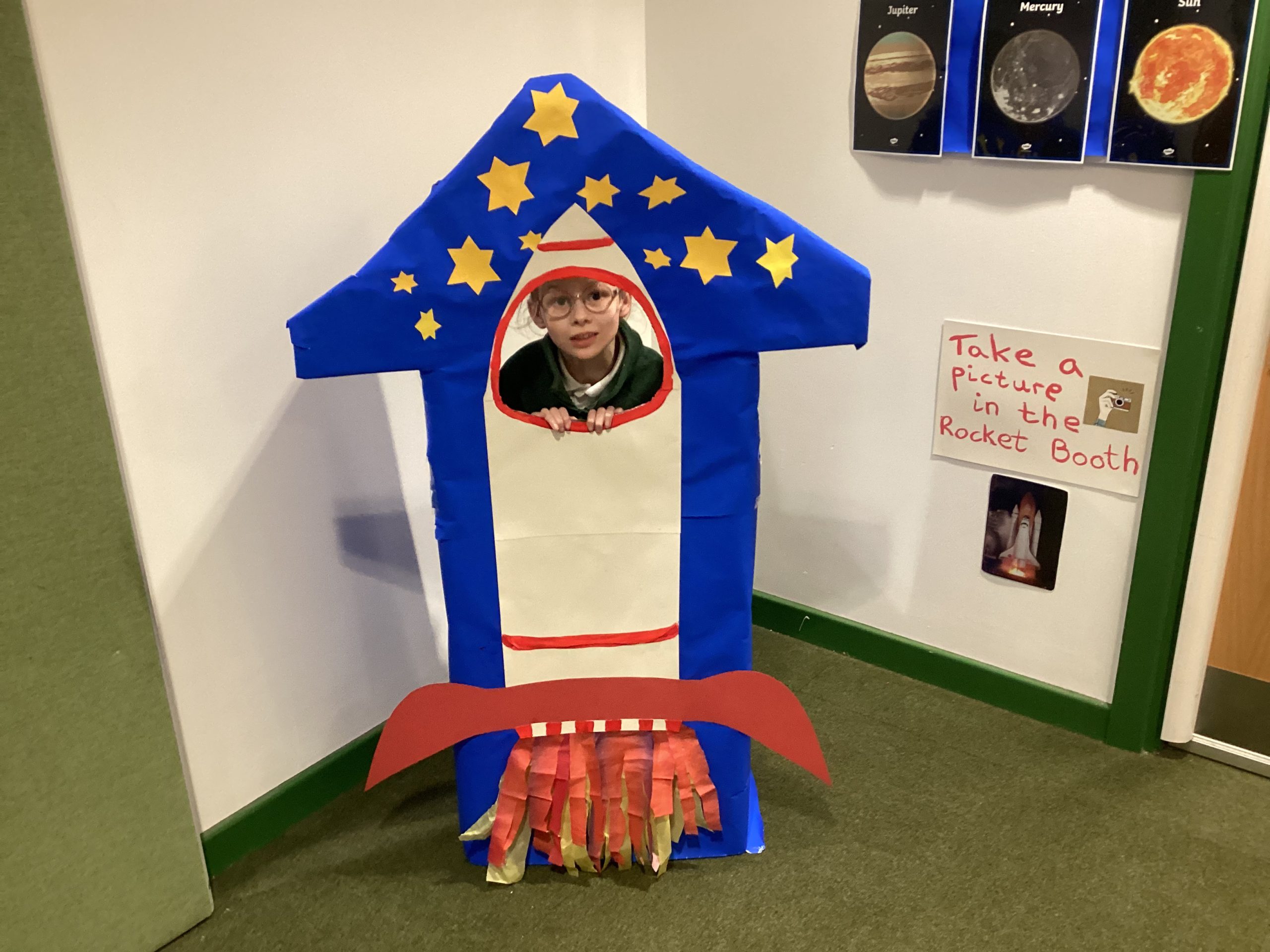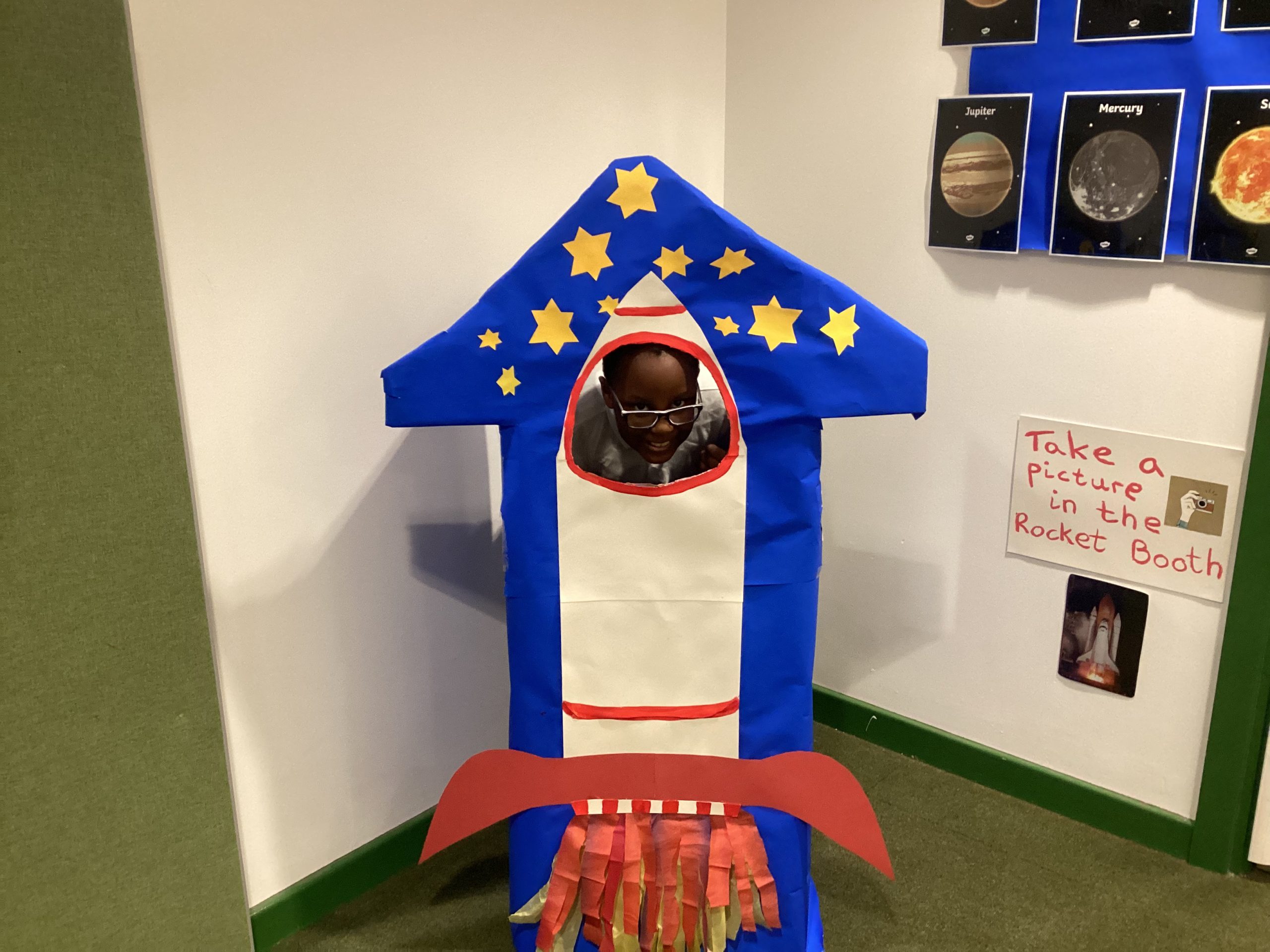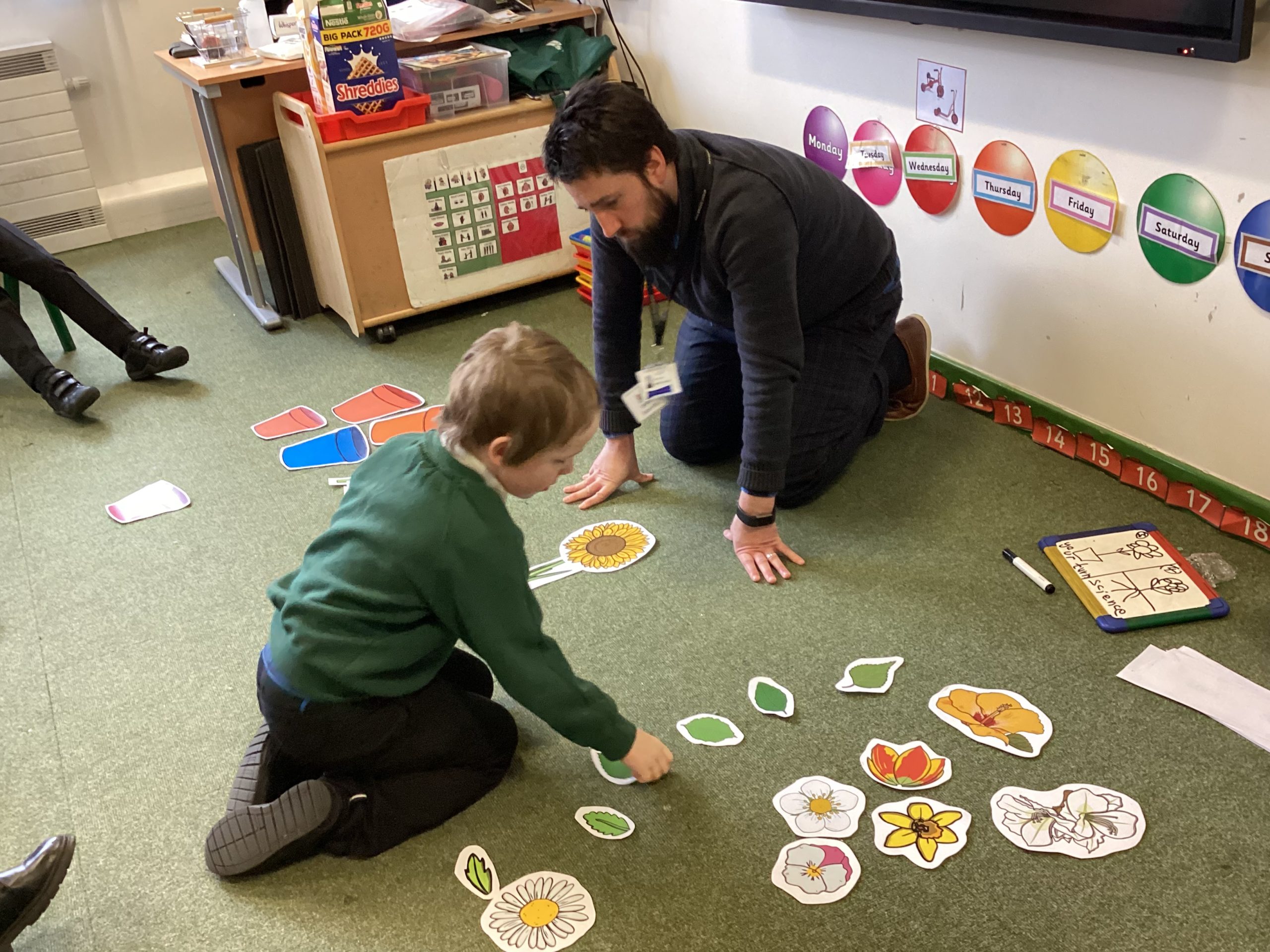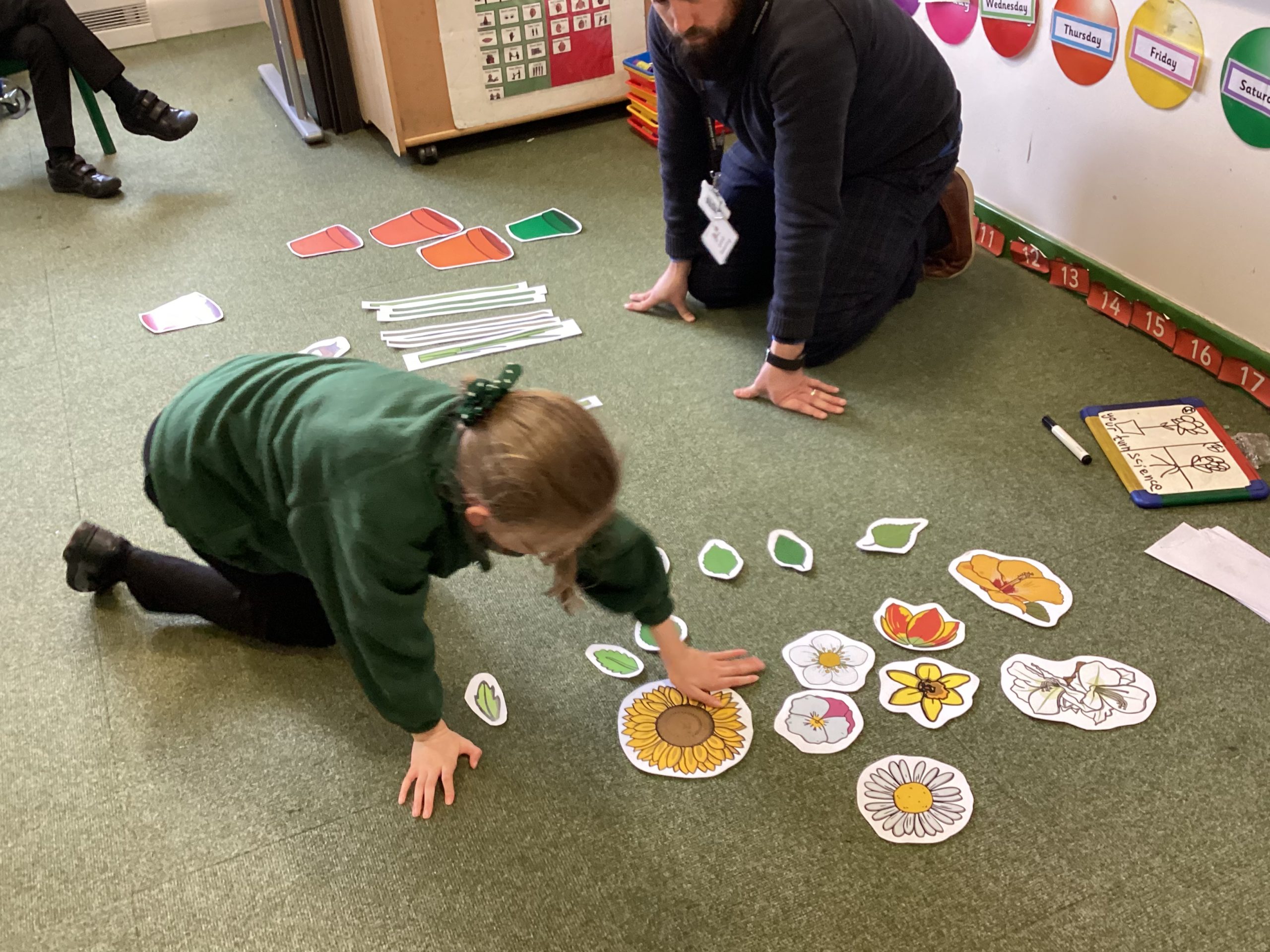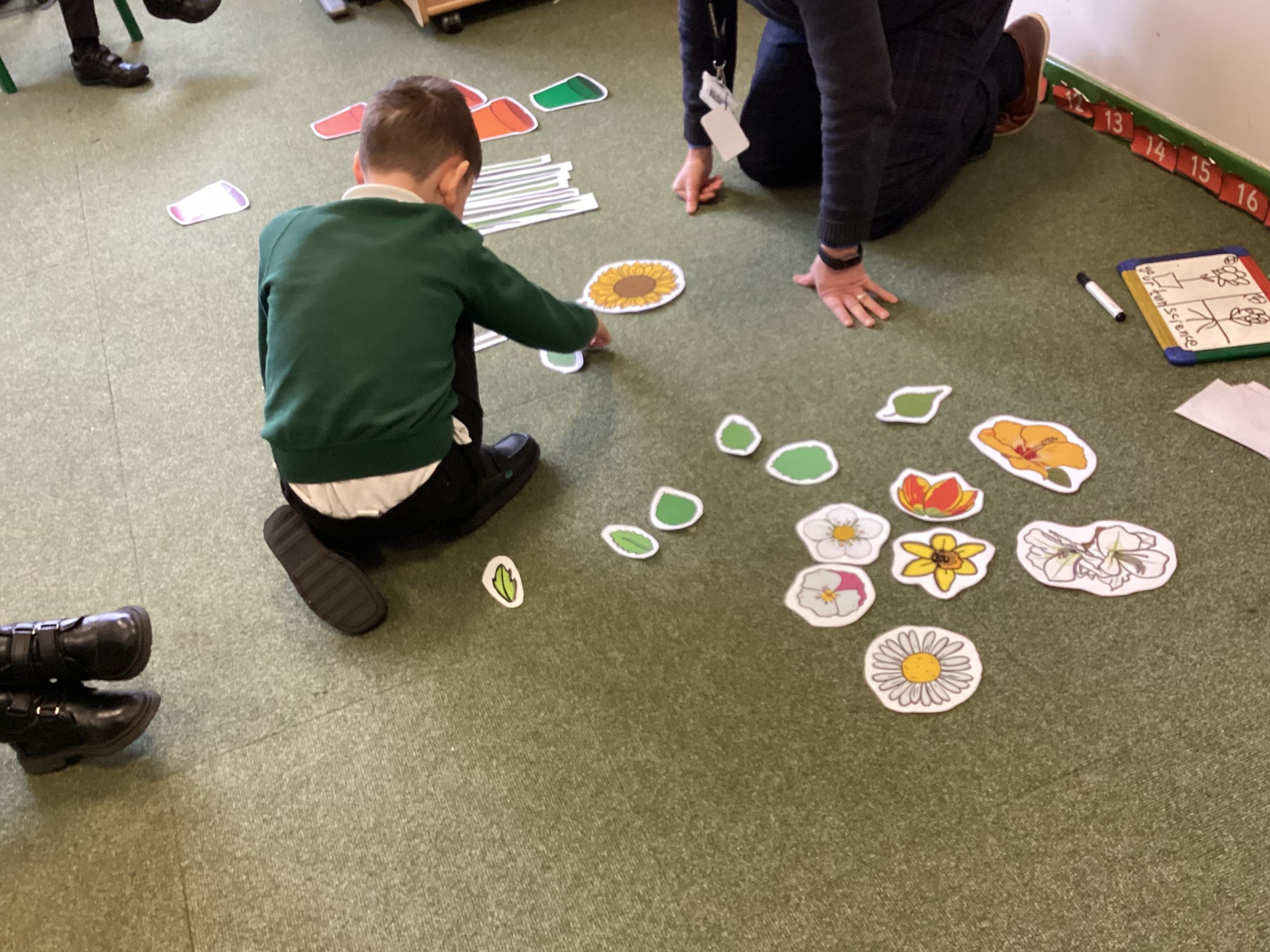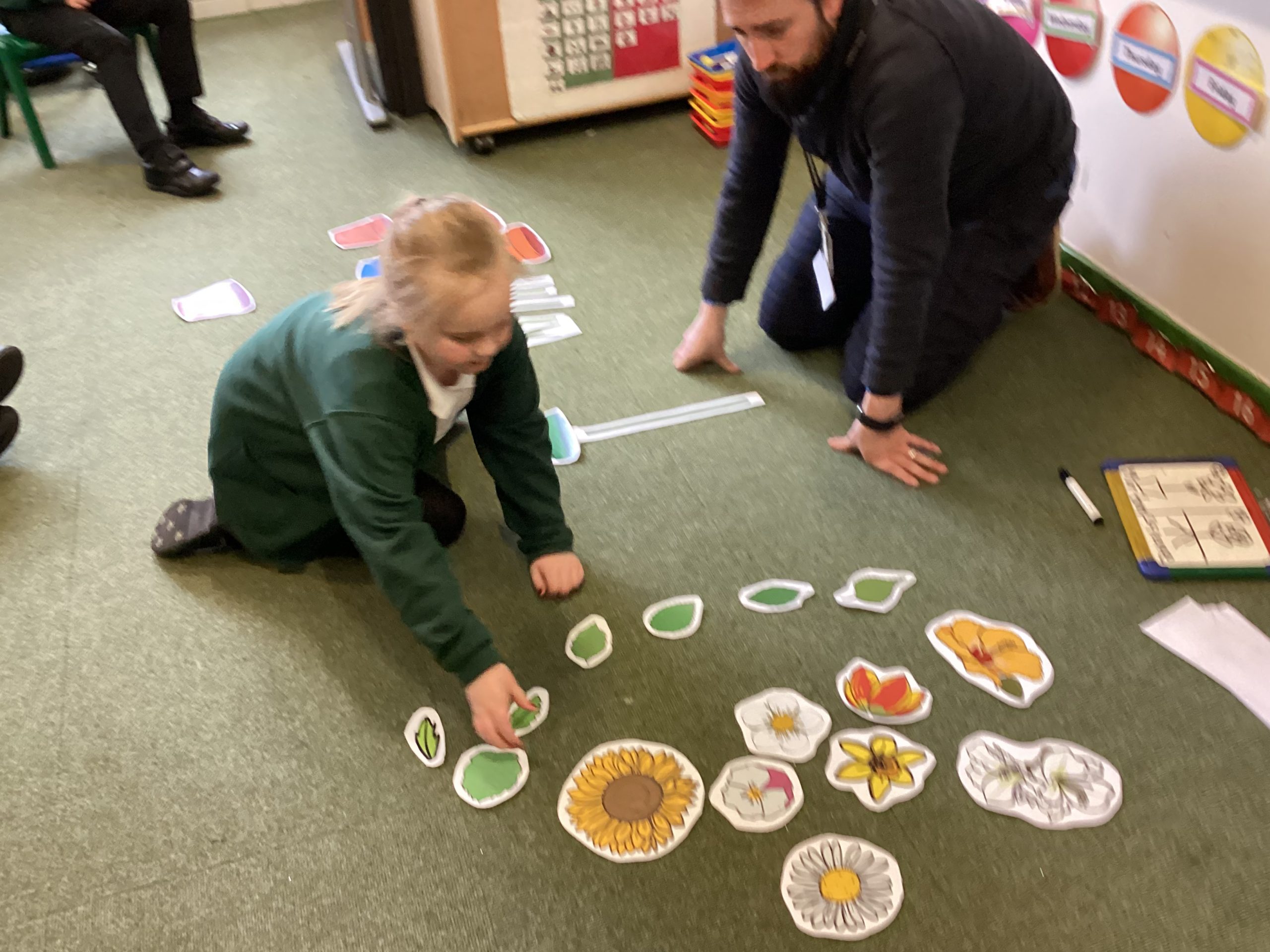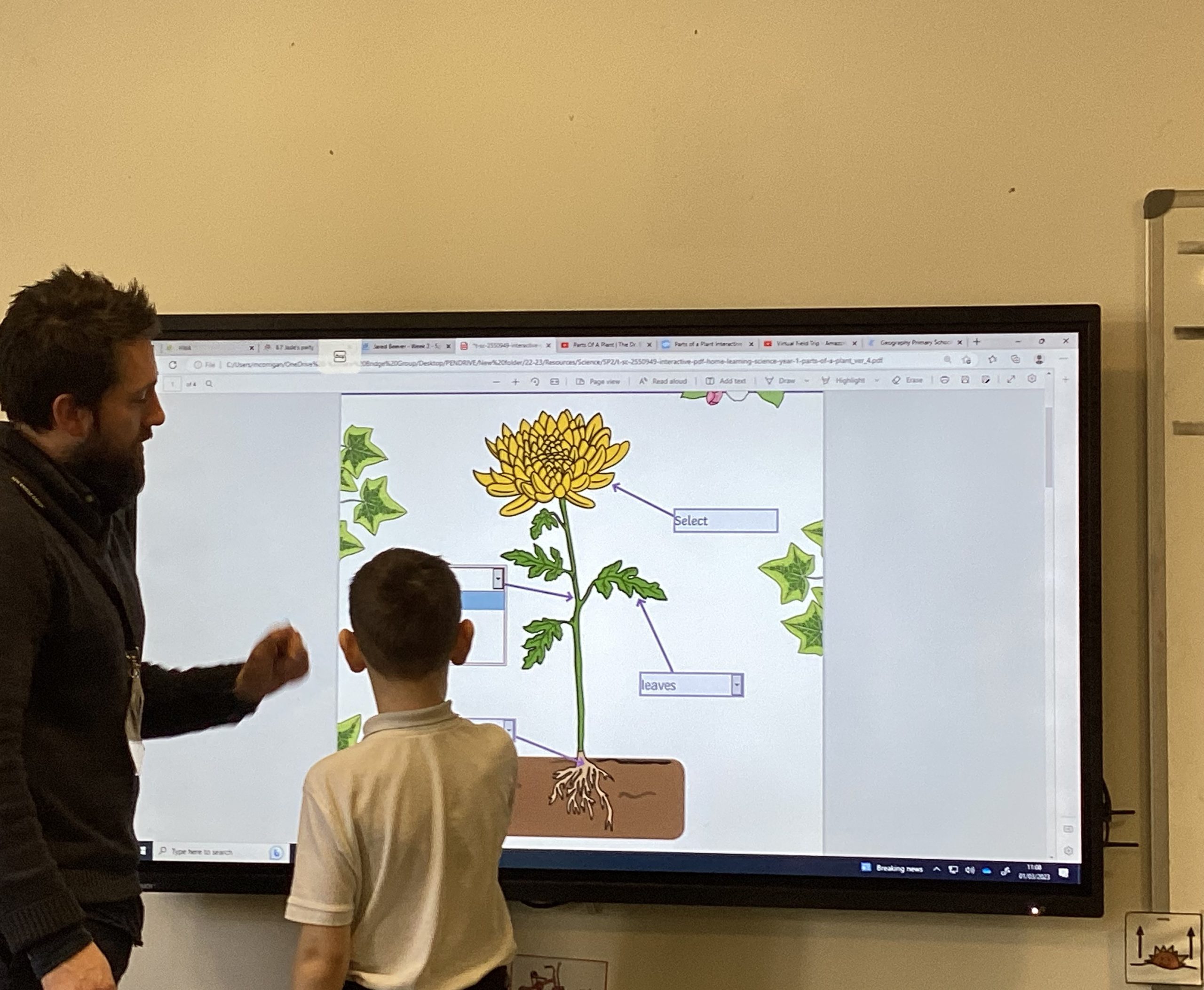 We have been staying healthy and safe in PSHRE this year. We have learnt about germs and the adults we can trust.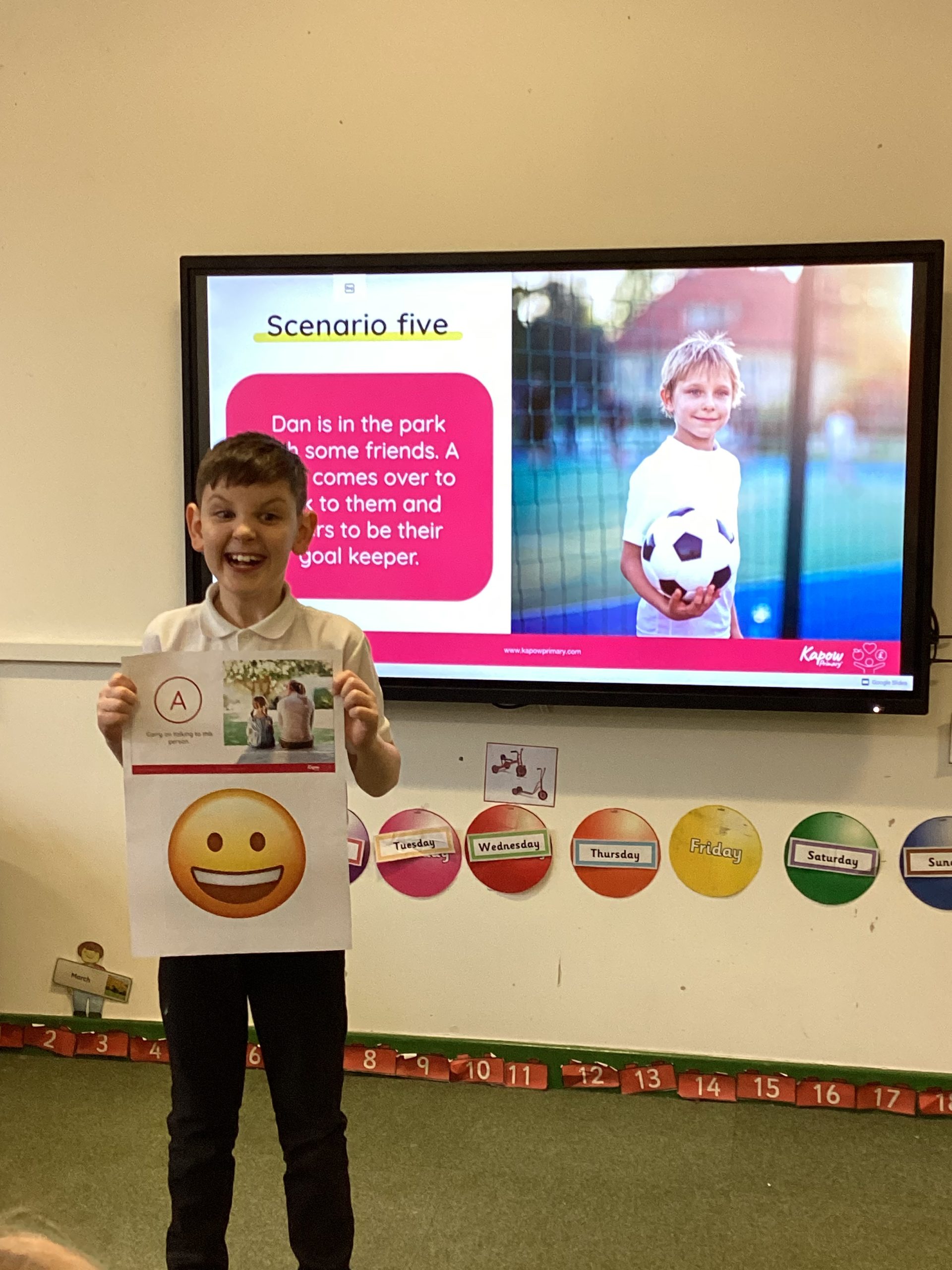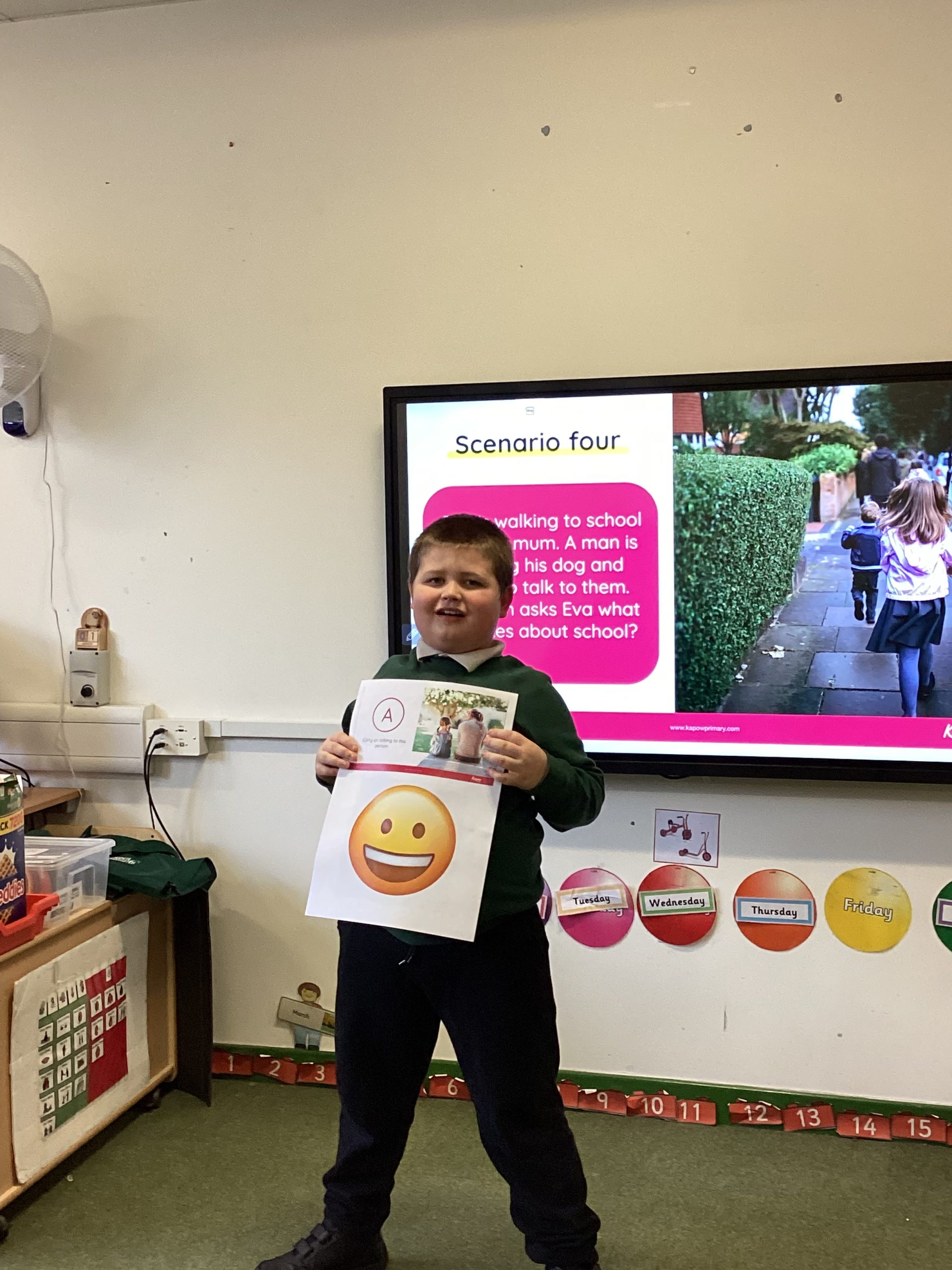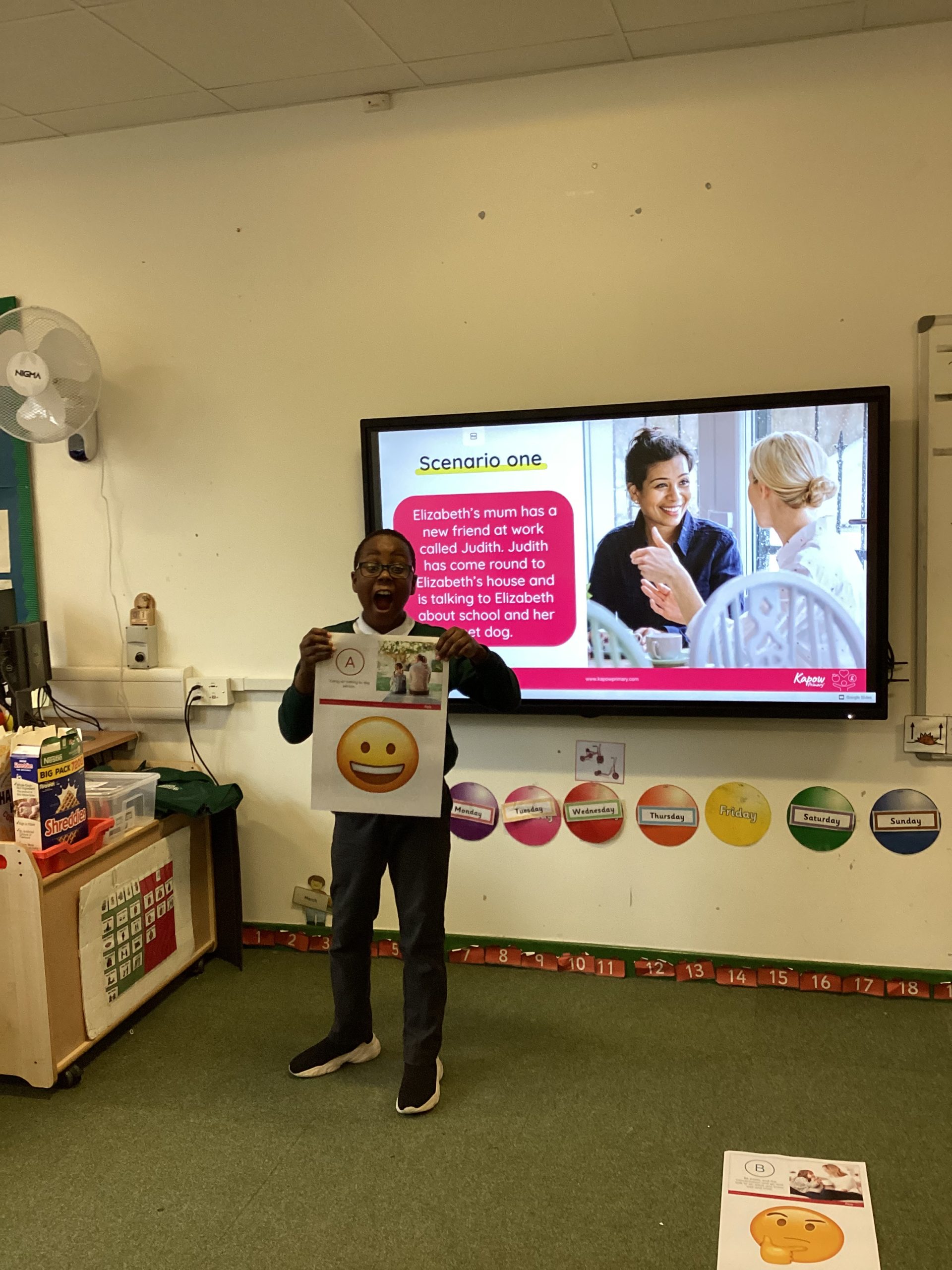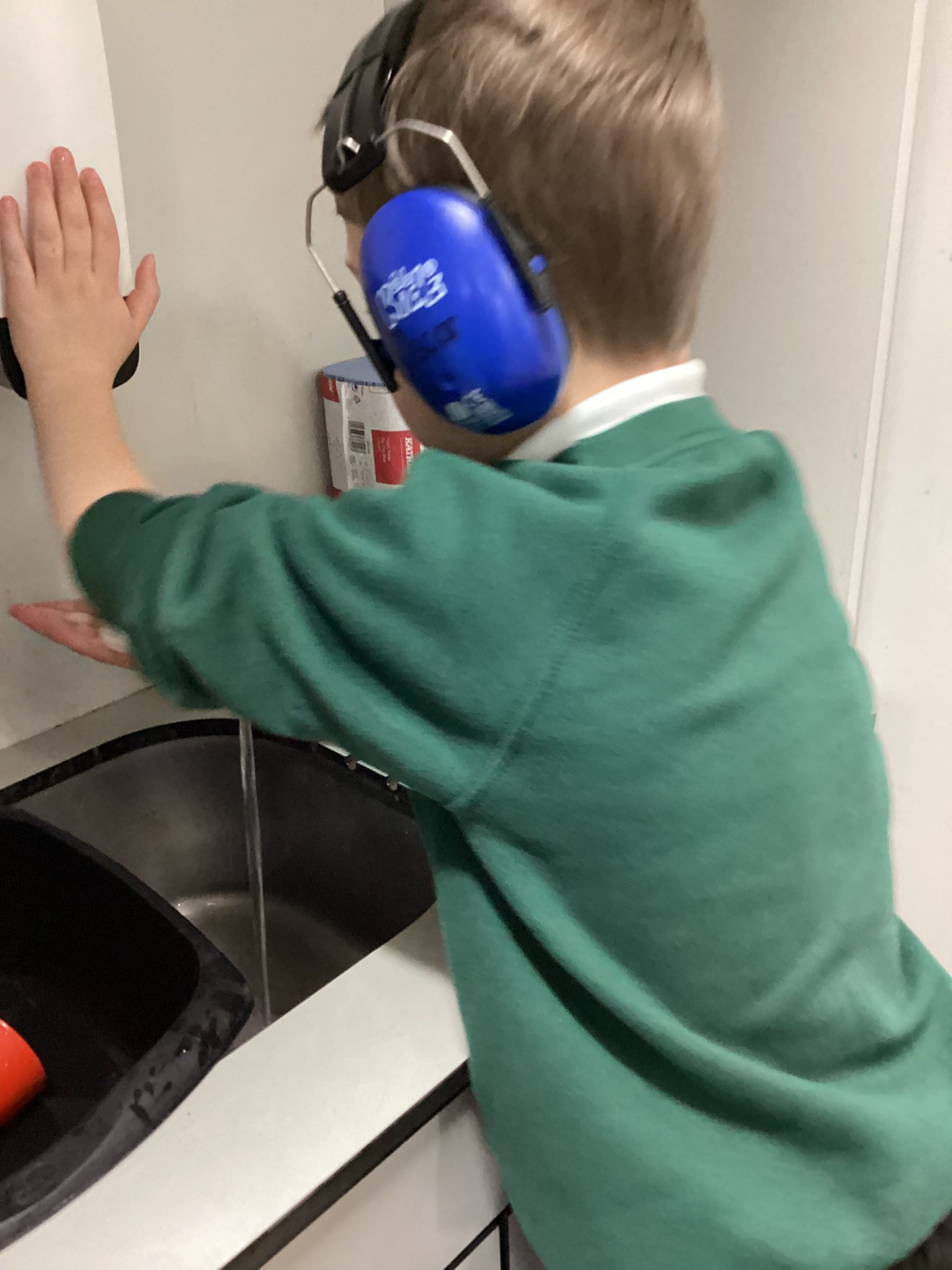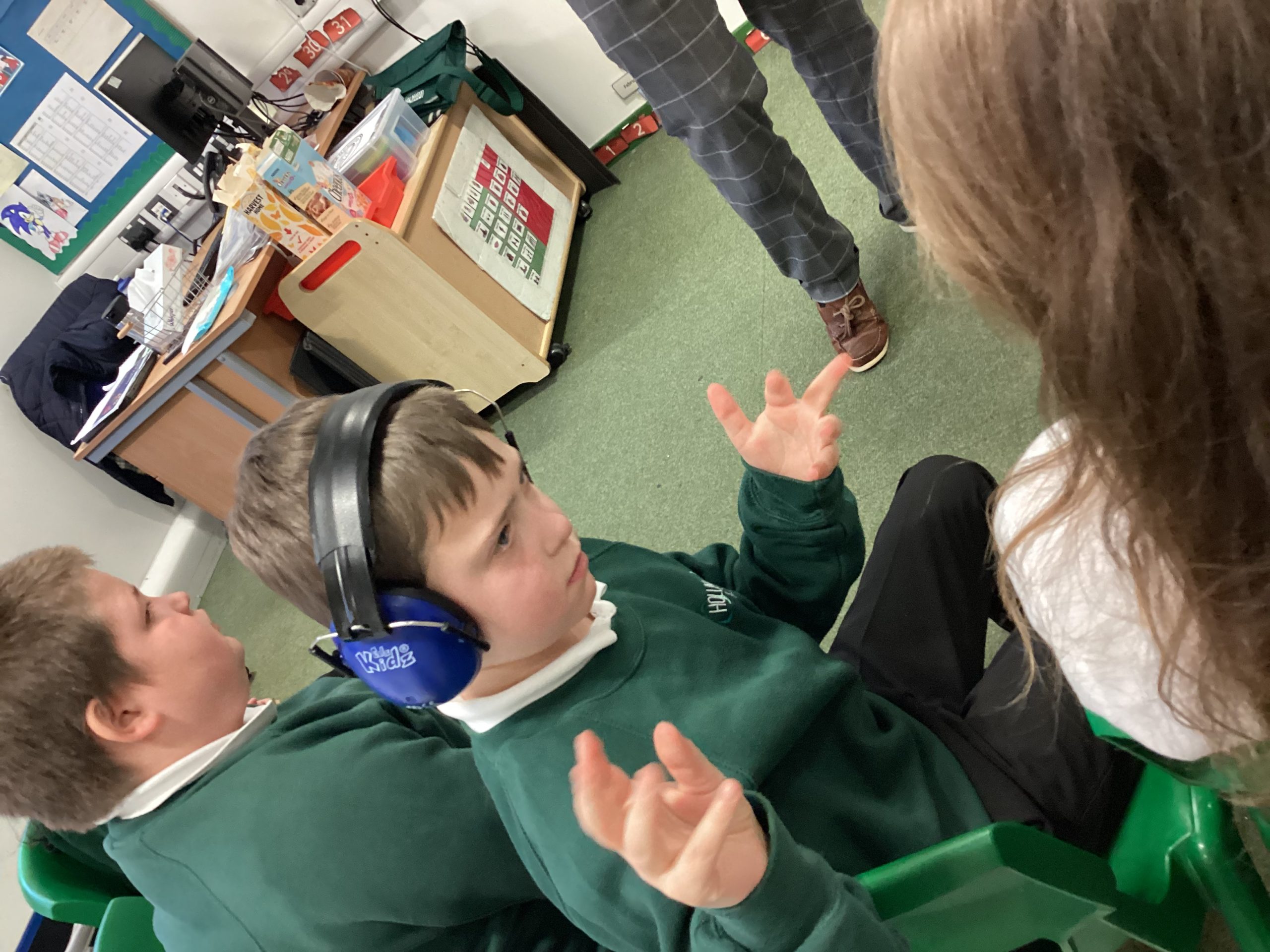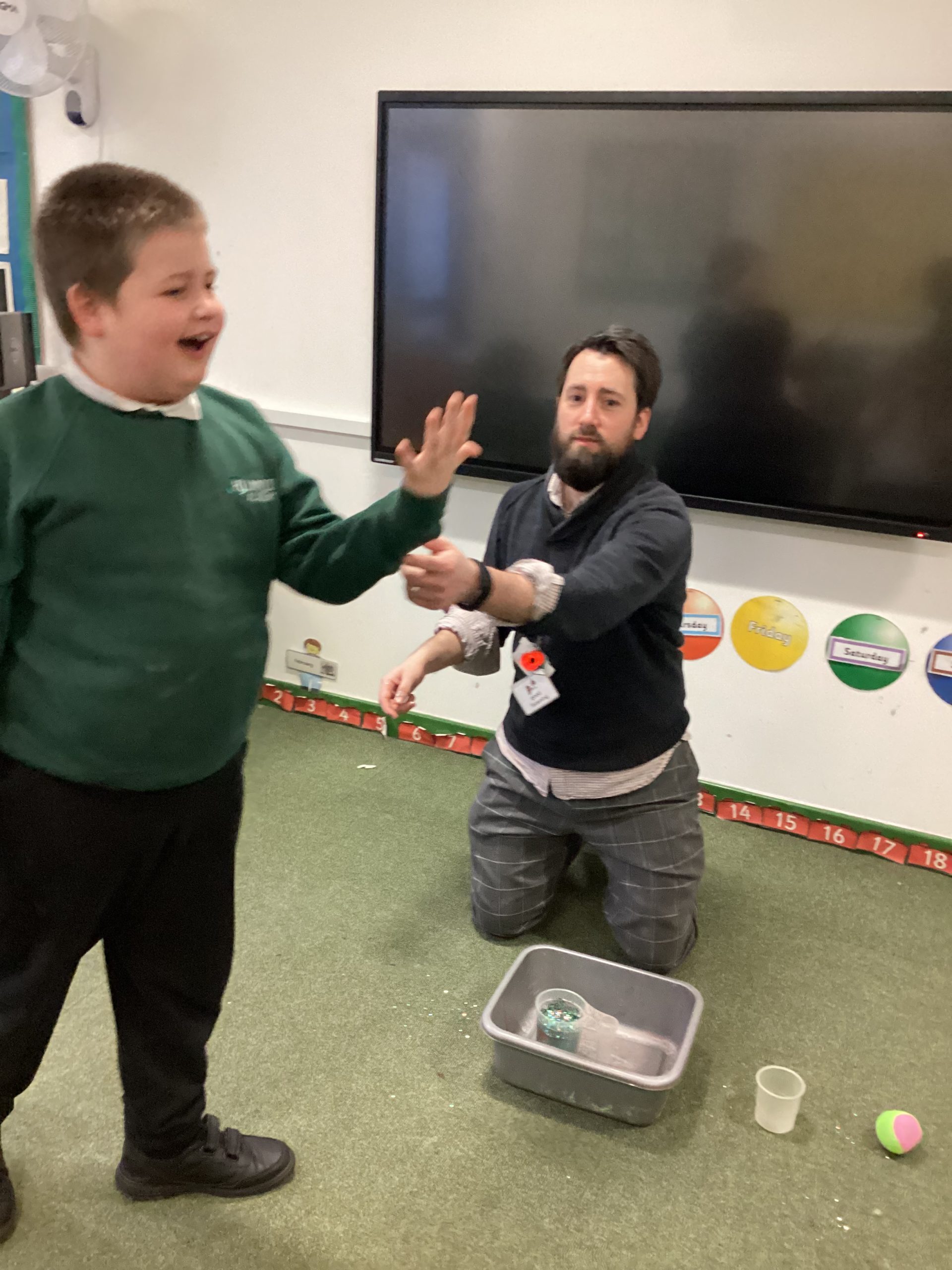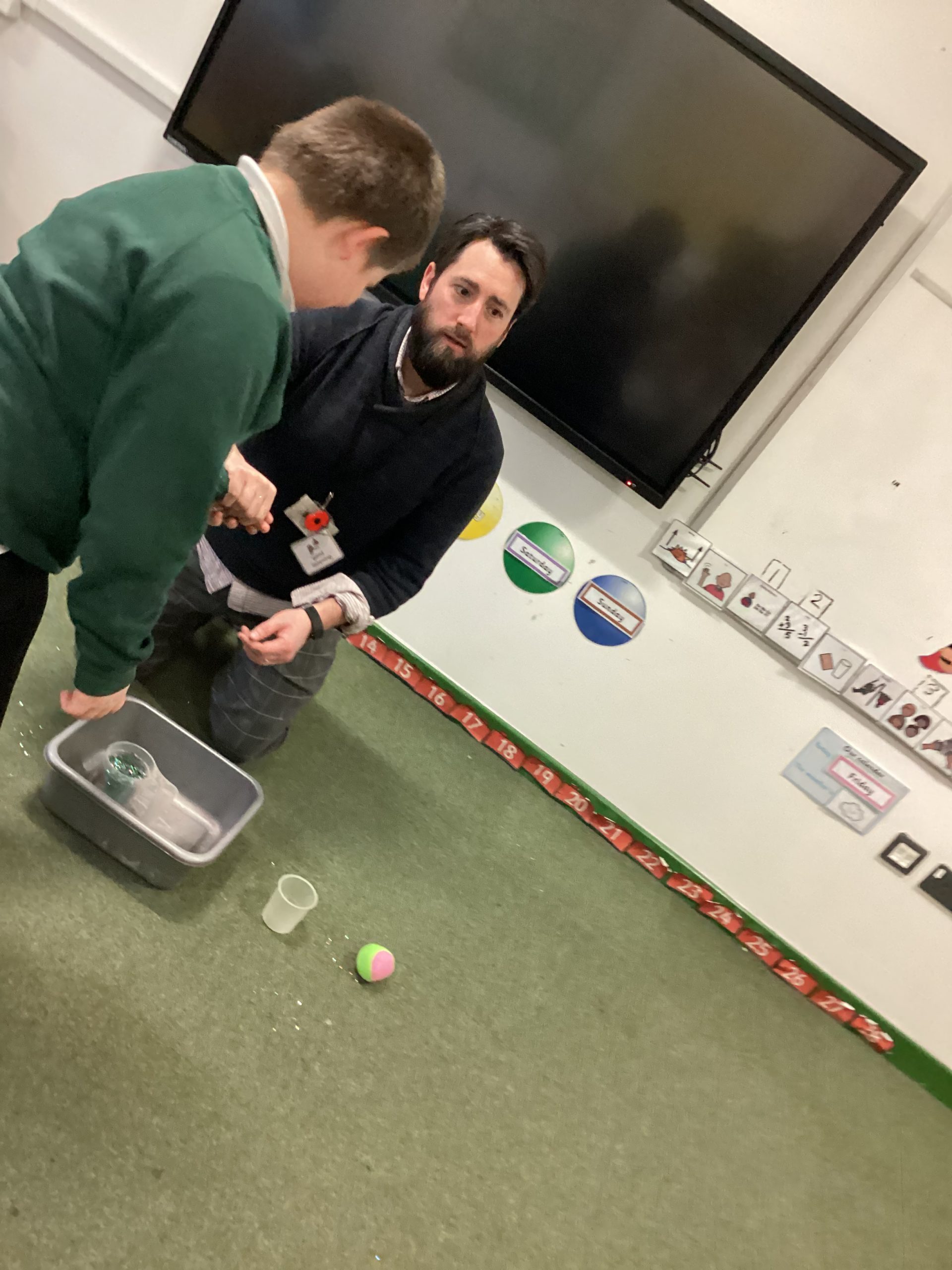 In Geography this half term we have been learning about the rainforests of the world. We now know where they are, what they give us, who lives there and what we can do to save them.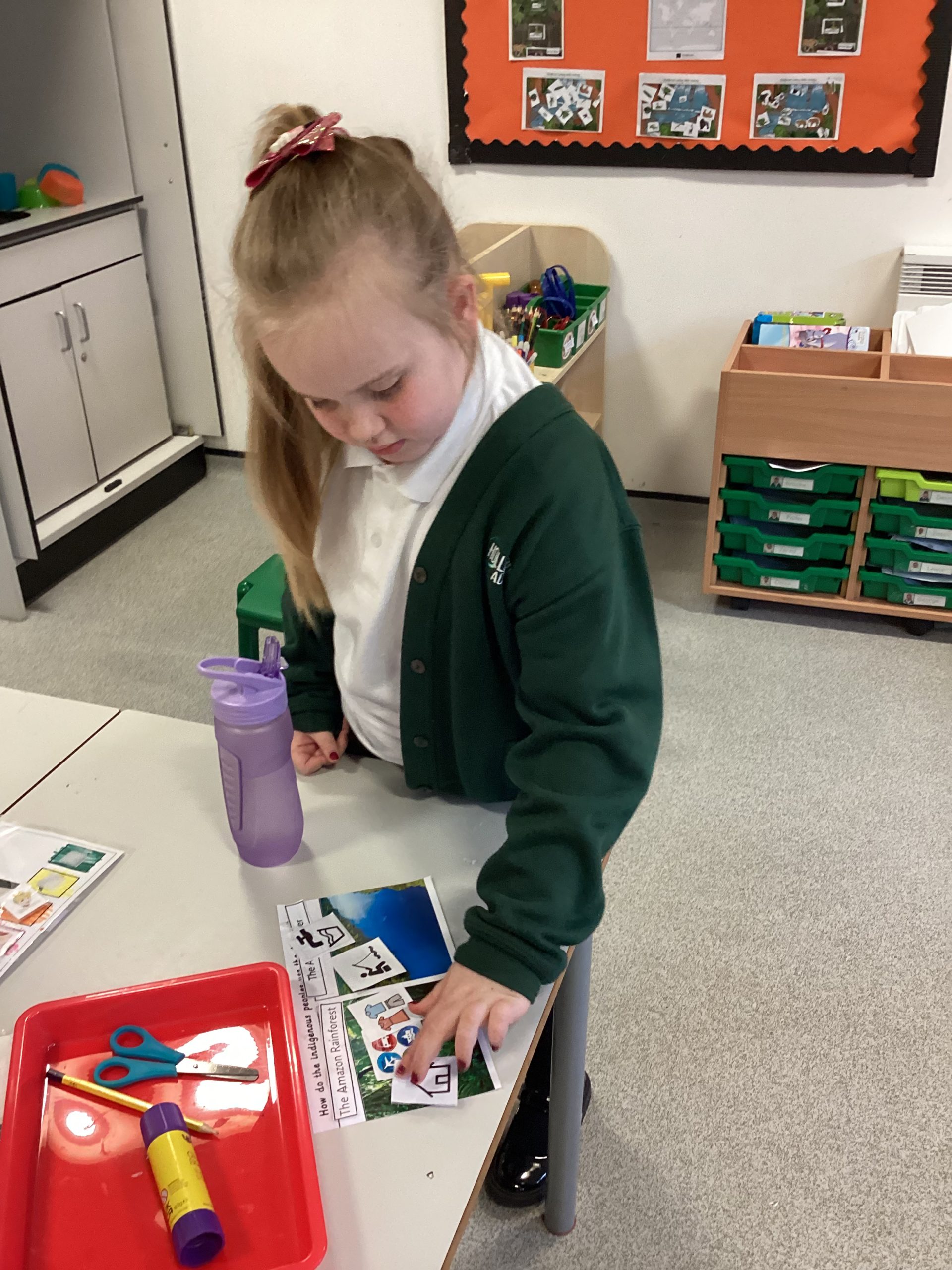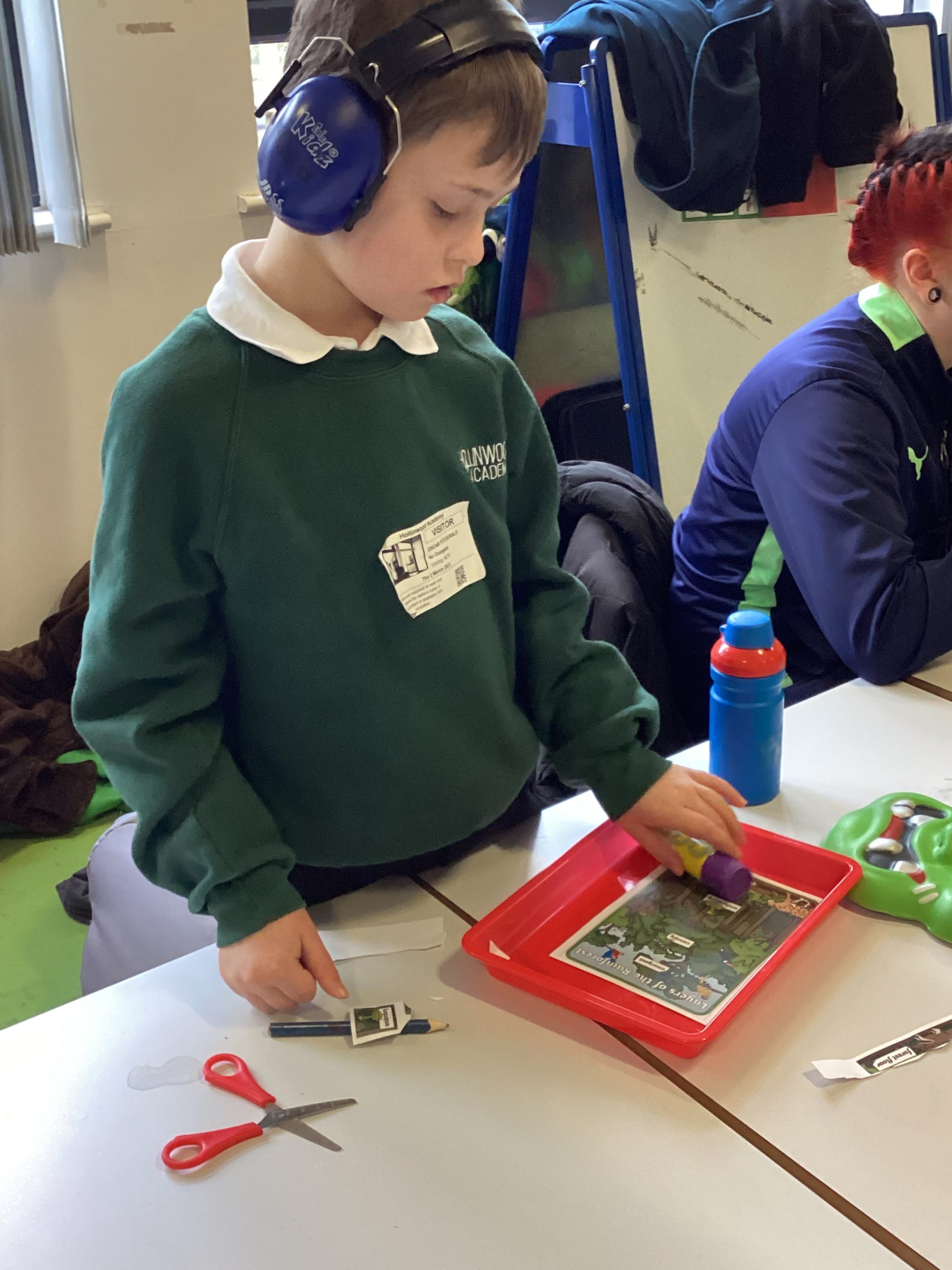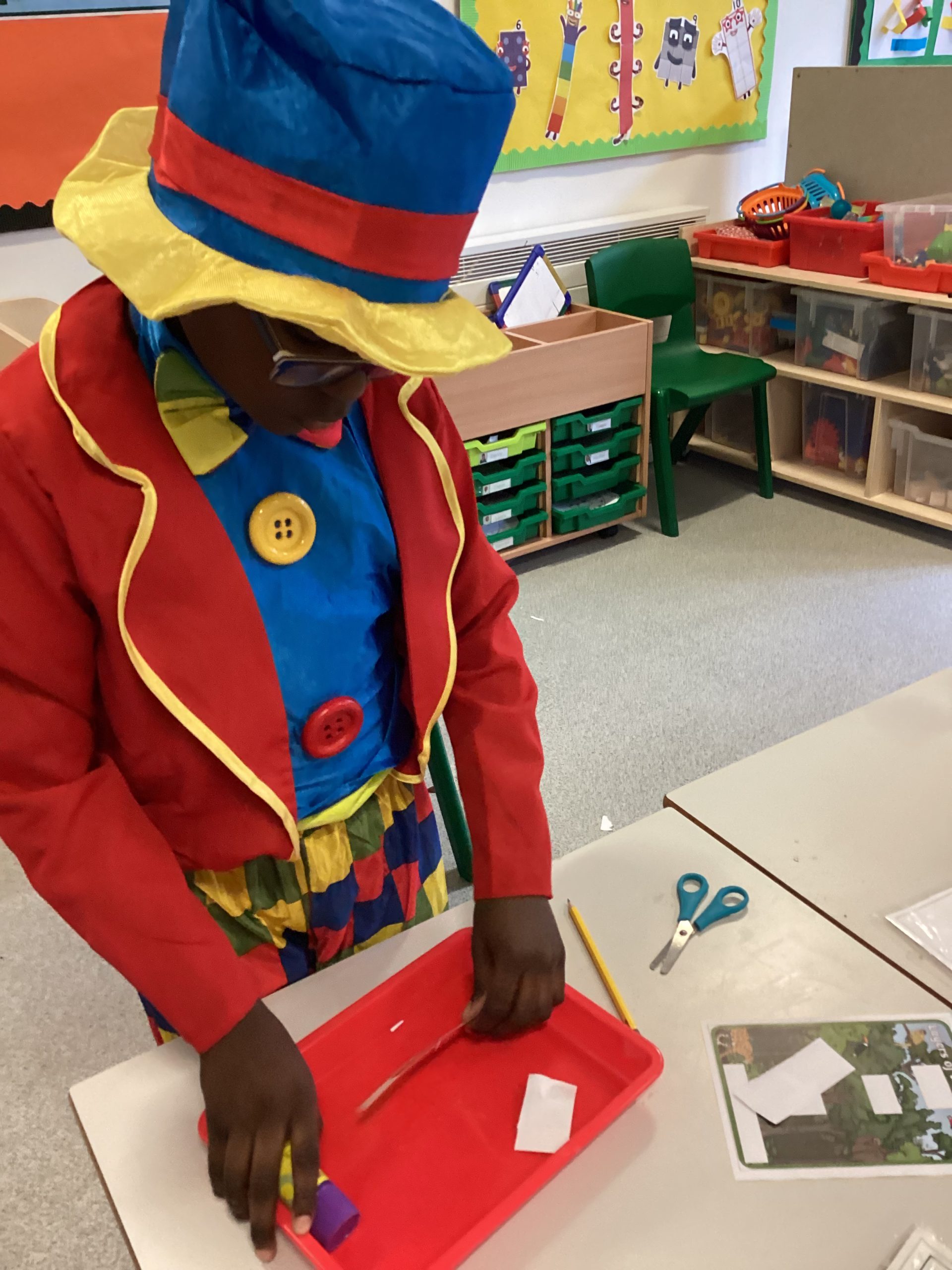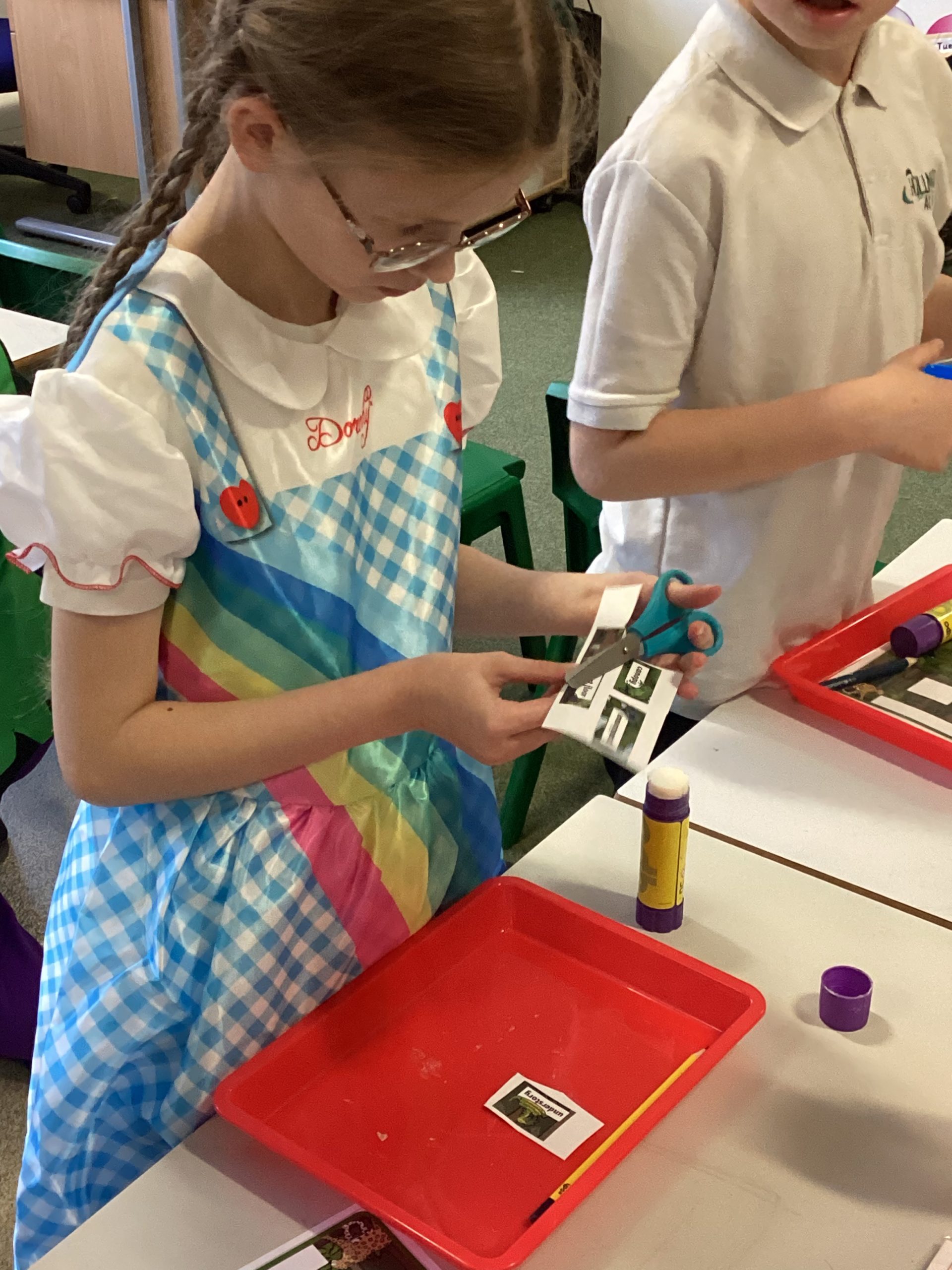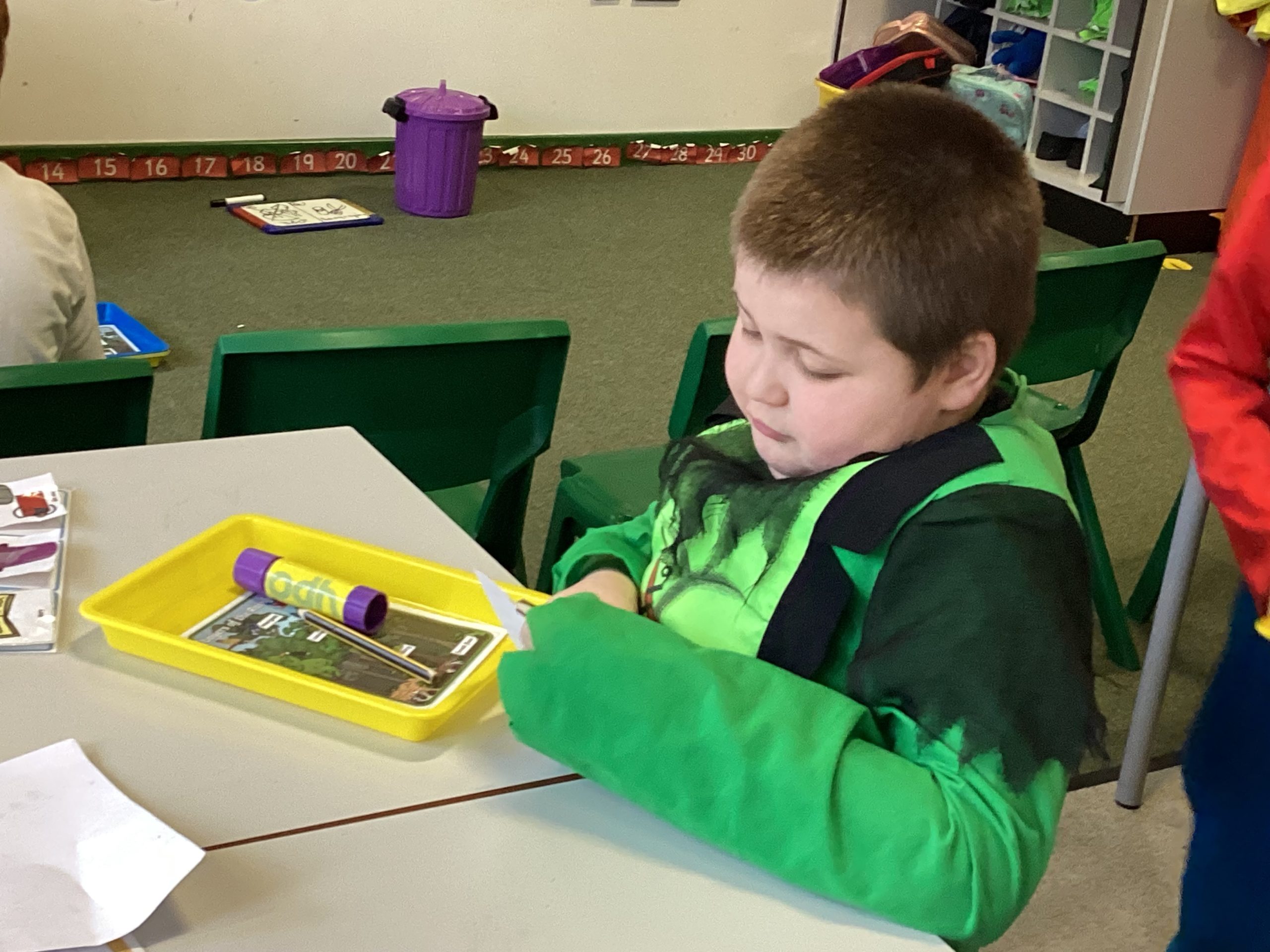 The class have been grouping using YES/NO questions in ICT this half term and creating Branching Databases.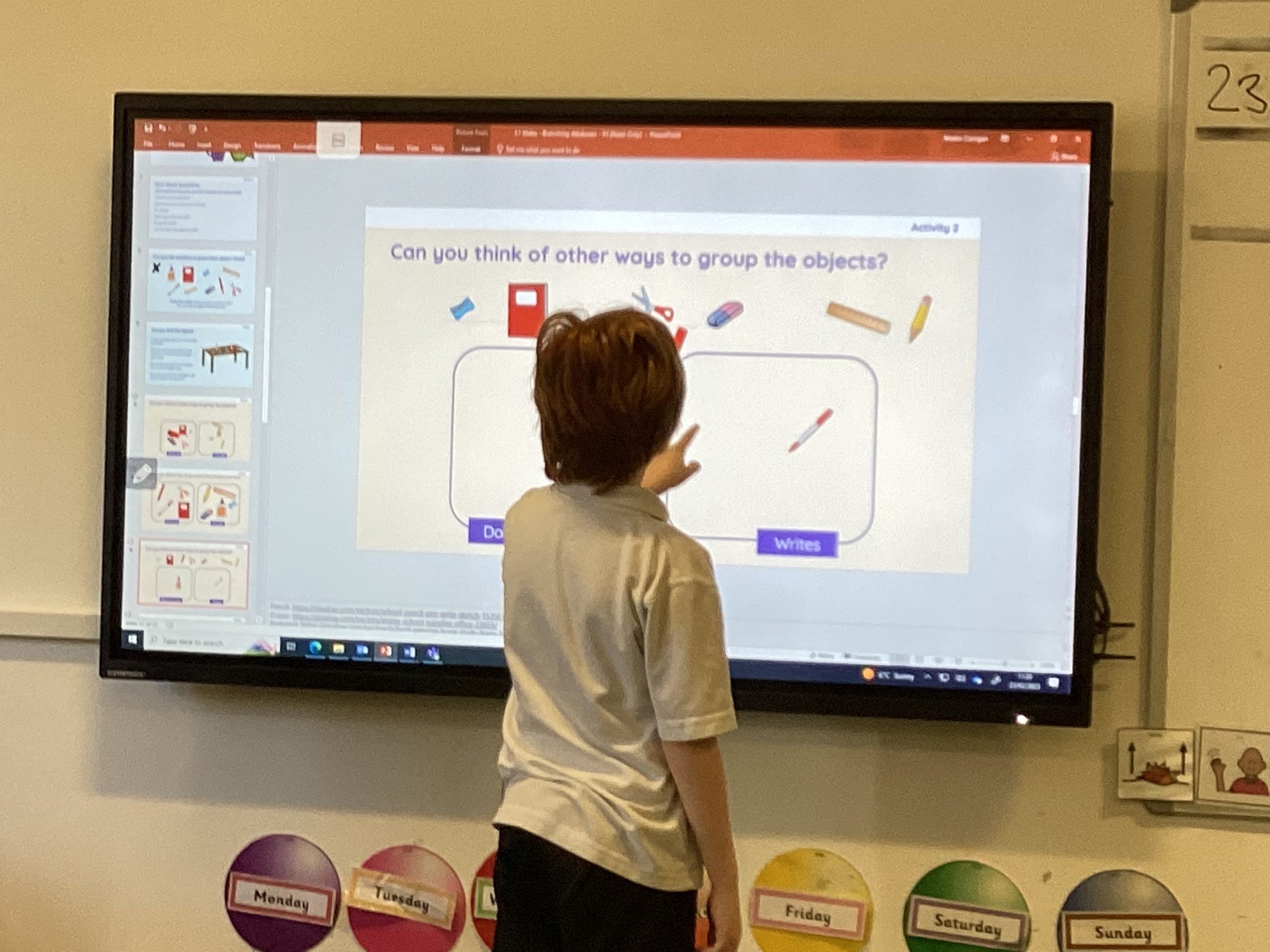 We have been creating 3D drawings in art this term and using wool to weave, knot and braid."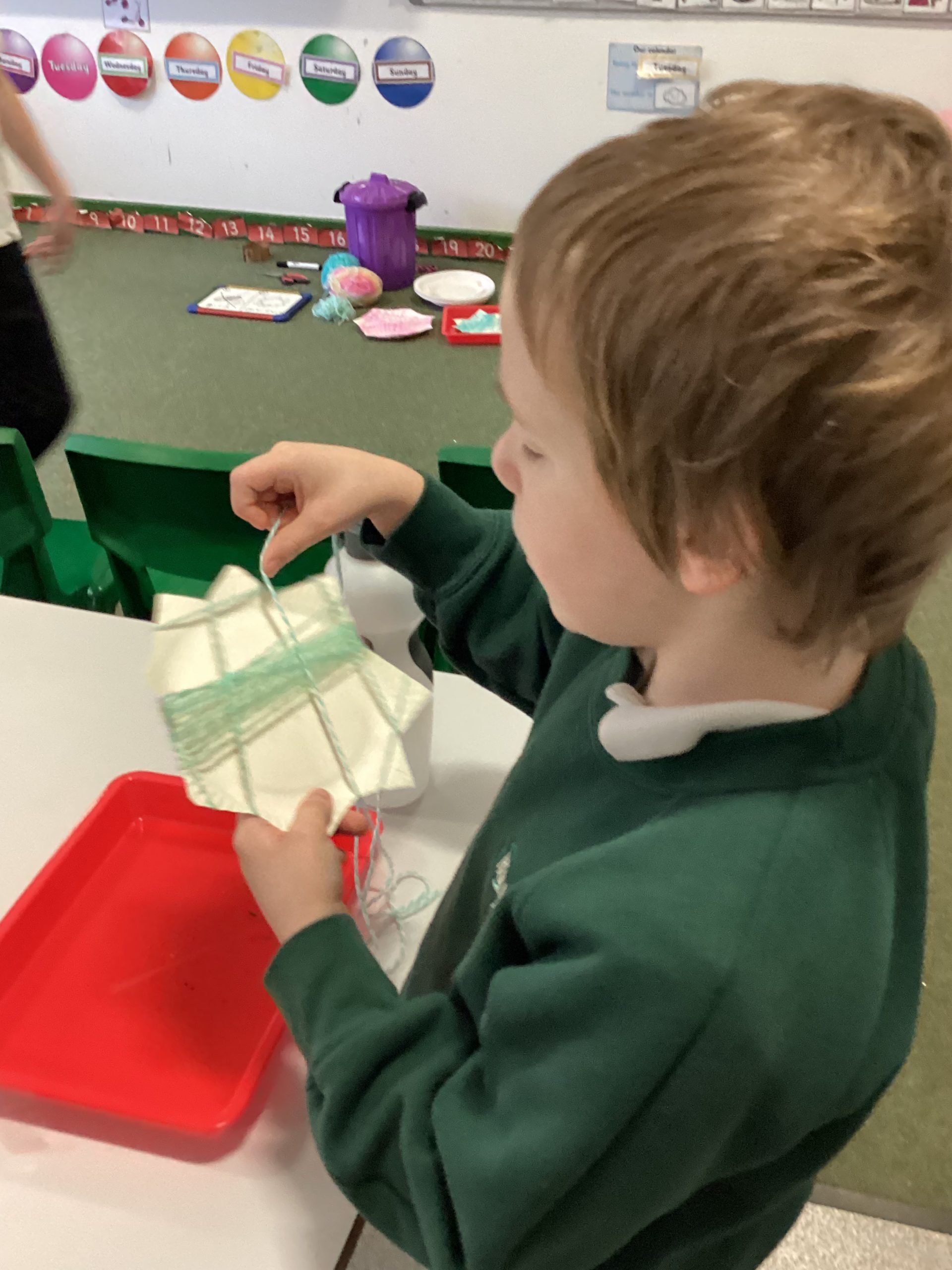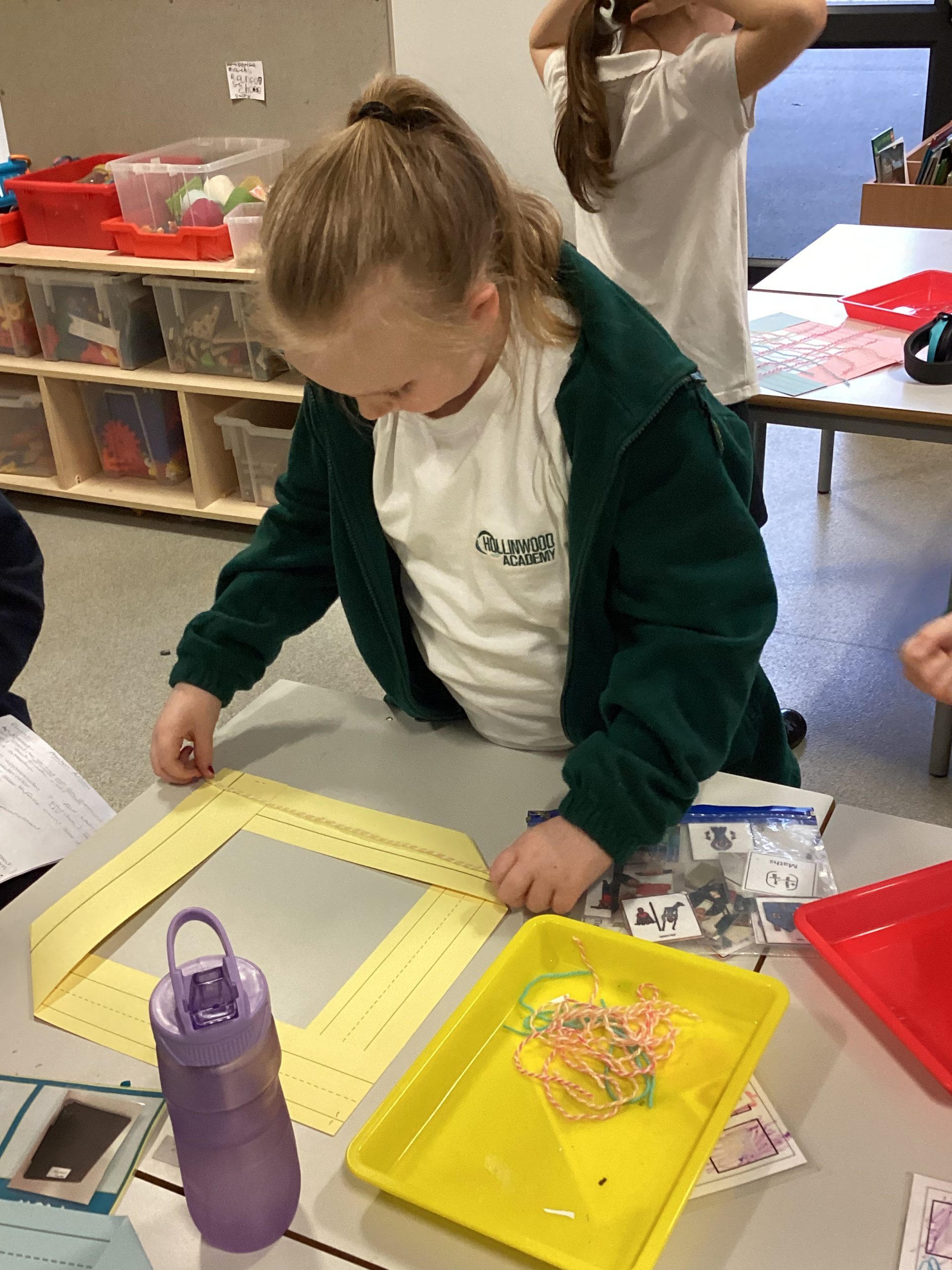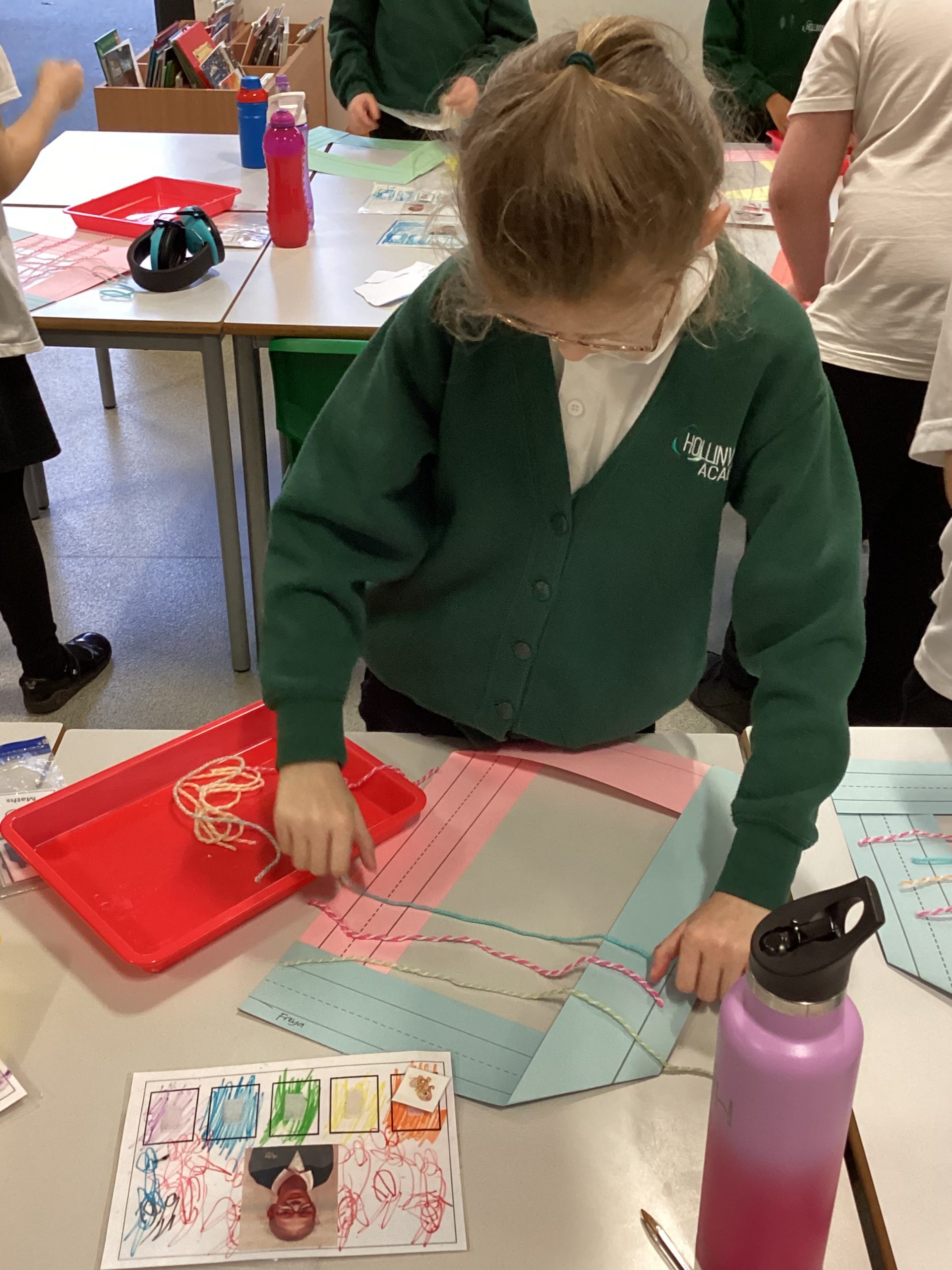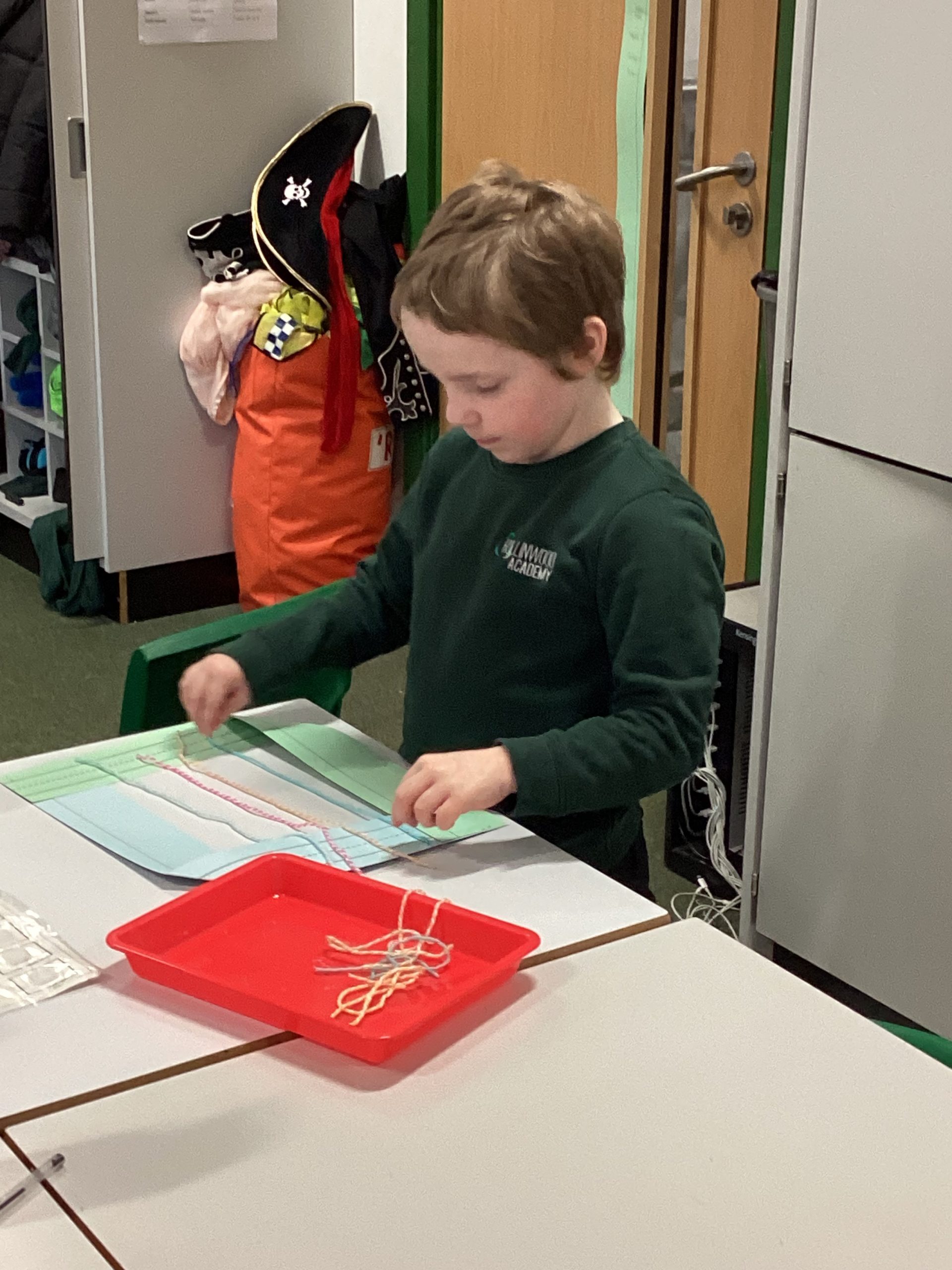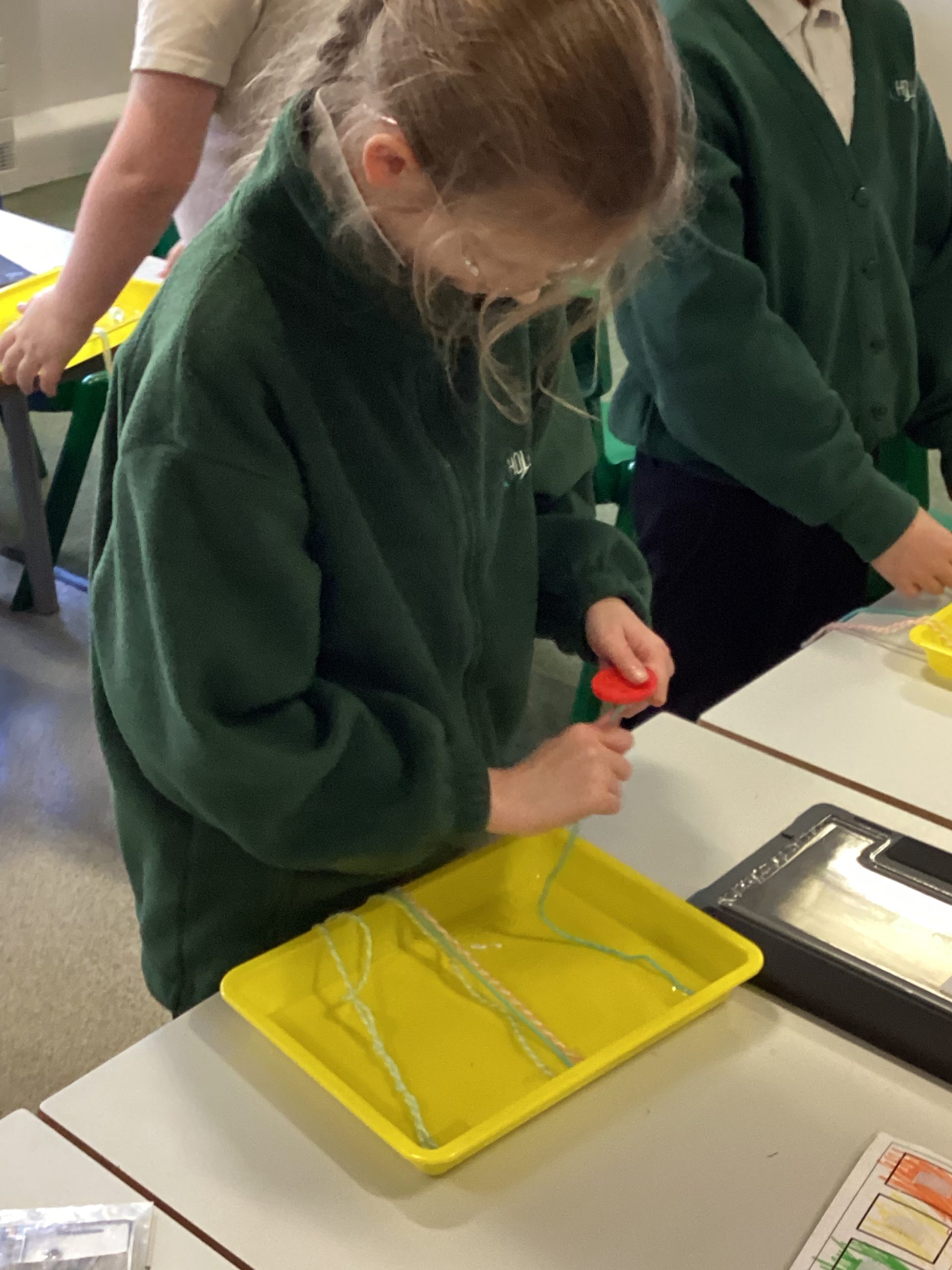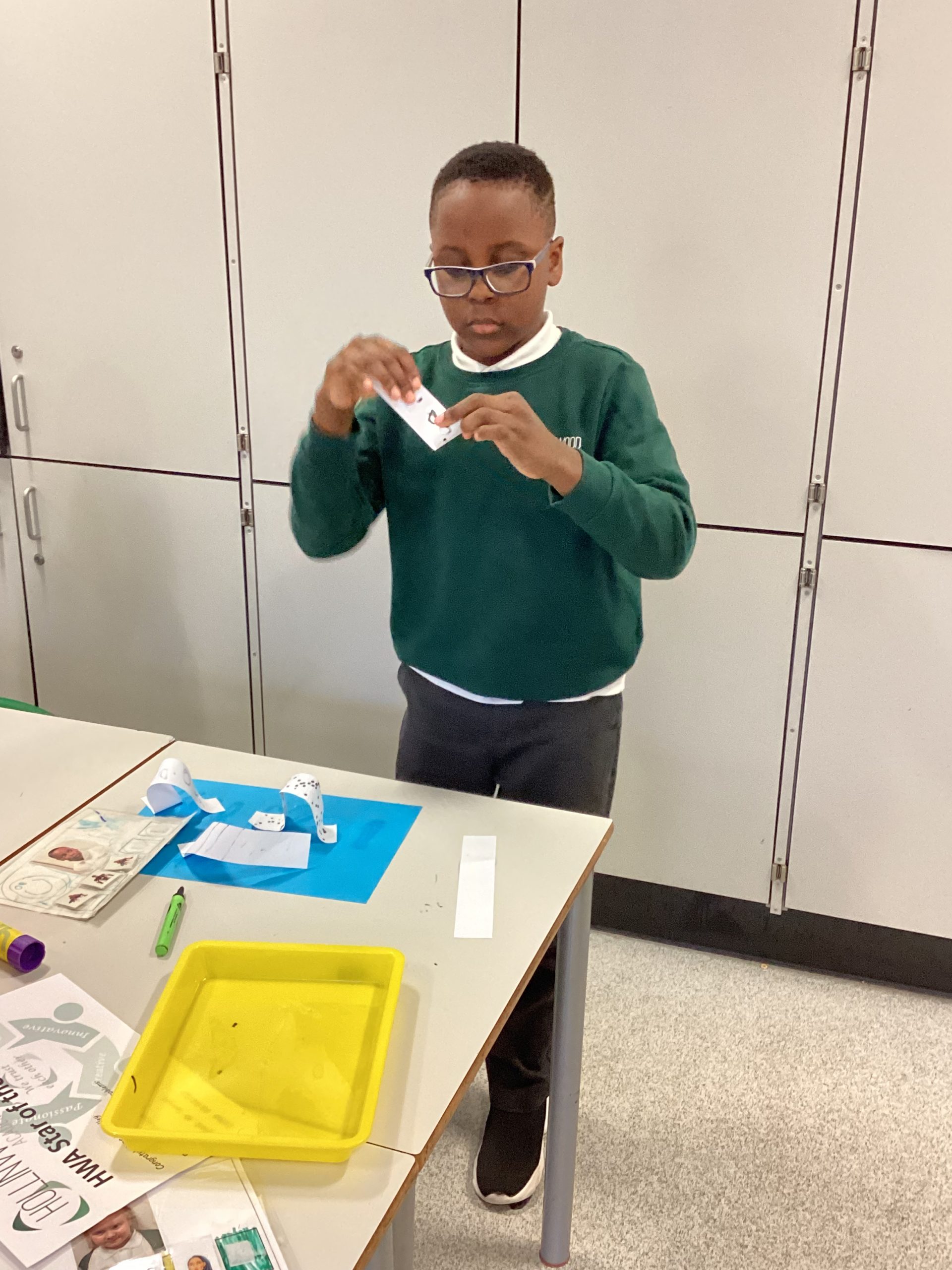 Now to Miss Waterman's form…
"Another great week in class this term. After a fantastic trip to Disney, Mariam couldn't wait to share all the fun and photos with the rest of the class. We've picked out a few highlights to share with everyone!
We started the week in food technology with Ms Duffy making 'Rocky Road' – our topic theme this term has been construction and within food the students have been looking at layering. They looked and smelt delicious! 
In Science we have been looking at Everyday Materials and linked with Art we have been junk modelling! We've been learning about diggers (excavators) and how they work and have used a mini digger to create shapes in sand in our tough tray.
In English we have been working on interactive stories, after creating our stick puppets we followed the story of "The Peas and the Sneeze" coping the instructions of movement given! Katie particularly loved 'scooping' the peas, her favourite vegetable! Whilst the others loved buzzing round like bees, bouncing like fleas and sliding like skis! All the students were able to sequence the story, some students have been working on developing sentences whilst others have been pairing lower- and upper-case letters and working on pencil control. In Maths with have been making money jars, using the correct amount of money to fill our jar and taking out the correct money to 'buy' items within the classroom.
We had a wonderful relaxation session on Wednesday, this week we listened to The Tropical Island which was selected by Mariam. In Student Council Mariam had been discussing 'stress buckets' and Mariam asked if we could have a relaxation based around having no stress.
Mr Ottoway and the class went on Outdoor Ed this Friday and here is what he has to say about their time: "In Outdoor Ed the topic this term is leisure activities, this week we visited Chadderton Park. We walked around the whole park and got to see lots of people walking their dogs. We walked on different terrains, counted the many steps to the top of the park and also had to dodge the muddy puddles. We finally made it to the playground. In the playground the students walked over rope bridges, crawled through tunnels, had a swing and then flew on the zip line. All the students had lots of fun before returning to school, well done everyone."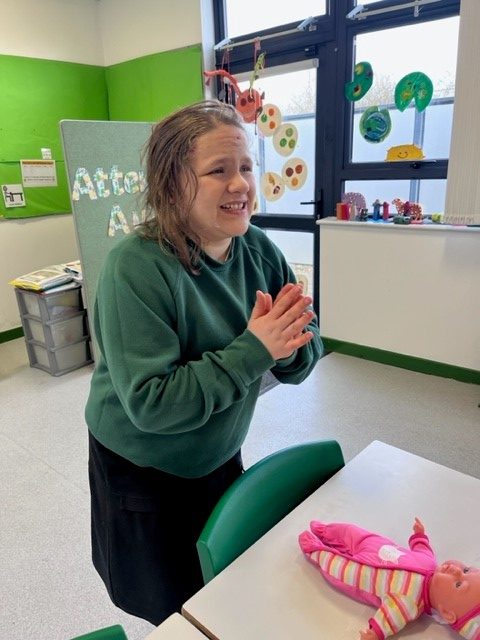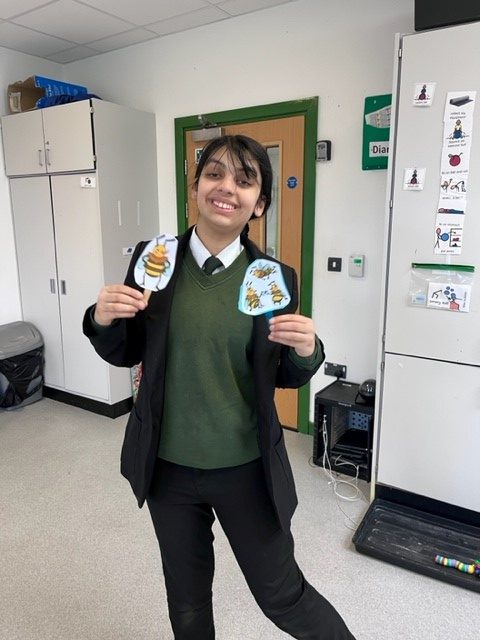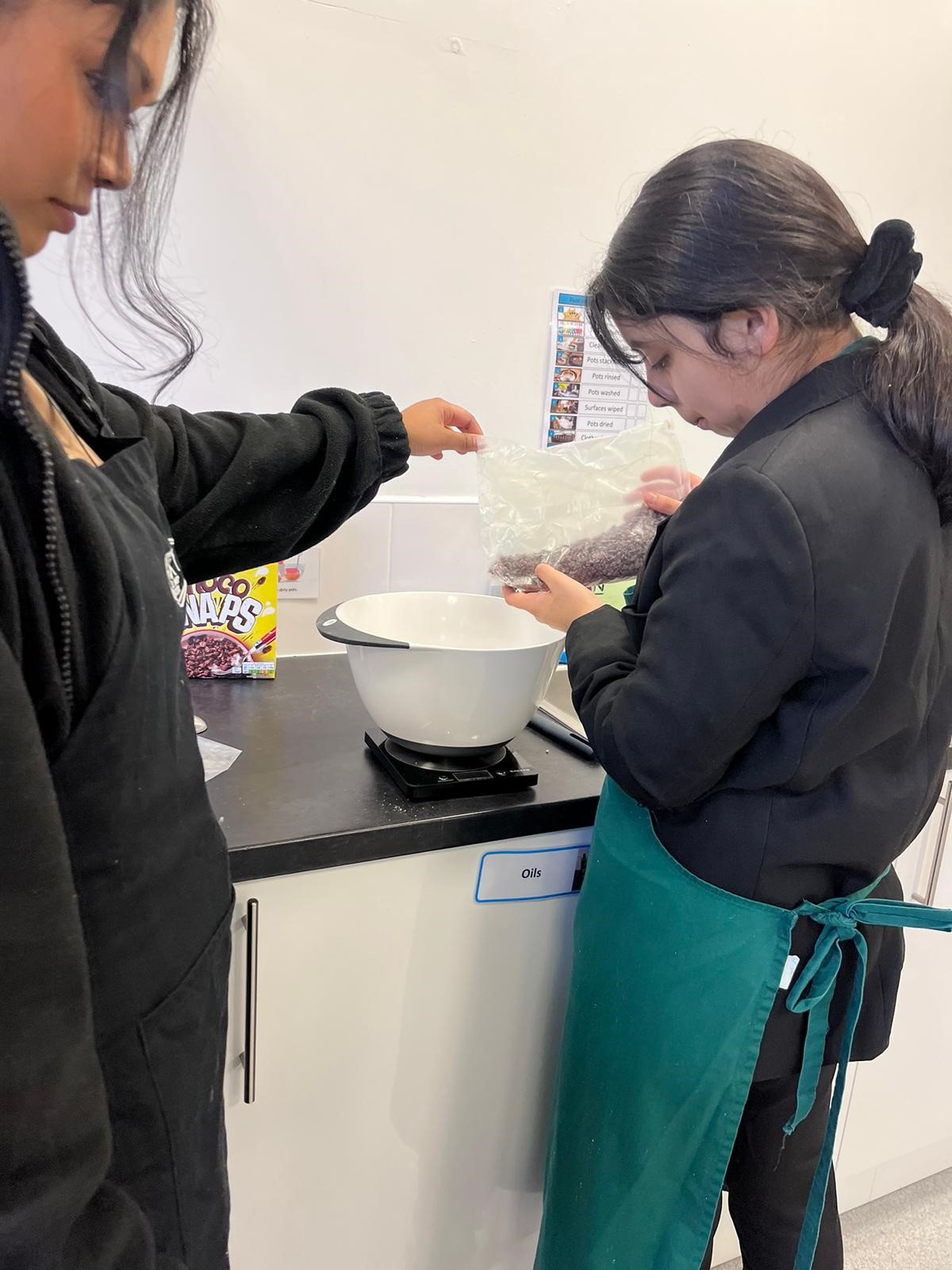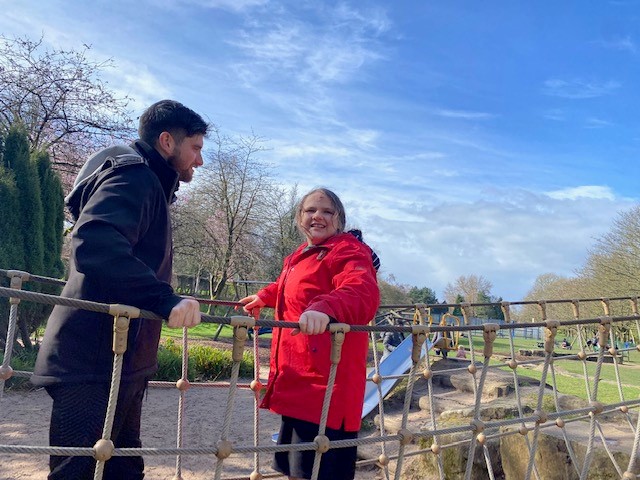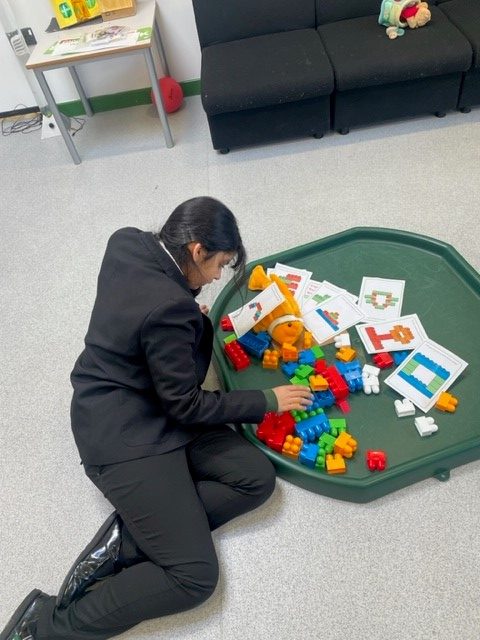 Now to Mr Gold's science lessons…
"It has been back to business as normal this week in the science department after the excitement of last week's crime scene investigation.
The GCSE classes have continued to work hard on their GCSE science course. The year 11's have been completing some mock exams to help them prepare for their final exams which start in May. The year 10 class has also been working hard on their GCSE course and have been focusing on chemical bonding. They have been learning how metal and non-metal atoms form chemical bonds and investigating what properties ionic substances have.
9NNL have just completed a topic on waves. They have been learning about the different type of waves and some of their properties and uses. 9SUAN have been learning about the planets of the solar system. With Miss Daniels they have been learning the order of the planets and lots of interesting facts about each of the planets and with myself they have been working on making models of the planets to display in the laboratory.
The year 8's have been enjoying learning about acids and alkalis. They have been taking part in lots of practical activities to investigate the strength of different acids and alkalis and how neutralisation reactions work.
Finally, the year 7's have been learning about the structure of the earth. They have made models of the different layers of the earth and have started to learn about how different types of rocks are formed. This week they focused on how sedimentary rock is formed and did some practical activities to model that process."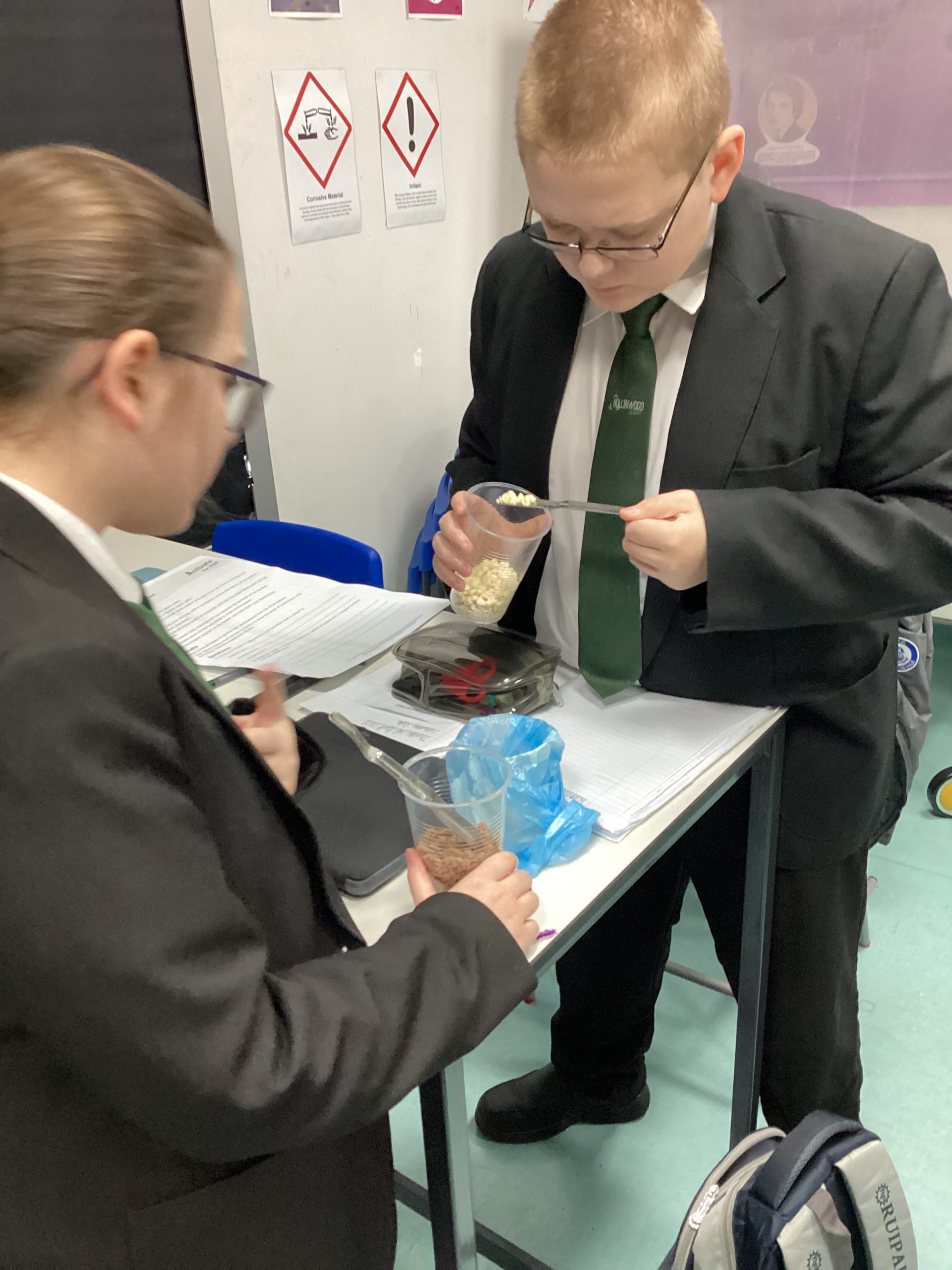 Now to our amazing SUPER STARs and HWA Creative STARs
Mrs Lerigo's STAR of the week is Abdul for amazing work in Maths, looking at measurement.
Mrs Lerigo's HWA Creative STAR is Silva for fabulous work in ART creating a bouquet of irises.
Miss Oakley's STAR of the week is George for excellent counting in maths this week.
Miss Oakley's HWA Creative STAR is Freddie for his art work this week, Freddie used snapcore to request what he would prefer to draw with. He made a beautiful line drawing.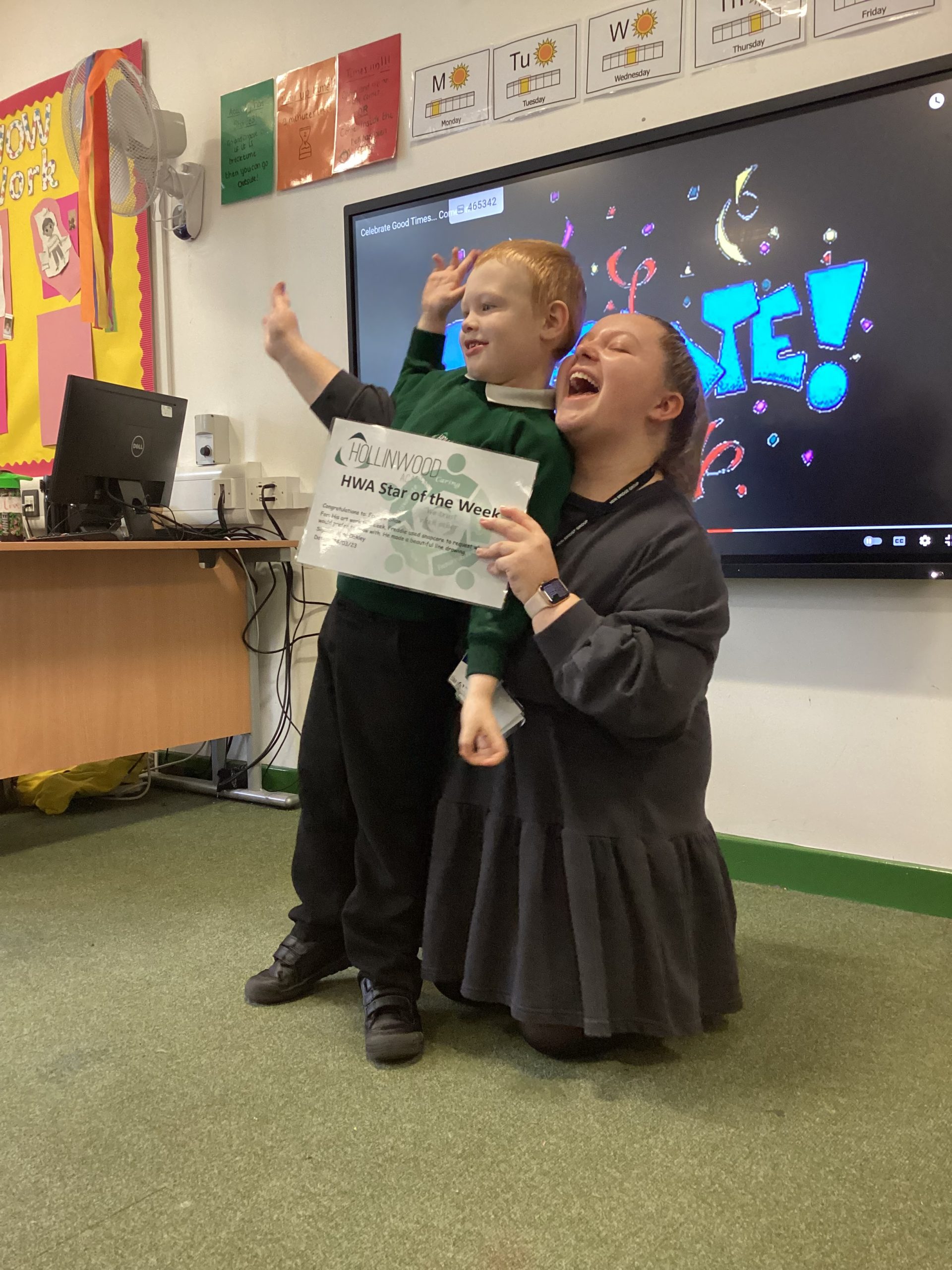 Miss Meadows' STAR of the week is Ethan for listening to expectations in class and following instructions first time well done on a better week Ethan!
Miss Meadows' HWA Creative STAR is Riley for trying hard to follow expectations in class and improving his ability to stay focused on his task.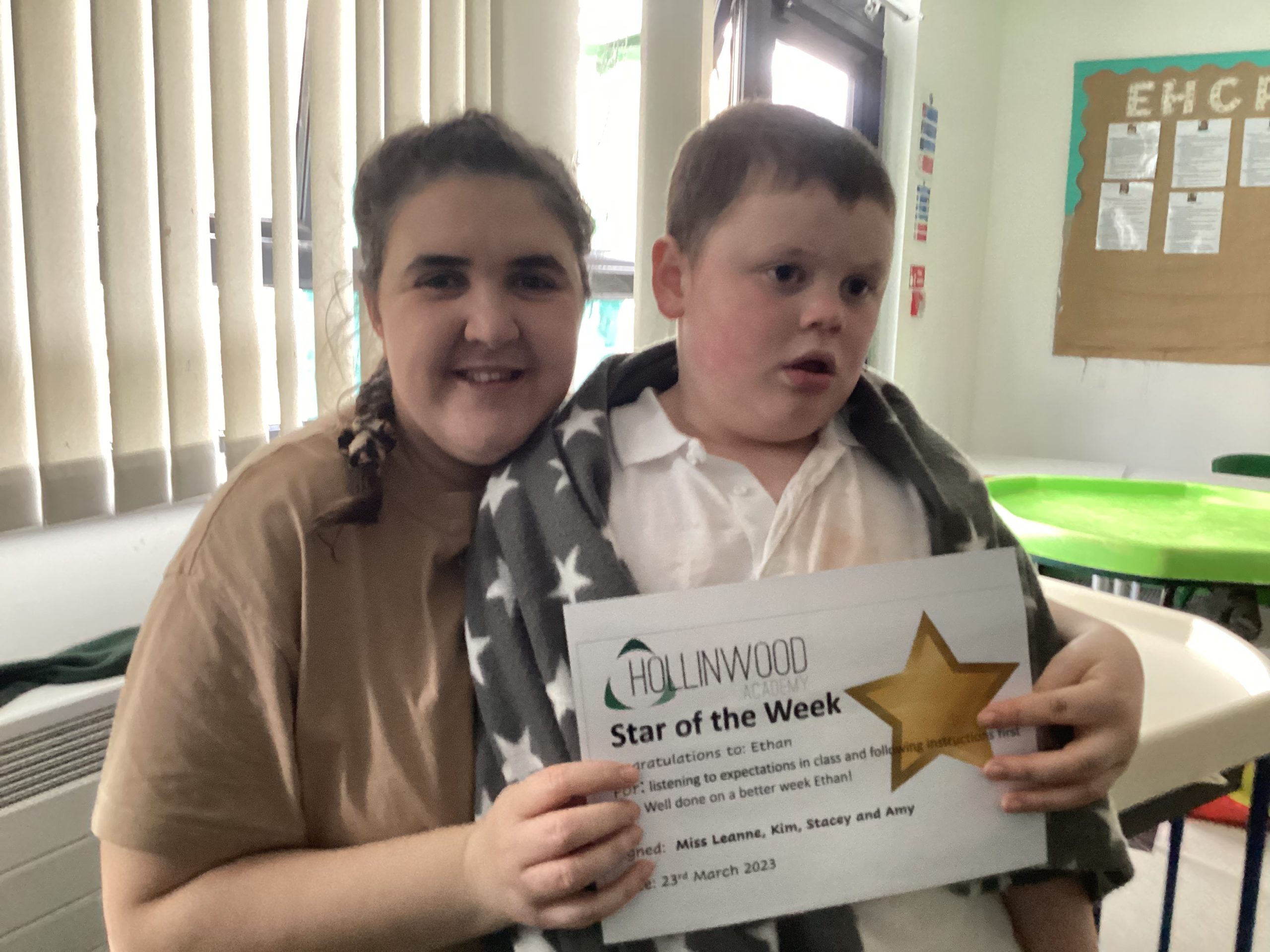 Mrs Woodhead's STAR of the week is Maleek For Settling to his work quickly and trying really hard.
Mrs Woodhead's HWA Creative STAR is Louis For Creating a fabulous piece of art experimenting with different techniques.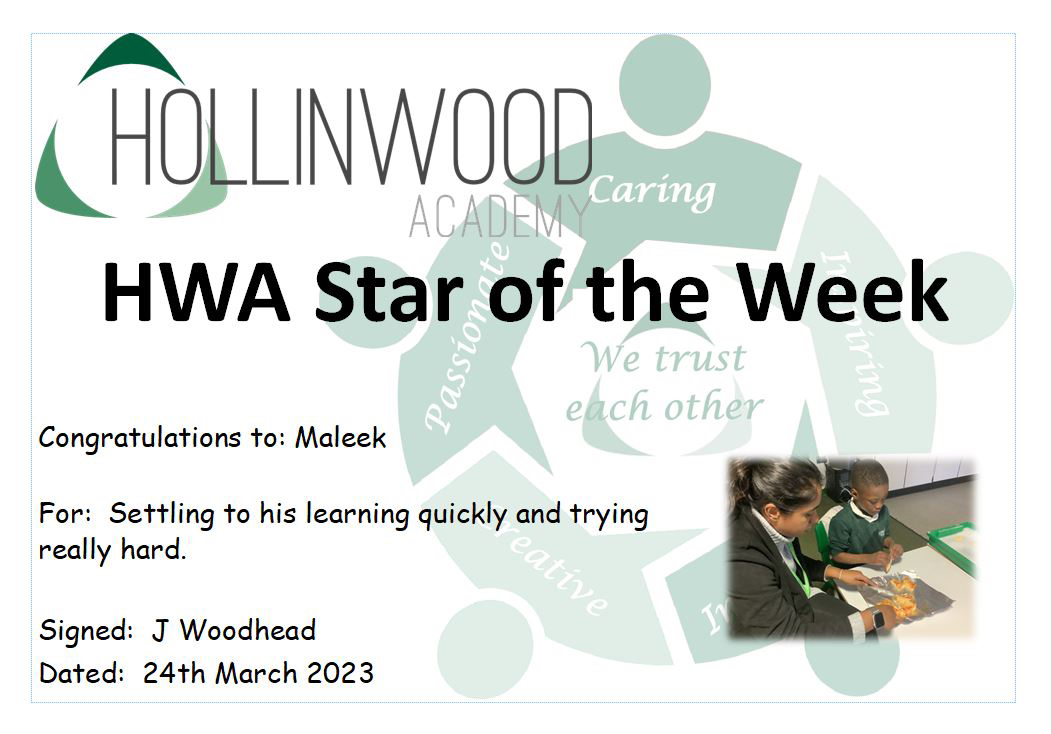 Miss Pietraszewska's STAR of the week is Roman for independent changing for PE! Well done!
Miss Pietraszewska's HWA Creative STAR is Simisola for engaging in the outdoor education shopping experience. Well done Simisola!
Mrs Halkyard and Miss Hulme's STAR of the week is Caitlin for accepting adult help and using her ear defenders much less this week. Well done!
Mrs Halkyard and Miss Hulme's HWA Creative STAR is Jacob for creating some amazing facts sheets about seals and penguins during English. Well done!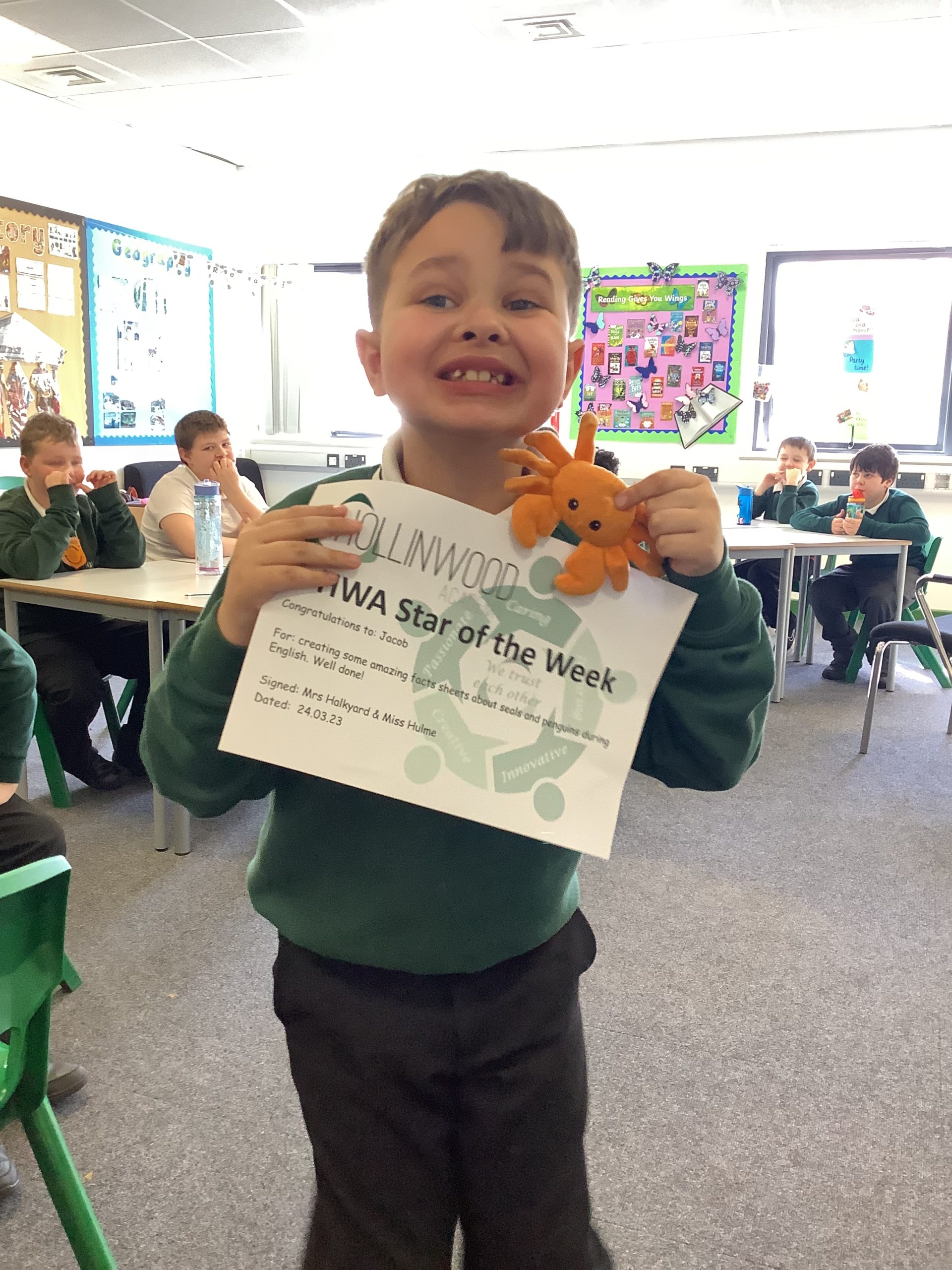 Mr Corrigan's STAR of the week is Jared for being a Maths Superstar in his new group.
Mr Corrigan's HWA Creative star is George for listening to teachers and accepting help.
Mr Corrigan's WOW moments go to Oscar, Jason, Brooke and Lewis. Well done!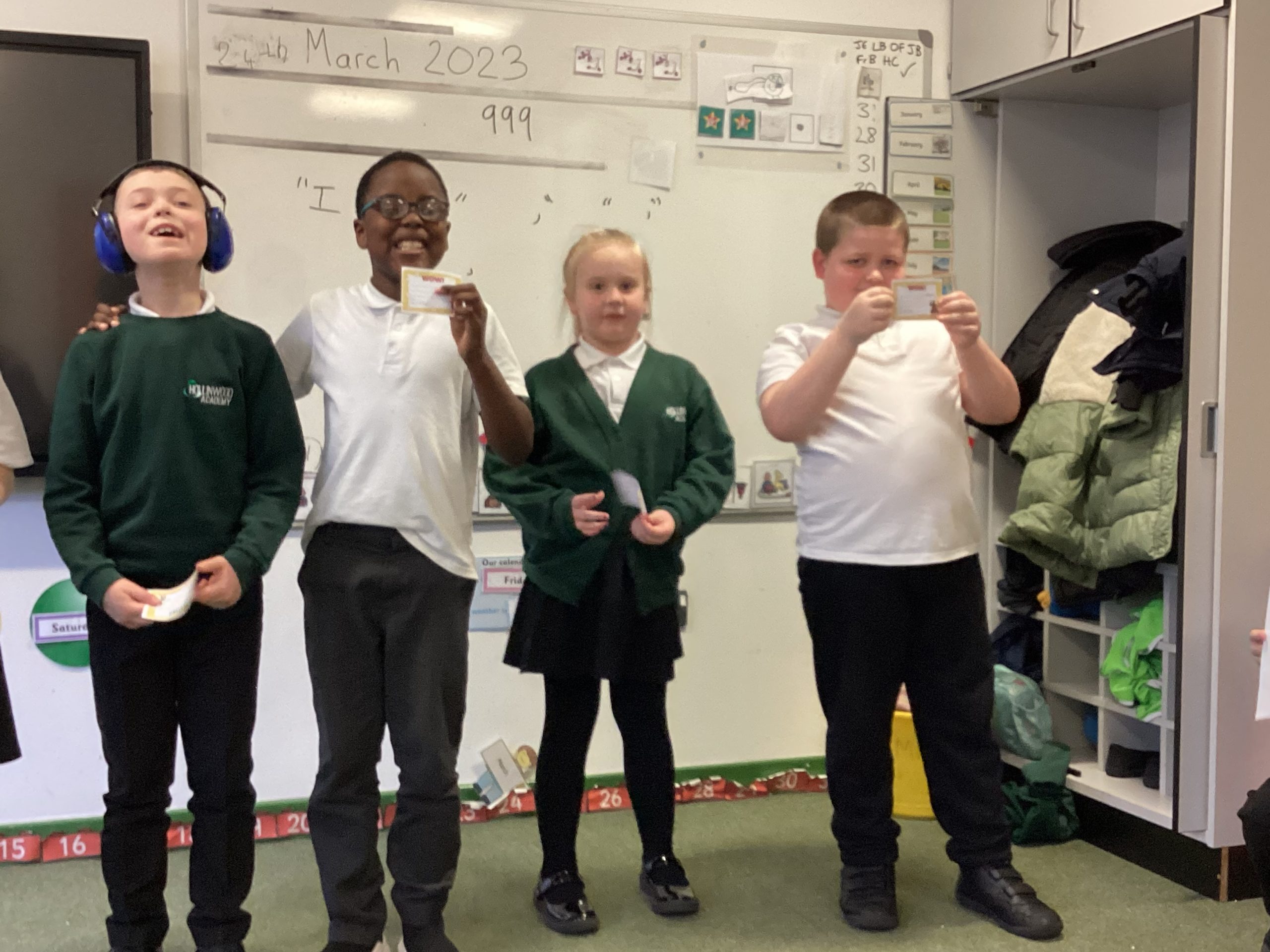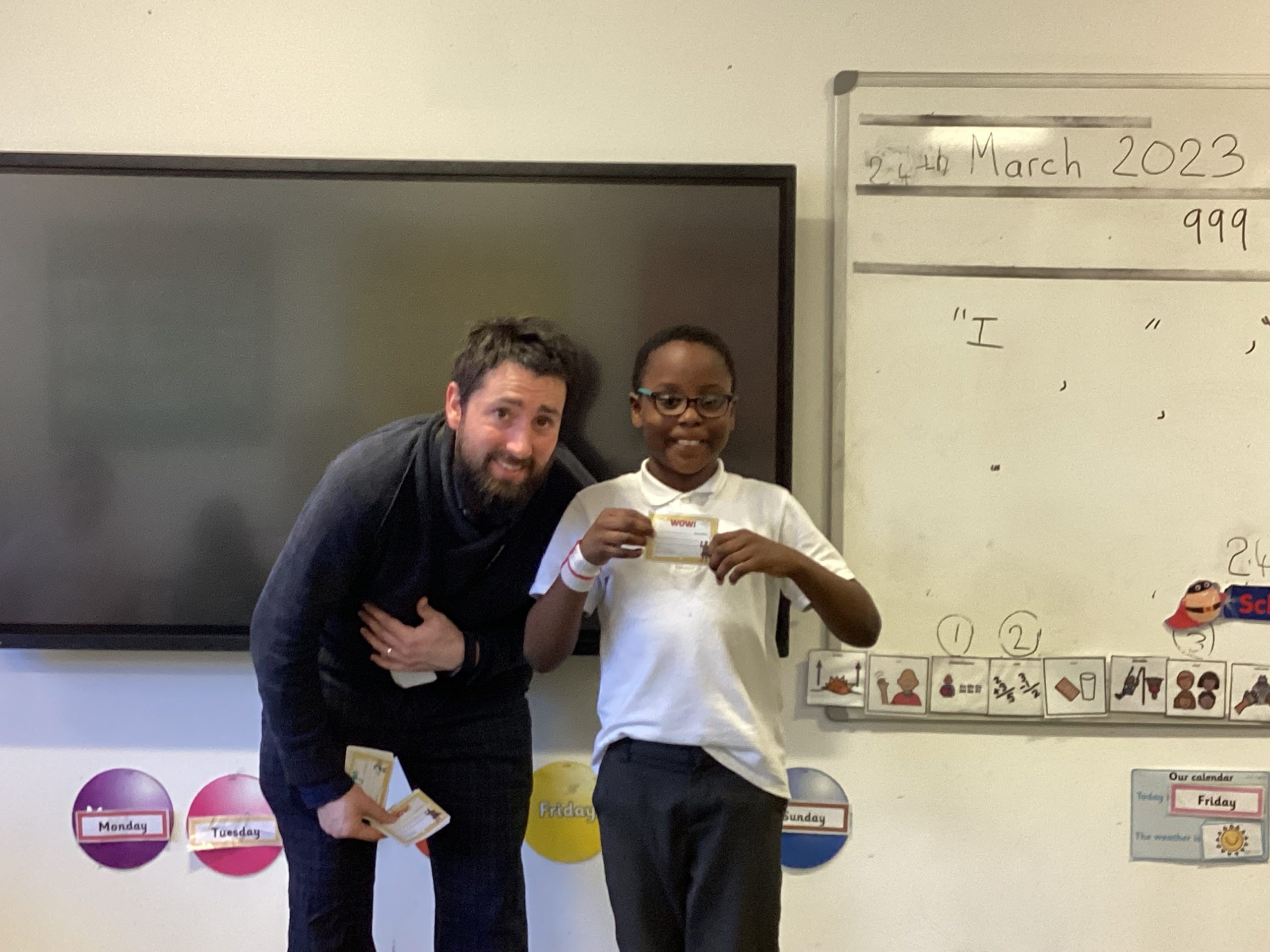 Miss Prescott's STAR of the week is Zakariya for trying his hardest in all of his lessons this week.
Miss Prescott's HWA Creative STAR is Corey for his creative drawing of a butterflies life cycle.
Miss Prescott's WOW moments go to Ebon. Well done!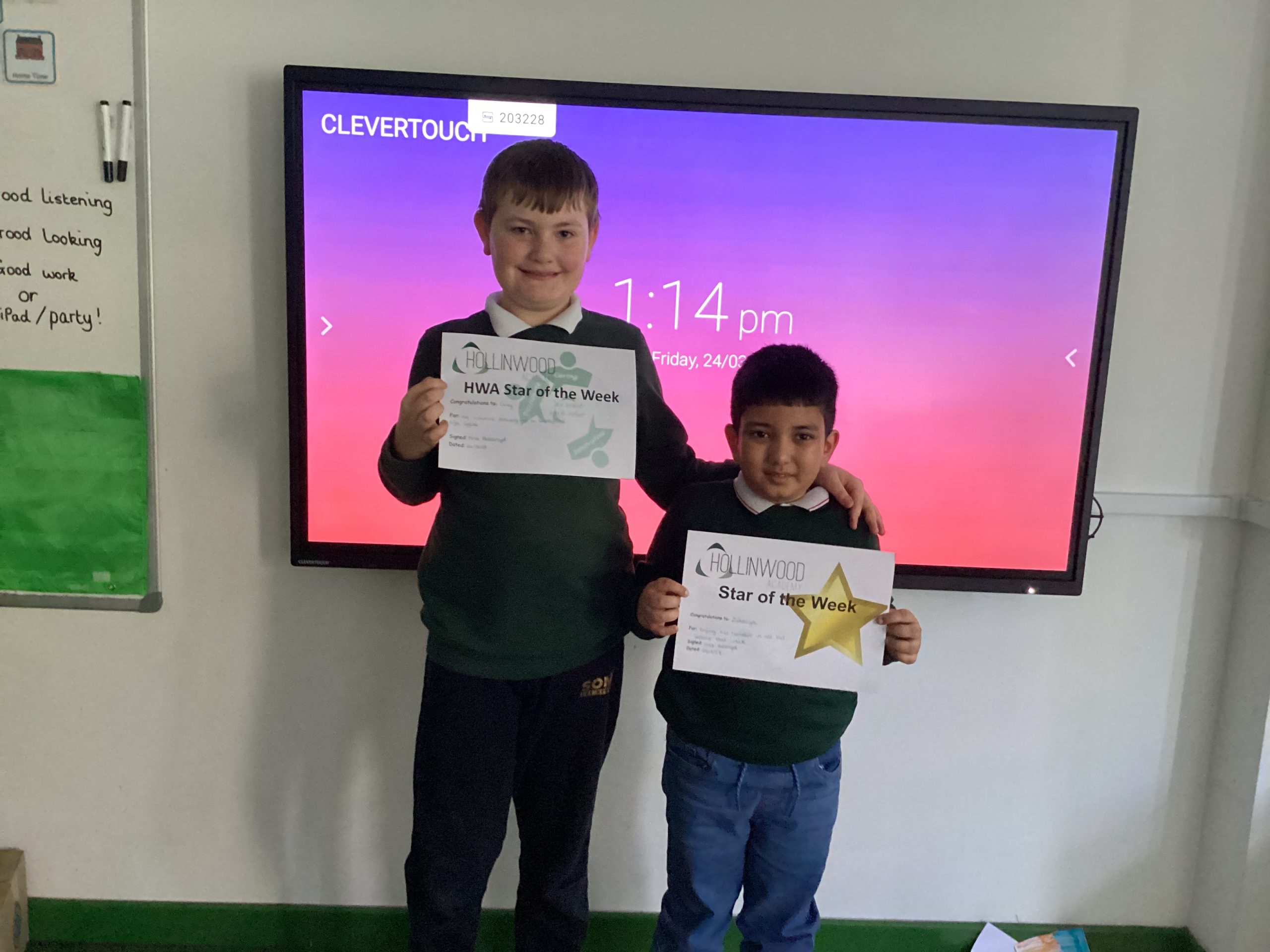 Miss Tootill's STAR of the week is Jake for being resilient and talking about his feelings to adults.
Miss Tootill's HWA Creative STAR is Connor for being creative in his Hundertwasser art lesson.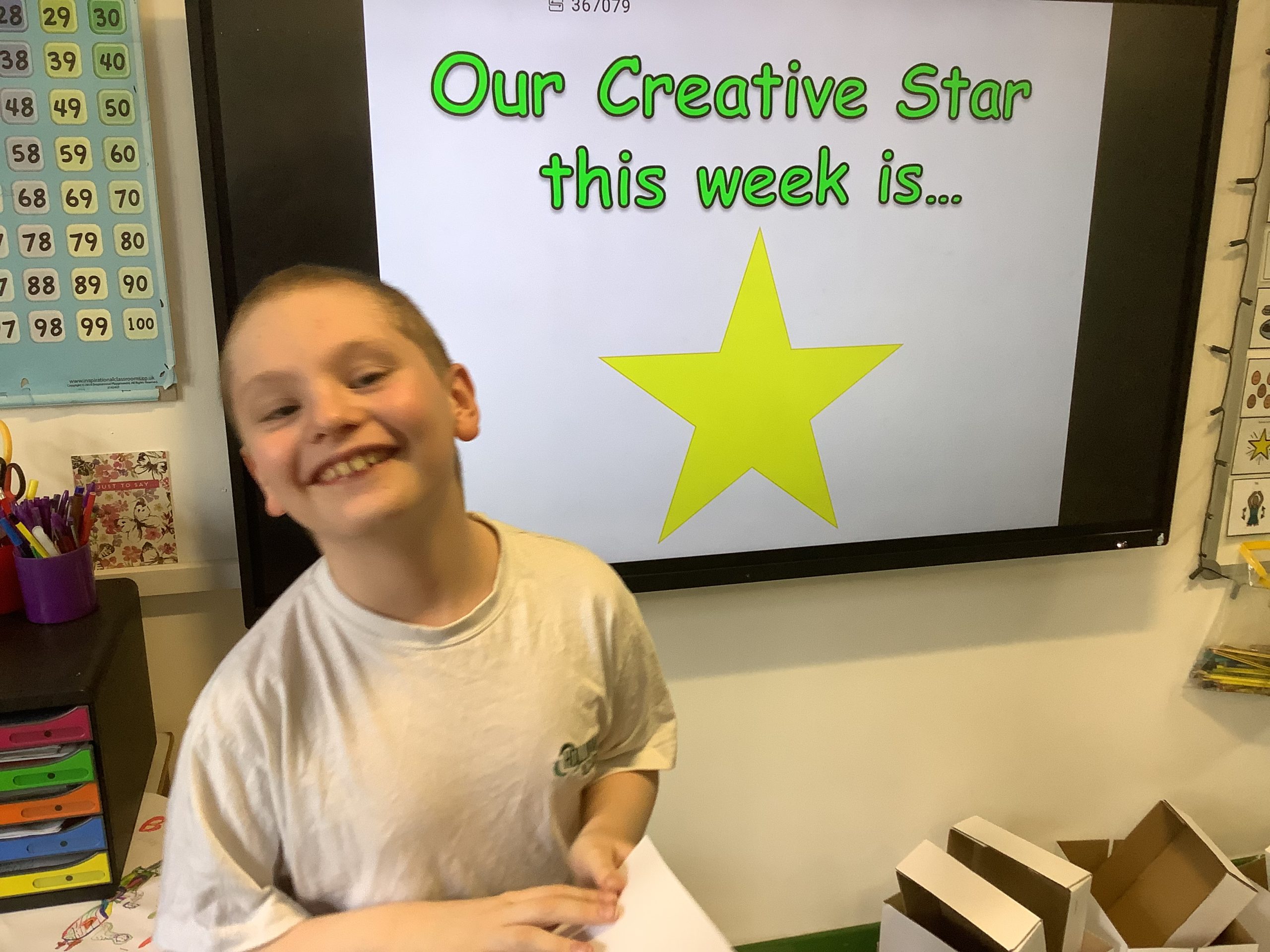 Mrs Davies' STAR of the week is Arissa for completing some amazing phonics work.
Mrs Gittins' STAR of the week is Thomas for always being a kind friend to others.
Mrs Gittins' HWA Creative STAR is Nabiha for creating another great piece of work about the life cycle of a butterfly.
Miss Parkinson's STAR of the week is Lucas for taking turns on the equipment and Lewis is the creative one for showing resilience.
Well done to our secondary Hollinwood Academy STARs this week.
As we near the end of another term, we often have to say goodbye to some of our teachers and Mrs Woodhead will be leaving us on Friday 31st March. Mrs Woodhead has decided it is time to face a new challenge.
I am sure you will join me and the rest of the staff, Governors and Trustees of Hollinwood Academy and the New Bridge Group in wishing Mrs Woodhead well as she begins a new stage in her career.
I am pleased to inform you that Mrs Joanne Quinn will be taking over the class after the Easter holidays.
We finish for Easter on Friday 31st March and Mrs Watson has been busy planning the holiday club. Letters have gone home to families this week stating which days you have been allocated and I know on Thursday 5th April a trip to Blue Plant Aquarium has been arranged.
I hope you have all had a lovely weekend.
Mrs Millard