Blog 24.02.2023
I hope you had a lovely half-term break and it has been a busy first week here at Hollinwood Academy.
On Monday, we had an INSET day for all our staff at Hollinwood Academy. This year, Hollinwood Academy became an Autism Education Trust (AET) training partnership along with the local authority and we held our first AET training session for our staff. Becoming an AET Partnership school with Oldham LA will allow Hollinwood Academy to deliver a well-established, quality-assured, evidence-based, DfE-supported and CPD certified training programmes which holds the voice of children and young people at its heart. This was evident to see on Monday morning as we delivered the following training to staff:
Making sense of autism
Good autism practice
AET progression Framework
With the use of updated, interactive training materials of the highest quality featuring videos, case studies, problem-solving scenarios and strategies we were really able to personalise this using our amazing children and young people to bring the AET framework and training to life and perspective. The feedback we received from staff regarding the training was excellent:
"I enjoyed how interactive the session was with lots of personalised discussions about the young people in our setting."
"The AET framework is great! Very clear and easy to understand with amazing resources."
"I will be able to use this good practice to inform outcomes and target setting for my students."
"Informative and a great chance to share ideas."
"Excellent and very informative."
We can't wait for our next CPD session with our staff!
Let's see what some of the classes have been doing starting with Mrs Woodhead class…
"We have had a very busy week since returning from half term starting off with pancake day. We enjoyed reading the story 'Rhino's don't eat pancakes' we had a go at flipping pancakes in Attention Autism and practiced our mixing and spreading skills.
The children have continued to develop their fine motor skills needed for writing with the wiggle to squiggle program. They are becoming skilled in using the scarves correctly and beginning to follow the moves on paper.
In Outdoor education we visited Strinesdale where we have been practicing following directions and walking more independently.
In maths we have been exploring place value and numbers within 50. We had great fun building teen towers with the cubes.
We are exploring different colours, patterns and textures in Art. We watched different coloured rice, glitter and beads to see how the patterns changed with vibrations. 
Our topic for this half term is down on the farm. We are looking forward to finding out all about the animals who live there!"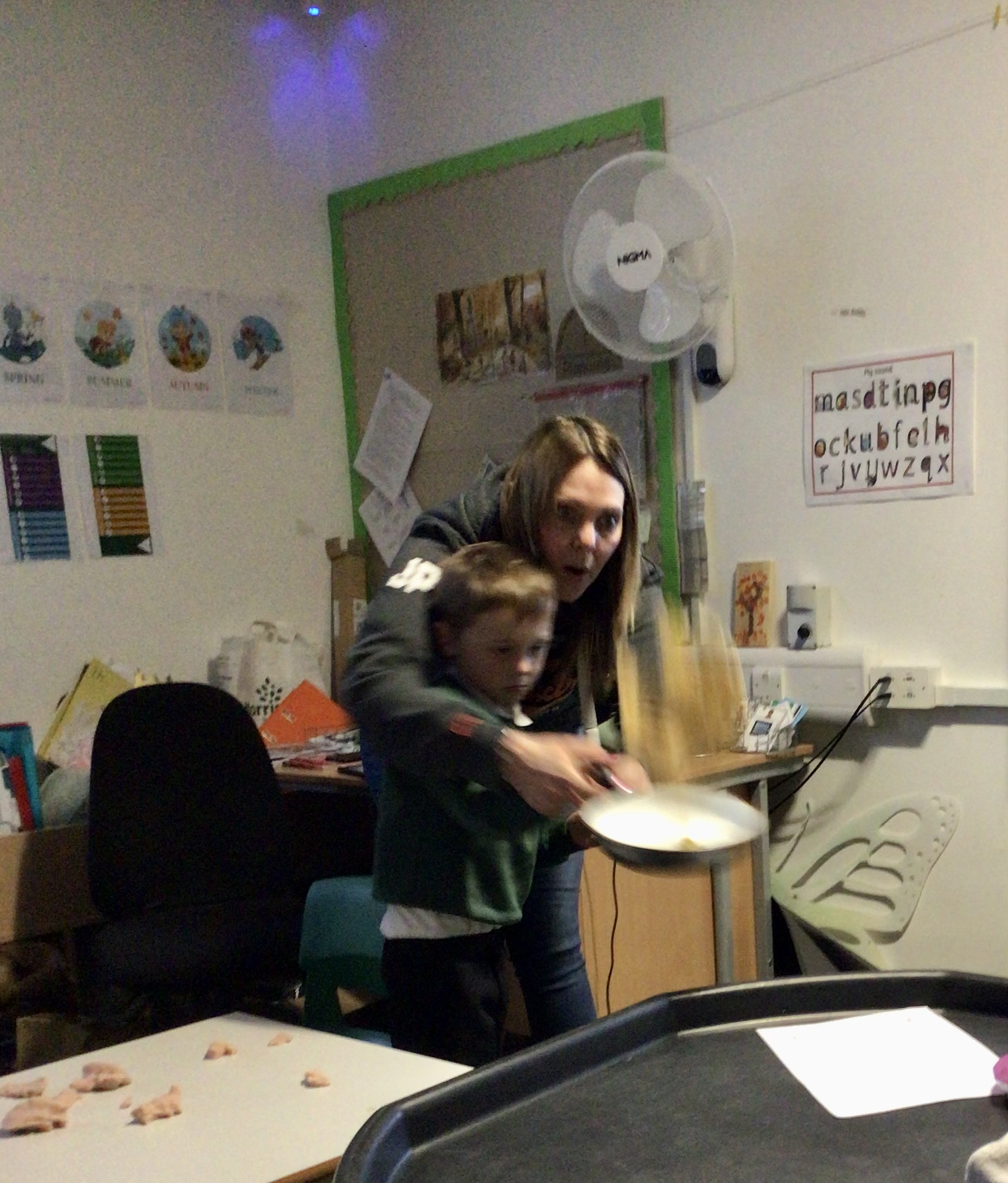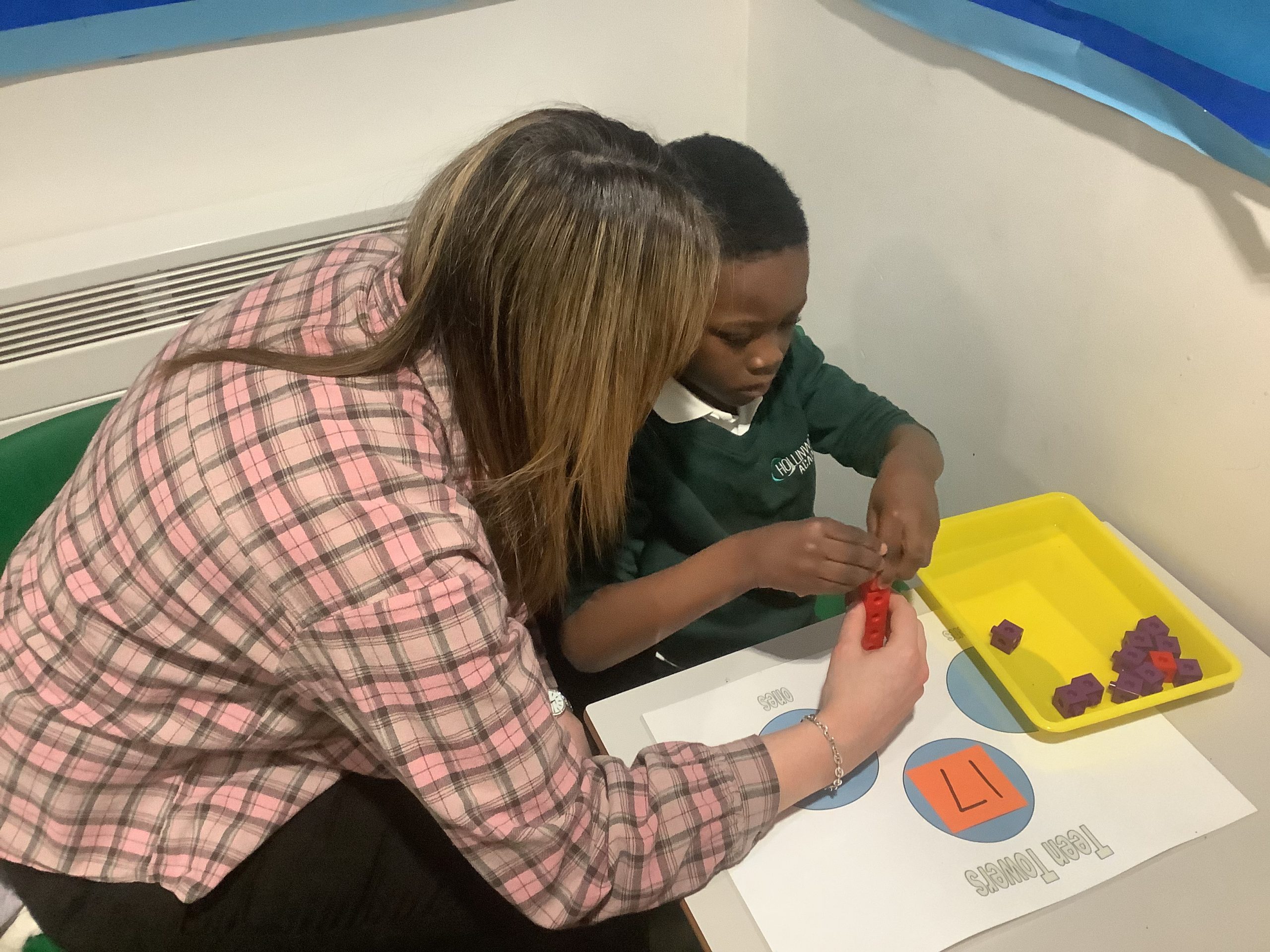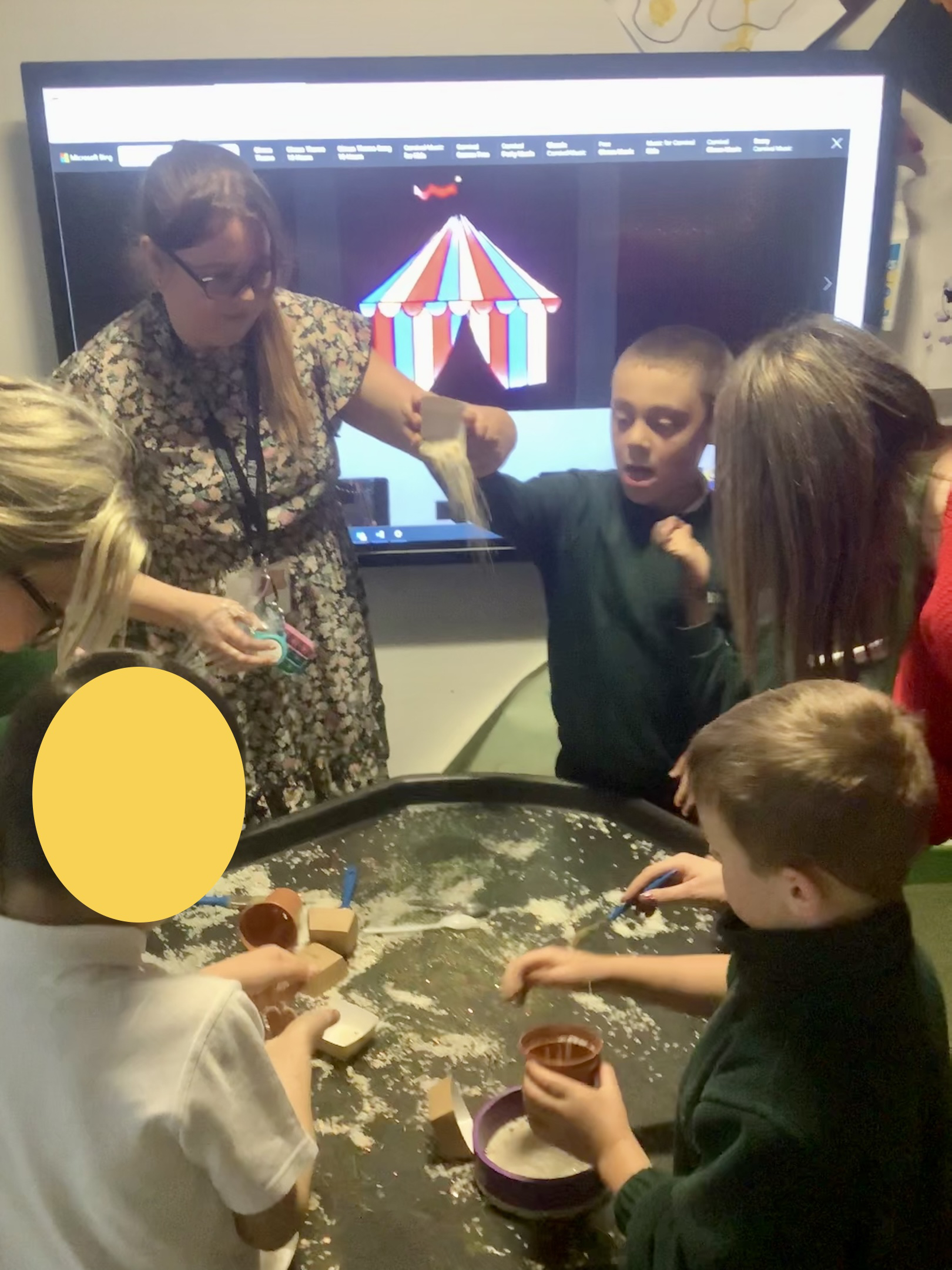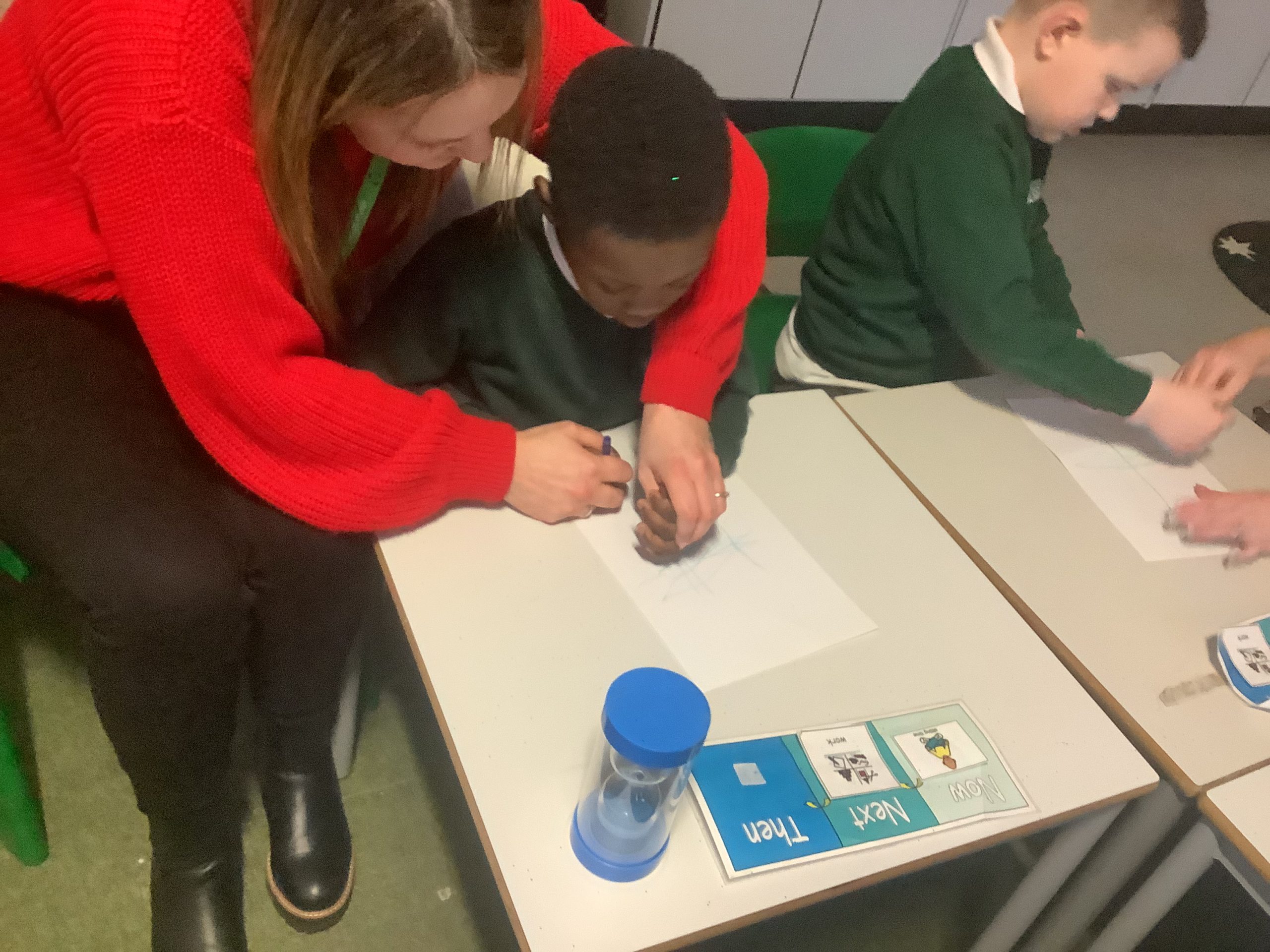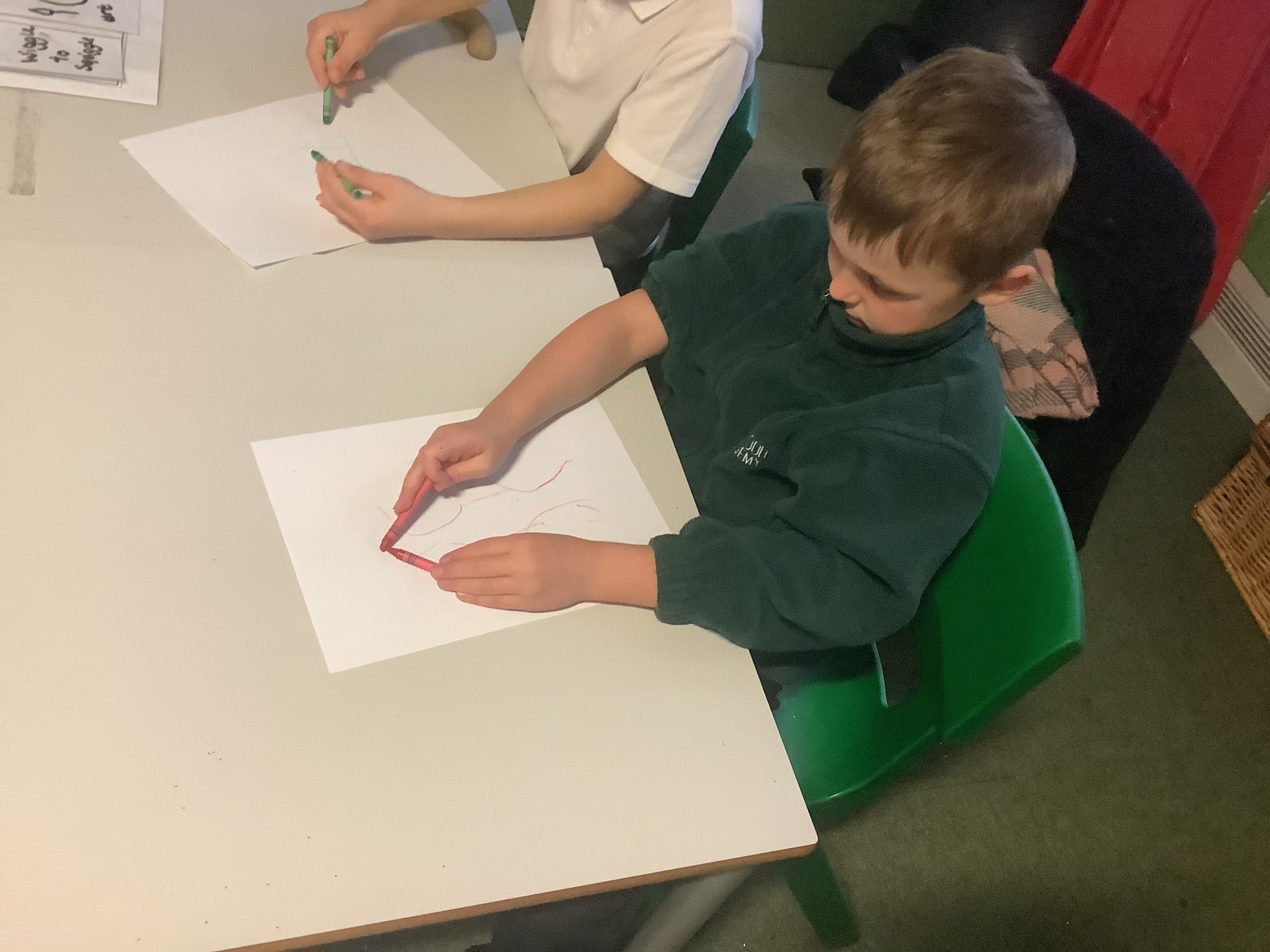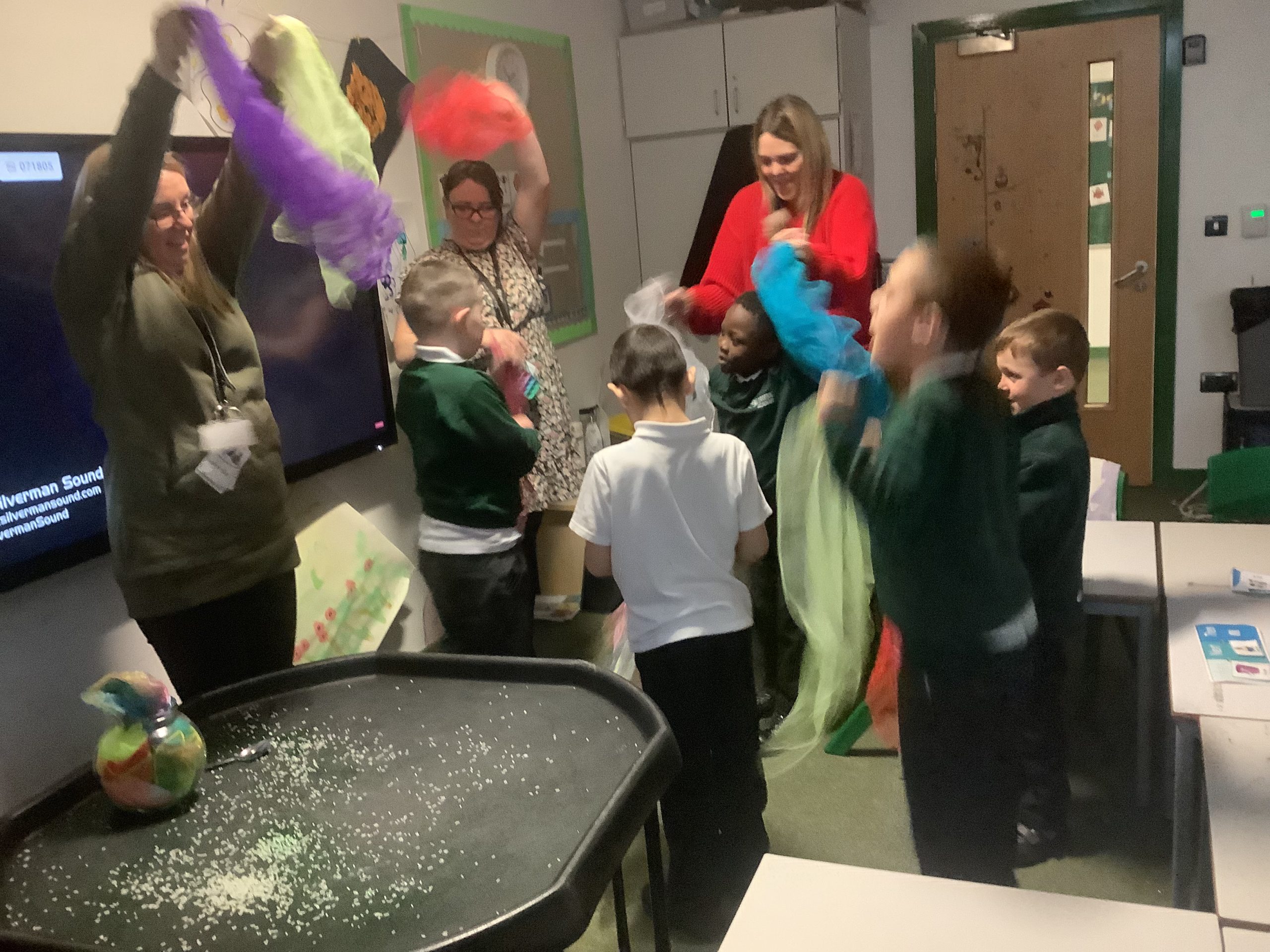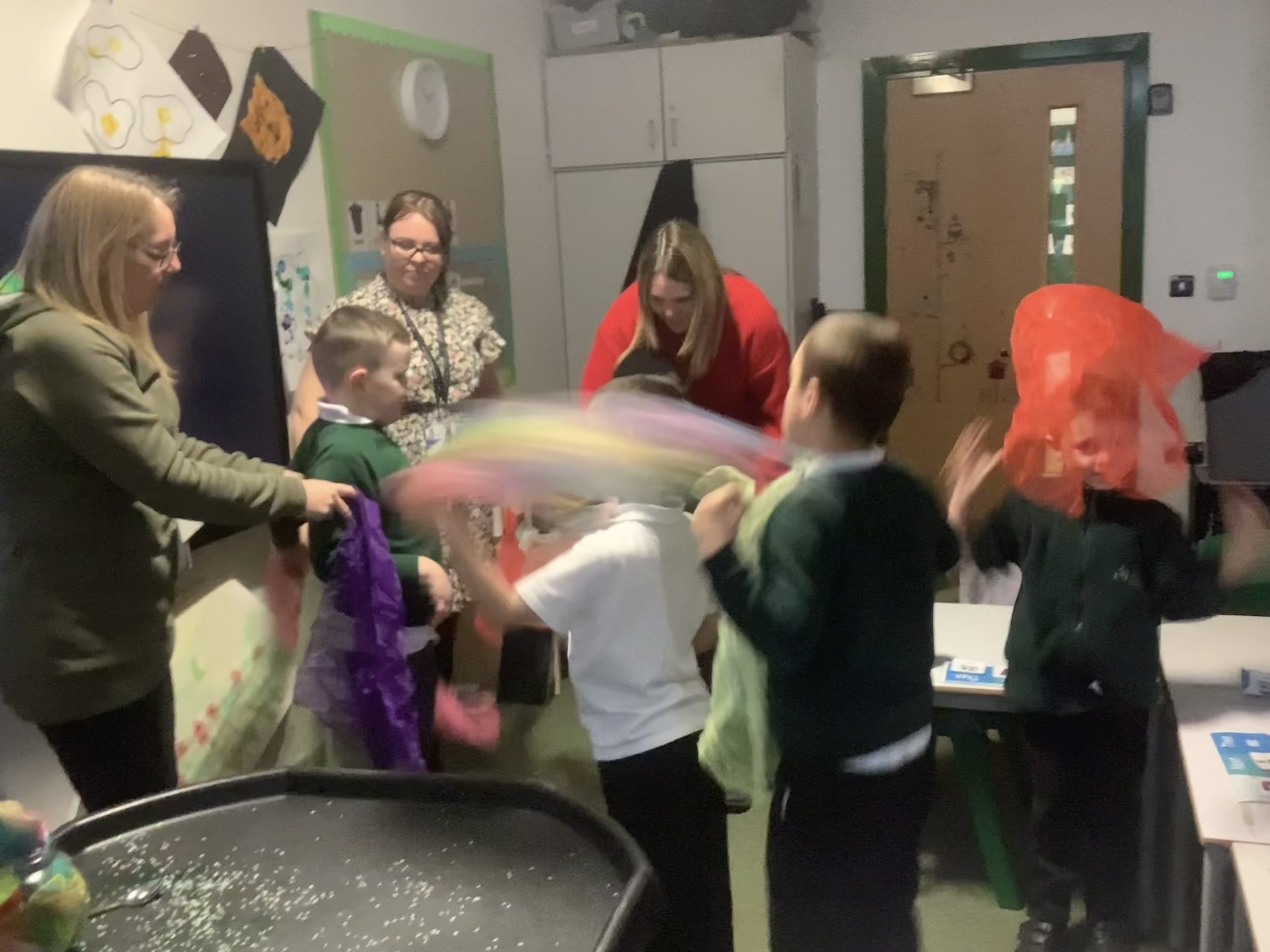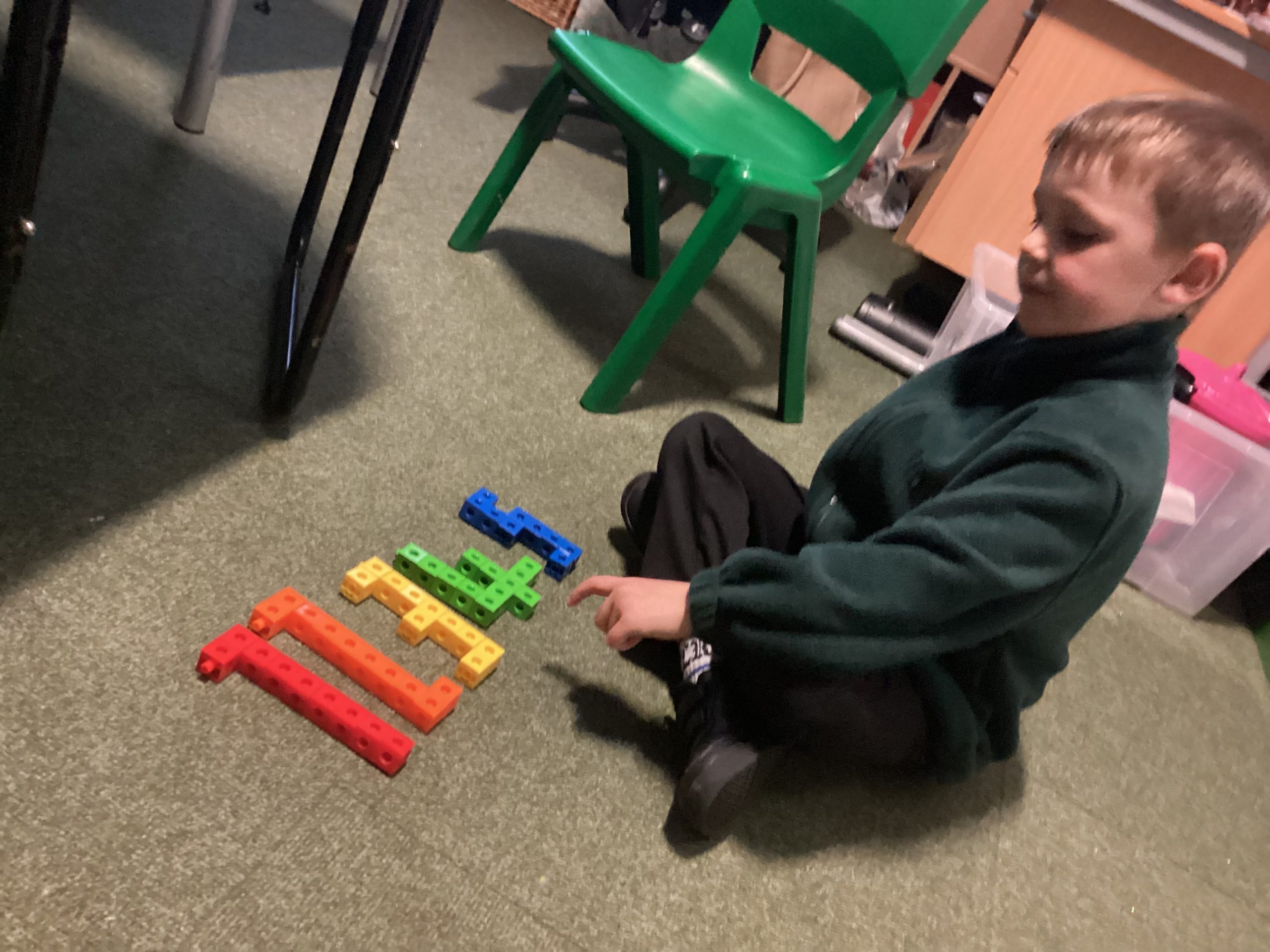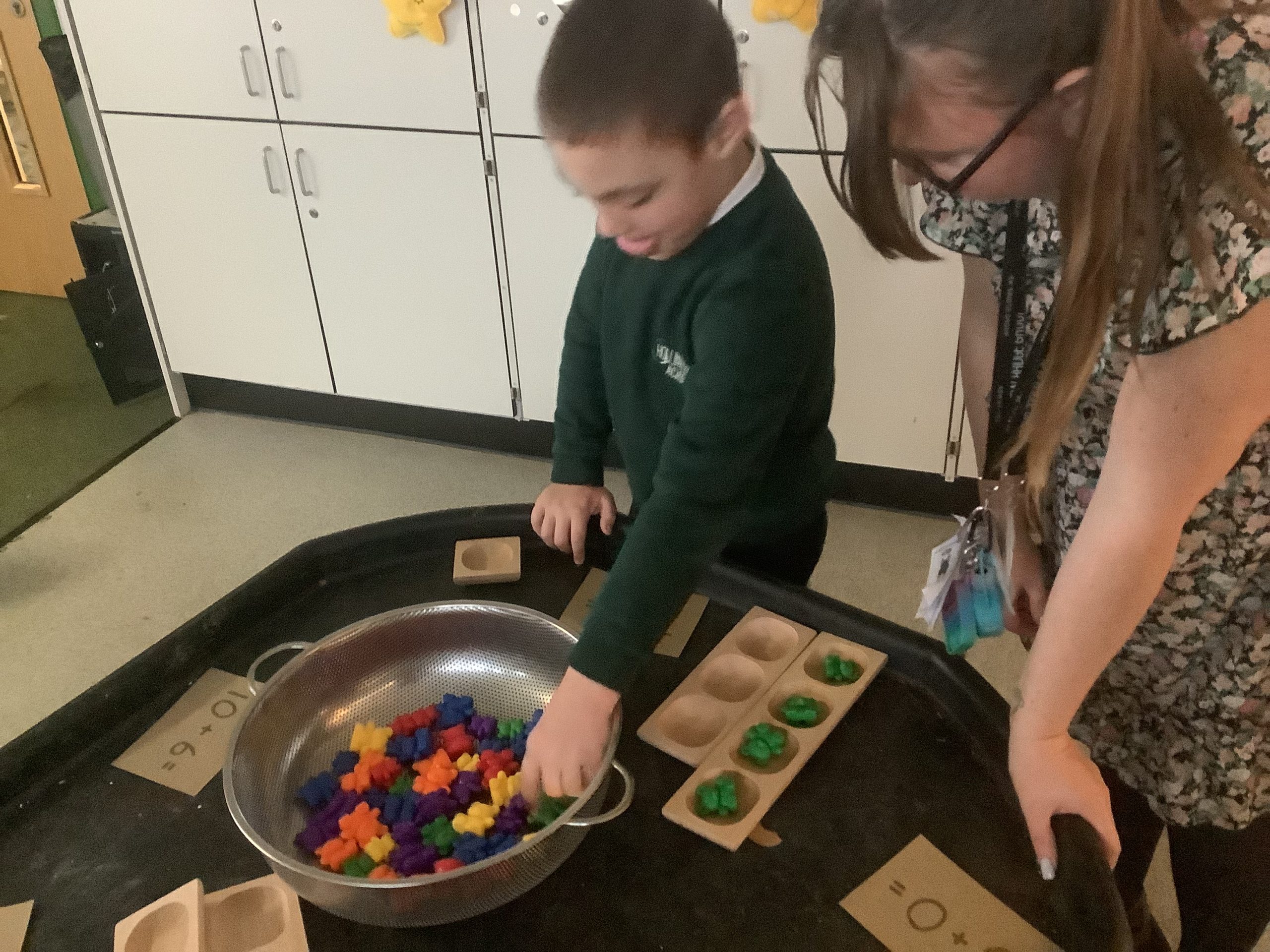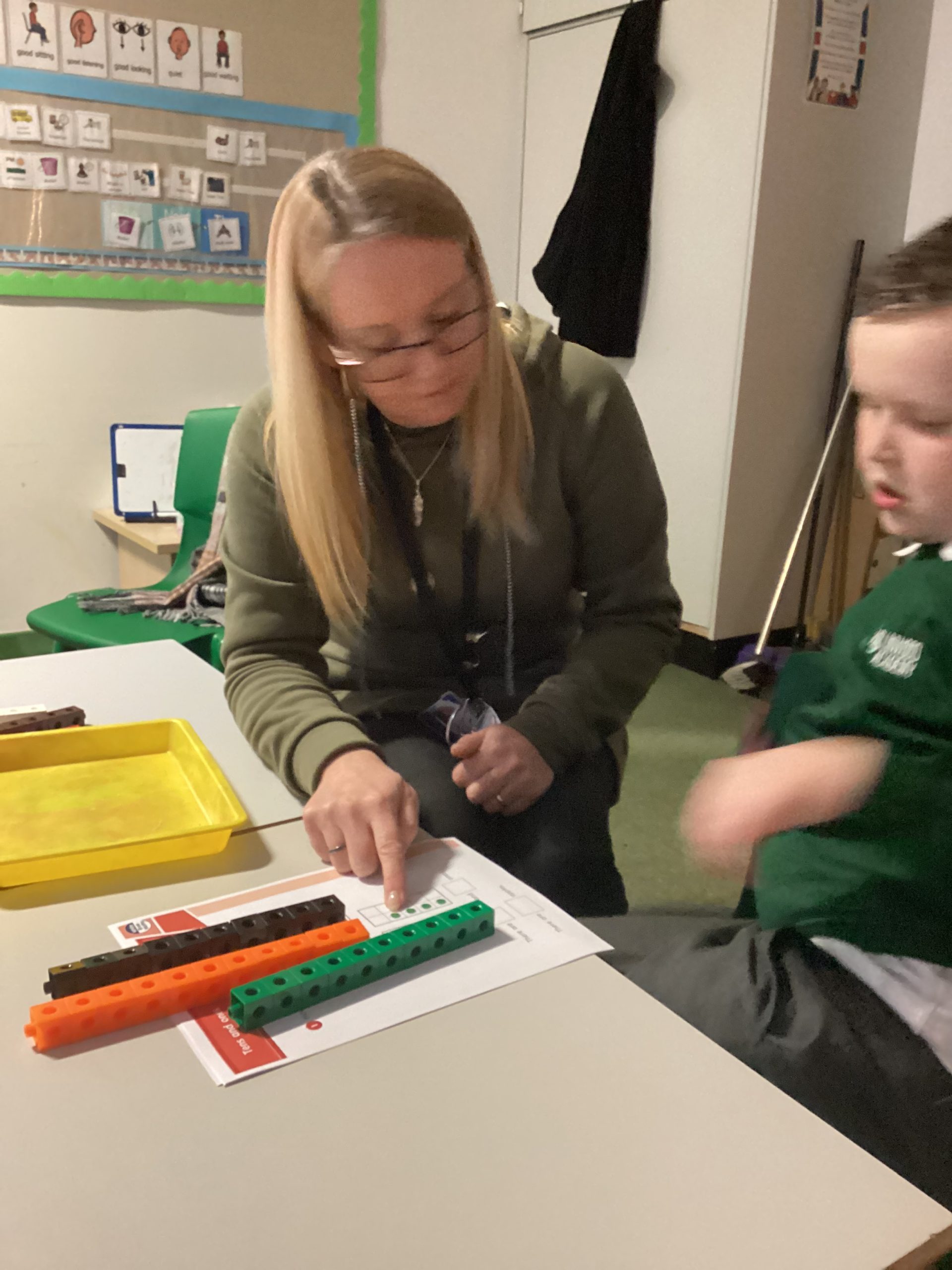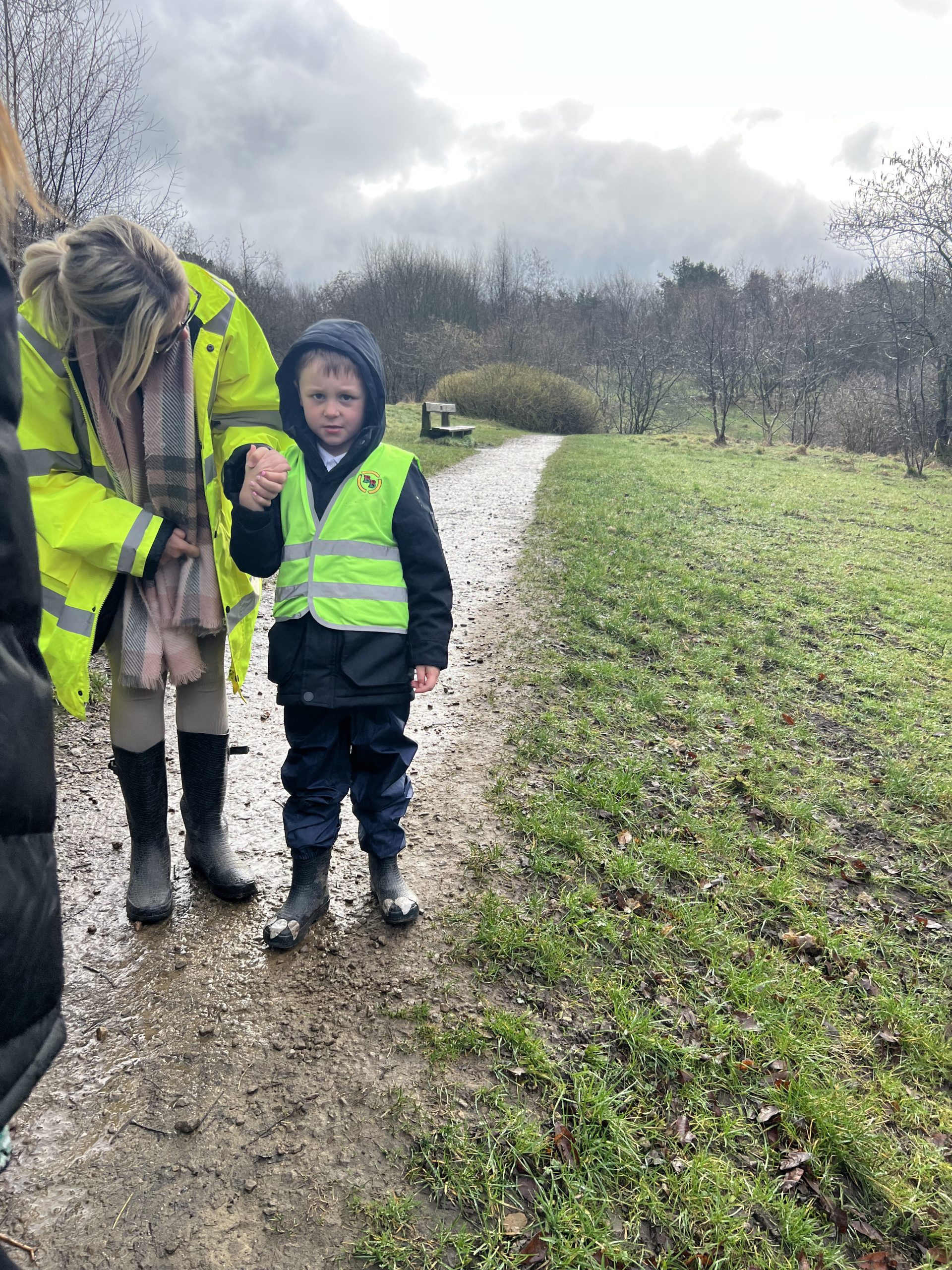 Now to Miss George's form…

"This week 11RGE during form time have started to set up our Lexia accounts and starting the initial assessments so we can all start using the app.
During RSHE we have been looking at procrastinating what it means and why we would do this. We also discussed what types of behaviour we display when we ourselves are procrastinating and what strategies we can do to help reduce this.
In Science this week have been catching up on the end of block assessment we did at the end of last term and we have started to do some revision for the biology paper
Ecology topic. We have done a recap of our biology units. And have now started our Chemistry topics.
In Maths this week we have finished our topic on graphs and have moved on to finding the area underneath a curve.
In ICT we are continuing our work on our portfolio from the photos we took on our trip in January.
In English, we are analysing GCSE texts this weeks is A game of polo with a headless goat.
In DofE this week 11 RGE have been to the Pennine bridleway and Saddleworth moors, the views were amazing.
In Spanish we have been preparing for our speaking exam, looking at how it will be set out, how we can answer questions we may be asked as well as looking at vocabulary that will help is in the exam.
In Art we have been researching the artists which inspire us so we can use that inspiration to create a piece of artwork for the GCSE art exam."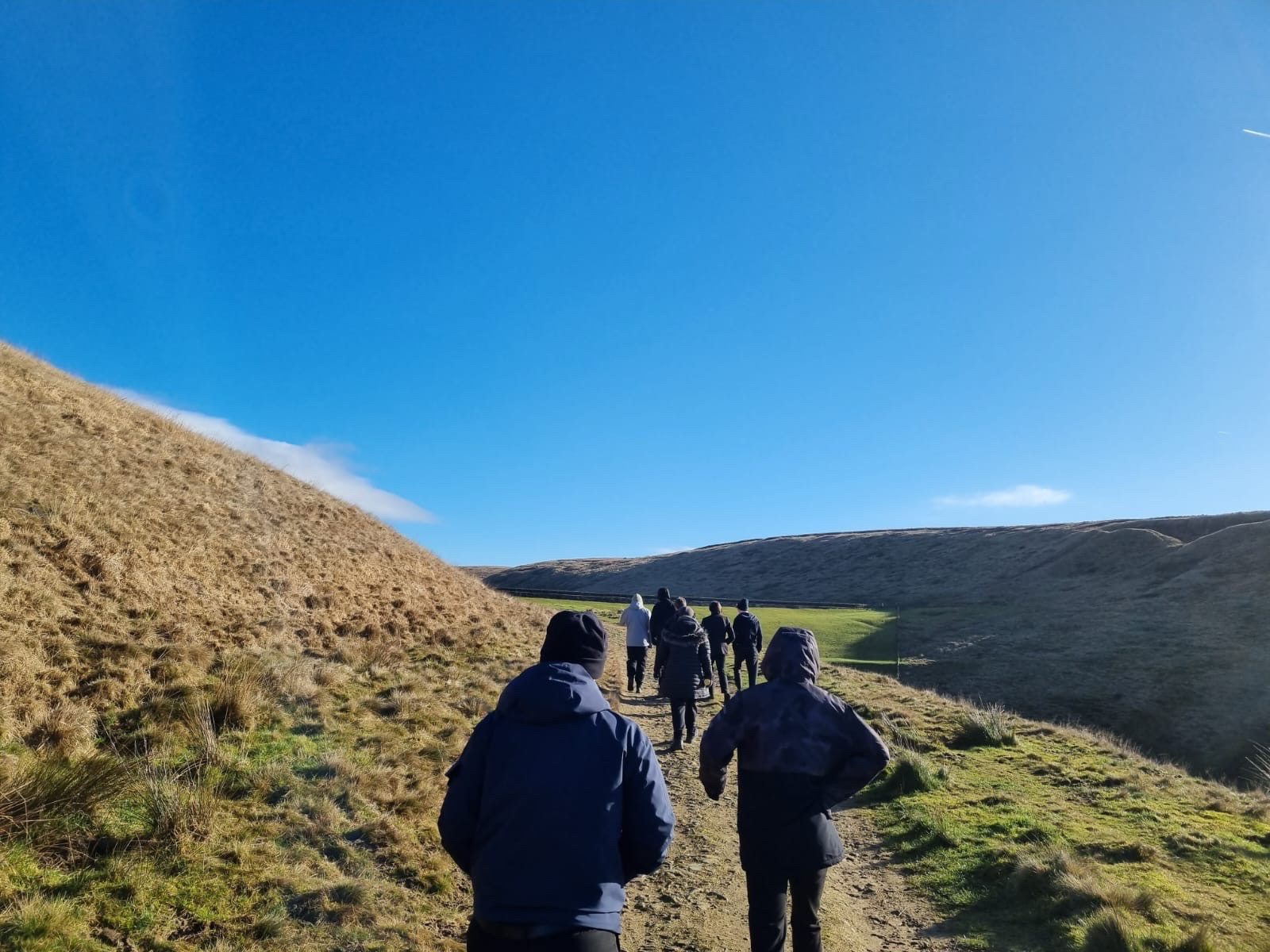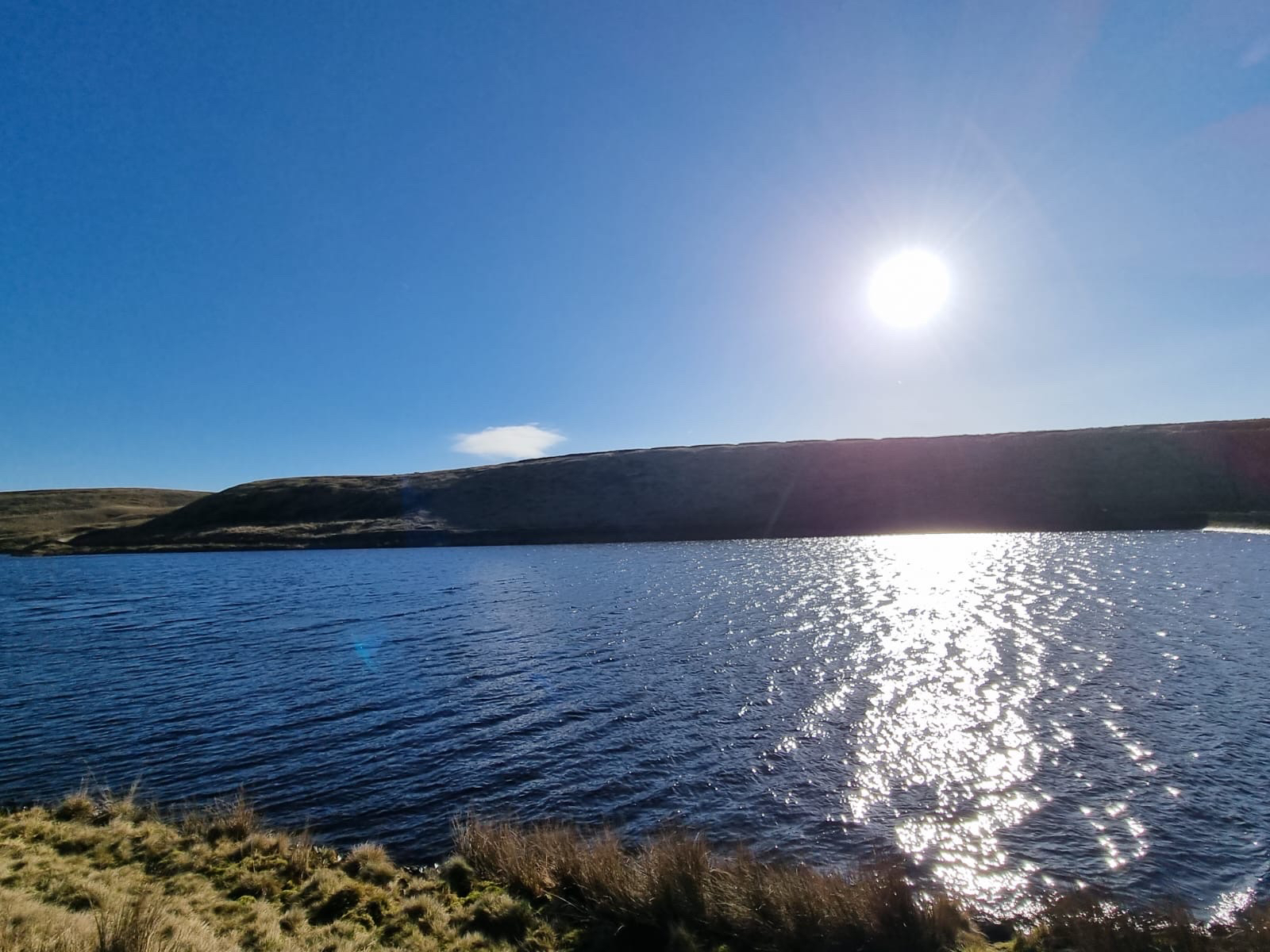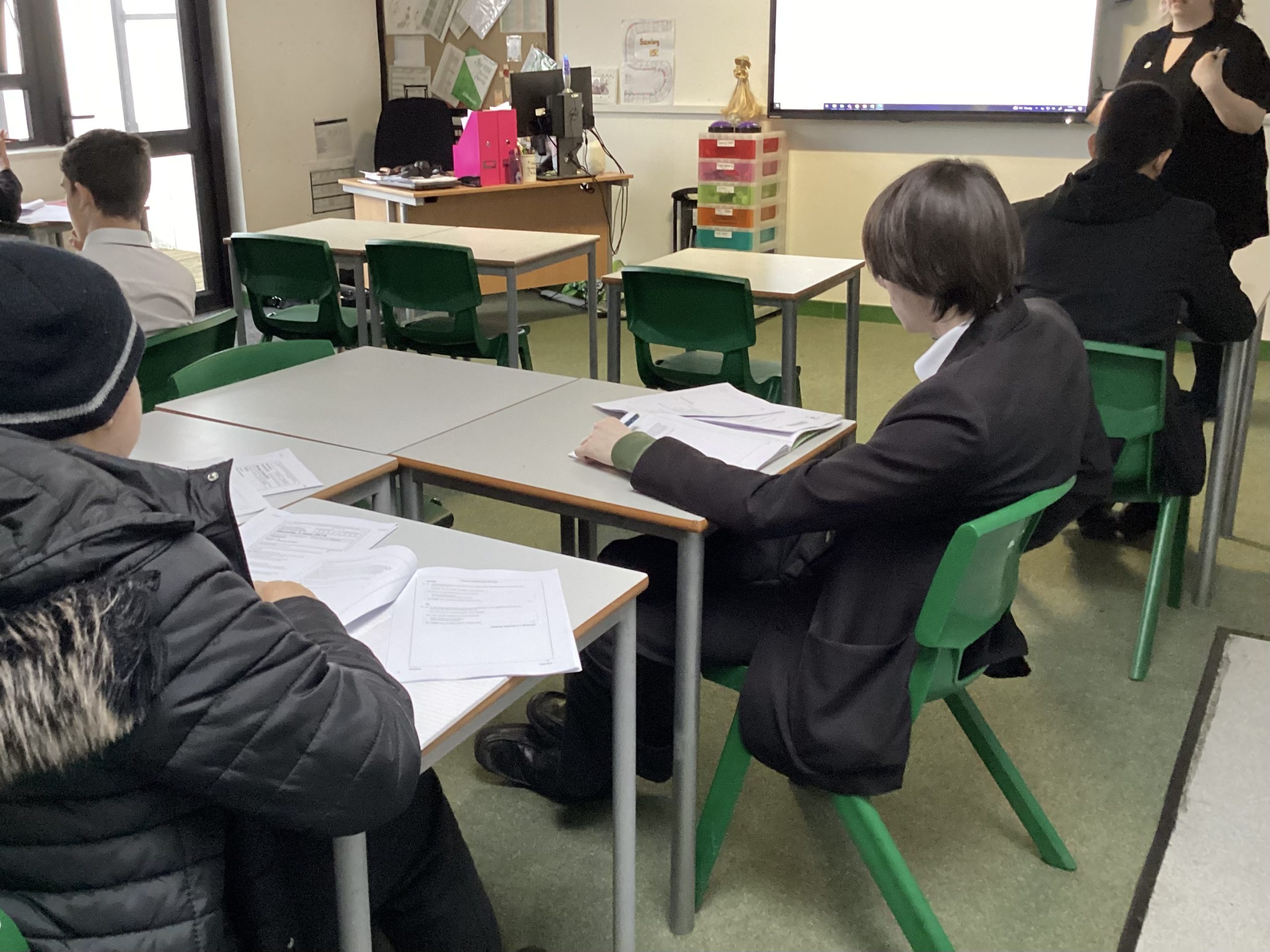 Now to Ms Daniel's form…
"This week KS4 ADS have had an amazing week and produced some fantastic work!
One highlight in particular has been wiring a plug in Physics. They were all able to work independently following instructions to wire a plug safely. Even Miss O'Brien was excited, as she said she now has the confidence to wire a plug herself at home!!
The class have also taken part in their first GCSE personalised tutorials on Friday afternoon. They were split into 3 small groups, and each group completed some intensive personalised study with a specialist tutor (for either English, maths or science).
They all enjoyed it and felt really grown up, even though they had been working really hard. Well done KS4 ADS.
Lastly, I am super proud of both Ellie and Daanish as they were both our stars of the week, and such brilliant role models to the other students. Keep up the good work!!!"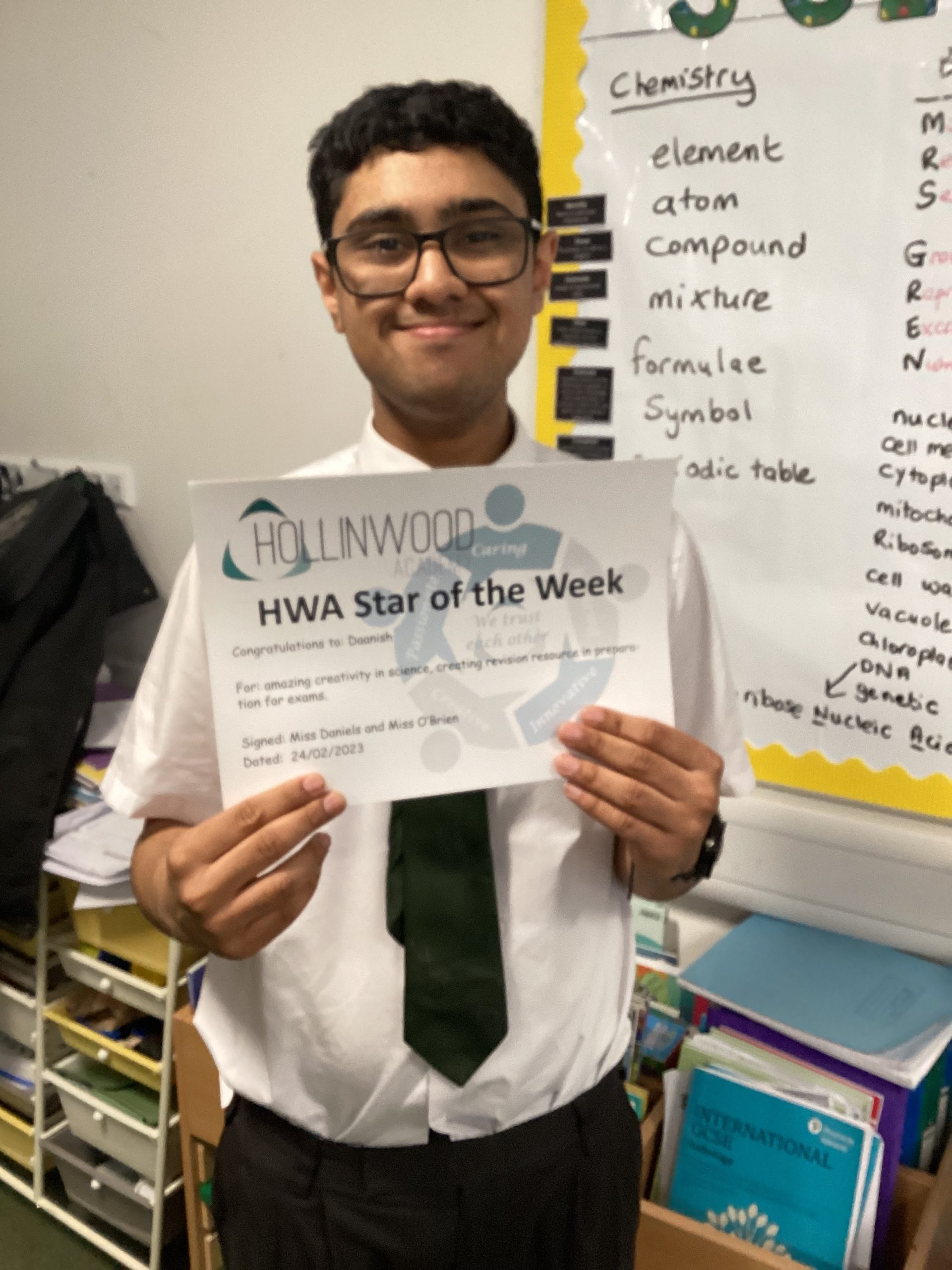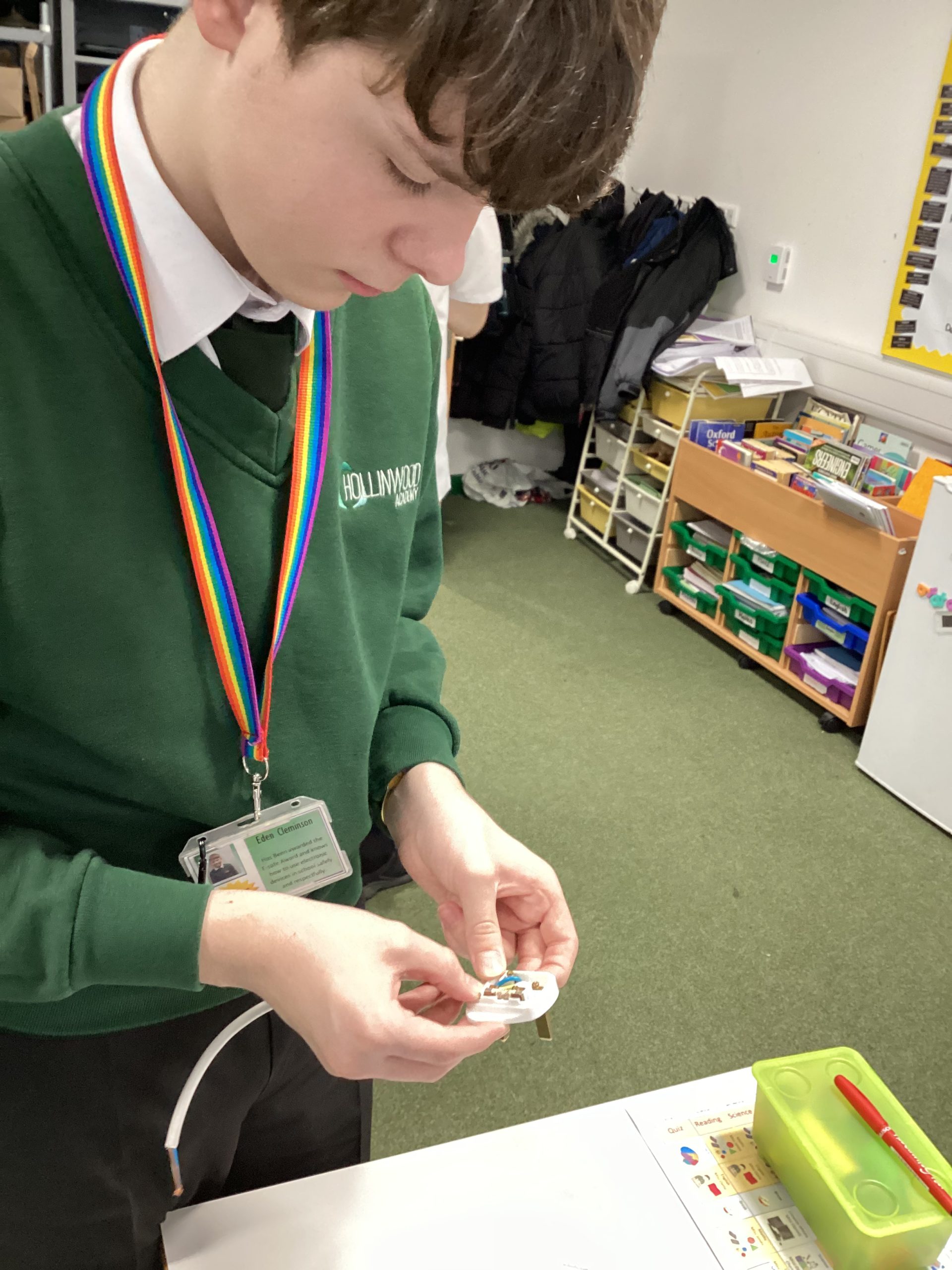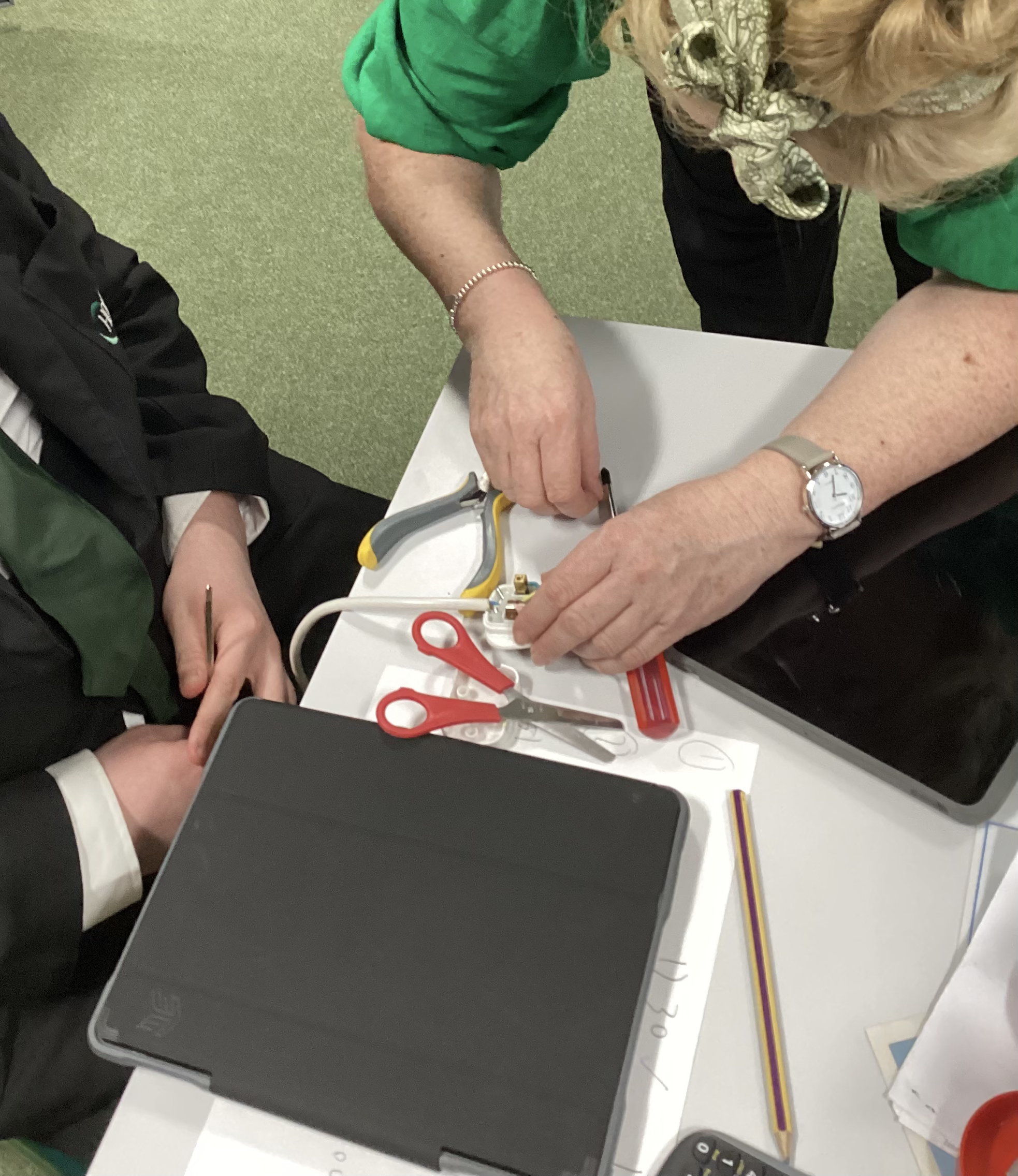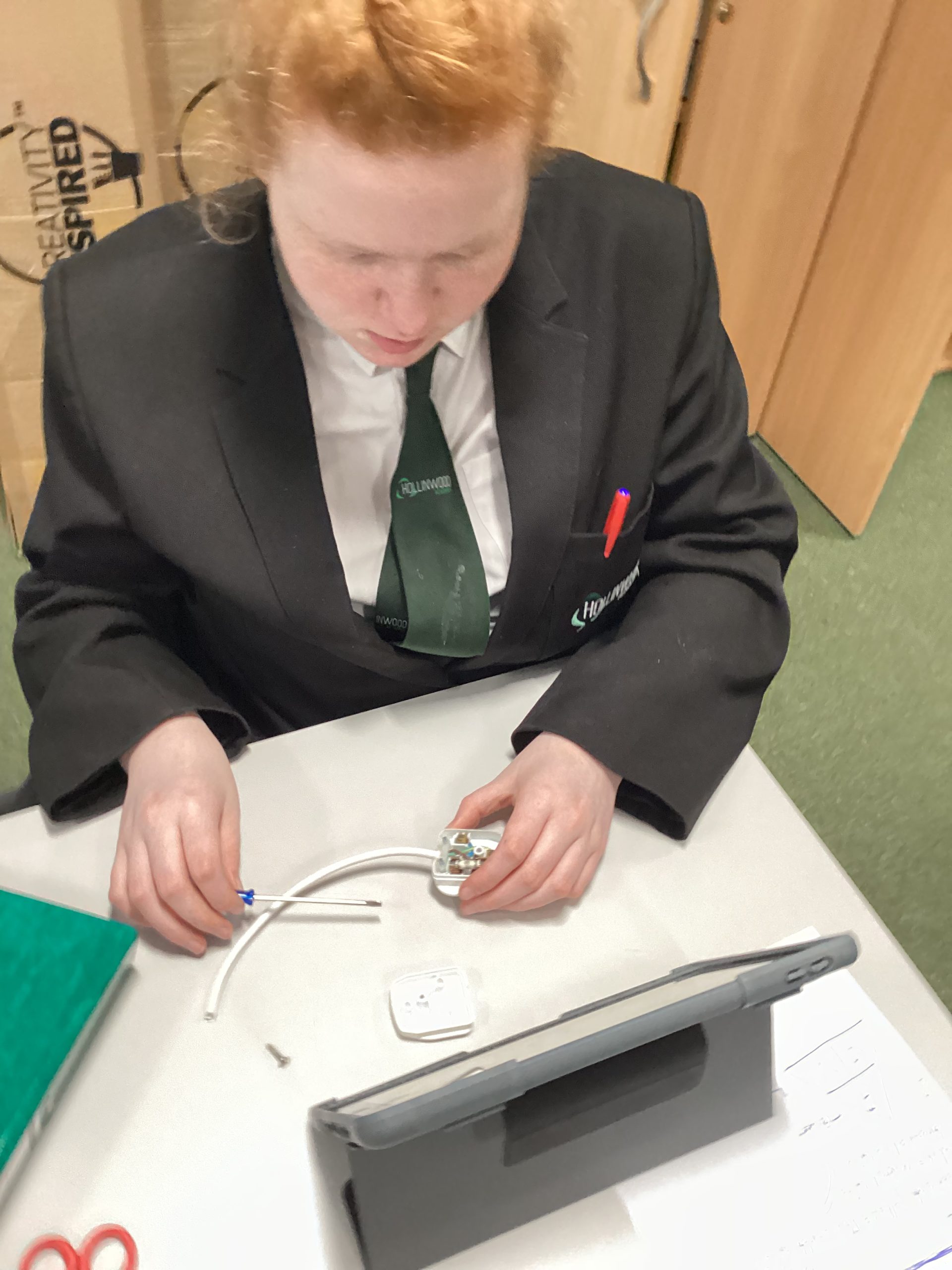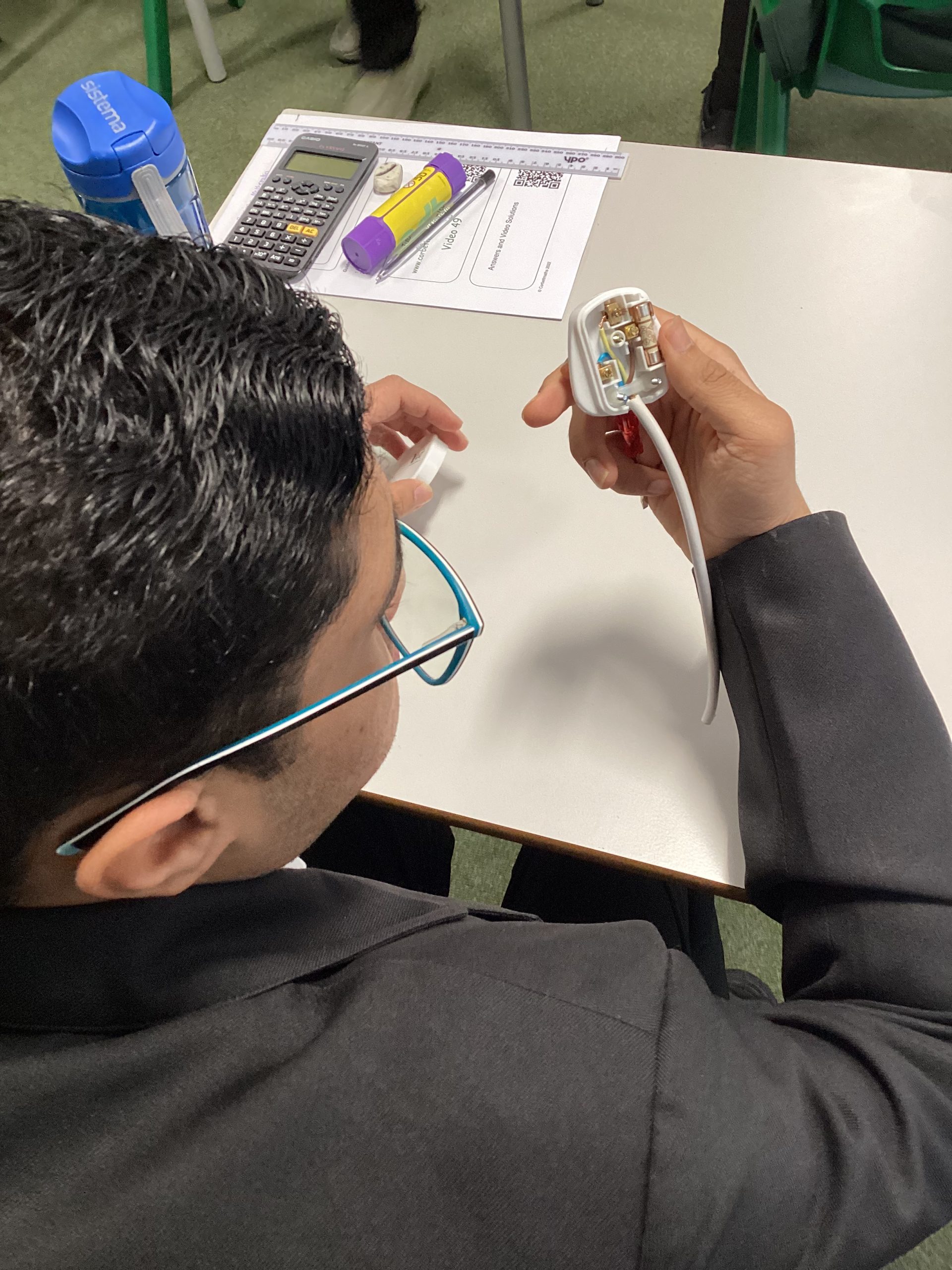 Now to our amazing SUPER STARs and HWA Creative STARs
Mrs Lerigo's STAR of the week is Roma for an amazing first week at Hollinwood Academy.
Mrs Lerigo's HWA Creative STAR is Abdul for amazing work creating ladybirds and making 6 in a variety of ways.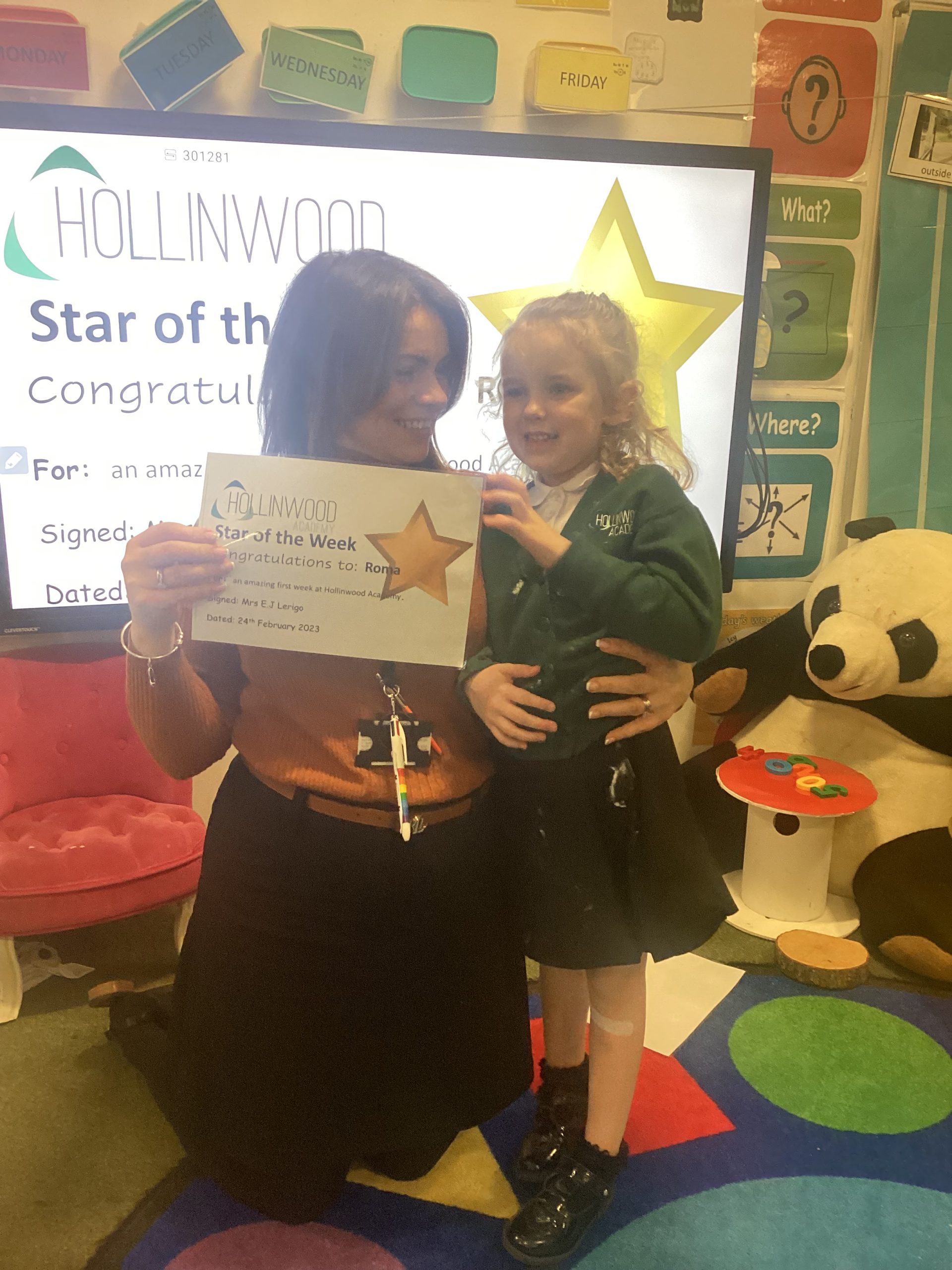 Miss Oakley's STAR of the week is William for excellent work in phonics using snapcore this week.
Miss Oakley's HWA Creative STAR is Euan for printing fantastic patterns with different colours using lego.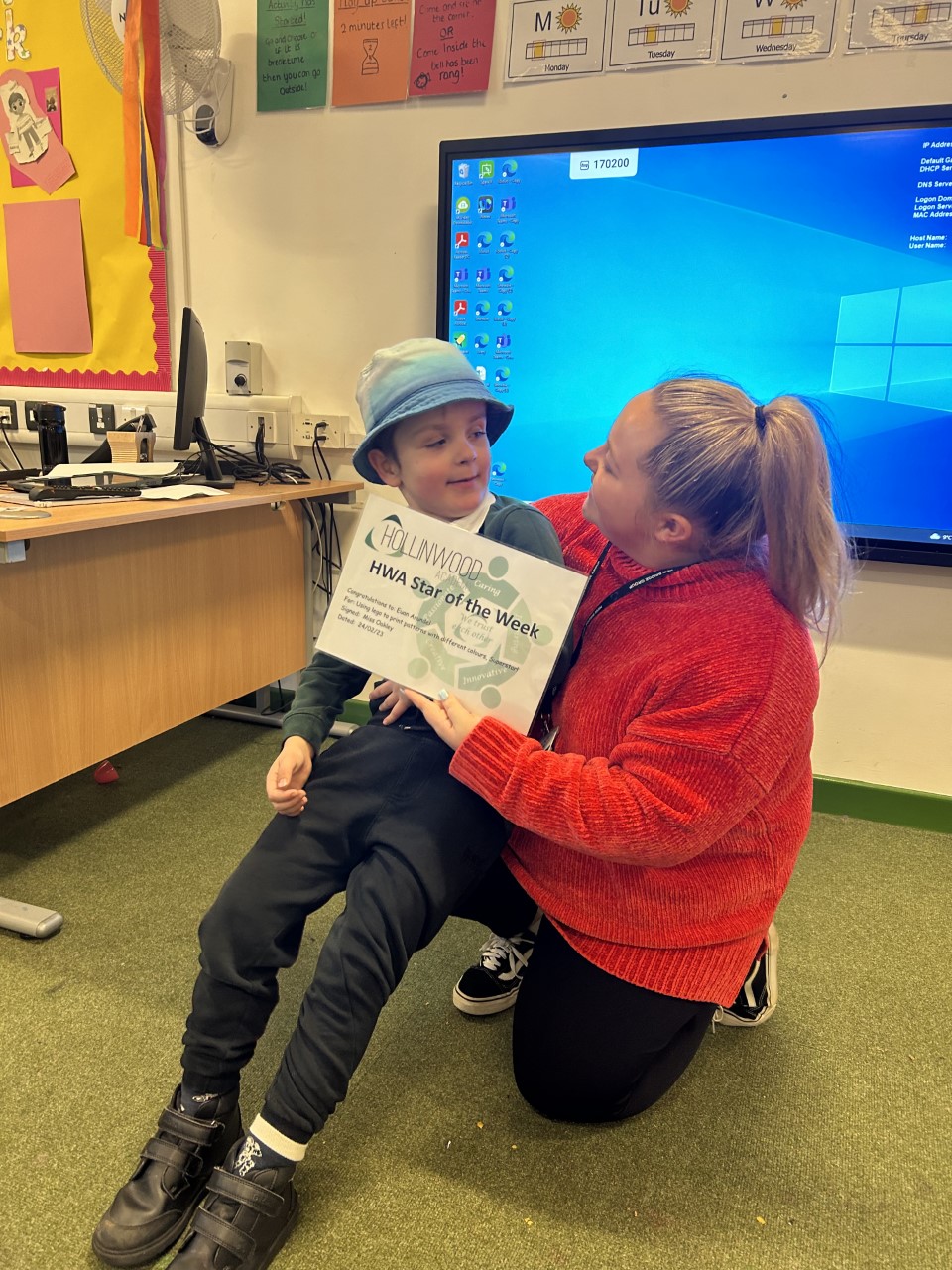 Miss Meadows' STARs of the week are Riley and Cody for settling well in their new class and accepting change
Miss Meadows' HWA Creative STAR is Maja for her lovely art work this week and settling back into her routine.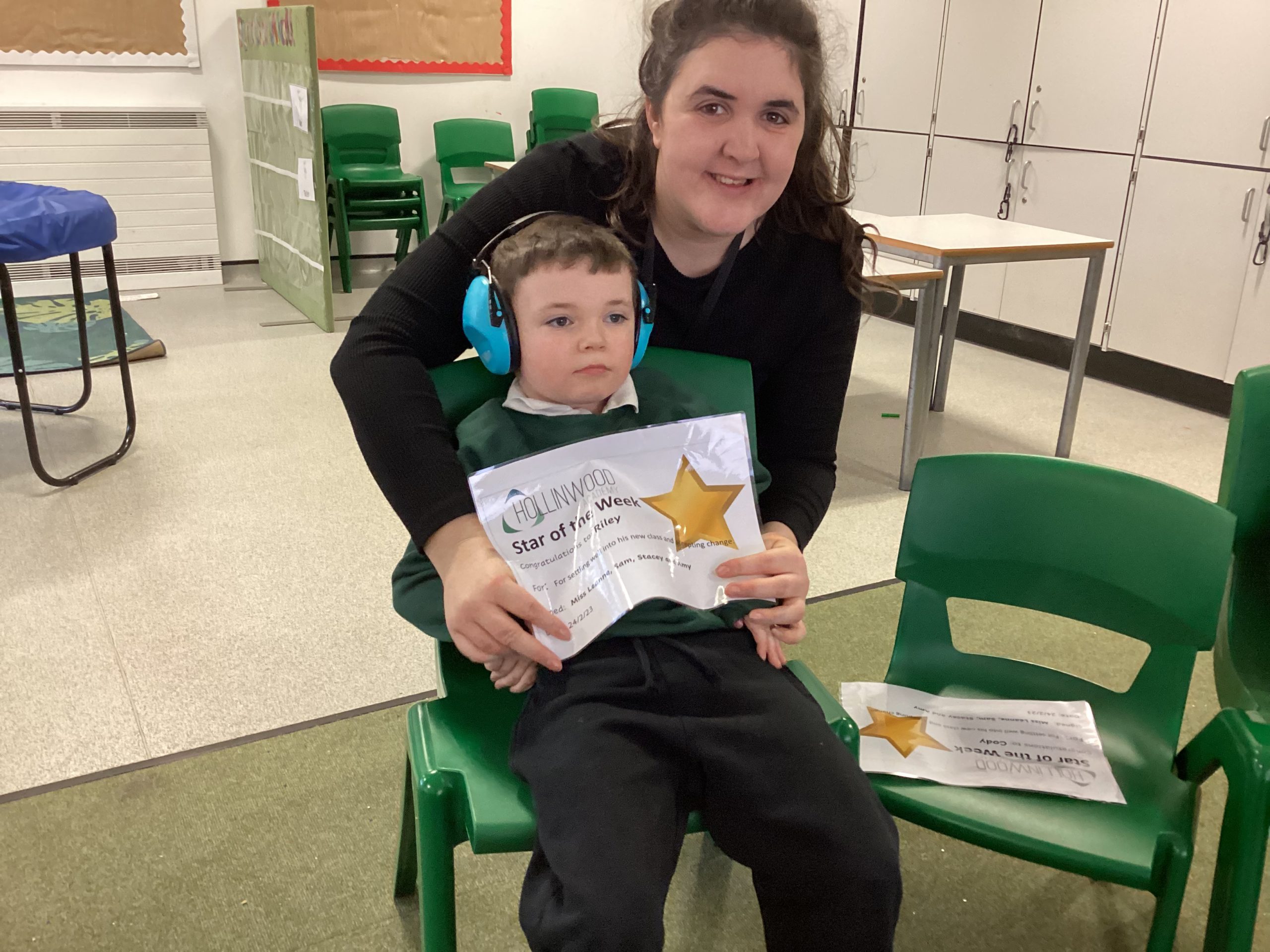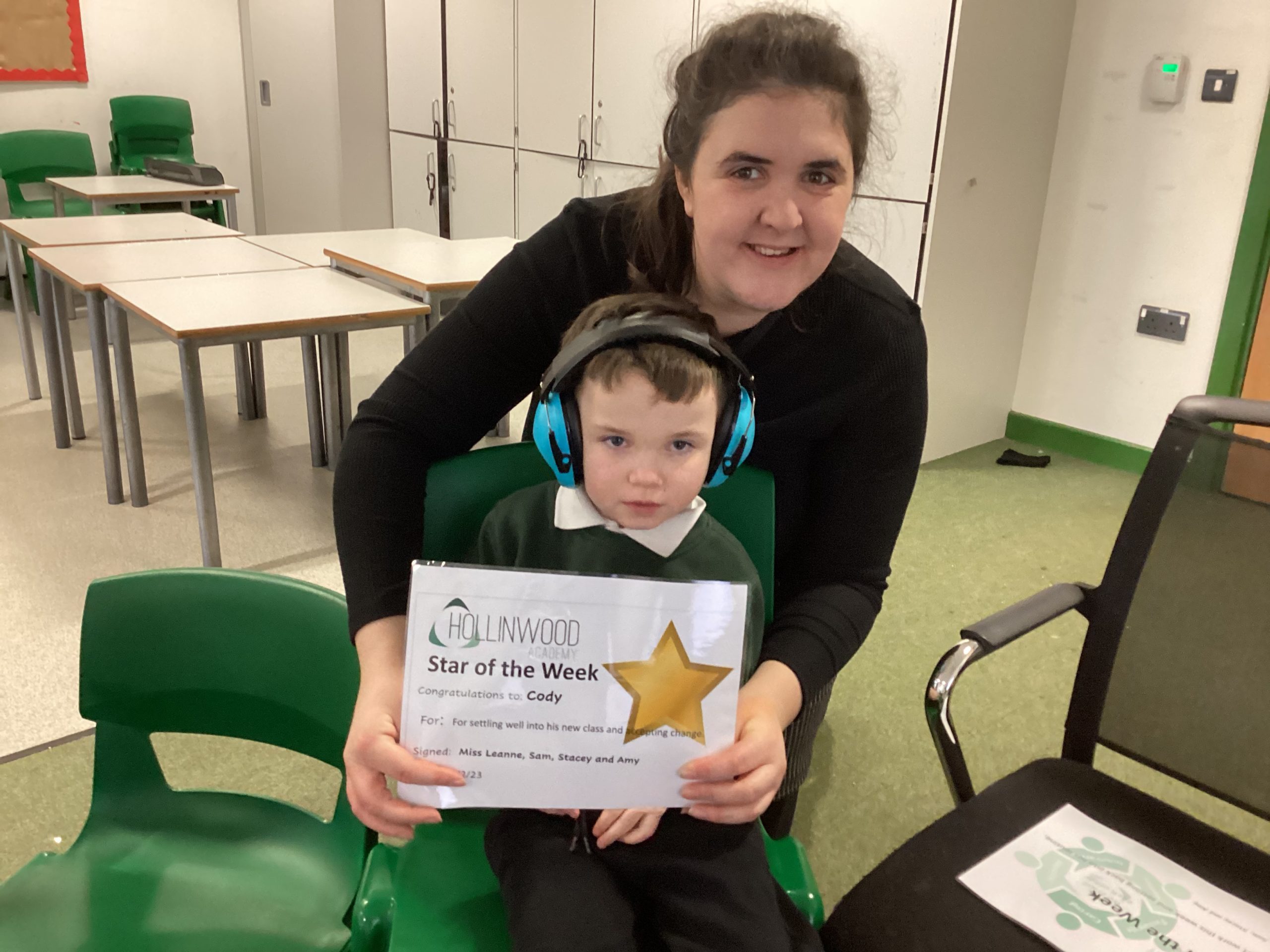 Mrs Woodhead's STAR of the week is Louis for using the maths resources in a creative way to further his learning.
Miss Pietraszewska's STAR of the week is Simisola for her excellent behaviour this week.
Miss Pietraszewska's HWA Creative STAR is Zachary for using the snap core app to learn new sounds in phonics.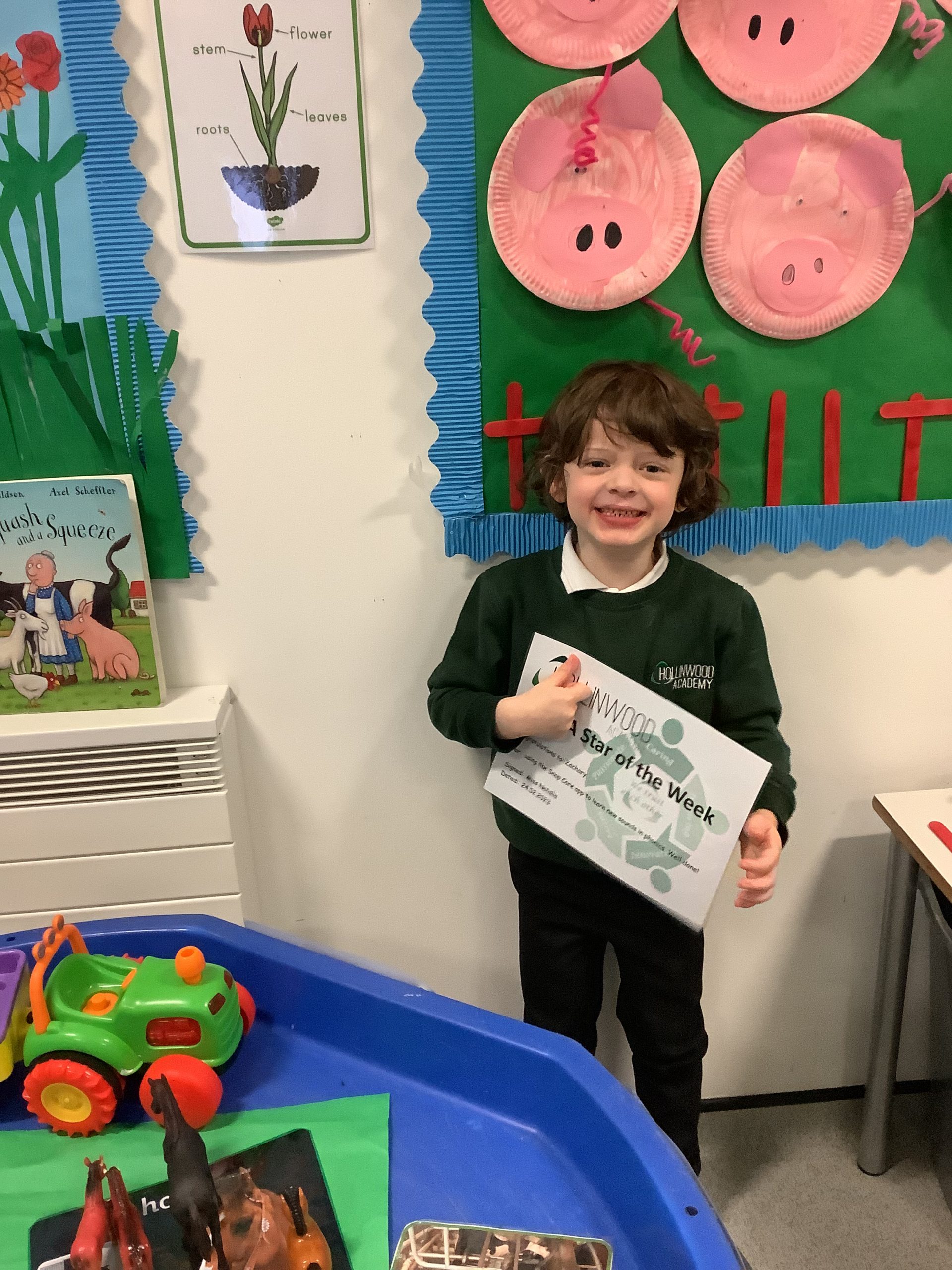 Mrs Halkyard and Miss Hulme's STAR of the week is Blaire for settling back in to class after half term and having a great week!
Mrs Halkyard and Miss Hulme's HWA Creative STAR is Isaam for creating a beautiful flower in our Science lesson.
Mr Corrigan's STAR of the week is Hadley for starting to use sentences to ask for help.
Mr Corrigan's HWA Creative star is Jared for being creative and open minded in lessons this week.
Mr Corrigan's WOW moments go to Jason, Lewis, George, Oscar and Freya. Well done!
Miss Prescott's STAR of the week is Zakariya for settling back into school so well.
Miss Prescott's HWA Creative STAR is Corey for his creative art work this week concentrating on fine detail.
Miss Tootill's STAR of the week is Zack for having a settled first week back.
Miss Tootill's HWA Creative STAR is Dylan for being creative in his ICT.
Mrs Davies' STAR of the week is Anna for requesting to go to the toilet.
Mrs Gittins' STAR of the week is Lewis for staying on task engaging all week.
Miss Parkinson's STAR of the week is Oliver for getting 12/12 in his spellings!
Mrs Parkinson's HWA Creative STAR is Andie for being creative with her writing.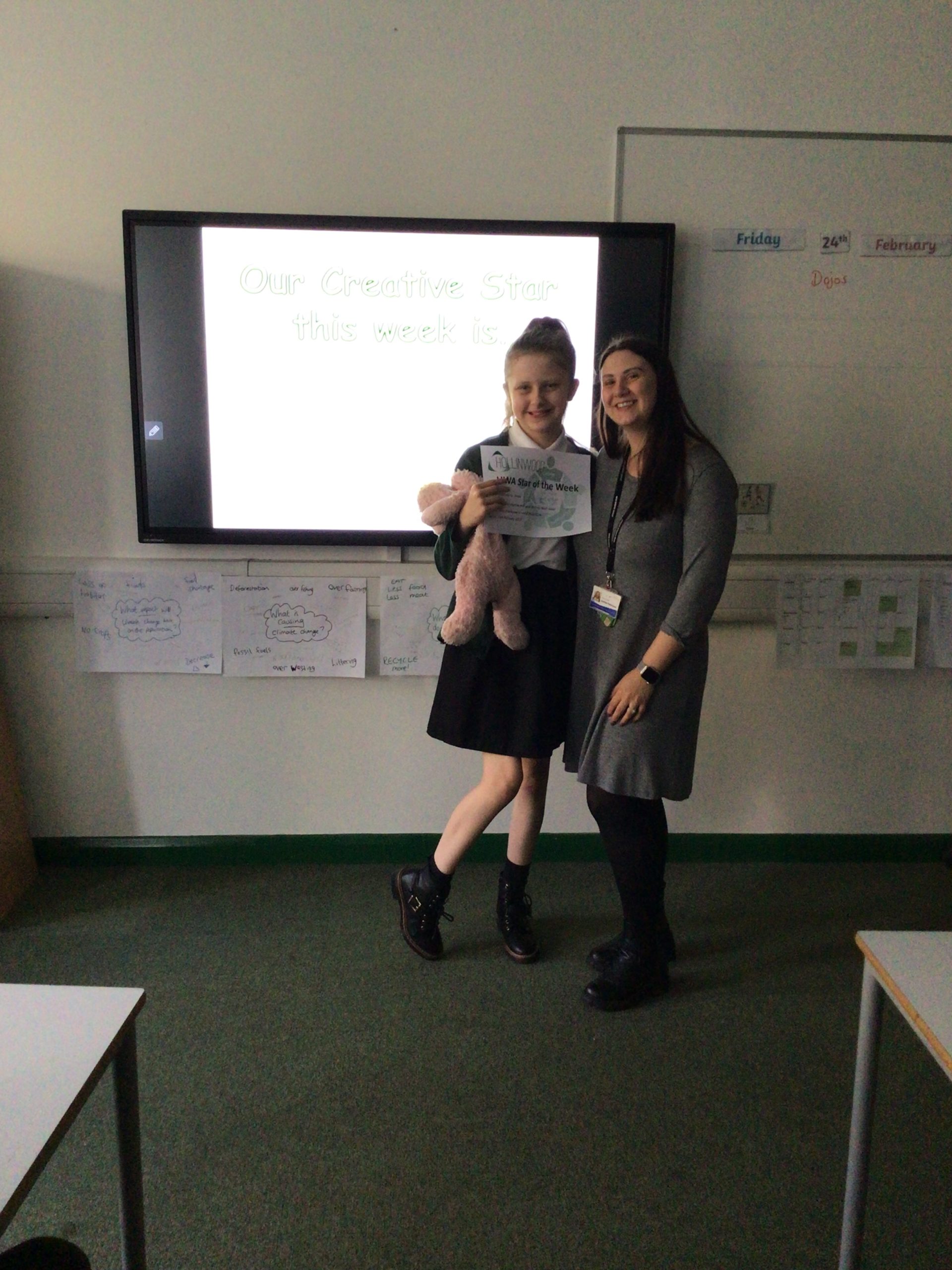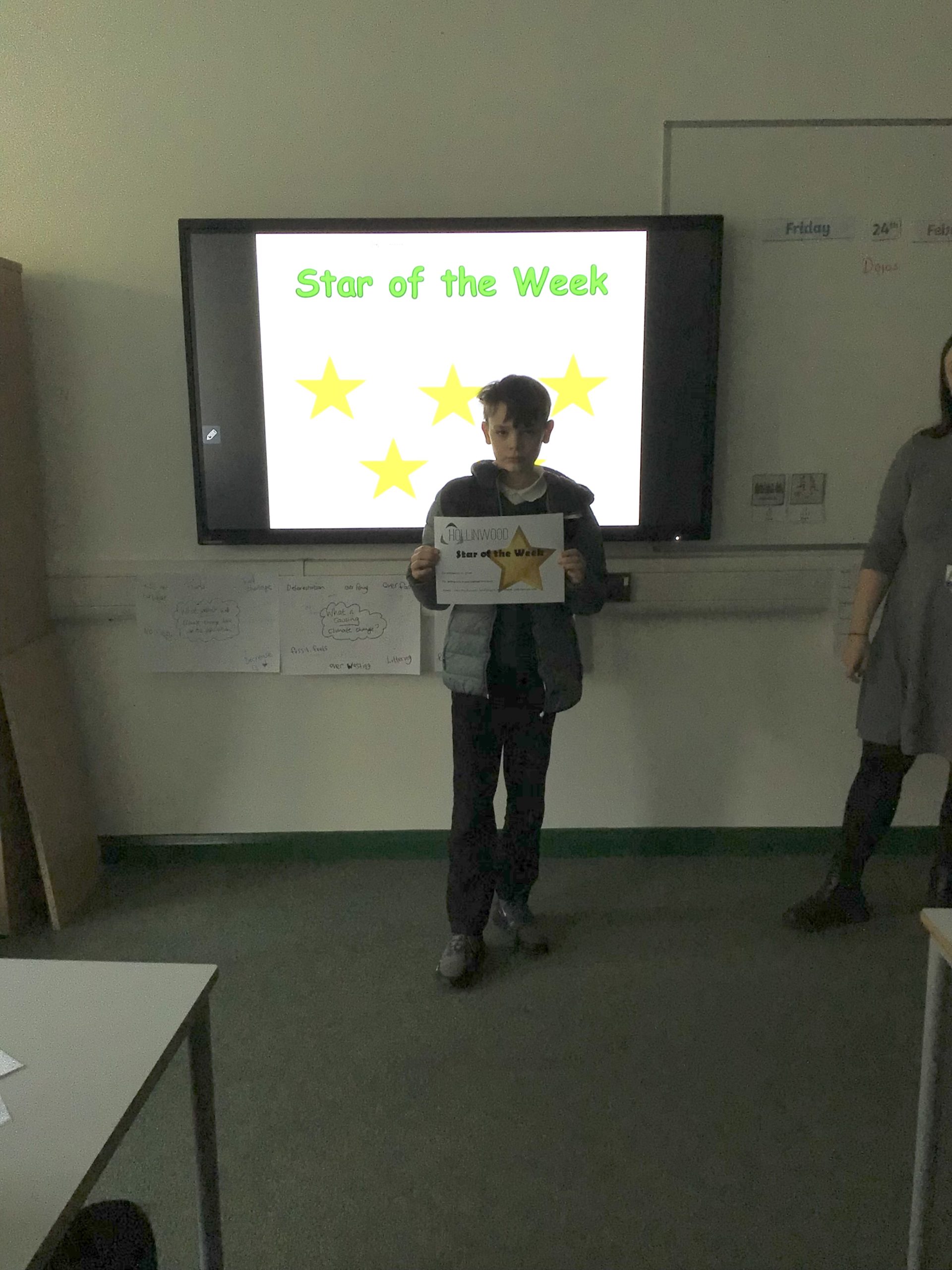 Mrs Matthew's HWA Creative STAR is Marcus for bringing in some very creative homework on Flags of the UK which is displayed on our Wow Wall.
Well done to our secondary Hollinwood Academy STARs this week: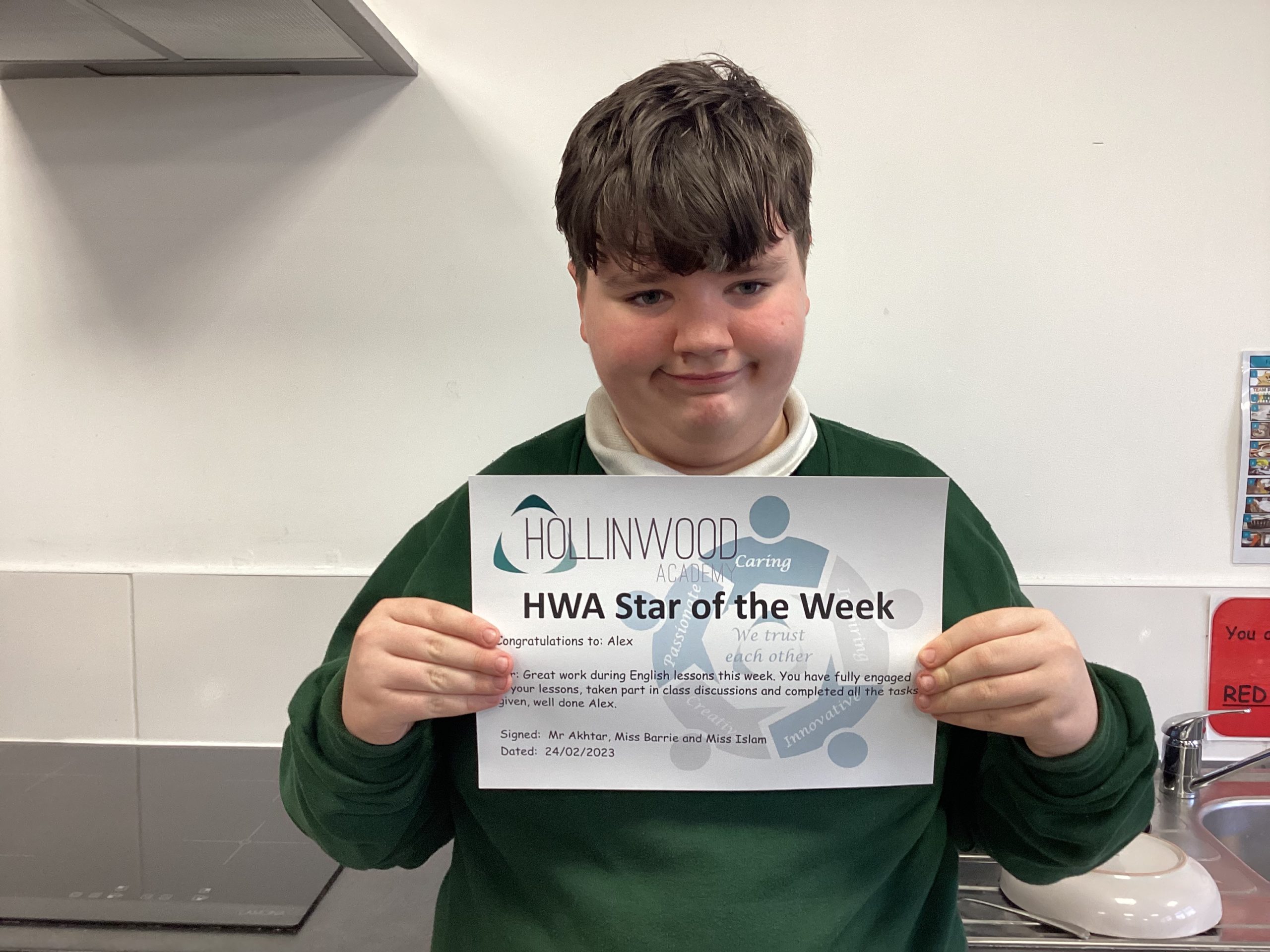 Don't forget, that on Thursday 2nd March we will be celebrating World Book Day. Students, and staff, are invited to dress up as their favourite book character and bring in their favourite book. We will be taking part in lots of exciting activities throughout the day and look forward to sharing these on the blog.
I hope you have a lovely weekend.
Mrs Millard