Blog 03.02.23
This week, the HWA senior choir had a fantastic trip to the AO Arena on Wednesday evening to take part in the Young Voices 2023 Concert. They performed "Proud" with Heather Small, boogied along to Nile Rodger's Disco Party and even sang a Welsh folk song (in Welsh!) – along with 8000 other students with a live band.
Miss Harrington and Mr Challinor were so impressed with the students' vocals and dancing, all their hard work practicing paid off and the parents/carers that attended had a great time! The students were a credit to Hollinwood Academy and are already looking forward to the concert next year!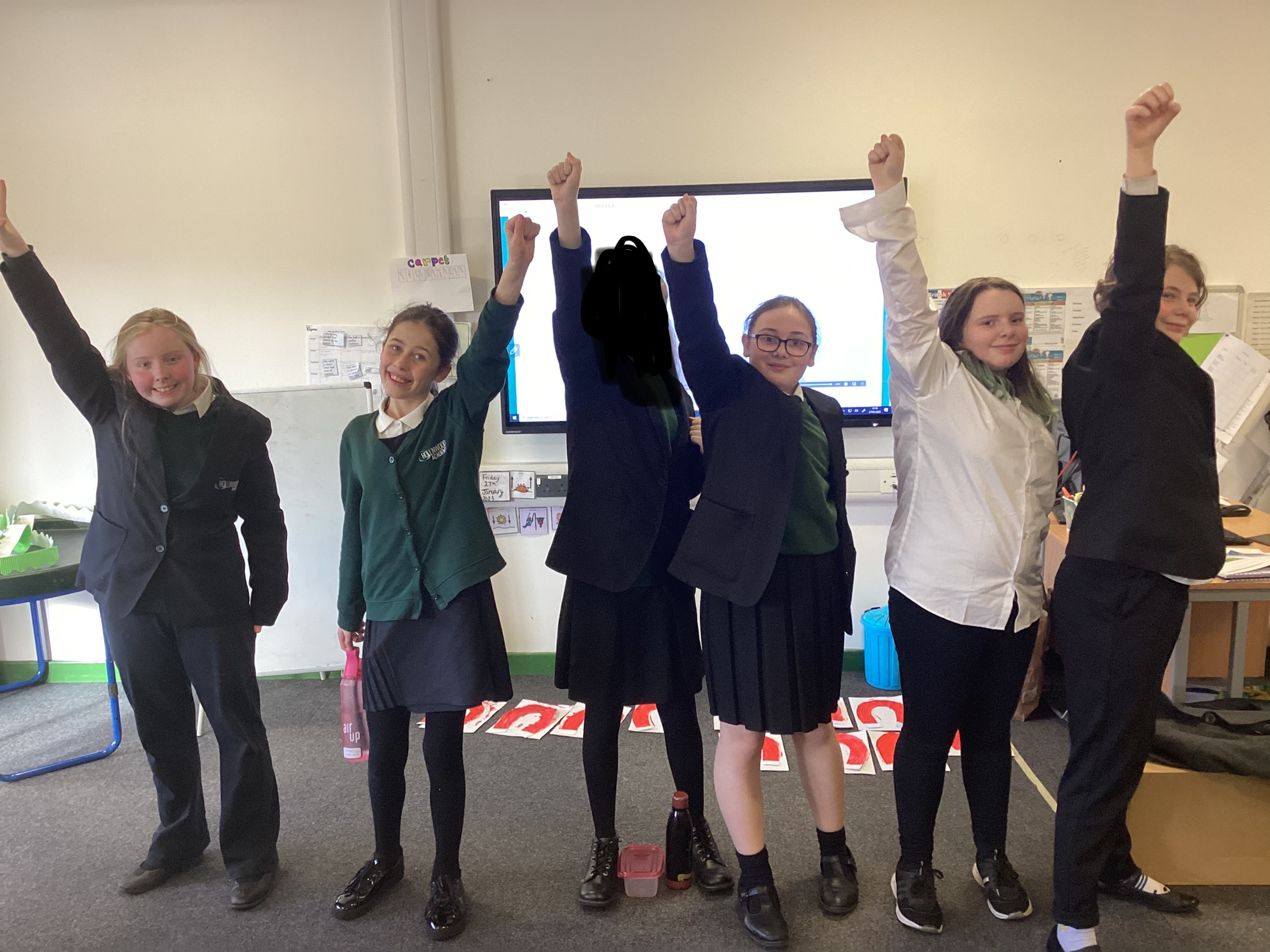 Let's see what some of the classes have been doing starting with Miss Tootill's class…
"What a super busy term we're having!
After returning from our Christmas holidays, our class resumed their year 5 journey with happy faces, a passion to learn and a new HWA Target, to be Innovating. Last week we welcomed a new face to our class, Miss Wallwork who is a student completing her Initial Teacher Training qualification with @Everyone Learning. Since joining our class, she is keen to support our children learning and to provide interactive, inspiring and immersive lessons.
This term we have explored a variety of exciting topics, such as 'Installation Art' in which we have examined Cai Guo-Qaing's work and created our own explosive art! In PSHRE we are embracing the new year by studying how to maintain a healthy lifestyle and the importance of mindfulness.
In our History lessons, we are sharing our knowledge of 'Ancient Greece' and using our creative minds to create our own gods and goddesses. Within our topic, we are continuing to discuss and demonstrate our British Values of democracy, we have developed our understanding of how the Greeks promoted the key value that still exists in modern society.
On behalf of me, Miss Sutcliffe, Mrs Booth and Miss Wallwork we thank our families for the continuous support and praise we receive. It is a beyond pleasure to teach within our class and to all the children at Hollinwood Academy, and we wish our Hollinwood families a happy and healthy 2023."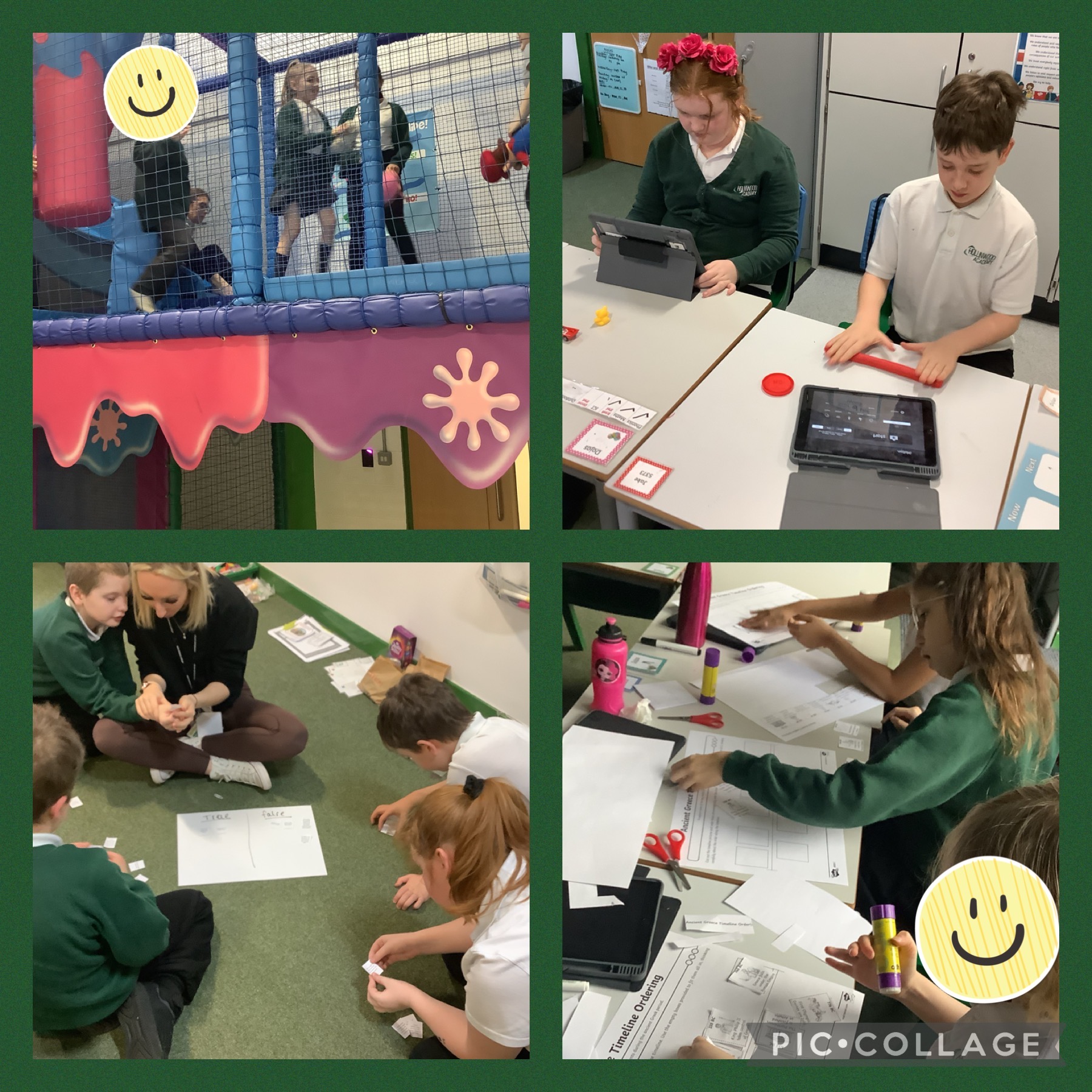 Now to Miss Sanderson's form…
"10SSN have continued to work hard through their subjects, they have particularly excelled in maths and their option subjects so far this term! They have adapted incredibly well to the change of form tutor during this term.
In maths, the class have been using algebra tiles to aid their learning when factorising equations, they found this the preferred method to learn as seeing it visually supported their understanding. The class have also tackled simultaneous, linear and quadratic equations!
In food tech, the class have made a variety of dishes including a pasta dish with béchamal sauce and roasted vegetables, which looked and smelt delicious!
On DofE the class have engaged well in public environments such as the gallery at Oldham library, alongside strenuous walks at places such as Tandle Hill and Castleshaw, experiencing the incredible views.
In Art, the class have been making progress with their chosen artists studies. Each student has chosen an artist whose work appeals to them and are learning about their lives, artwork and techniques.
In Creative Media the class showed off their creativity when designing a brand logo and website for a given company, 'Inventas', they provided a variety of creative interpretations.
The class have also enjoyed history, delved into their new topic and retained interesting facts upon the return of their history teacher."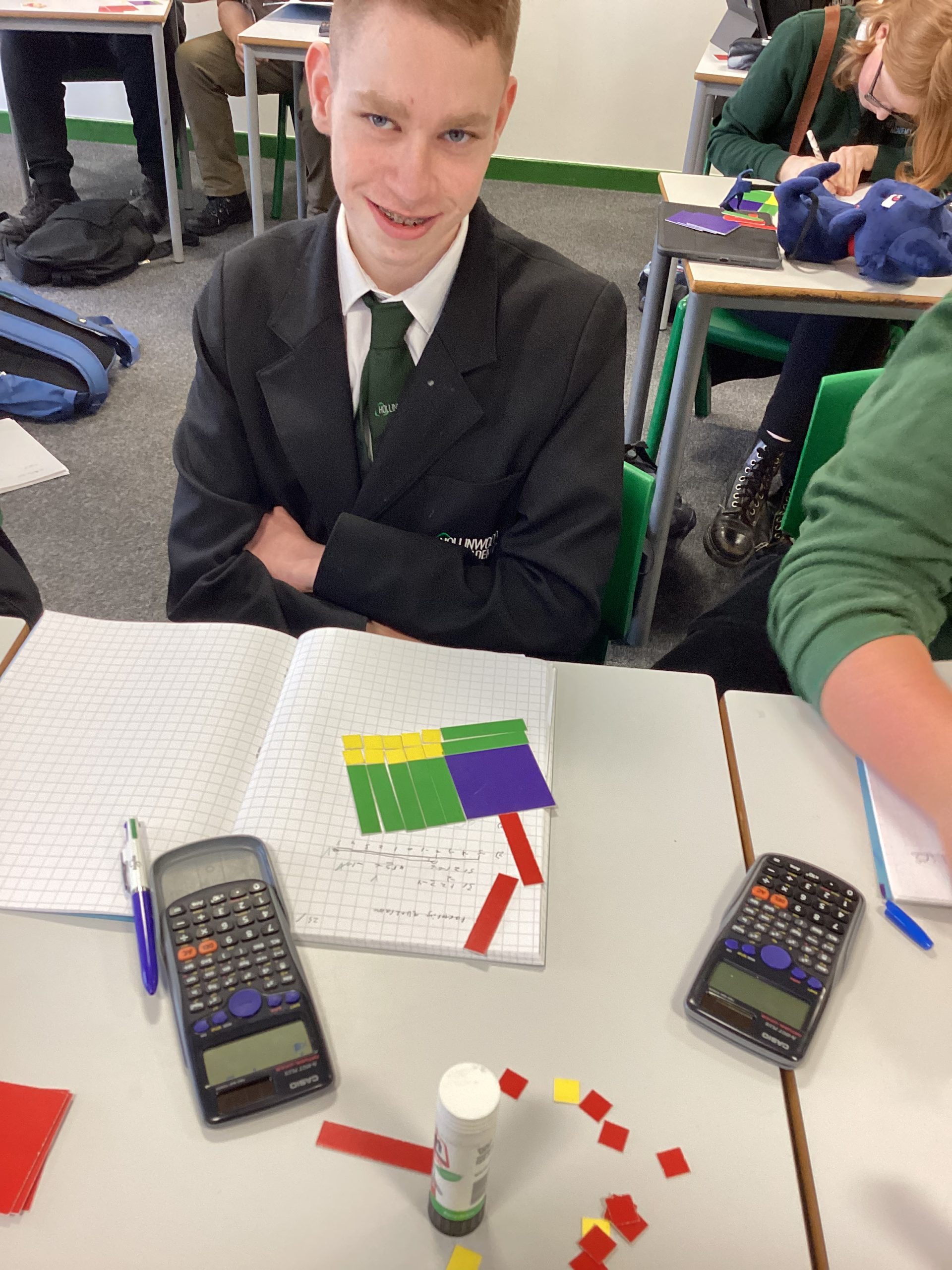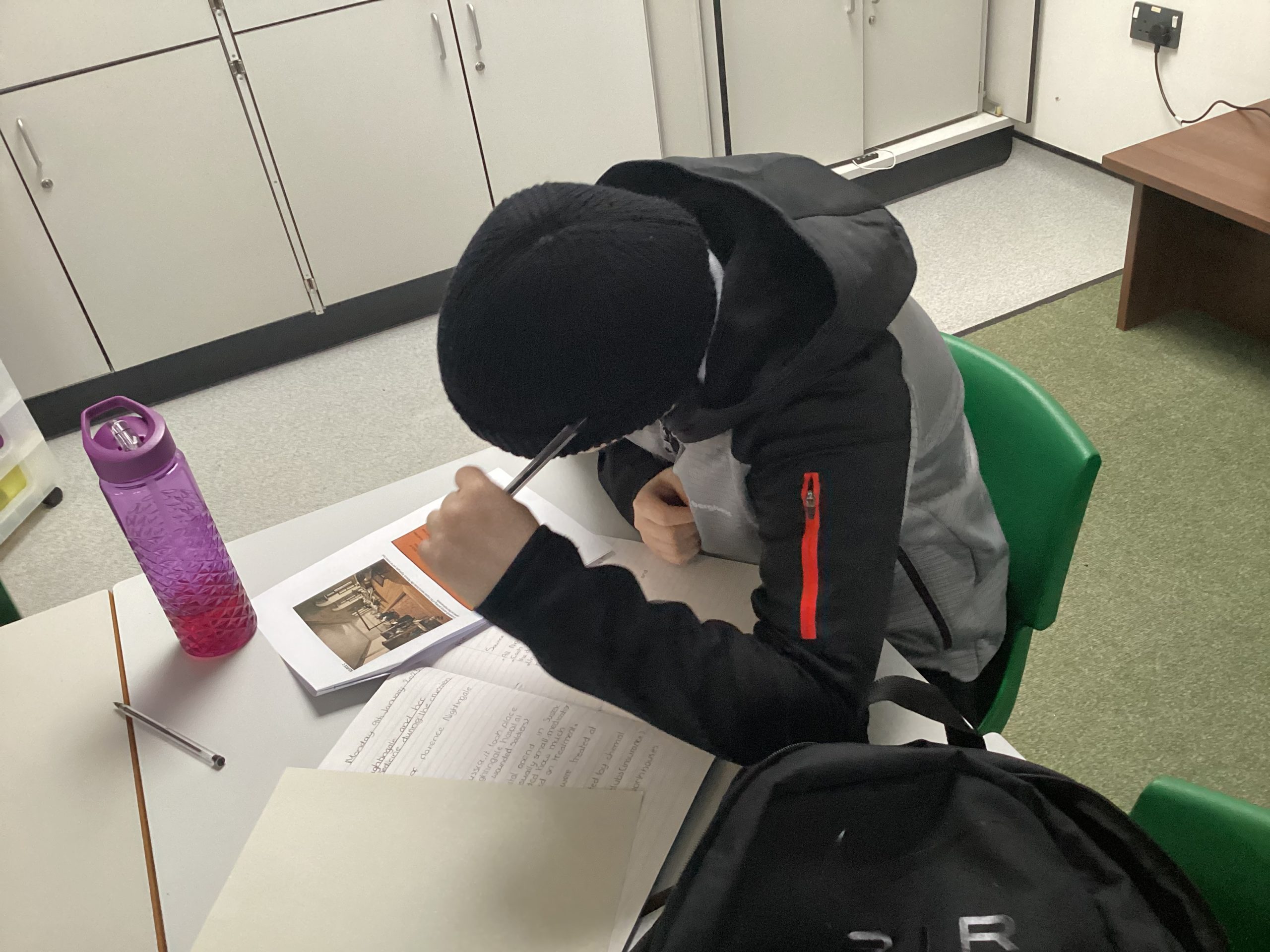 Now to our amazing SUPER STARs and HWA Innovative STARs
Mrs Lerigo's STAR of the week is Diana for just being the sweetest young lady and using language functionally in the classroom.
Mrs Lerigo's HWA Innovative STAR is Lyla for using her iPad to support communication, answering questions beautifully.
Miss Oakley's STAR of the week is Euan for using his ipad to tell his mum about all the learning that we have done this week.
Miss Oakley's HWA Innovative STAR is Harrison for making his clay vase independently.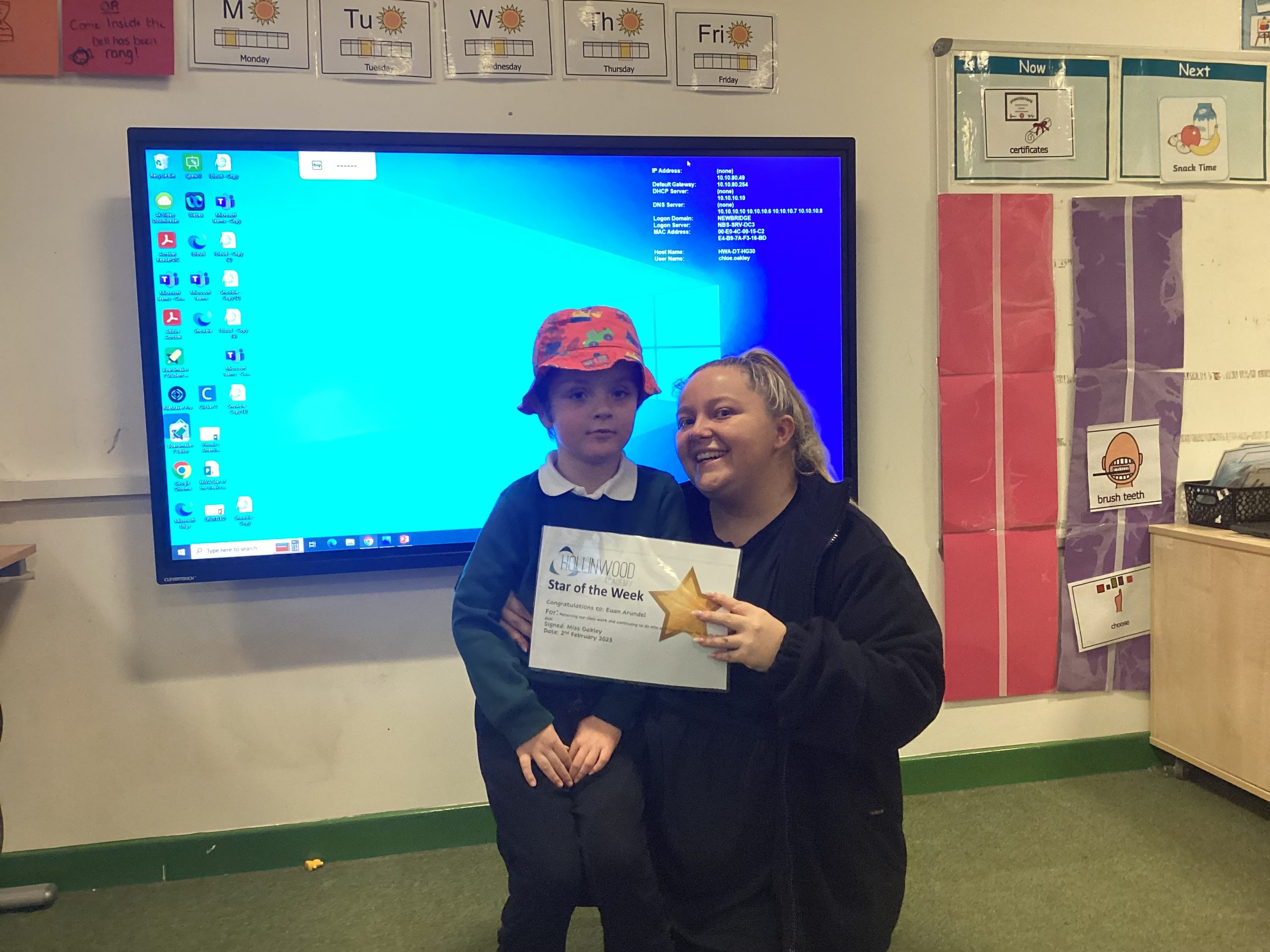 Miss Meadows' STAR of the week is Maja for being independent in stage four of attention autism.
Miss Meadows' HWA Innovative STAR is Jack for using his words to repeat vocabulary in phonics.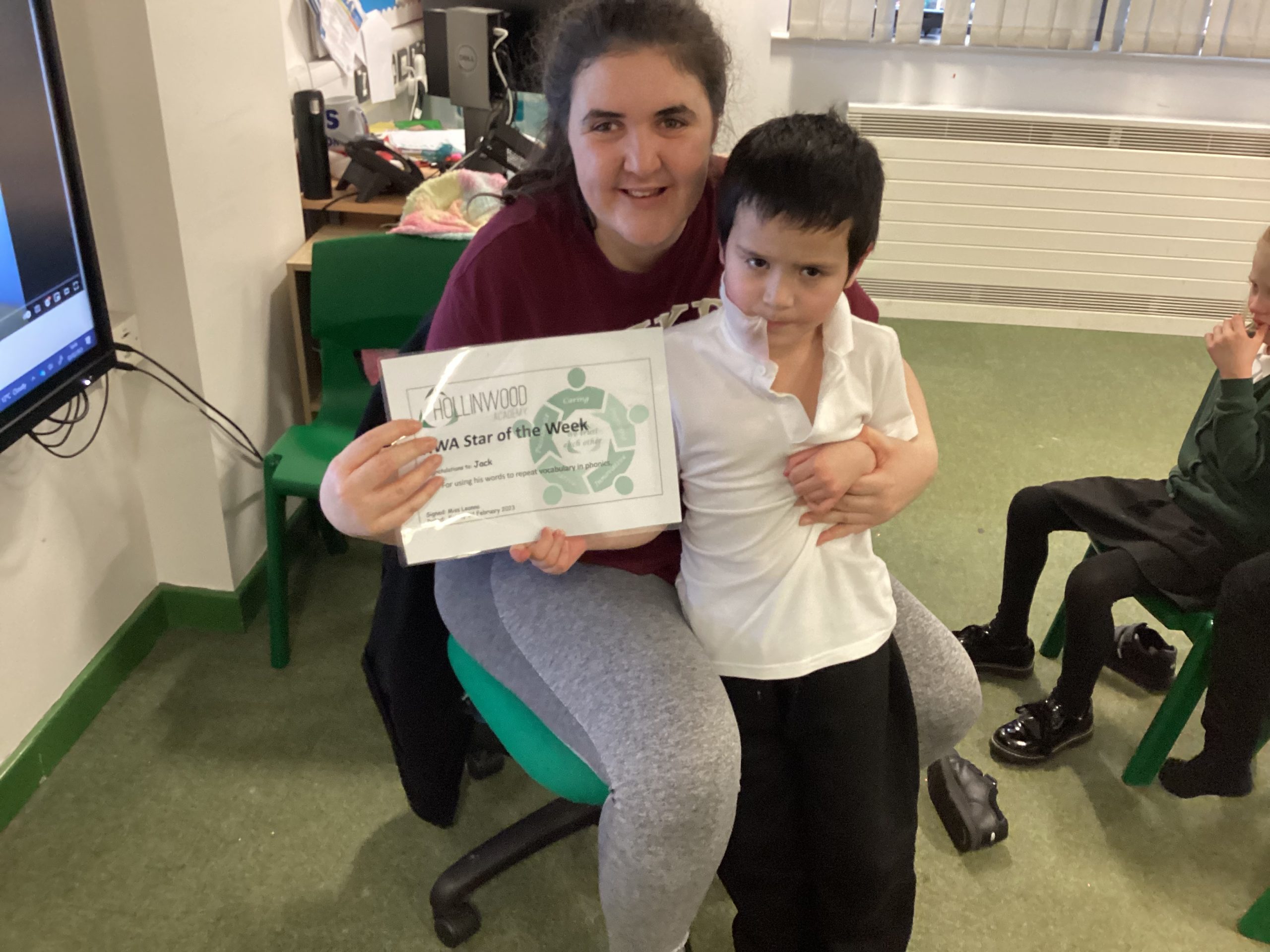 Miss Pietraszewska's STAR of the week is Lewis for excellent engagement in our daily work-reading, writing and maths! Well done Lewis!
Miss Pietraszewska's HWA Innovative STAR is Maya for creating a name for our new plant (Plantek) Thank you Maya!
Mrs Halkyard and Miss Hulme's STAR of the week is David for being a kind and caring friend and approaching adults for help when needed.
Mrs Halkyard and Miss Hulme's HWA Innovative STAR is Caitlin for creating a beautiful Roman shield in our History lesson.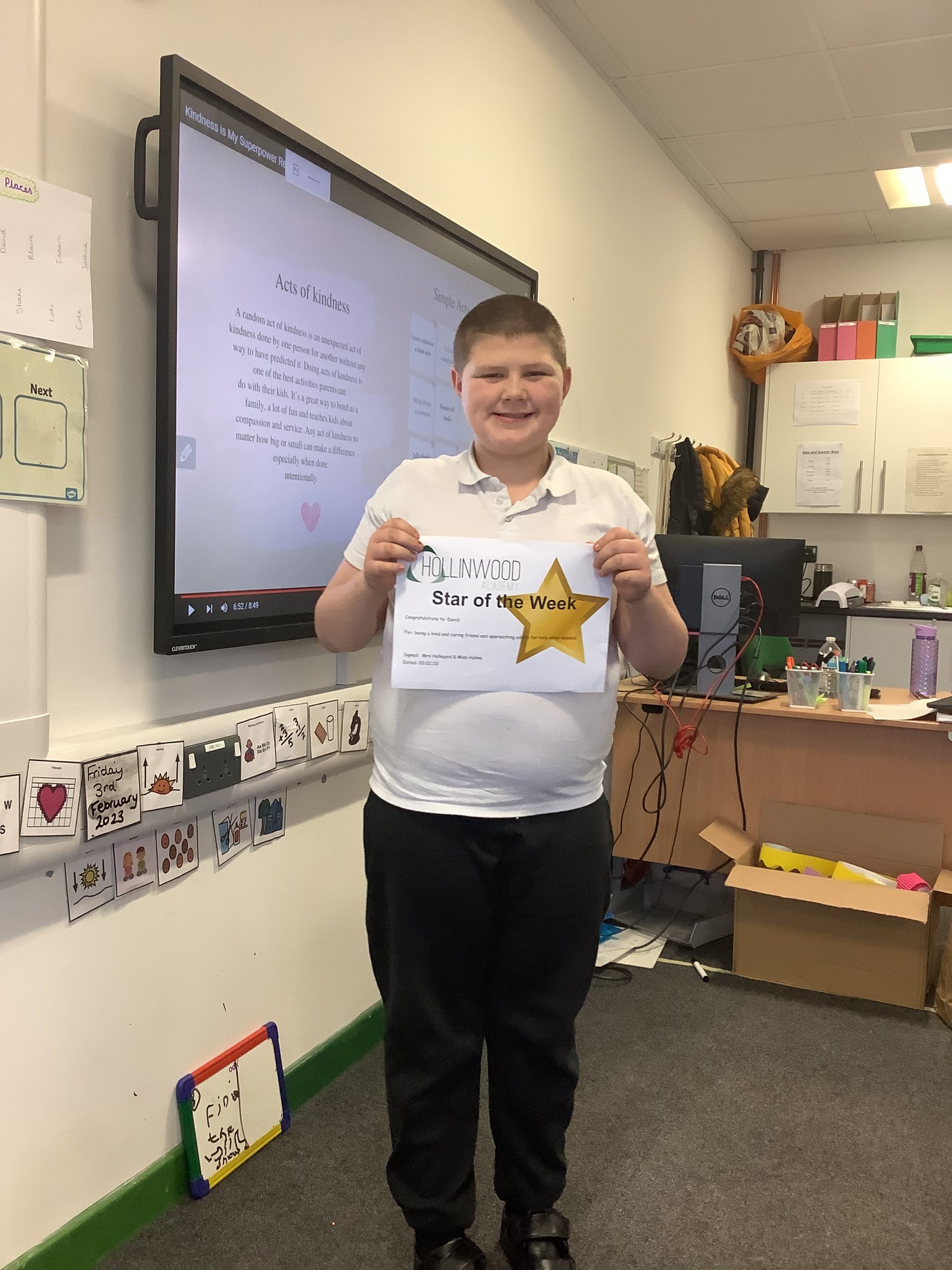 Mr Corrigan's STAR of the week is Brooke for being a great friend this week.
Mr Corrigan's HWA Innovative star is Hadley for using her voice to solve problems.
Mr Corrigan's WOW moments go to Lewis, Faiha, Jason and Derry. Well done!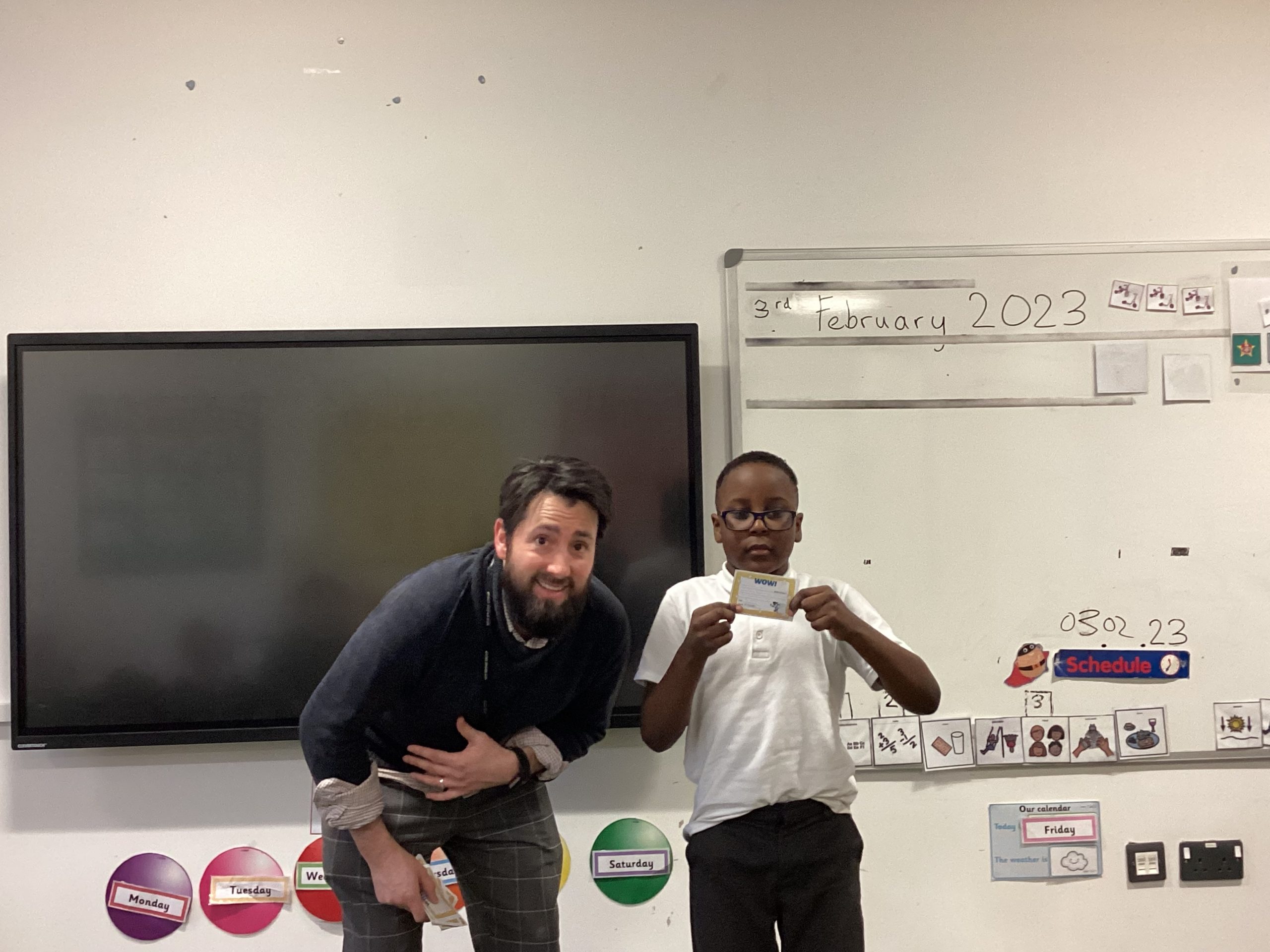 Miss Prescott's STAR of the week is Ebon for offering to share his snack with his friends who did not have any, role modelling a good friend.
Miss Prescott's HWA Innovative STAR is Corey, for his amazing knowledge on Ancient Greece.
Miss Tootill's STAR of the week is Fatima for being a good friend.
Miss Tootill's HWA Innovative STAR is Millie for working hard and always trying her best.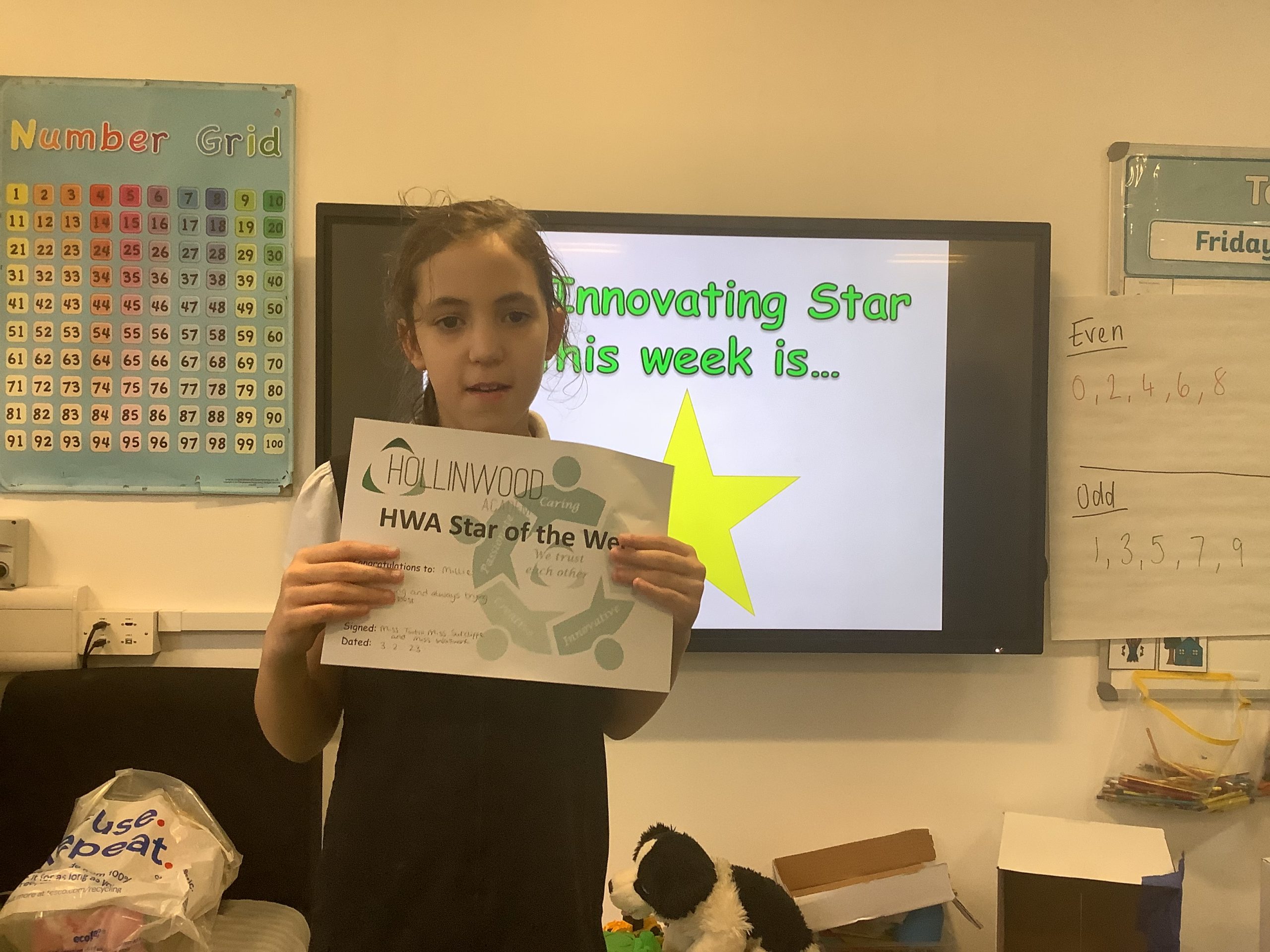 Mrs Davies' STAR of the week is Arissa for being more engaged in learning this week.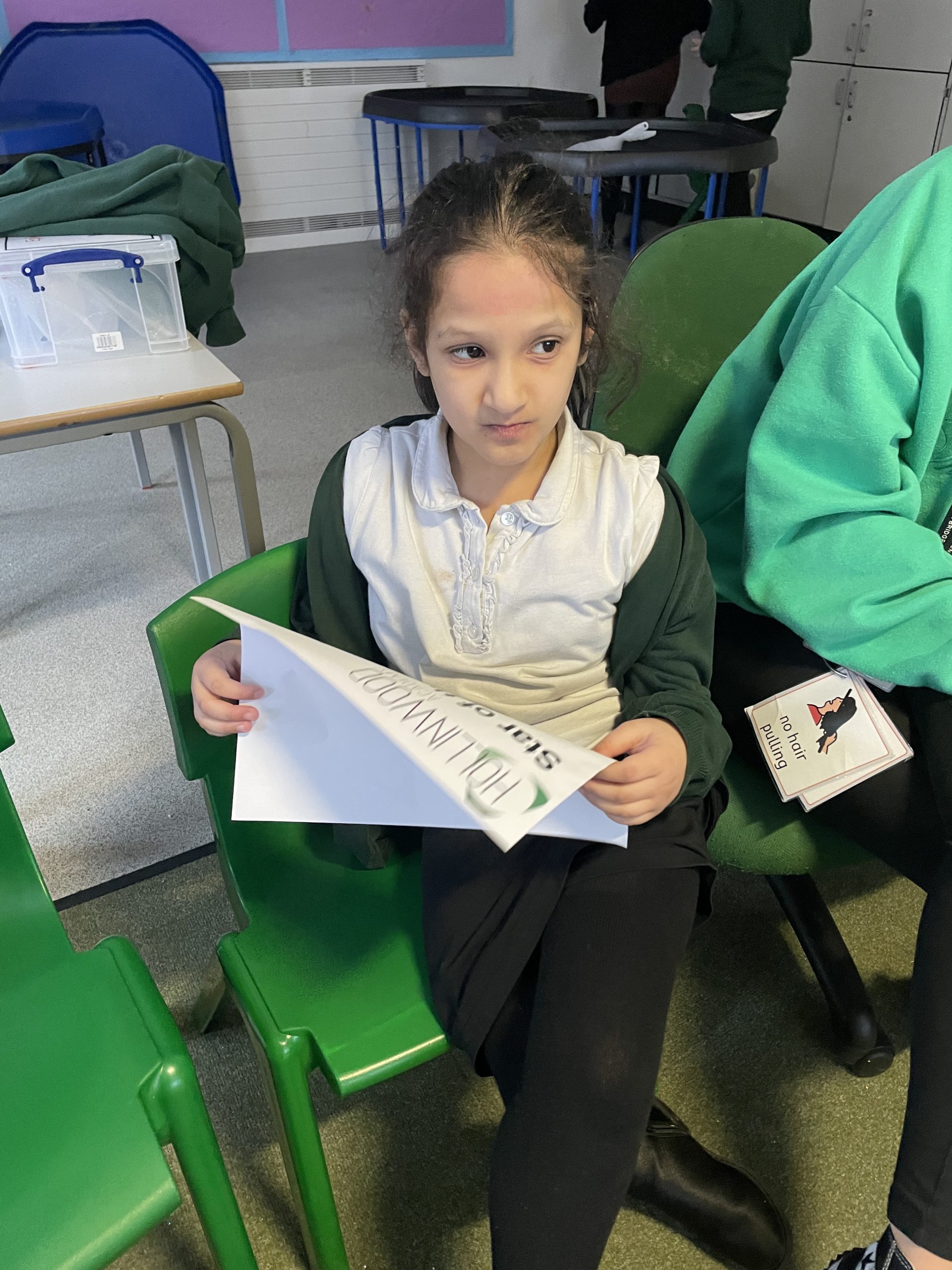 Mrs Gittins' STAR of the week is Victory for trying his best in everyday this week.
Miss Parkinson's STAR of the week is Lewis for having a great attitude to learning in English!
Mrs Matthew's STARs of the week are Tyler for showing great perseverance and finishing off his diary entry as a Victorian child for History and Jago for trying his best and being positive every day!
Well done to our secondary Hollinwood Academy STARs this week: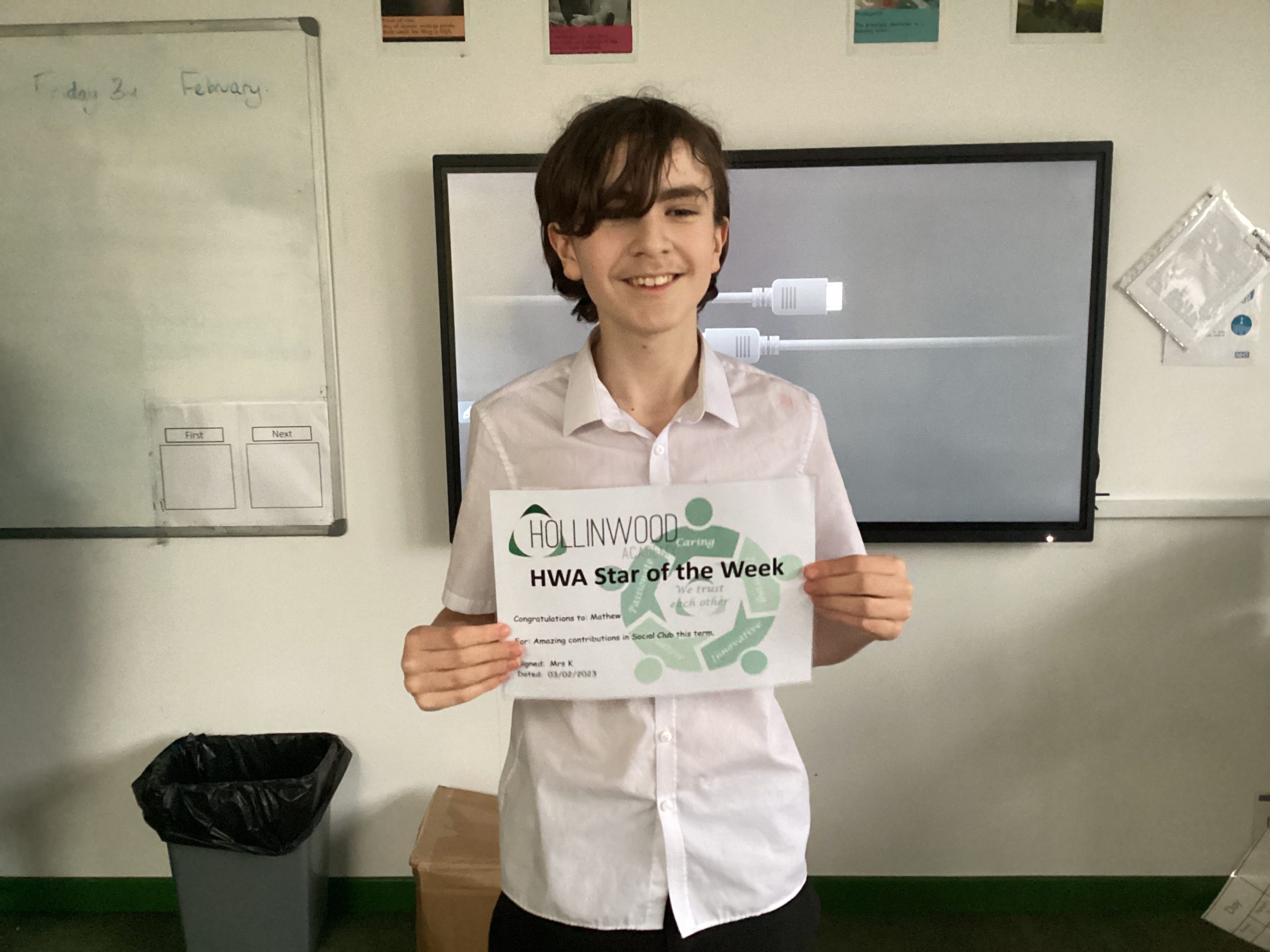 Children's Mental Health Week commences on Monday 6th February 2023. During this week our children and young people will be involved in various activities and discussions designed to promote positive mental health.
On Friday 10th February (the last day of term) we are hosting a "Dress to Express day" to celebrate and raise awareness about the importance of positive mental health and wellbeing. We are inviting everyone to dress in their favourite colour to express how they are feeling. Your child may want to choose a colour to reflect one of our core values:
Trust – Green
Caring – Blue
Creative – Red
Innovative – Yellow
Inspiring – Pink
Children's Mental Health Week is an important week in our calendar and we look forward to our children and young people being involved.
We finish for half term on Friday 10th February and we have an INSET day on Monday 20th February and the school reopens to all the children and young people on Tuesday 21st February.
I hope you have a lovely weekend
Mrs Millard