Blog 27.01.2023
This week we have had two trips for our students. The first was on Monday as the rest of our year 11 students, who study photography as part of their iMedia course, went on their 'walk and shoot' trip around Oldham town centre. The project is all about capturing buildings that are either historical, modern or derelict, using a range of composition rules such as: symmetry, unusual angles, leading lines and texture. The students completed a 2 mile walk with a short stop at Costa. Once again, we were really impressed with the commitment to framing and finding those angles. Here is a small selection of their photos. All taken on a DSLR camera with built-in settings. Well done all!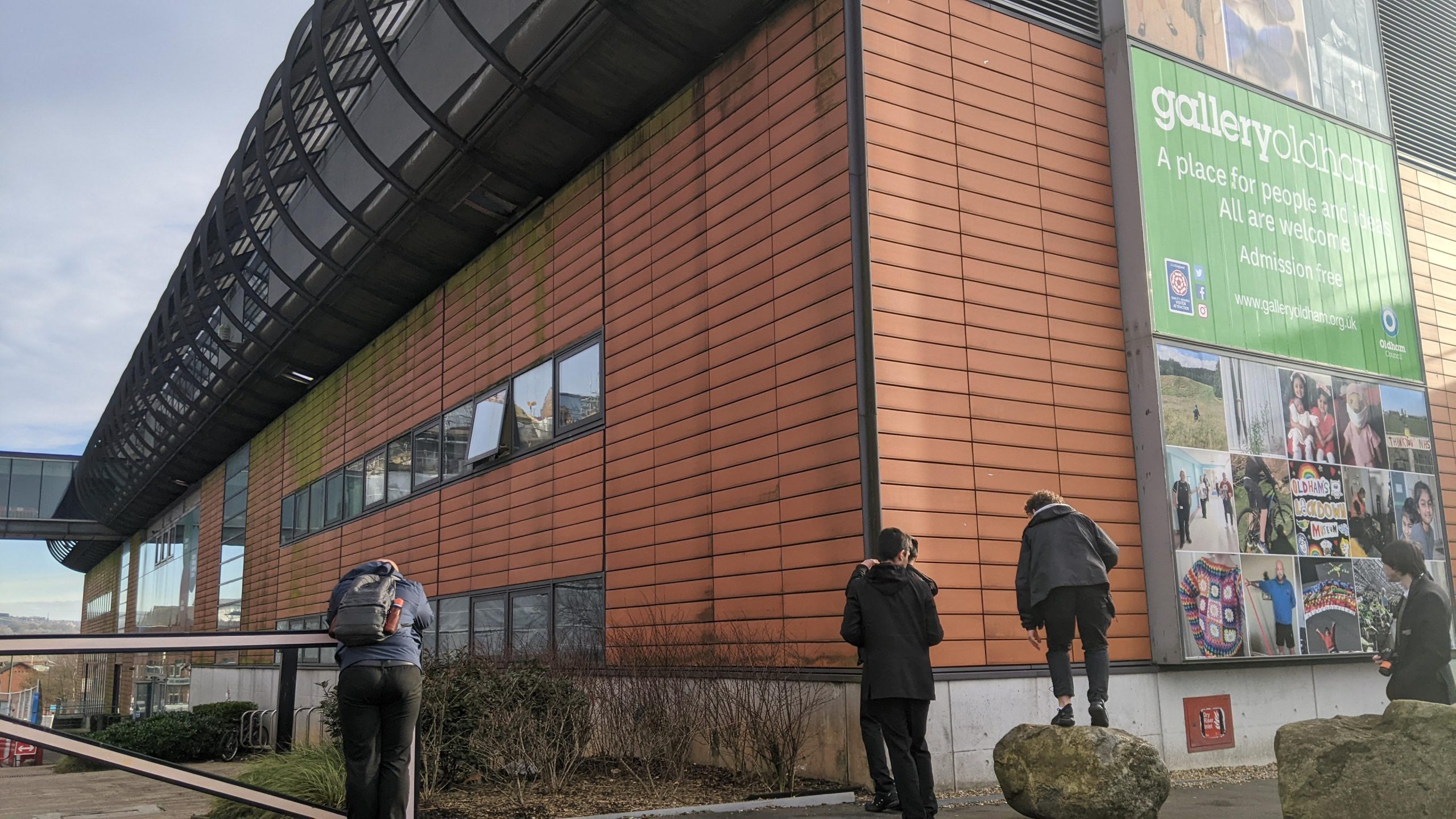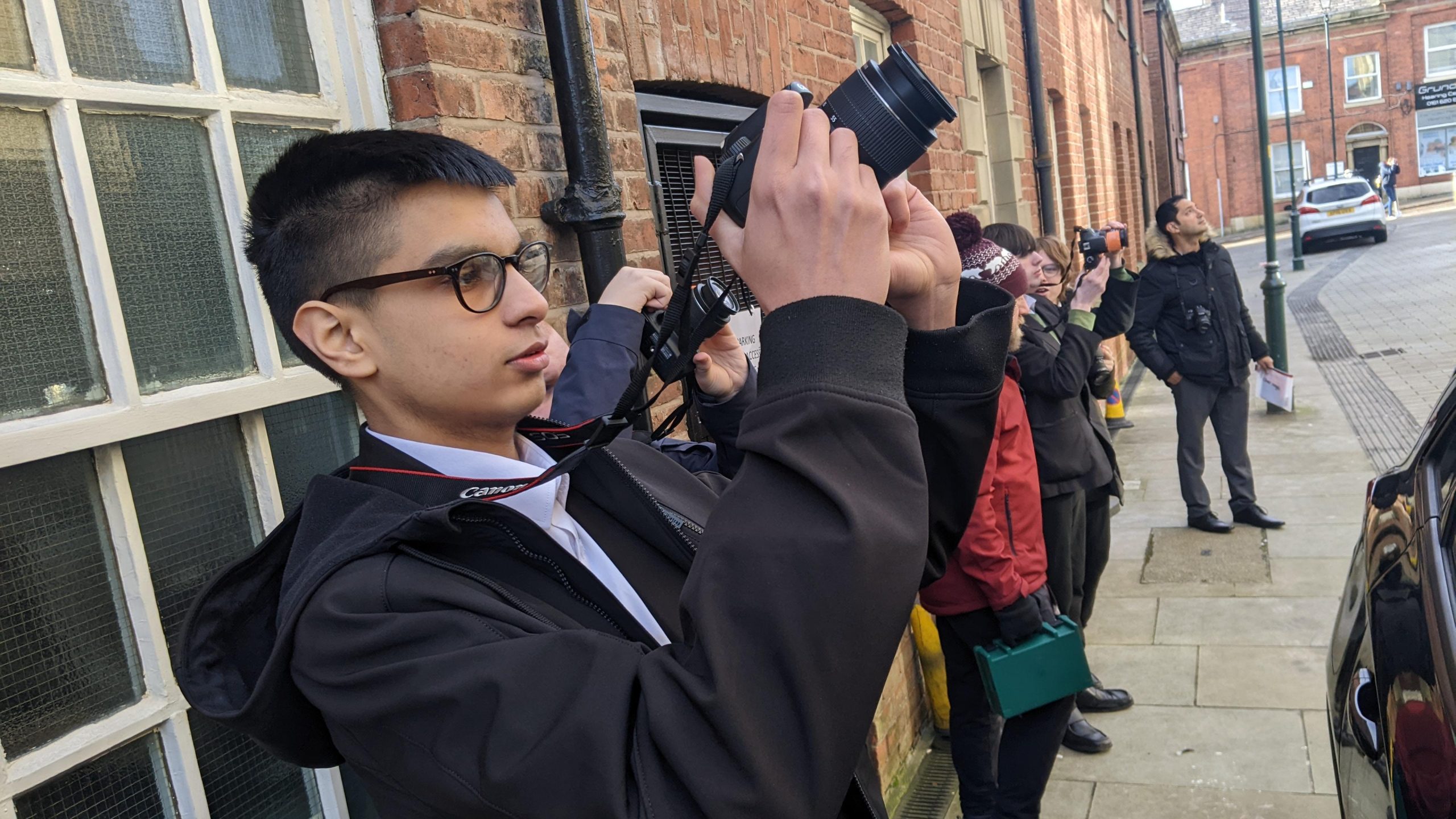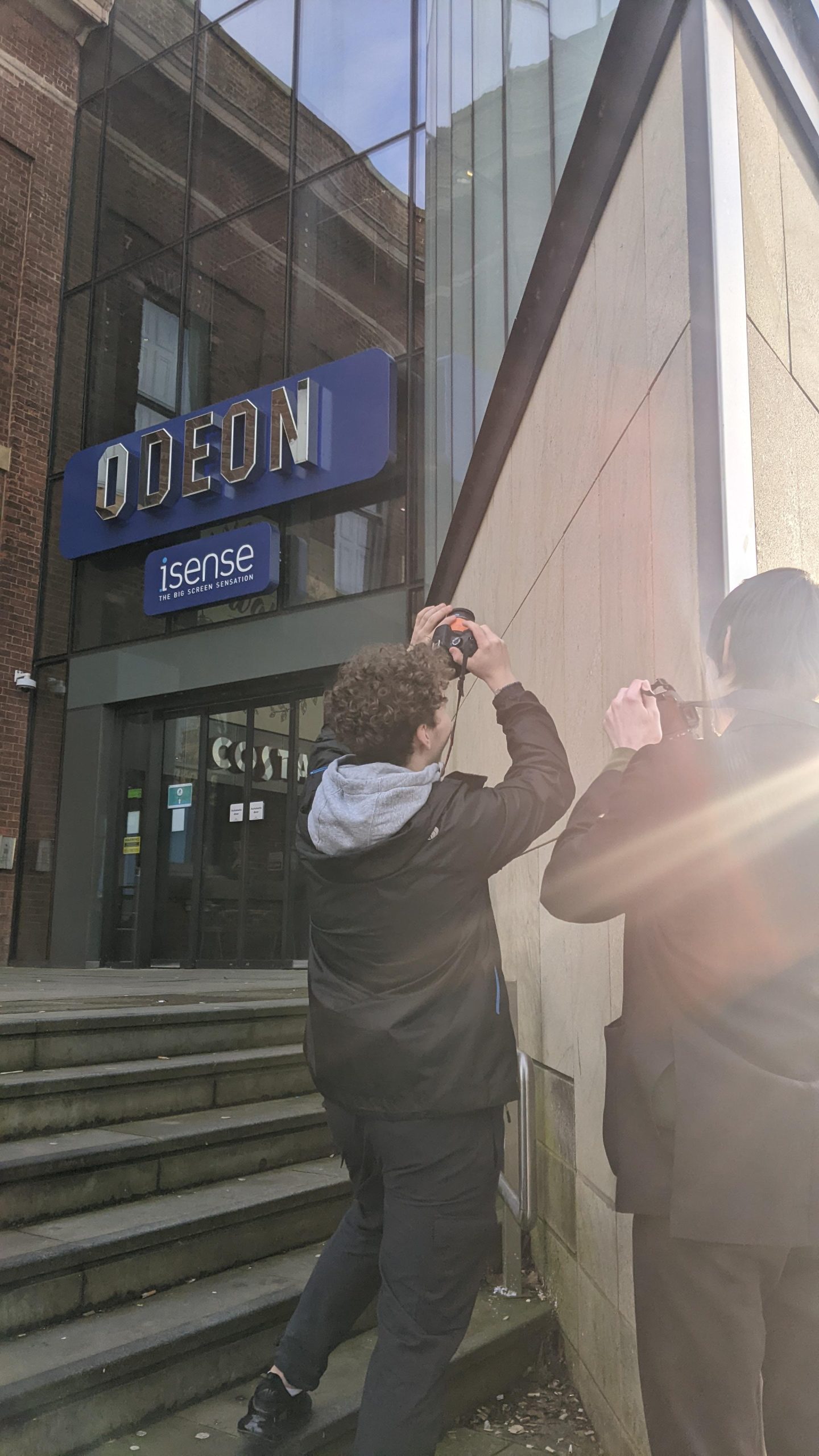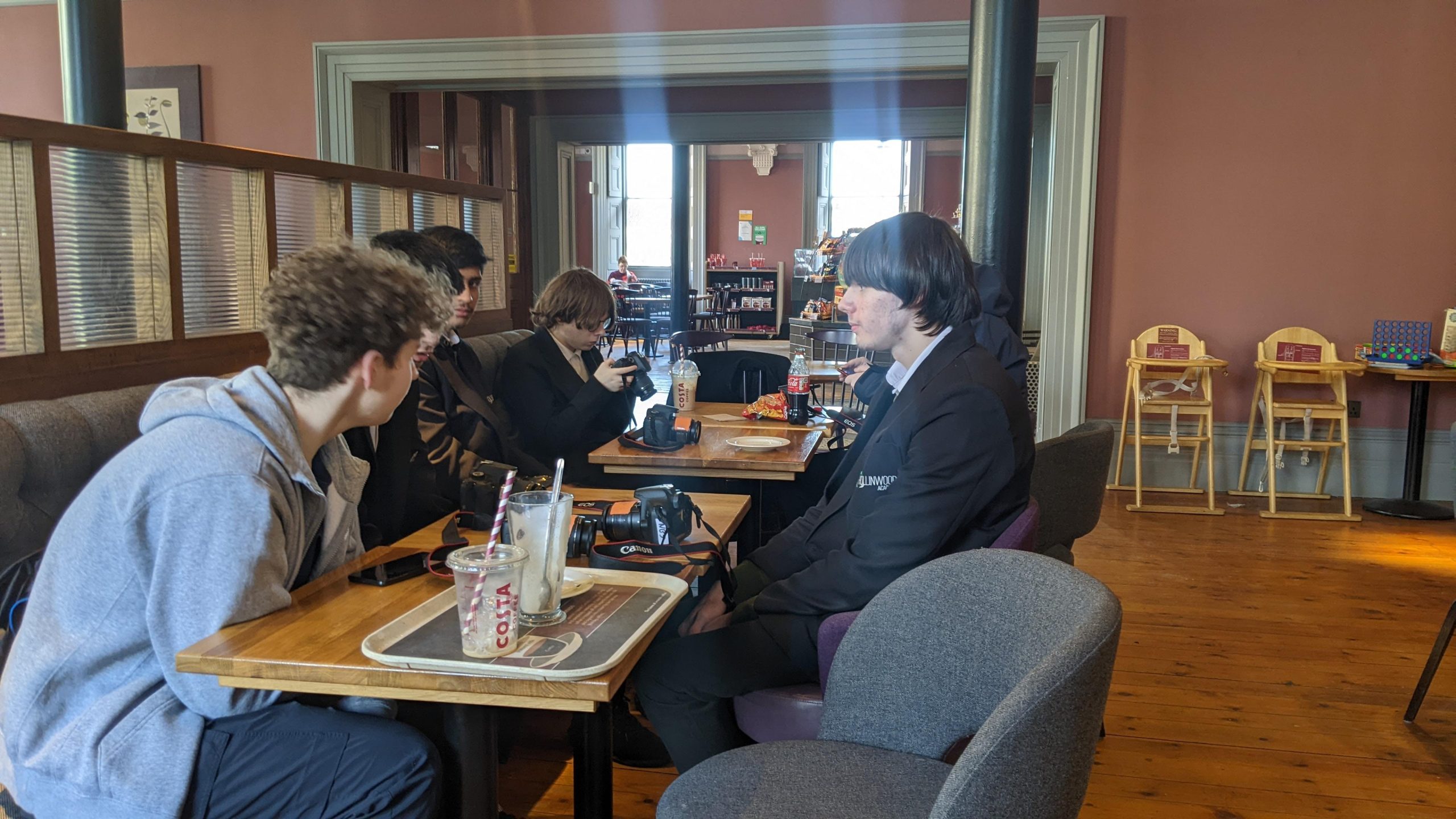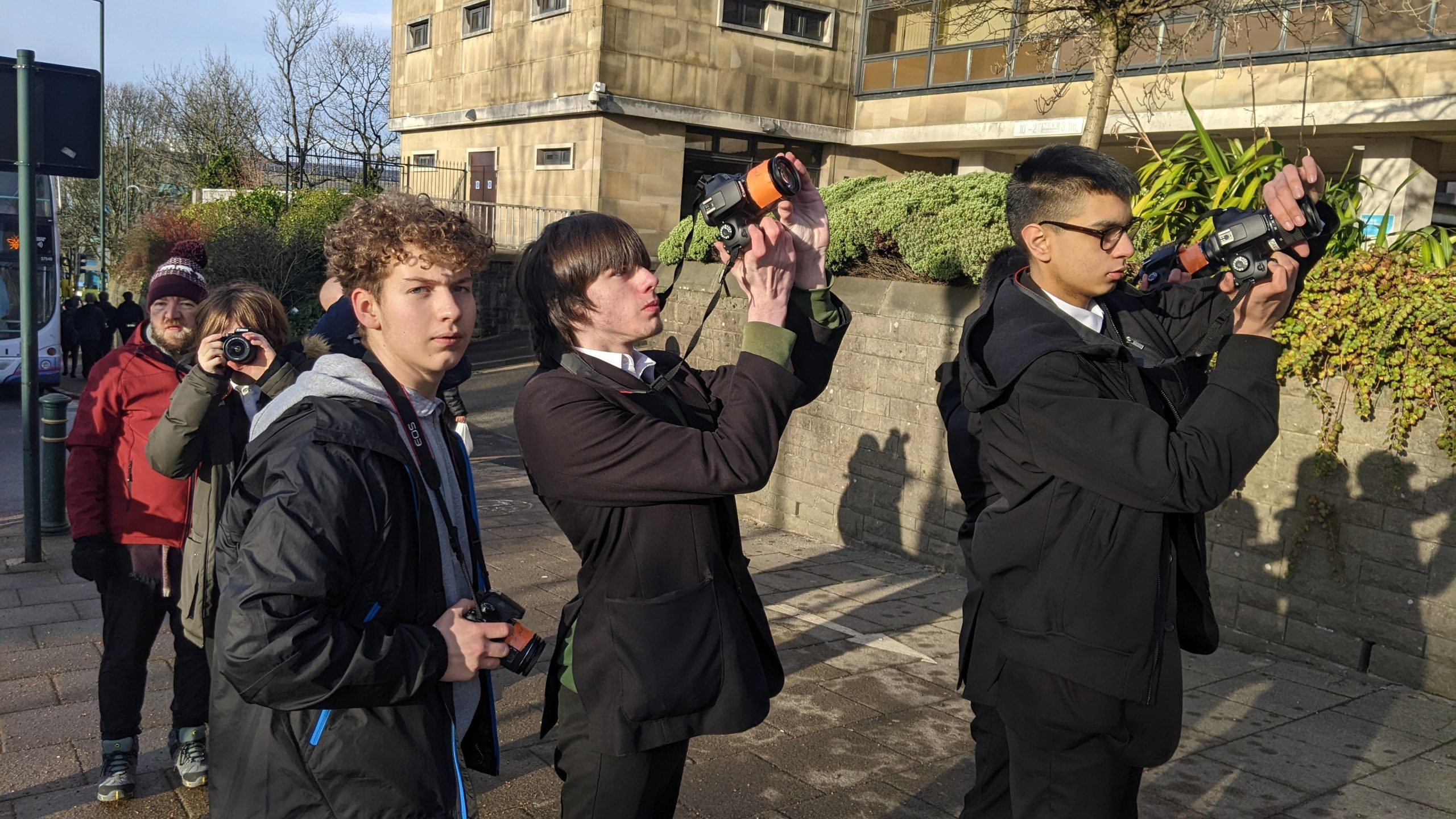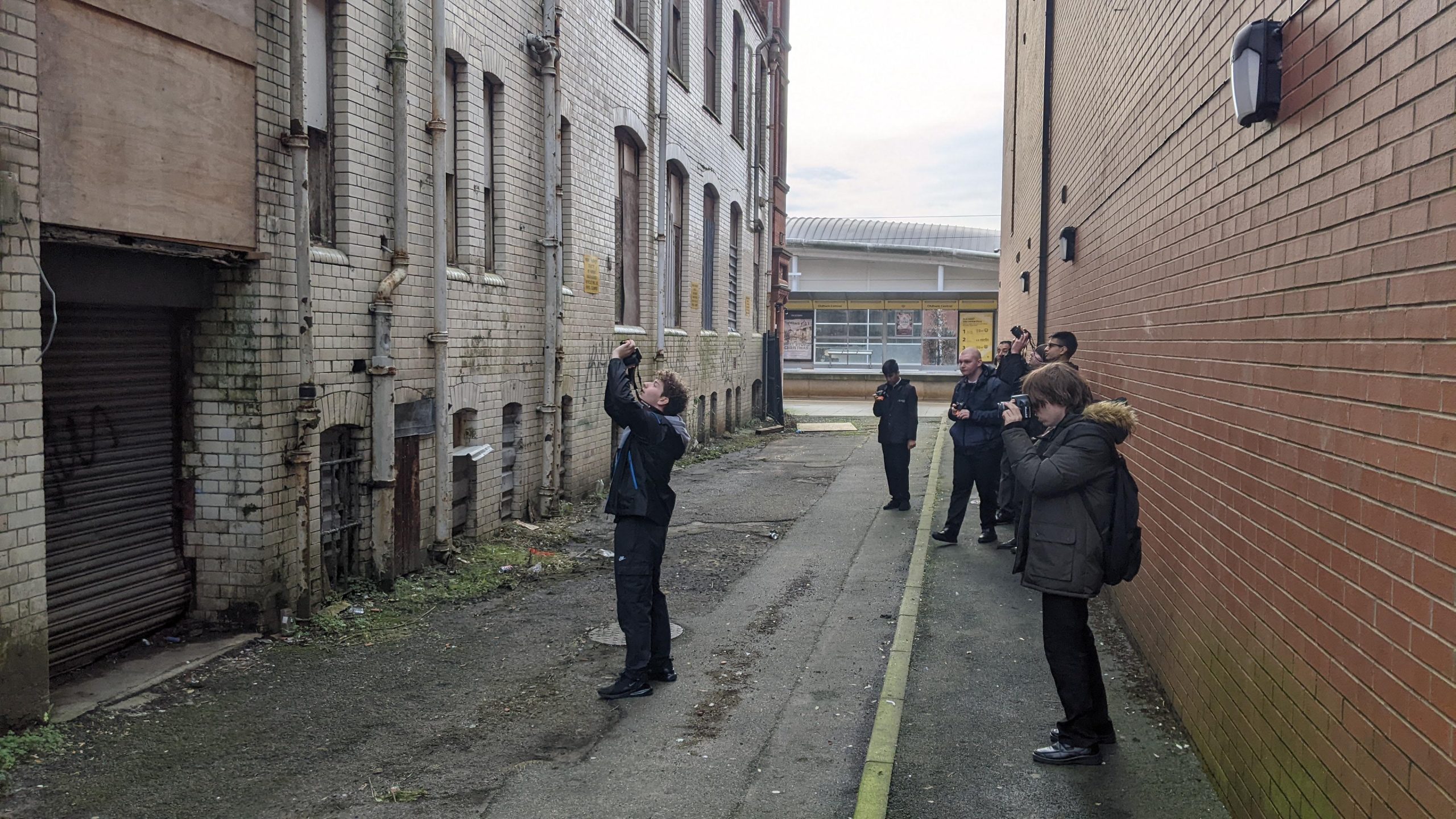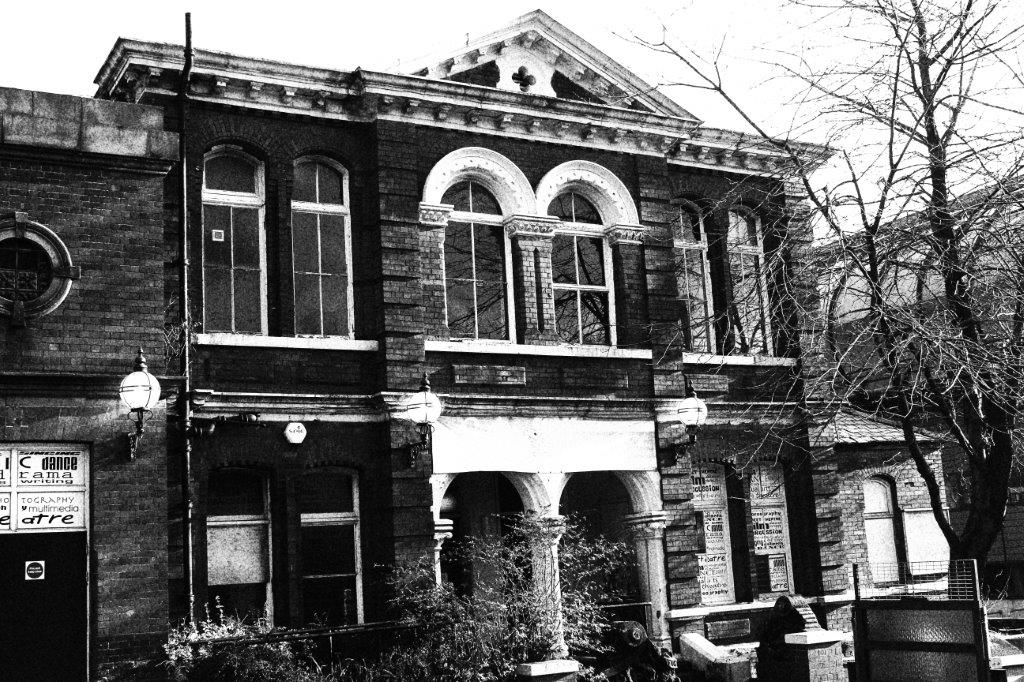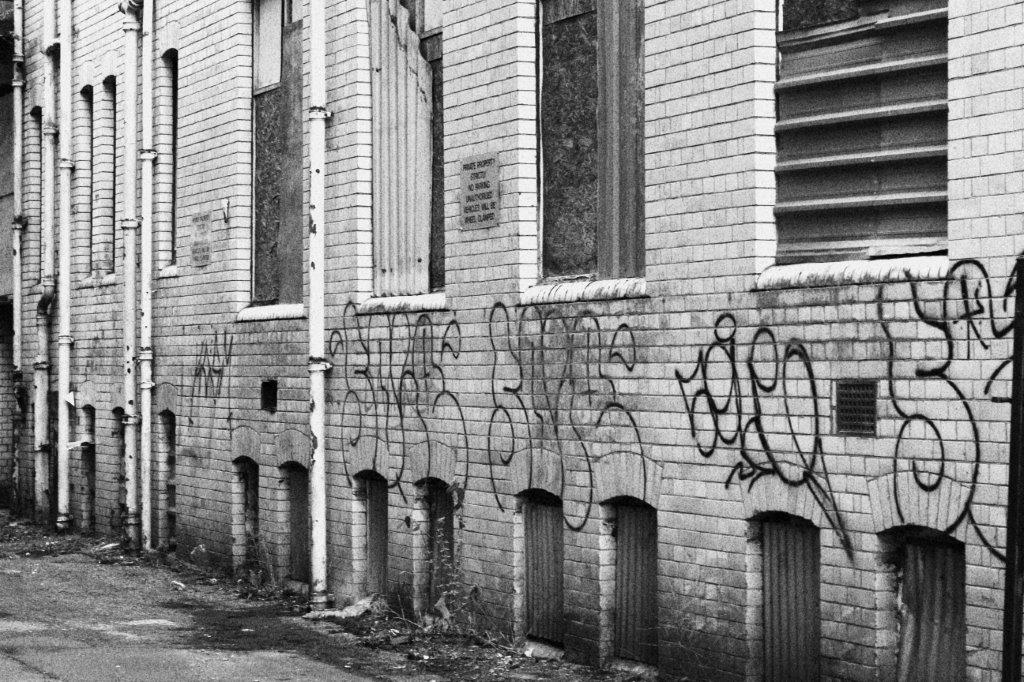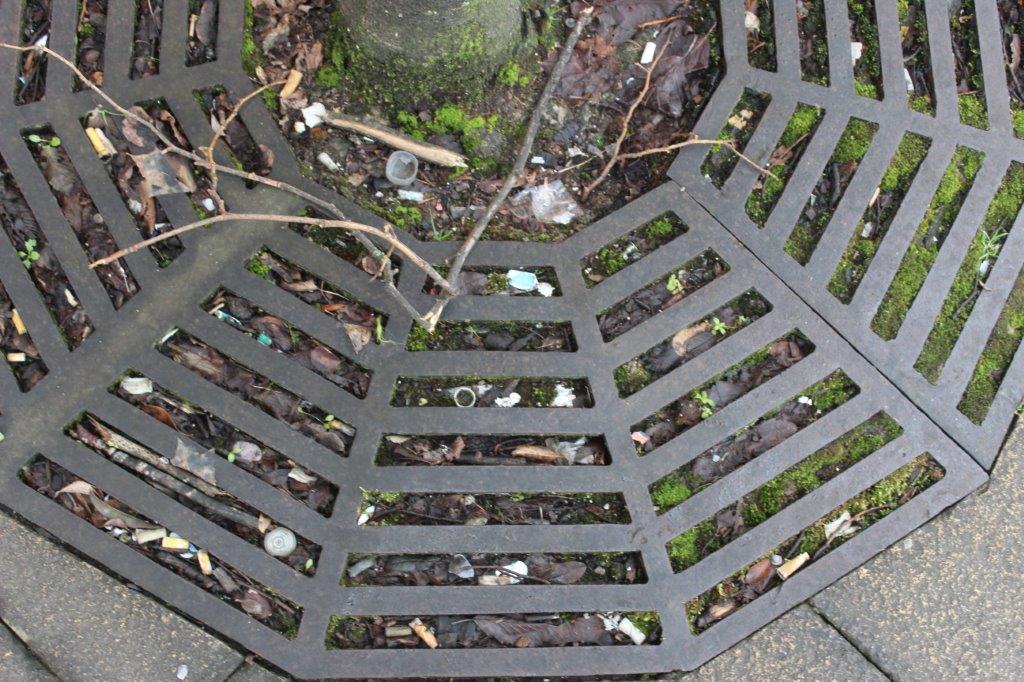 The second trip was on Wednesday as Mr Leeson and Miss Bottery took a group of secondary students to participate in a football tournament at Manchester City's training academy. All students who participated did really well and won 3, drew 2 and lost 1 of their 6 games which shows their progression in recent months. Everyone had lots of fun and were great ambassadors for the school. We are really looking forward to taking part in the next round of fixtures in May.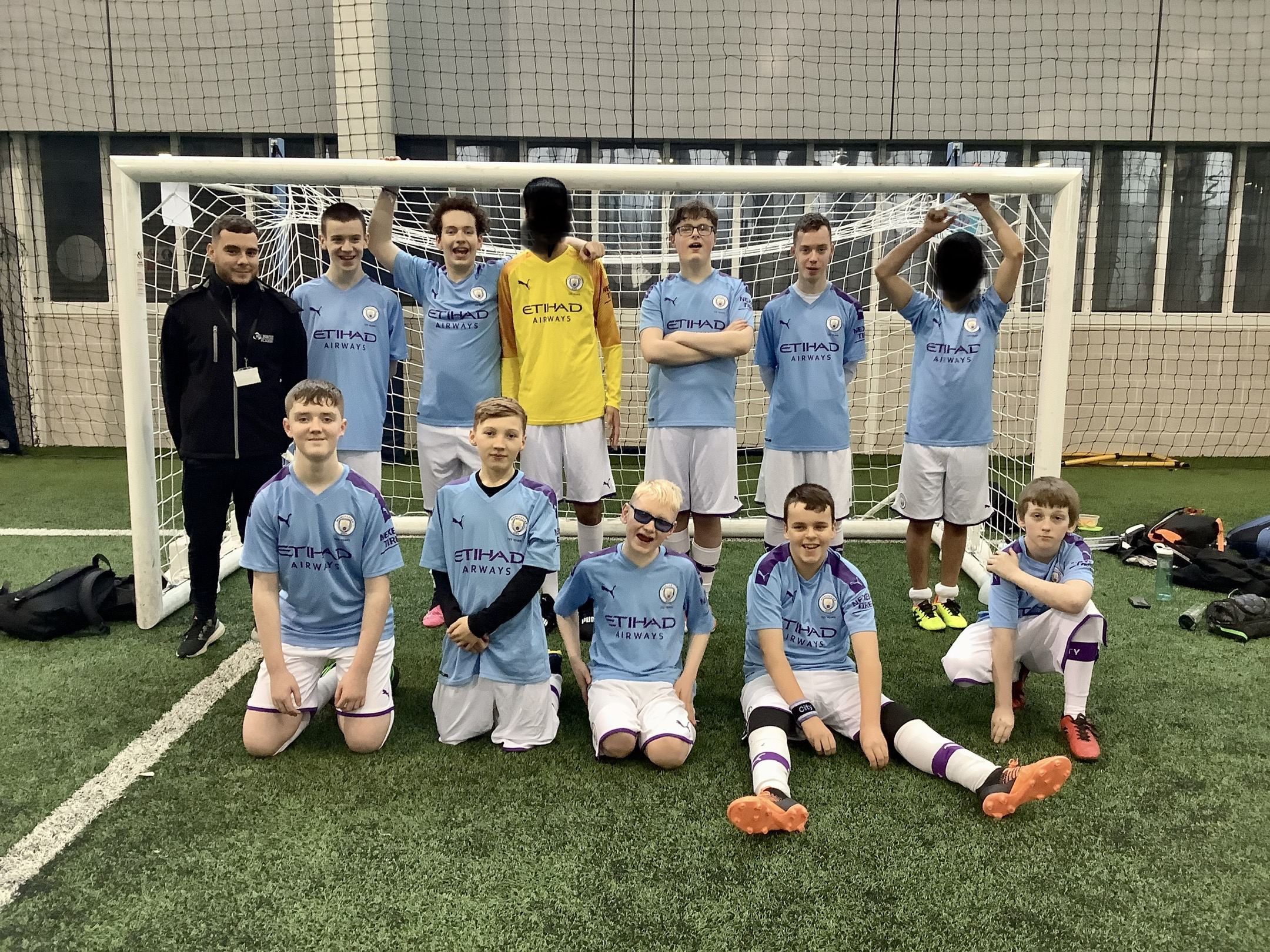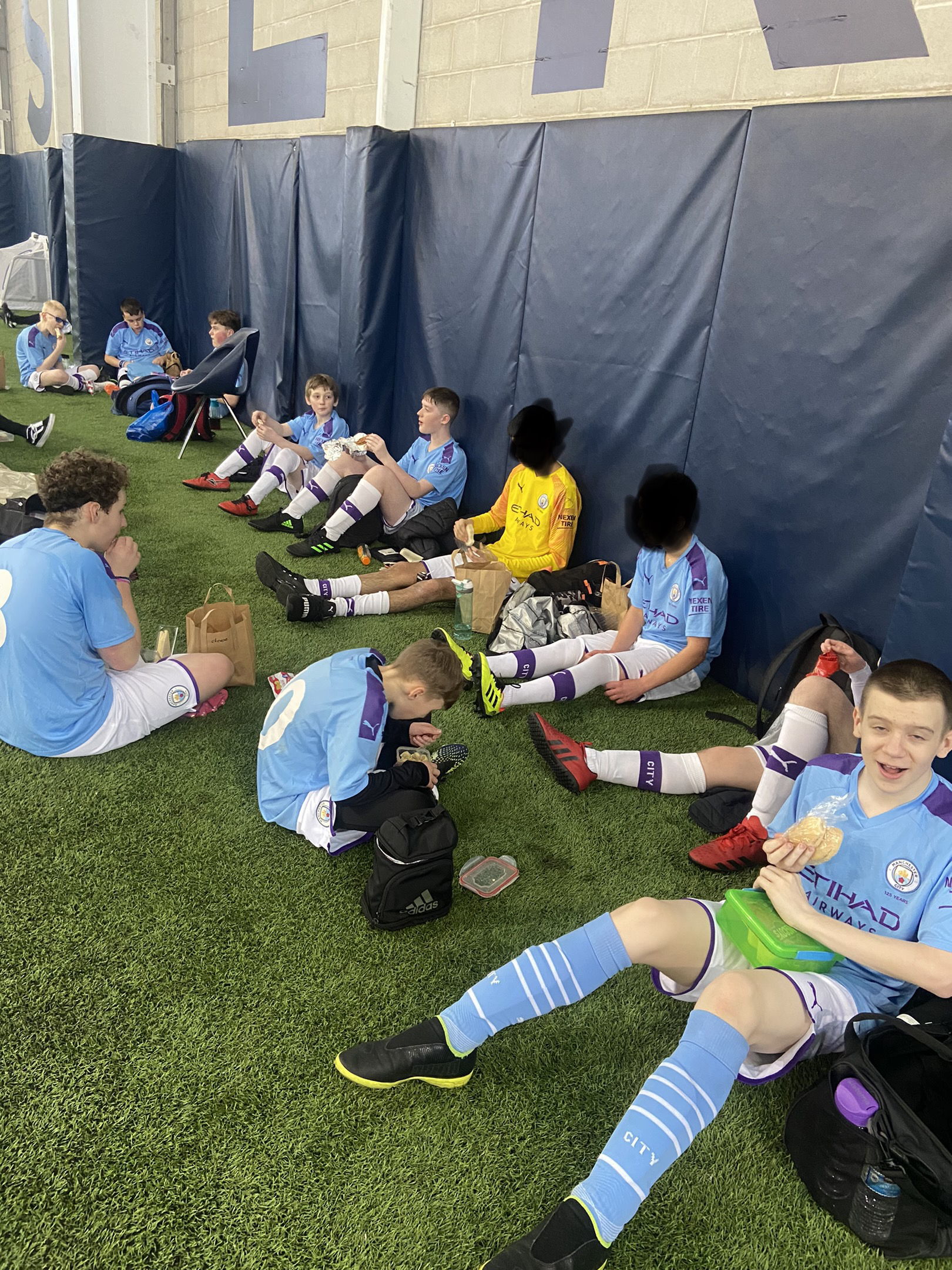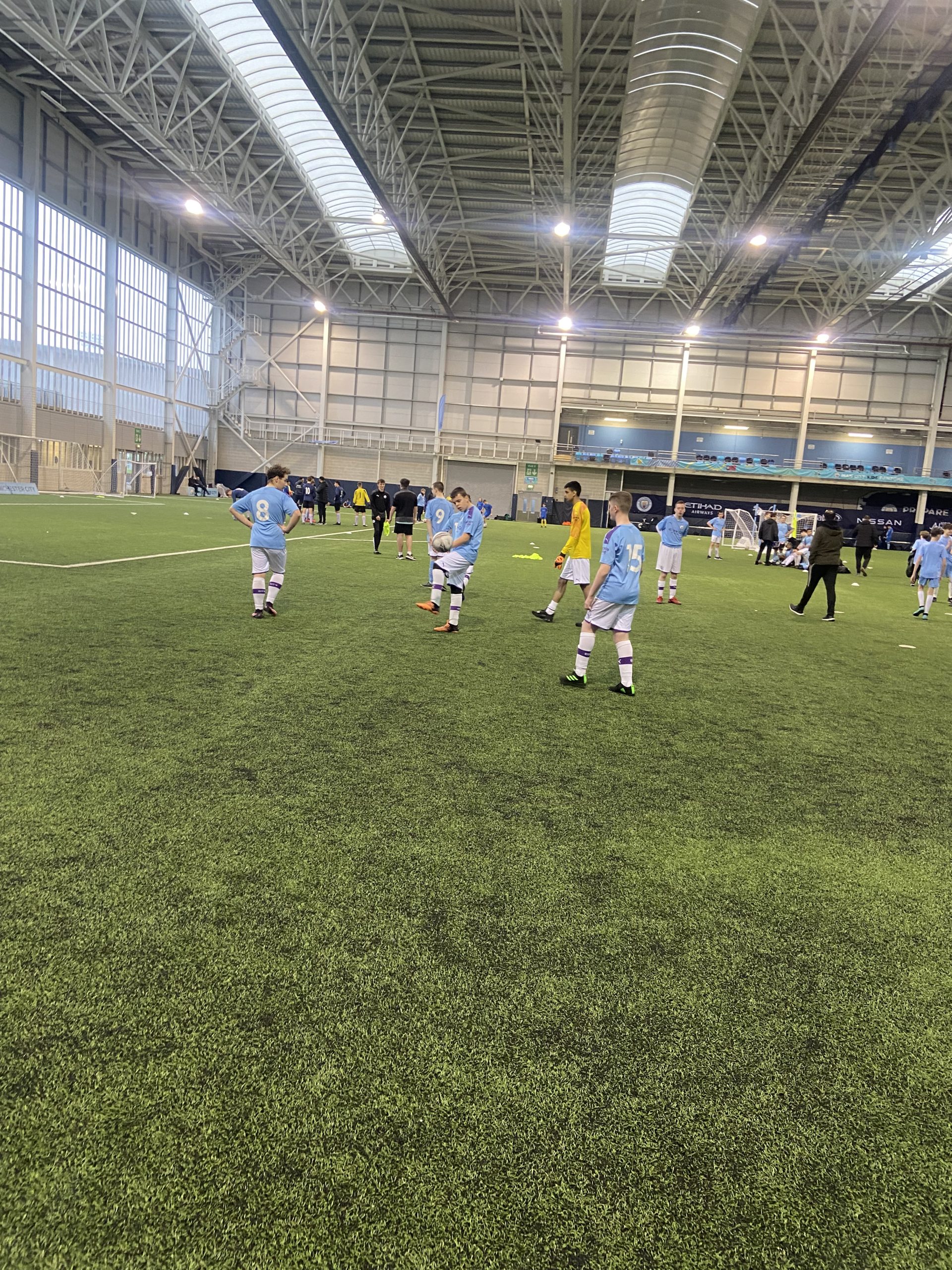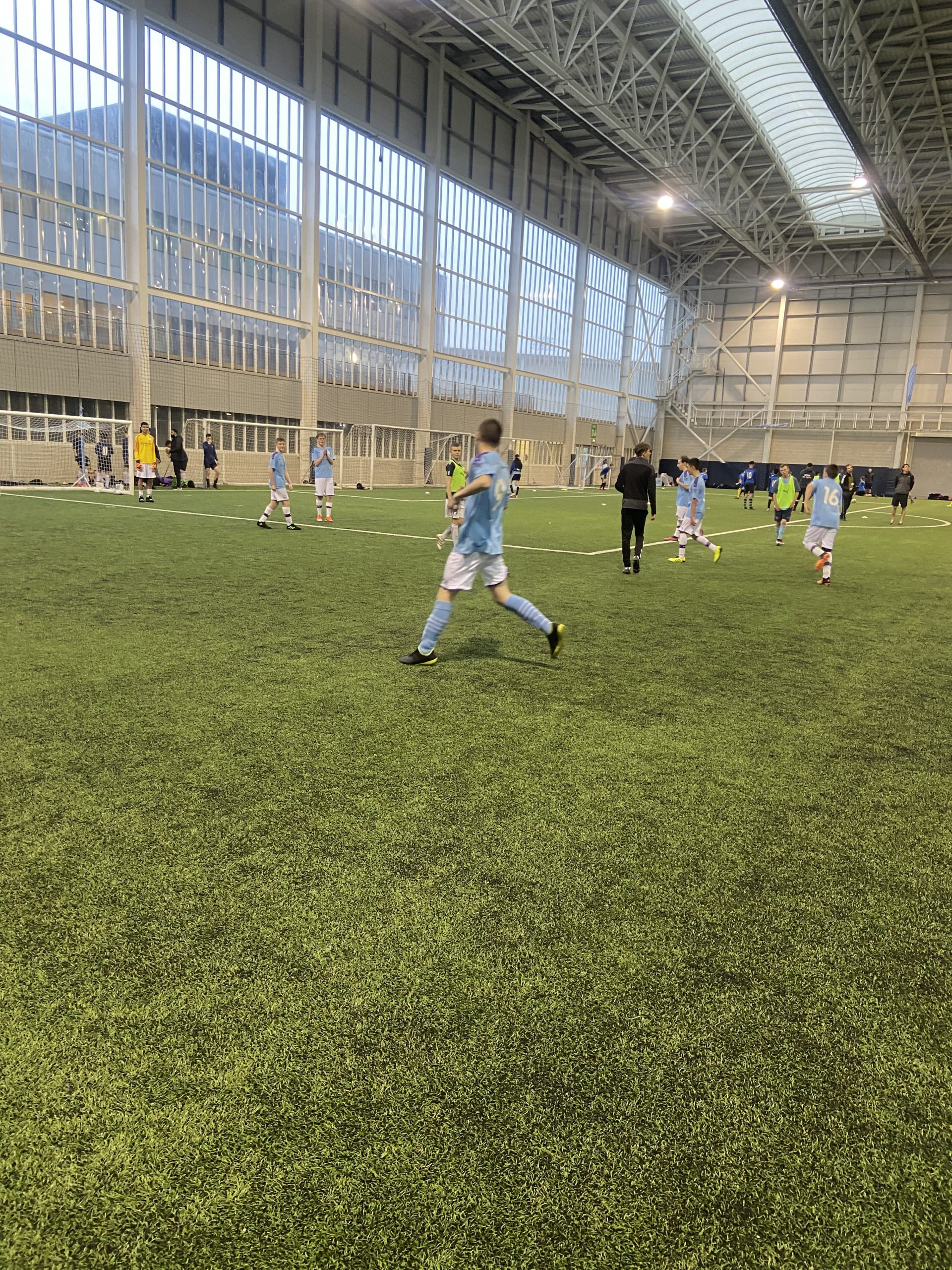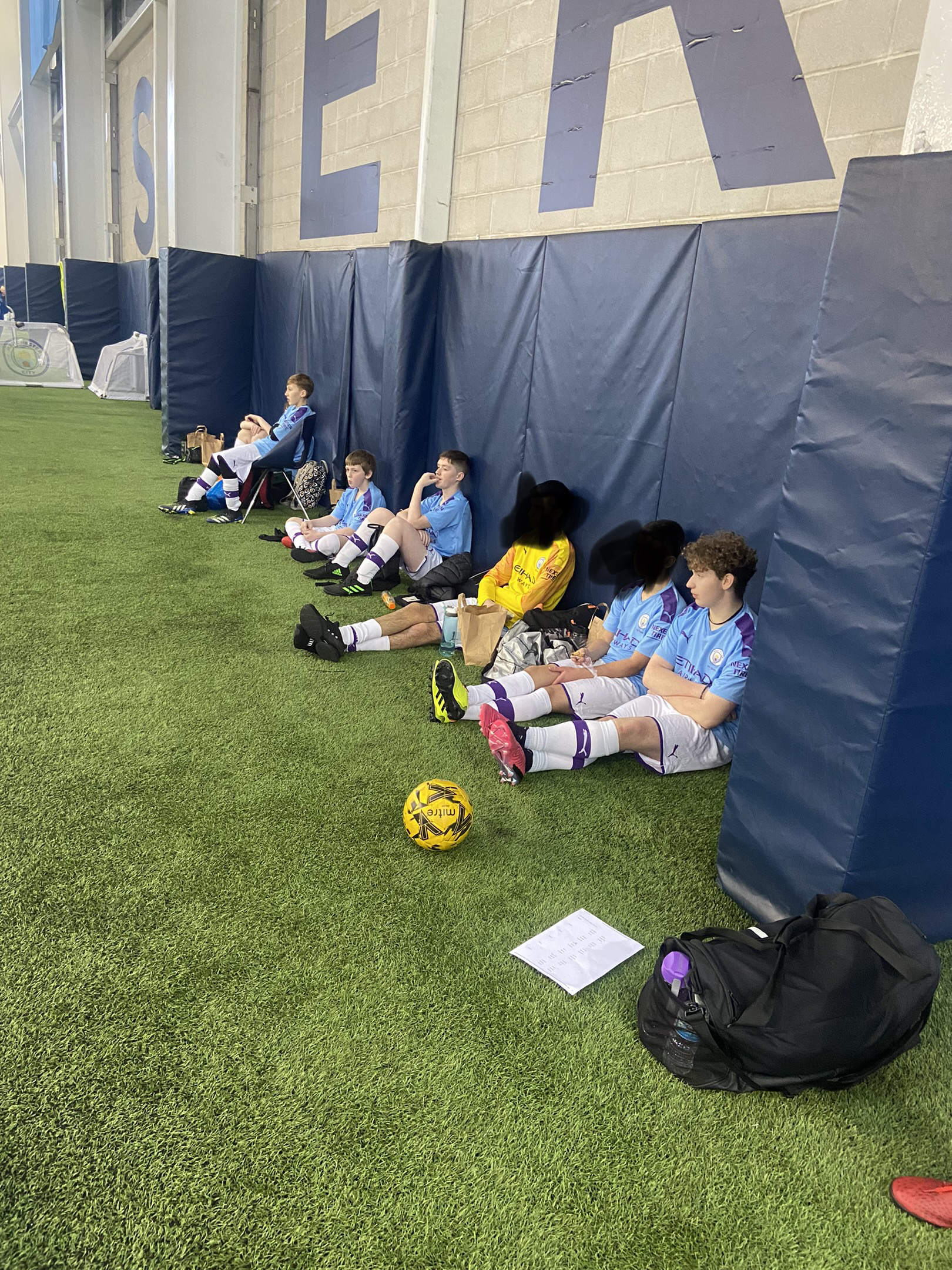 Let's see what some of the classes have been doing starting with Miss Parkinson's class…
"What a great few weeks we have had since returning back to school in the new year. The class have engaged well with their learning.
The past few weeks in science we have been looking at the circulatory system and how it works. This week we made our very own 'pumping heart model'. The children loved doing this and are now able to explain how and why the heart pumps blood around the body.
In art this week we have been looking at photography and the work of Edward Weston. We have been taking close up photos of fruit and vegetables. We then explored a range of different filters and edited them.
The children have loved learning about 'big data' in ICT. We explored how data is transmitted through barcodes and QR codes. We then finished our lesson by going on a QR code hunt.
In cooking the class have explored all different toasties and this week made pizza ones!"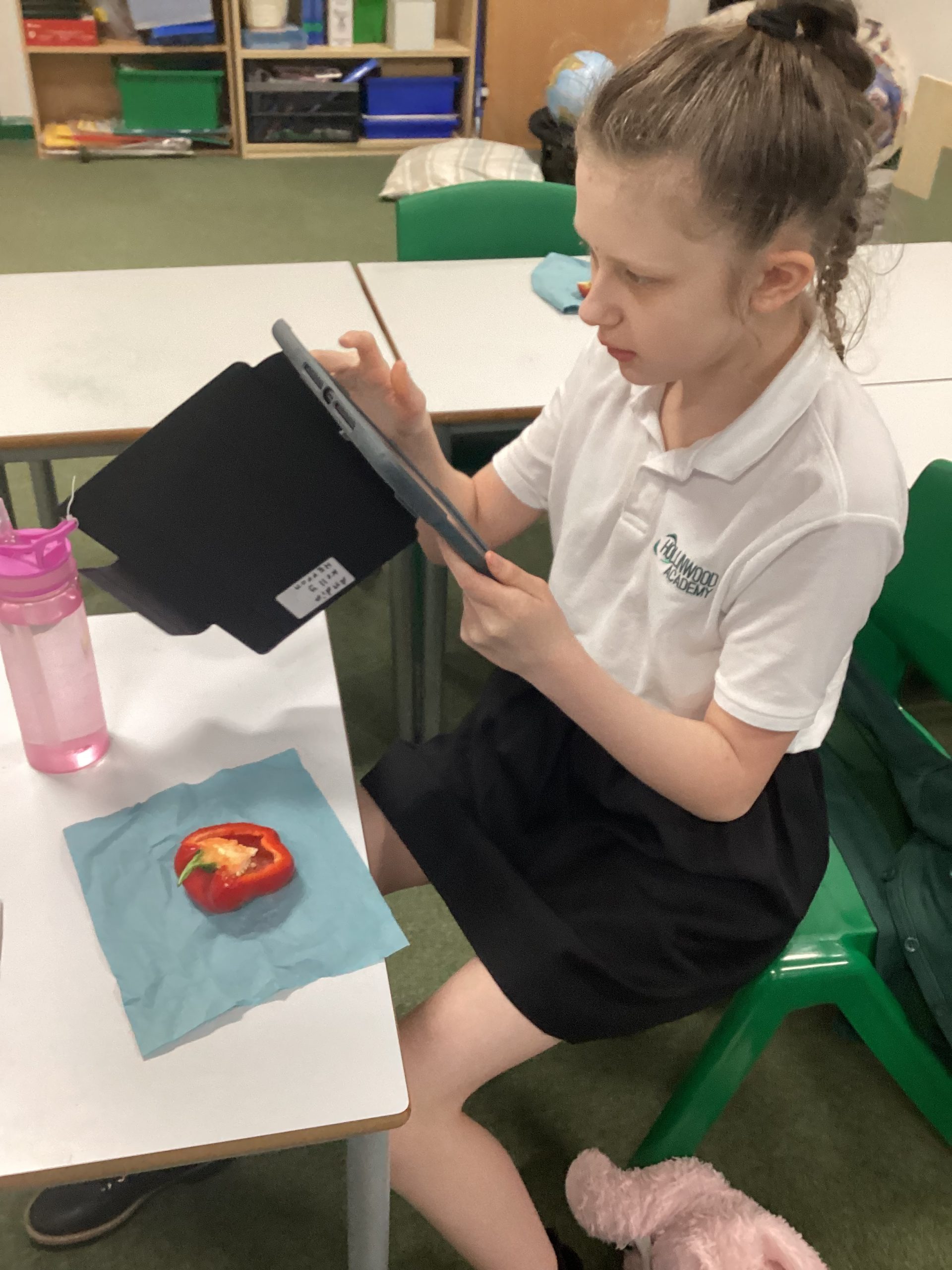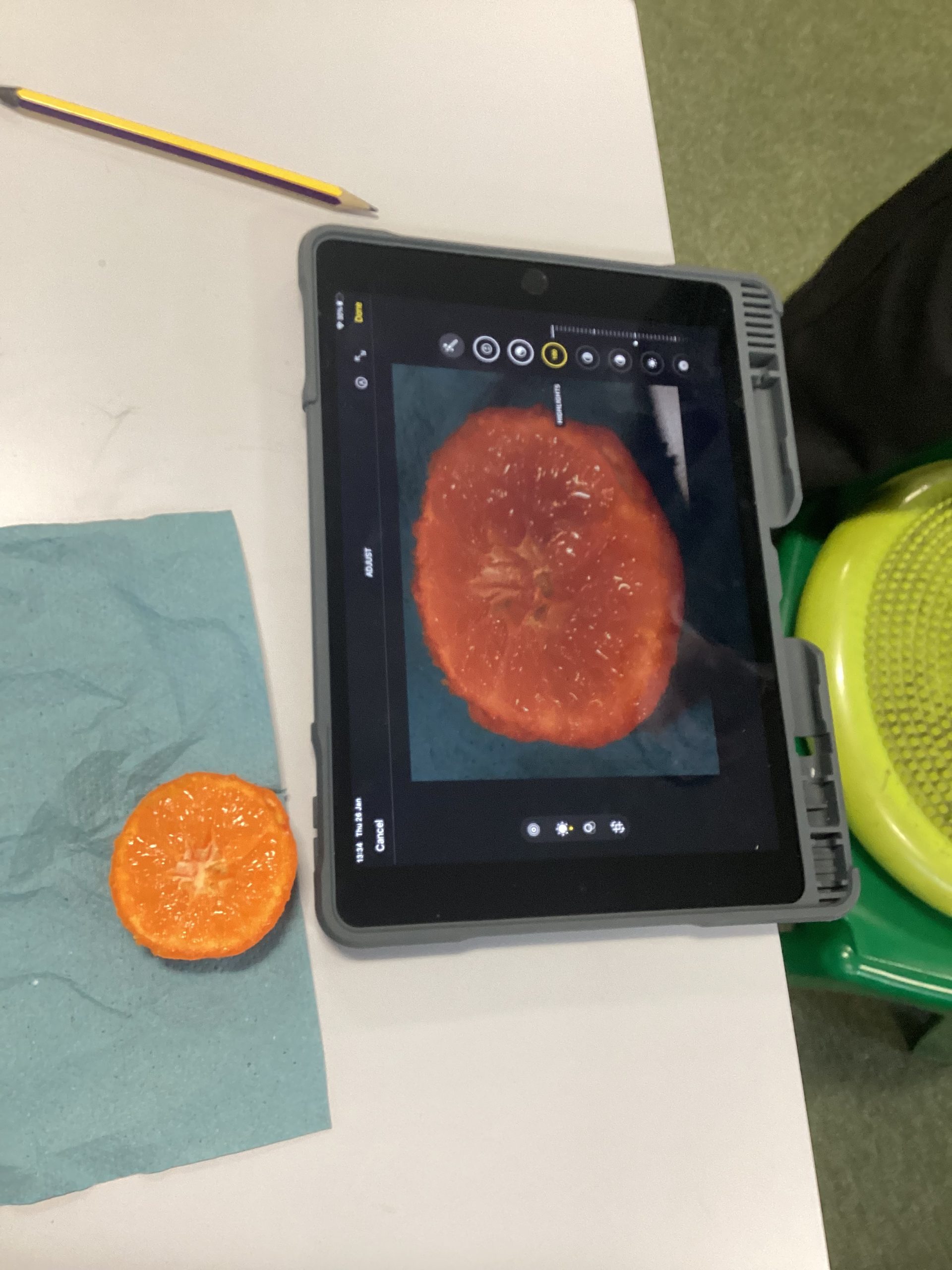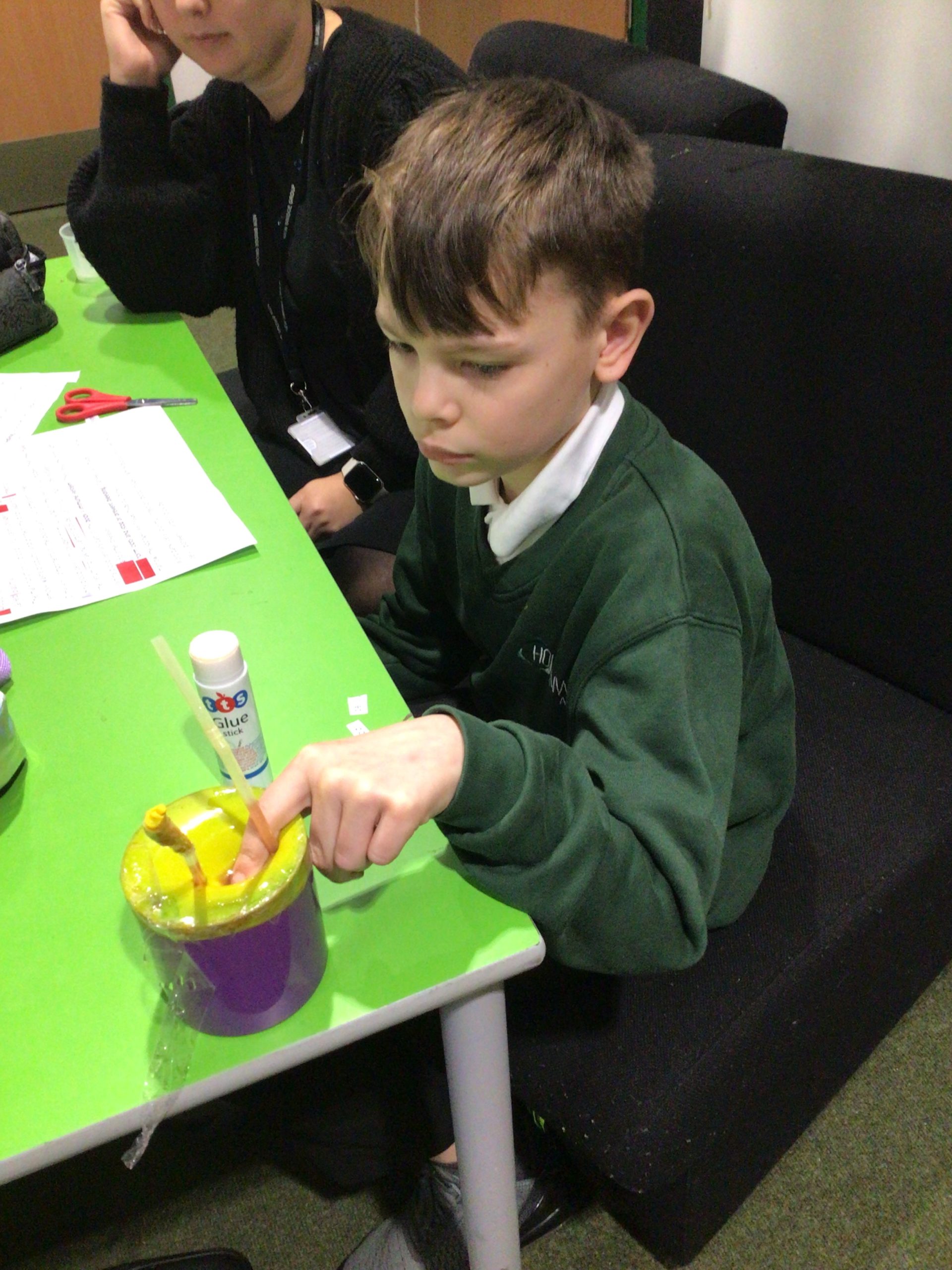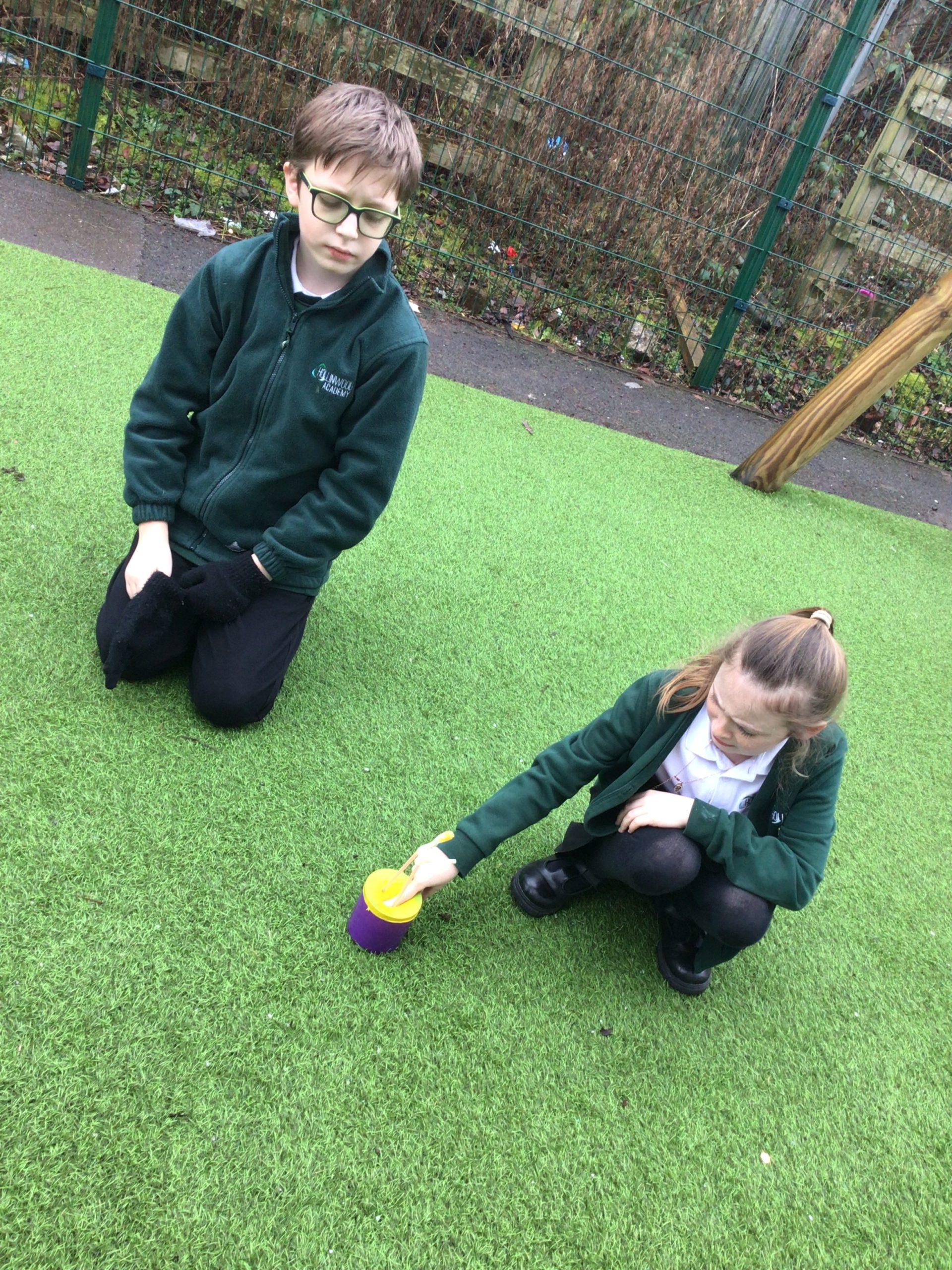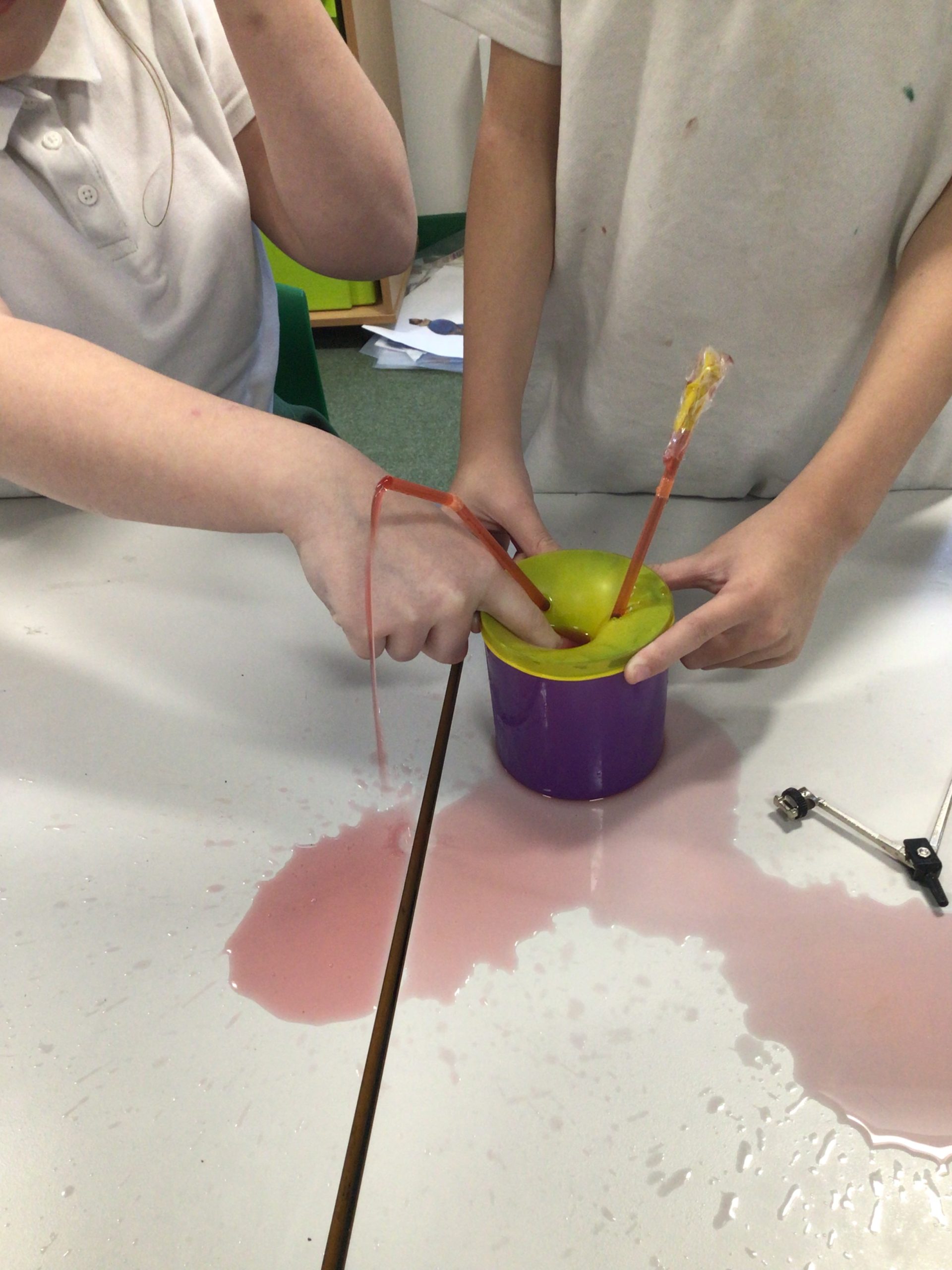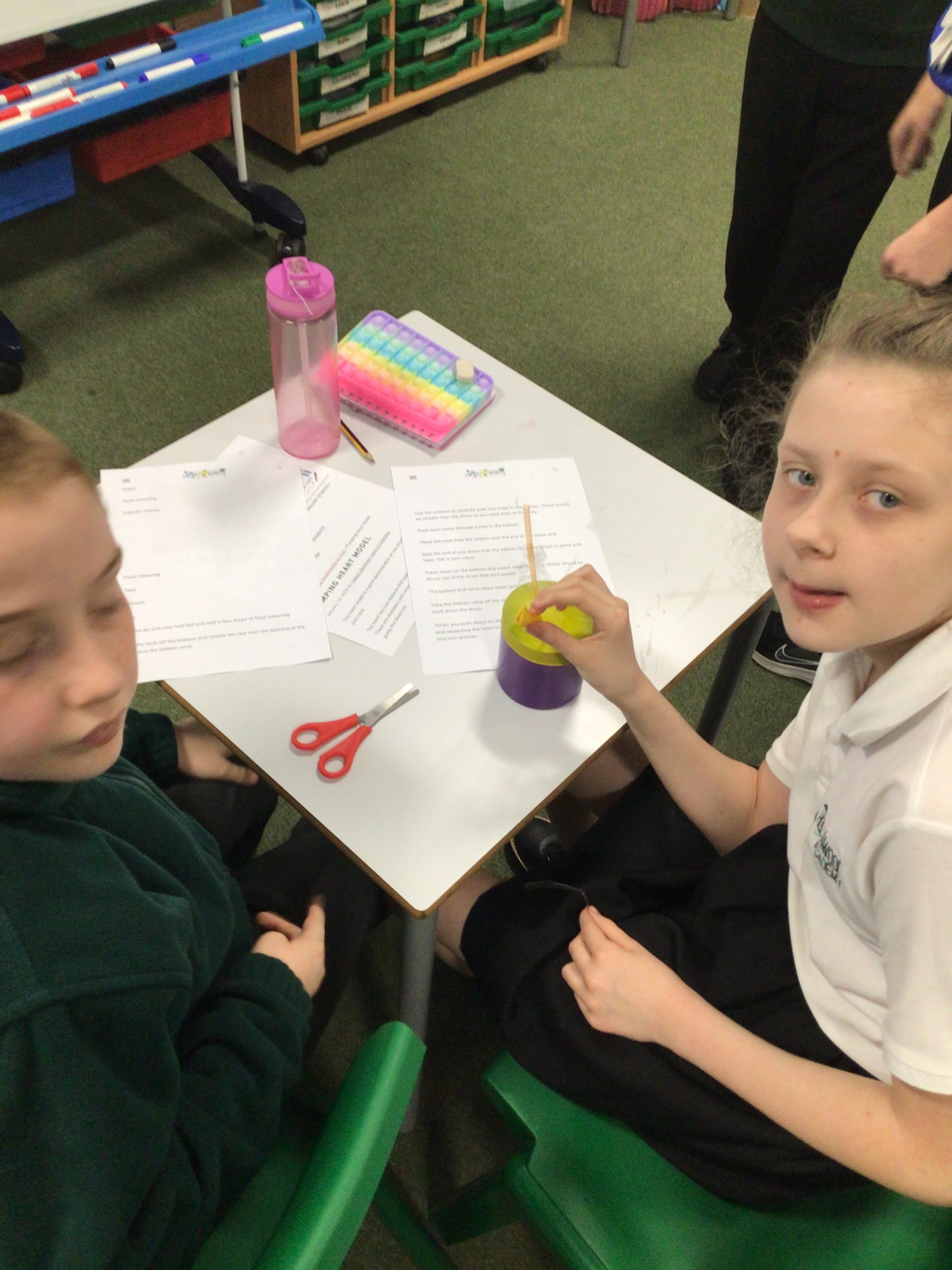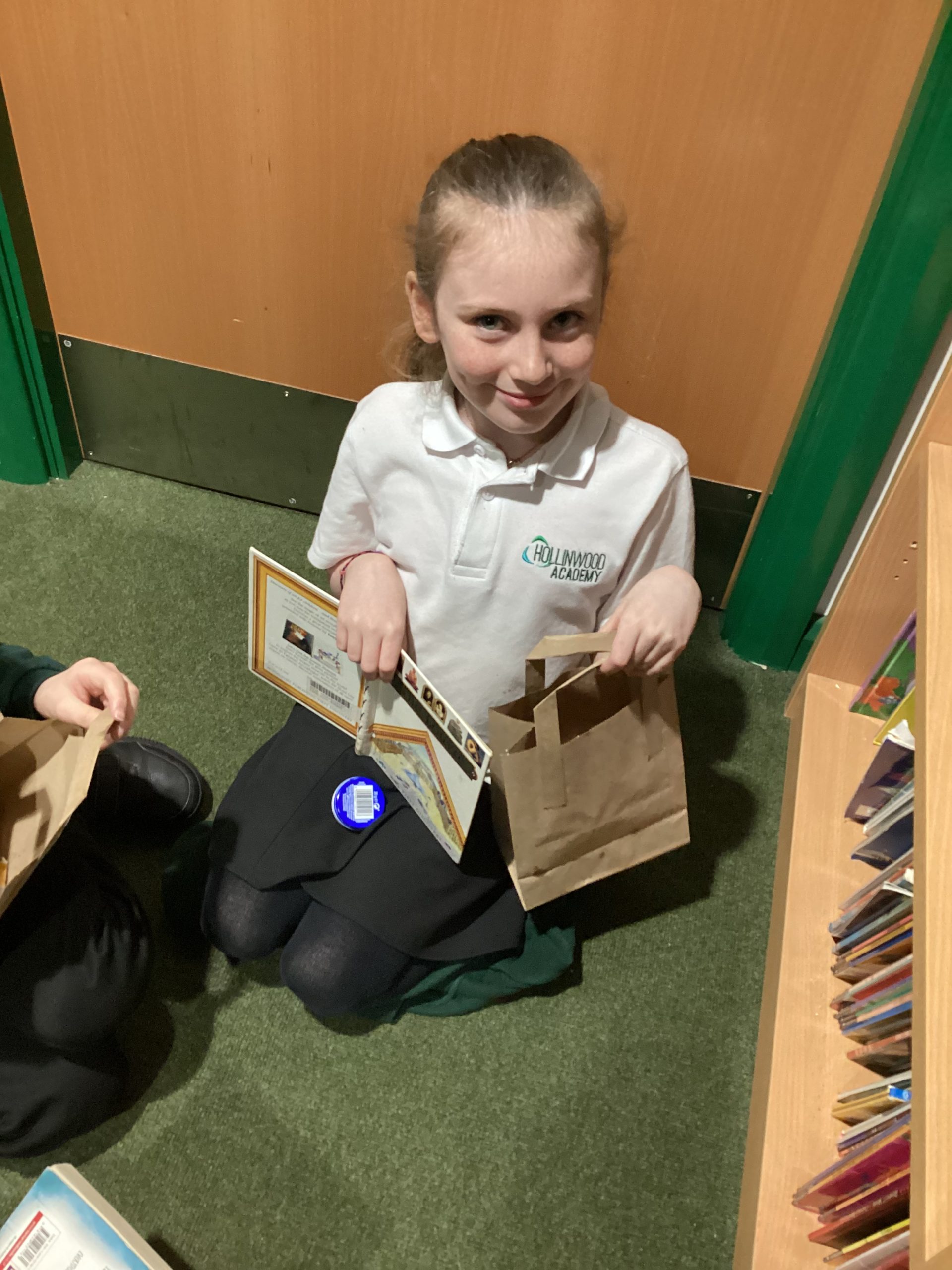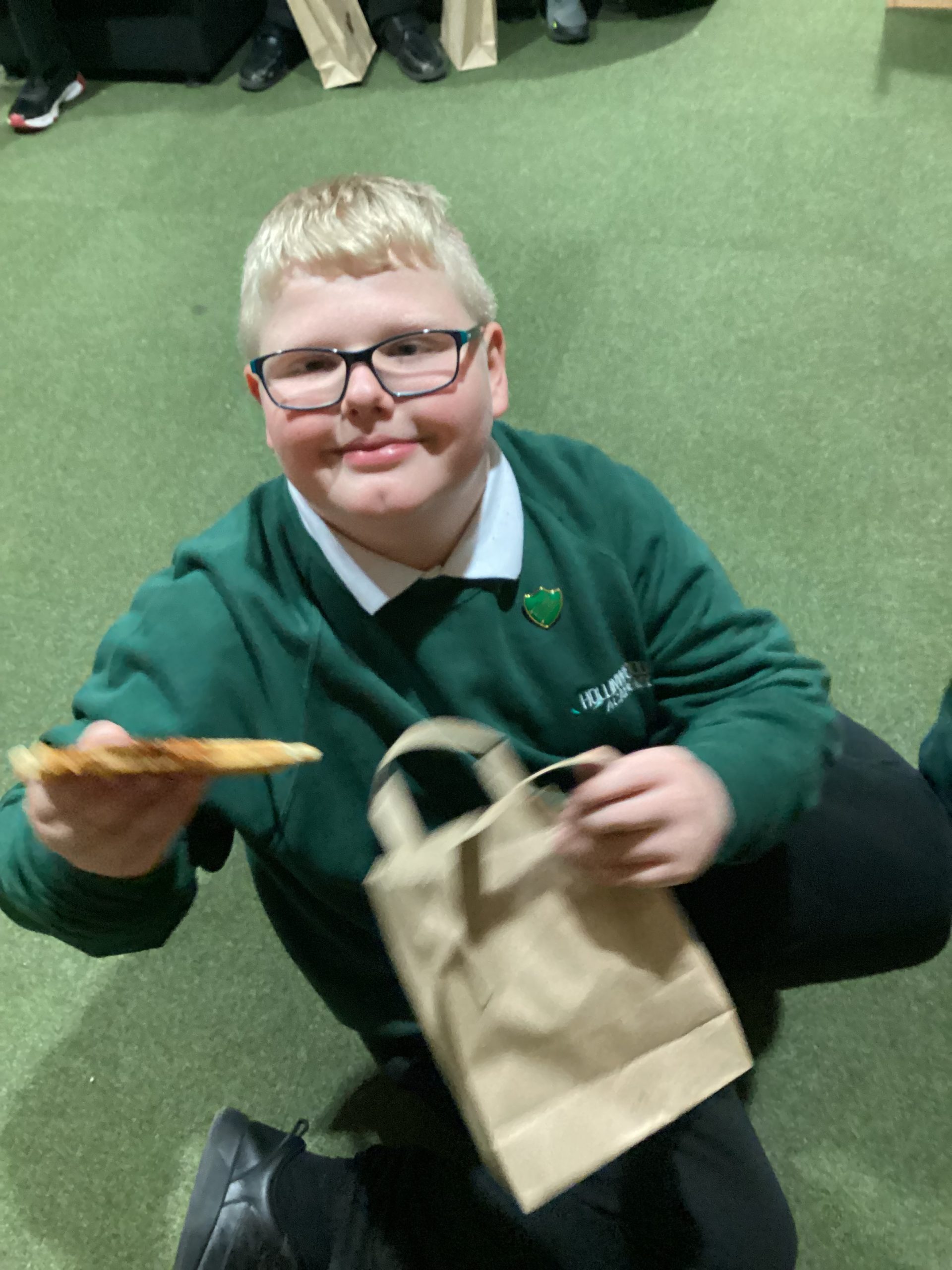 Now to Miss Rashid's form…
"11ZRD are still working hard during all subjects but in particular their maths, English and science lessons in preparation for their GCSE's.
In science, students have been covering evolution and have also taken part in an experiment which involved recording how fast a reaction happened. They have also completed an assessment this week and all are happy with their results.
In DofE students went to Tandle Hills and completed a strenuous, uphill, fast paced walk! They were rewarded when they reached the top and could see the beautiful views of Oldham and Manchester. They were also lucky enough to experience the snow!
In RSE students have been covering how to keep safe and display appropriate behaviour outside of school. Online personal safety has also been discussed this week and students are now aware of what is appropriate and inappropriate content in relation to social media platforms. They have also been working hard in their finance lessons to hopefully gain their qualification by the end of the year.
Our Imedia students went on a trip to Oldham town centre with the focus of finding and capturing images of derelict buildings. They represented the school so well and managed to capture some amazing photographs!
Zach and Idrees took part in a football tournament this week with Mr Heap. Both had a great time and were happy with the result!
Quite a few of our students access the study zone and have learnt a lot of social skills whilst attending. Sadly, Mr Peet will be leaving us this week! We wish him all the best for the future and a huge thank you for supporting our year 11's this term. Lucas has ended the week by spending some time with Mr Peet and making a cheesecake for our form to enjoy."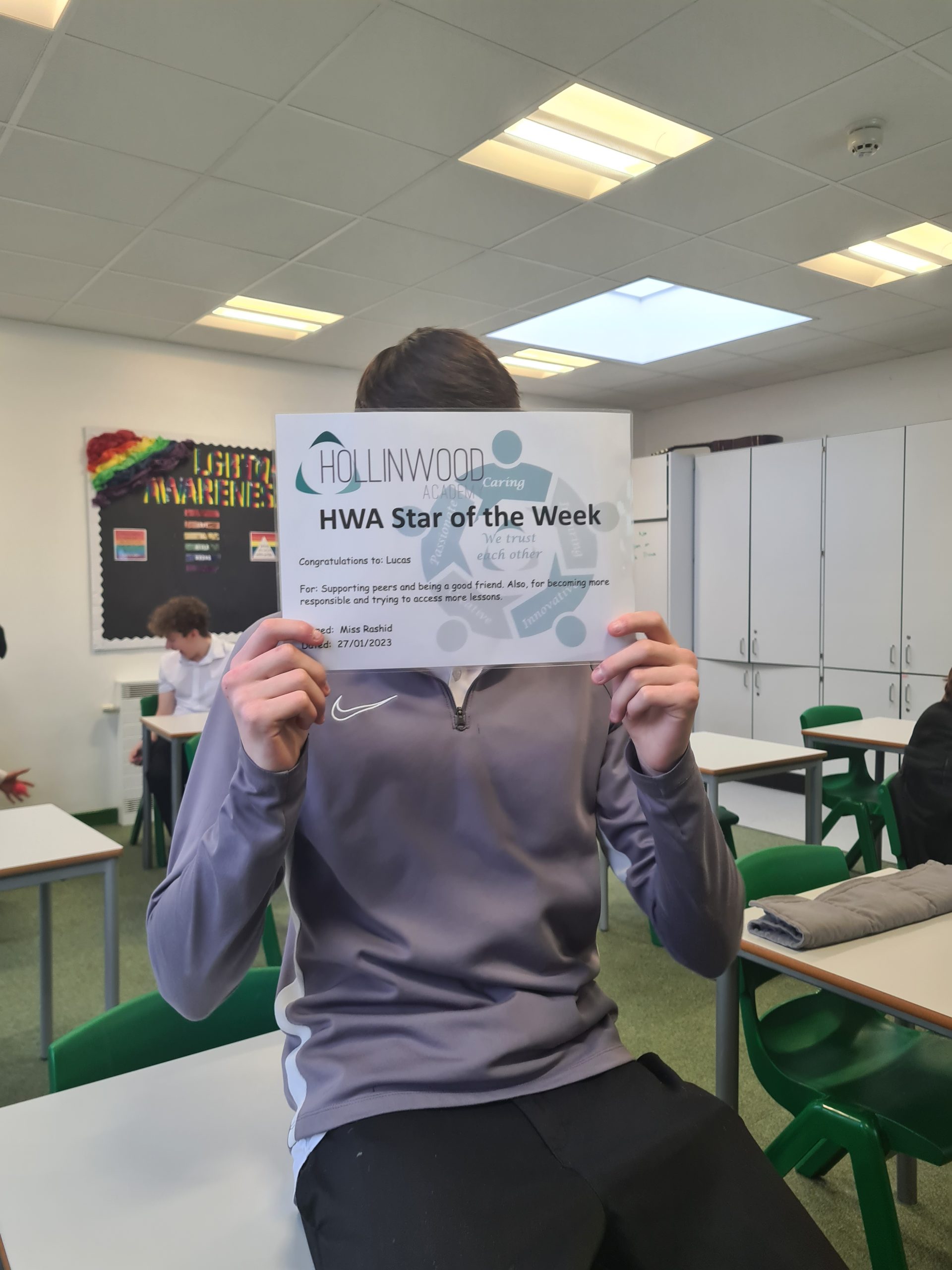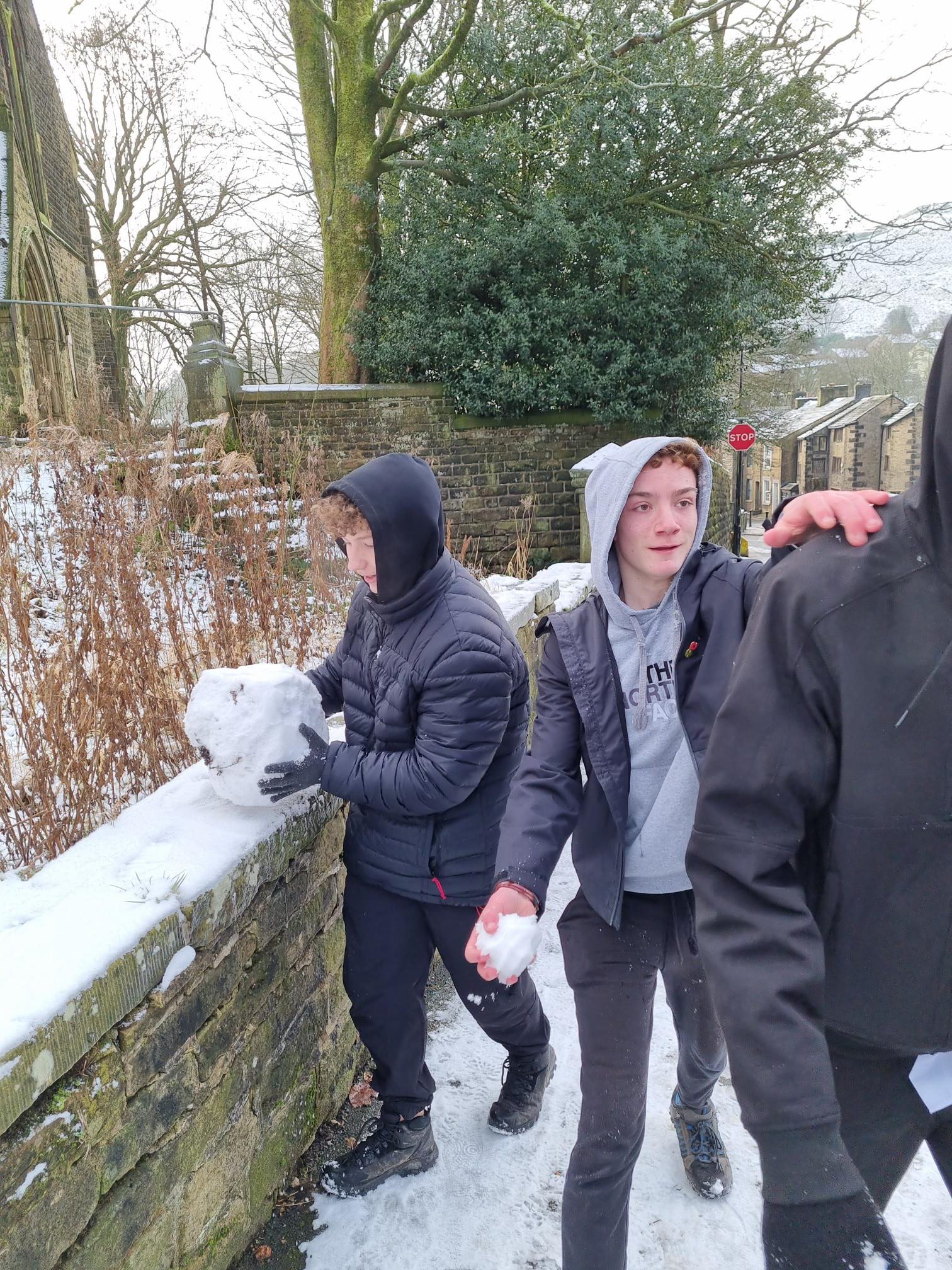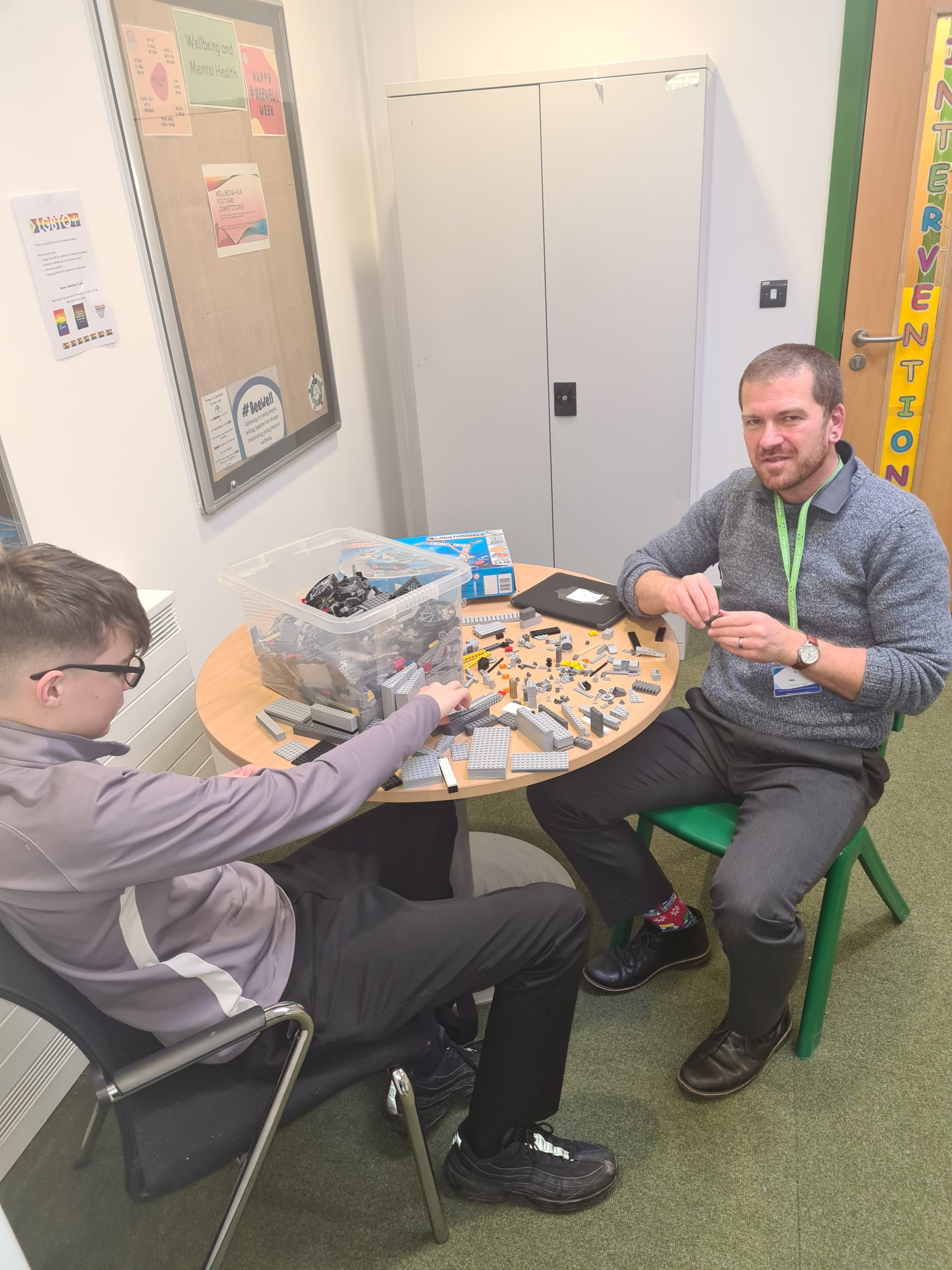 Now to our amazing SUPER STARs and HWA Innovative STARs…
Mrs Lerigo's STAR of the week is Abdul for amazing work in all lessons, but especially for his efforts in phonics.
Mrs Lerigo's HWA Innovative STAR is Alfie for amazing work using his iPad to communicate.
Miss Meadows' STAR of the week is Noel for listening well to instructions in class.
Miss Meadows' HWA Innovative STAR is Maja for joining in activities and an amazing PE lesson this week.
Mrs Woodhead's STAR of the week is Maleek for very sensible behaviour outside of school in the cafe during outdoor education.
Miss Pietraszewska's STAR of the week is Simisola for accepting new changes or rules in the classroom when they occur and doing well in challenging situations. Well done Simisola!
Miss Pietraszewska's HWA Innovative STAR is Mysha for being our weekly Gardener and taking care of our classroom plants. Well done Mysha!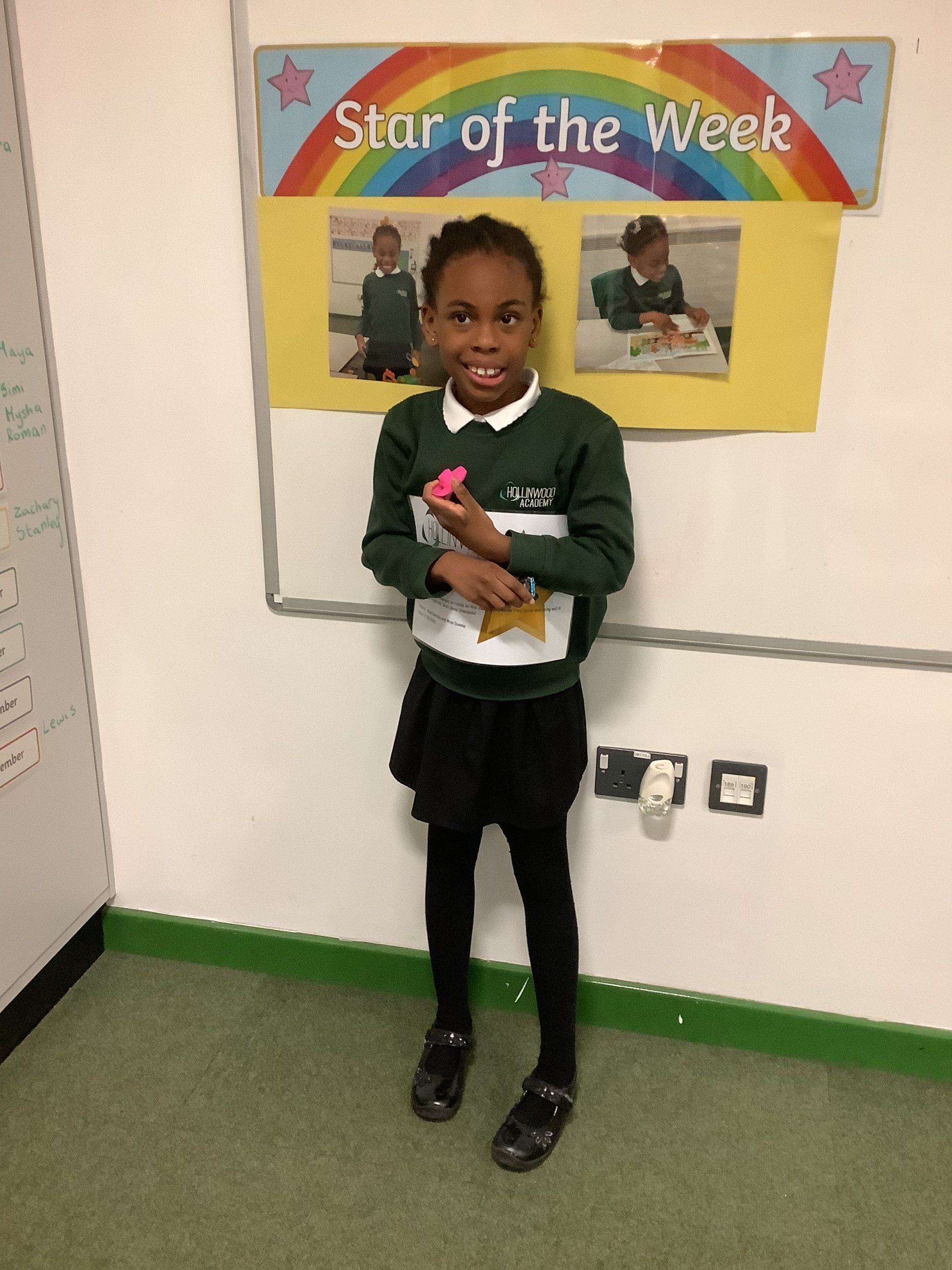 Mrs Halkyard and Miss Hulme's STAR of the week is Shane for always being amazing and impressing us this week in maths.
Mrs Halkyard and Miss Hulme's HWA Innovative STAR is Loki for demonstrating this terms target ' we are innovative' by creating his own Maths and Phonics booklet and always coming up with creative ideas in our lessons.
Mr Corrigan's STAR of the week is Derry for working really hard in Maths this week.
Mr Corrigan's HWA Innovative star is Oscar for mastering zipping up his coat independently.
Mr Corrigan's WOW moments go to Jared, Jason, Lewis, Brooke and Freya Well done!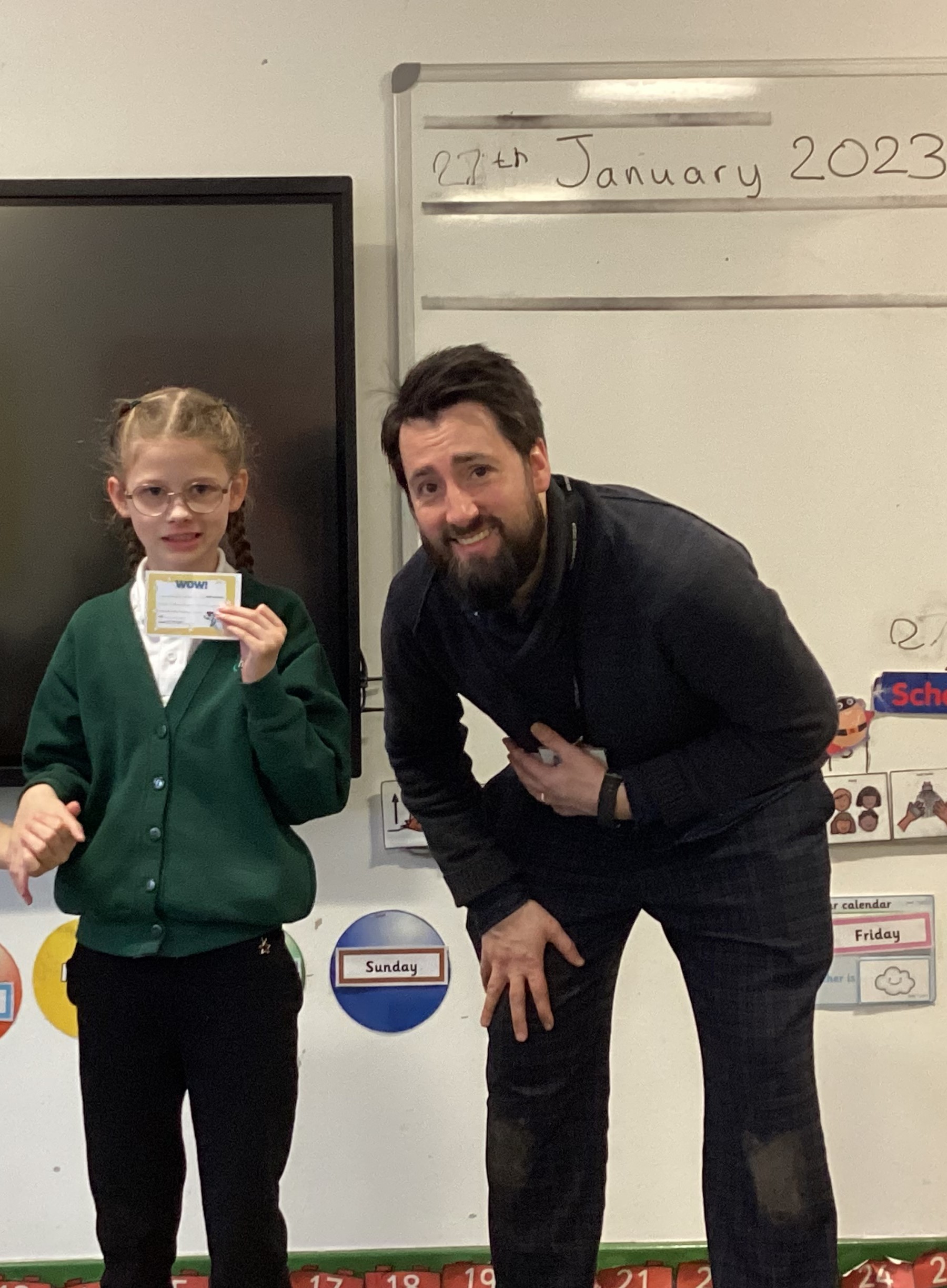 Miss Prescott's STAR of the week is George for his independence work this week.
Miss Prescott's HWA Innovative STAR is Gerard for his creativity in Art & ICT. Gerard has created a great character and stop motion animation.
Miss Tootill's STAR of the week is Madison for having a great week.
Miss Tootill's HWA Innovative STAR is Jake for helping other and recreating his own art design.
Mrs Davies' STAR of the week is Myla for independently requesting items using TD snap and then waiting patiently for her food and drink.
Mrs Gittins' STAR of the week is Mia for great work, excellent listening and remembered how we say safe at school.
Miss Parkinson's STAR of the week is Daniel for trying hard in science and making a pumping heart.
Mrs Matthew's STAR of the week is Lillie for showing great resilience in maths.
Mrs Matthew's HWA Innovative STAR is Sam for starting to write his own Science- Fiction story (which is great by the way).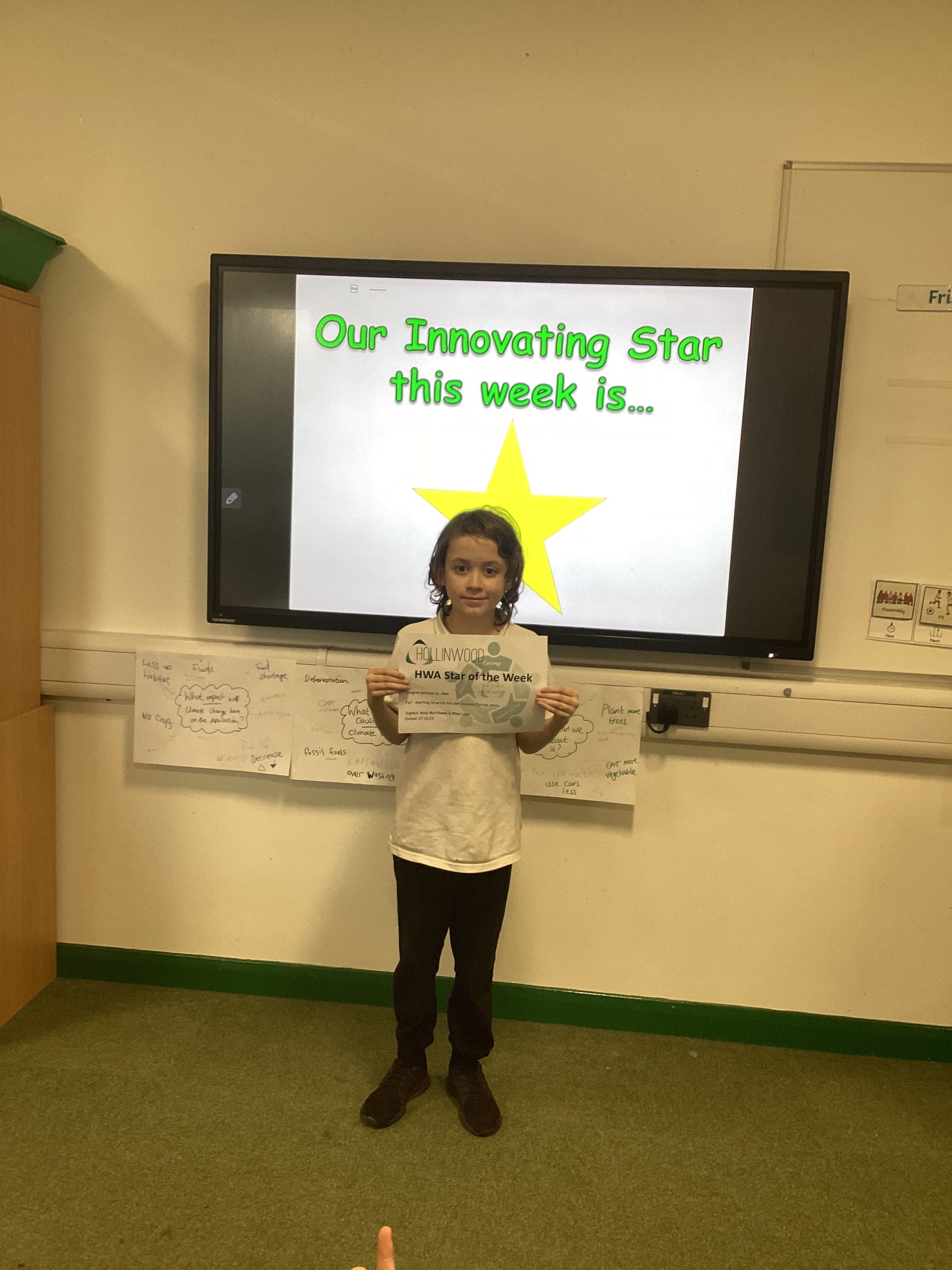 Well done to our secondary Hollinwood Academy STARs this week: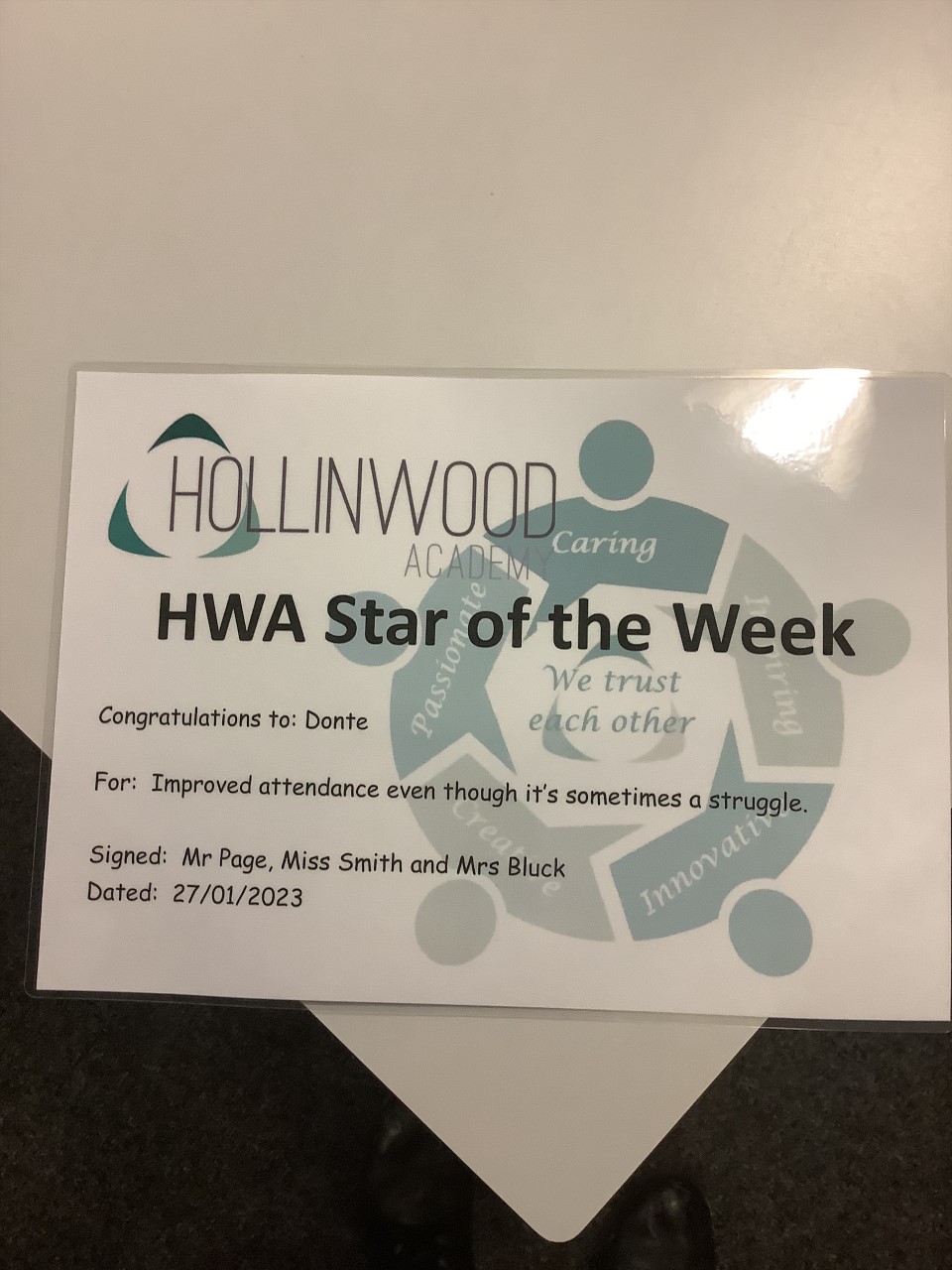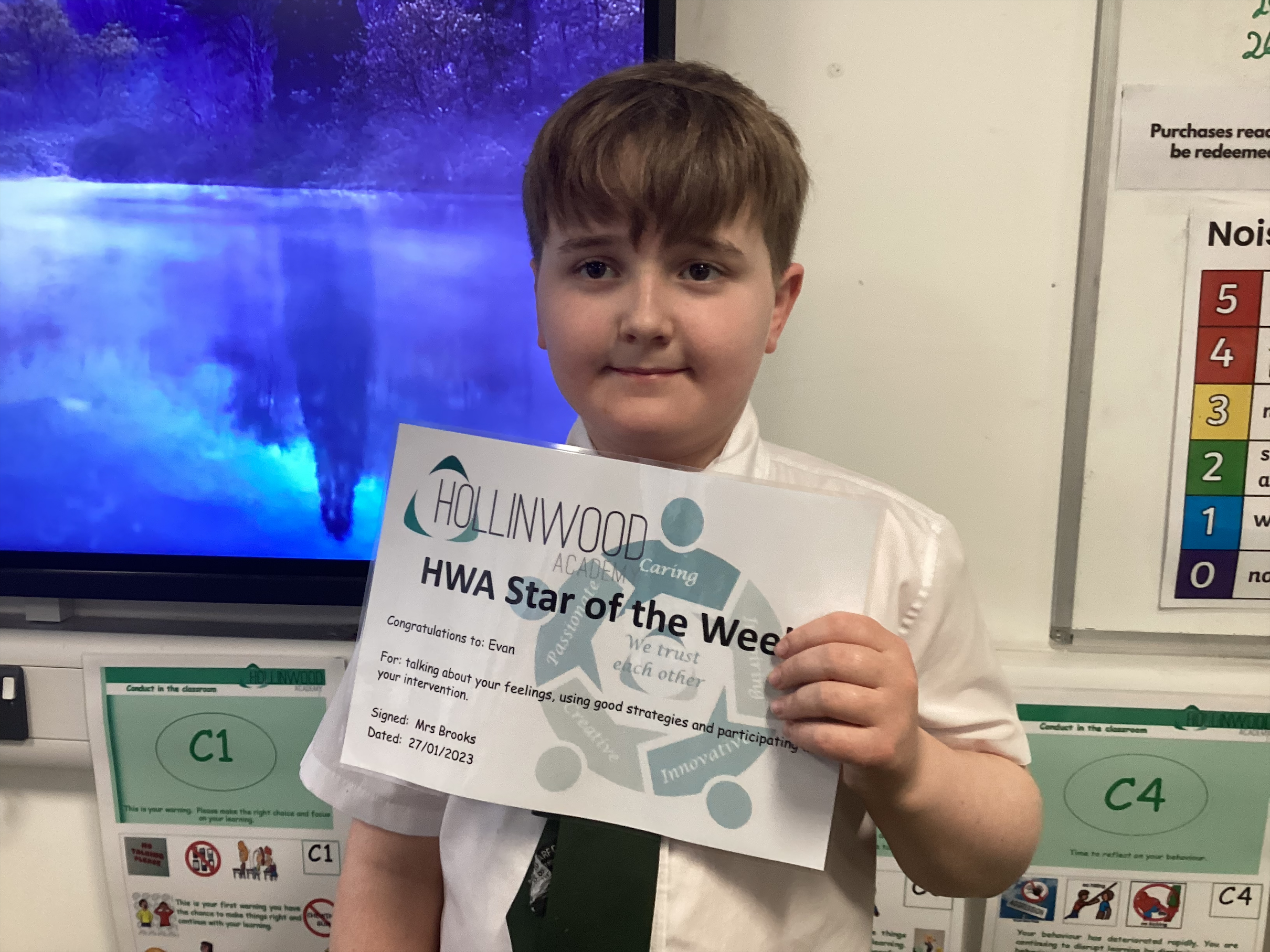 Next week, some of our students are taking part in the Young Voices event at the Manchester AO arena. Mr Challinor and the students are really excited and looking forward to this epic event. It is a great atmosphere and the largest children's choir concert in Manchester.
I hope you have a lovely weekend.
Mrs Millard