Blog 16.12.2022
Well, that's a wrap for the Autumn term and what a great week we have had in school.
I would like to start my blog this week by sharing with you the students who received a Head Teacher's Award for this half term. Well done to you all and keep up the hard work…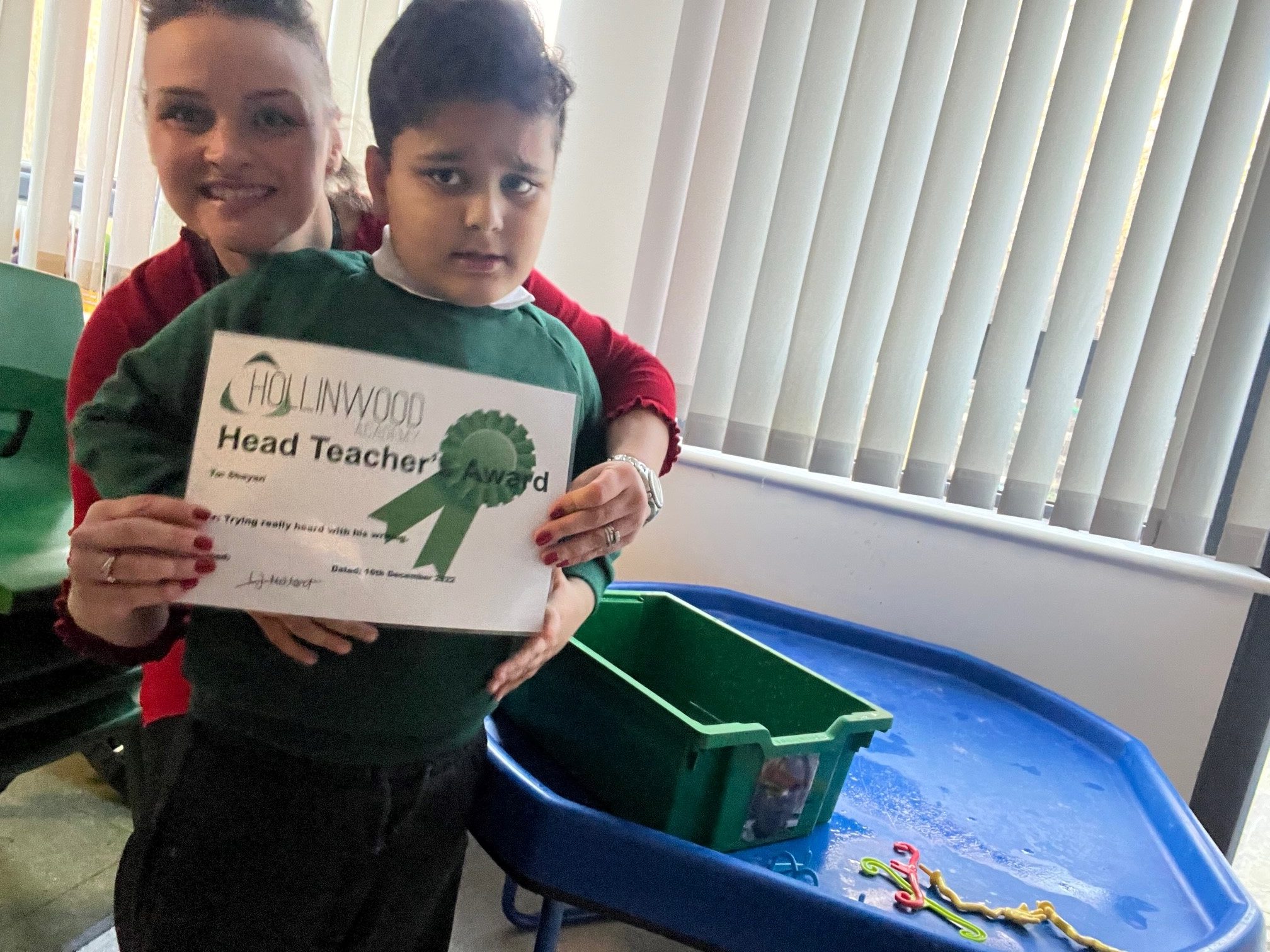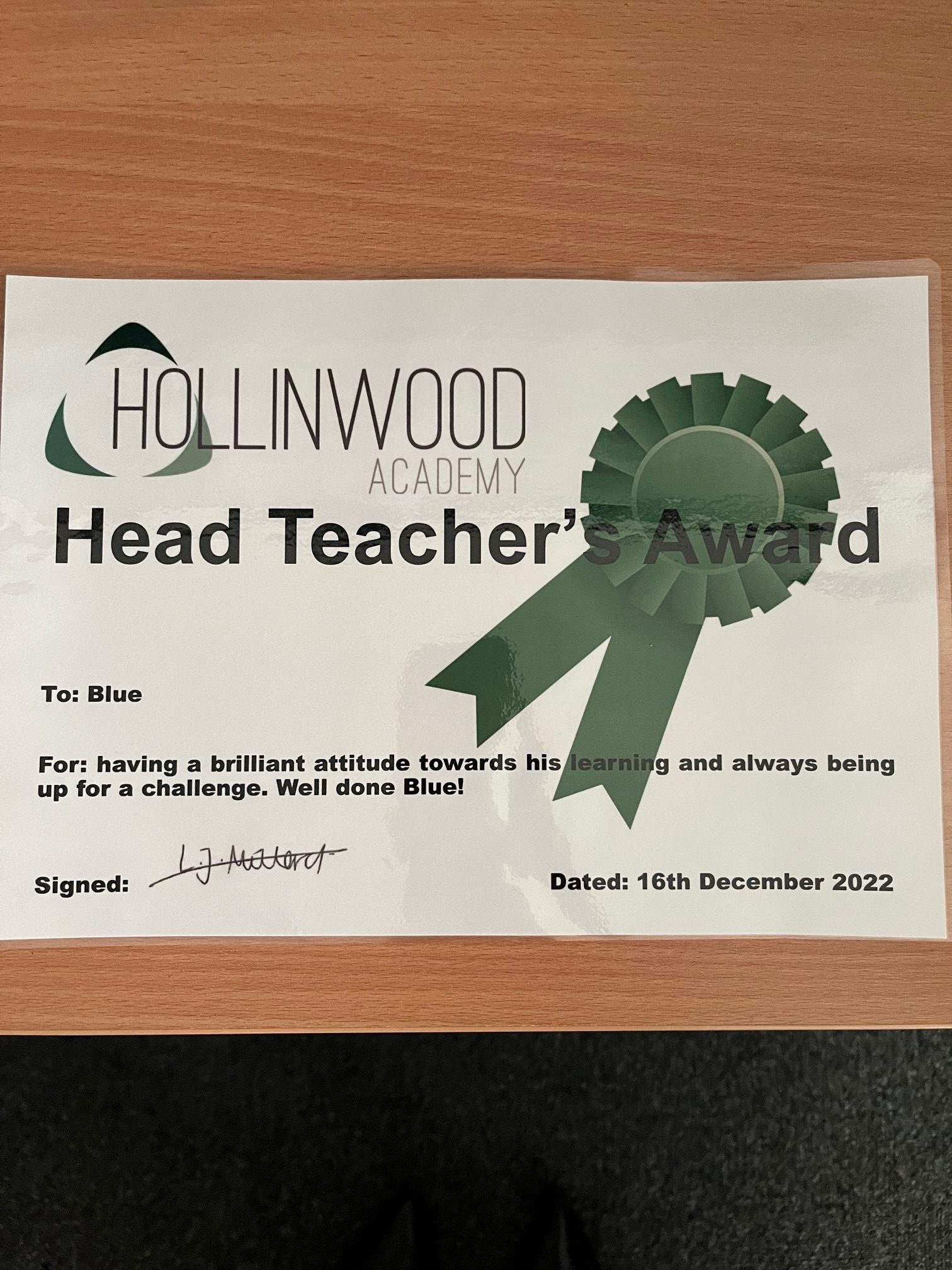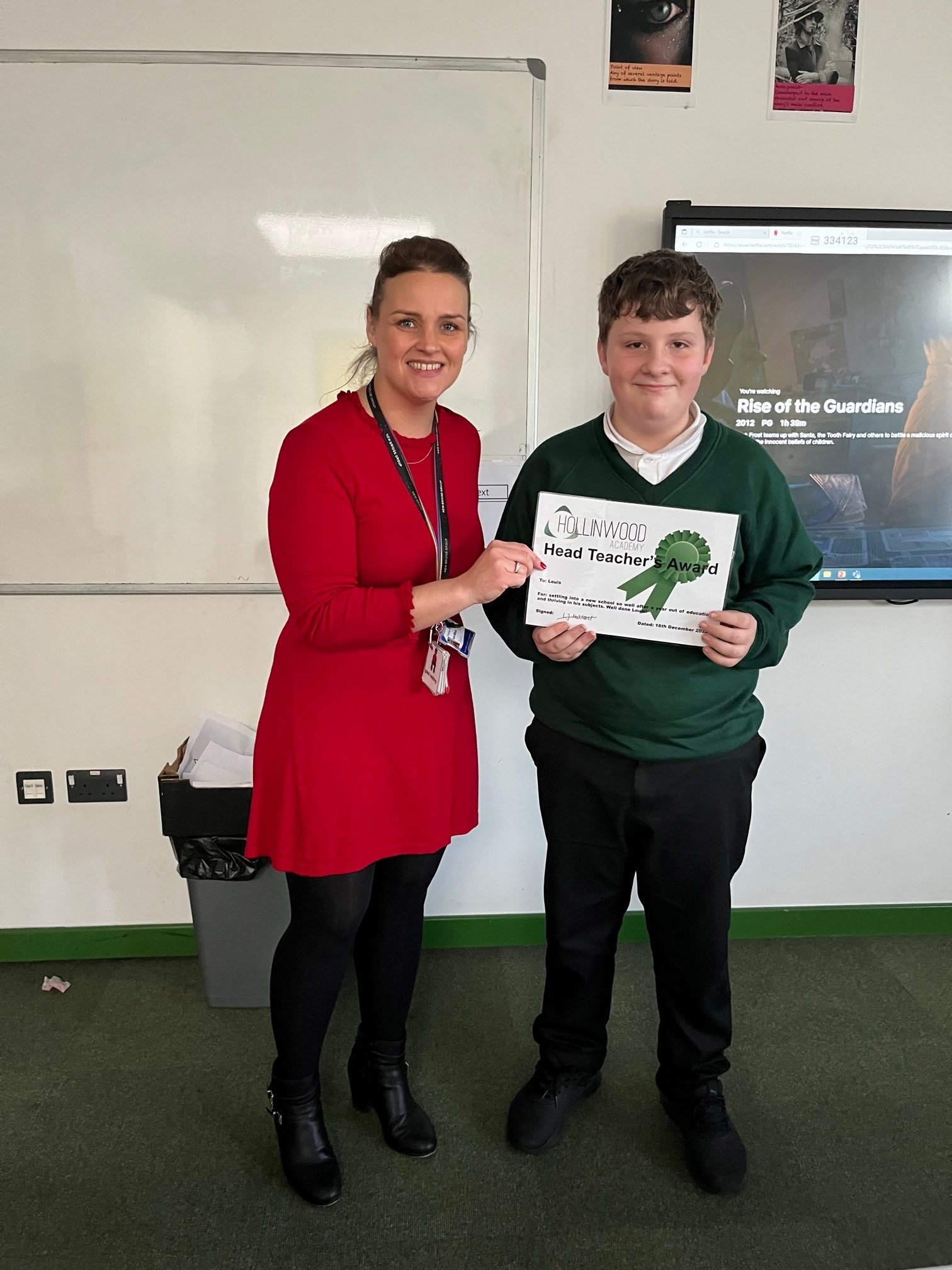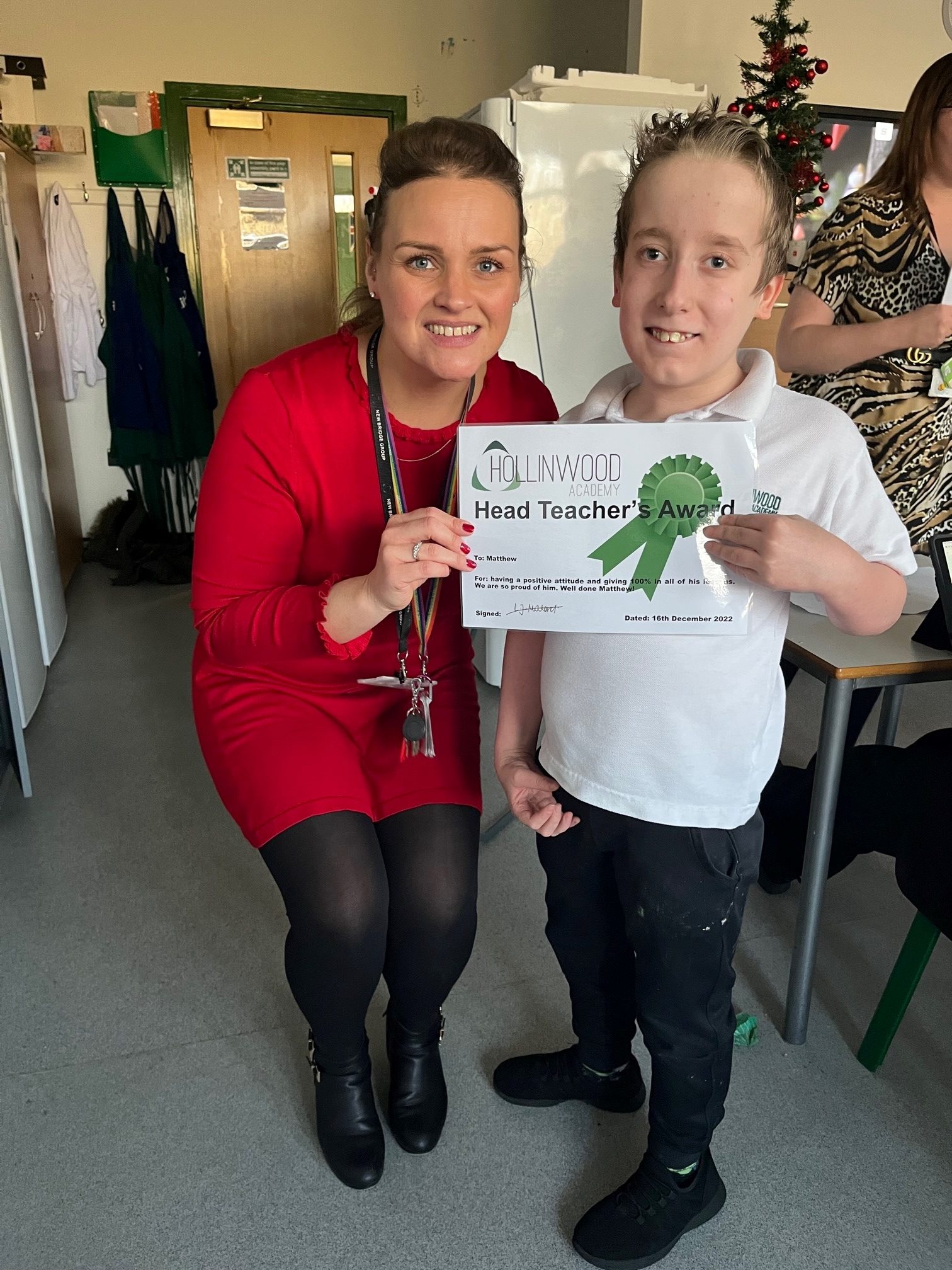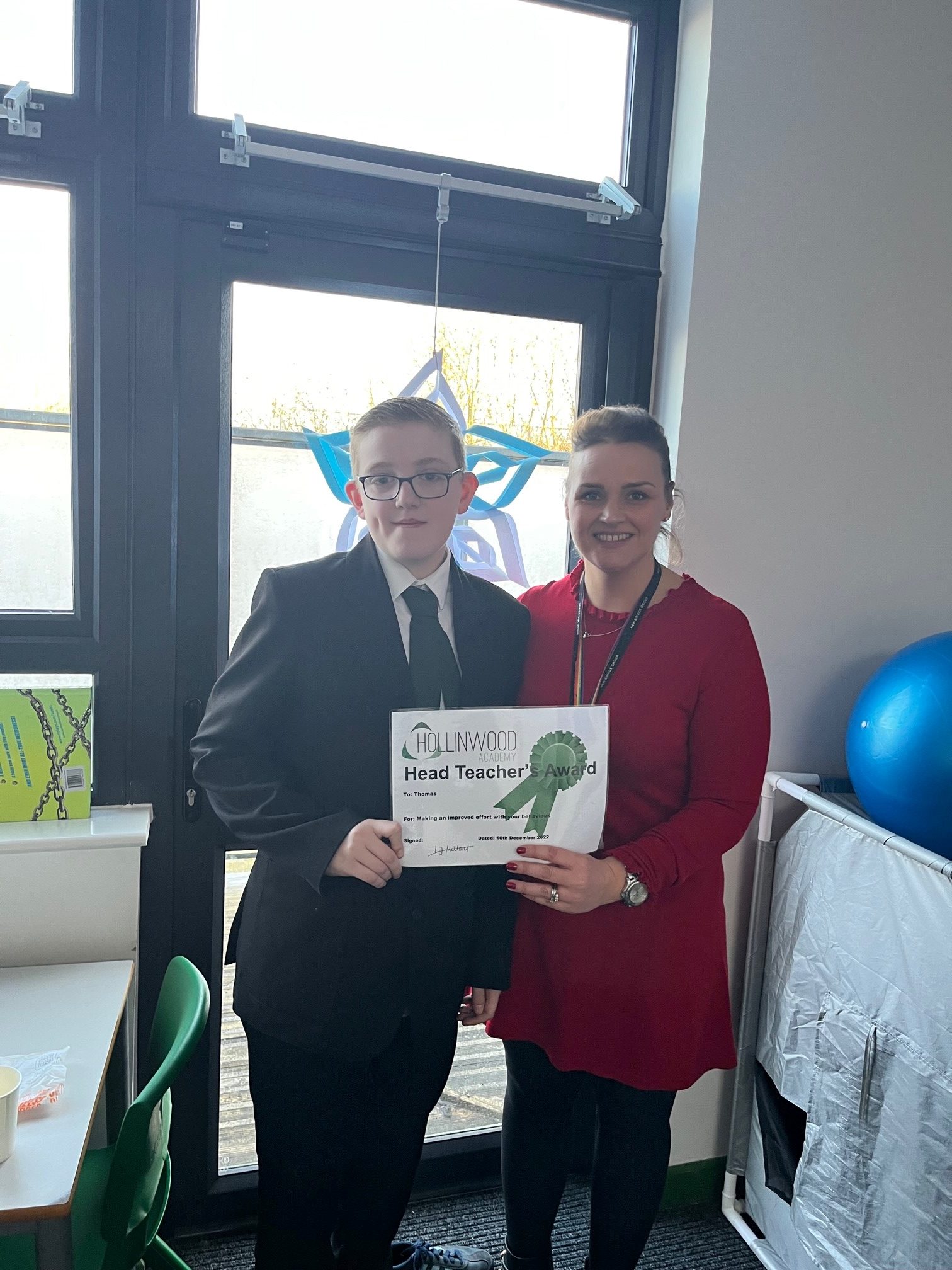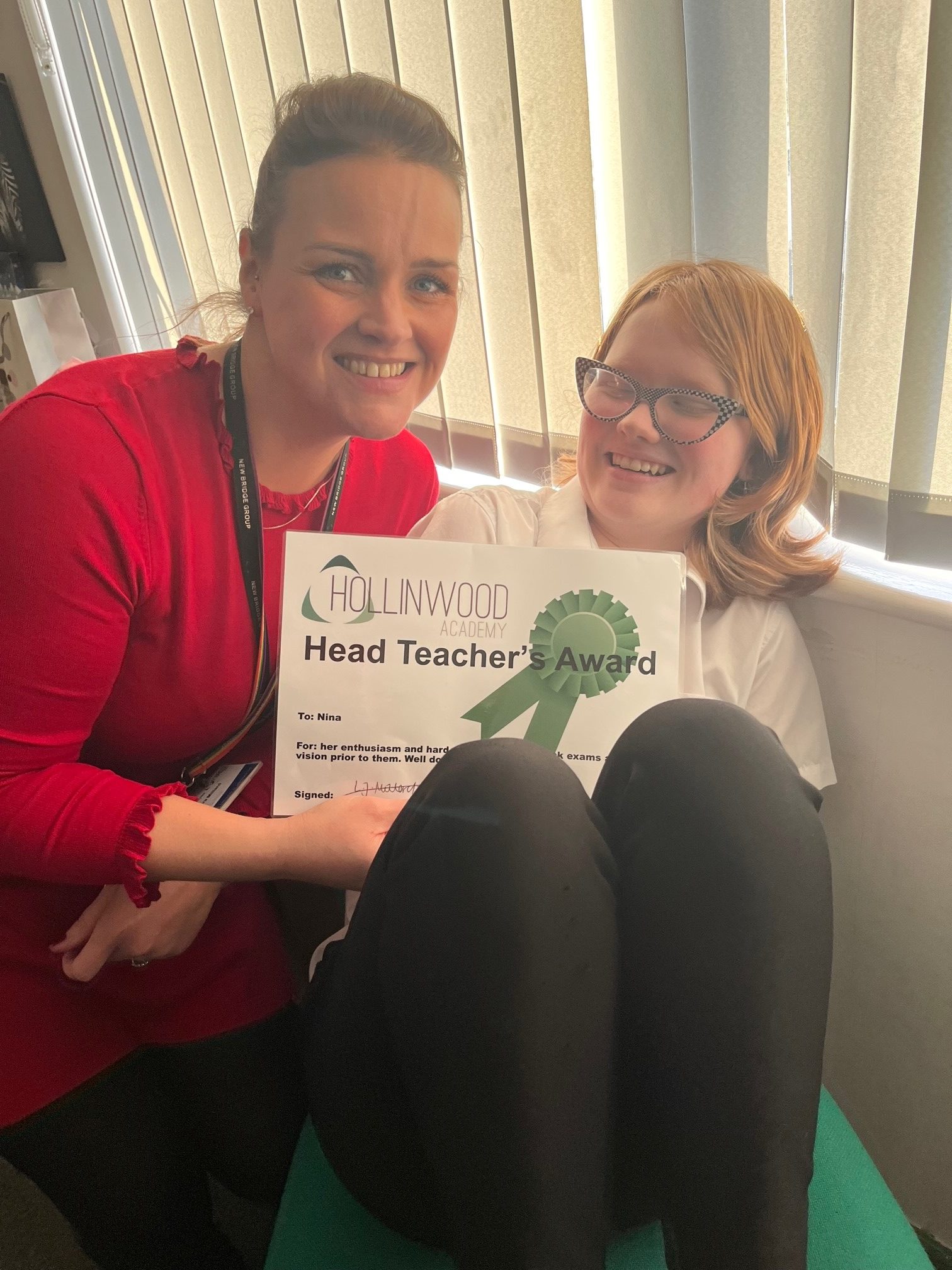 Well done and keep up the hard work next half term everyone!!
A number of students were invited to Manchester City on a stadium tour for their hard work and commitment representing HWA in the one city secondary school football league.
All of the students enjoyed the tour regardless of the true teams they supported and all students behaved brilliantly.
As you can see from our photos all of the students had a fantastic time!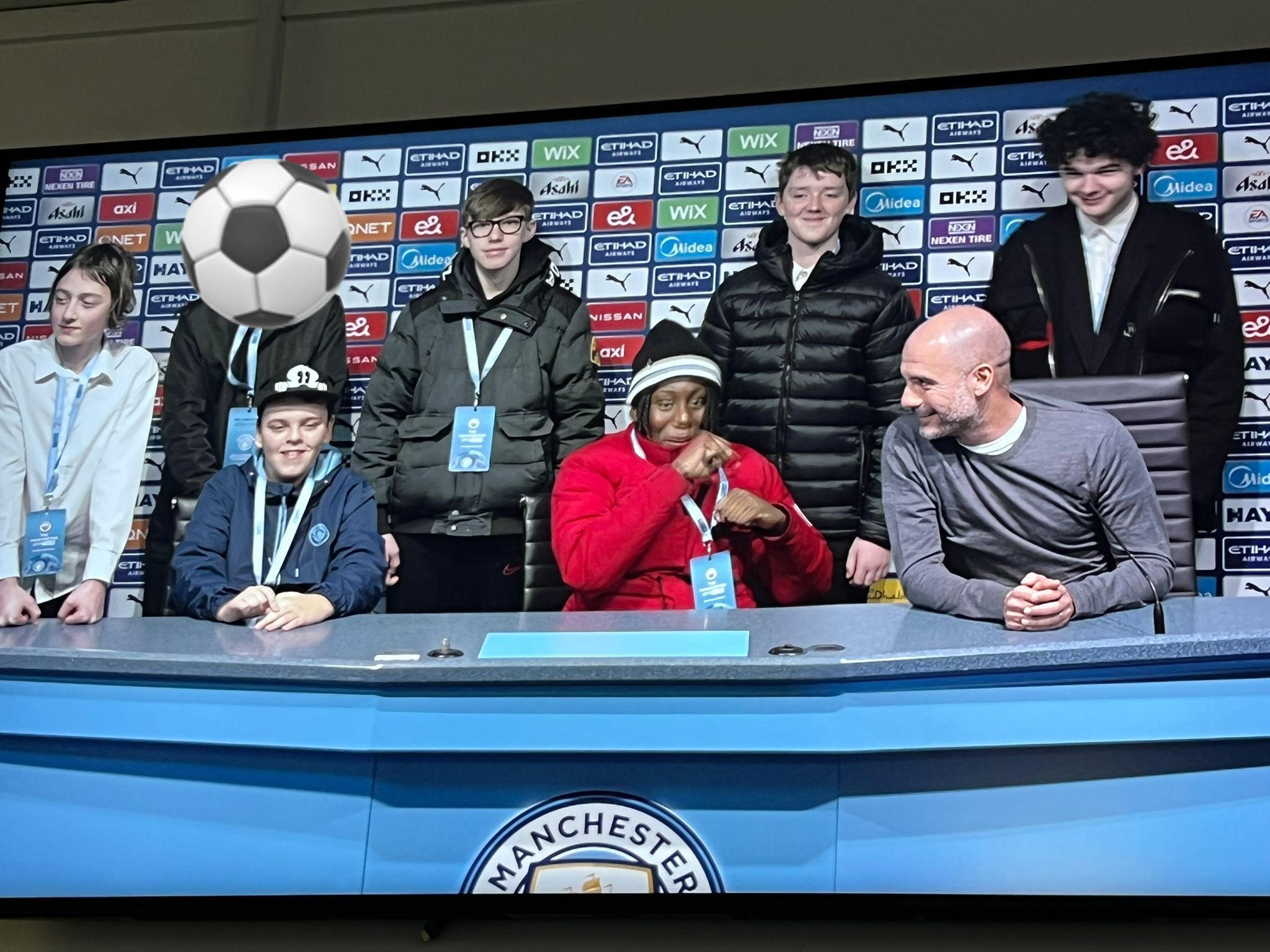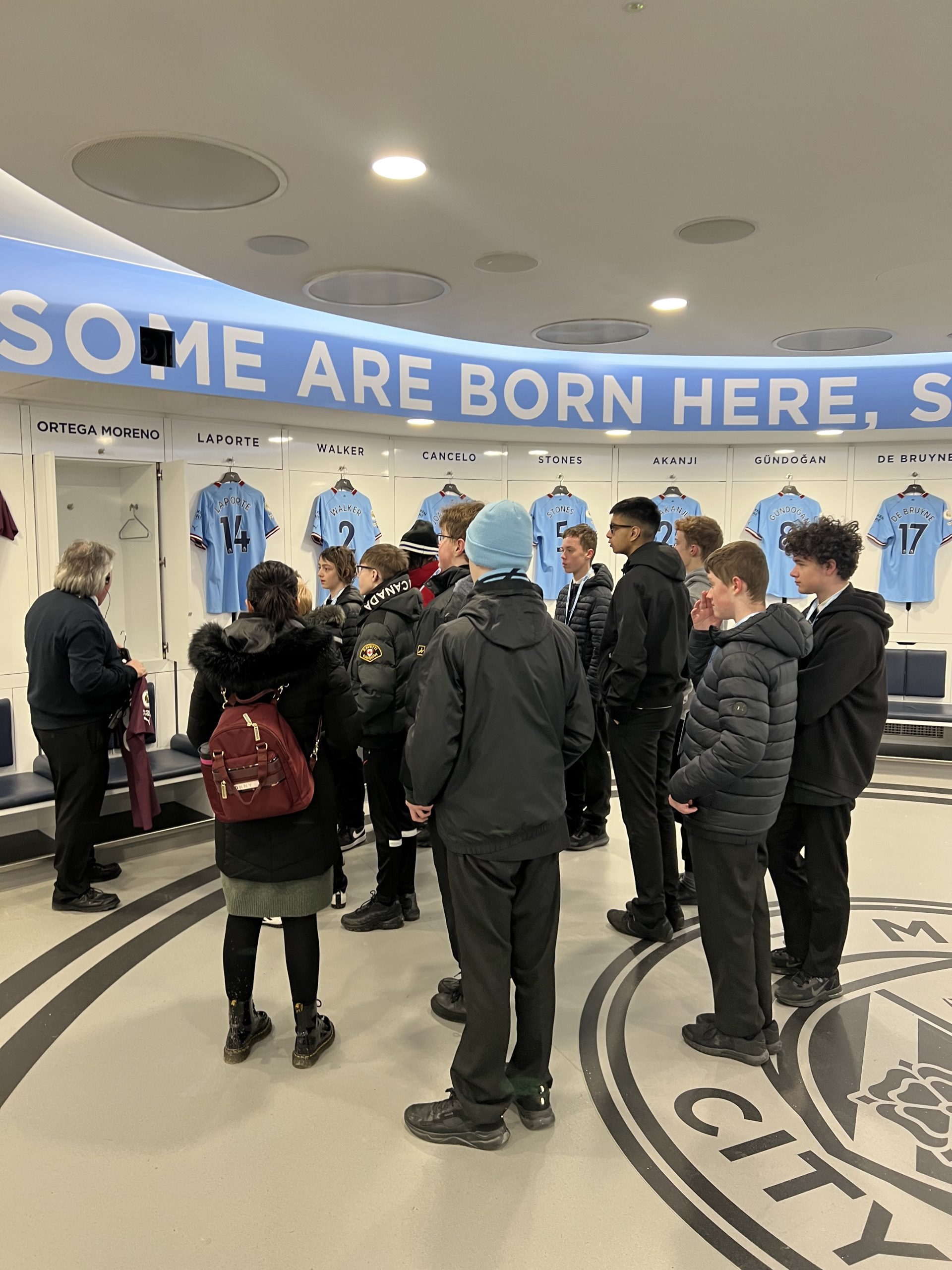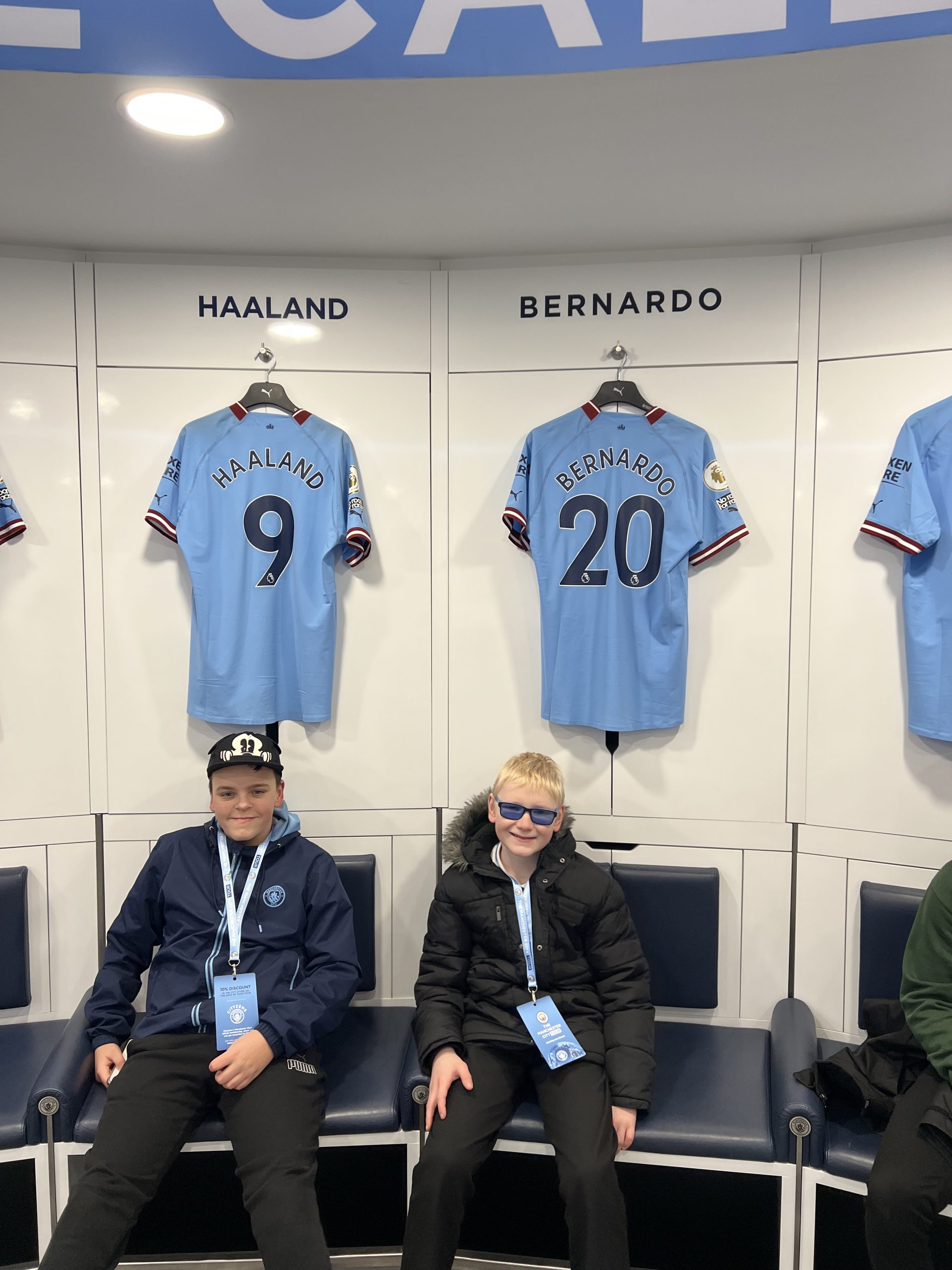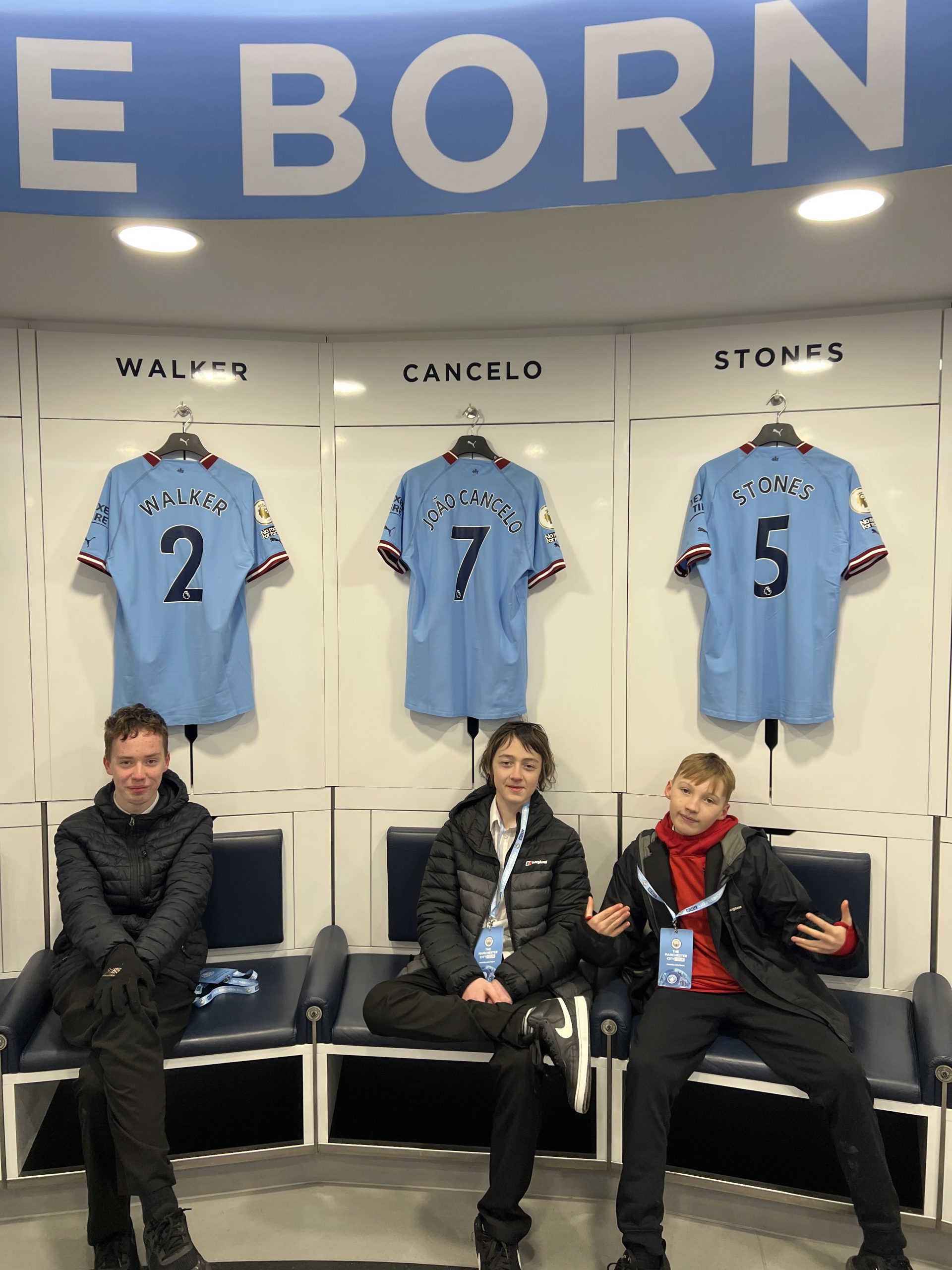 Let's see what some of the classes have been doing starting with Mrs Lerigo's reception class…
"Wow what a busy term we have had, and an even busier last week at school. We have been full of excitement in the run up to the end of term. The children have immersed themselves in Christmas spirit and have enjoyed all things sparkle and shine.
Our topic in science this term has been all about 'Light and Dark' and we have been learning all about different sources of light and some of the effects light can create. We have made shadows on the walls and looked in dark places to explore with torches. We also had to identify what objects we could feel in the dark before we shone our torches on the objects to see if we had guessed correctly.
This week we have been looking at how plants cope in the dark and in the light. We planted some cress seeds and put some in a dark place and some on the window sill. We talked about the sun and how the sun helps the plants to grow. We will take a look at how much they have grown in their different environments in the New year. Which do you think will have grown the best? The ones on the window sill or the ones in a dark place?
In phonics we have been following a Christmas theme and have flour shaped snowflakes, made snowflakes by snipping little bits of the paper with scissors. We all found this tricky but tried really hard. We also made a fireplace and created stockings to hang by the fireside ready for when Santa comes on Christmas Eve. We had to find the letters of our name to place on the stocking.
In maths we made salt dough Christmas decorations and had to fill up cups of flour, salt and water to make the dough. We experimented with the scales to see what happened when we added more flour to one side than the other. We made some Christmas trees, snowflakes and snowmen, and decorated them with sequins.
We all enjoyed Christmas dinner and wearing our Christmas jumpers on Christmas Jumper day. On Friday we had a party in the hall and played musical chairs, pass the parcel and danced the afternoon away.
Merry Christmas everyone, we cannot wait for January to see what excitement the New Year brings."
Mrs Lerigo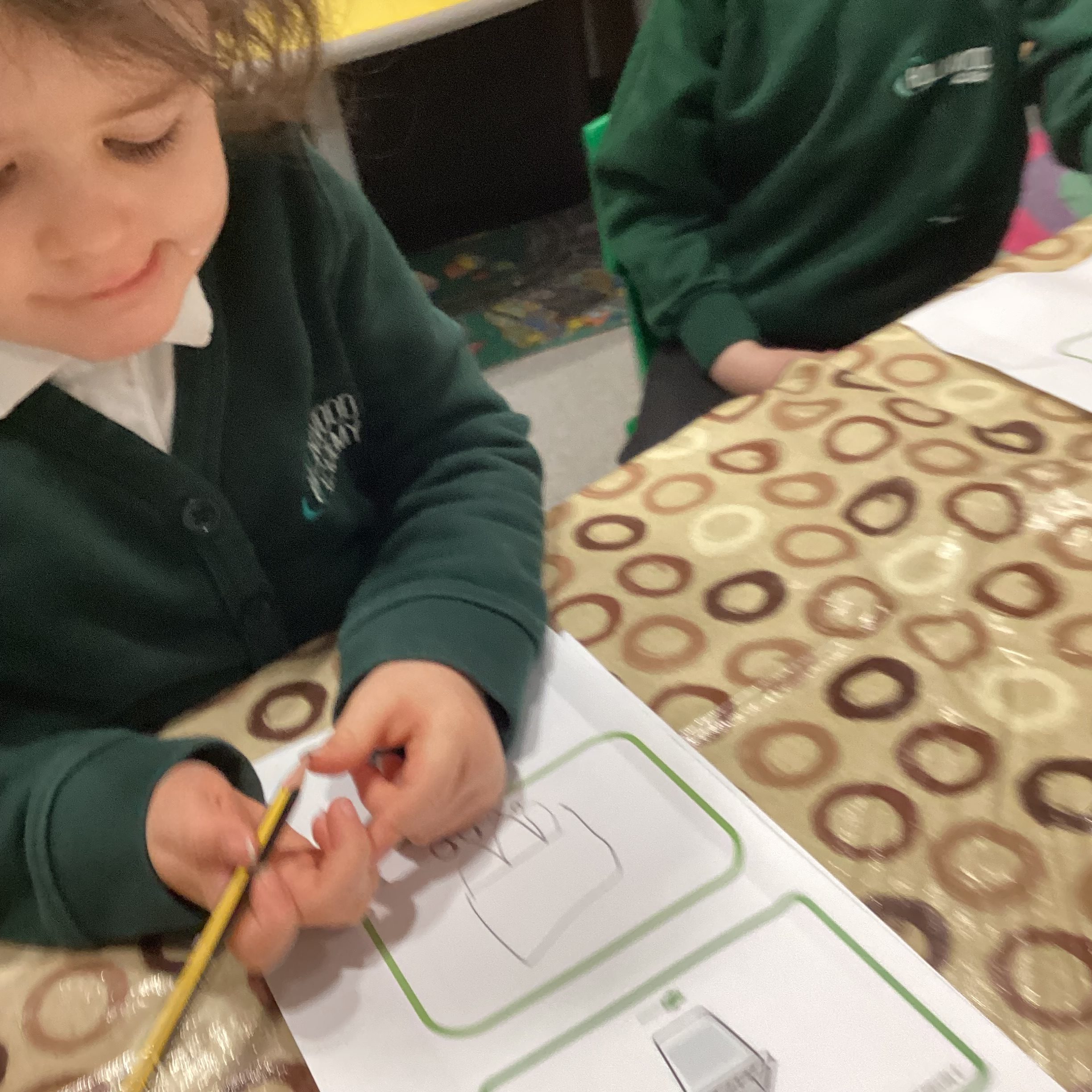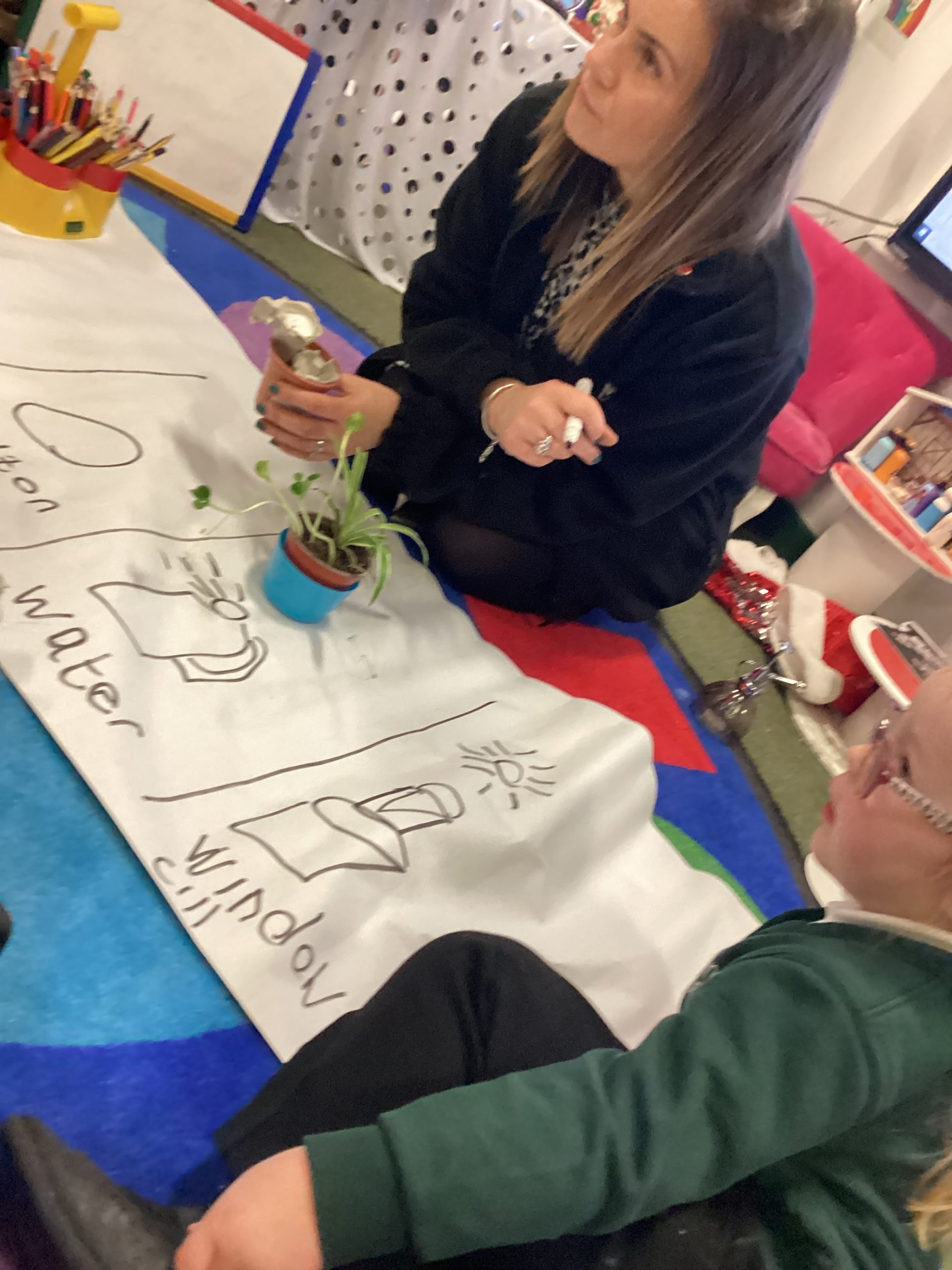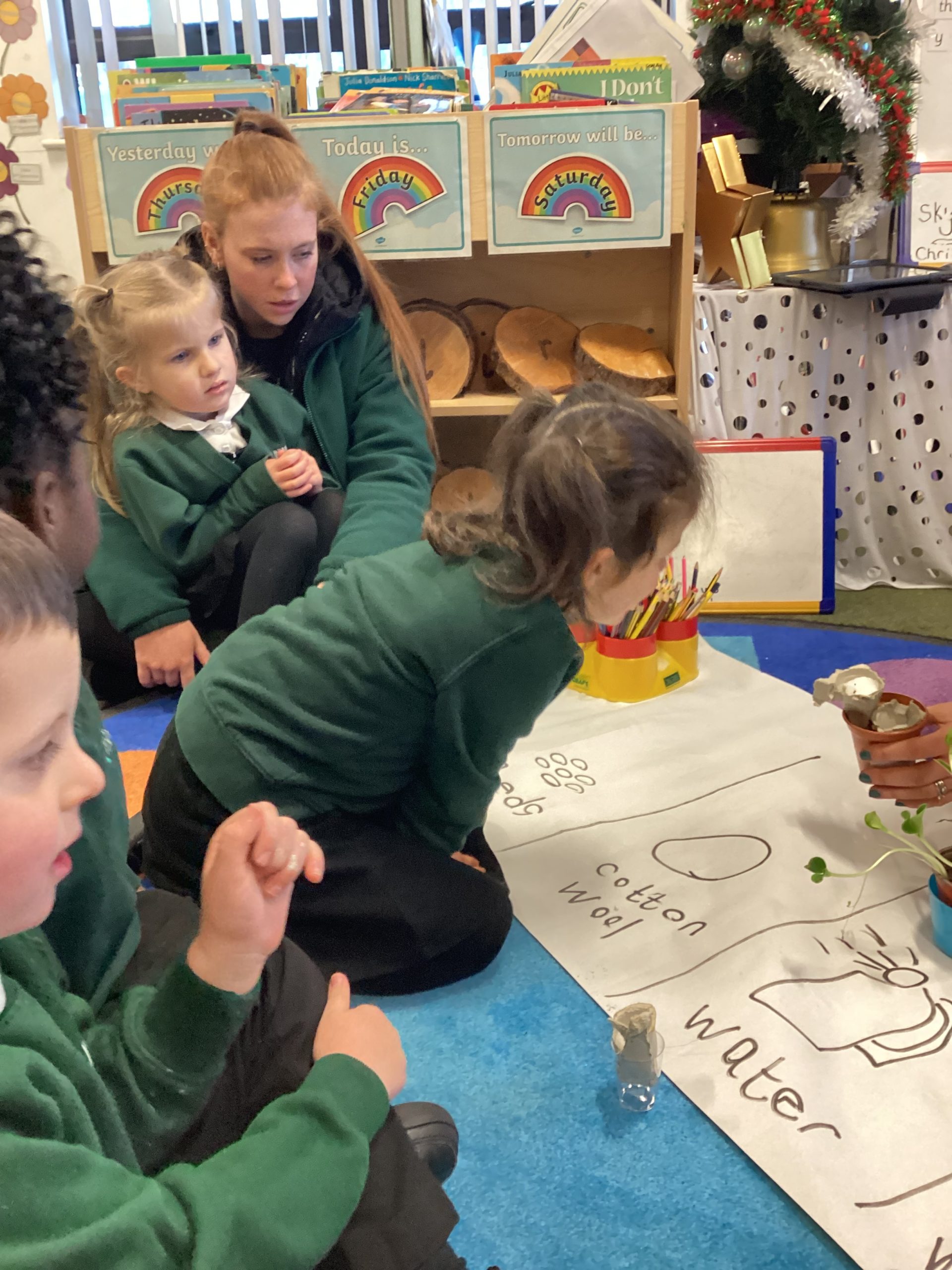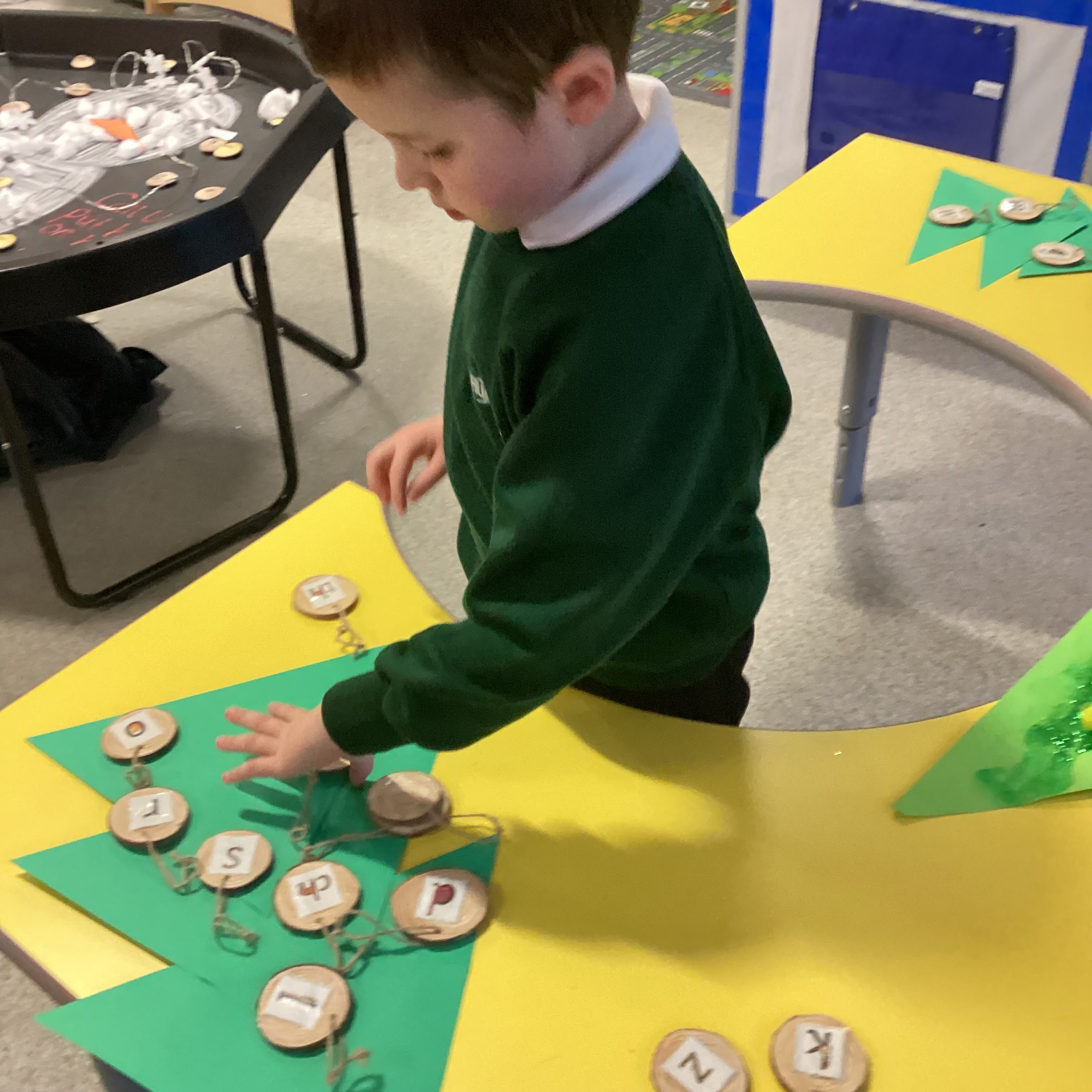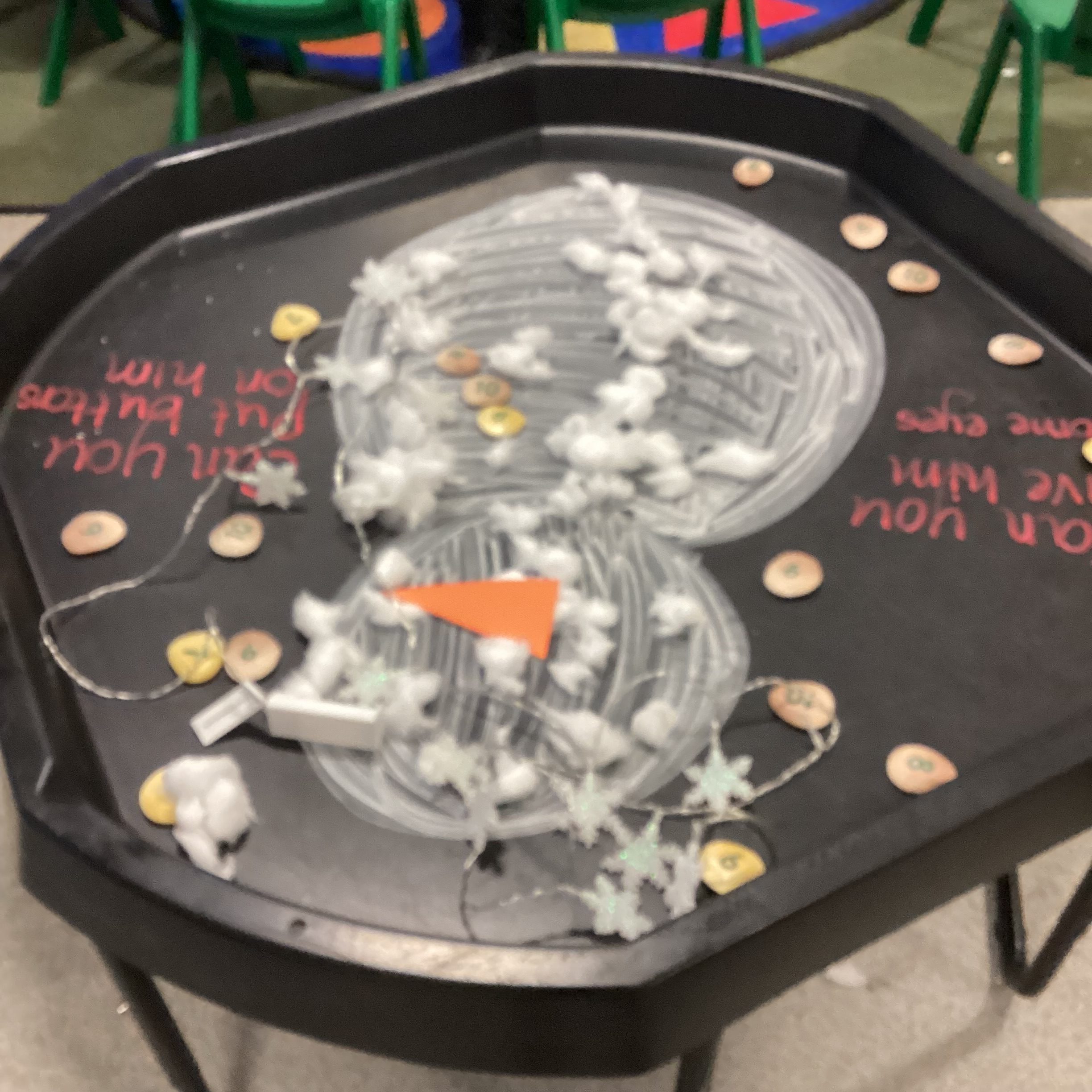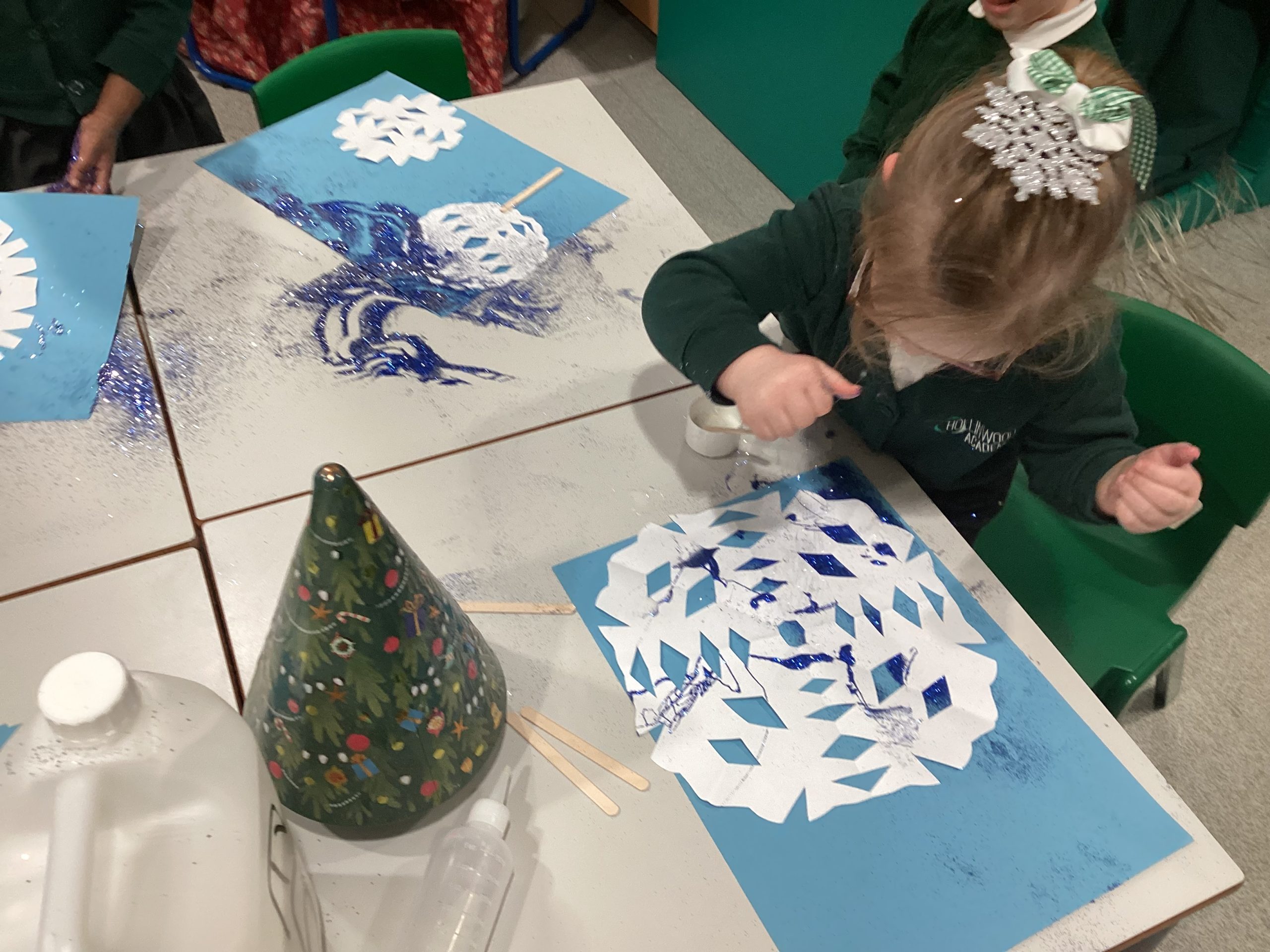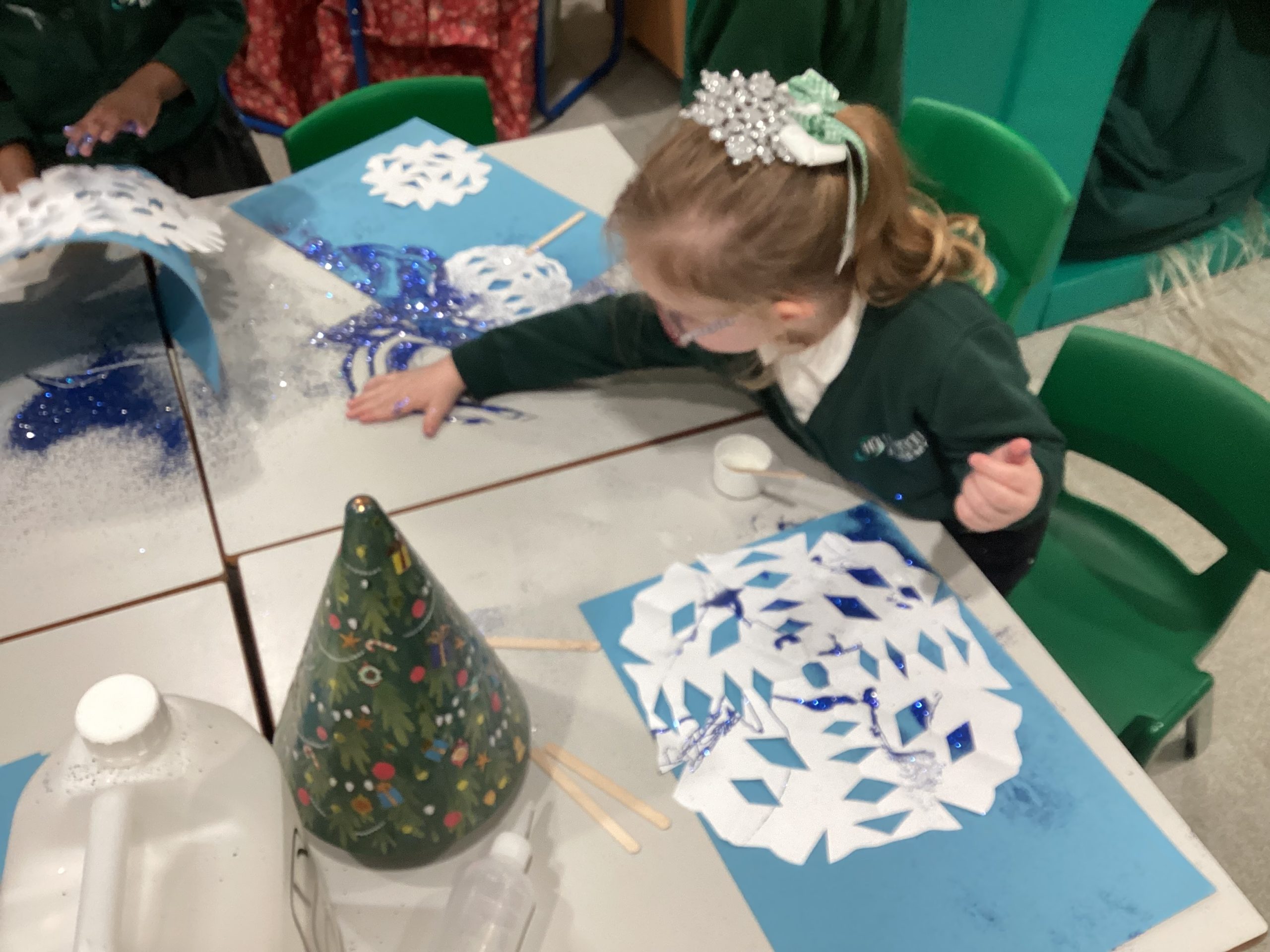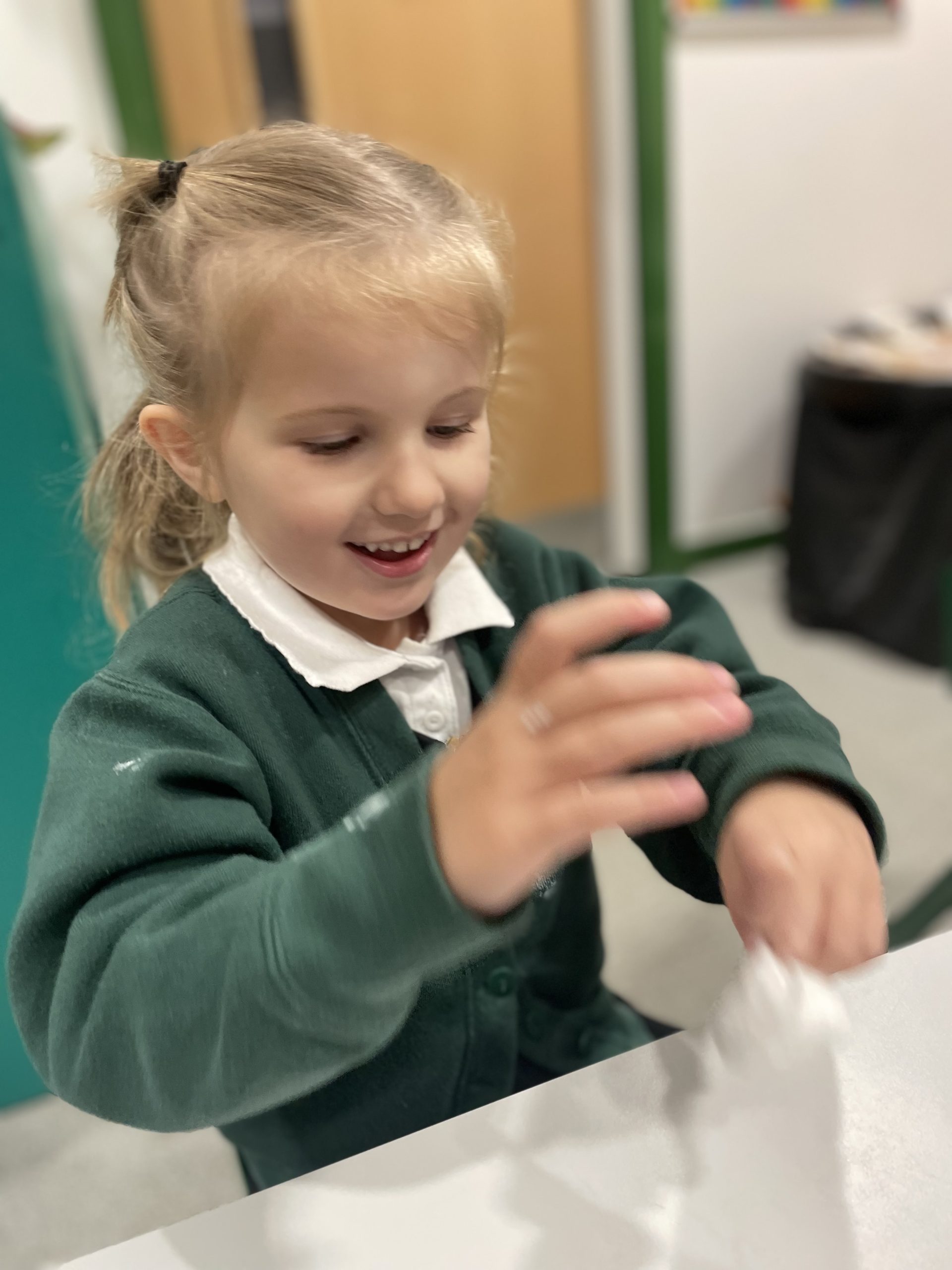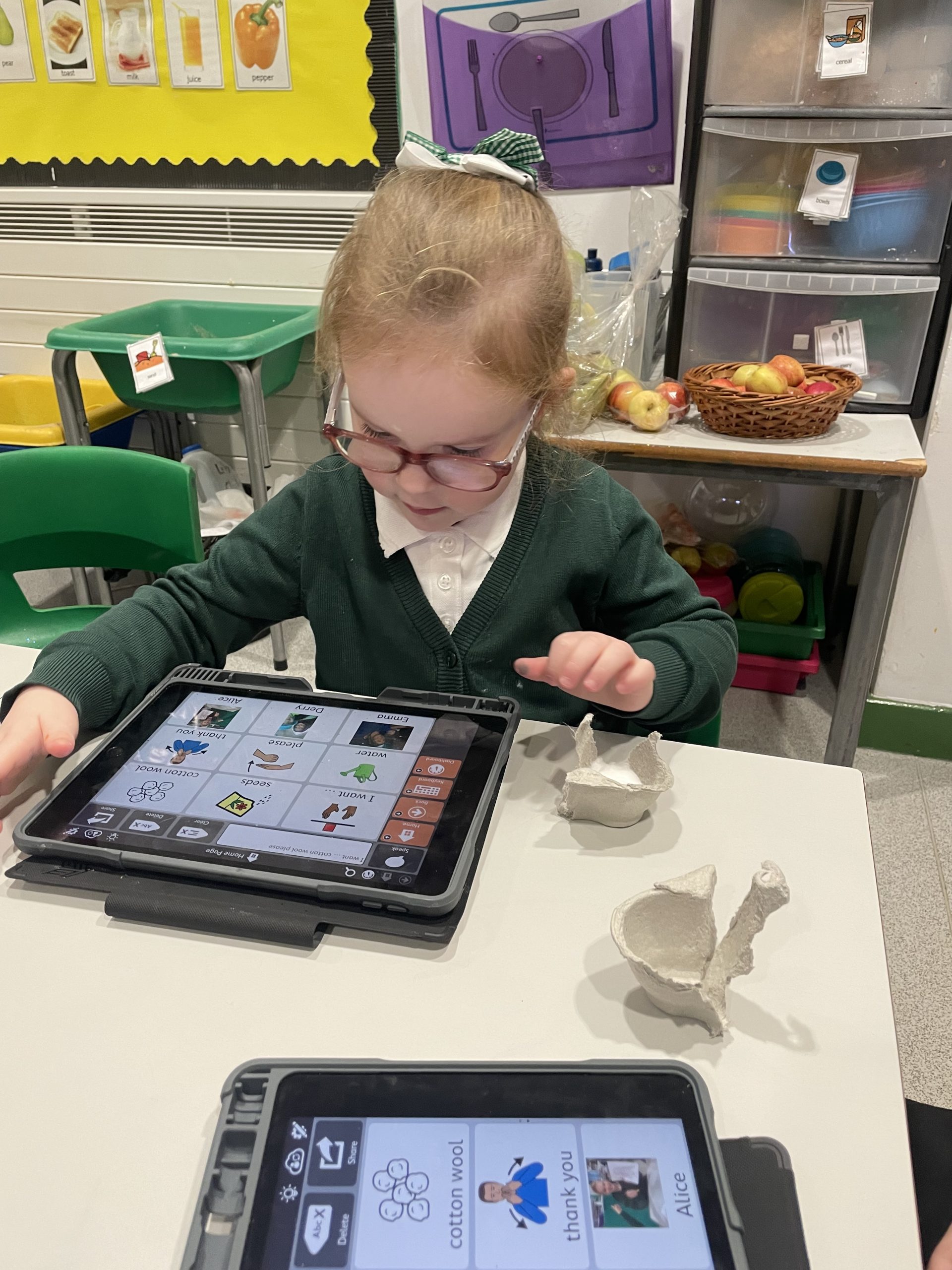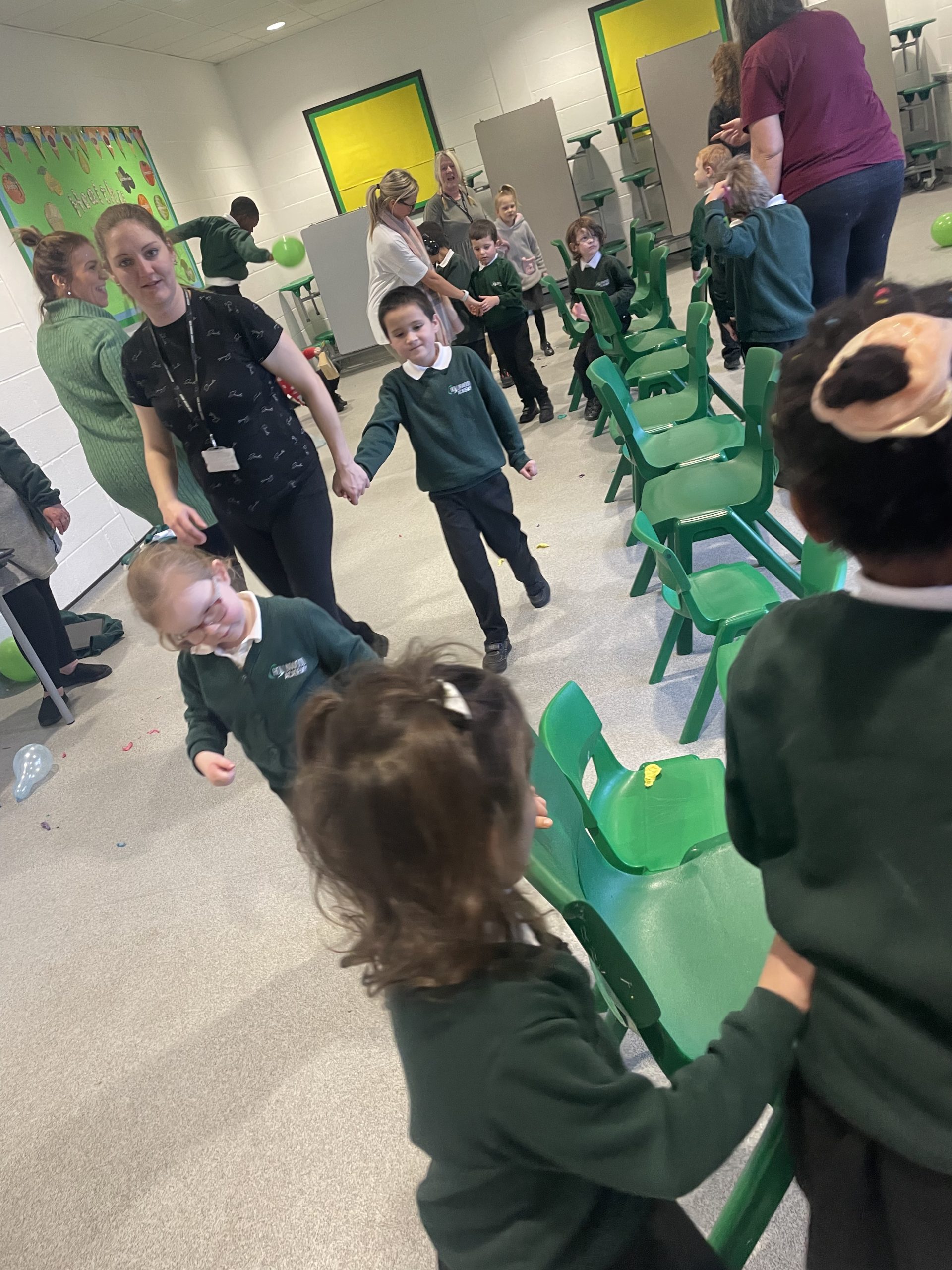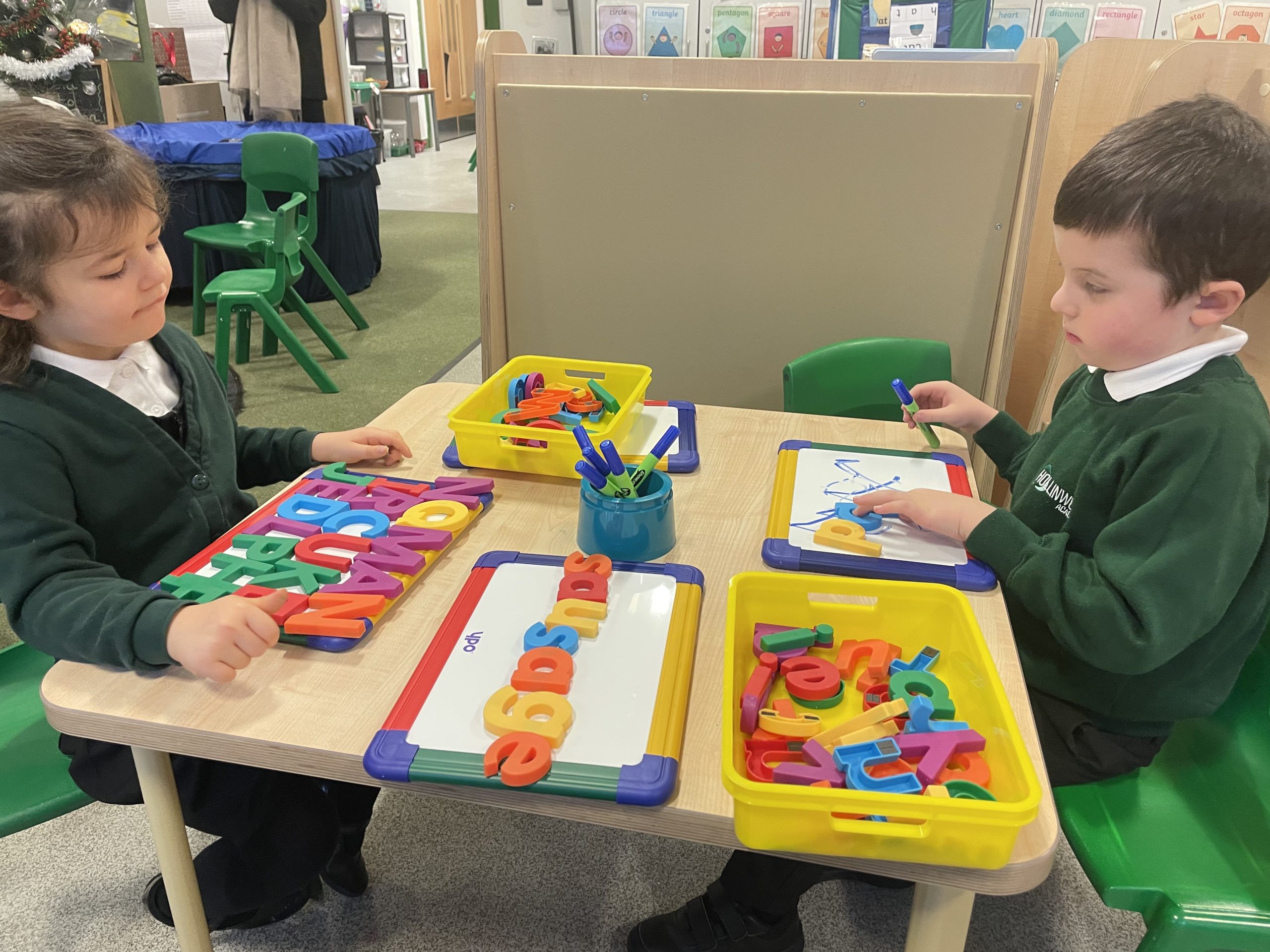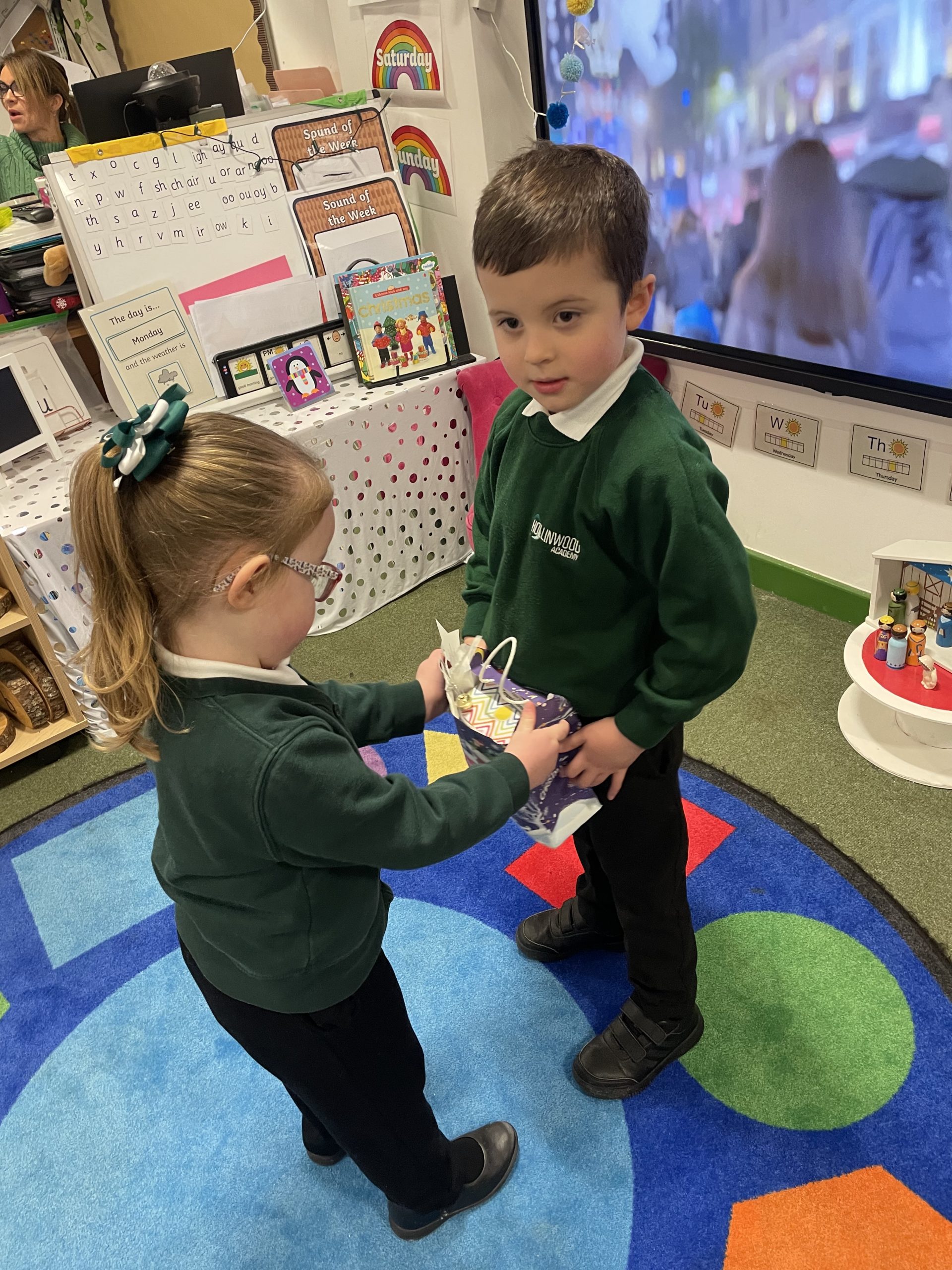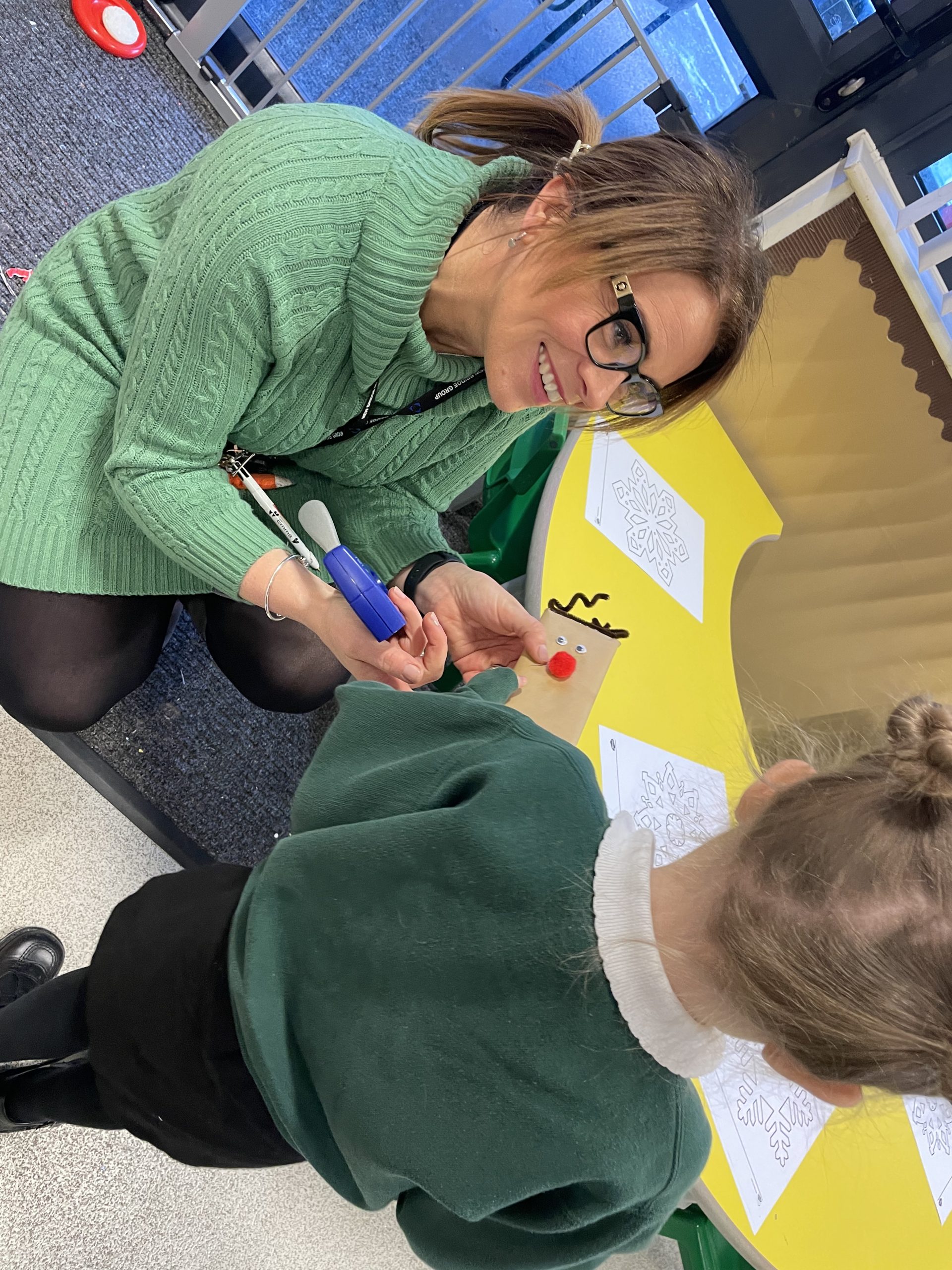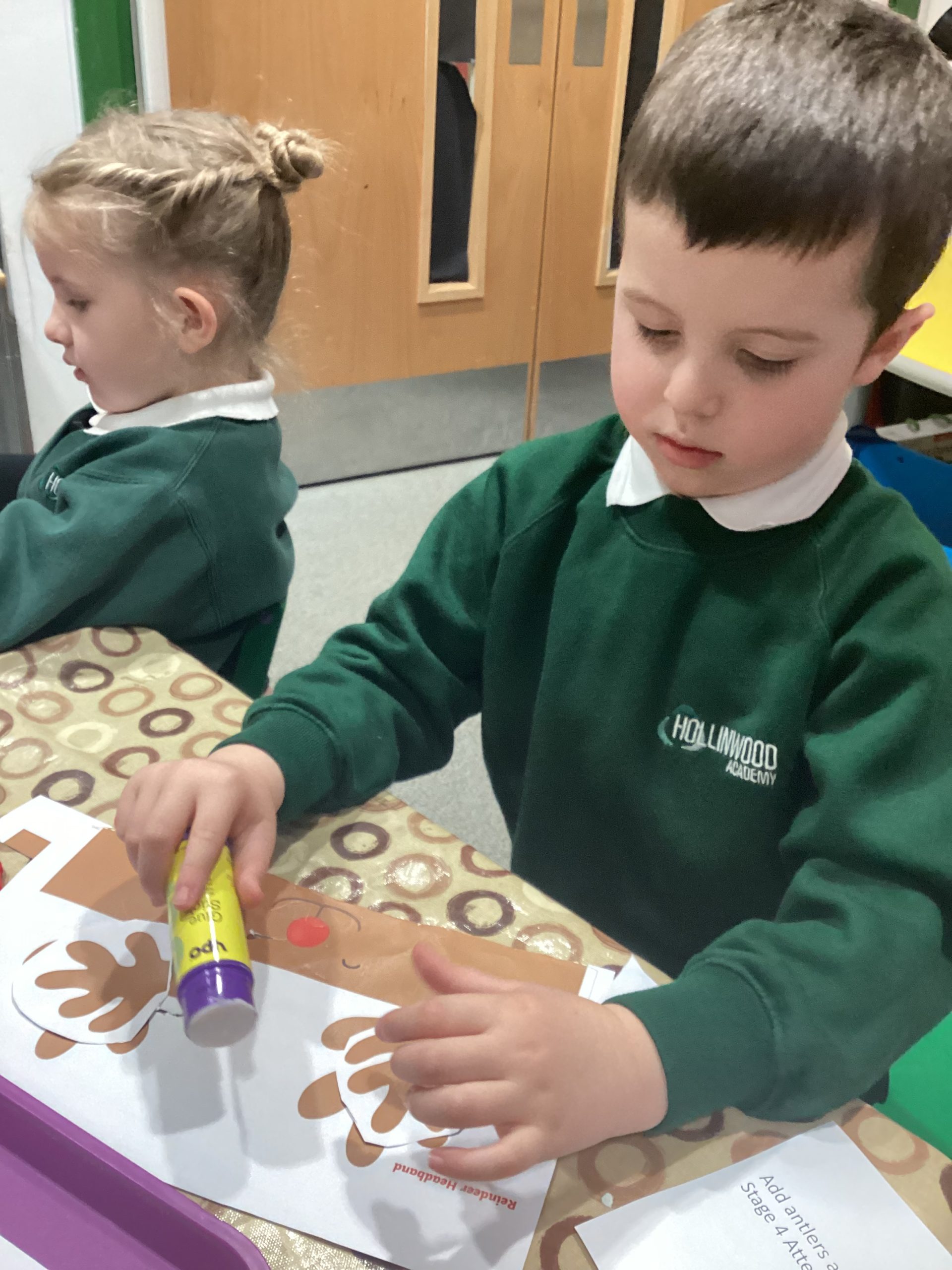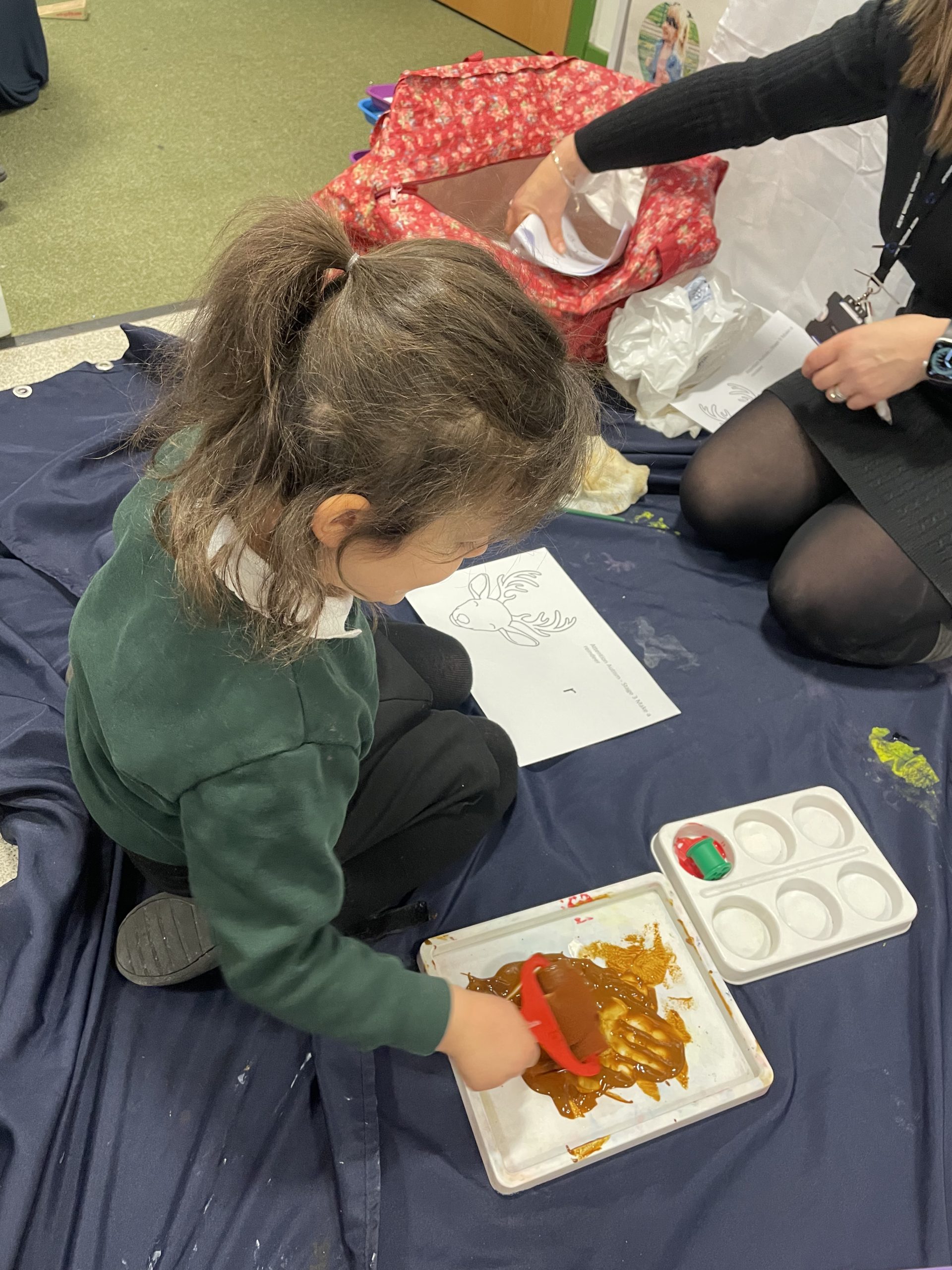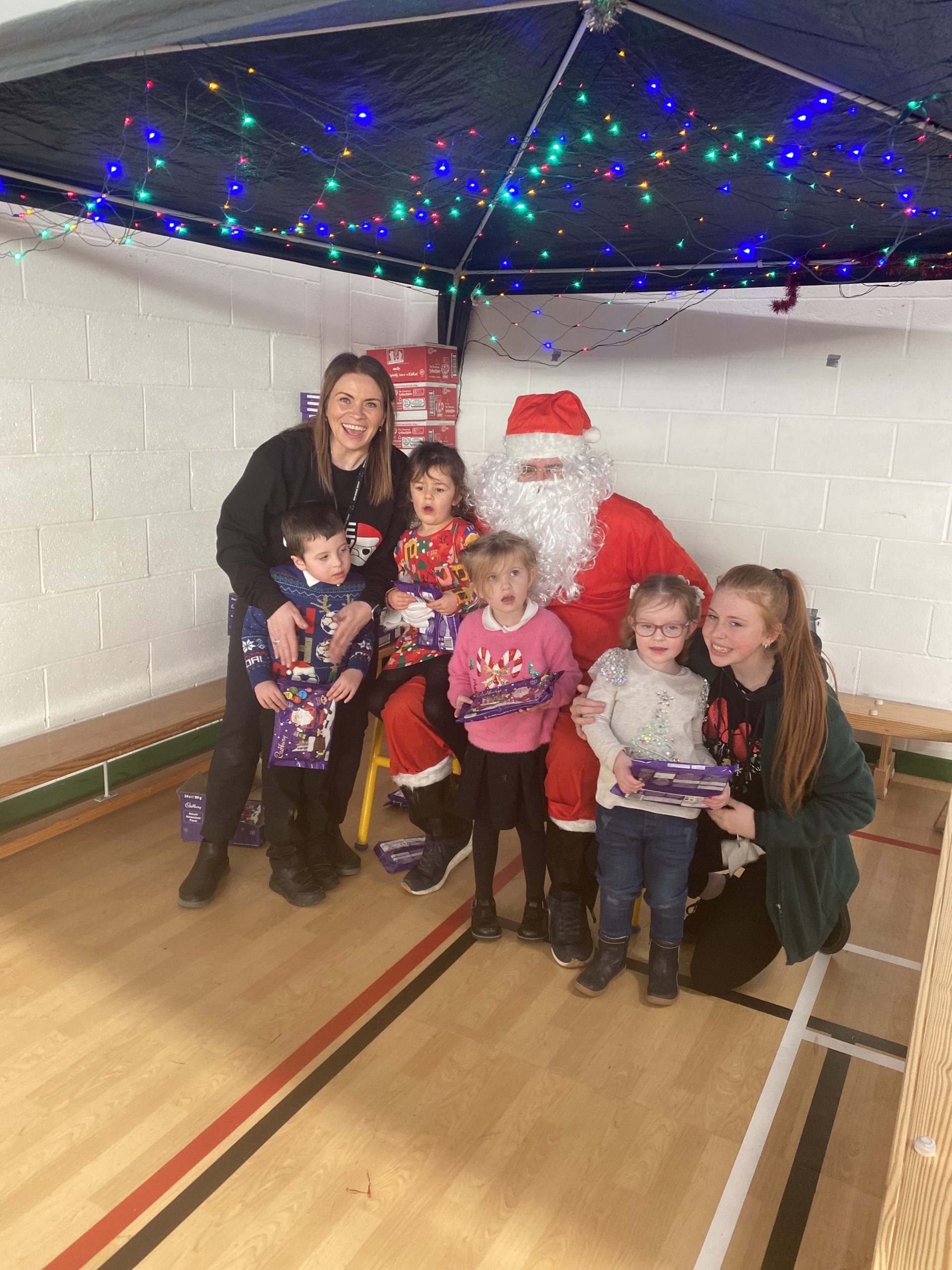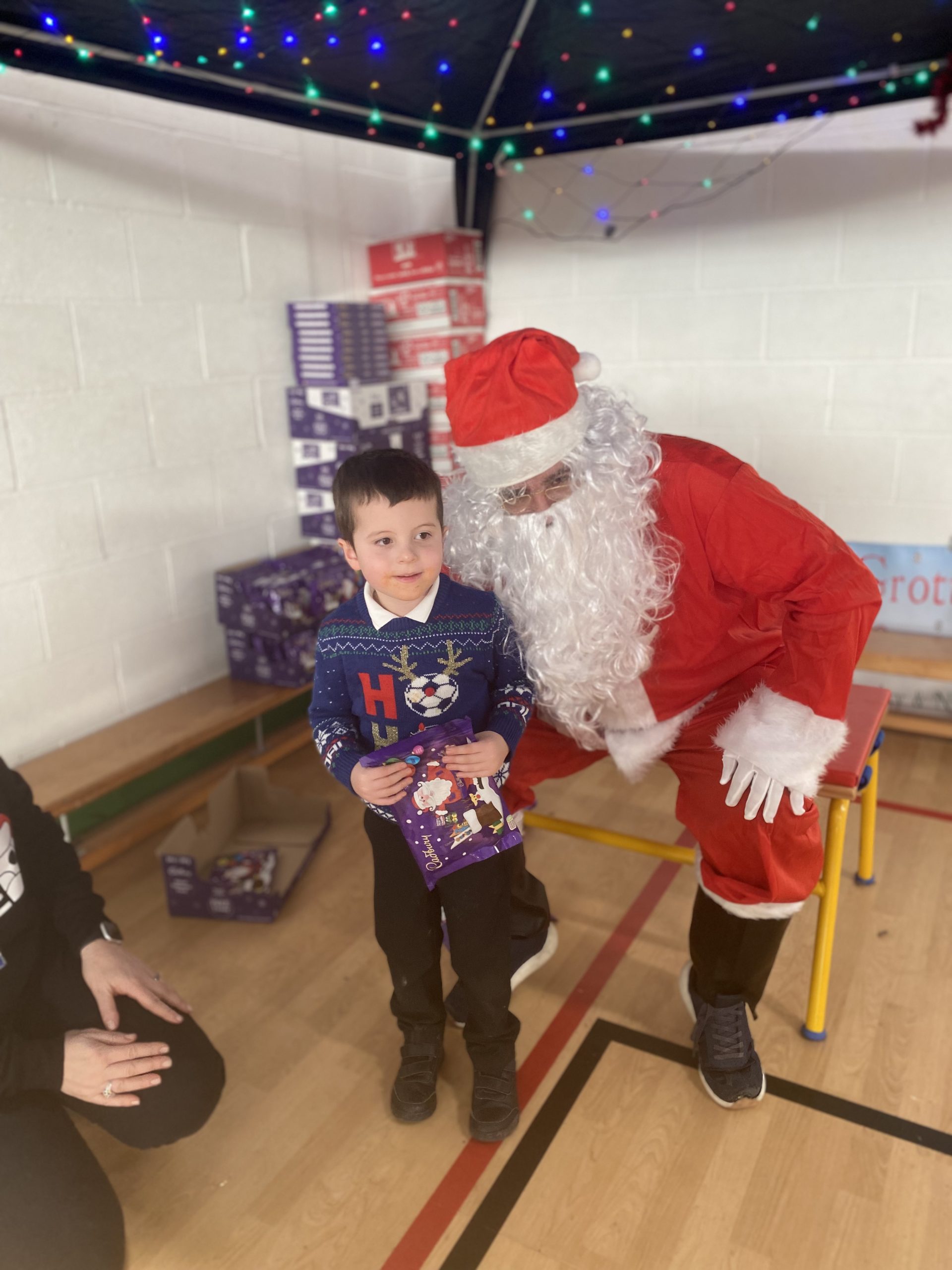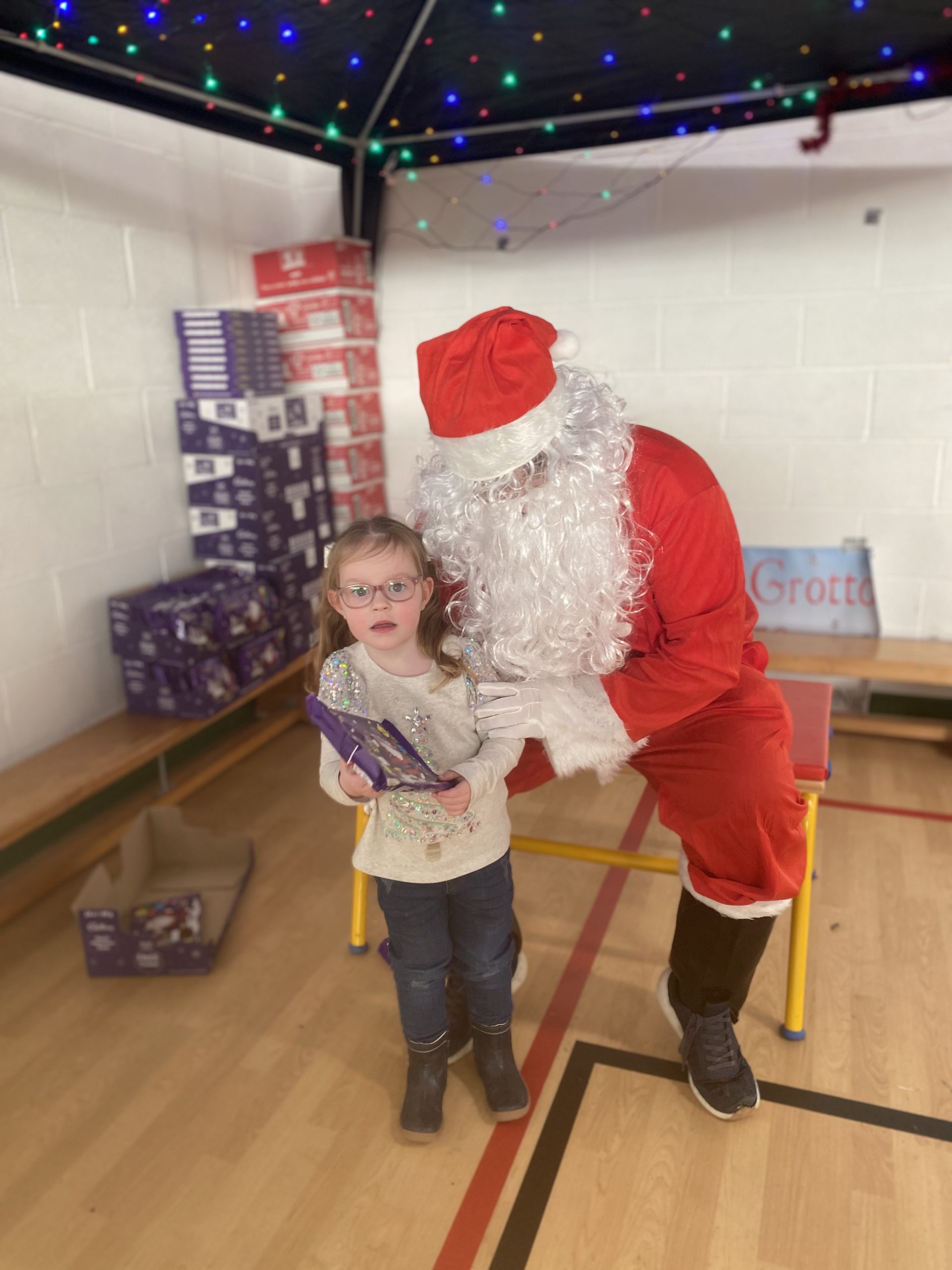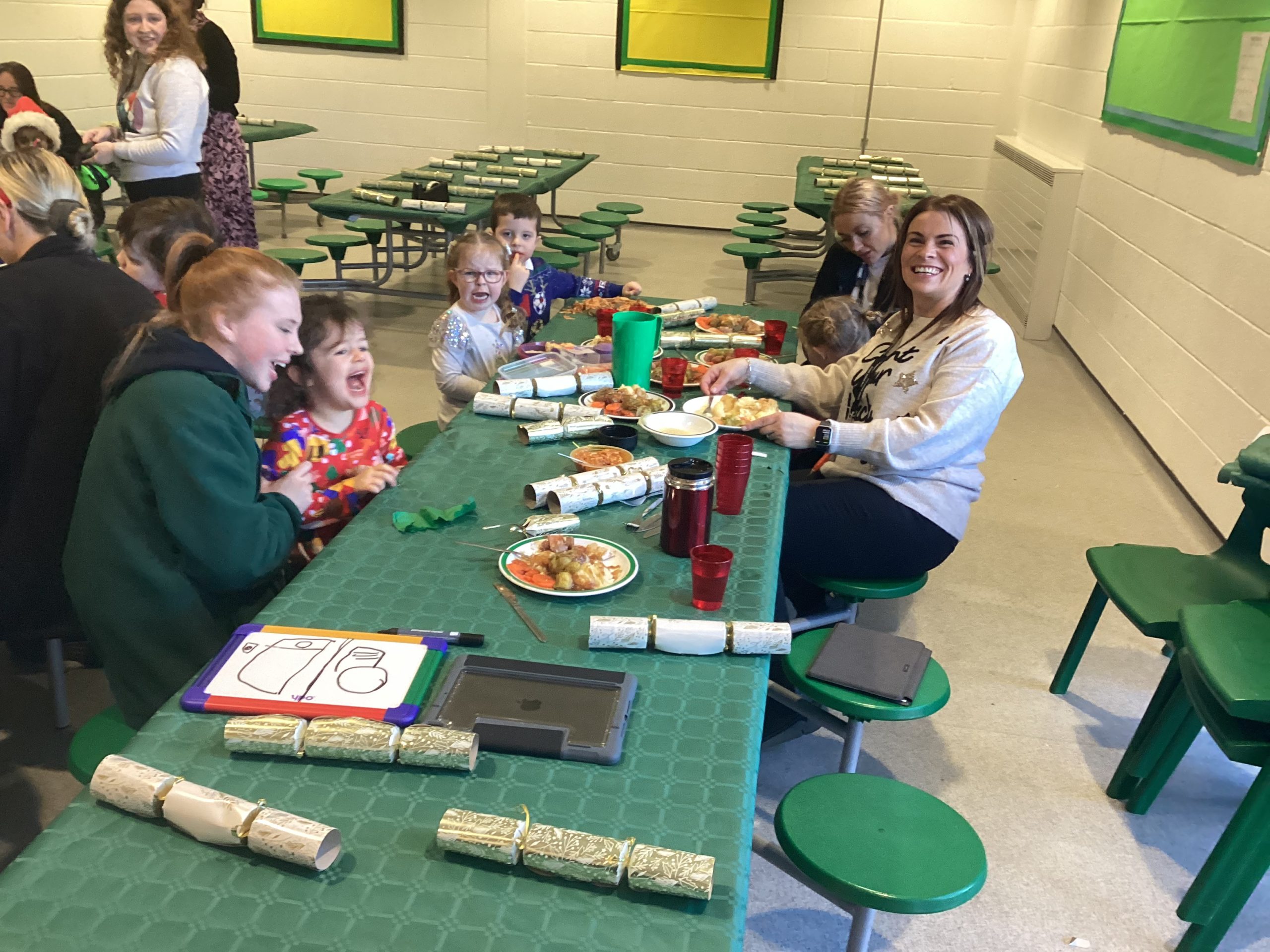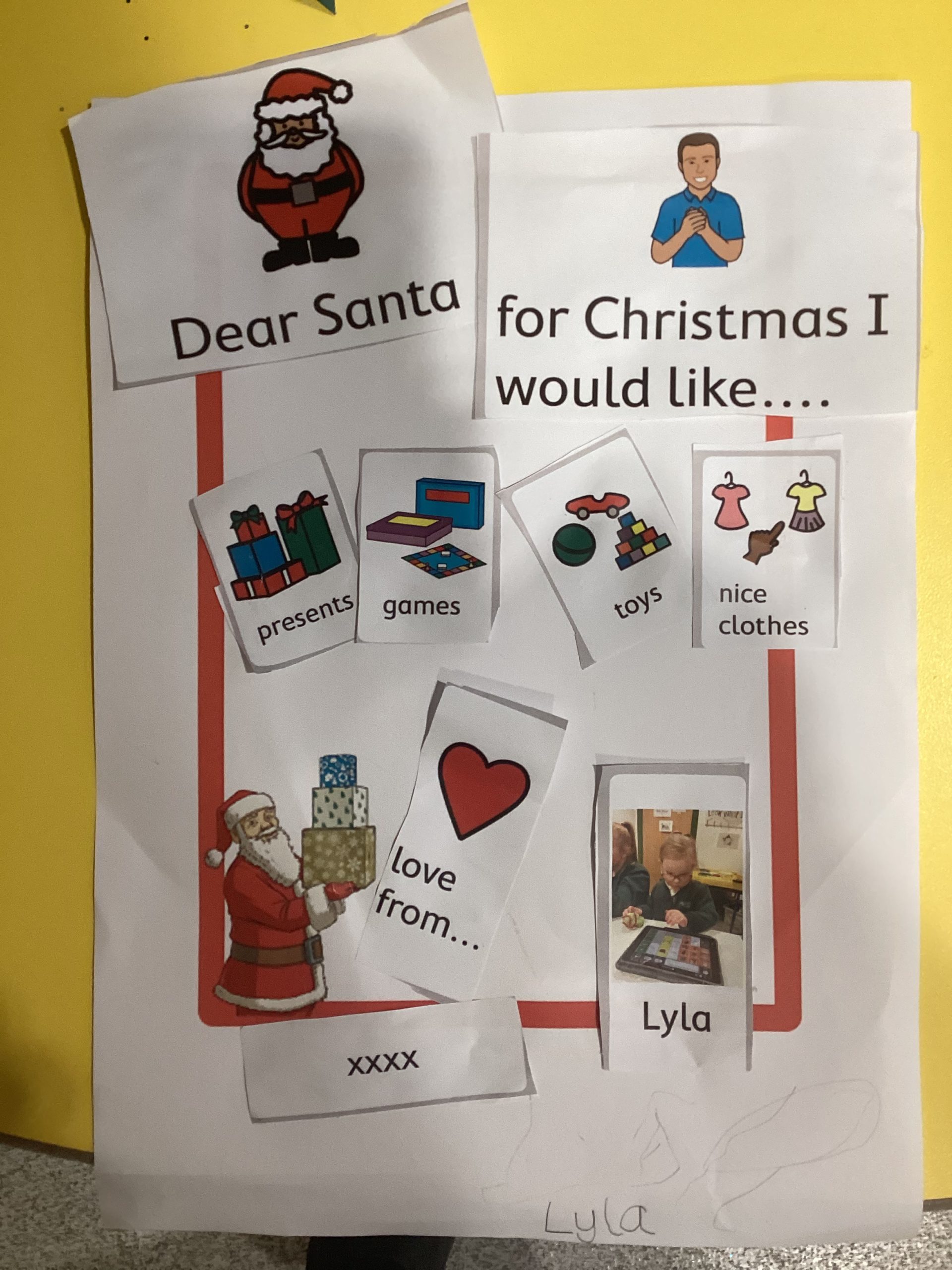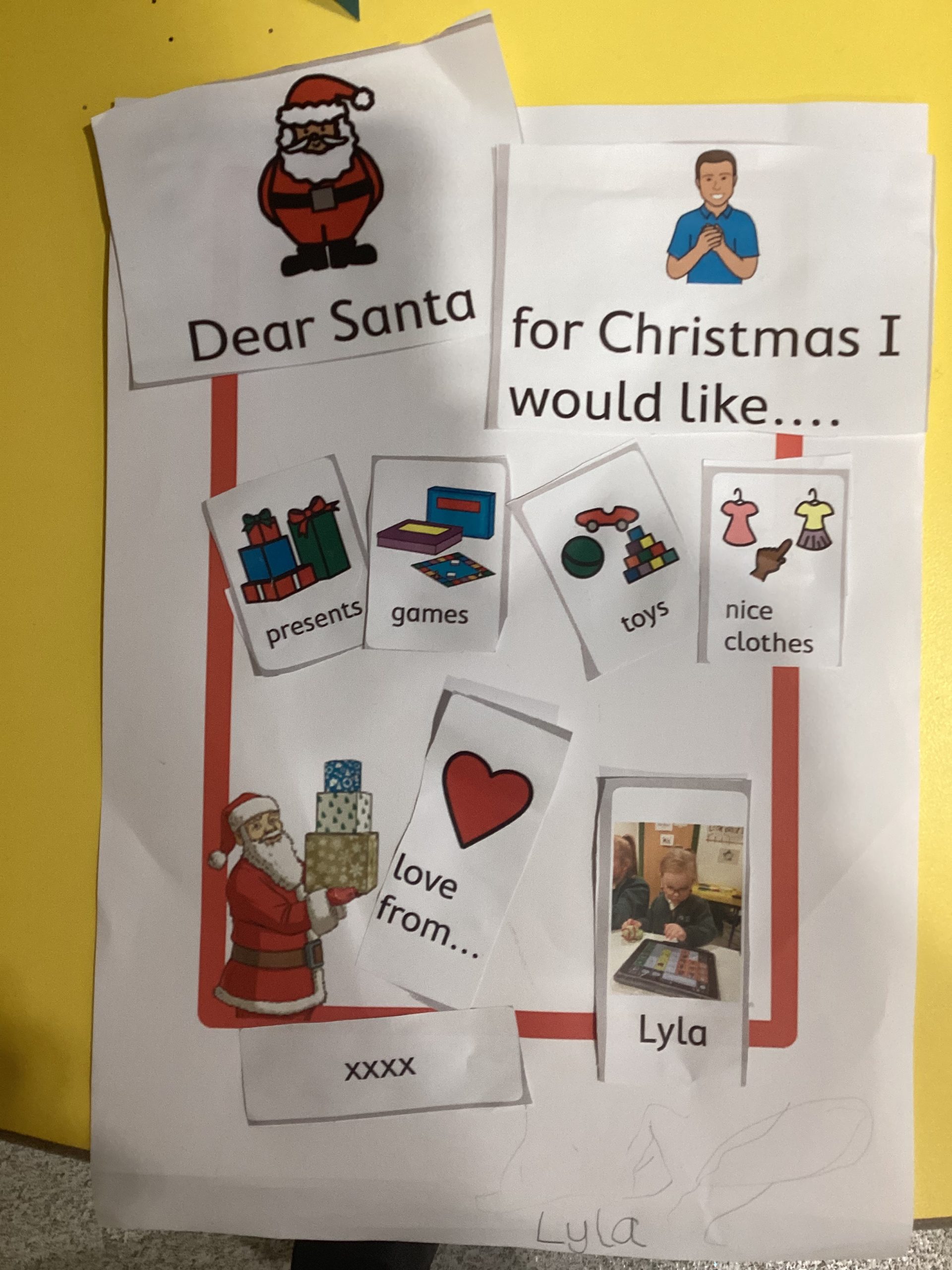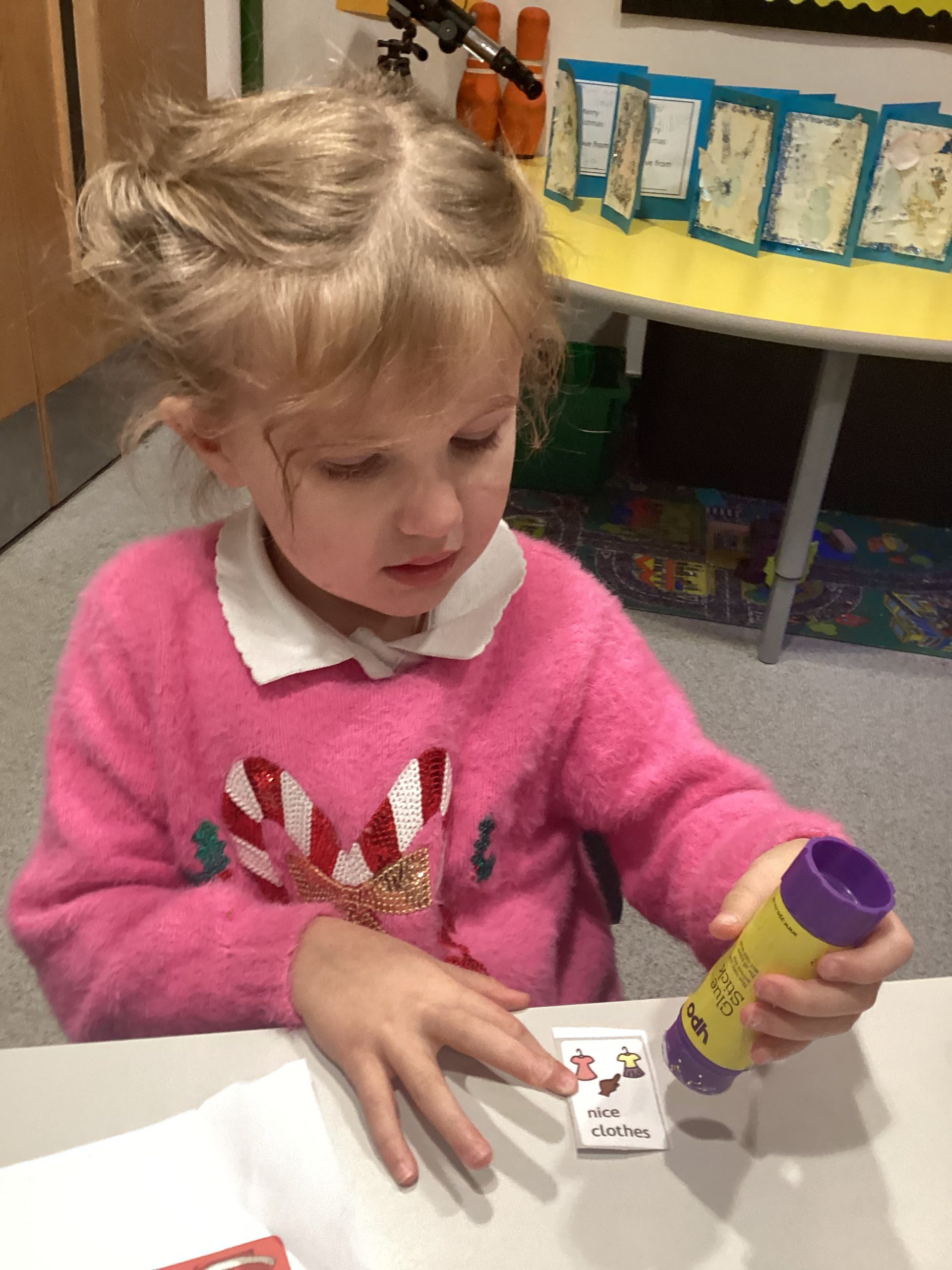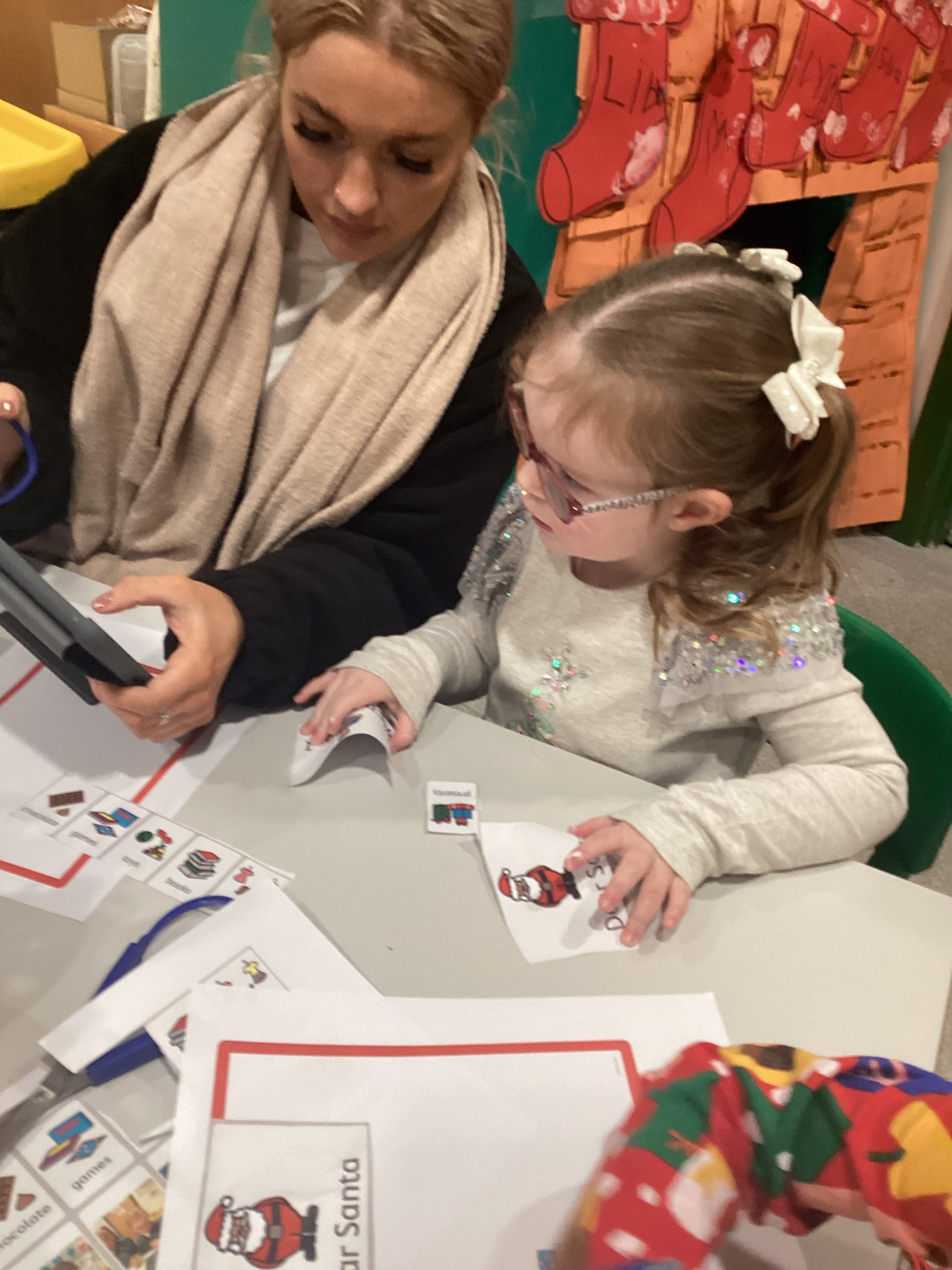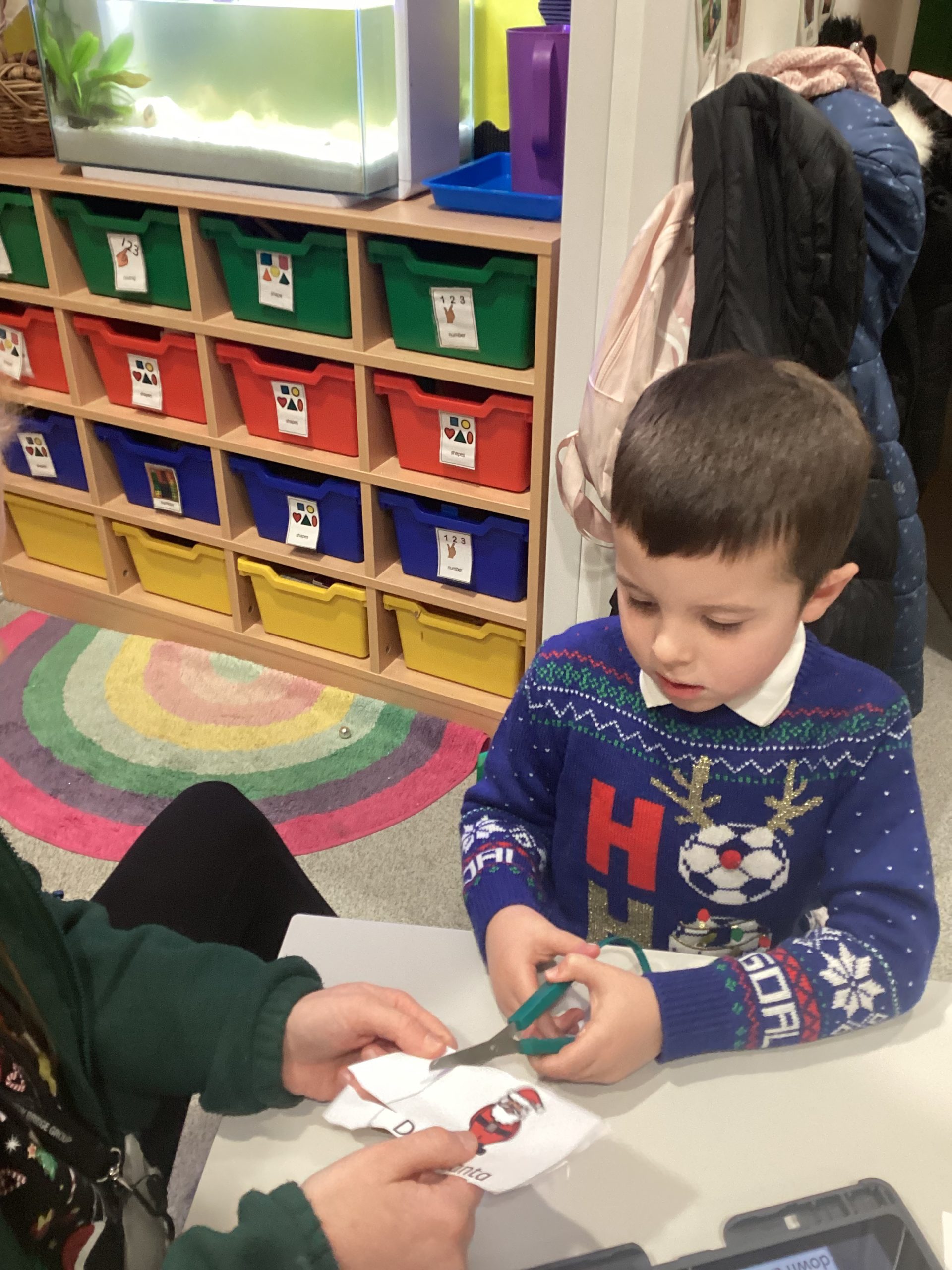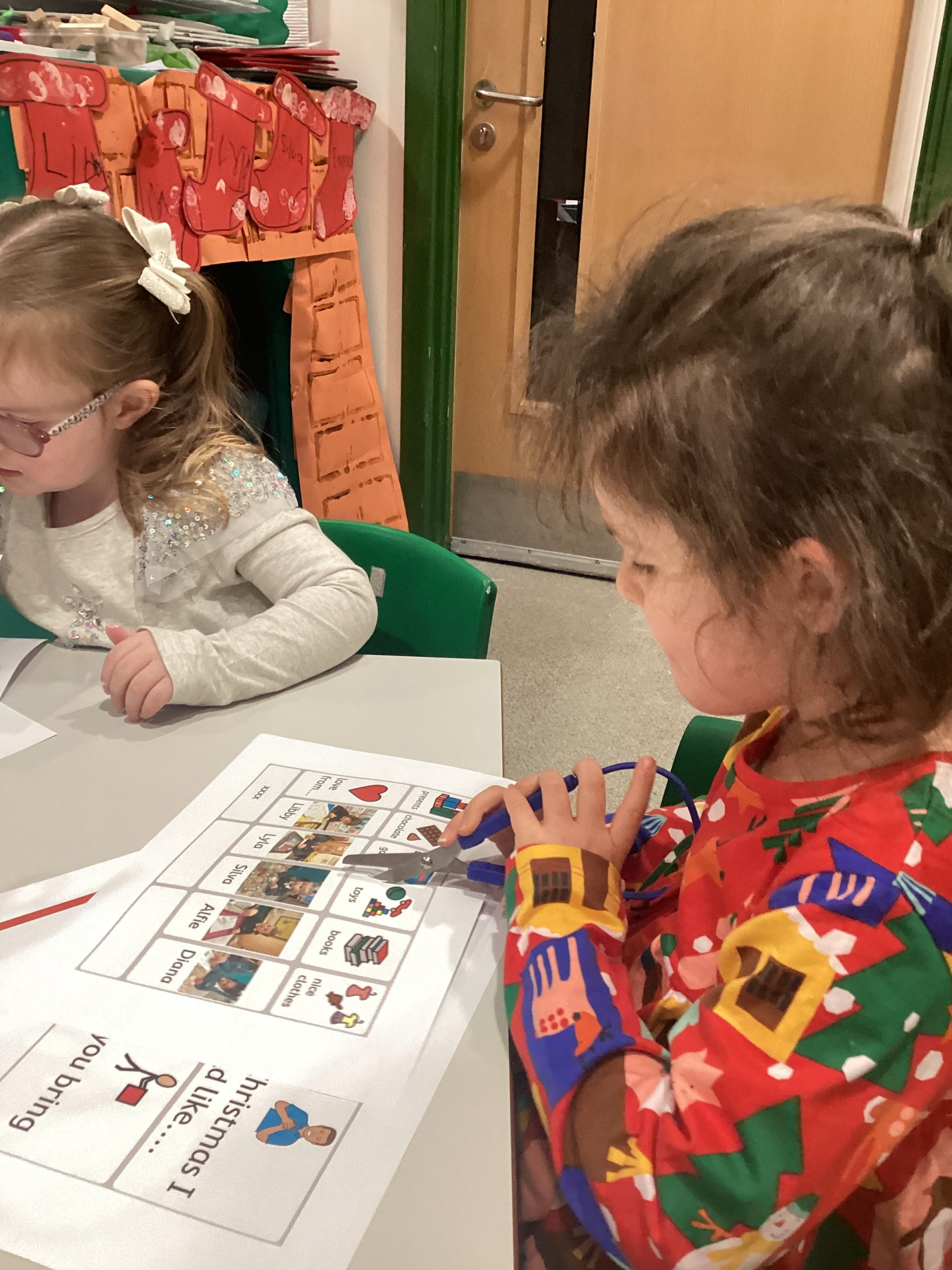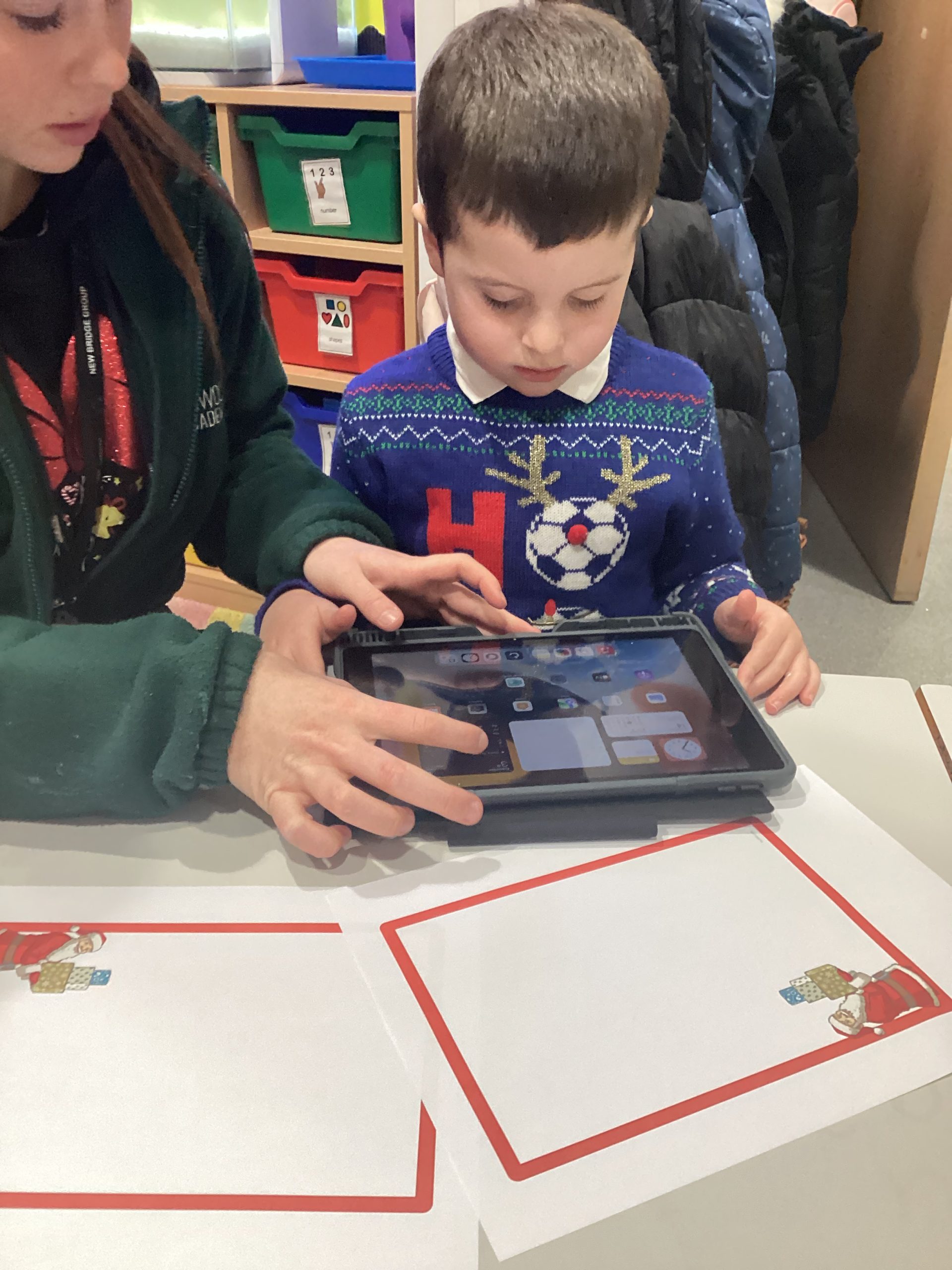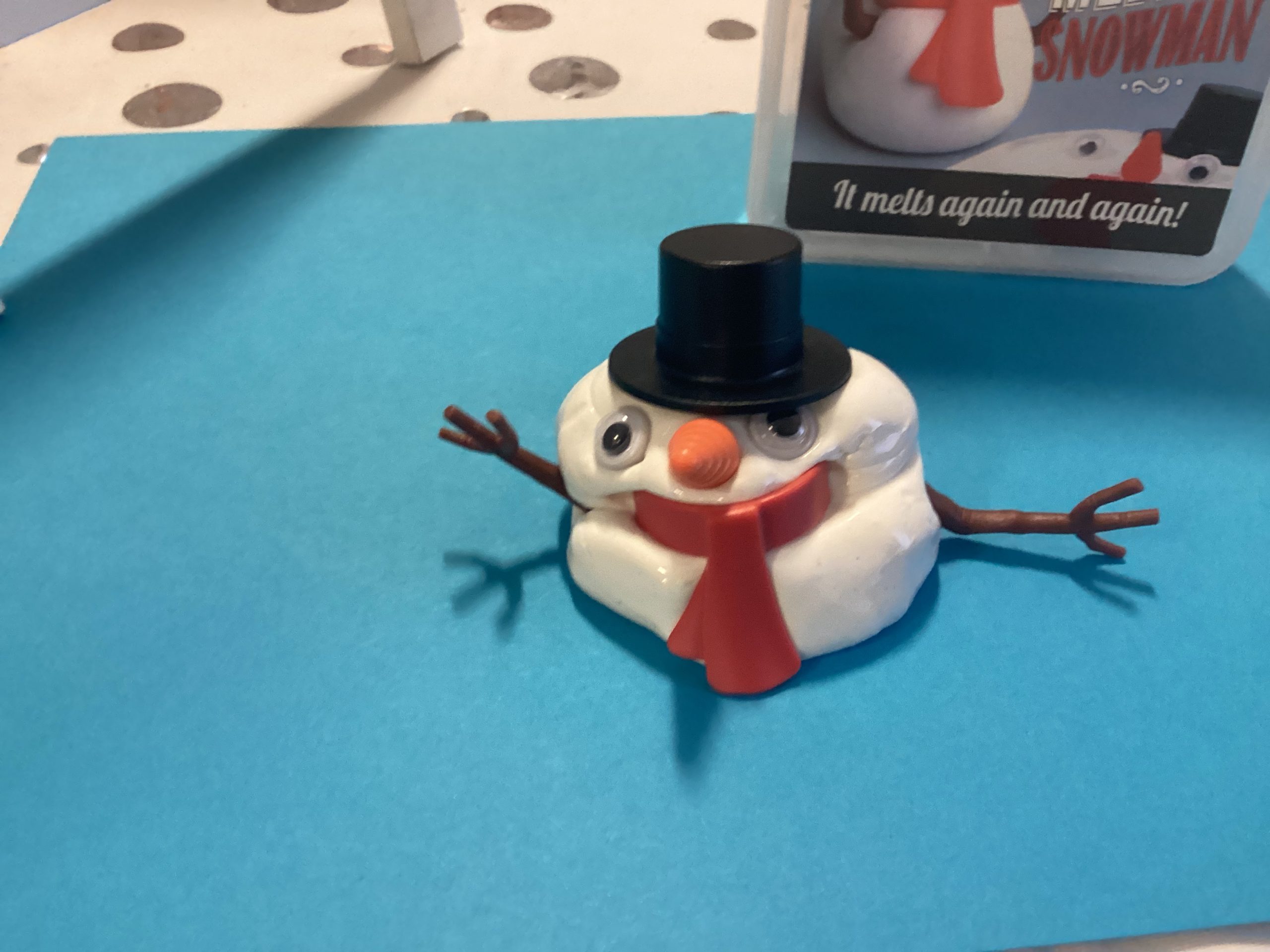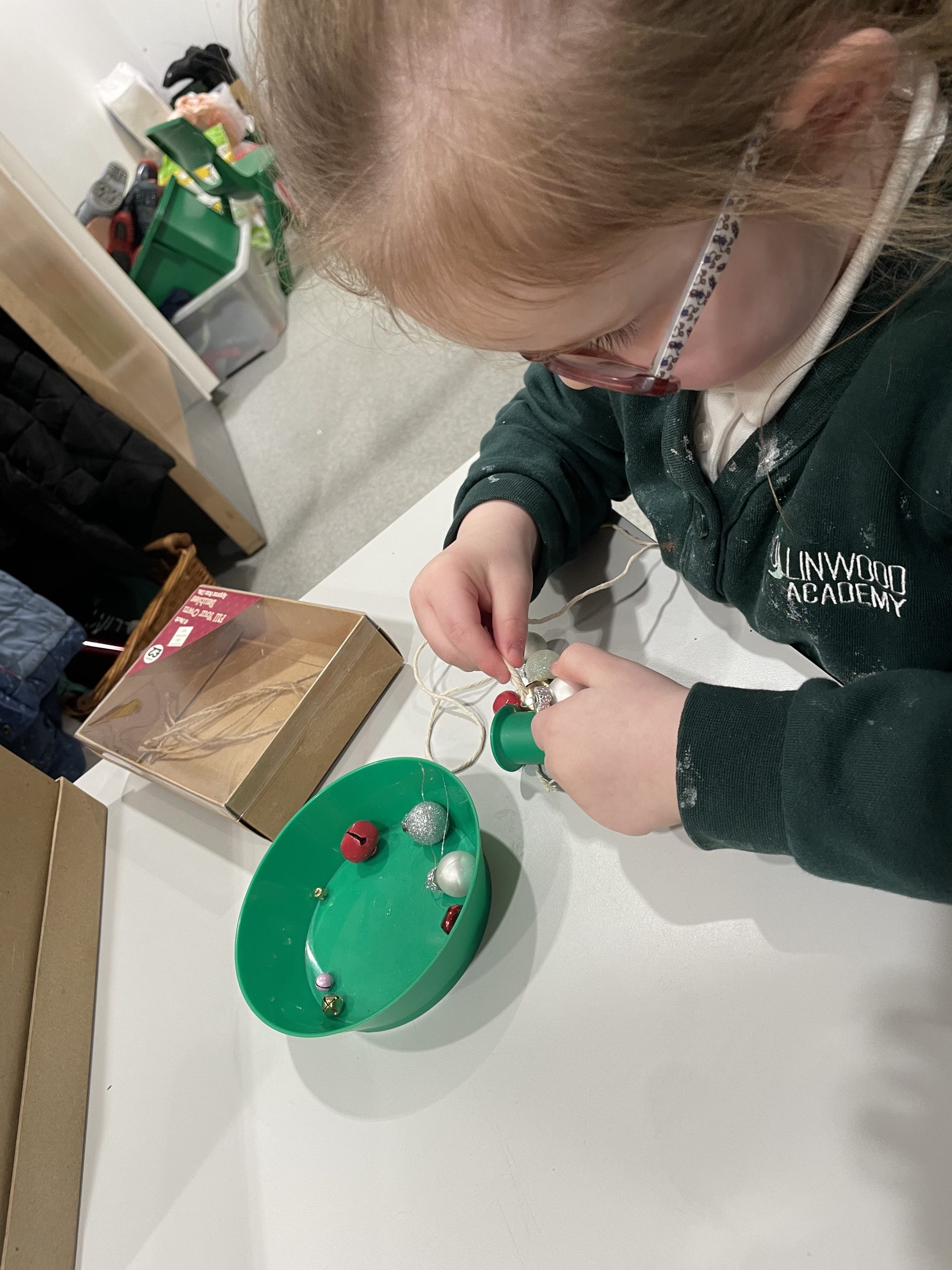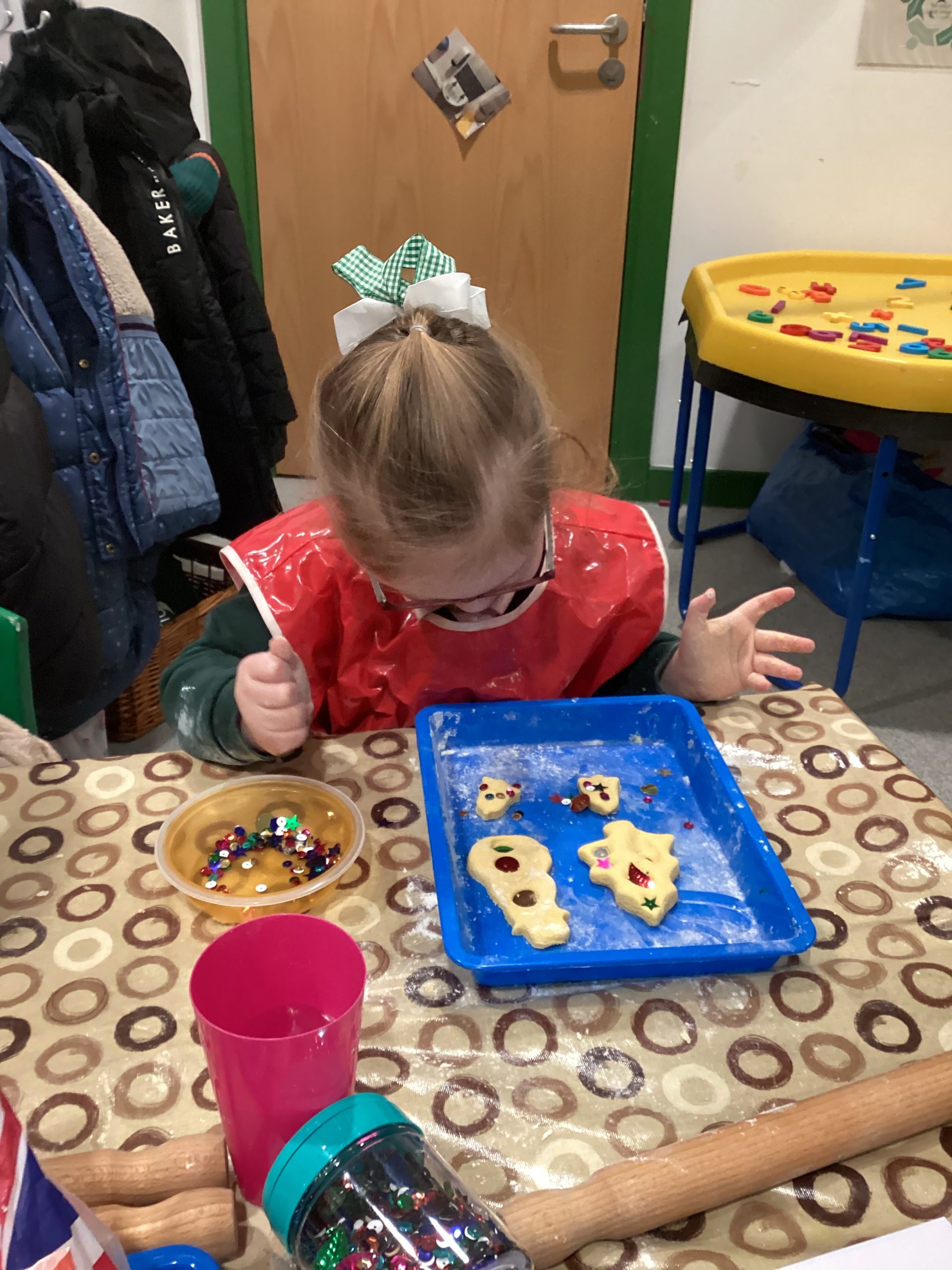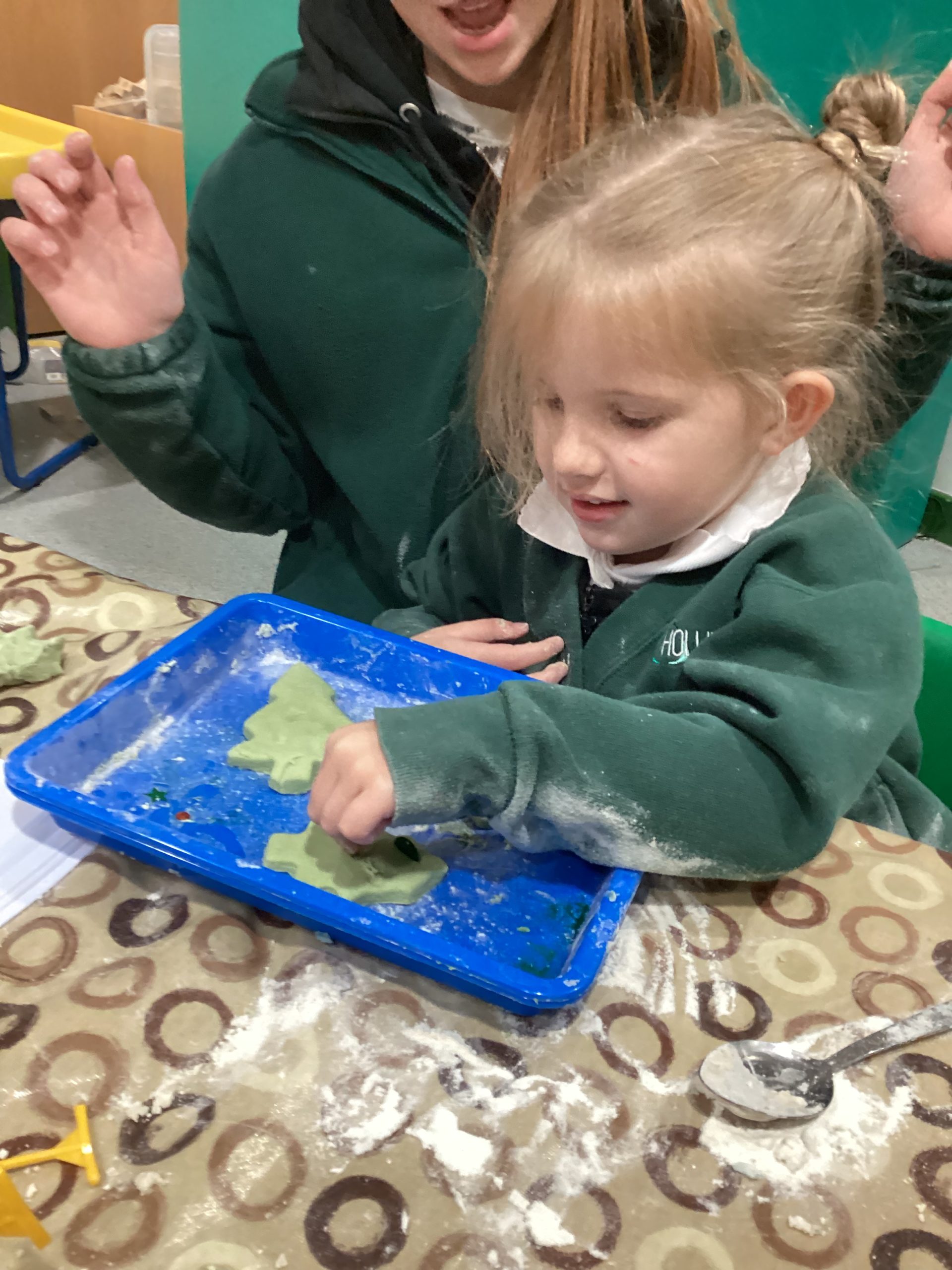 Now to Ms Henson's form…
"Christmas has arrived in 7SHN! We have been decorating the tree, singing Christmas songs, making snowflakes and testing our Christmas knowledge in the final quiz of the year. All students have been fully involved in class activities and they have been eager to share their favourite Christmas things. It has been warming to see the students taking turns and listening to each other's stories and opinions, which is something we have been working on.
All students have settled in well to HWA. They have made new friends and are enjoying learning, especially now the environment feels more familiar. We have been following the FIFA World Cup and have explored flags of countries taking part and some not involved in the competition this year. I have been thoroughly amazed at the awareness and knowledge students have in this area!
In creative media we have been learning about hardware, we investigated the inside of a computer to locate the CPU. We have loved going on Outdoor Education, visiting local shops and comparing prices, we even got to pick something to buy. This has helped improve our independence and learn budgeting skills. This week we went to Castleshaw where we had to wrap up warm as it was -8! The scenery was beautiful, we could see snow on the hills and the lake was almost completely frozen over.
We have been working on conveying emotions in drama. We have been practising these skills during form and worked together to think of a cunning scene then improvised it in front of the class. I was impressed with their expressions and use of body language. It was very realistic and effective.
We are looking forward to a break from learning and spending time with our families but feeling positive for the new year!"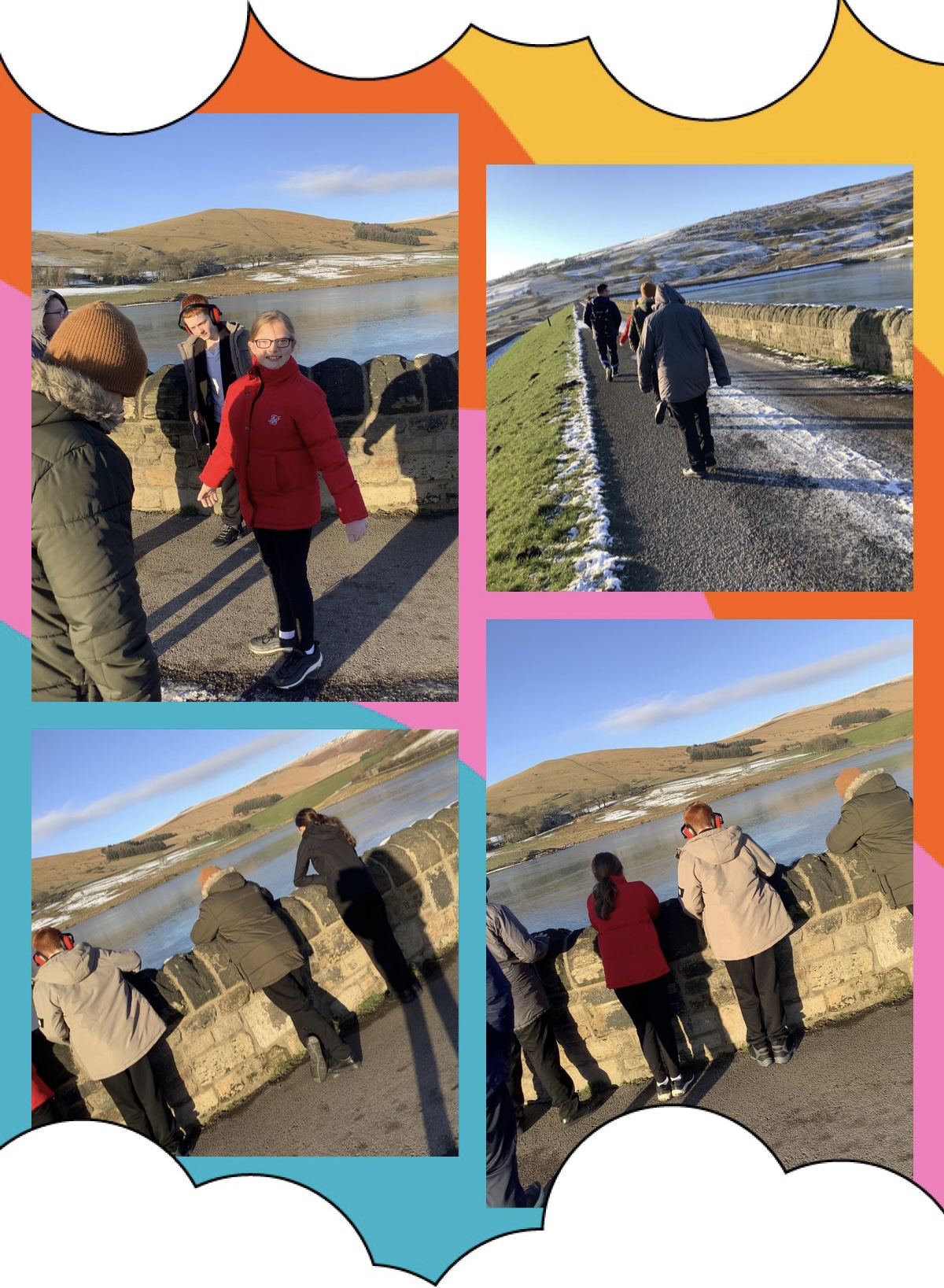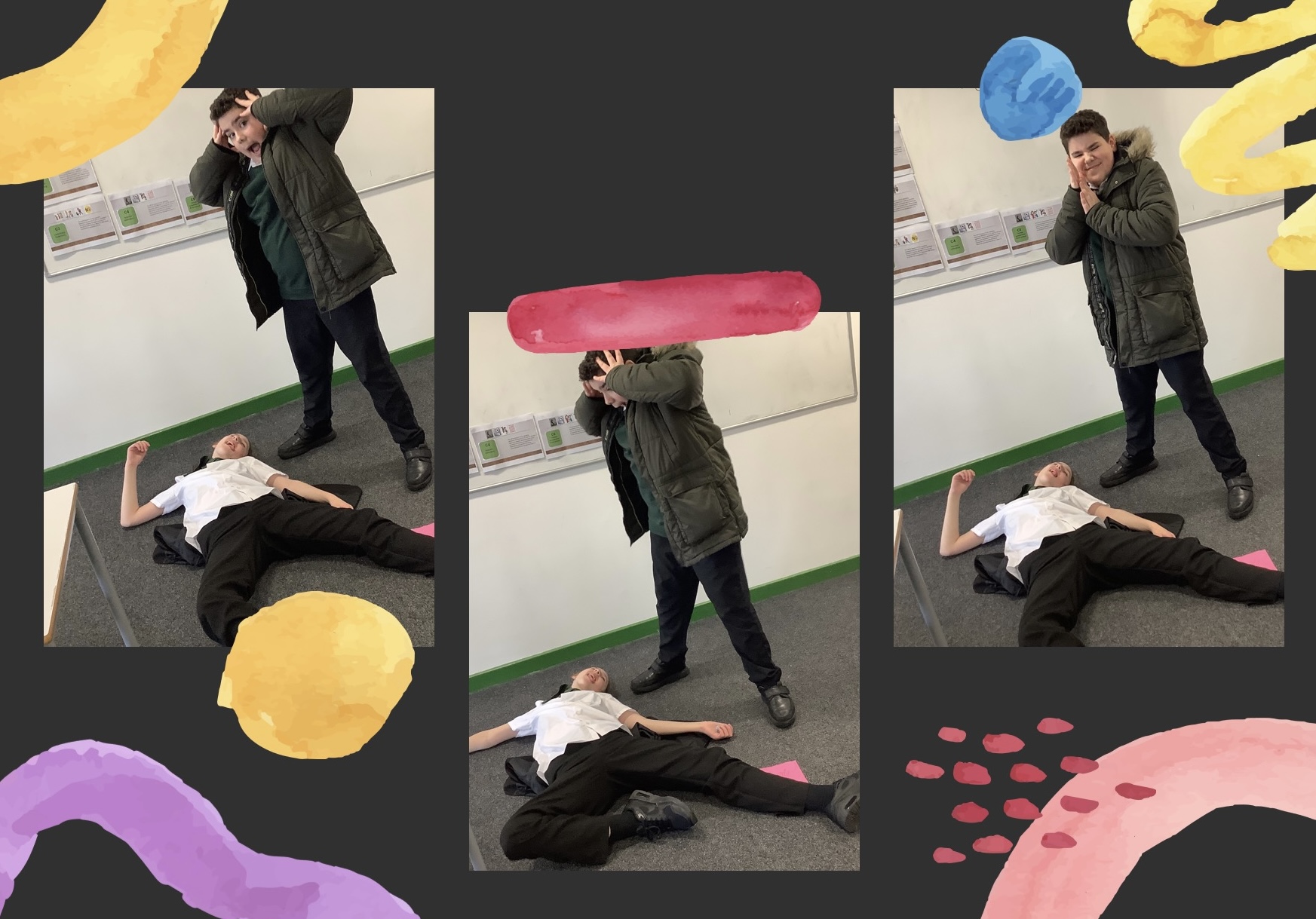 Now to Ms. Murphy's form…
"This term we have been learning about Magnetism, Galaxies and The Planets as part of our Universe Science Topic. In Geography we have found out about the devastating affects of flooding and how rivers are managed by people and animals.
In English we are improving our sentence structure, answering questions about the Fresh Start Module stories and we have made good progress with our spellings, grammar and punctuation. We are all looking forward to our Christmas break and we have been busy making cards and decorations for our Christmas trees at home.
In Outdoor Education we are building our confidence in shops, making our way safely around town centres and visiting garden centres. This means we can learn about and apply our skills to increase independence. In PSHCE through our discussions we all know that we will be making some positive choices about future lifestyles to keep ourselves safe.
This term has been very busy but we have made some time to have fun in our sessions. We have been learning to reproduce poster-style art inspired by contemporary artists and we have experimented with different painting techniques."
Now to our amazing SUPER STARs and HWA Inspiring STARs
Mrs Lerigo's STAR of the week is Silva for amazing, amazing work at stage 4 of Attention Autism and independently carrying your tray to the table to do the task.
Mrs Lerigo's HWA Inspiring STARs are Derry and Alice…
For: inspiring us with your talents during assembly!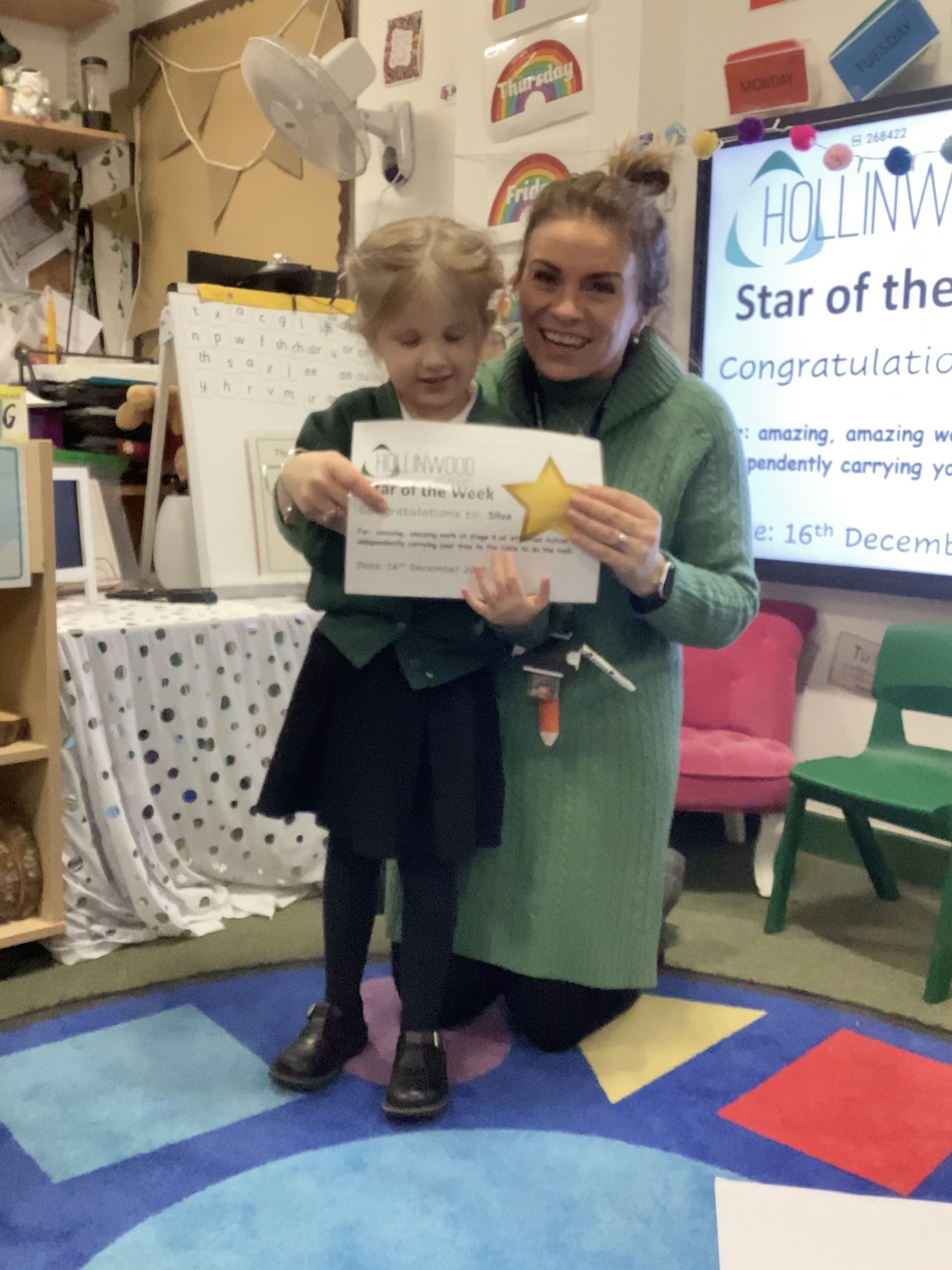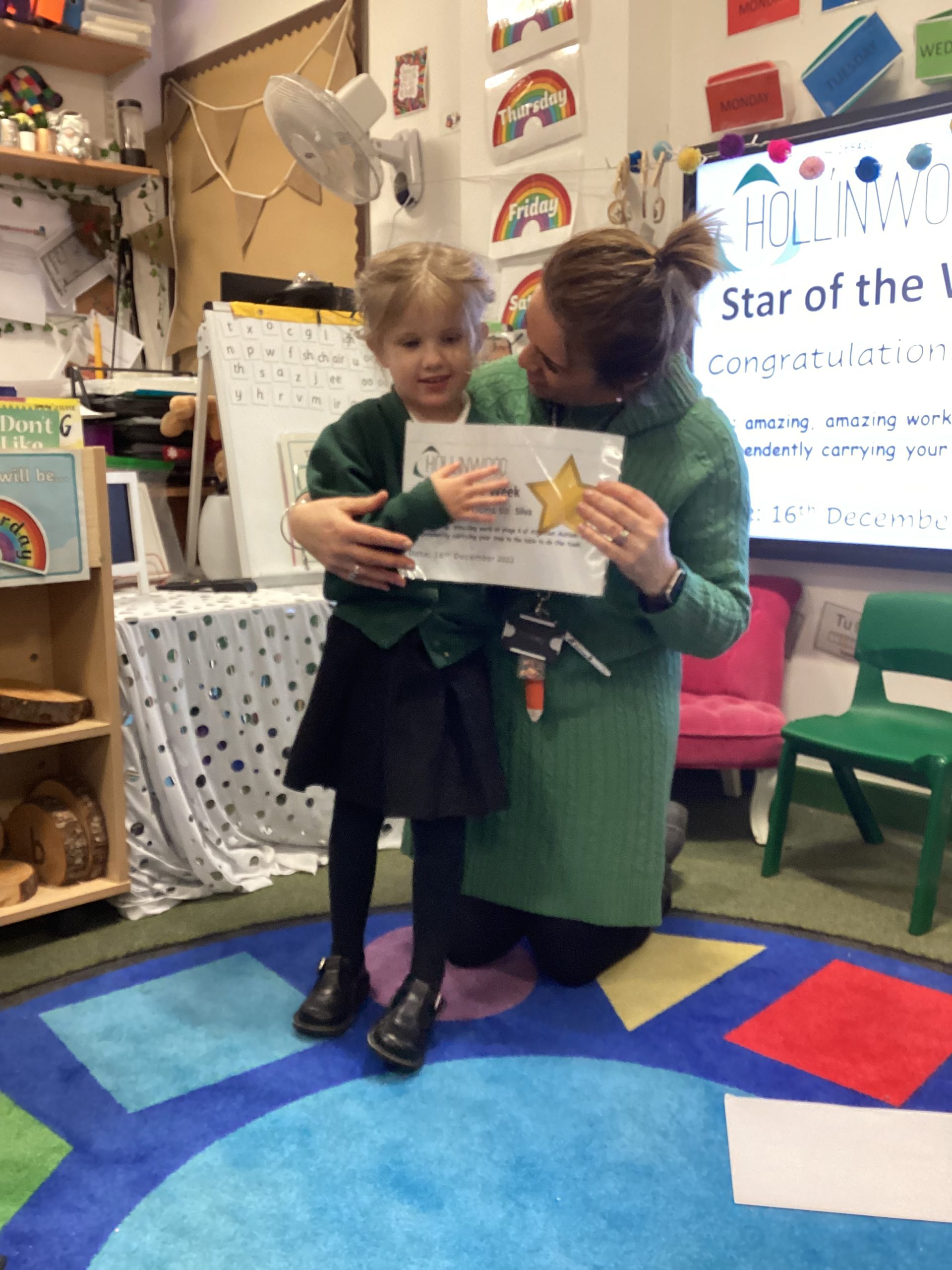 Miss Pietraszewska's STARs of the week are the whole class for inspiring each other with being amazing this term.
Mrs Halkyard and Miss Hulme's STAR of the week is Caitlin for having fantastic behaviour all week.
Mrs Halkyard and Miss Hulme's HWA Inspiring STAR is Shane for demonstrating our Autumn target "we are Inspiring" for always setting good example to other children by using lovely manners, trying his best and being good friend.
Mr Corrigan's STAR of the week is George for playing with a new friend this week.
Mr Corrigan's HWA Inspiring star is Freya for being a great example to her friends this week.
Mr Corrigan's WOW moments go to Brooke, Jason and Oscar. Well done!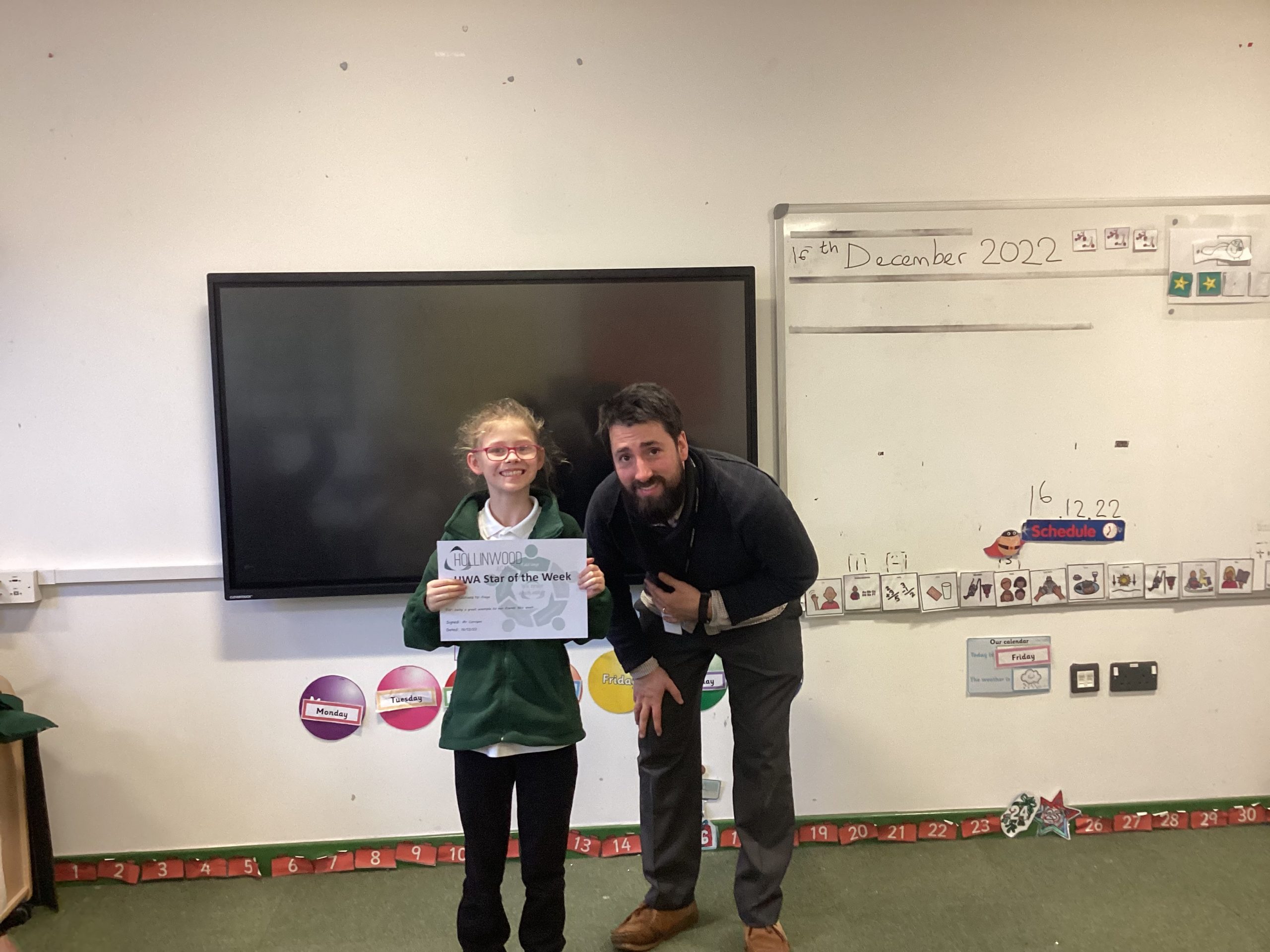 Miss Prescott's STAR of the week is Eli for his endless kindness to his peers and his teachers.
Miss Prescott's HWA Inspiring STAR is Renico for inspiring us to accept help when things get tricky.
Miss Tootill's STAR of the week is Jake for a super week and helping at the Christmas markets.
Miss Tootill's HWA Inspiring STAR is Madison for having the perfect week and inspiring her peers.
Mrs Matthew's STAR of the week is Marcus for making a conscious effort to make better behaviour choices such as not shouting silly words in class discussions.
Mrs Matthew's HWA Inspiring STAR is Joshua for being nominated the most times by members of the class for being 'kind' and 'a good friend'.
Well done to our secondary Hollinwood Academy STARs this week: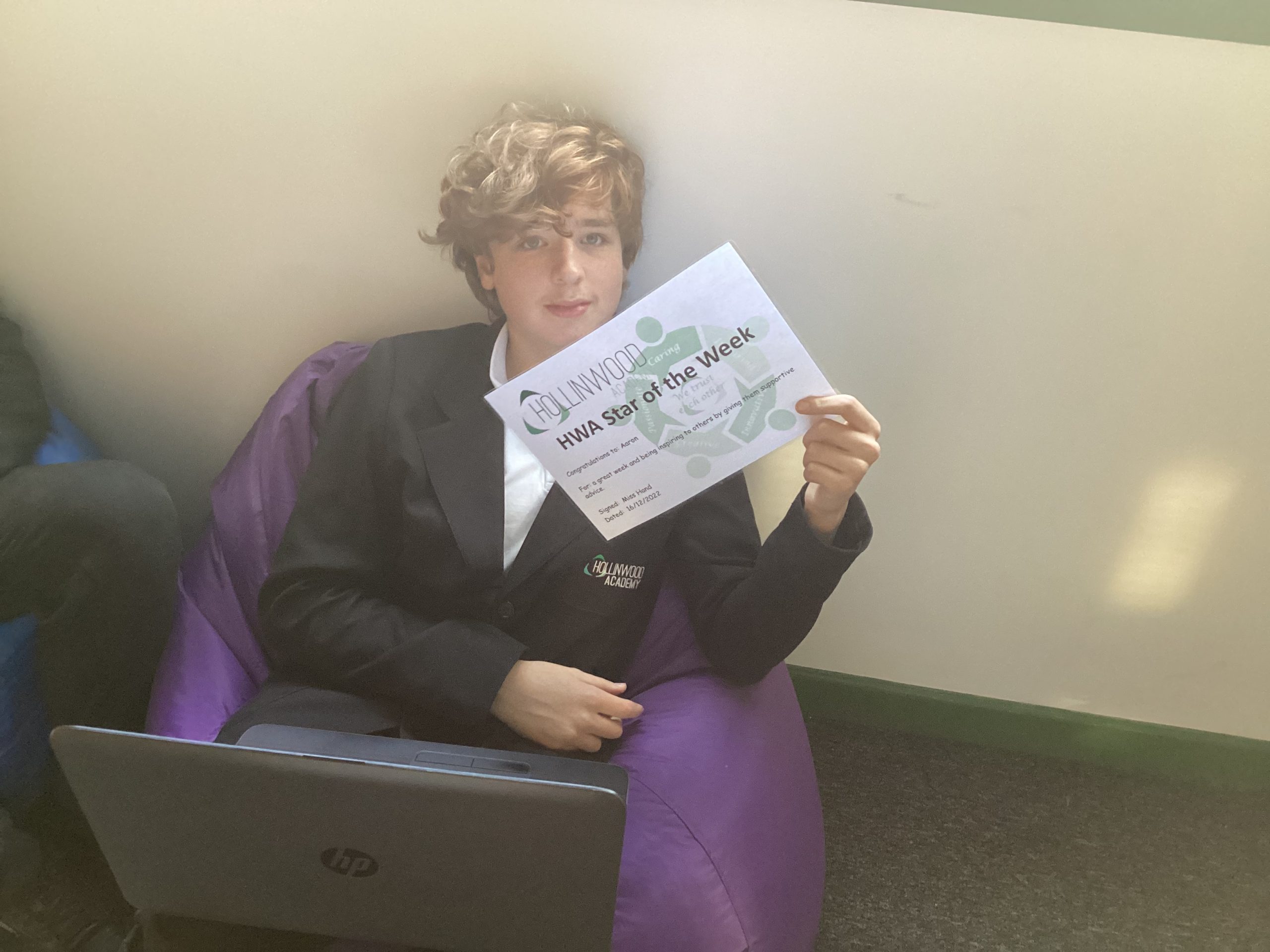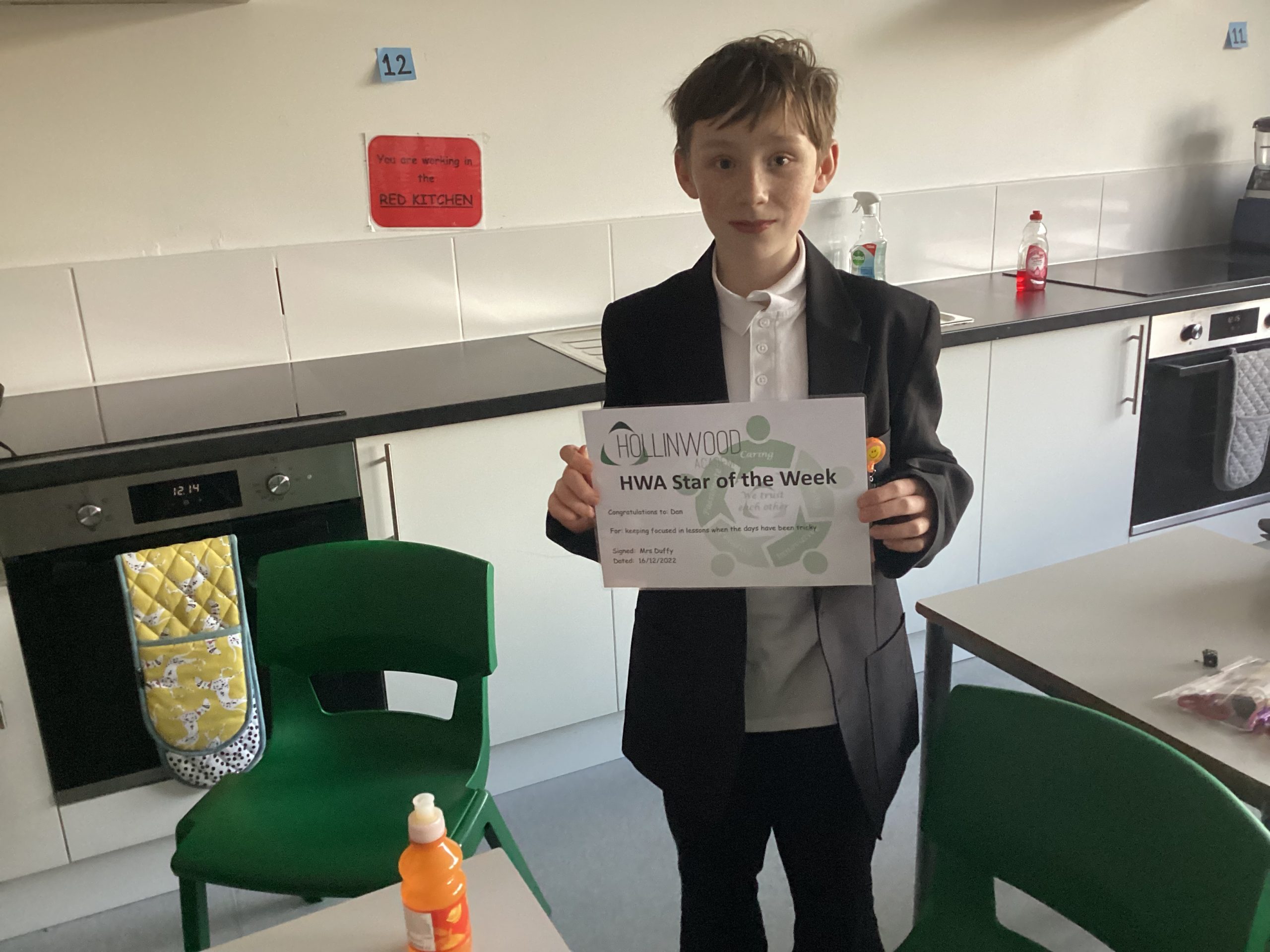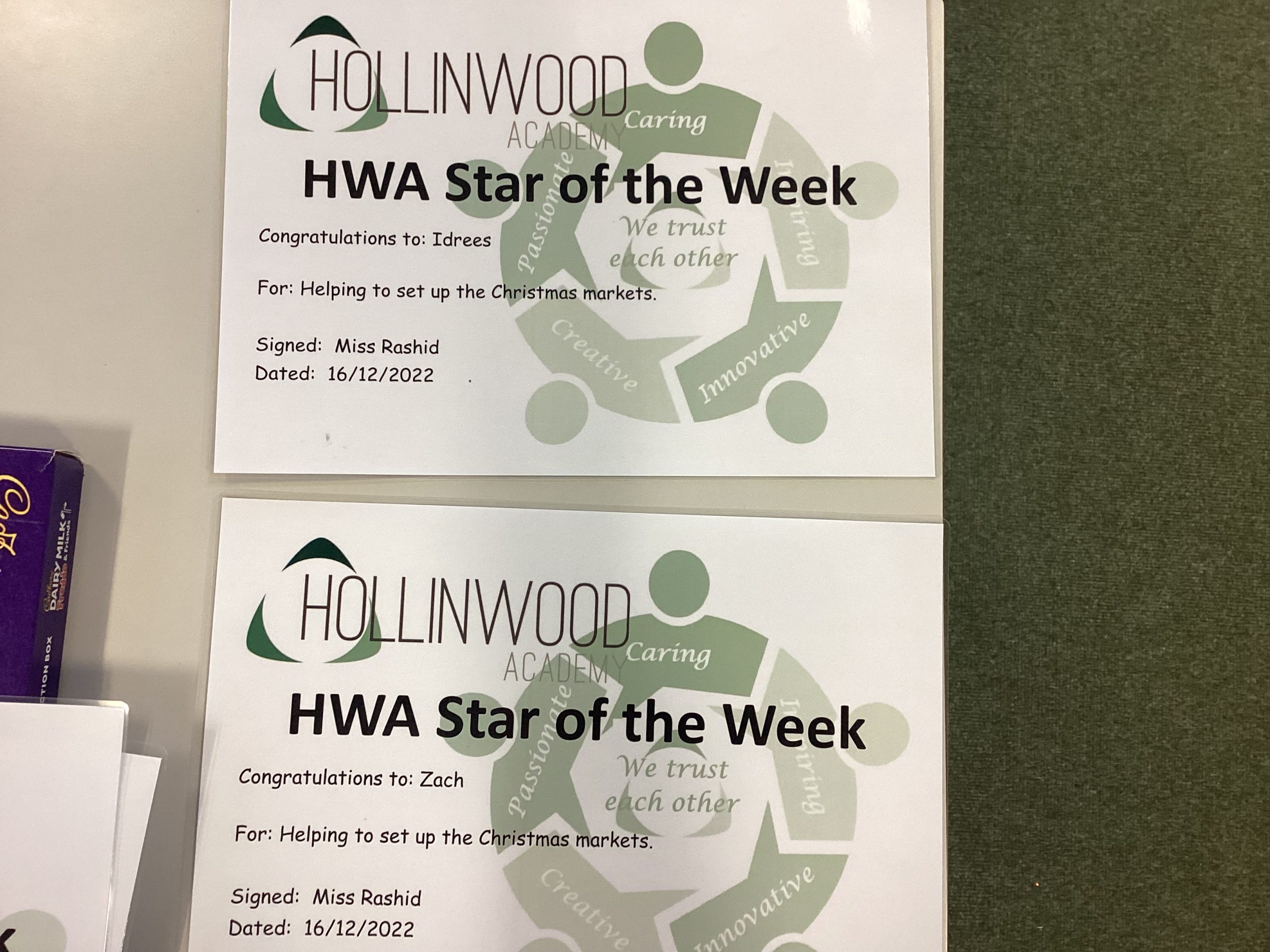 I want to finish my blog on a positive as August 2021 saw Kian leave Hollinwood Academy. He achieved a variety of qualifications at Hollinwood Academy, including Employability and functional skills in mathematics and English. He stayed within the Multi-Academy trust after leaving Hollinwood Academy and proceeded to New Bridge College, where he enrolled in the pre-internship pathway. He has kept up his diligent approach to learning, and he is about to have his first interview for a position working in the service carriage of trains. As a school we wish you the best of luck in your forth coming interview.
Here are a few words from Kian:
"I'm now into my second year into Pre-Interns I've now experienced a variety of different work placements mostly within the catering industry; which is something I never thought I would be able to manage."
"Now I'm in my second year and look at me now I can work more independently and have been searching and applying for suitable jobs within the transport industry and that's an industry I want to work in. I've recently applied for Jobs at Metrolink and Transport for Wales. I've been lucky to get a first stage interview with Transport for Wales and it's based at Manchester Piccadilly. I have come a long way from when I first started in the Pre-interns last year and I'm proud of my achievements. I feel more confident and positive about my future."
We are so proud of your Kian!
We have now broken up for the Christmas holidays and school reopens on Tuesday 3rd January 2023.
All that is left for me to say is Merry Christmas and a Happy New Year to one and all.
Mrs Millard