Blog 09.12.2022
What a fabulous week we have had at Hollinwood Academy. My highlight was the primary Christmas Show and I am sure the families that joined us on Tuesday morning could not agree more. From five cheeky elves, to snowball fights, singing, dancing, signing and hilarious jokes! It was just amazing! I am so proud of every one of our children at Primary as it can be a very daunting experience standing up and performing in front of a big audience on stage in the theatre but what a sight it was to see. This year was our first live Christmas performance since December 2019 and it did not disappoint. The videos for each class will be shared on Evidence for Learning and I know you will enjoy watching these at home. Also, the primary Christmas Show will be a big focus in our newsletter next week.
On Monday evening I held our first Governor's meeting at school and it was lovely to see everyone. During the meeting, the Governors received an update from myself regarding the school, numbers, planned building work, premises, progress, standards and attainment including the Pupil Premium report. We then reviewed the school development plan and the progress made this term including the safeguarding reports, procedures and training. Mrs Tushingham also gave an update on the year-to-date position on finance, including the 3-year budget plan and also discussed and agreed a number of policies. There was a lot to discuss in our 2-hour meeting and it was lovely to see some of our governors and MAT trustees at our Christmas show on Tuesday and we have also welcomed them into school on Wednesday to our Christmas markets. It has been brilliant to have the Governors back in school and fully involved in our school community.
I always look forward to our Governor's meetings as it gives me the opportunity to celebrate our achievements and highlight any areas of development with the continuous challenge from our Governors so that myself and the senior leadership team are constantly striving for the best for our children and young people. We have further strengthened our governance as we have recruited a new Governor, Ghazala Rana, who will be joining us in the Spring term and I look forward to working with her alongside our current Governors. Ghazala is a registered care manager and a qualified assessor and trainer in health and social care. She supports her team to work daily within the domiciliary care sector, supporting the elderly and children with complex and behavioural needs. Ghazala wanted to be a Governor at Hollinwood Academy so that she could share her understanding and knowledge to support the team at Hollinwood to continue with the great work already achieved and continued support to achieve positive outcomes. She is looking forward to meeting the team, children, young people and families at Hollinwood so that we can all work together to share our expertise and the wonderful ideas our younger generations hold to move forward in positive ways.
Let's see what some of the classes have been doing starting with Miss Meadow's class…
"It has been quite a busy few weeks in Miss Meadows' class, we have been absorbed in practising for the Christmas show, phonics, maths and Christmas art projects.
We have had many wow moments in class this half-term. Noel has built a tower in maths independently. Ethan is now using TD Snap as a communication aid and is repeating language with more accuracy. Jack has been working hard in his SALT sessions to use TD Snap to request 'more' and is gaining more confidence with his communication. Ohud has begun to use language more frequently and is talking during work time to identify sounds, shapes and numbers. Maja has become more confident in her actions and more alert of her surroundings, she is interacting more with staff and peers.
They are beginning to become more familiar with their routines and understand what is now and next. In the Christmas Show, we performed Frosty the Snowman, we all wore our winter clothes and danced on stage.
The children did well exploring winter themed boxes and Noel was an excellent snowman. During our last week of term, we will be exploring more Christmas activities and are looking forward to our first Christmas dinner as a class.
The children have made exceptional progress this half-term and would not do so without the amazing TA support they have every day. It has been wonderful to see them flourish throughout the Autumn term, I can't wait for Spring."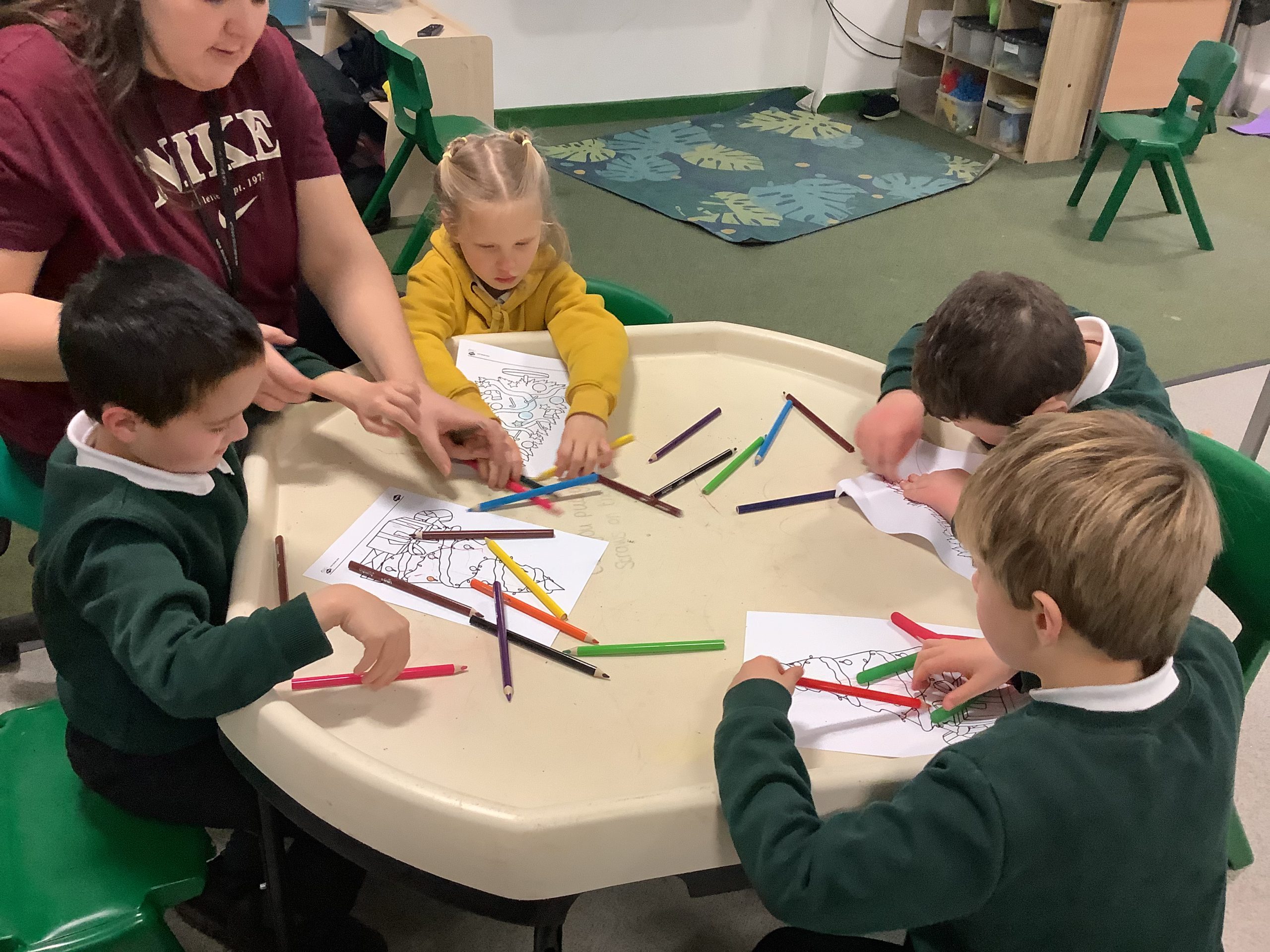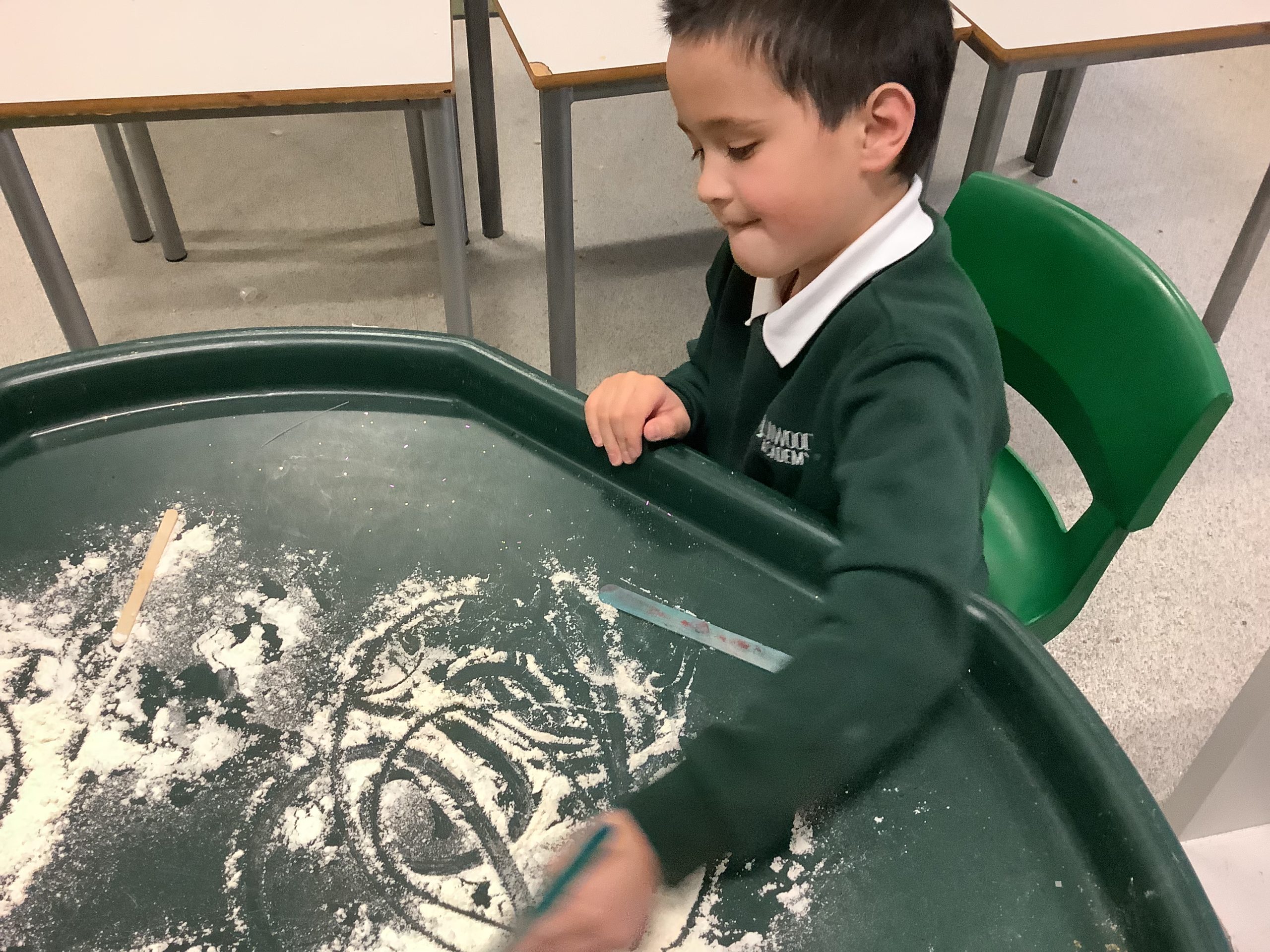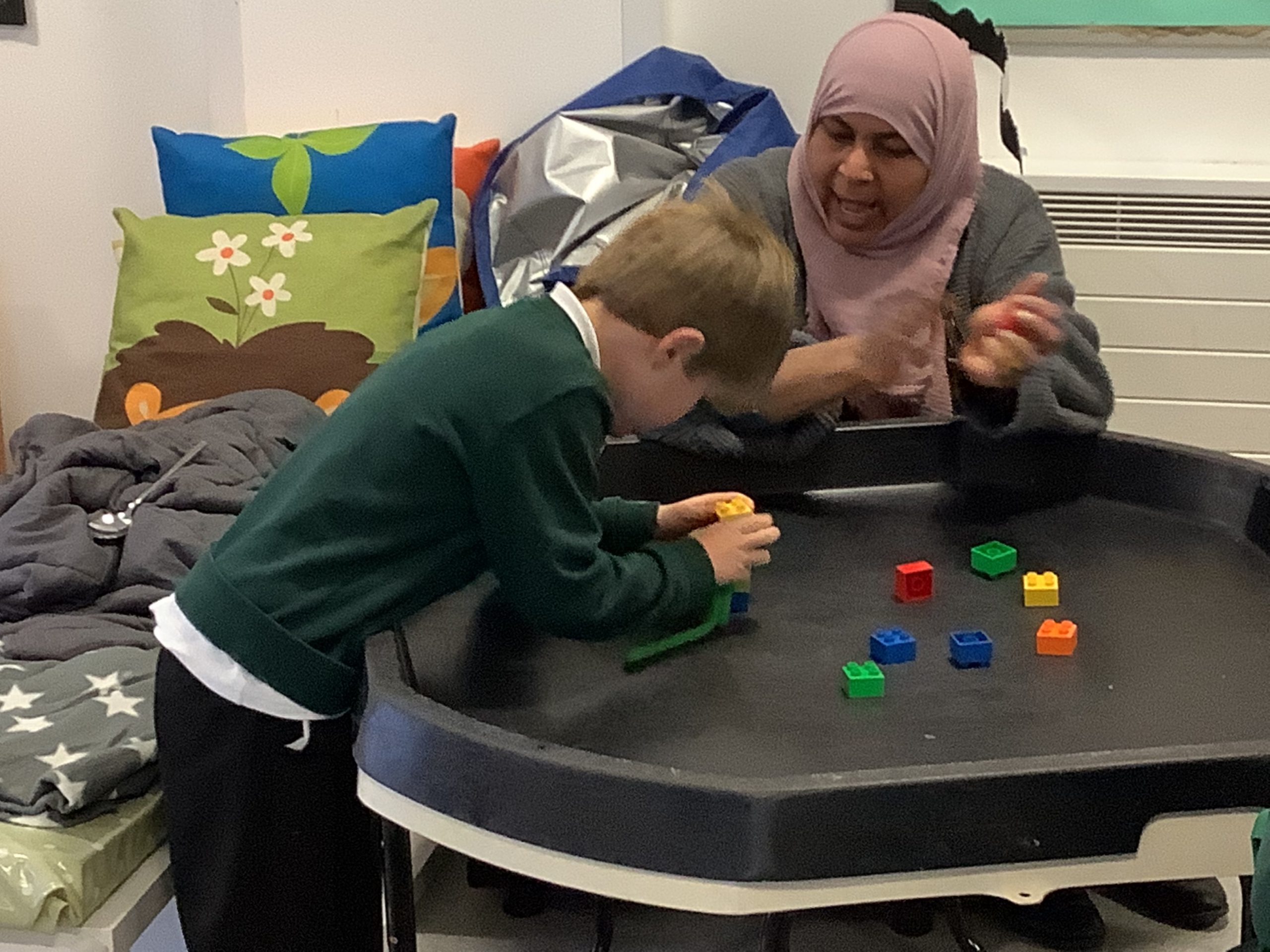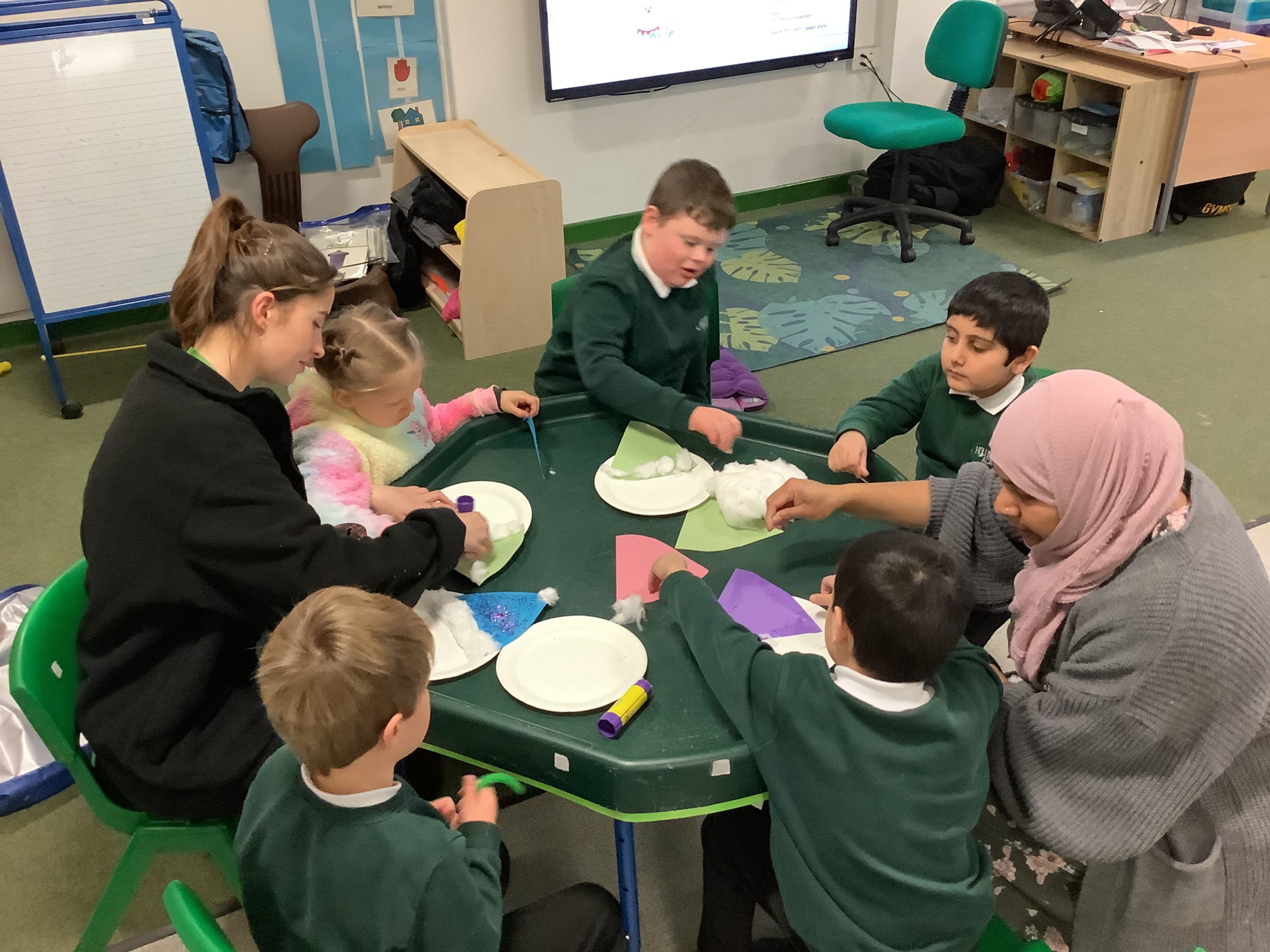 Now to Miss Boutell's form…
"Over the week, 9MBL have been focusing on Christmas and what it means to students d their families. To enhance our teamwork and hand-eye coordination skills we have decorated our classroom with handmade resources. This allowed the students to socially interact with each other and work as a group. Students are looking forward to Christmas and spending time with their families."
English
"This term the students have been reading 'The Curious Incident of the Dog in the Night -Time'. Whilst they were exploring the book students have discovered that the main character Christopher has autism and talks about struggles in society. This allowed students to also reflect on their own needs and how it can affect them in day to day situations. Students did their own research about autism whilst reading the book and had a class discussion and reflected upon themselves. Students wrote their own evaluations of the book and answered questions about how Christopher was able to overcome his struggles."
Science
"Our class this term learned all about forces. We have completed some practical experiments to enable us to gain a greater knowledge and understanding of forces. Whilst doing their practical on force push and pull they have discovered objects have to interact with another and they had to record their result such as contact or non-contacts force. We also learned about digestion and enzymes and how this can impact on life."
Maths
"In Maths we have been exploring scatter diagrams and all about plotting points. We also learned all about positive and negative correlations to see if there is any relationship and compare the data plotted in the scatter diagram. The students have gained greater understanding of graphs and the importance of labelling the axes. They have been completing various worksheets to analyse the points from a line when plotted, see if the line goes through the origin and read the correlations."
Outdoor Education
"We have been visiting various garden centres due to leading up to Christmas. This allowed students to explore in the community and they learned how to navigate through busy environments safely. This allowed them to work on their resilience and social skills."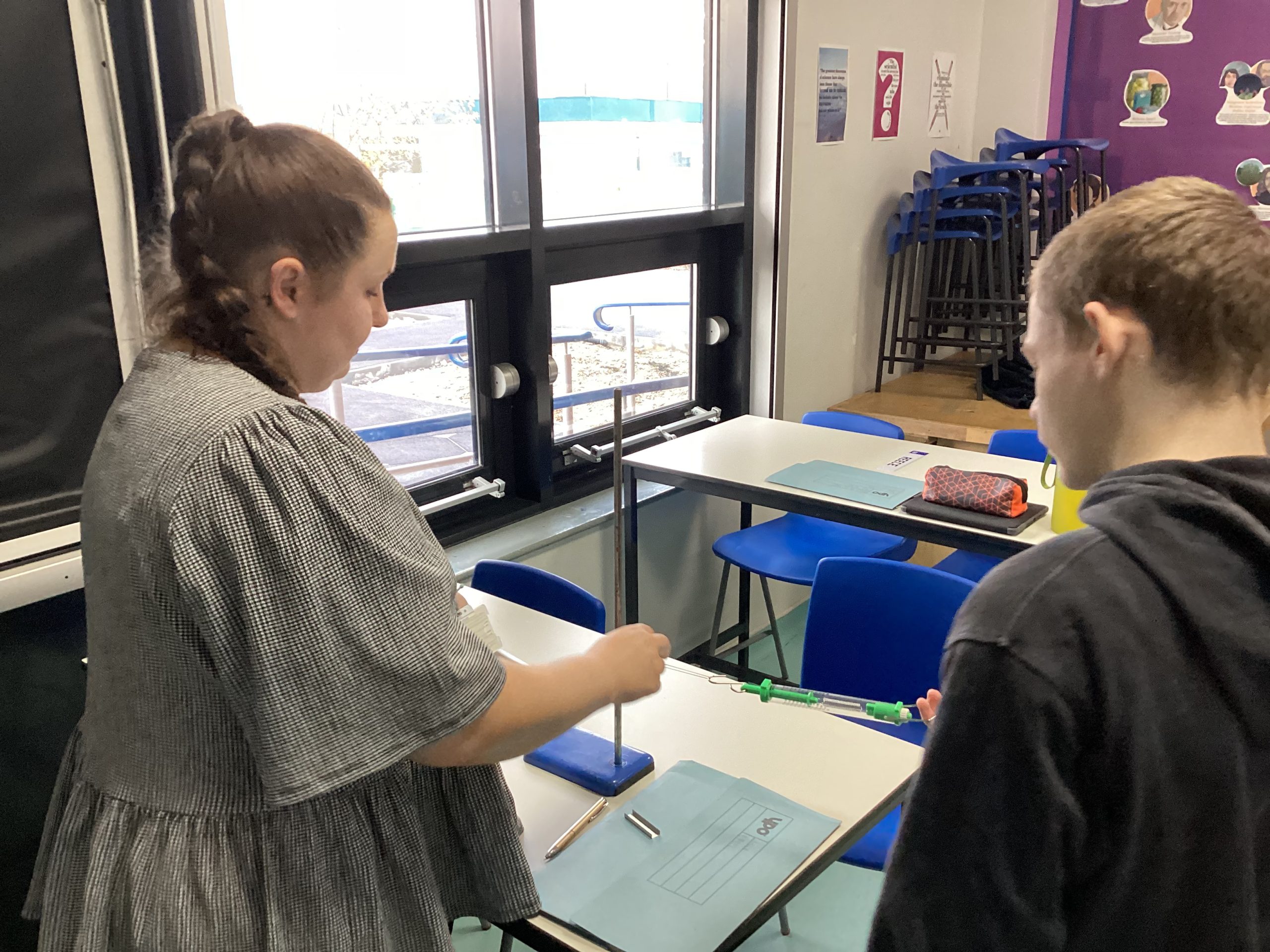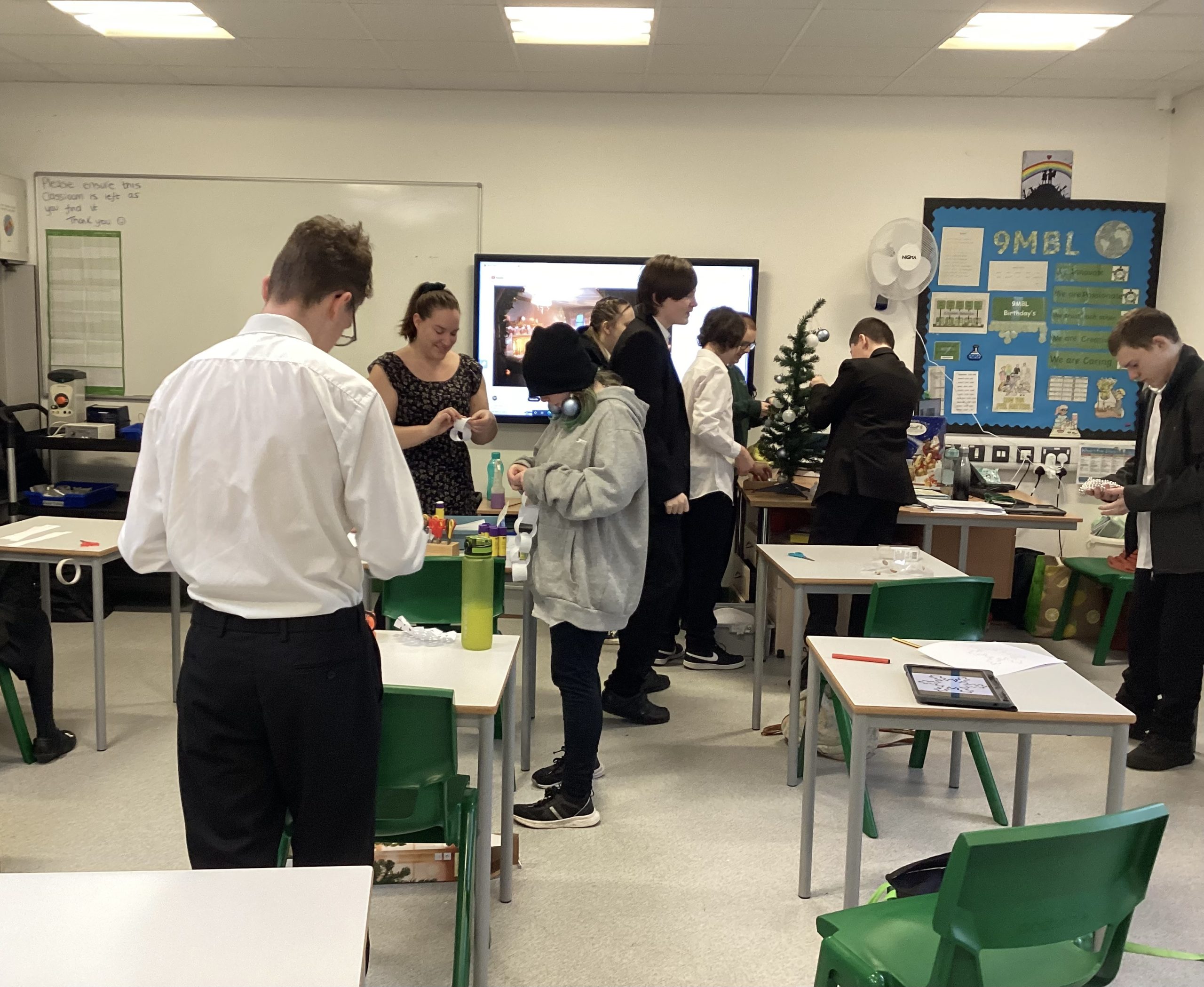 Now to our amazing SUPER STARs and HWA Inspiring STARs…
Mrs Lerigo's STAR of the week is Alfie for using his iPad to communicate his choices…. you are brilliant Alfie!
Mrs Lerigo's HWA Inspiring STAR is all the children in reception for inspiring everyone during your Christmas show performance!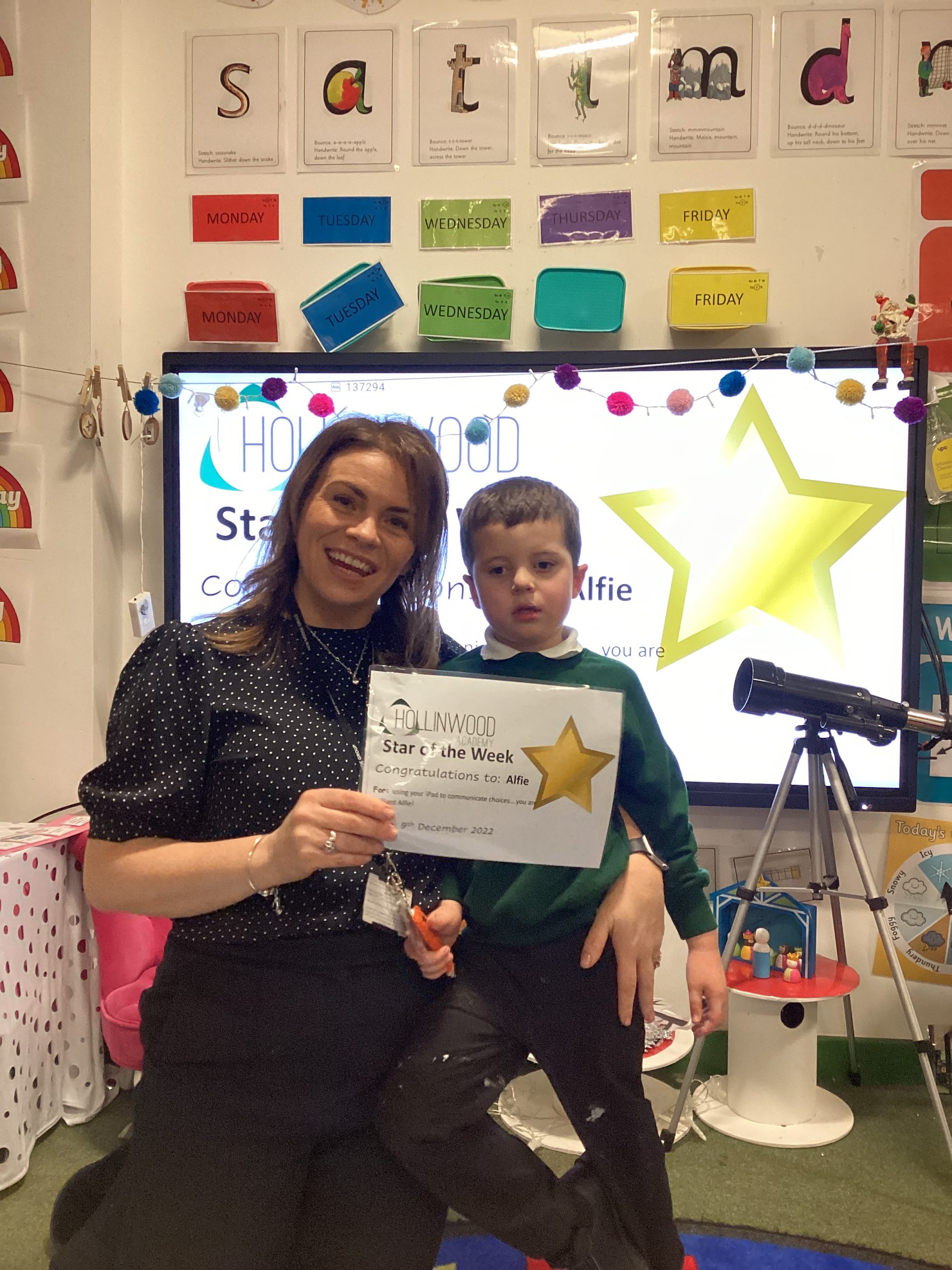 Miss Oakley's STAR of the week is Euan for his hard work this week in all his mark making.
Miss Oakley's HWA Inspiring STAR is Teddy for his amazing performance in the Christmas show.
Miss Meadows' STAR of the week is Ohud for knowing his number names in Maths! Super work!
Miss Meadows' HWA Inspiring STAR is Noel for following instructions and working hard in his lessons.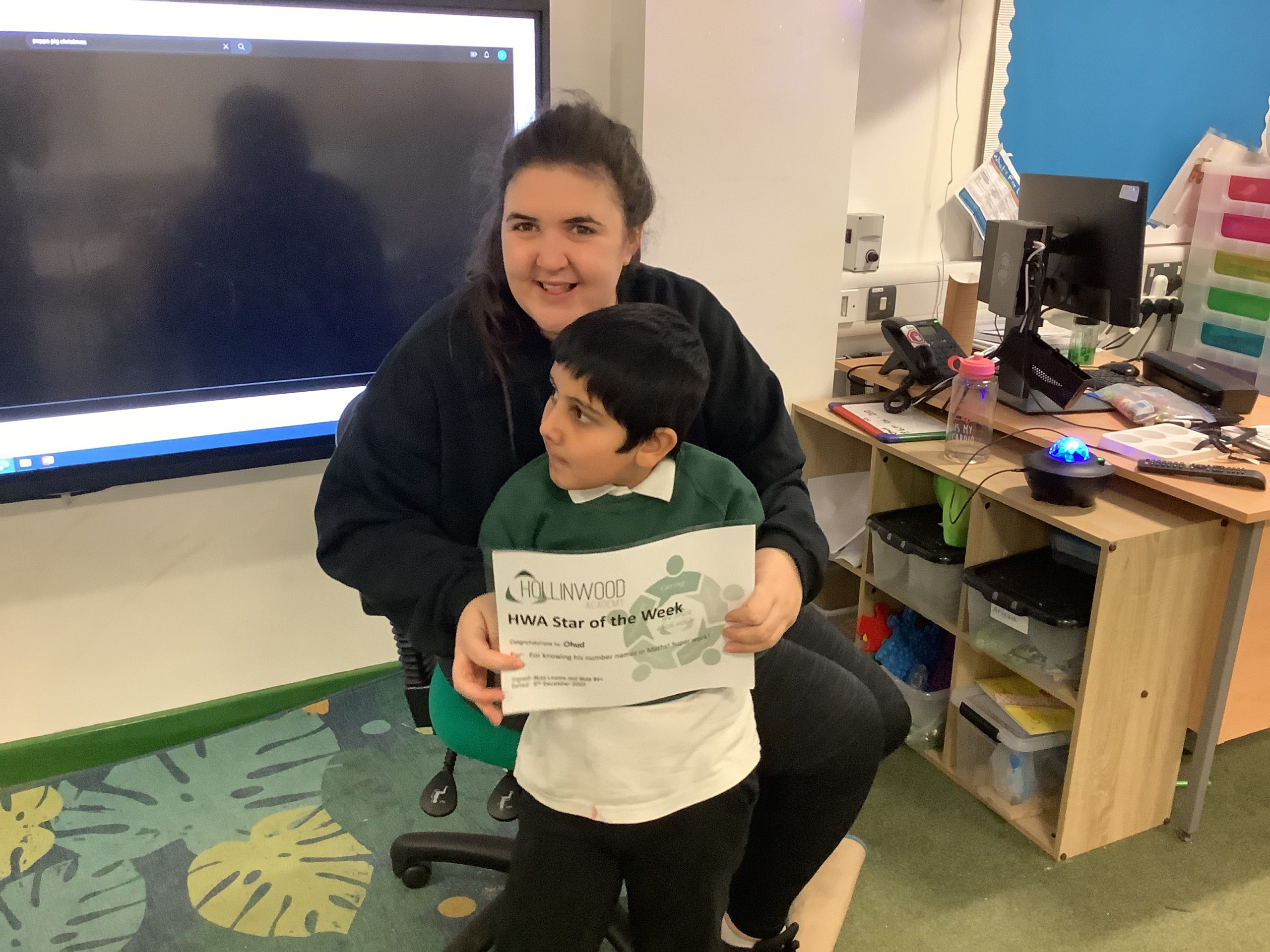 Mrs Woodhead's STARs of the week are the whole class for an amazing Christmas performance!
Miss Pietraszewska's STAR of the week is Lewis for making Christmas cards for his friends and teachers. Thank you Lewis! You are a super star.
Miss Pietraszewska's HWA Inspiring STAR is Simisola for fantastic engagement in assessments this week. You are a super star Simisola!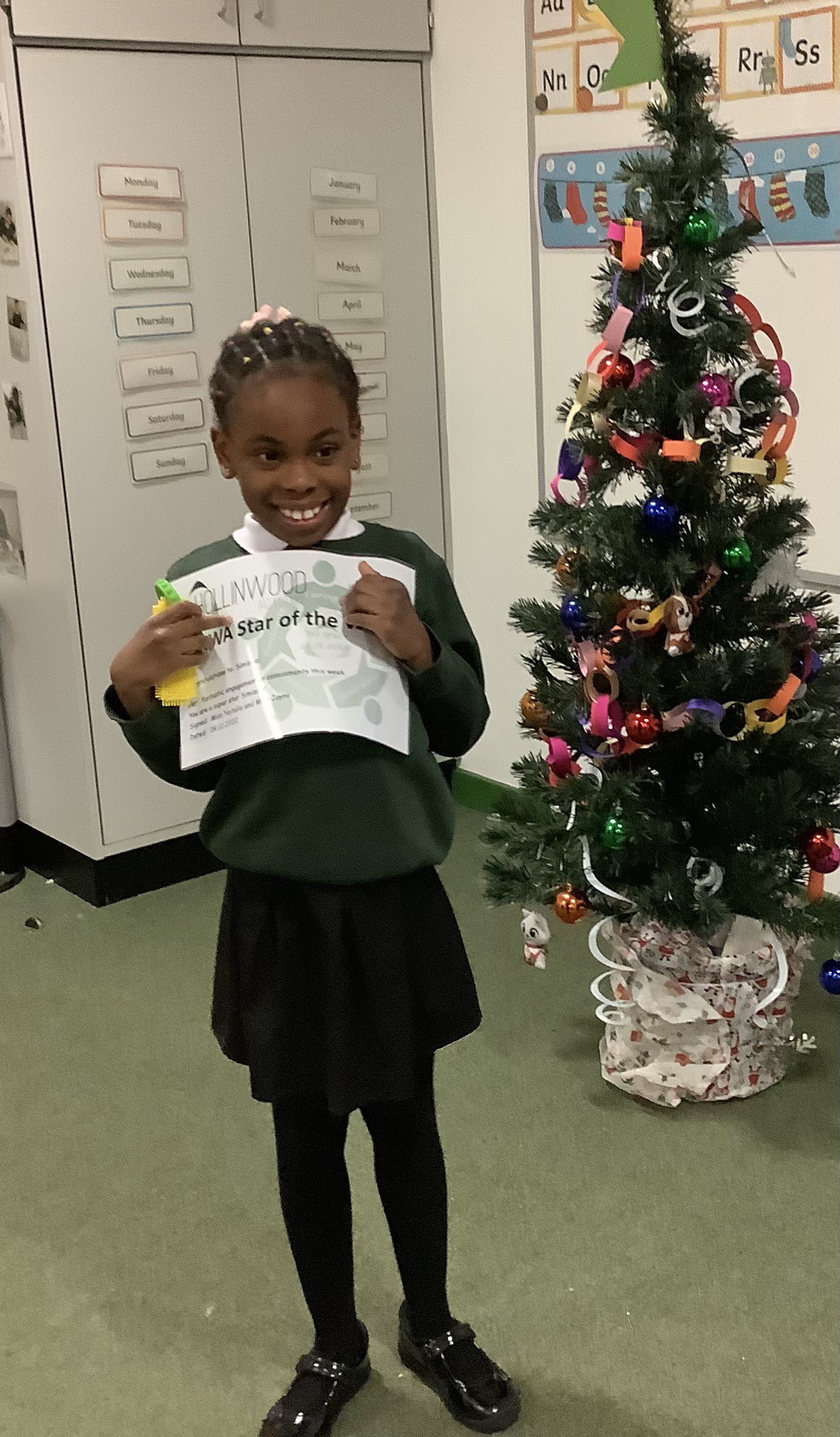 Mrs Halkyard and Miss Hulme's STAR of the week is Xander for being extremely helpful to his friends and teachers and for always trying his best with everything he does. Well done!
Mrs Halkyard and Miss Hulme's HWA Inspiring STAR is David for demonstrating our Autumn target "we are Inspiring for following instructions and taking great pride with his work Well done!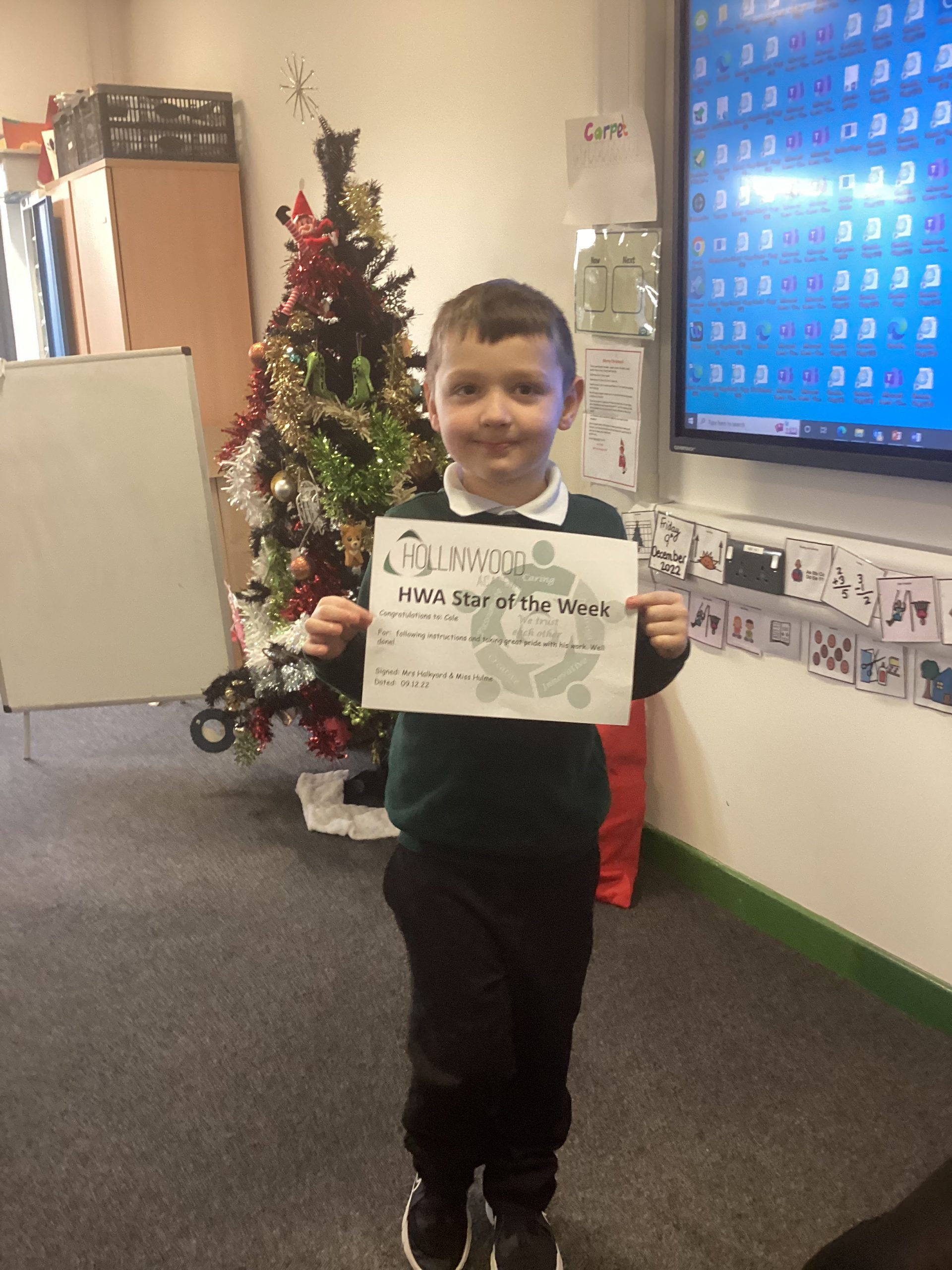 Mr Corrigan's STAR of the week is Oscar for being fabulous in the Christmas show.
Mr Corrigan's HWA Inspiring star is Jason for being brilliant in Phonics and Maths this week.
Mr Corrigan's WOW moments go to Derry, Jason and Brooke. Well done!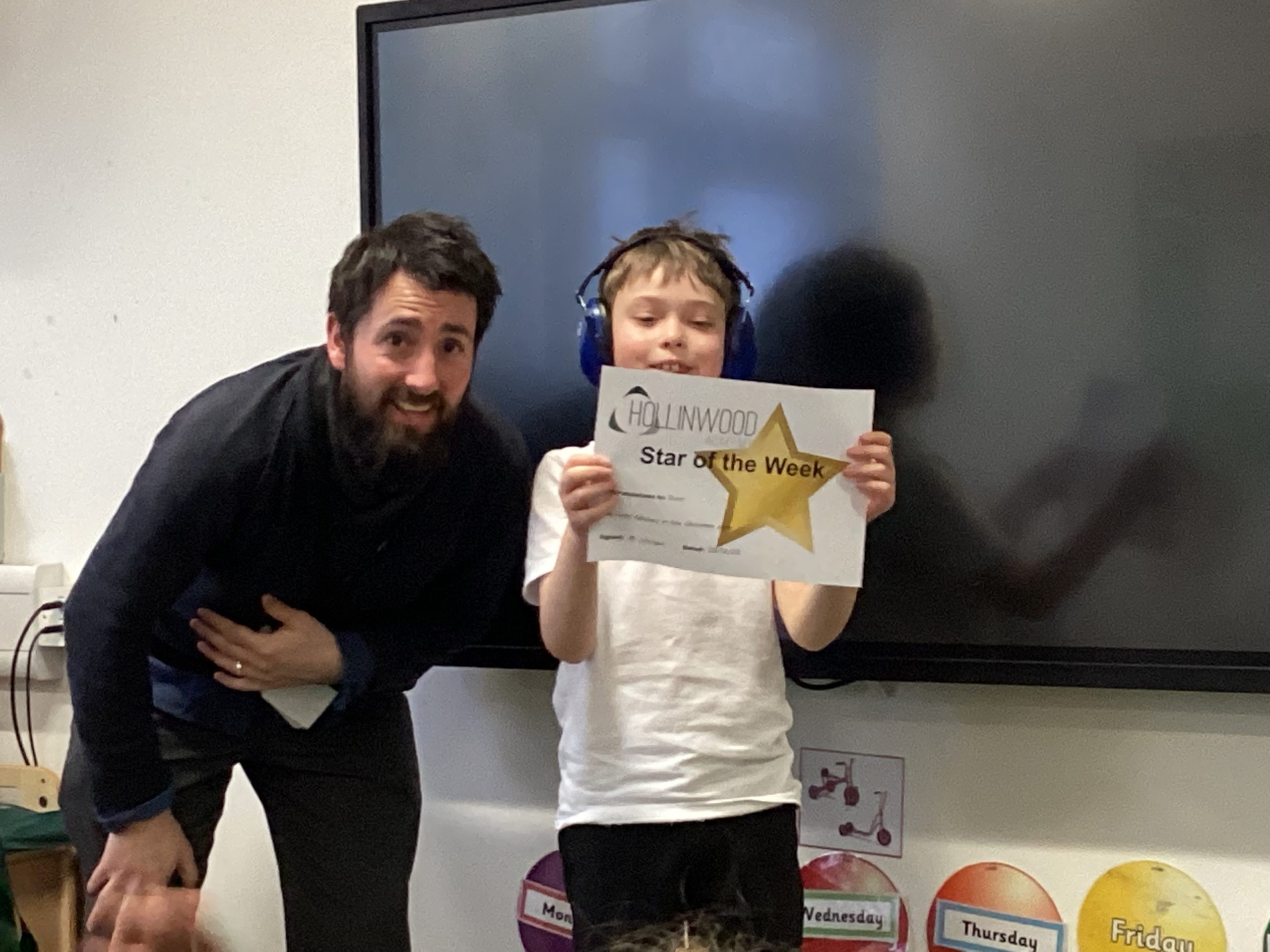 Miss Tootill's STAR of the week is Alexia for having a positive week and working hard all week.
Miss Tootill's HWA Inspiring STAR is Connor for being inspiring during his outdoor ed and the Christmas show.
Mrs Davies' STARs of the week are the whole class for Performing amazing in the Christmas show.
Mrs Matthew's STAR of the week is Lewis for achieving 10/10 in his spellings this week!
Well done to our secondary Hollinwood Academy STARs this week: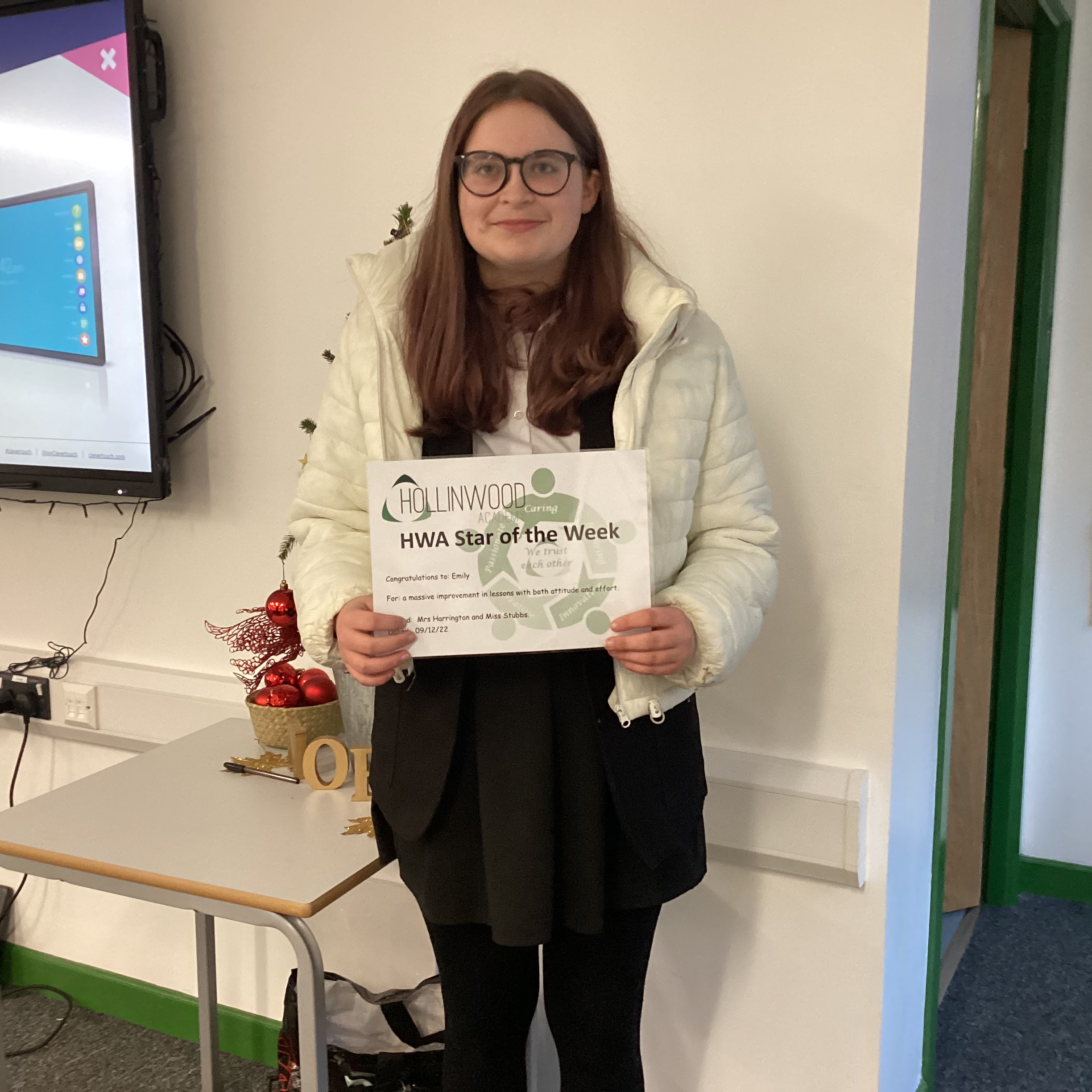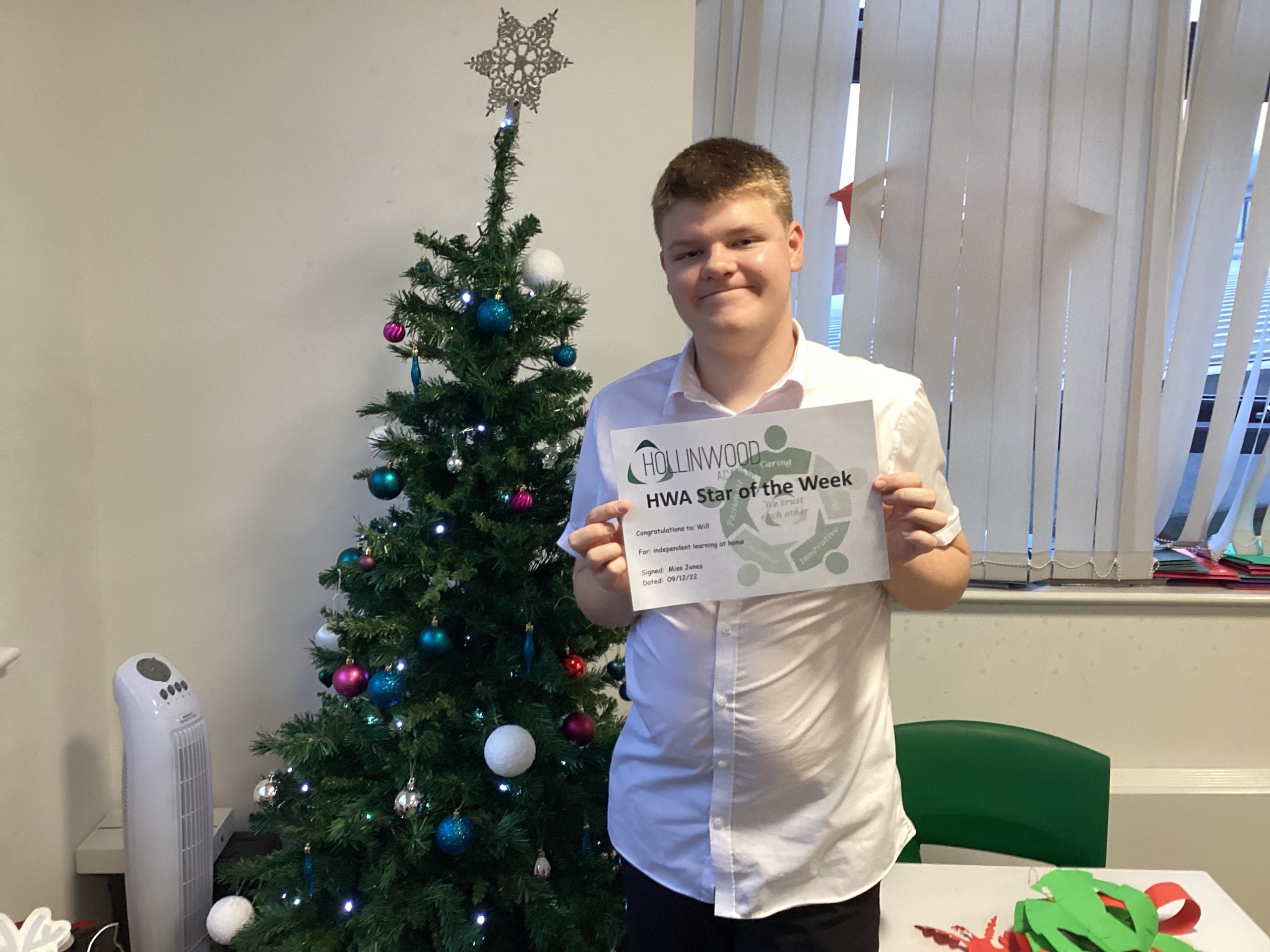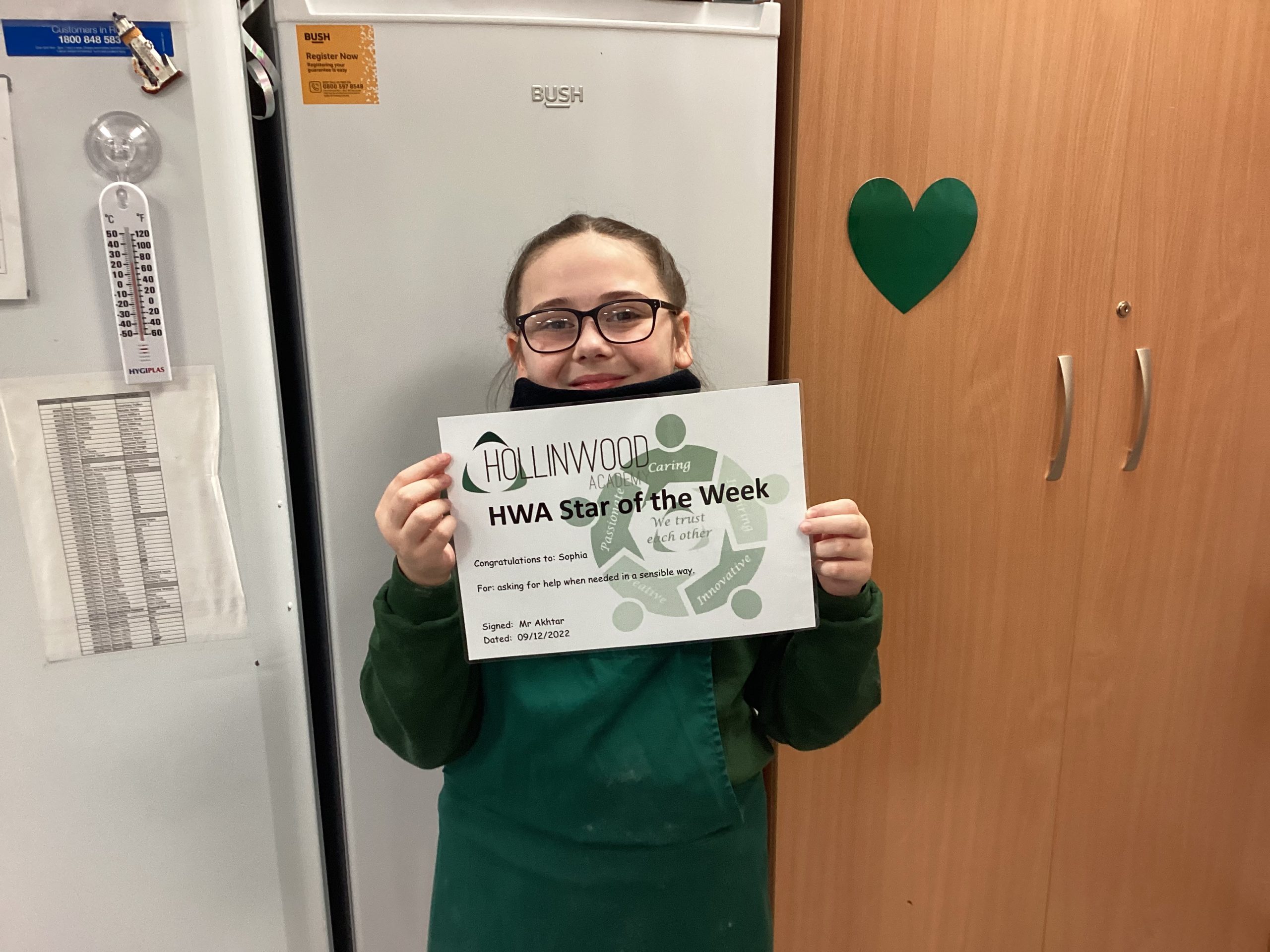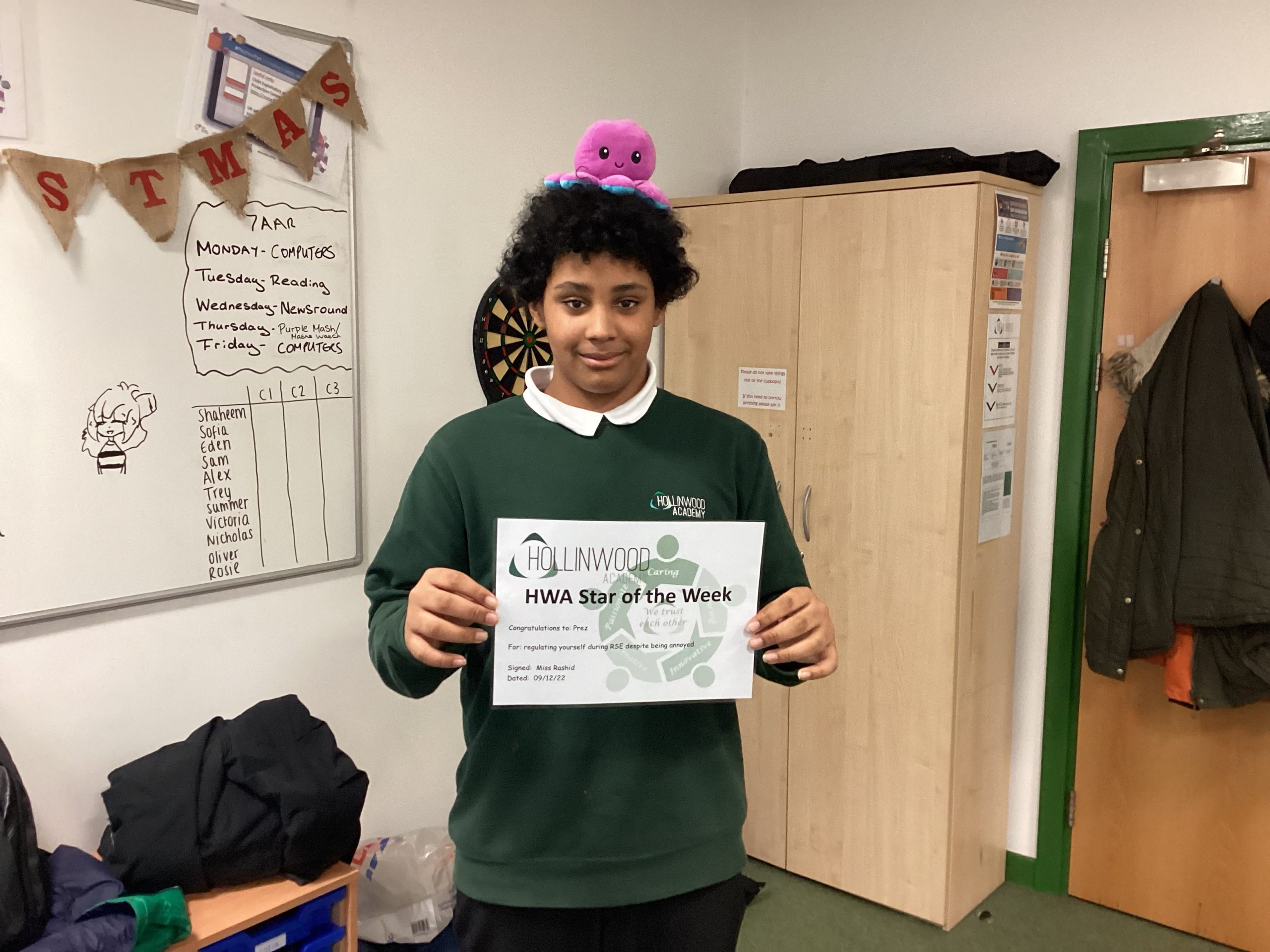 We break up for the Christmas holidays on Friday 16th December and return to school on Tuesday 3rd January 2023.
Don't forget we have some important dates coming up next week…
I hope you have a lovely weekend.
Mrs Millard