Blog 02.12.2022
Christmas is well and truly in full swing at Hollinwood Academy. We have glitter in classrooms and songs filling the corridors.
It was fabulous to hear our primary choir, led by Mrs Harrington and Miss Ashcroft on Thursday during dinnertime. They practice in Mrs Halkyard and Miss Hulme's classroom, which is right next to my office, and the Christmas songs they were singing were marvellous and definitely put me in the Christmas spirit.
We also had a number of mischievous elves appear around school too.
Hollinwood Academy's Primary Christmas show is next Tuesday 6th December, starting at 9.30am in the theatre at New Bridge School. All of our primary children will be taking part and it is always one of my highlights of the year. For the past two weeks, the children and staff have been practicing their performances in class and also at the theatre at New Bridge School. Mrs Tootill, the headteacher at New Bridge School, told me what a delight it was to have our primary children enjoying themselves and taking part in their dress rehearsals – you are going to be in for a festive treat. Please do not worry if you cannot make the production as the show will be recorded and shared with families.
I'd like to say a very special thank you to Sally Maher, an Oldham mum who has become known in the area for her Easter egg donations, after she has started up her Christmas toy appeal, which has already received great support.
Sally has donated some amazing Christmas presents that will be handed out to some of the children and students here at Hollinwood Academy and I know these children will be so grateful to receive these presents.
A big THANK YOU to Sally and her team of amazing Elves:
https://www.theoldhamtimes.co.uk/news/23019134.amp/ 
Let's see what some of the classes have been doing starting with Miss Pietraszewska's class…
"What a wonderful week! It has been so much fun to come into our favourite month of the year!
Firstly, we have welcomed our new class friends Zachary and Roman. We could not be happier. They are just a perfect fit for our friendly group! We are looking forward to enjoying school together. We have played our favourite interactive game 'I want to roll the ball to… (pick friend's name)' which allows us to get to know each other more
Let's look into our busy week!
As always, we have been practising our handwriting almost every day. The progress we make is amazing! Hard work pays off!
In geography we were continuing to look at non-European countries. This time, we have been learning about one of the Asian countries-Pakistan. What an interesting place! We have enjoyed Attention Autism session which was fun and fascinating, making Pakistan flags and reading some stories!
One of our favourite activities this week was making a yummy Christmas tree! We had to frost the whole cone with icing and then add colourful decorations. We have to admit, these were magic Christmas Trees, as they disappeared very quickly!
On Tuesday, we have practised our Christmas Show at the theatre! We cannot wait to show our parents our skills and moves, wow, we are absolute super dancers!
In art we have been using scissors and glue sticks to make a super long Christmas chain decoration for our tree. Then the children made beautiful bauble boxes, decorating them with foil shapes and lots of glitter.
We then took turns to decorate our tree. It is the happiest Christmas Tree ever!
We are looking forward to having fun and festivities in the next two weeks before the Christmas break."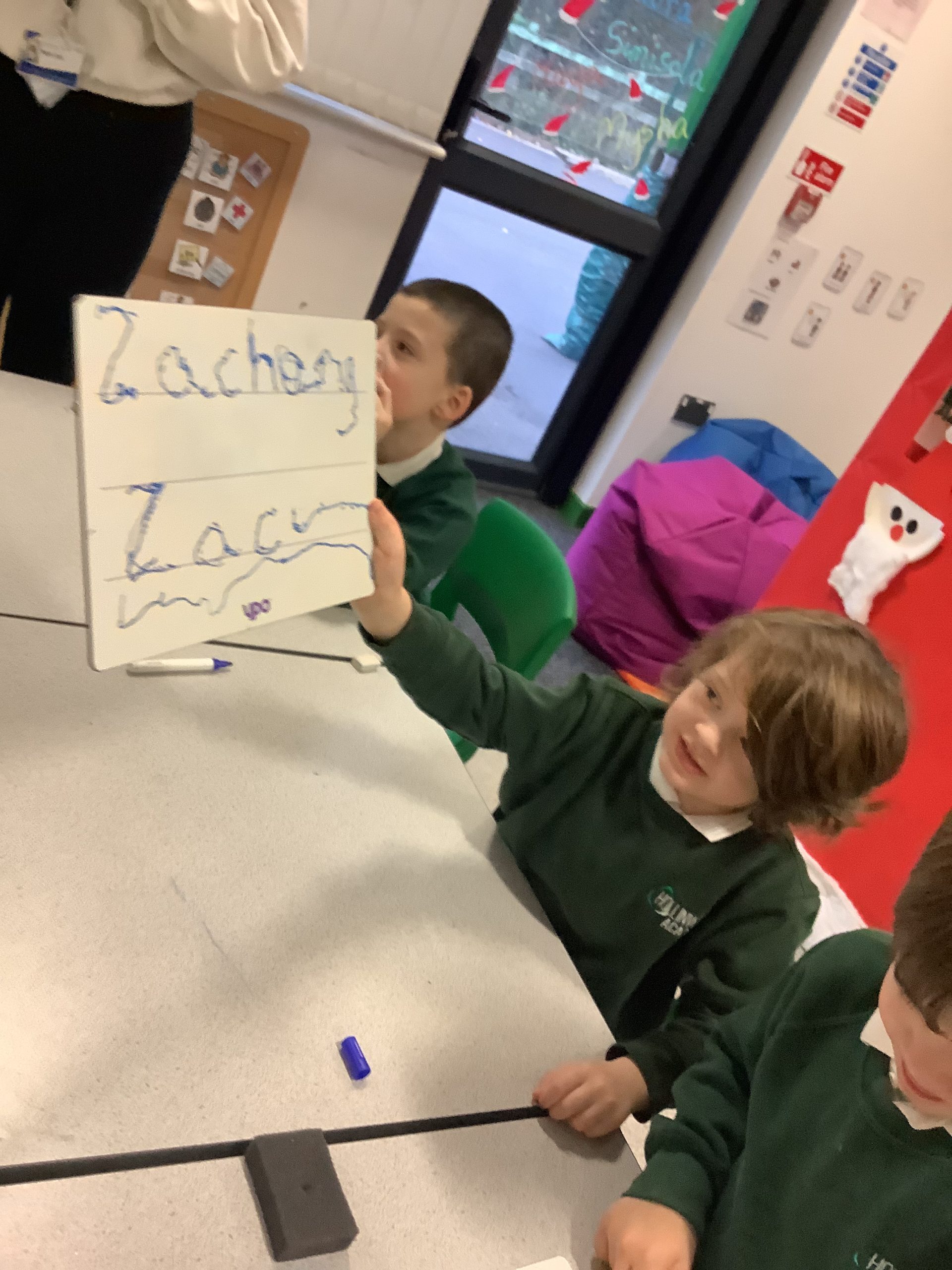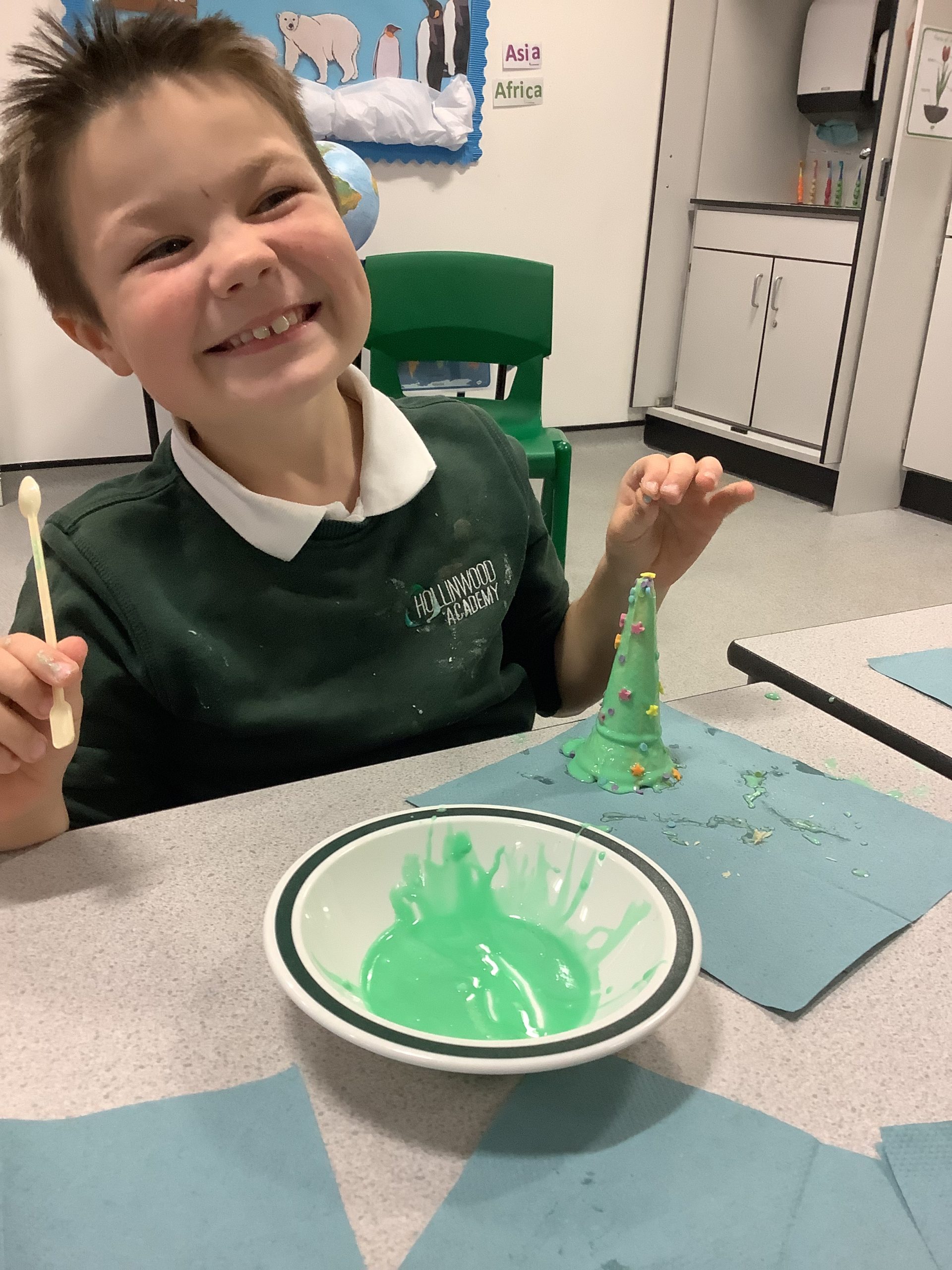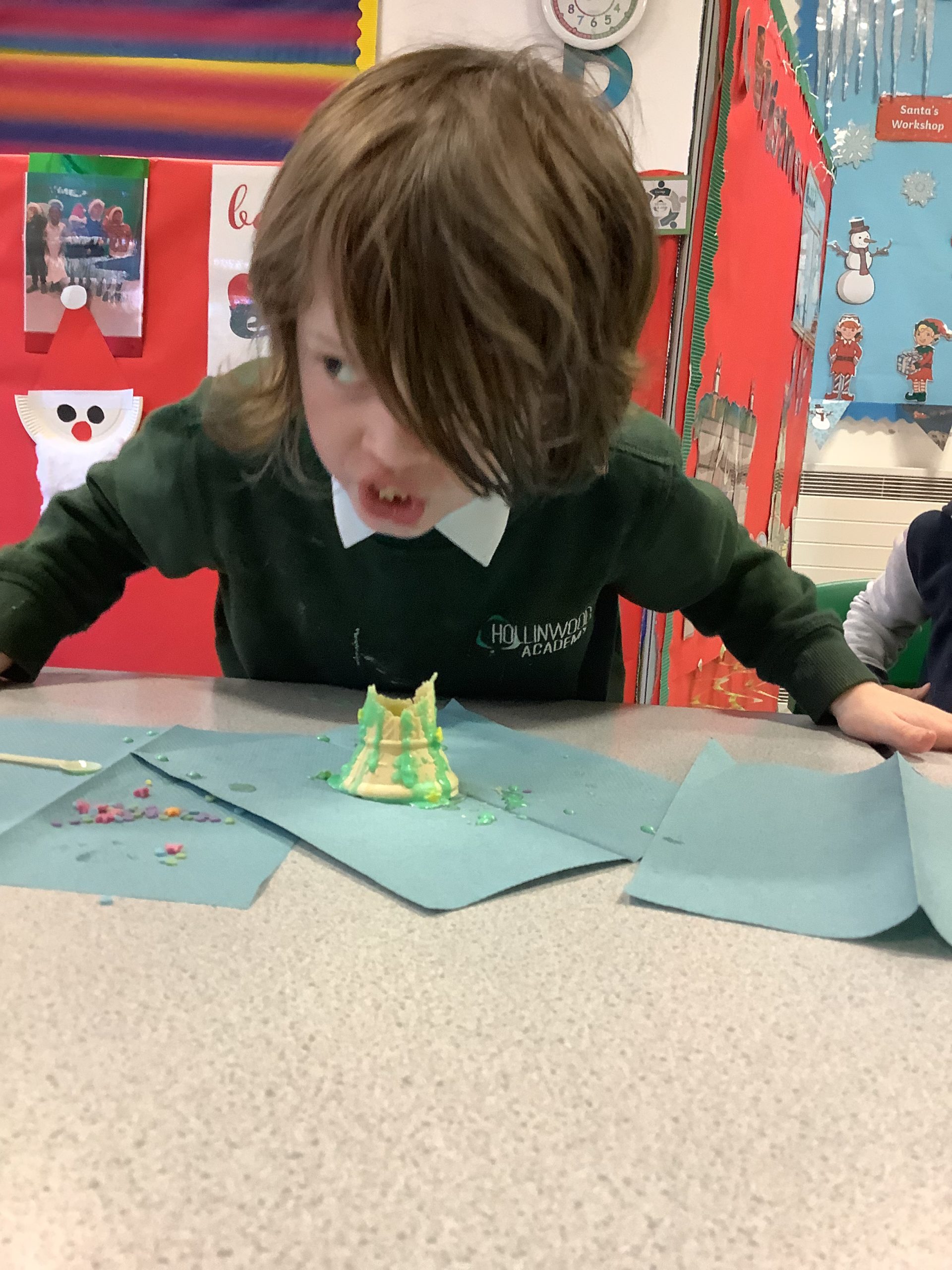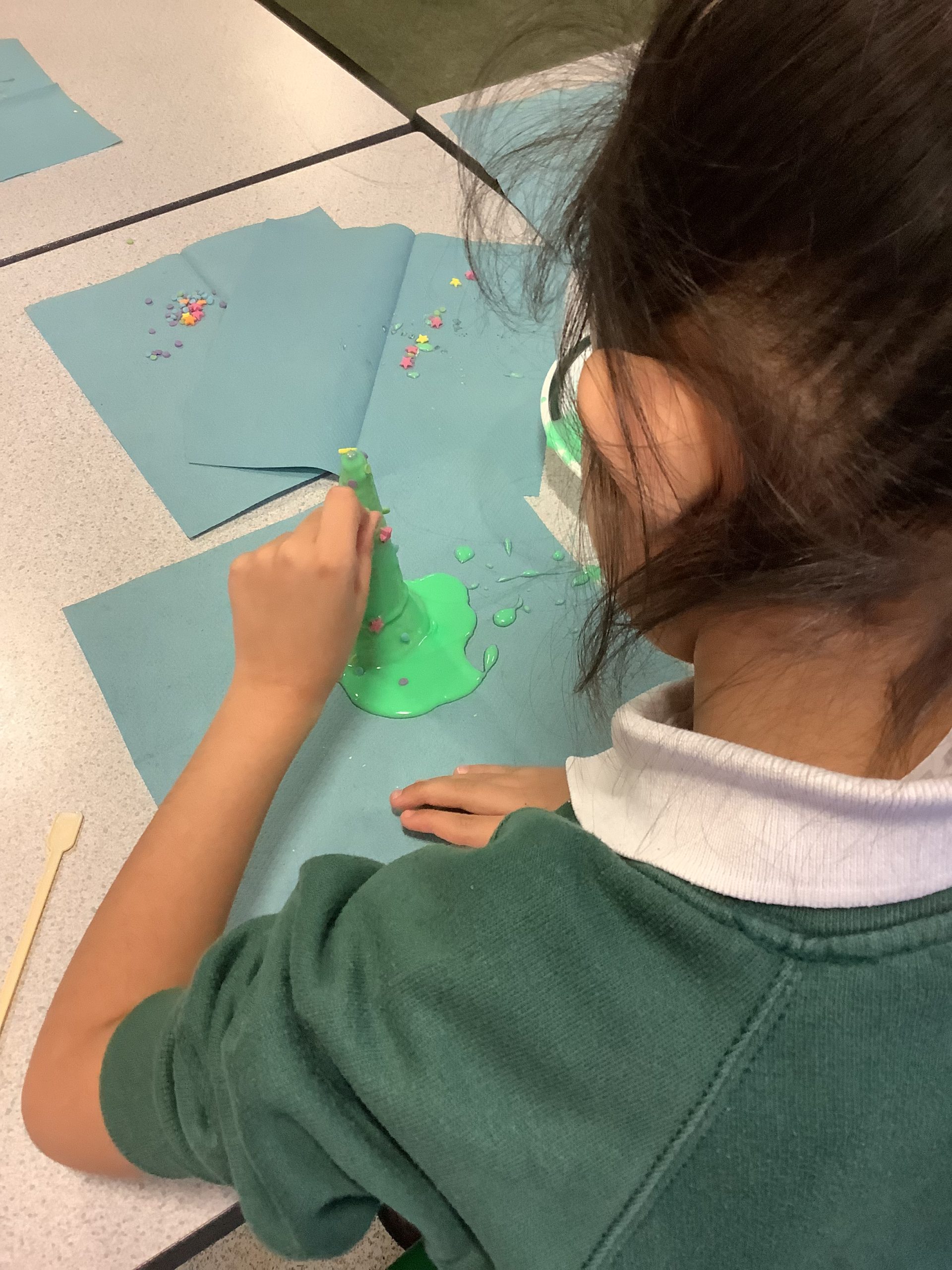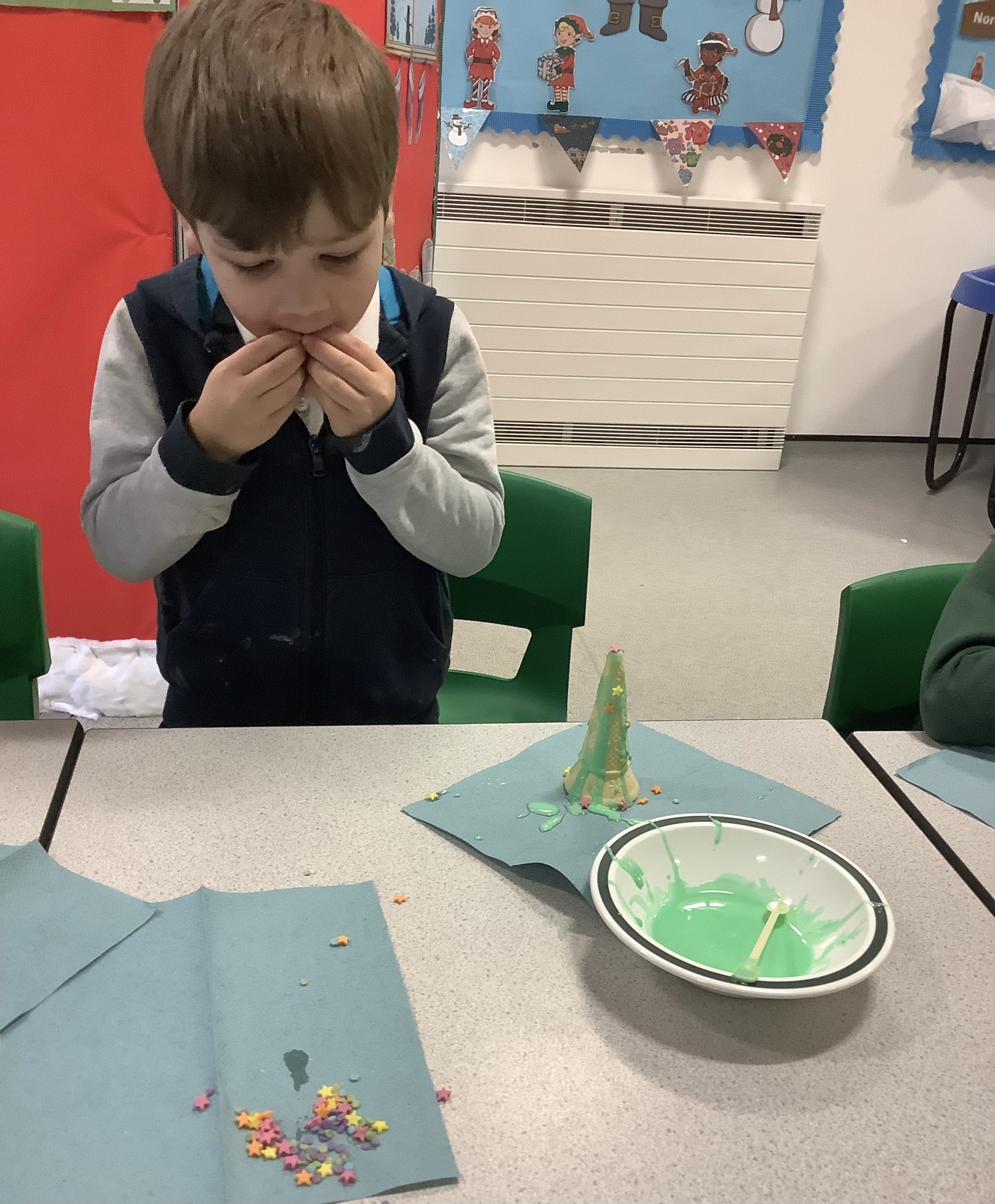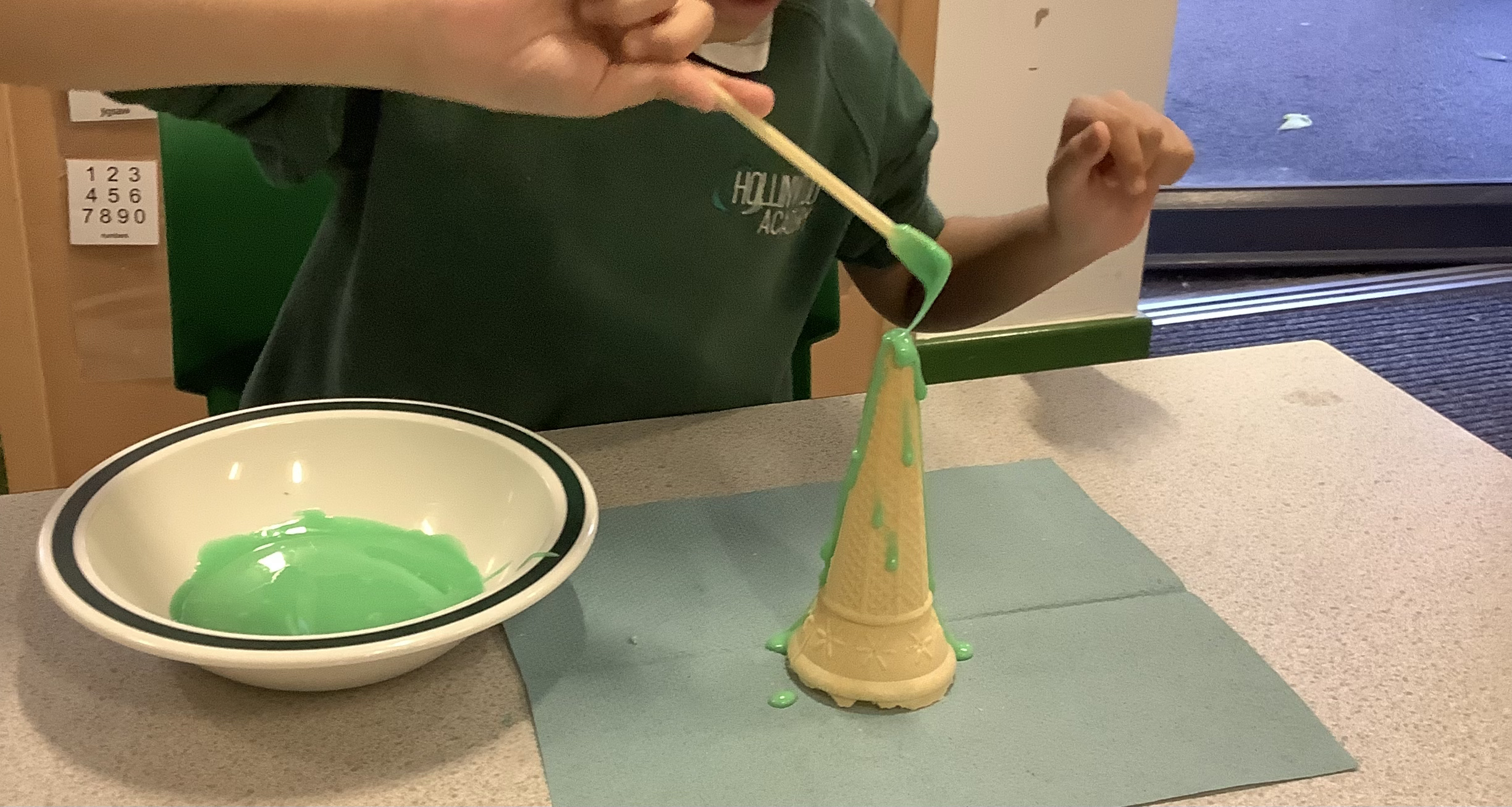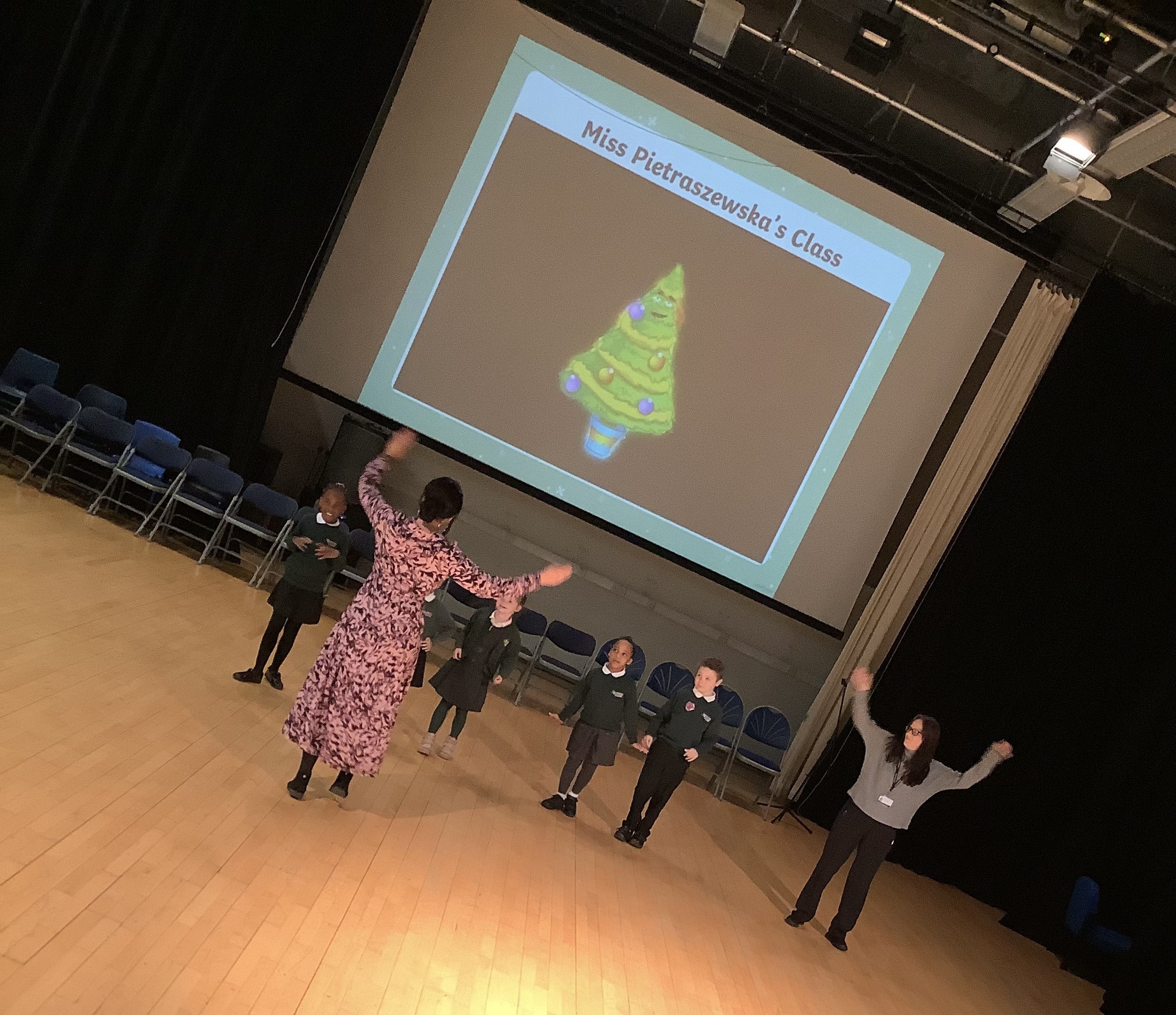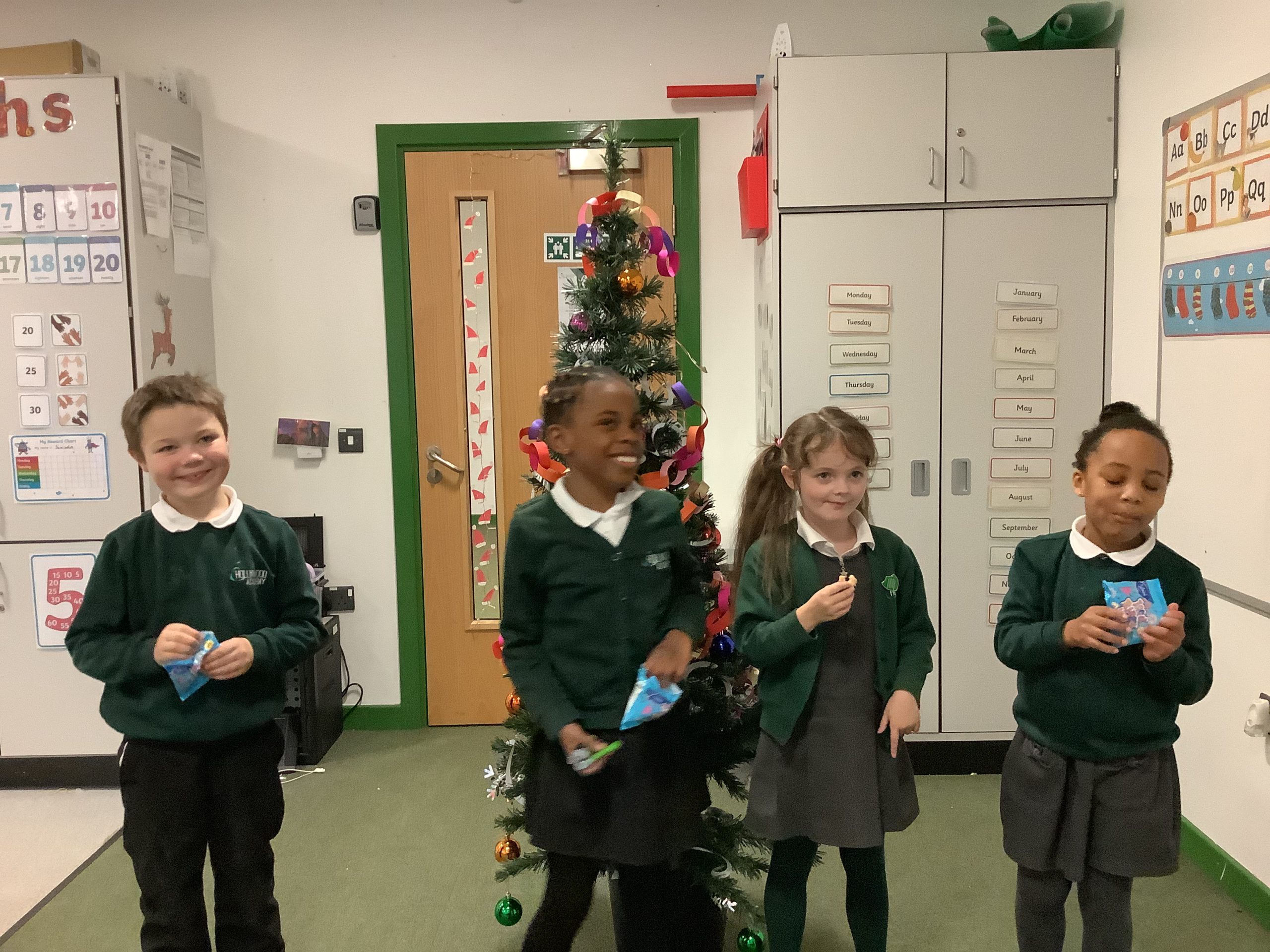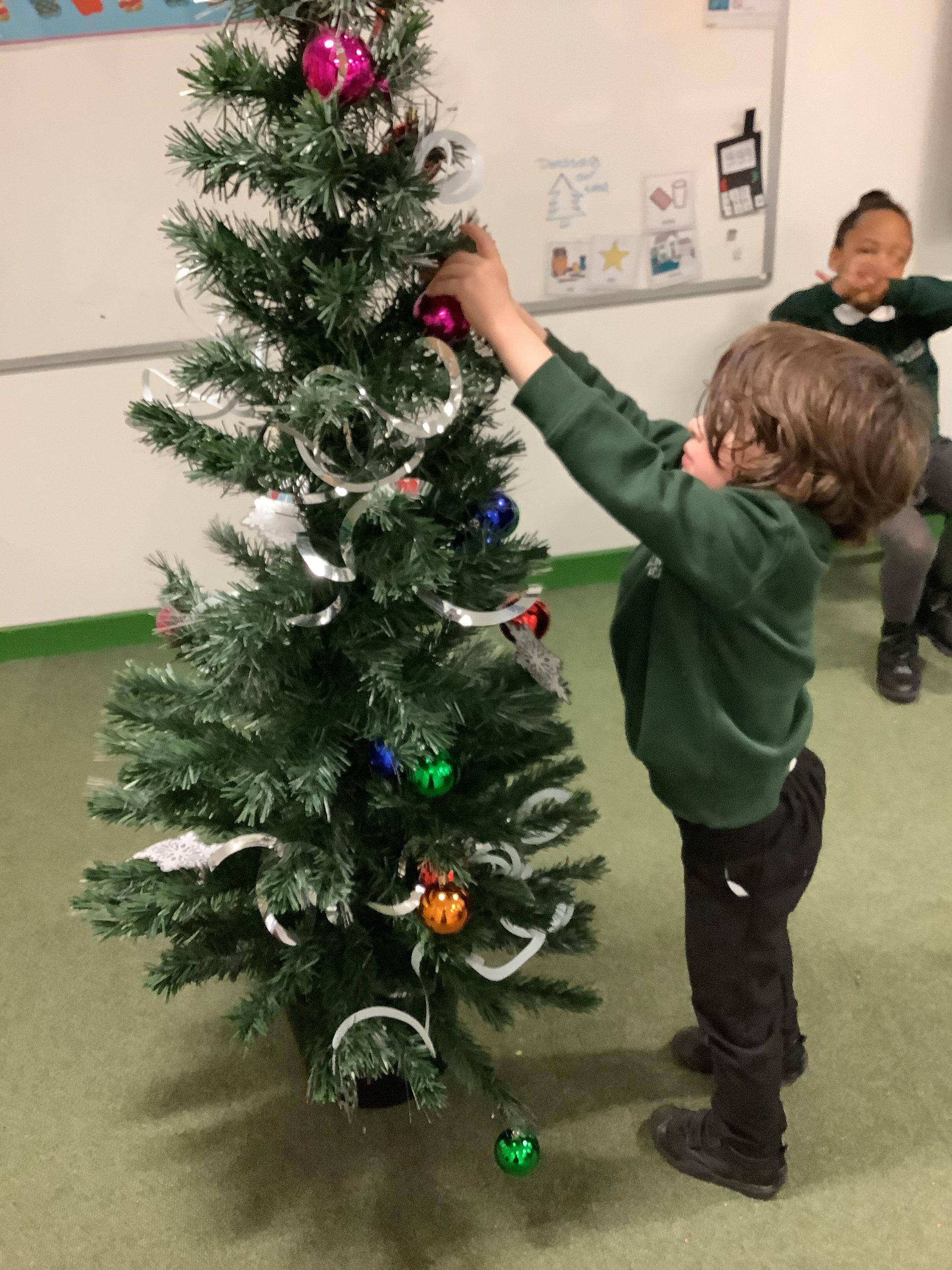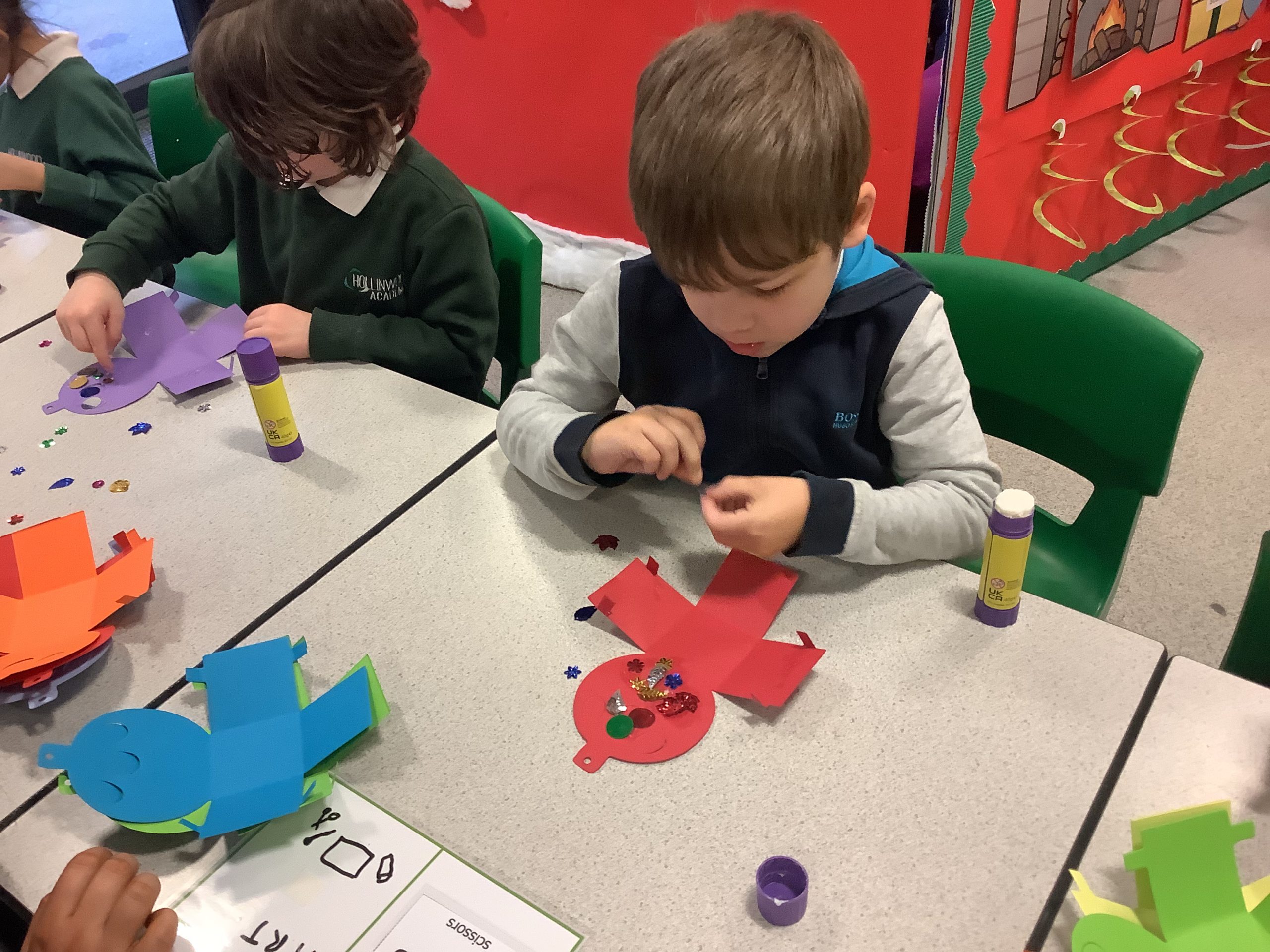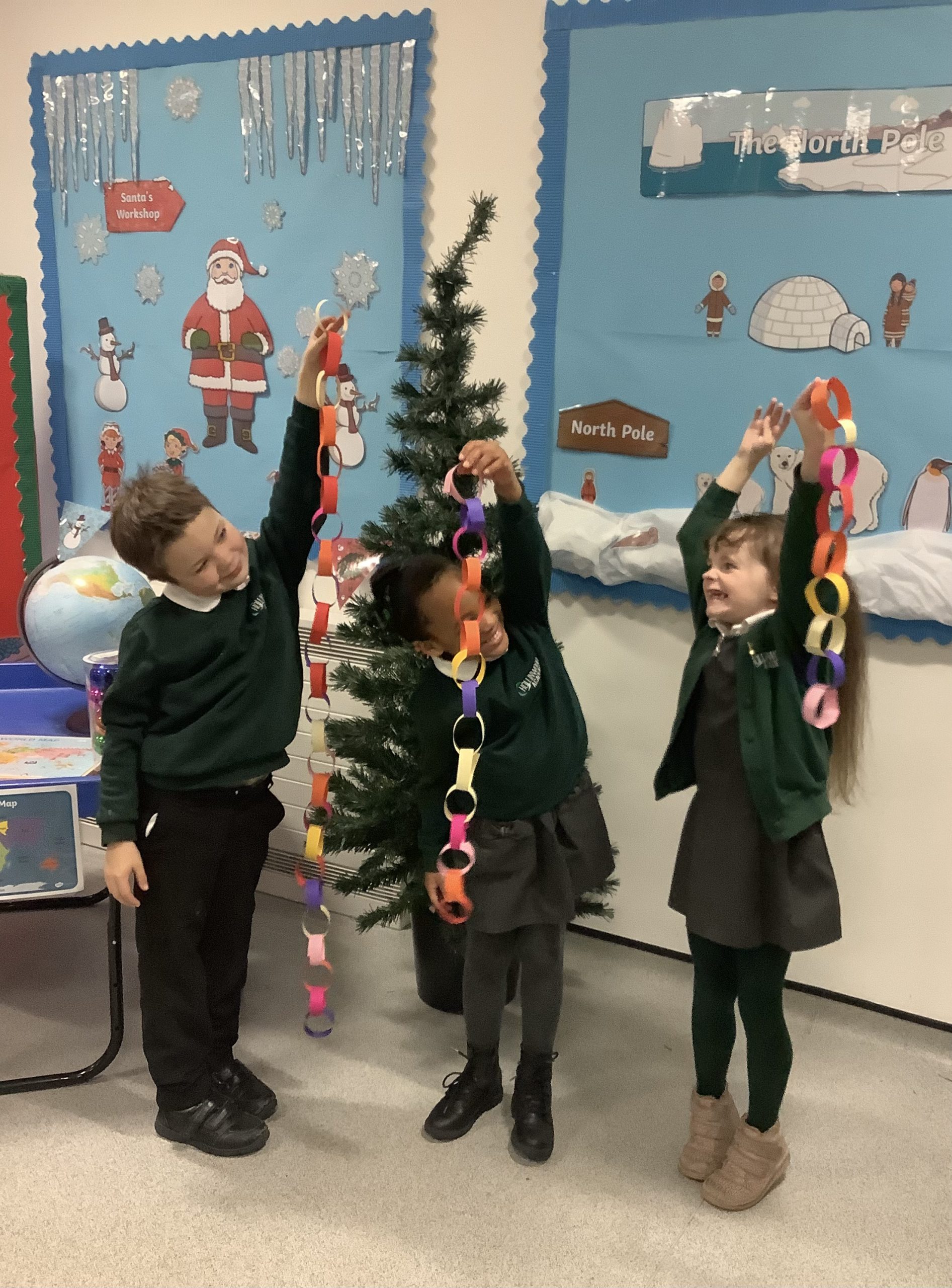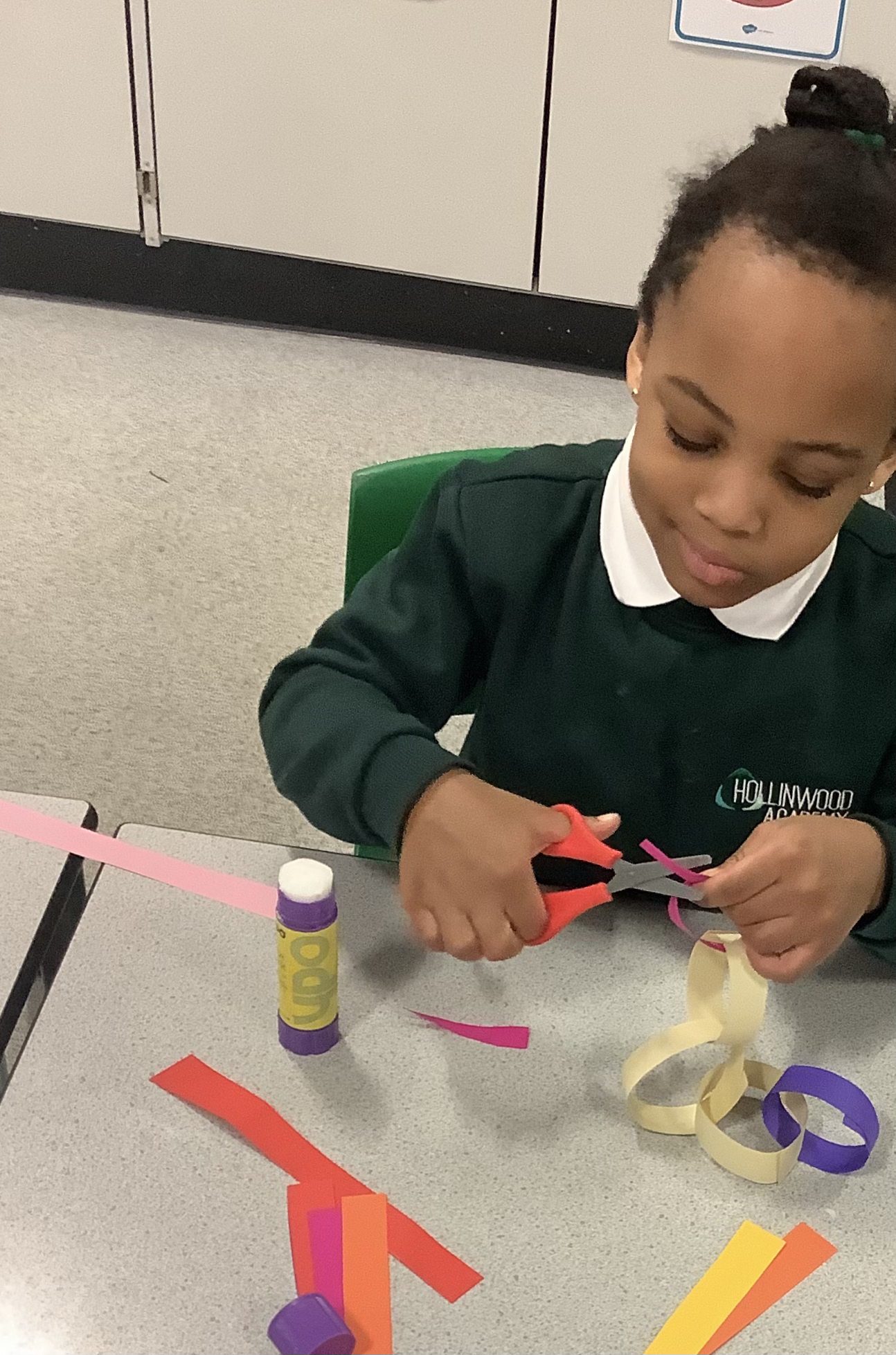 Now to Miss Connett's form…
"WHAT A WEEK!
We have had a fabulous half term and are all fully settled into secondary school life!
Over the last few weeks in English, we have been reading The London Eye Mystery have been detectives trying to solve the mystery together. This week we put these detective reading skills into practice and have completed a murder mystery in class – I think we have some future detectives in our class. During maths we have been stretching our brains and looking at place value with decimals and square numbers.
On Wednesday made our own pizzas in food technology with Mrs Duffy and had a pizza party together in the afternoon! In science we have been looking at the Particle Model and have completed our end of topic tests – I am overwhelmed at how much we all now know! In outdoor education we went to the garden centre. We looked at reptiles, fish, different plants, and the saw all the Christmas decorations. On December 1st we learnt all about Advent and made our wishes for Christmas – lots of us wished for a white Christmas. Keep your fingers crossed for us.
We ended the week celebrating our HWA stars and counting our Connett's Cash that we had earned this week. Well done to everyone in my class – you are all amazing! Have a restful weekend, ready for two more weeks of learning before we finish for Christmas."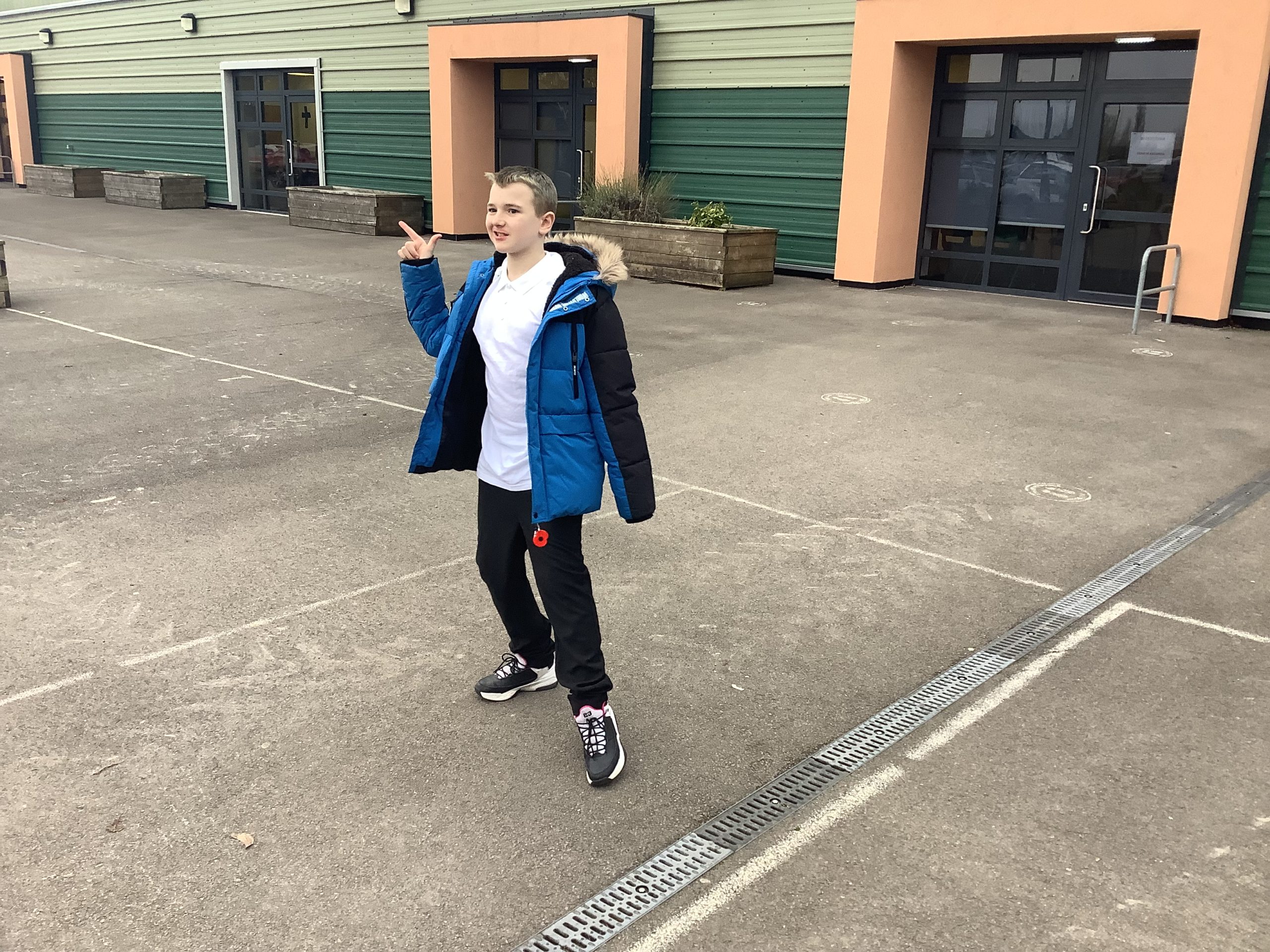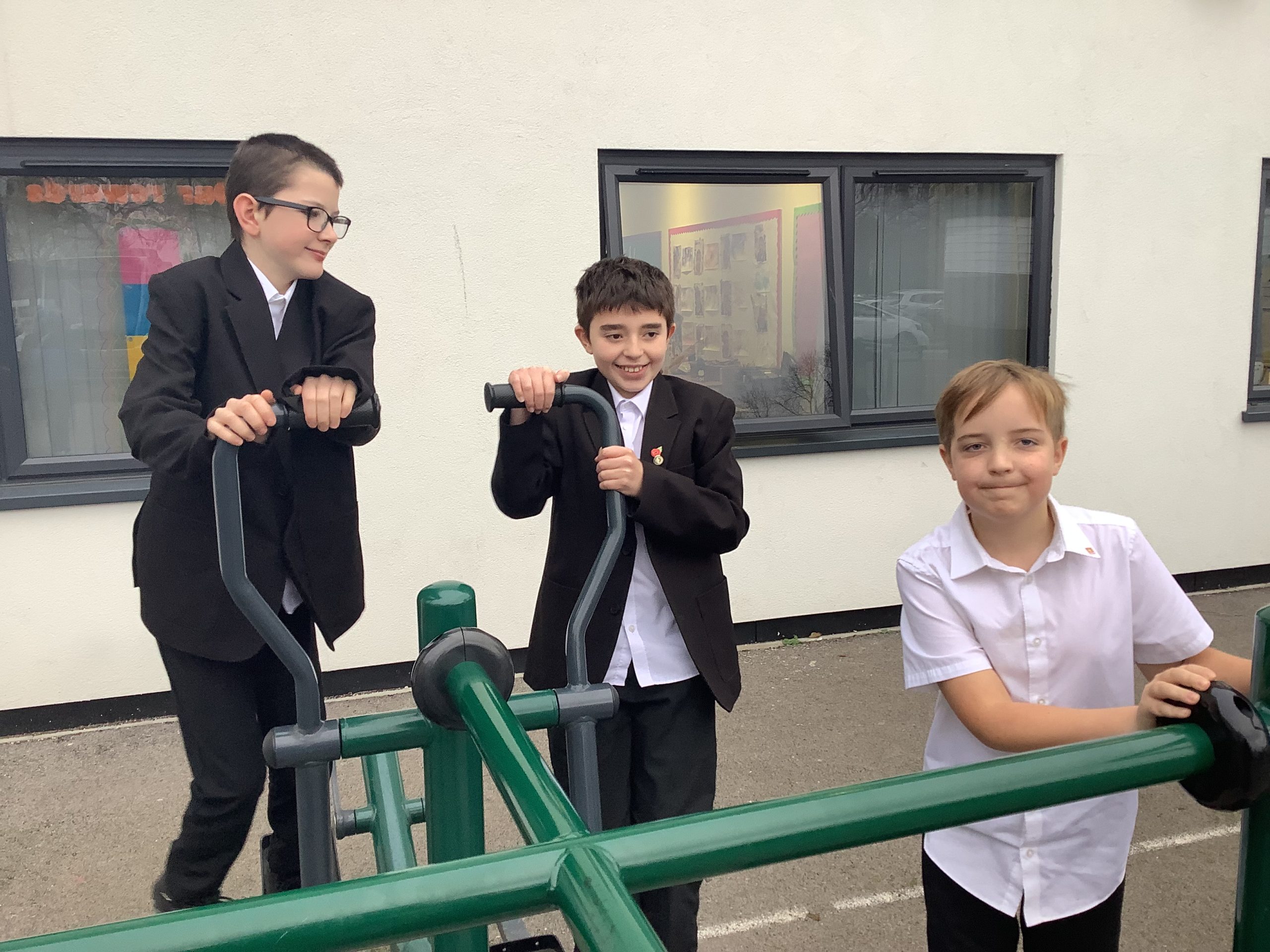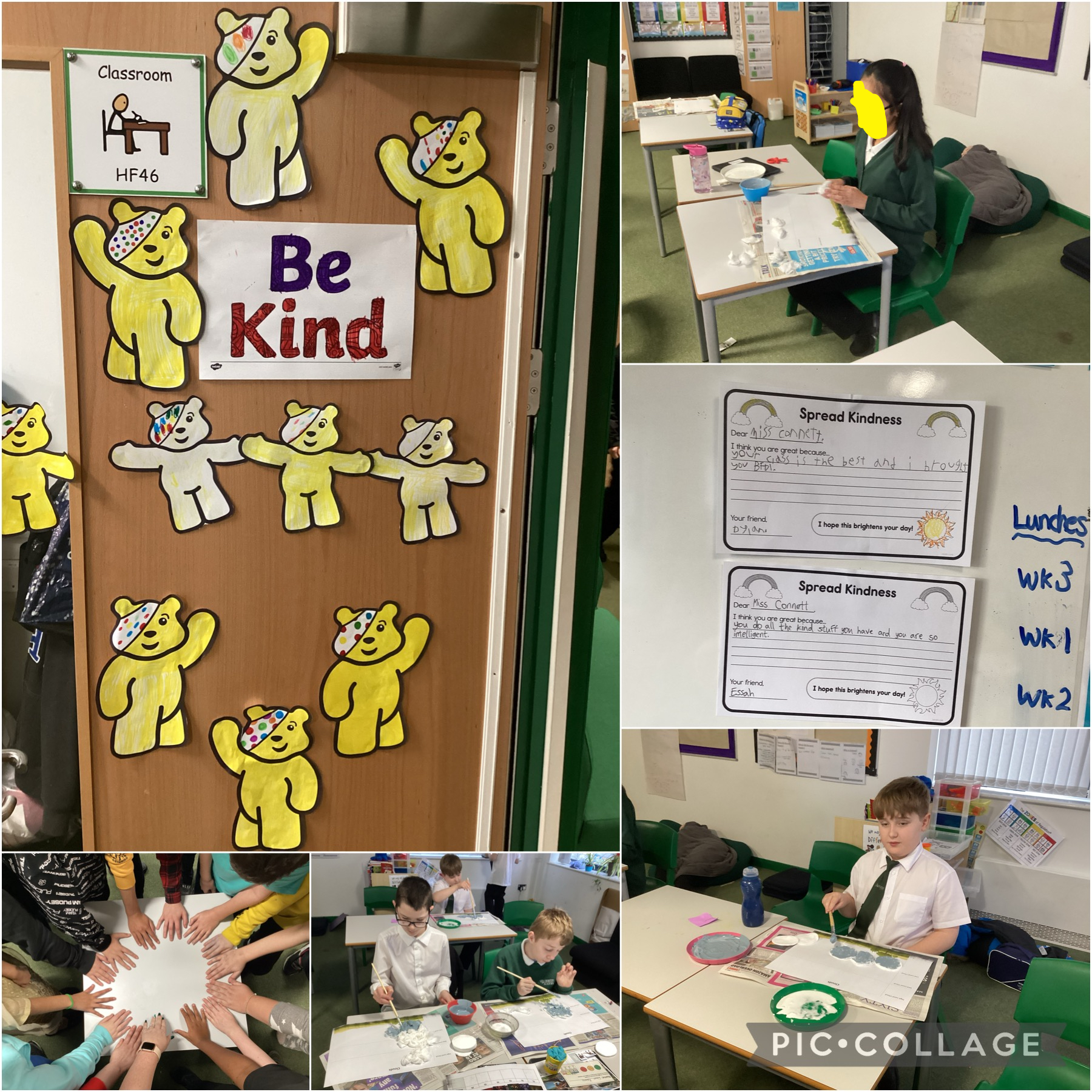 Now to Miss Hand's form…
"This week in KS4 Nurture we have been extremely busy! We have been working on our social and independent skills.
Let's start with Life Skills. During our life skills lesson this week we have been learning how to be more independent and had a go at making our own breakfast sandwich. This included cooking bacon, sausage and we decided to make eggy bread….it was delicious! The students were all able to complete this with minimal support from staff and sensibly used the equipment necessary whilst following the Health and Safety rules of the cooking room.
Next, we have visited Heaton Park and Gordon Rigg Garden Centre during Outdoor Education to help us build up our social skills whilst being out in the community. Miss Hand and Miss Ashcroft were very proud of how well the students conducted themselves whilst out at the park and the garden centre – they were very respectful and polite whilst alongside members of the public.
Finally, we have had some fun in science – we have been studying biology for the past few weeks and have learnt about the different parts of the circulatory system, in particular the heart. The students have learnt about the different components that construct the heart and what the function is for each of these components. Further to this, they have been able to explain the difference between oxygenated and de-oxygenated blood. This week was extra special because we ended the module by completing a heart dissection (don't worry this wasn't a human!). The students dissected a sheep's heart and were able to visually explore and recognise each section of it. After dissection, we tested our knowledge and labelled the components of the heart including the vena cava and the aorta.
We have all worked extremely hard in KS4 nurture this week and have earnt our rest this weekend!"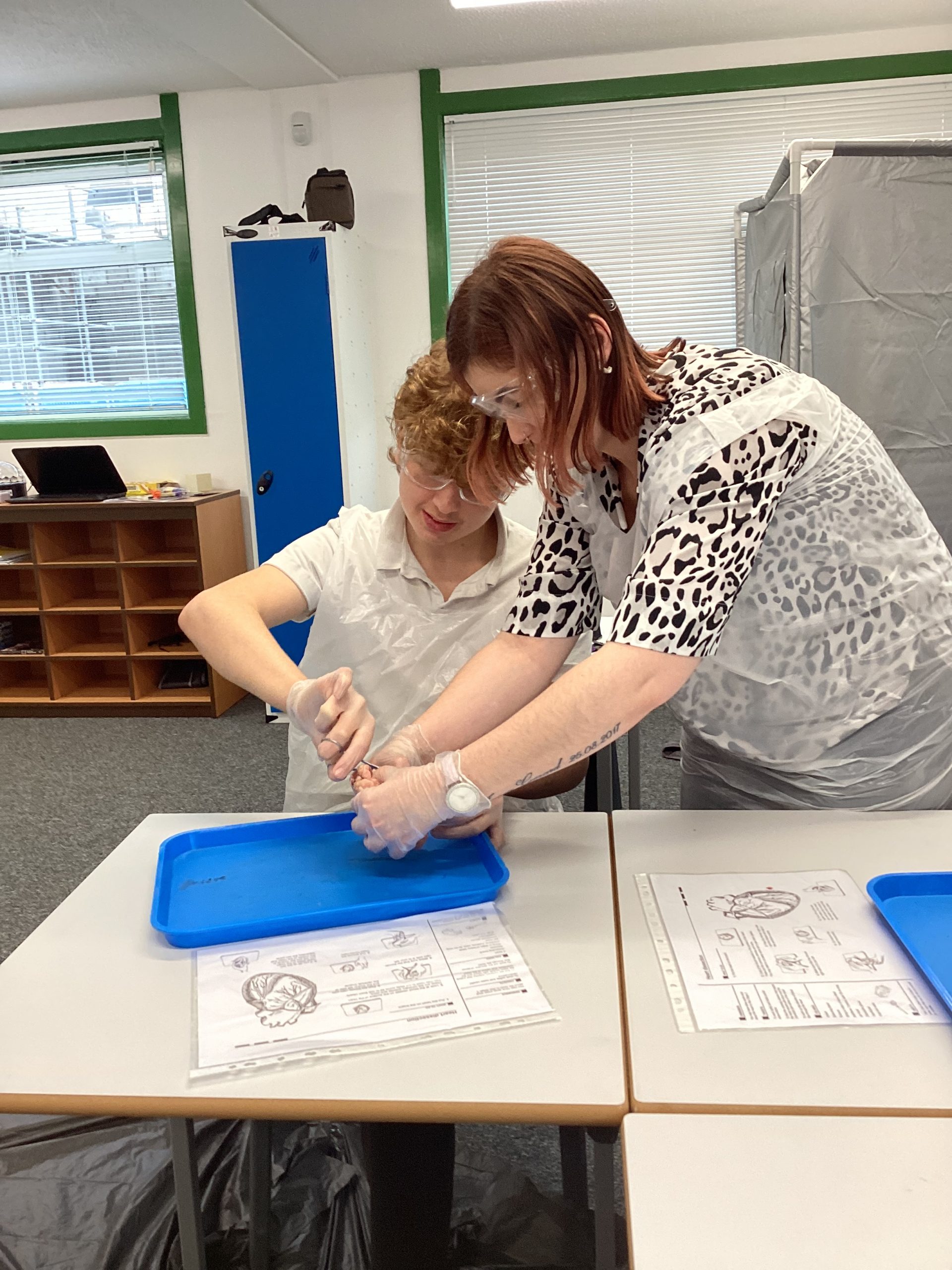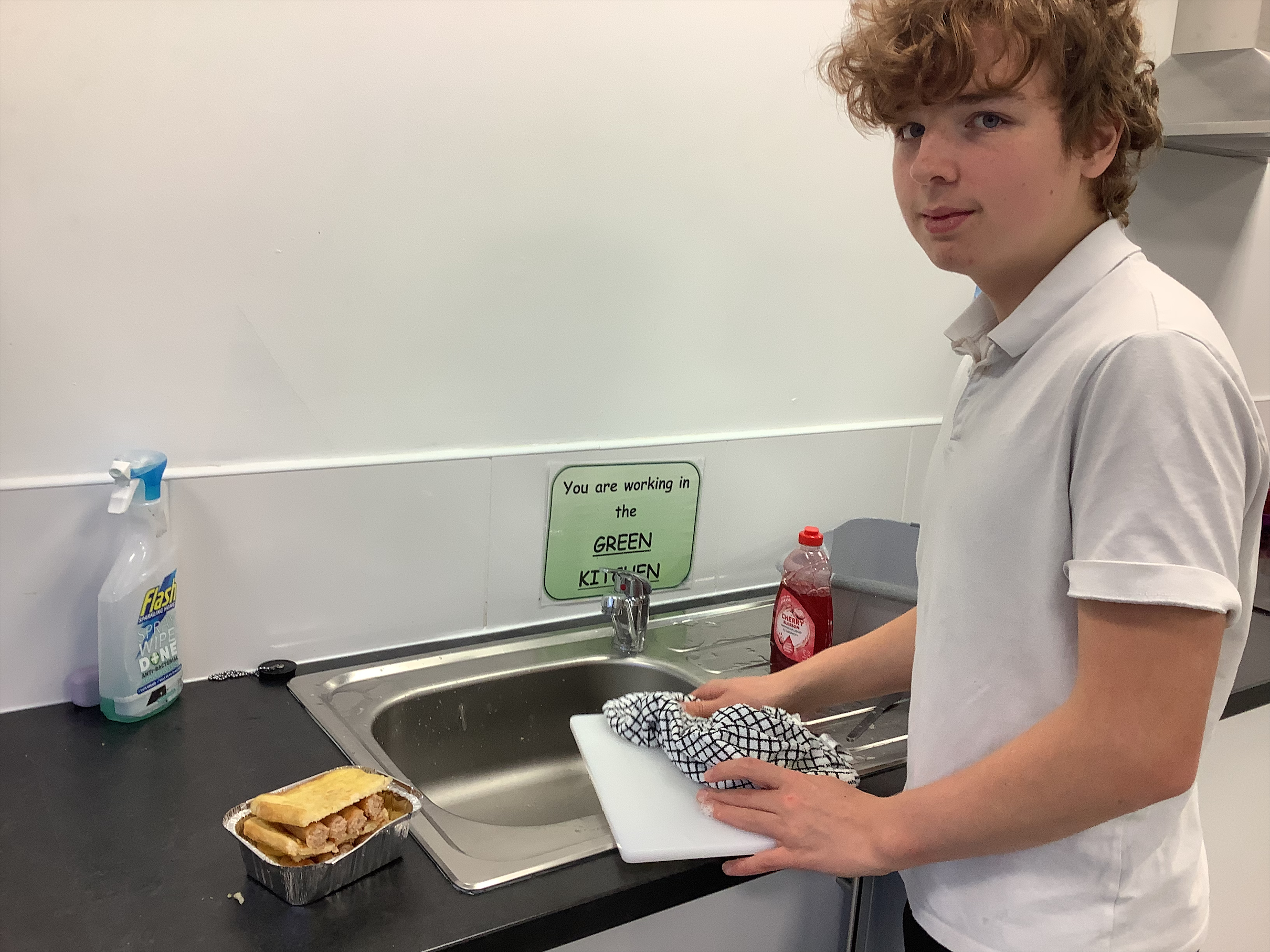 Now to our amazing SUPER STARs and HWA Inspiring STARs…
Mrs Lerigo's STAR of the week is Silva for engaging in her learning and showing such joy when interacting with her teachers.
Mrs Lerigo's HWA Inspiring STAR is Lyla for showing maturity in class and helping her friends.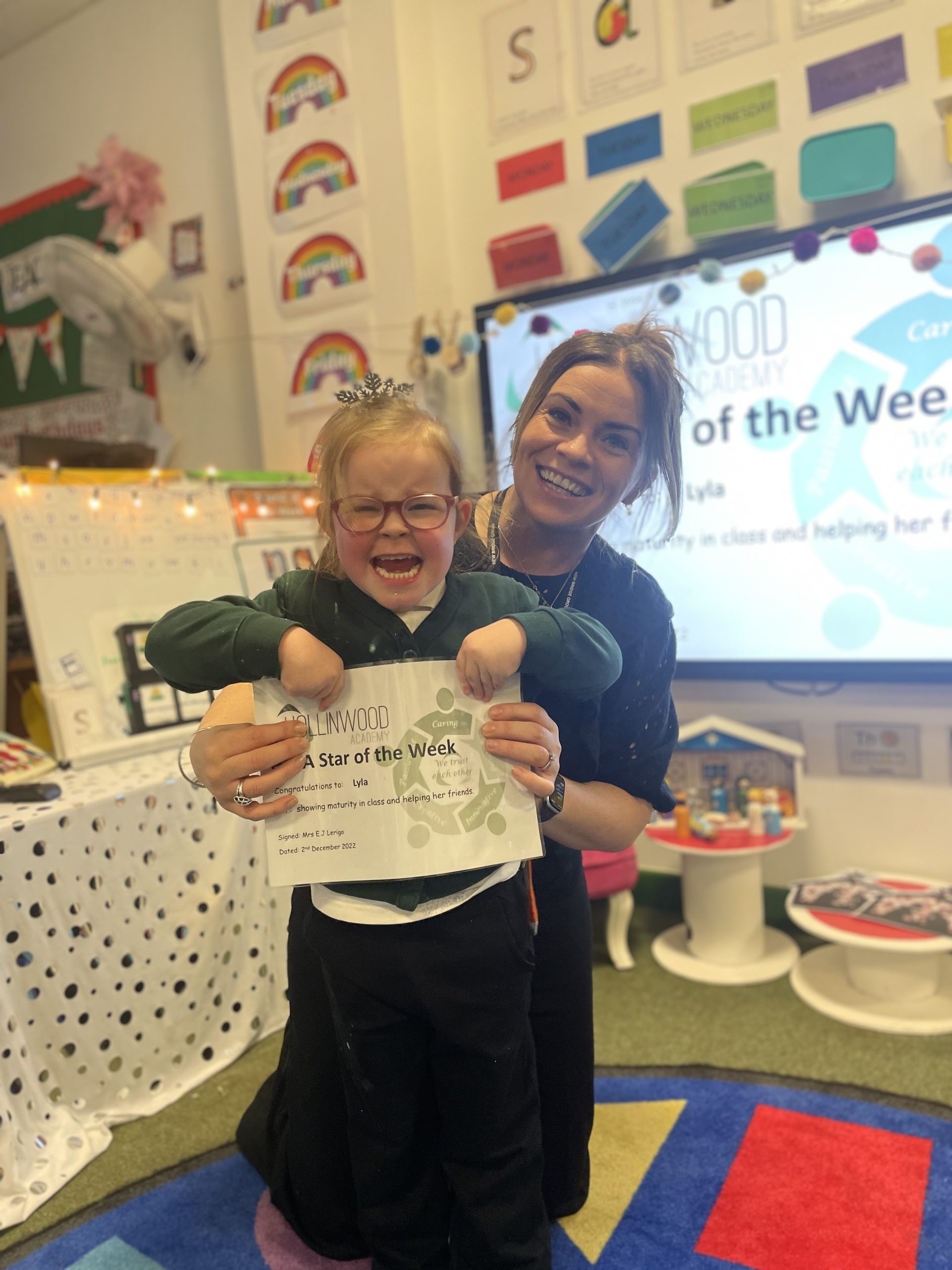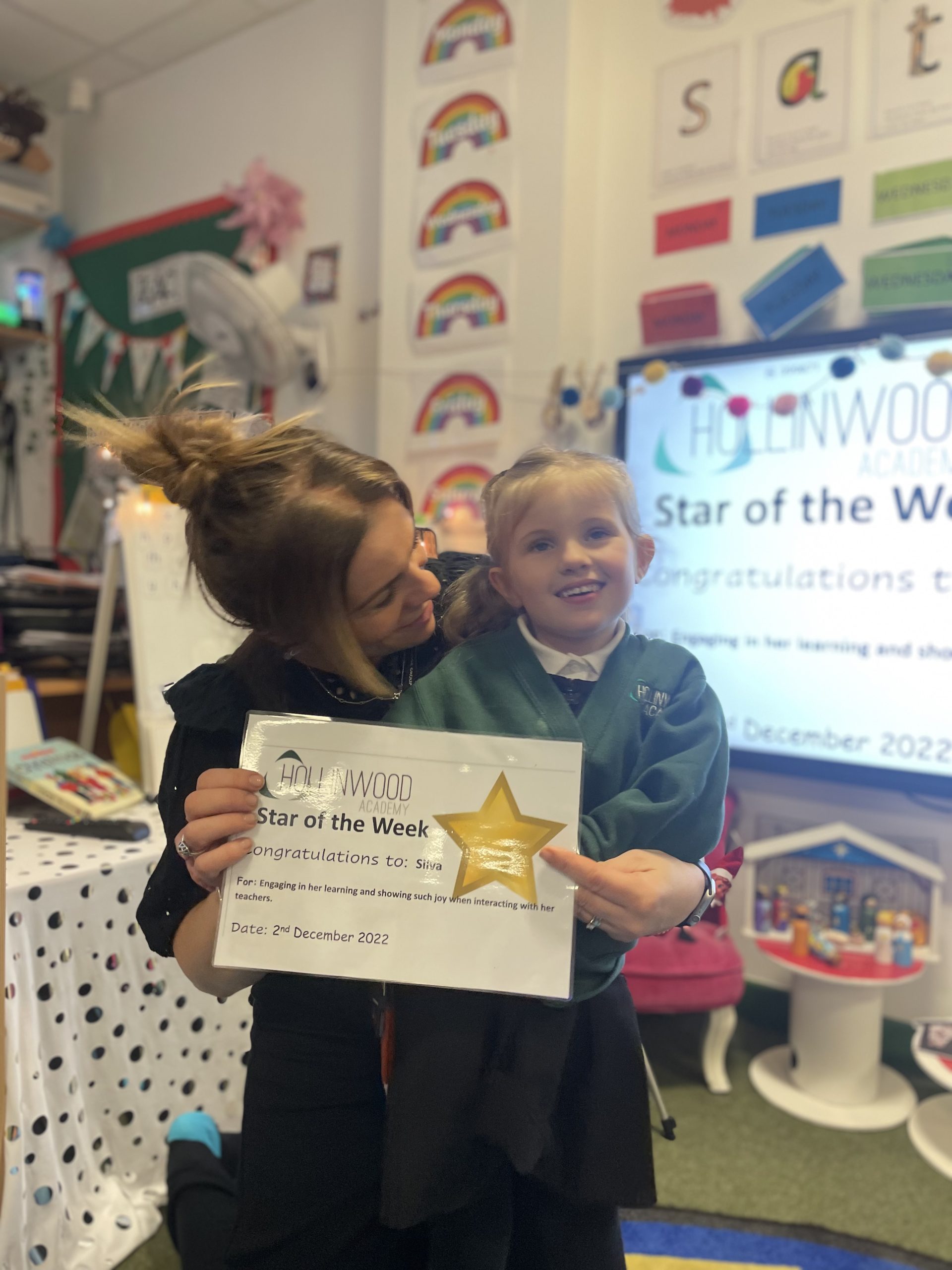 Miss Oakley's STARs of the week are Zachary and Roman for being brave and resilient in their transition to their new class.
Miss Meadows' STAR of the week is Noel for using more words such as teeth and orange.
Mrs Woodhead's STAR of the week is Kai for learning to use the new snap core app to help him communicate his wants and needs.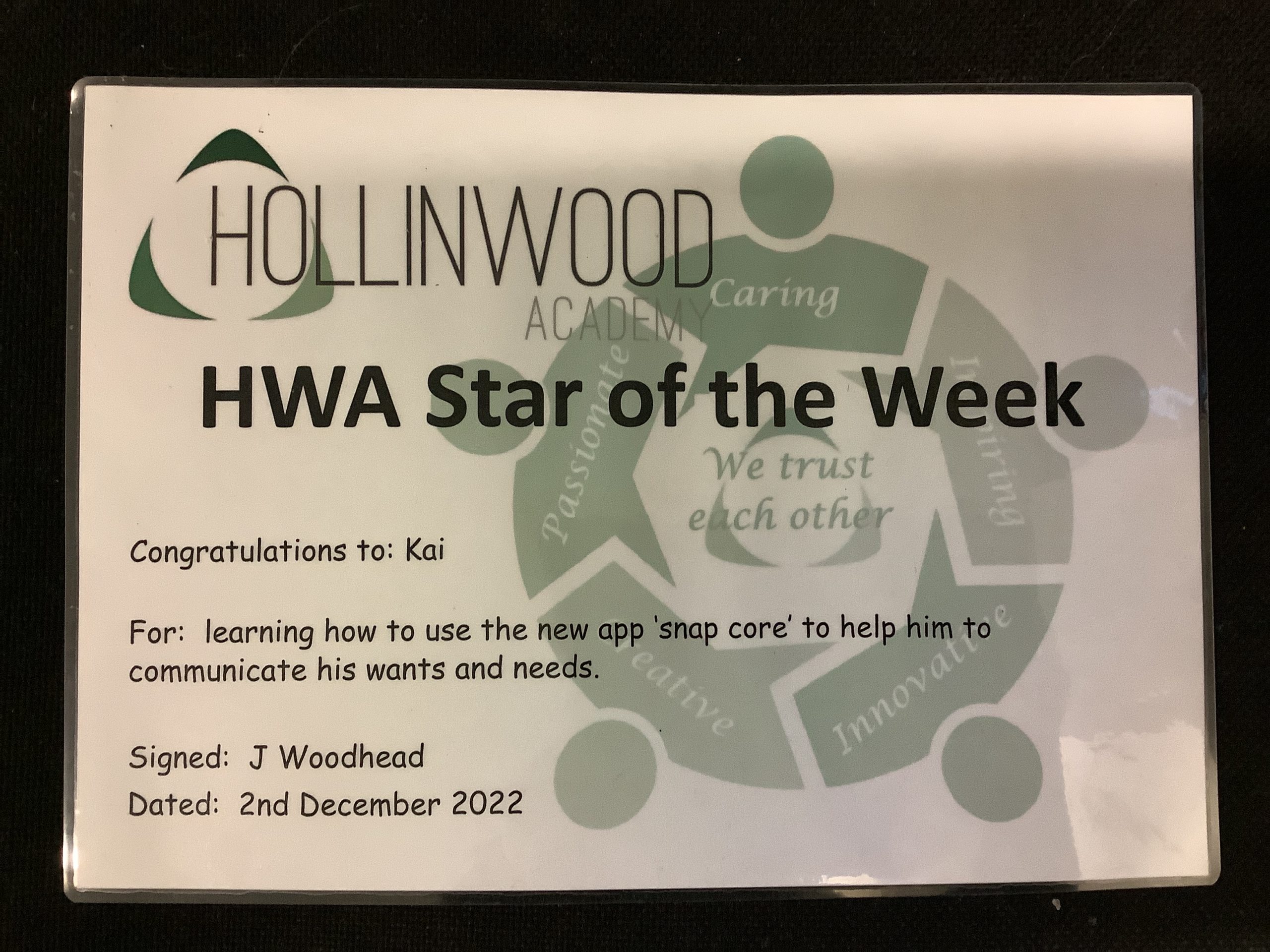 Miss Pietraszewska's STAR of the week is Mysha for communicating her needs and wants without prompting!
Miss Pietraszewska's HWA Inspiring STAR is Maya for engaging in assessments and inspiring her friends to be super stars as well!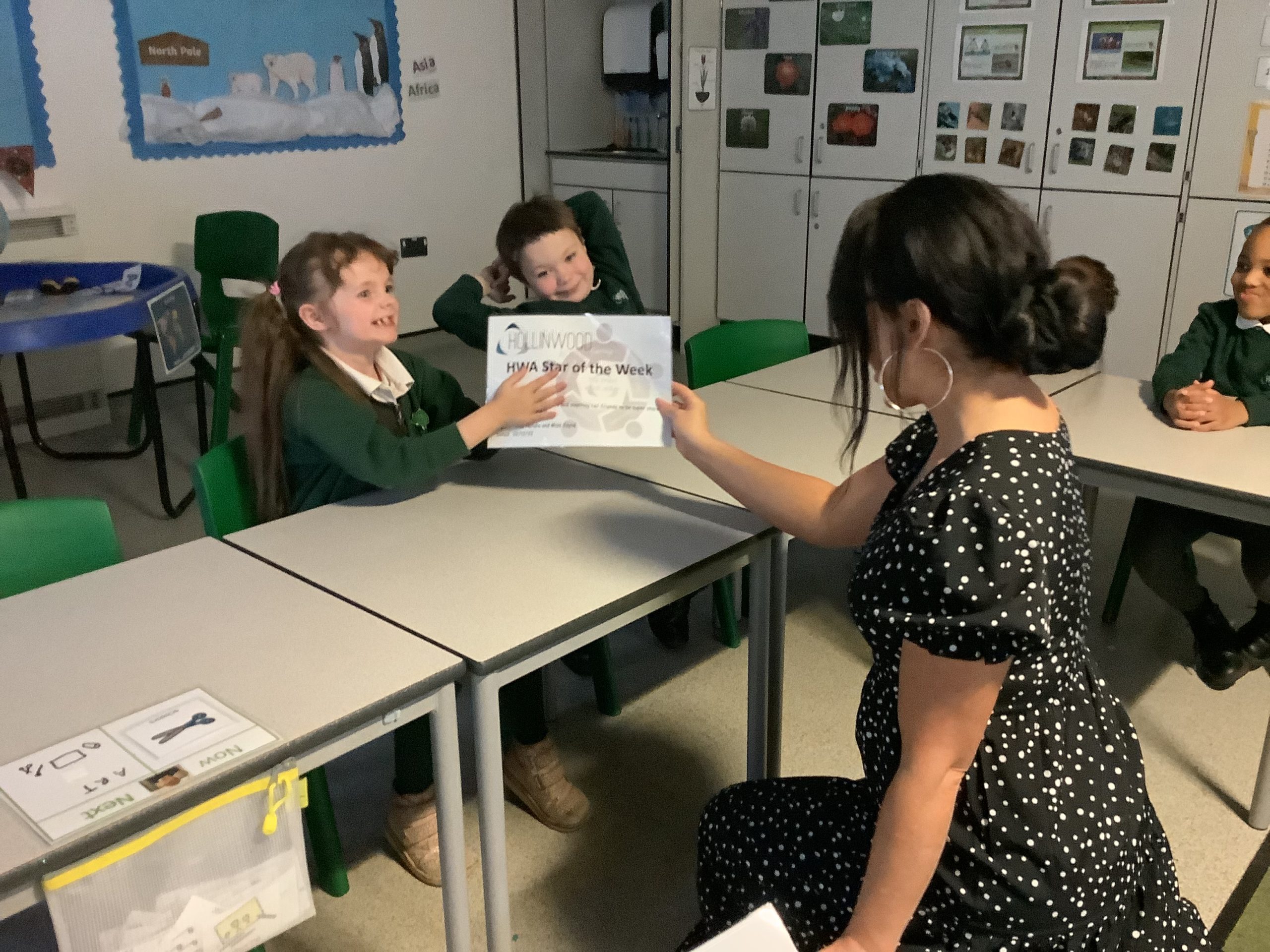 Mrs Halkyard and Miss Hulme's STAR of the week is Blaire for turning around her behaviour and making improvements with her response to adult support also for blowing her teachers away with fantastic phonics work today well done!
Mrs Halkyard and Miss Hulme's HWA Inspiring STAR is David for demonstrating our Autumn target "we are Inspiring" by being a great role model to his friends by demonstrating fantastic behaviour during outdoor education.
Mrs Halkyard and Miss Hulme's WOW moments go to Blaire, Loki, Cole and Caitlin. Well done!
Mr Corrigan's STAR of the week is Brooke for being really brave with the school nurse.
Mr Corrigan's HWA Inspiring star is Lewis for showing others how to be a good friend.
Mr Corrigan's WOW moments go to Derry, Jason and Jared. Well done!
Miss Prescott's STAR of the week is Zakariya for being kind and caring in school.
Miss Prescott's HWA Inspiring STAR is Ebon for being a kind brother when his sister forgot his snack.
Miss Tootill's STAR of the week is Fatima for her amazing work and always helping others.
Miss Tootill's HWA Inspiring STAR is Jake for inspiring others.
Mrs Davies' STAR of the week is Myla for being brave and coping with her boot.
Mrs Gittins' STAR of the week is Mia for recognising when she needs support and asked for help so much this week.
Miss Parkinson's STAR of the week is Christopher for working hard in science and maths this week.
Mrs Matthew's STAR of the week is Jago for settling into his new school so well!
Mrs Matthew's HWA Inspiring STAR is Lillie for showing strong resilience when making her periscope in Science!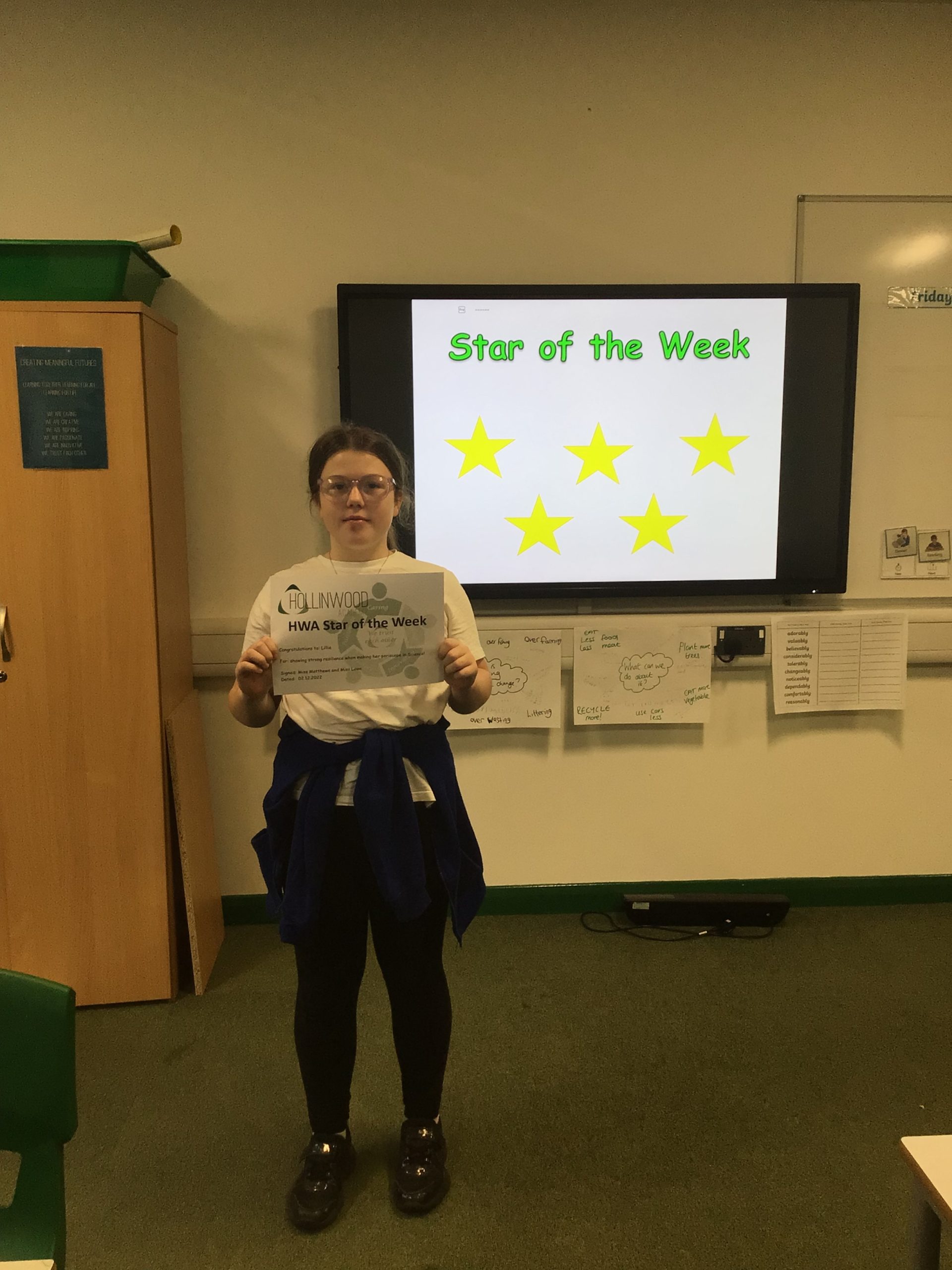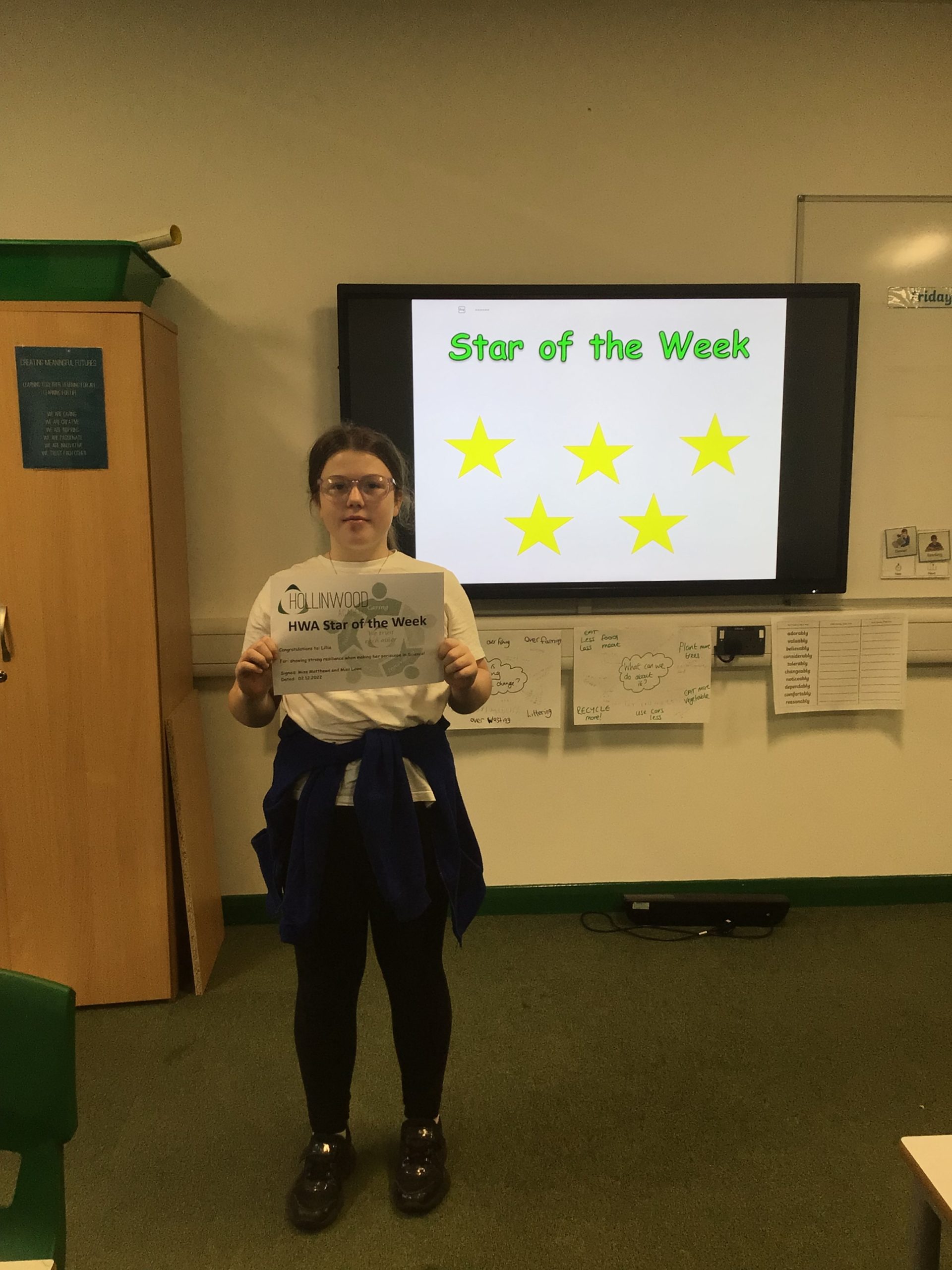 Well done to our secondary Hollinwood Academy STARs this week: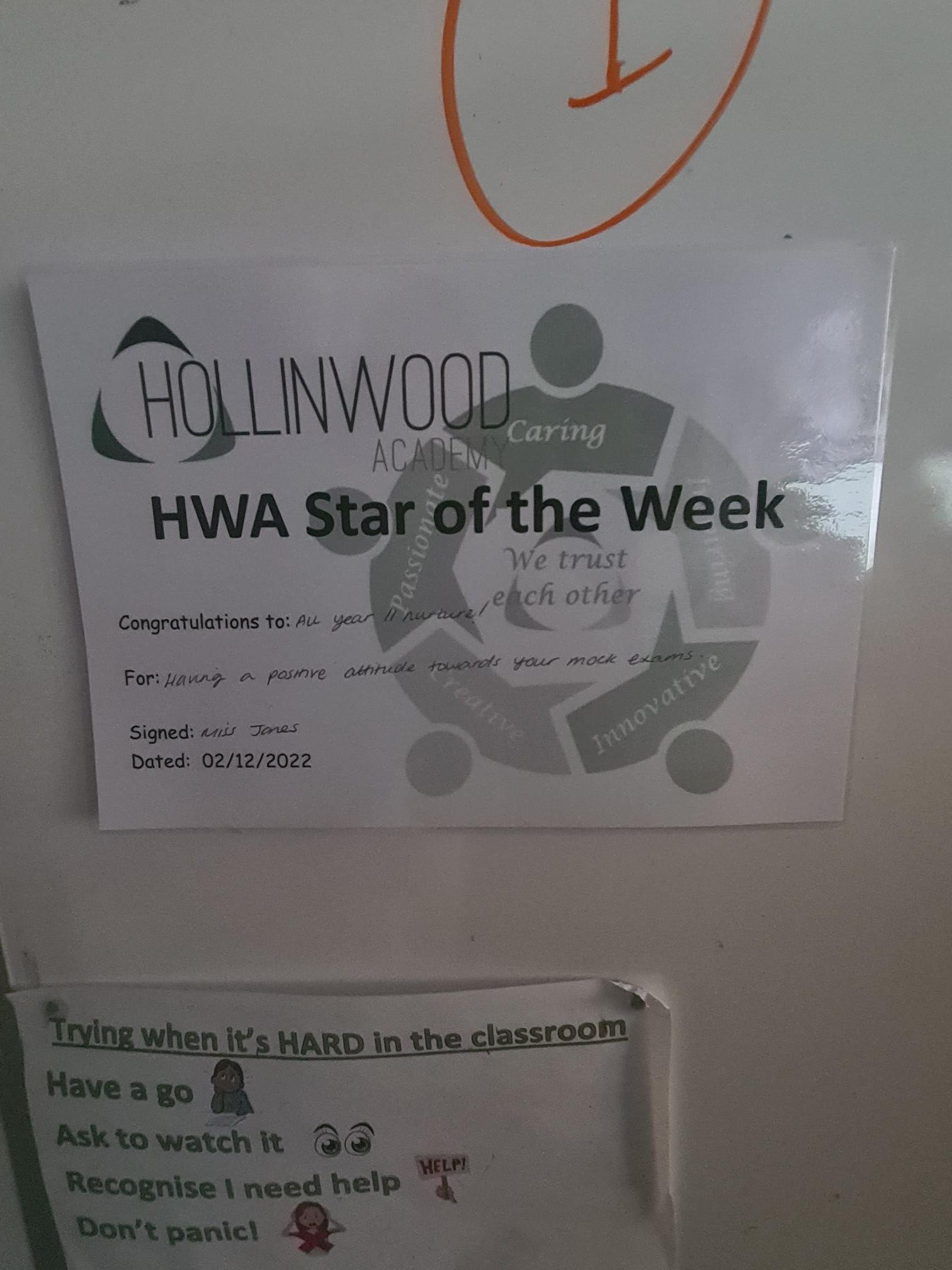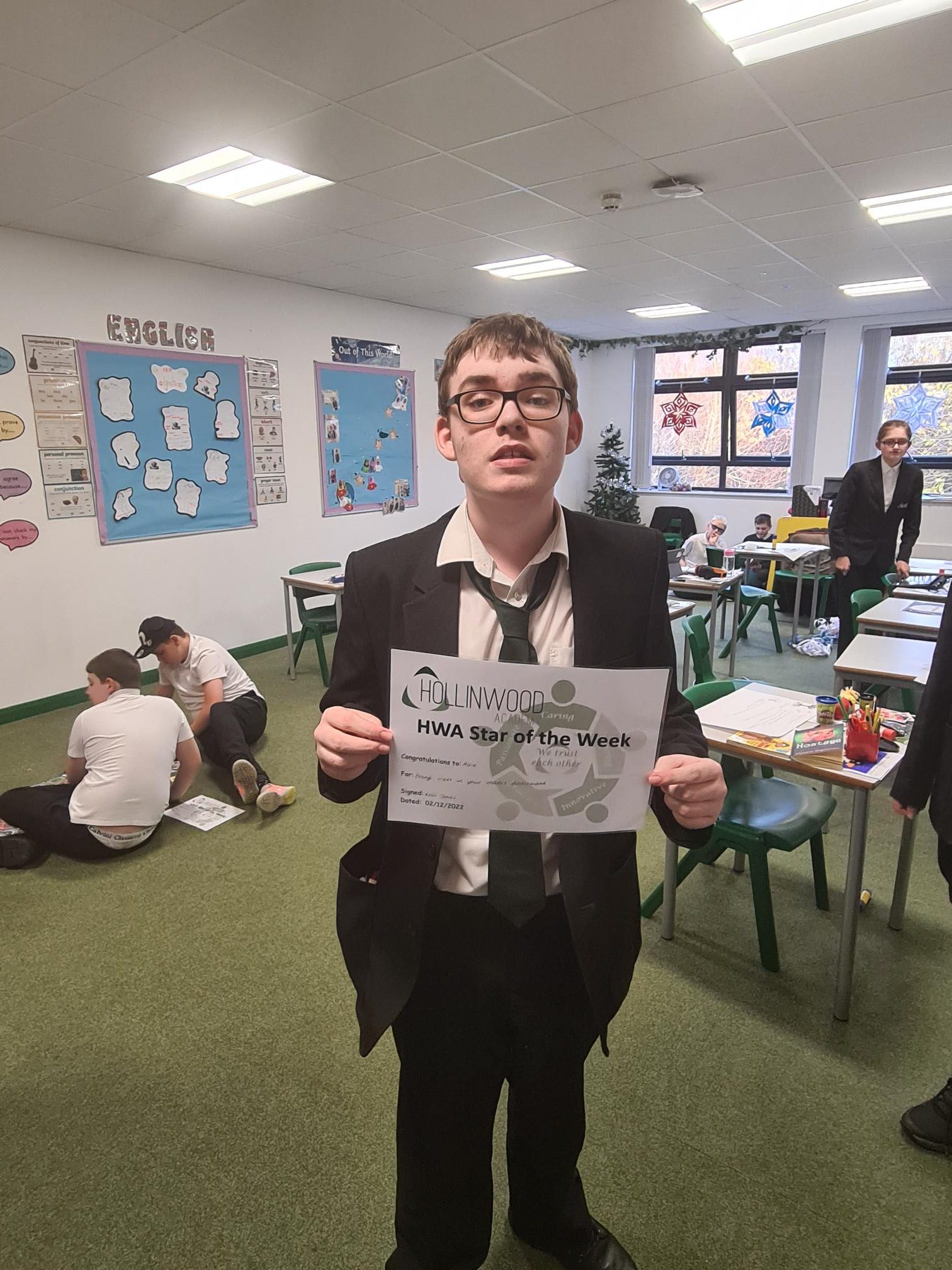 Our KS4 students have now finished their mock exams as they completed their: history paper 2, Spanish speaking exam, maths paper 3, English Language paper 2, Spanish writing, English Literature paper 1, physics paper 1 and Spanish listening exam this week.
We have heard some really positive outcomes and areas that we need to further work on in preparation for the summer exams. Please make sure you have made an appointment with your child's subject teachers for our Year 11 parents' evening on Tuesday 13th December.
Don't forget we have some important dates coming up next week…
I hope you have a lovely weekend.
Mrs Millard