Blog 25.11.2022
Our KS4 mock tests began this week, and the following subjects were covered: mathematics paper 1, biology, English language paper 1, history paper 1, chemistry, mathematics paper 2, creative iMedia, and Spanish reading were given this week.
Our students have come a long way, and we are incredibly proud of them. Even though students took two tests on the same day, they were resilient and diligent despite some challenging papers.
In order to ensure that our students have the proper access arrangements in place, we conduct mock tests to get them ready for their summer exams. After that, we identify any gaps and plan the appropriate next measures to assist our KS4 students throughout their exams.
Next week, they have a second full week of mock exams, and on Friday, December 9, letters with the results will be sent to families. Then, on Tuesday, December 13, 2022, we will have our year 11 parents' evening. You can choose a time for the meeting using your Arbor account. This is an opportunity to speak to your child's curriculum teachers, face to face or via telephone, to discuss mock results and areas to work on as they approach their exams in the summer term.
Keep working hard, KS4!
Let's see what some of the classes have been doing starting with Miss Oakley's class…
"Another week where everyone in the class have worked their socks off! Myself and all the class staff are so proud of you all.
In phonics this week we have been looking at the sound 'k', we not only wrote lots of words in a variety of different ways (rice, sand and shaving foam) but we also created kites and jumped around like kangaroos!
In maths we've been focusing on number lines, what they look like and finding numbers on them. We've been playing lot's of games together to try and find different numbers. We tried to challenge ourselves to find one more and one less on the number line. Continuing on from finding specific numbers we have also been printing numbers using paint, everyone enjoyed getting their hands messy.
Science this week was all about birds and why they are such a special animal. We looked at why they are so different than any other animal and their body parts. We pretended to be birds with super long wings gliding around our classroom and even cut out and created our own robins. The children really enjoyed playing in the tuff tray with feathers, we talked about how smooth and soft they were.
In cooking we made melted snowman biscuits because it has got so cold outside we think it will snow very soon. The children did a fantastic job of mixing the icing and piping the face onto the marshmallow. The hardest part for the children was not to have a sneaky bite. They looked delicious.
Thank you again year 1 for another fabulous week!"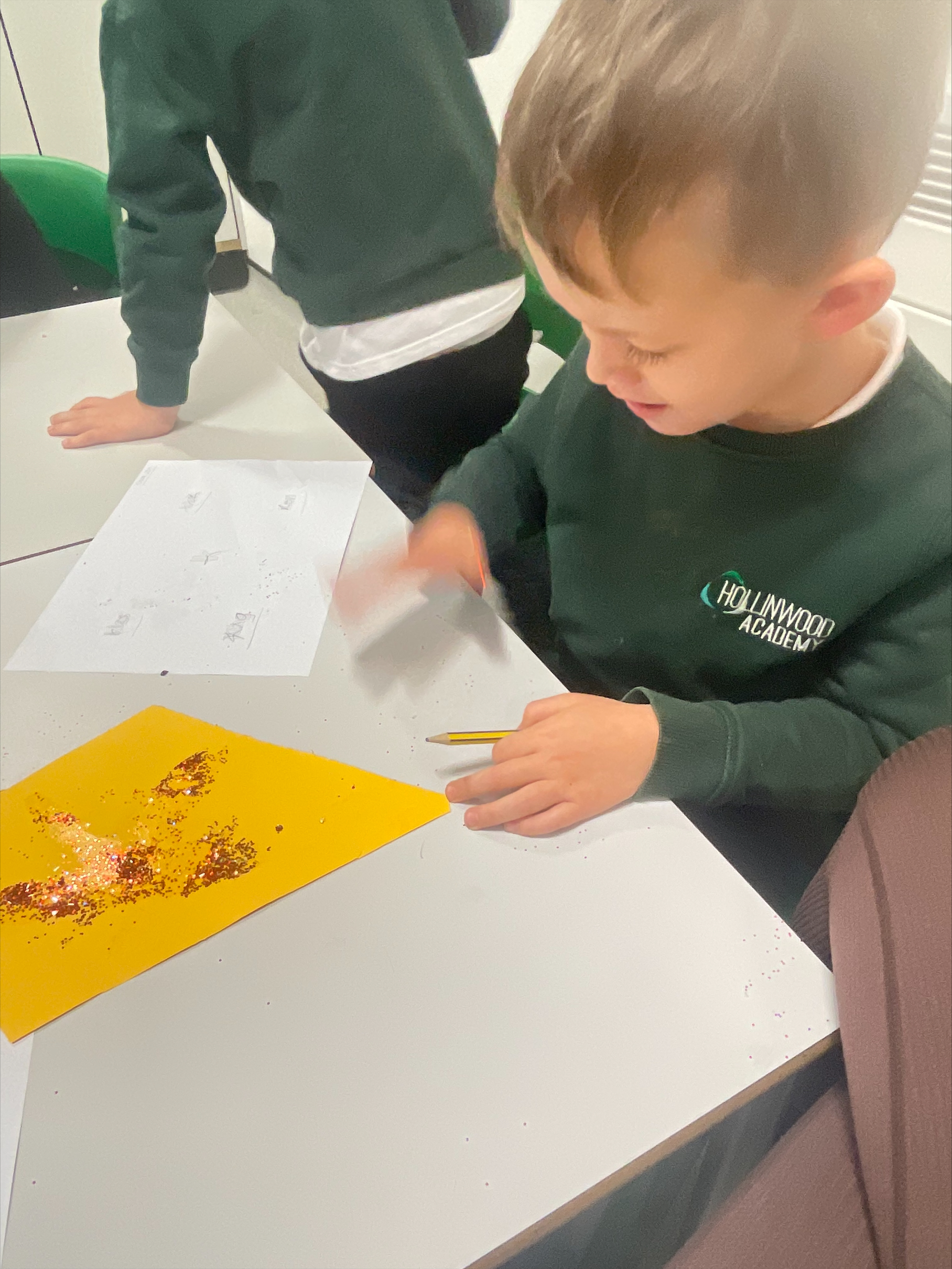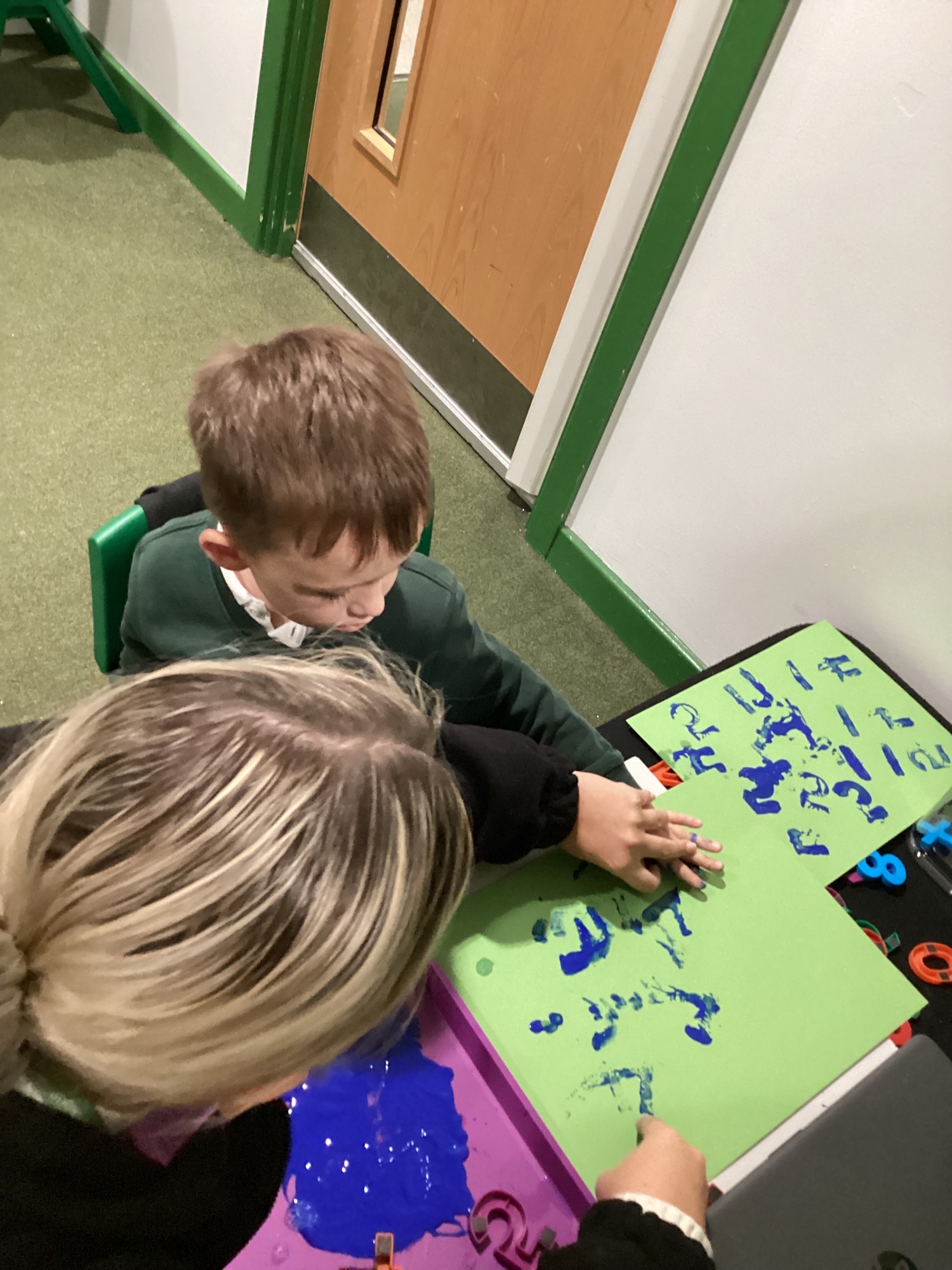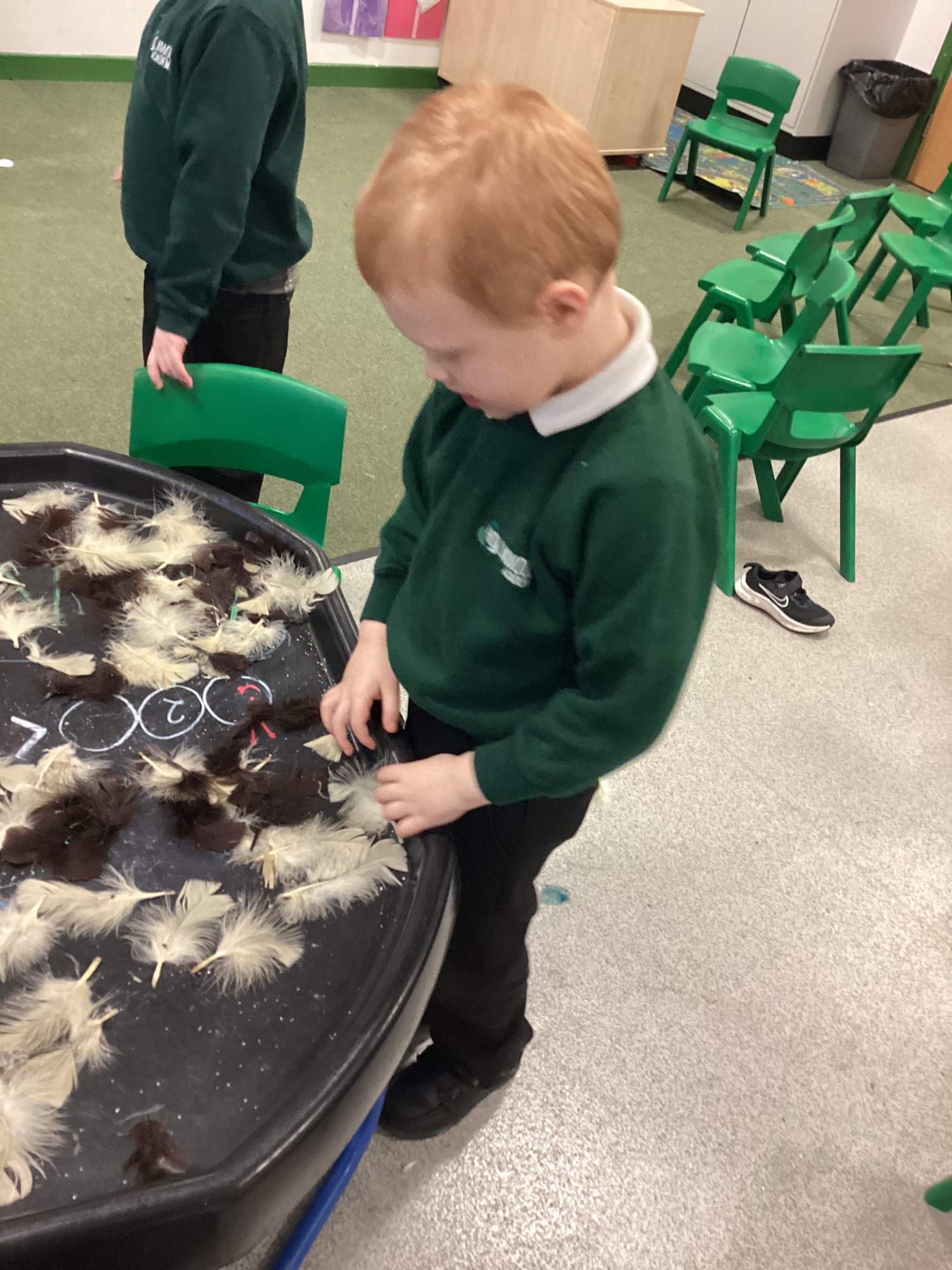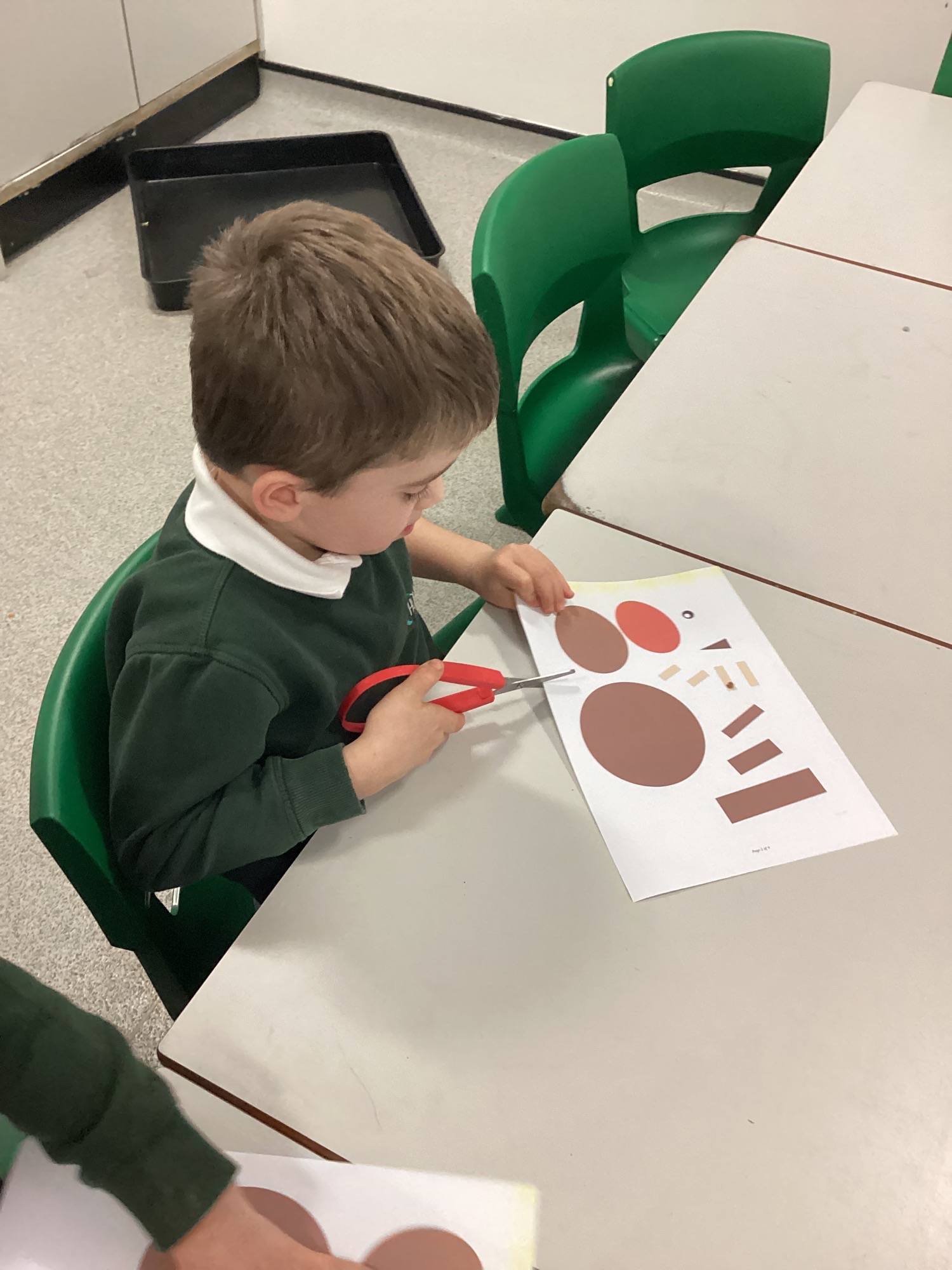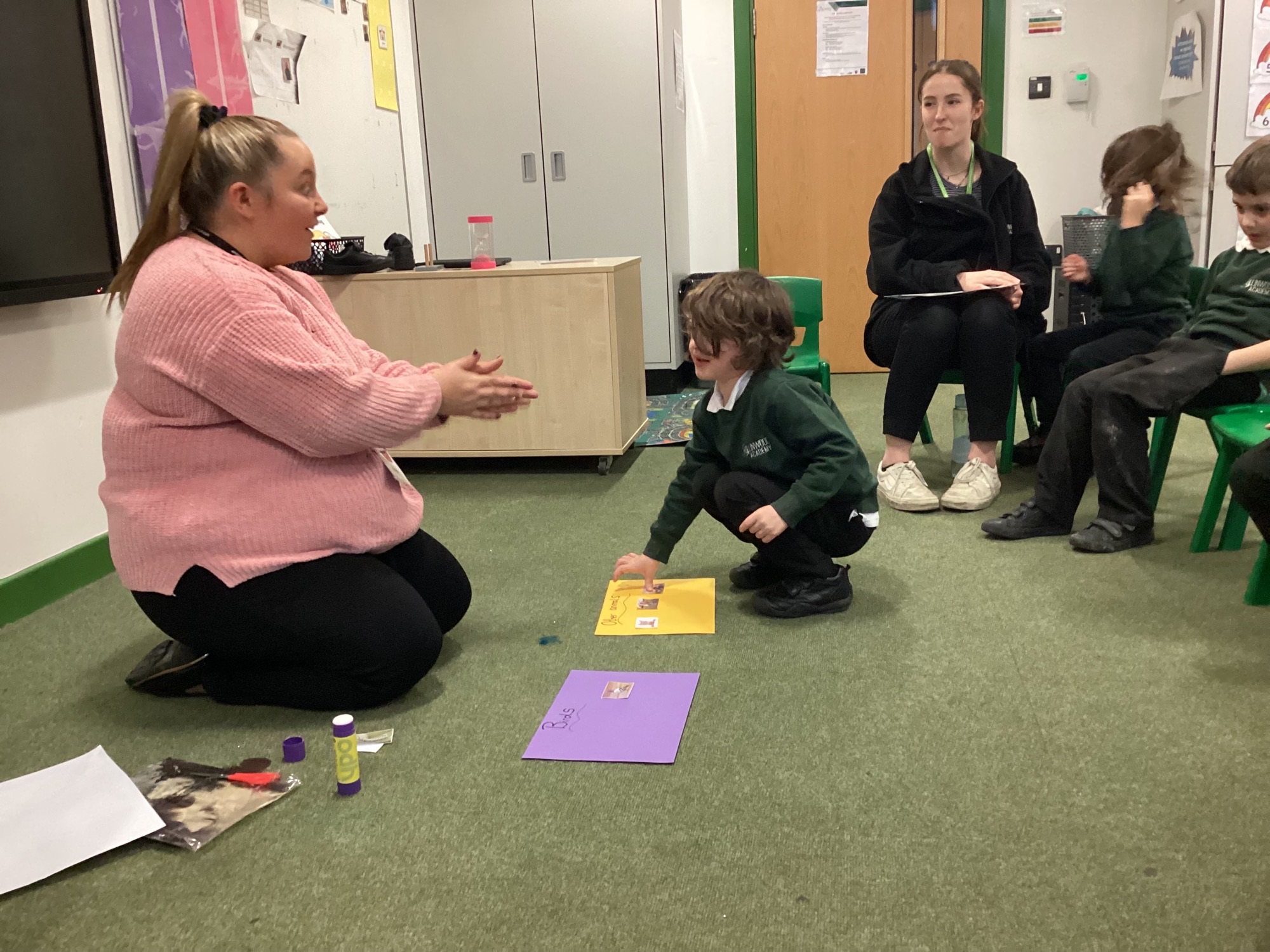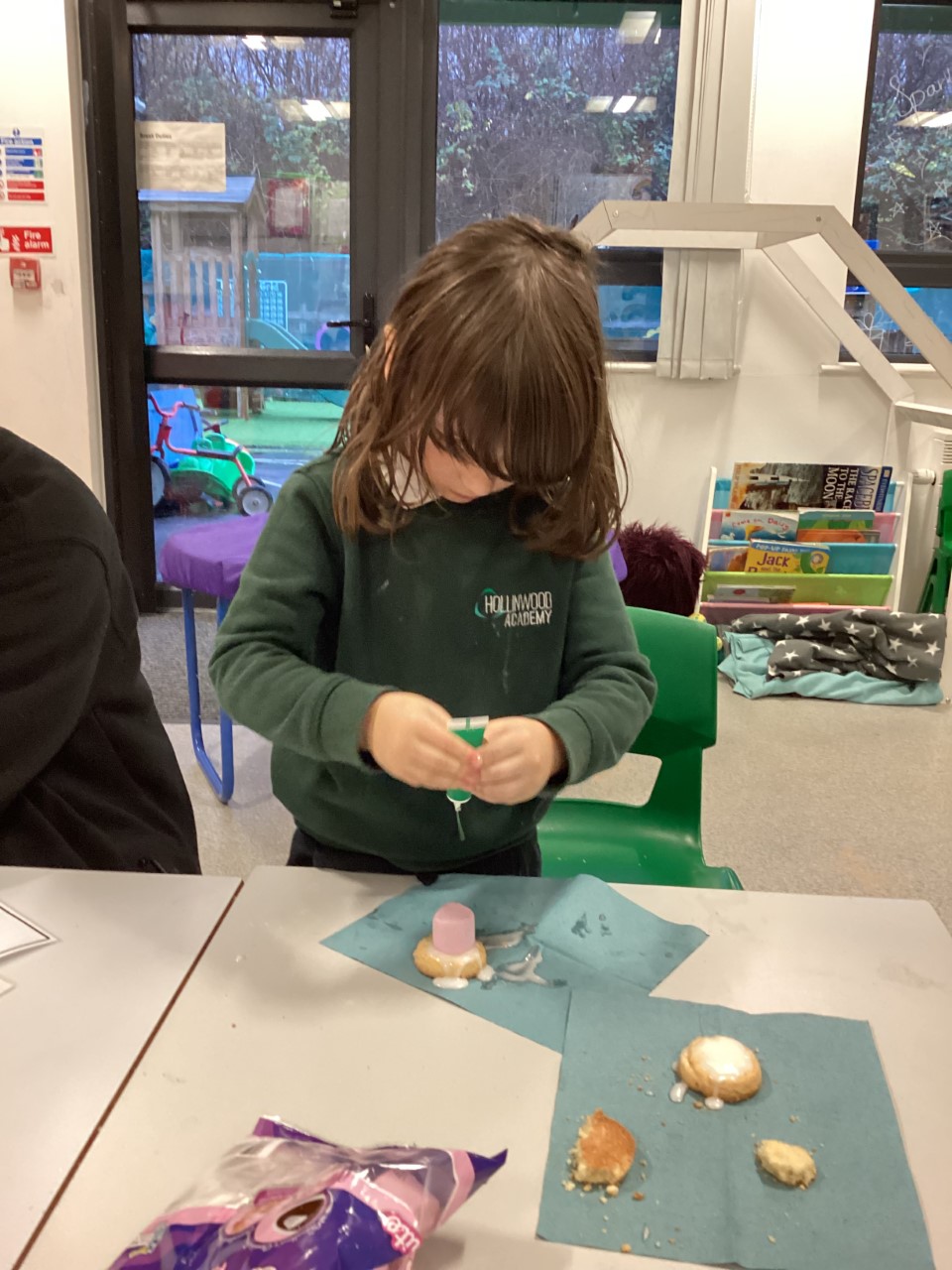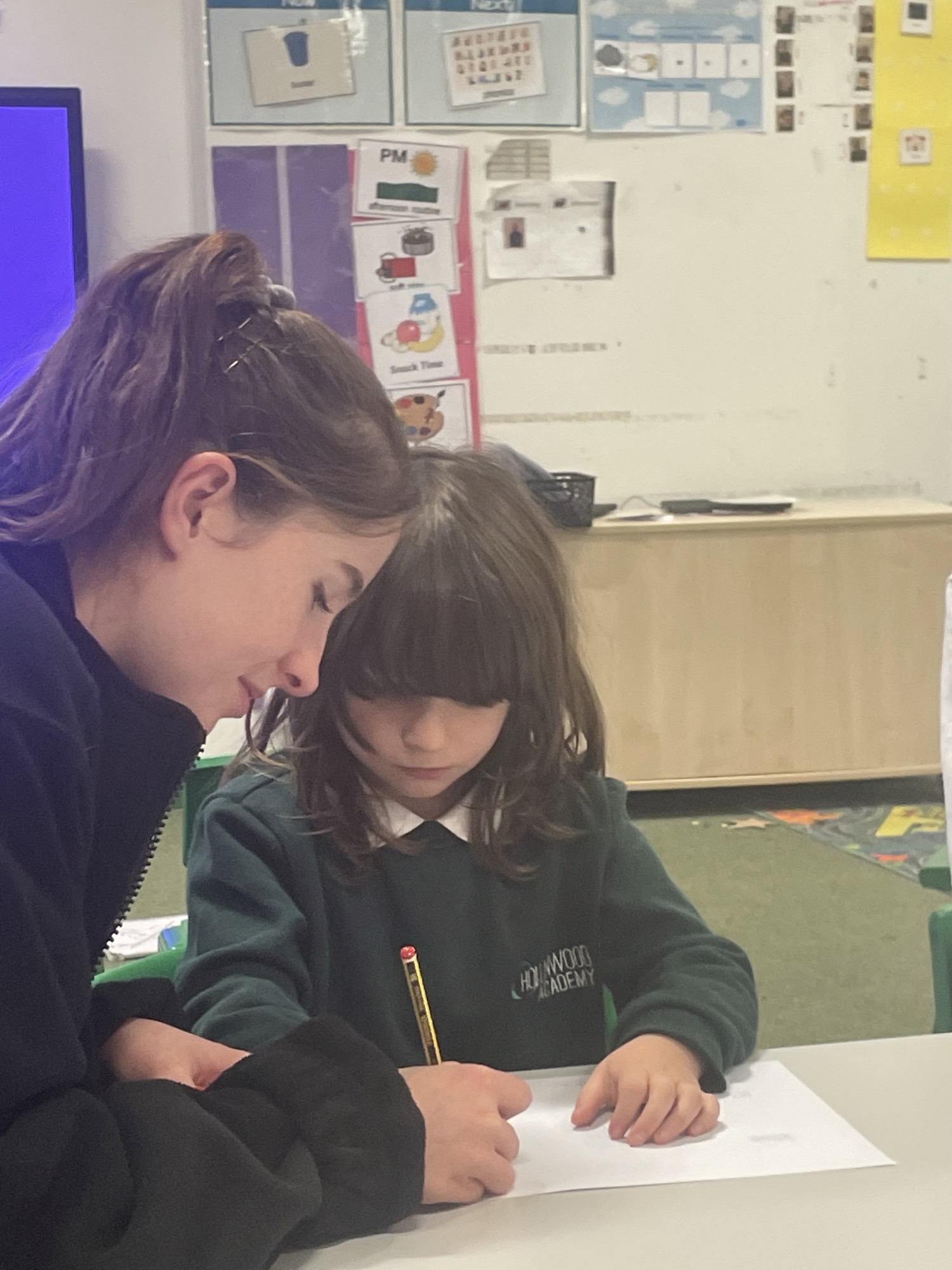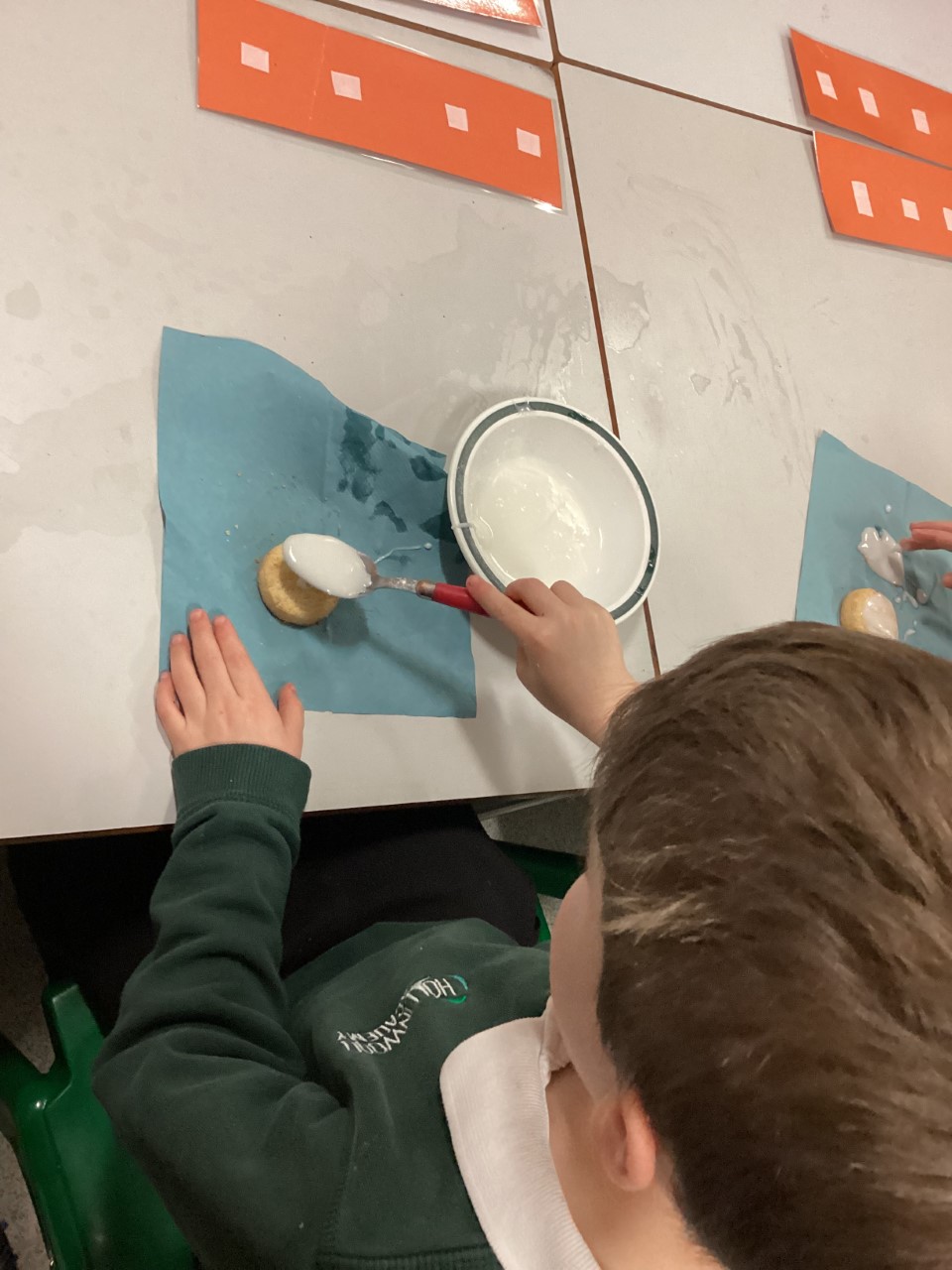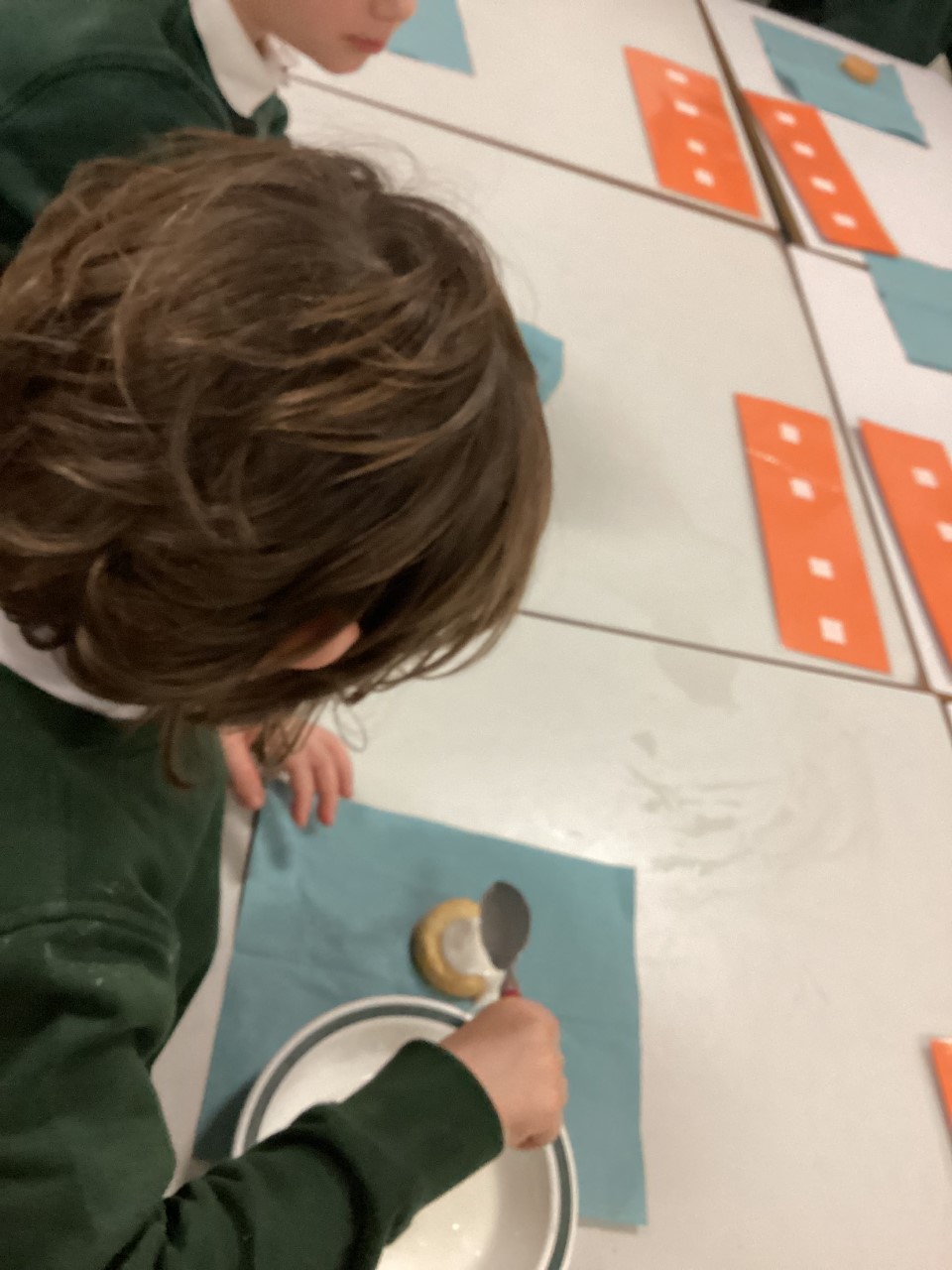 Now to Mrs Jones' form…
"This week with Miss Datta we have been looking at different language techniques such as personification, alliteration, metaphors and similes applying it to exam questions on past papers.
In maths this half term we are learning about fractions, decimals and percentages. This week we have been multiplying and dividing by 10, 100 and 1000. We have also started to multiply and divide by decimals applying it to exam questions.
In science with Miss Daniels we have been looking at the circulatory system and have been finding out how blood is pumped around our bodies. This week we have been dissecting hearts.
The class split 3 ways for GCSE options. In cooking we have been learning about how to cook and prepare different pasta sauces. In D of E we have been on many visits out walking around parks and canals. In art we have been looking at character descriptions and thinking about the traits that make them appealing.
In RSE this term we are learning about financial decision making and using our maths skills to work out interest rates comparing them to interest rates from loan sharks.
In our employability lessons we have been looking at why we have rules in society and have been looking at strategies in how we might manage conflict.
We have also been practicing our fine motor skills in preparation for making Christmas decorations for the fair."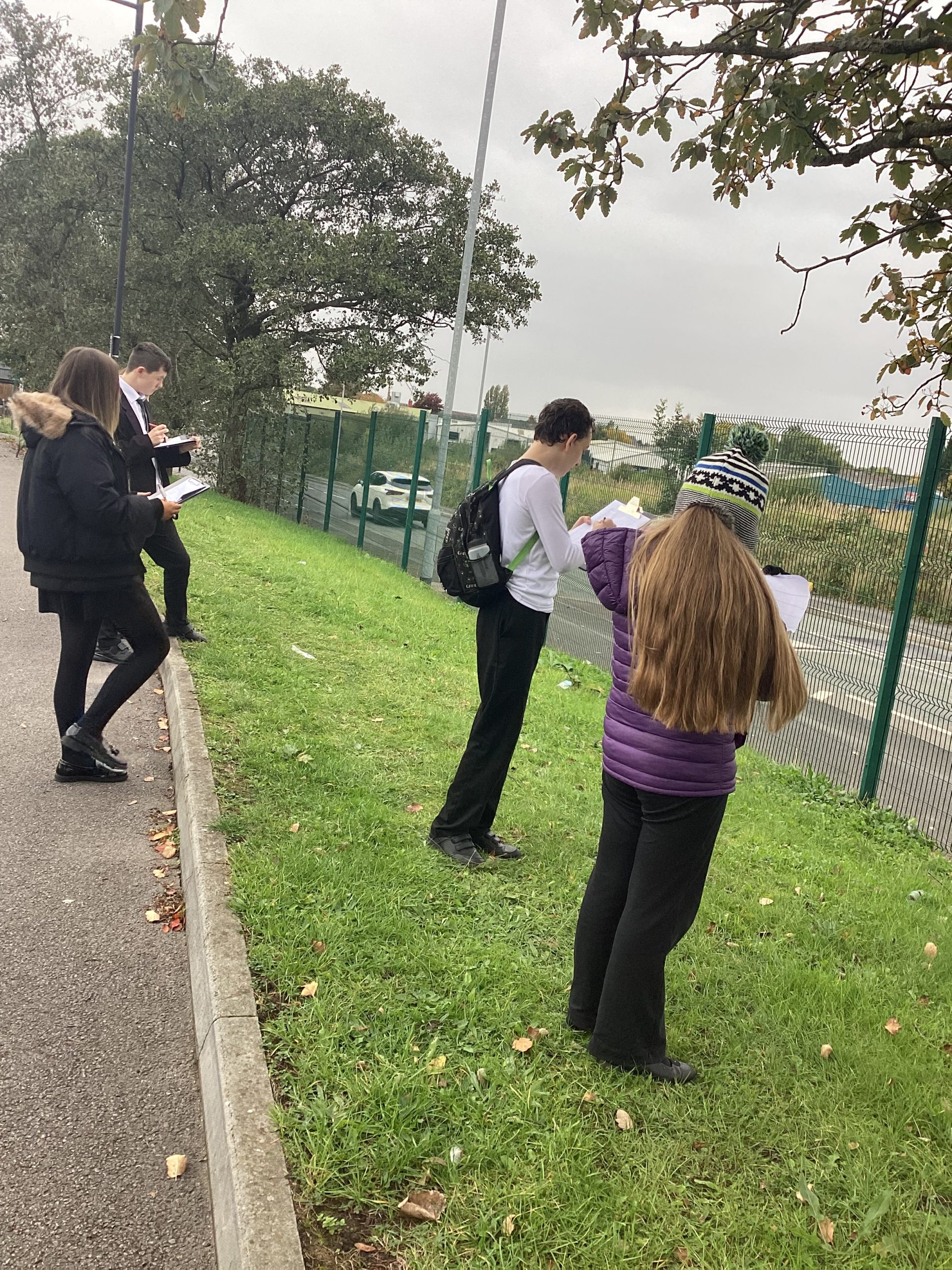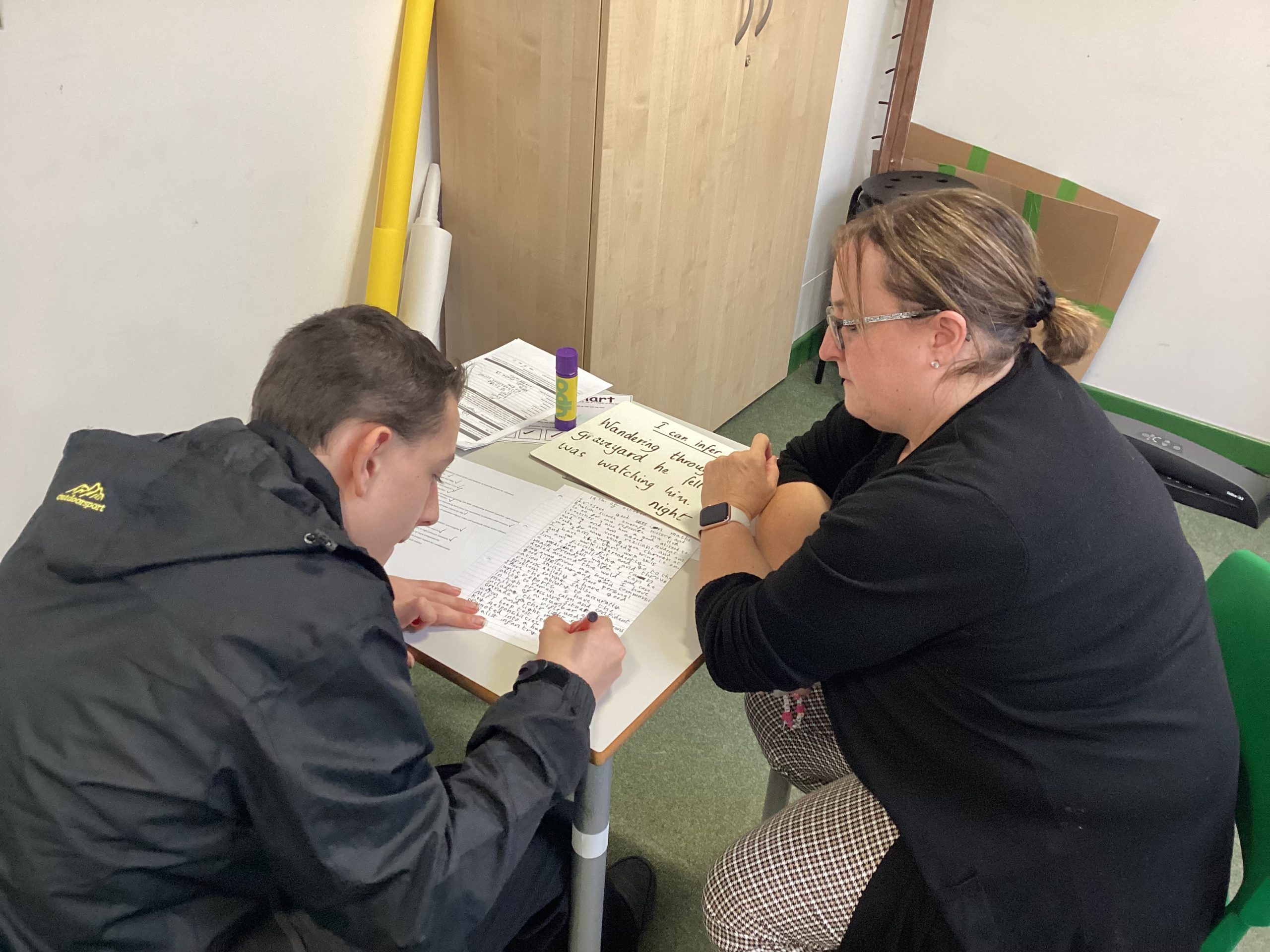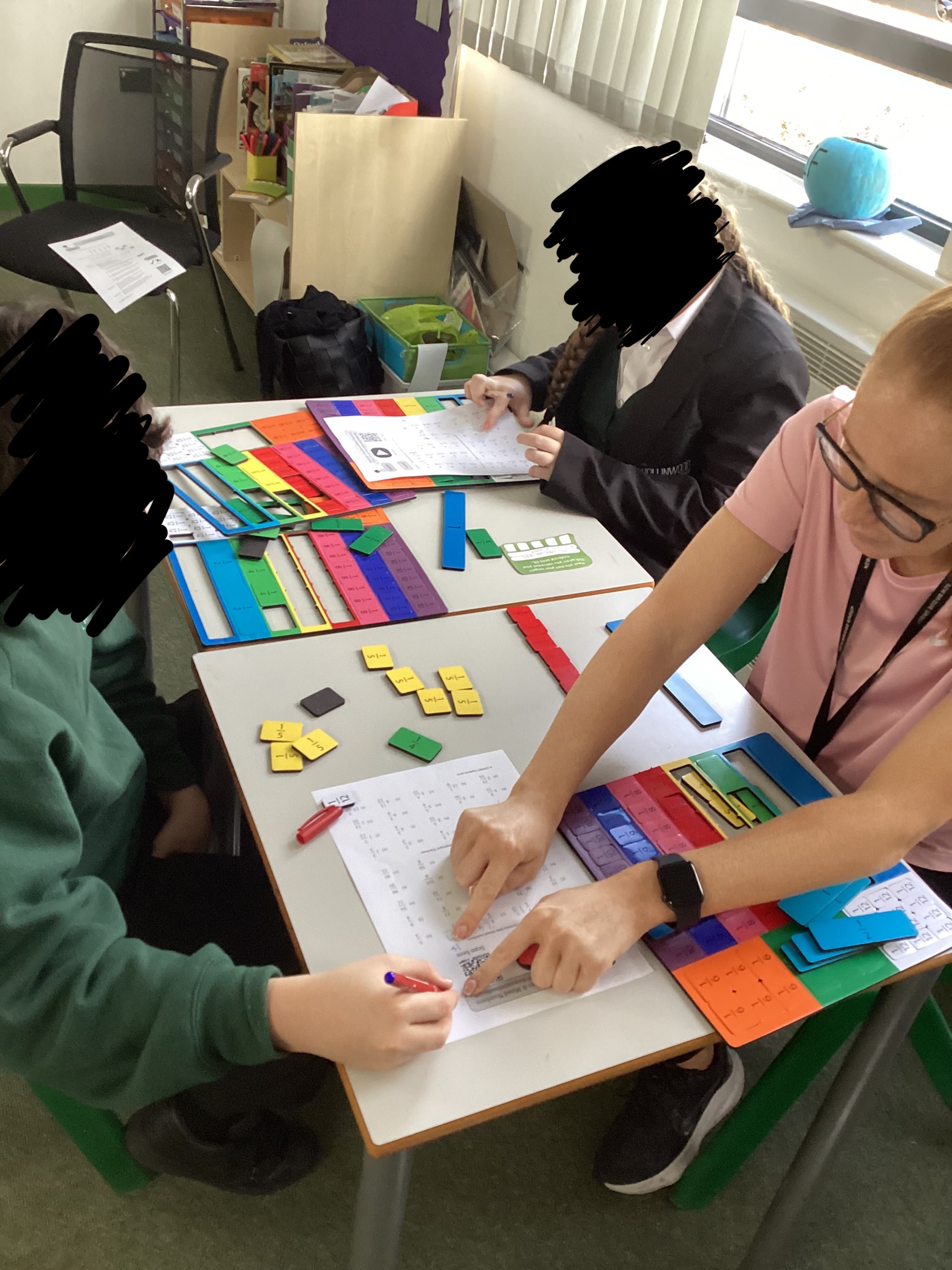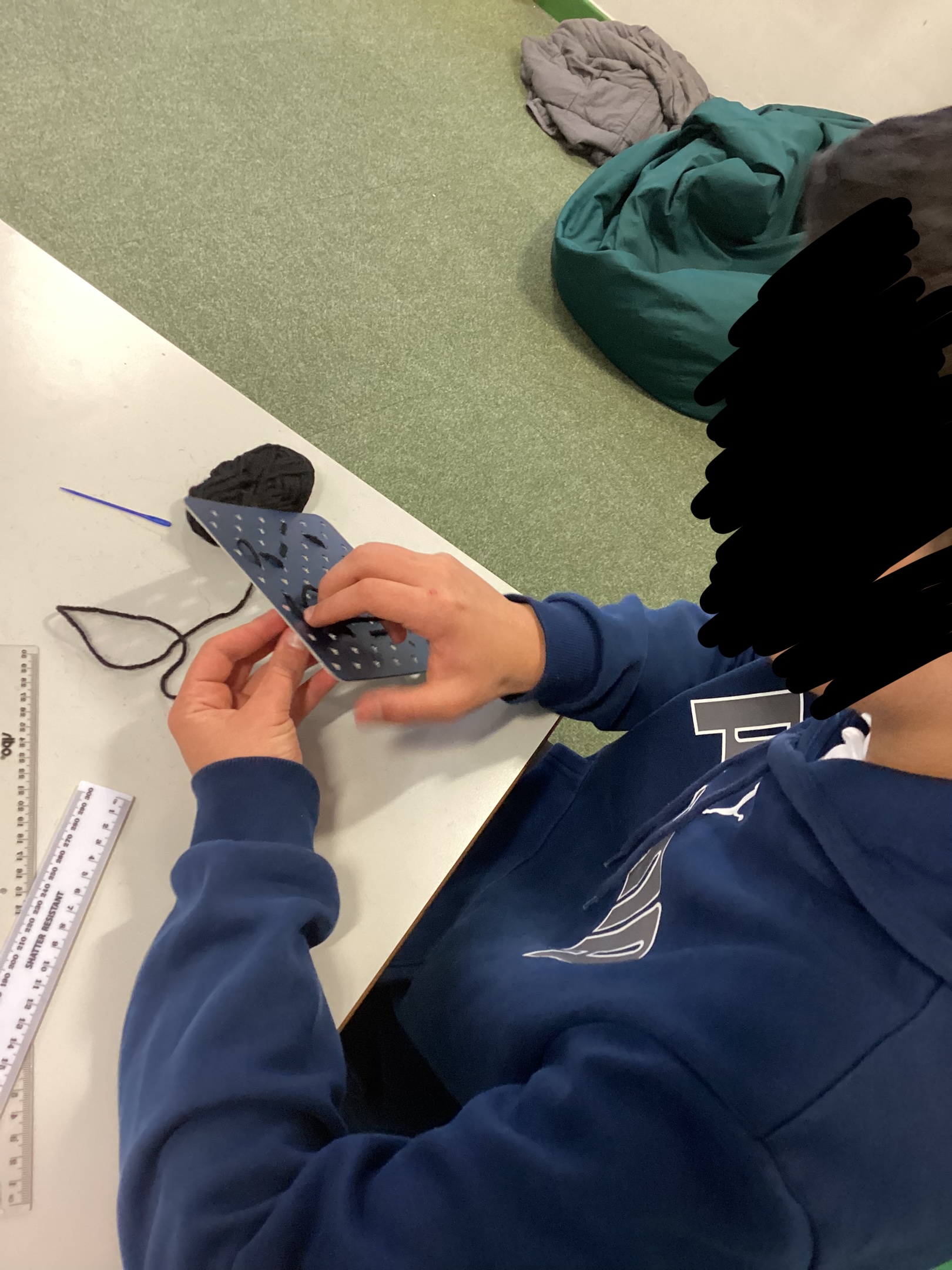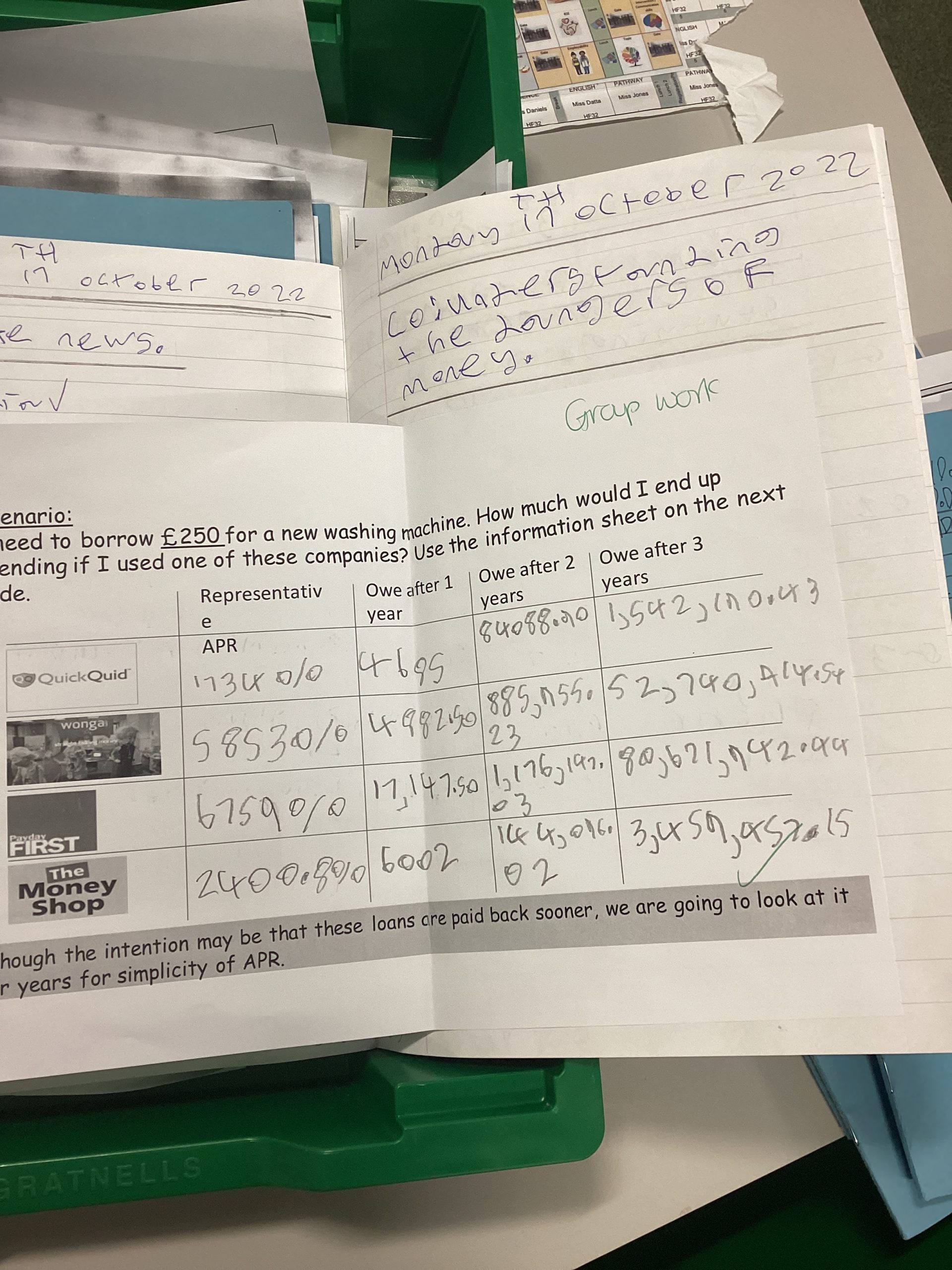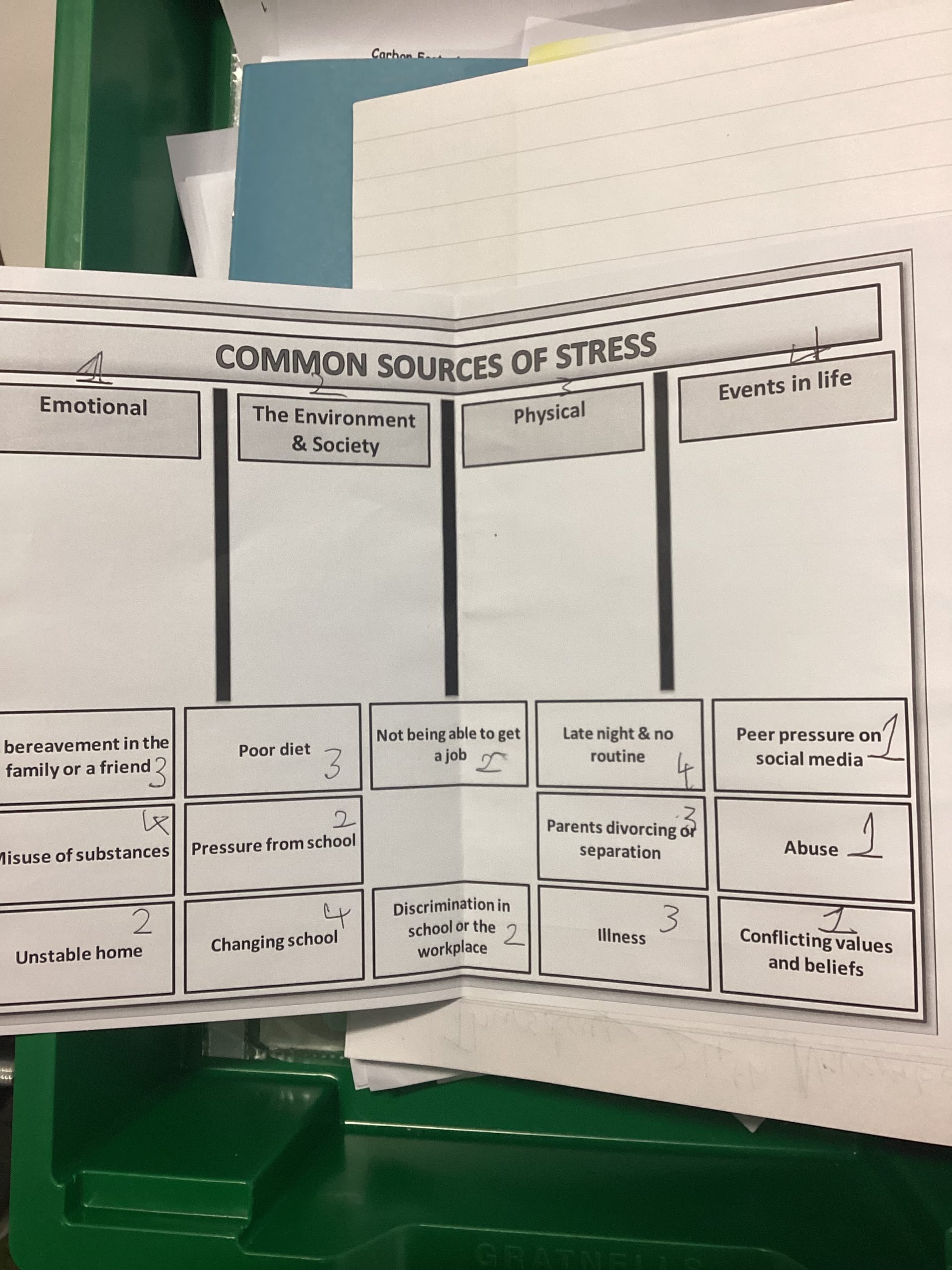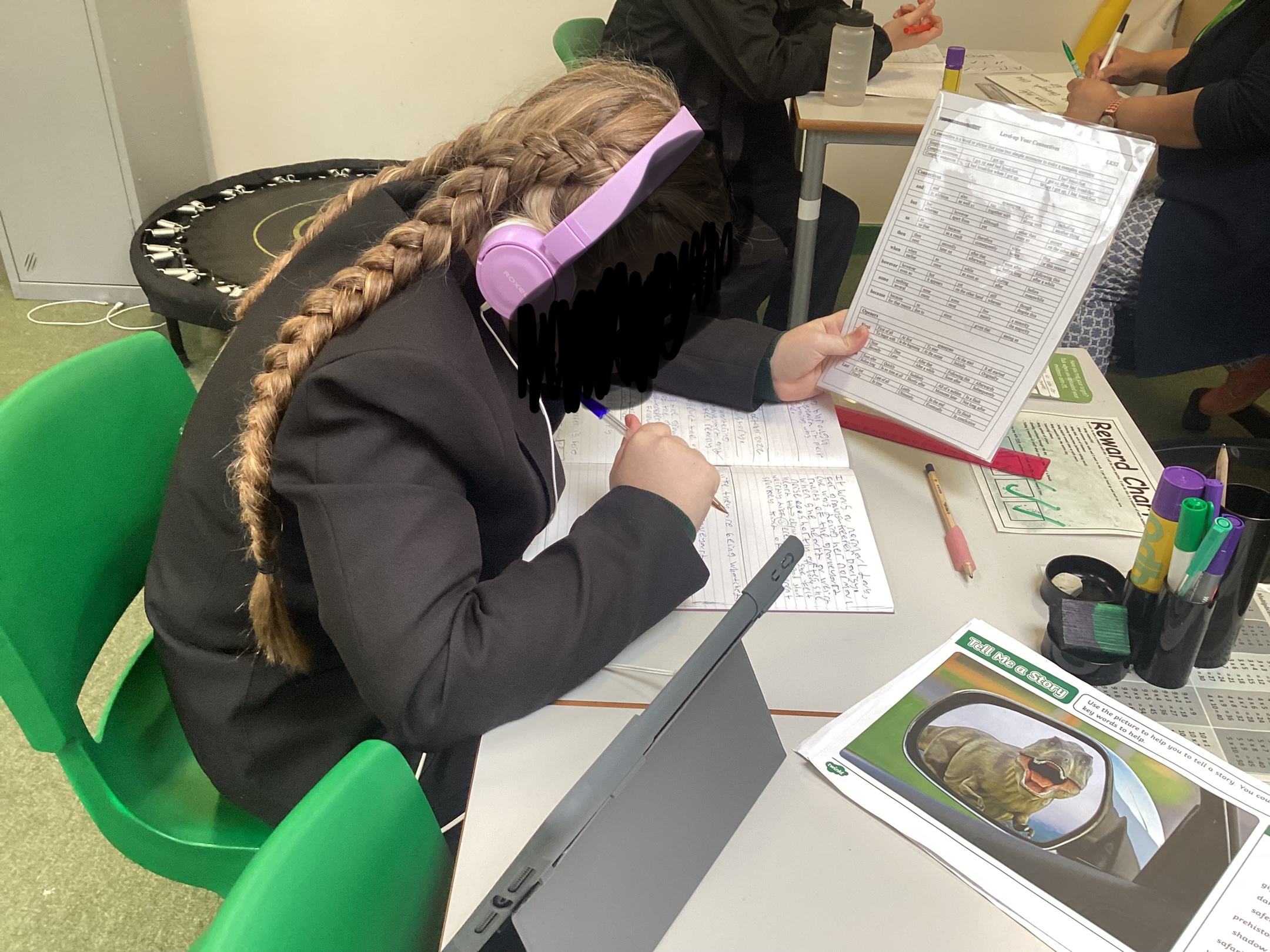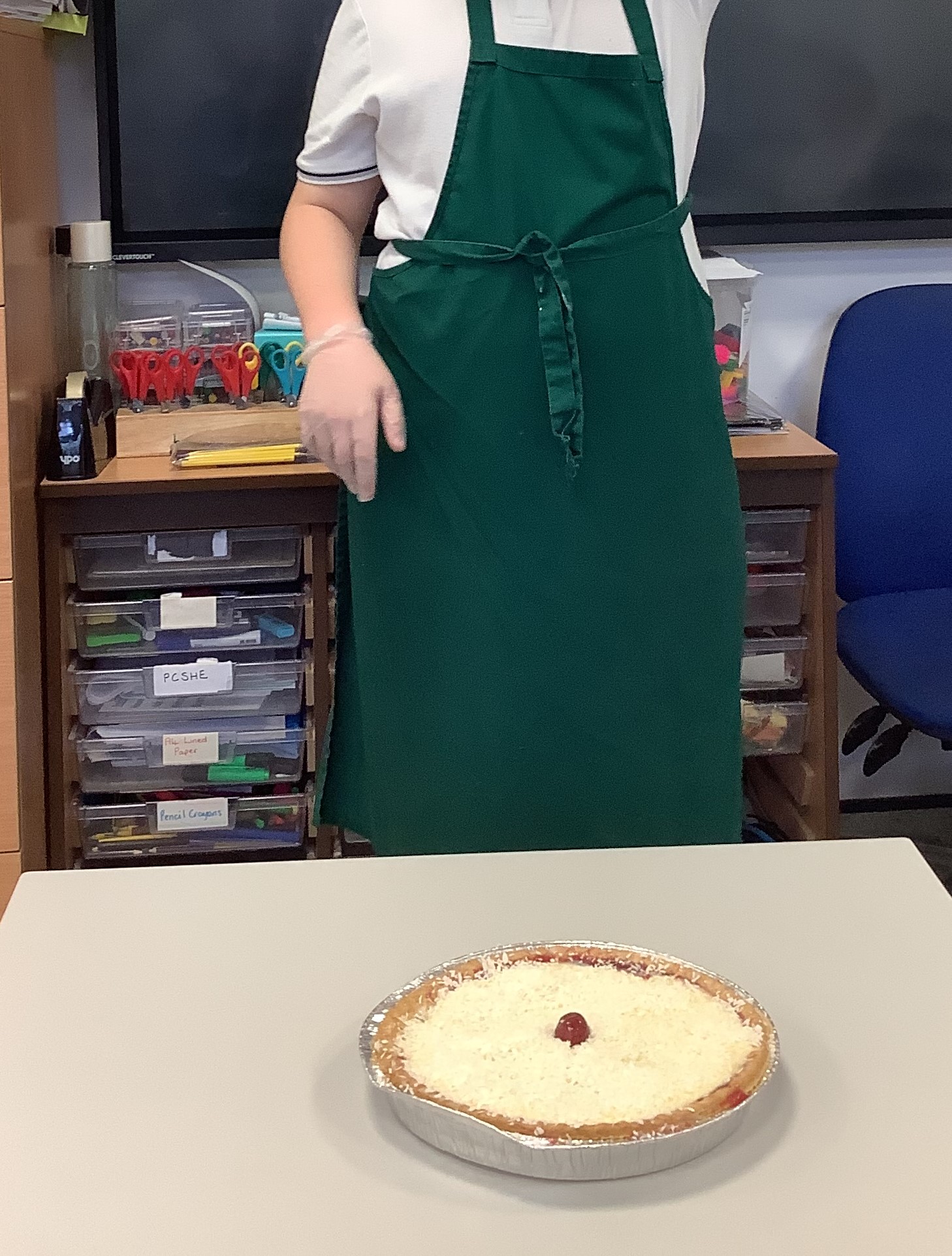 Now to our amazing SUPER STARs and HWA Inspiring STARs…
Mrs Lerigo's STAR of the week is Diana for amazing engagement and using her voice to request the things she needs.
Mrs Lerigo's HWA Inspiring STAR is Alfie for organising the children and helping them to sit down for carpet time 🙂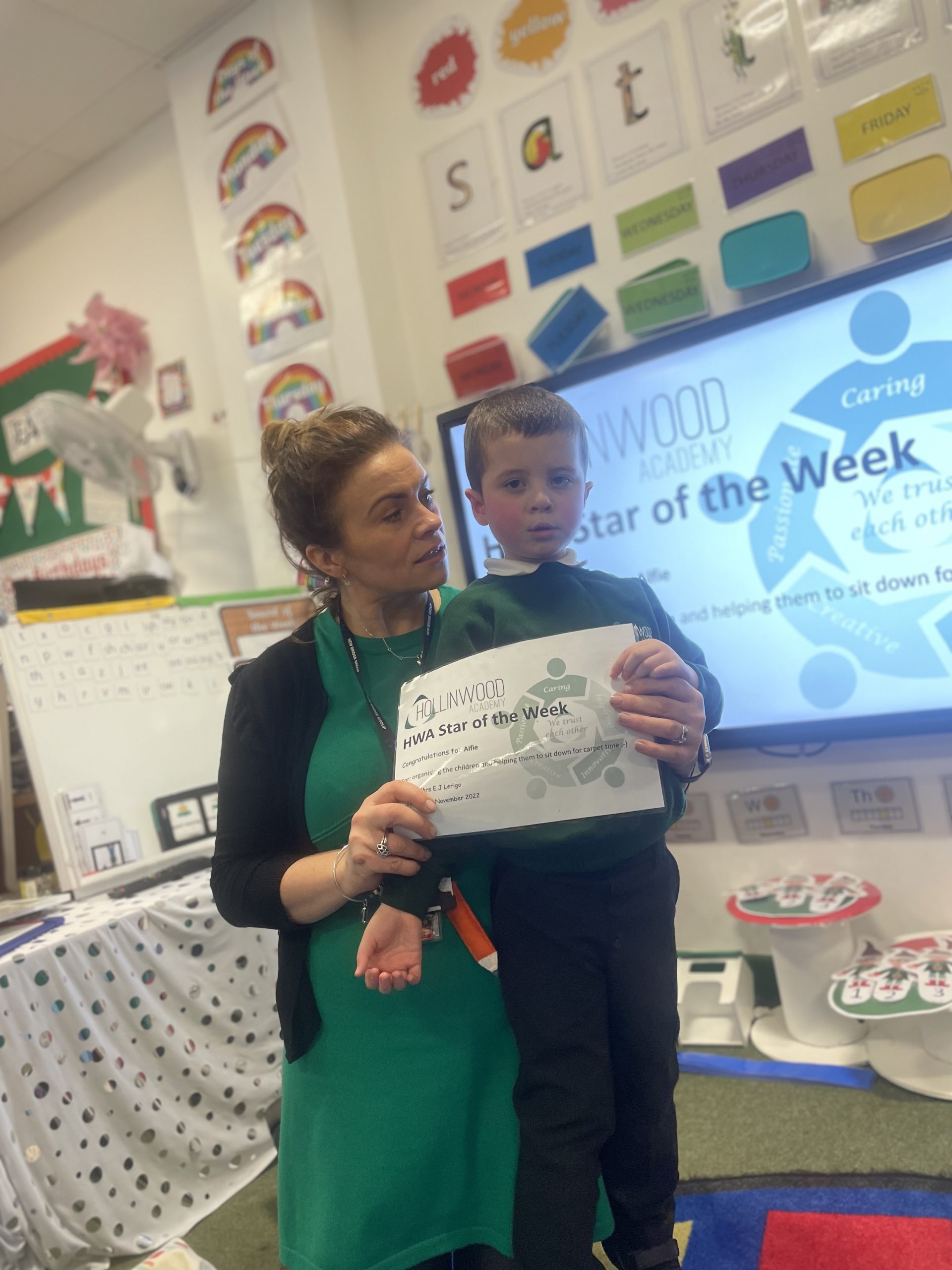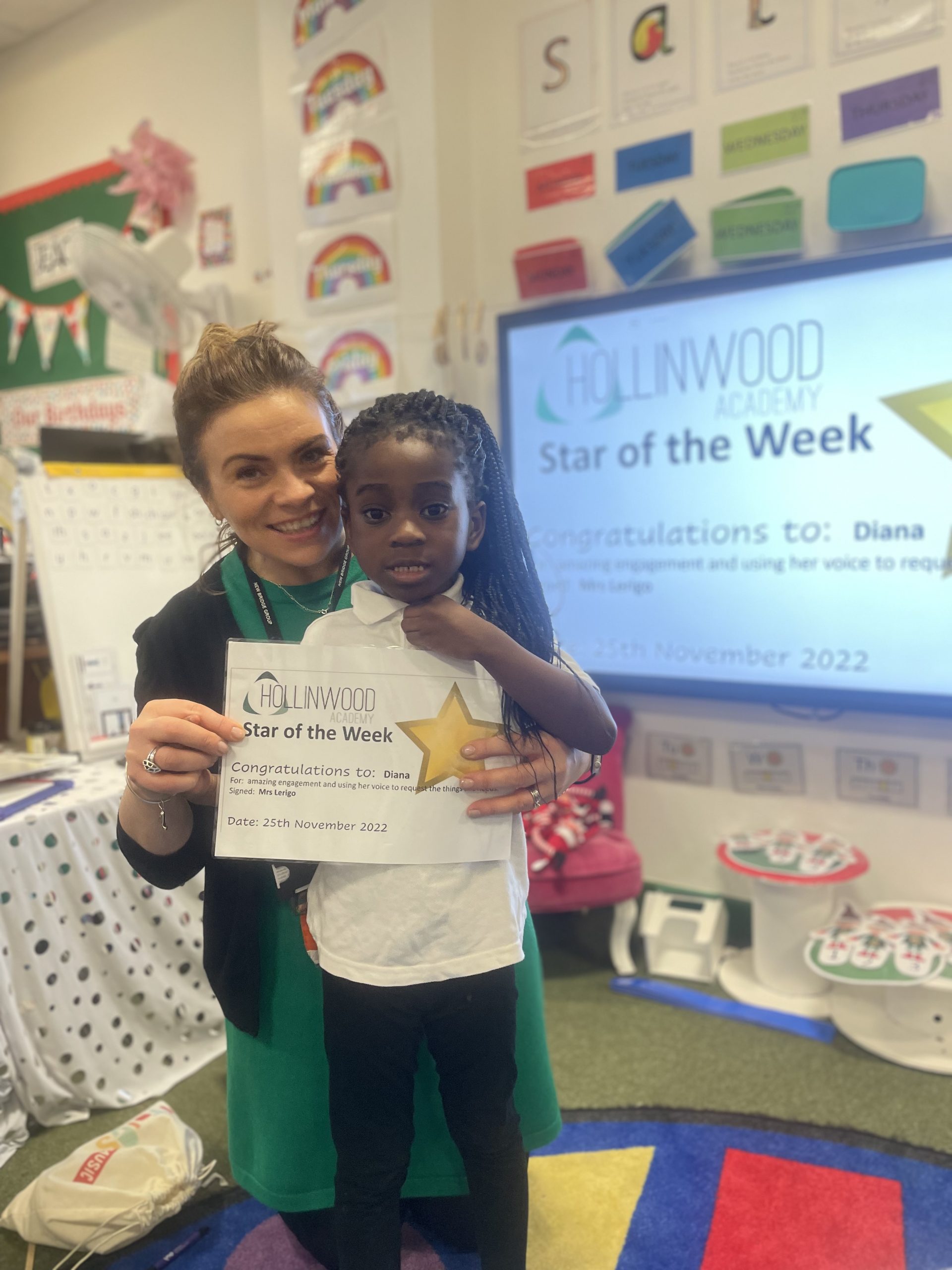 Miss Meadows' STAR of the week is Ohud for using new words throughout this week and using these frequently.
Miss Meadows' HWA Inspiring STAR is Ethan for consistently using and repeating new words and for requesting his choices like walk.
Miss Pietraszewska's STAR of the week is Eliora for amazing engagement in all of the important assessments this week. Well done! Thank you Eliora for being such a super star!
Miss Pietraszewska's HWA Inspiring STAR is Lewis for brilliant supporting other classes while practising their Christmas Shows. Well done Lewis!
Mrs Halkyard and Miss Hulme's STAR of the week is Joshua for always being polite and always using lovely manners.
Mrs Halkyard and Miss Hulme's HWA Inspiring STAR is Isaam for demonstrating our Autumn target 'we are inspiring' by always having a lovely smile on his face and being a positive member of our class.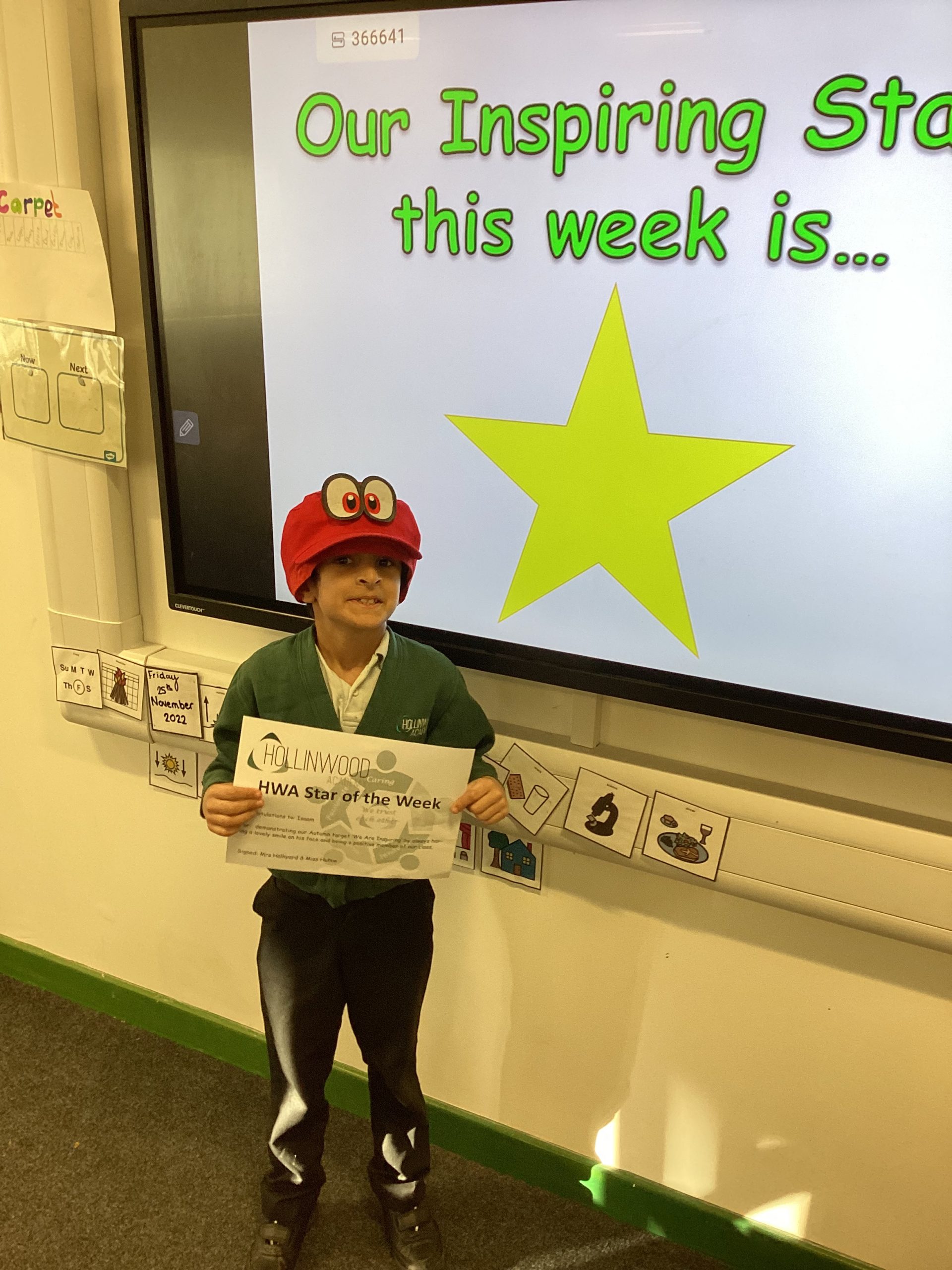 Mr Corrigan's STAR of the week is George for working so hard in maths that he was the last to finish.
Mr Corrigan's HWA Inspiring star is Hadley for making new friends.
Mr Corrigan's WOW moments go to Jason, Brooke, Derry, Oscar, Freya and George. Well done!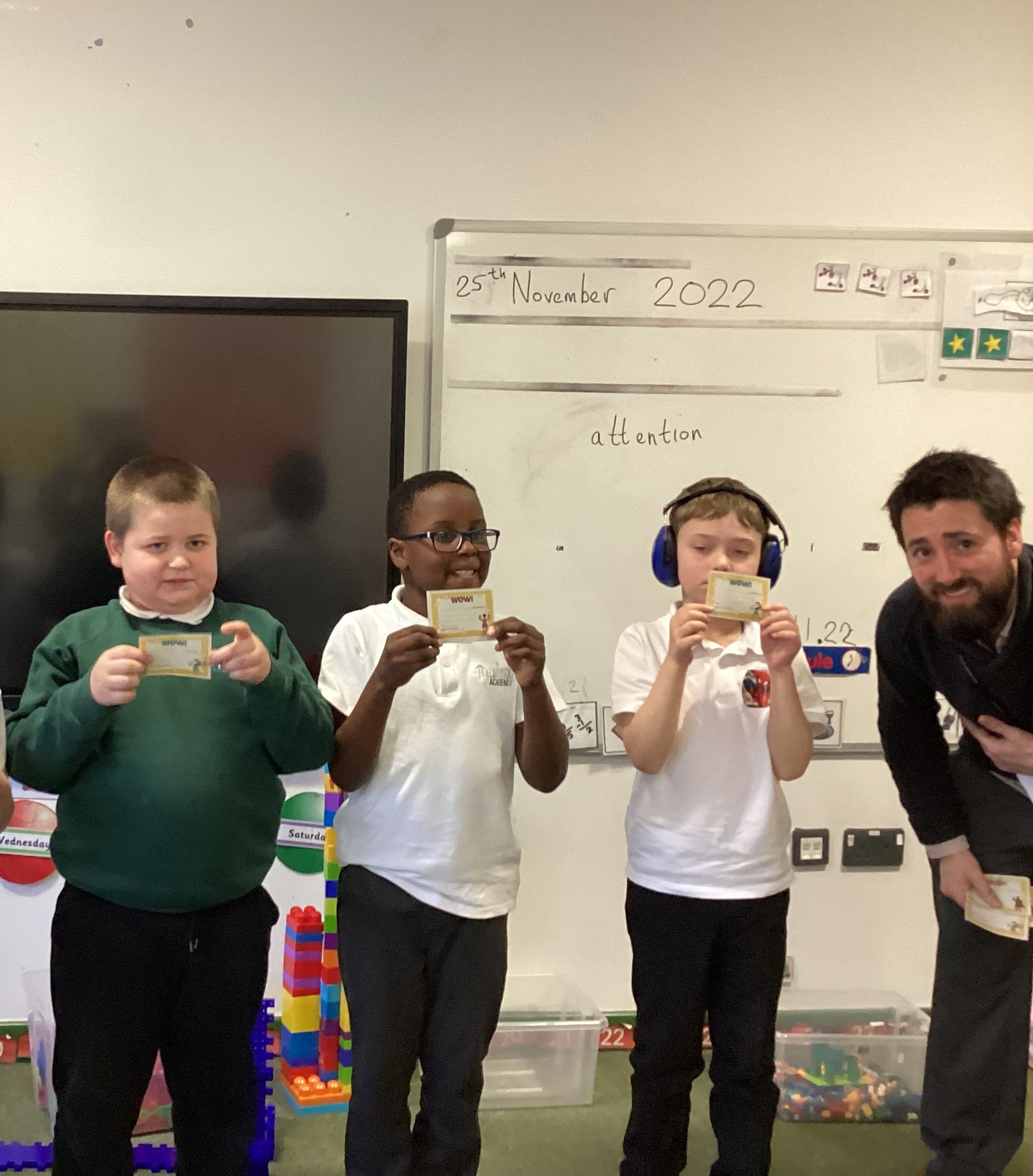 Miss Prescott's STAR of the week is Eli for always being kind and caring to his peers.
Miss Prescott's HWA Inspiring STAR is George for accepting sudden change in his school day.
Miss Tootill's STAR of the week is Millie for scoring 10/10 in her spellings.
Miss Tootill's HWA Inspiring STAR is Alexia for trying her best in her spellings and inspiring others to try their best.
Mrs Davies' STAR of the week is Daniel for coping well with change of routine this week.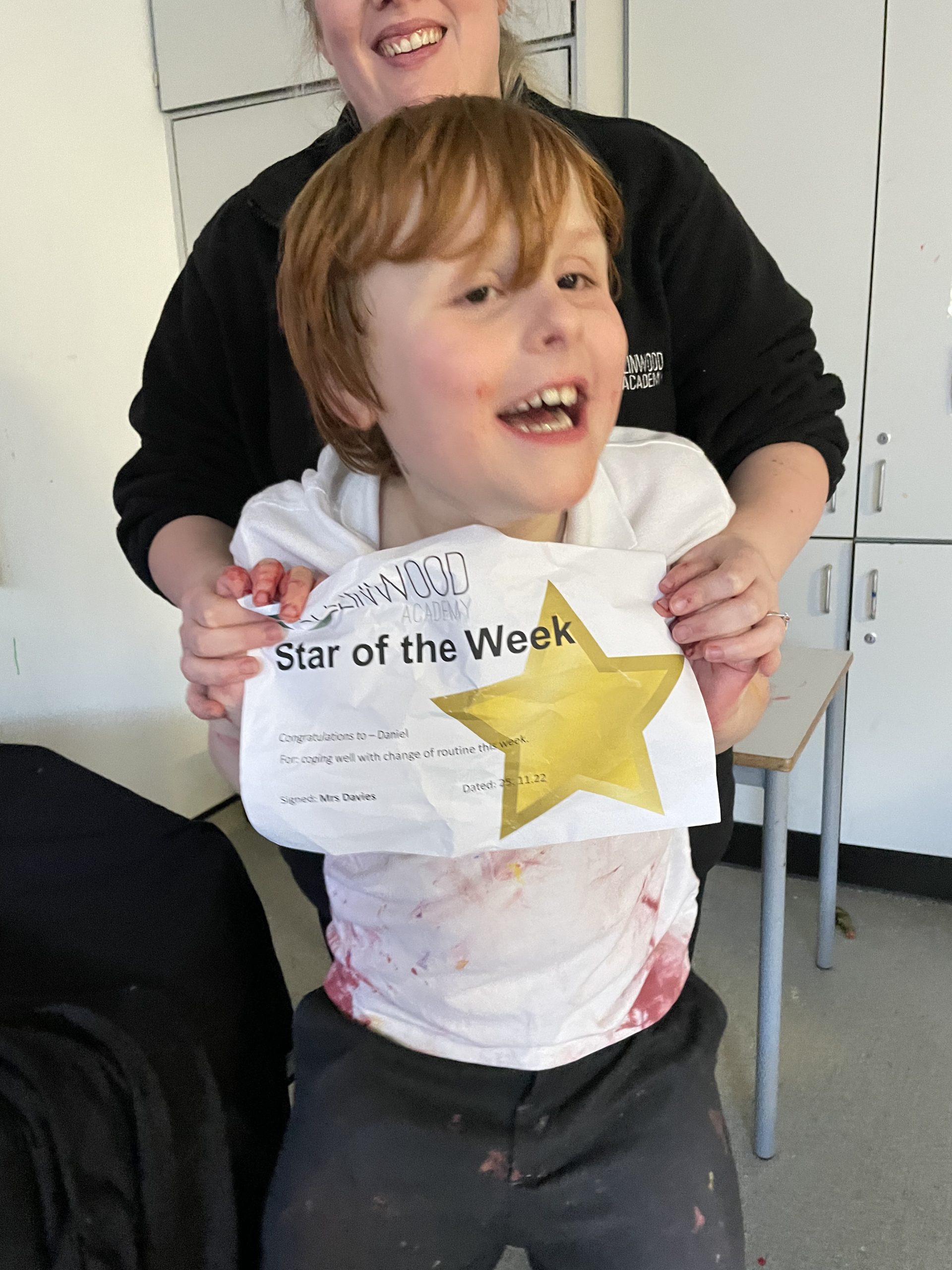 Miss Parkinson's STAR of the week is Andie for trying hard in lessons this week and improved behaviour.
Mrs Parkinson's HWA Inspiring STAR is Oliver for also trying hard in all lessons this week and improved behaviour.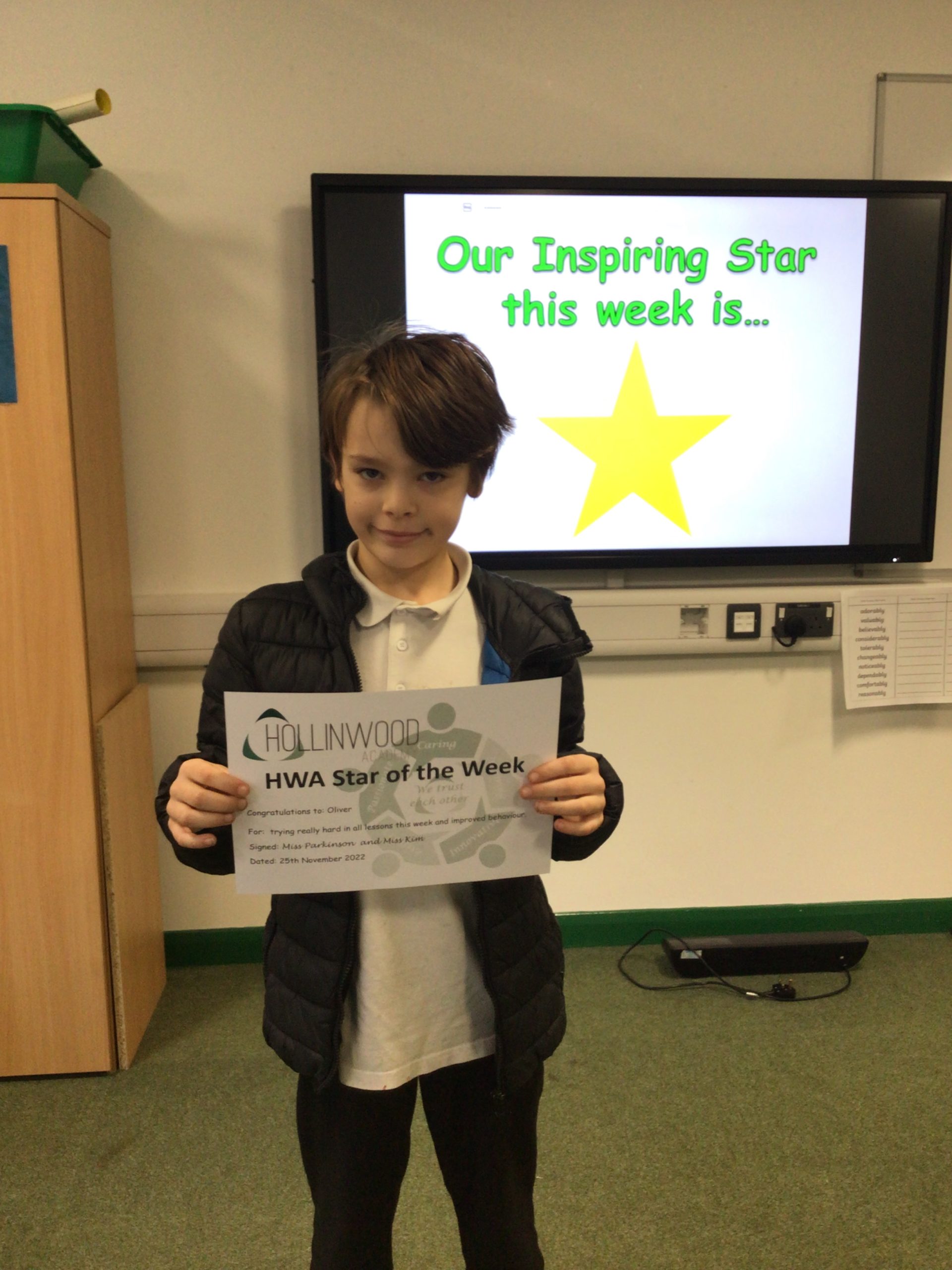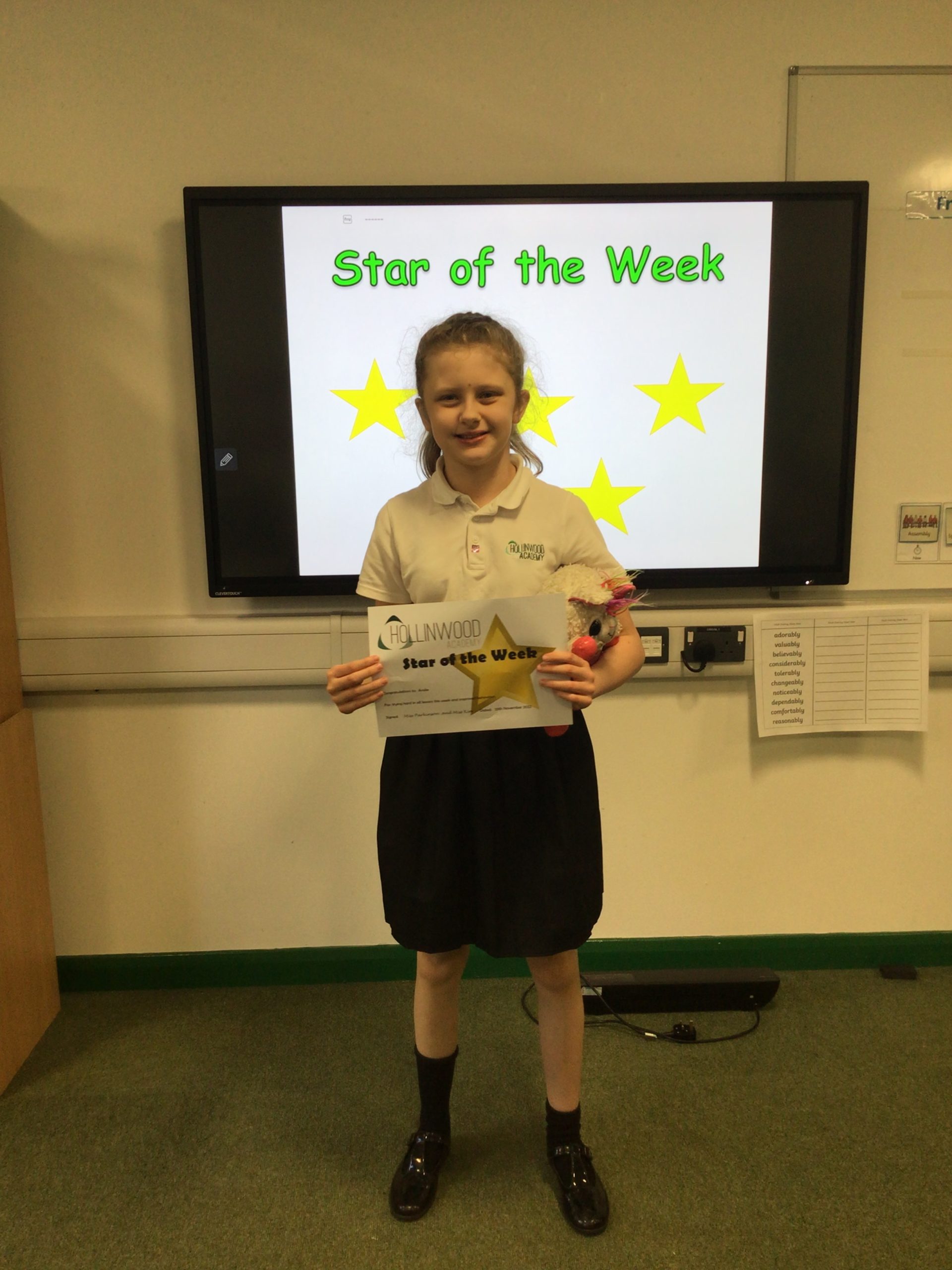 Mrs Matthew's STAR of the week is Marley for altering his mindset on a tough day and trying his best in Music.
Mrs Matthew's HWA Inspiring STAR is Tyler for showing dedication to his learning and achieving 10/10 in his spellings this week!
Well done to our secondary Hollinwood Academy STARs this week: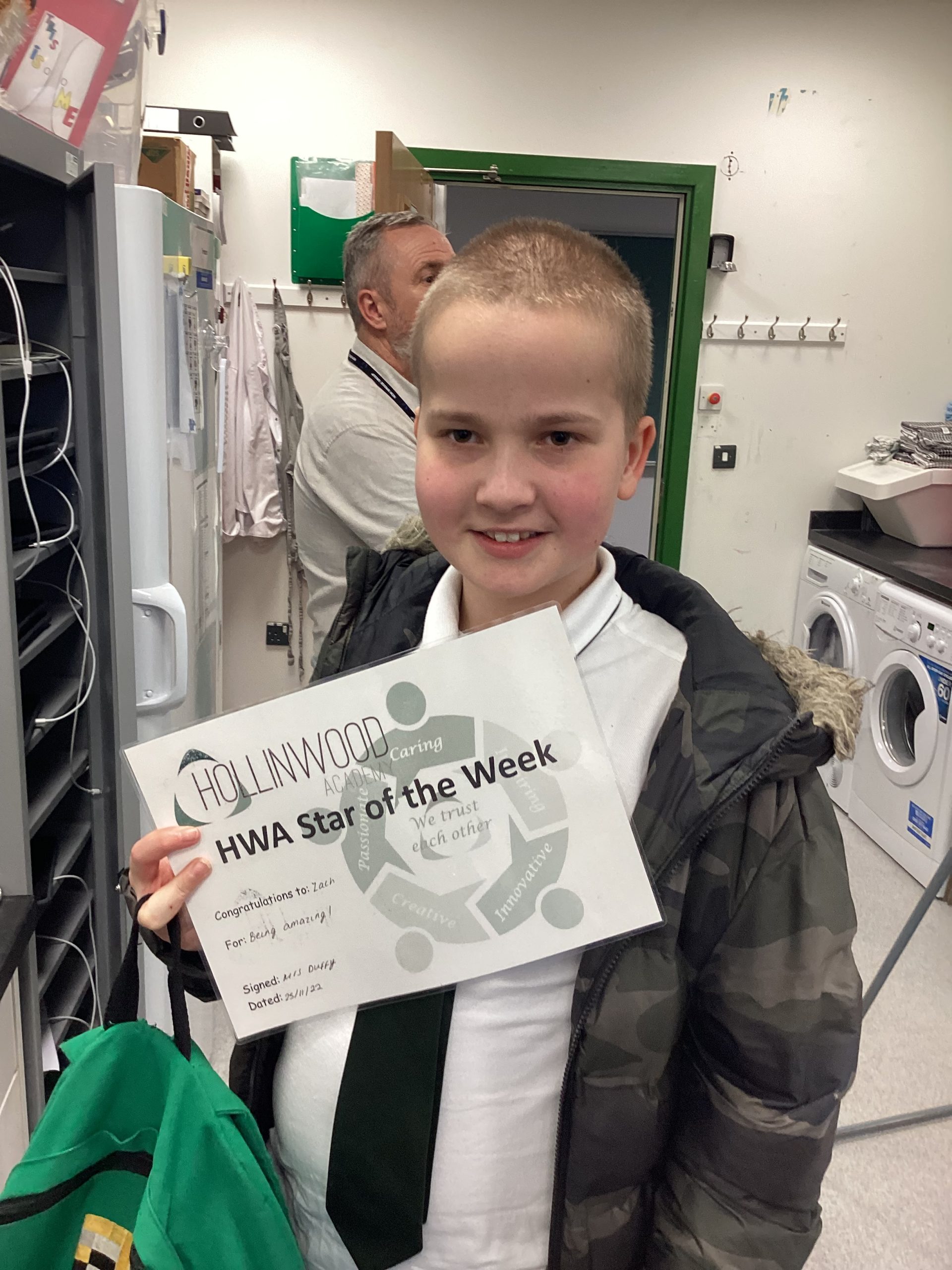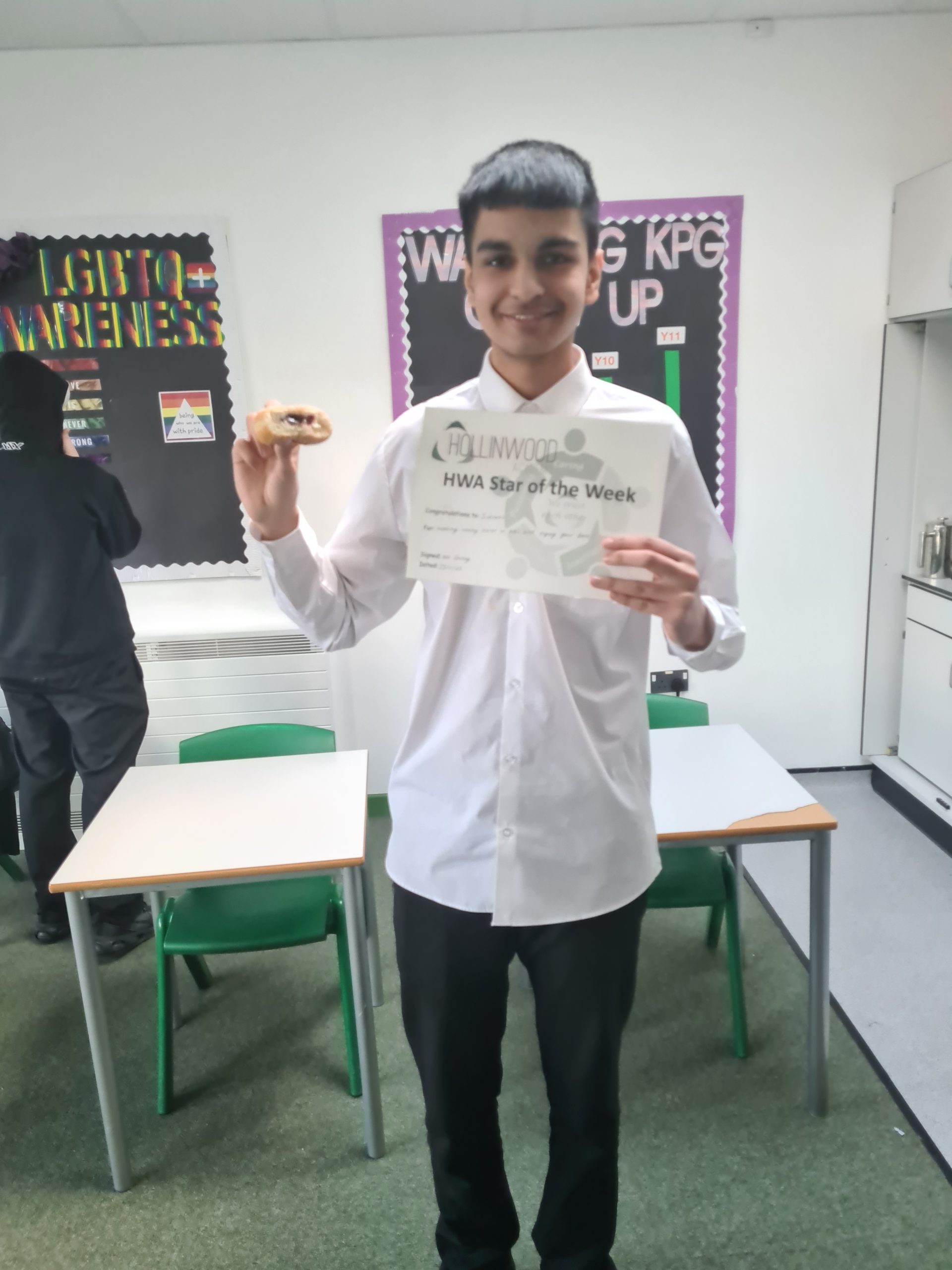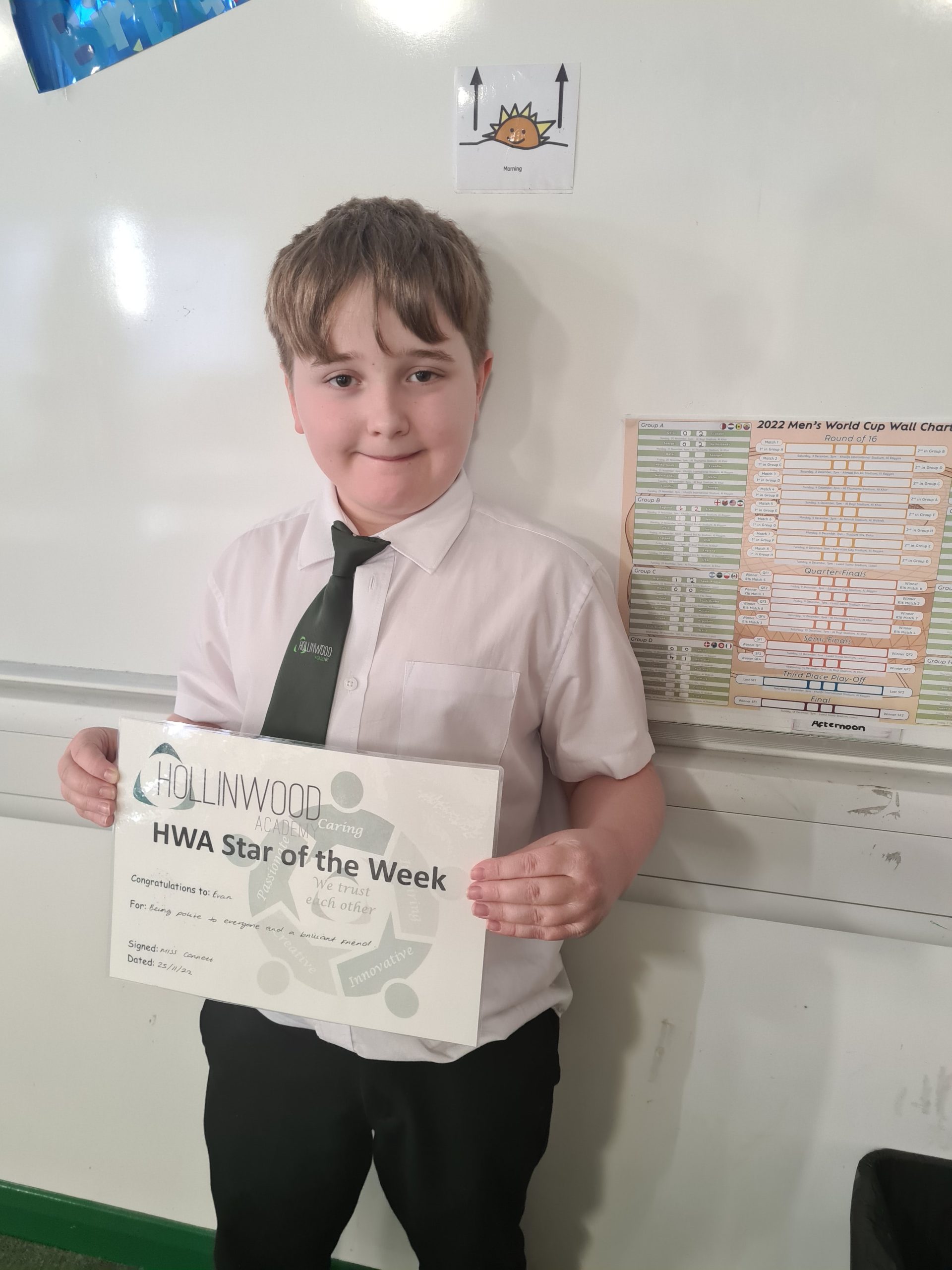 I hope you have a lovely weekend. We have a busy weekend of football, netball and dance as well as a family meal for my mum's birthday. We will certainly be watching the football this evening as England take on the USA in Qatar and we are hoping for another 6-2 win for England. Come on ENGLAND!!!
Mrs Millard