Blog 07.10.2022
I can't believe another week has passed since my last blog. I don't know where the last five weeks have gone and it will soon be half term.
On Tuesday we had our first open morning for prospective new families. We had 29 families who attended the tours at both primary and secondary. There was a good mix of all key stages and they thoroughly enjoyed their tours. We have another open afternoon for secondary students on Tuesday 11th October, 3.30-6.30pm. I am sure this will be another popular turn out as the Year 6 students decide on their secondary placements for next academic year.
This week has also been week two of lesson observations and it has been amazing to see all of our children and young people settled into the new school year. This week, we have observed attention autism, English, phonics, science, food technology, IT, art and music. Lesson observations underpin great professional learning experiences. Seeing what's happening in the classroom makes self-reflection, coaching, mentoring and sharing practice more effective. I also love to see how the children are progressing and achieving.
Let's see what some of the classes have been doing starting with Mrs Davidson's class…
"I would like to start off by saying how proud myself and the staff team are of the whole class for settling back into our daily, school routine.
Our topic this half term has been the Romans. We've enjoyed dressing up as a Roman soldier and working together as a class to create one. We have looked at the battle between the Celts and the Romans and used Google maps to explore the different places Boudicca had burnt. This week we enjoyed looking at what poor Romans would eat, we made our own bread and porridge and explored different vegetables that they ate.
In science we have explored different plants and trees. This week the focus was different parts of a tree. The class enjoyed going for a walk to look at the trees we have on school grounds before returning to class to make our own sensory trees with different objects.
This term in maths we are focusing on place value, we have enjoyed using a sensory approach to help us, by using a sensory approach I have noticed fantastic progress in engagement already."
Now to Mr Page's form…
"This week, in maths, 10KPG have been studying trigonometry while in English they have been continuing their explorations of JB Priestly's 'An Inspector Calls' – by looking in depth at each character in the Birling family and their culpability in Eva Smith's death.
Meanwhile, in science, students have been studying diffusion and cell cycles. In history, students have been looking at the history of medicine.
In RSE, the students have been focusing on mental health and social stigmas surrounding it.
The preparing for adulthood curriculum has seen students look at budgeting. While in employability, students have been looking at understanding human rights and the importance of arguing for them.
In the students' options choices, those taking food technology have been looking at making sauces – including a delicious cheese sauce using a roux.
For those students on the Duke of Edinburgh award, they have been exploring the area of Castleshaw, come wind, rain or shine! All in all, 10KPG have had another terrific week and have worked fantastically well."
Now to our amazing SUPER STARs and HWA Caring STARs
Mrs Lerigo's STAR of the week is Silva for amazing calm work and brilliant engagement with the sensory tasks.
Mrs Lerigo's HWA Caring STAR is Lyla for being more understanding of others, and finding the funny side of things rather than getting frustrated.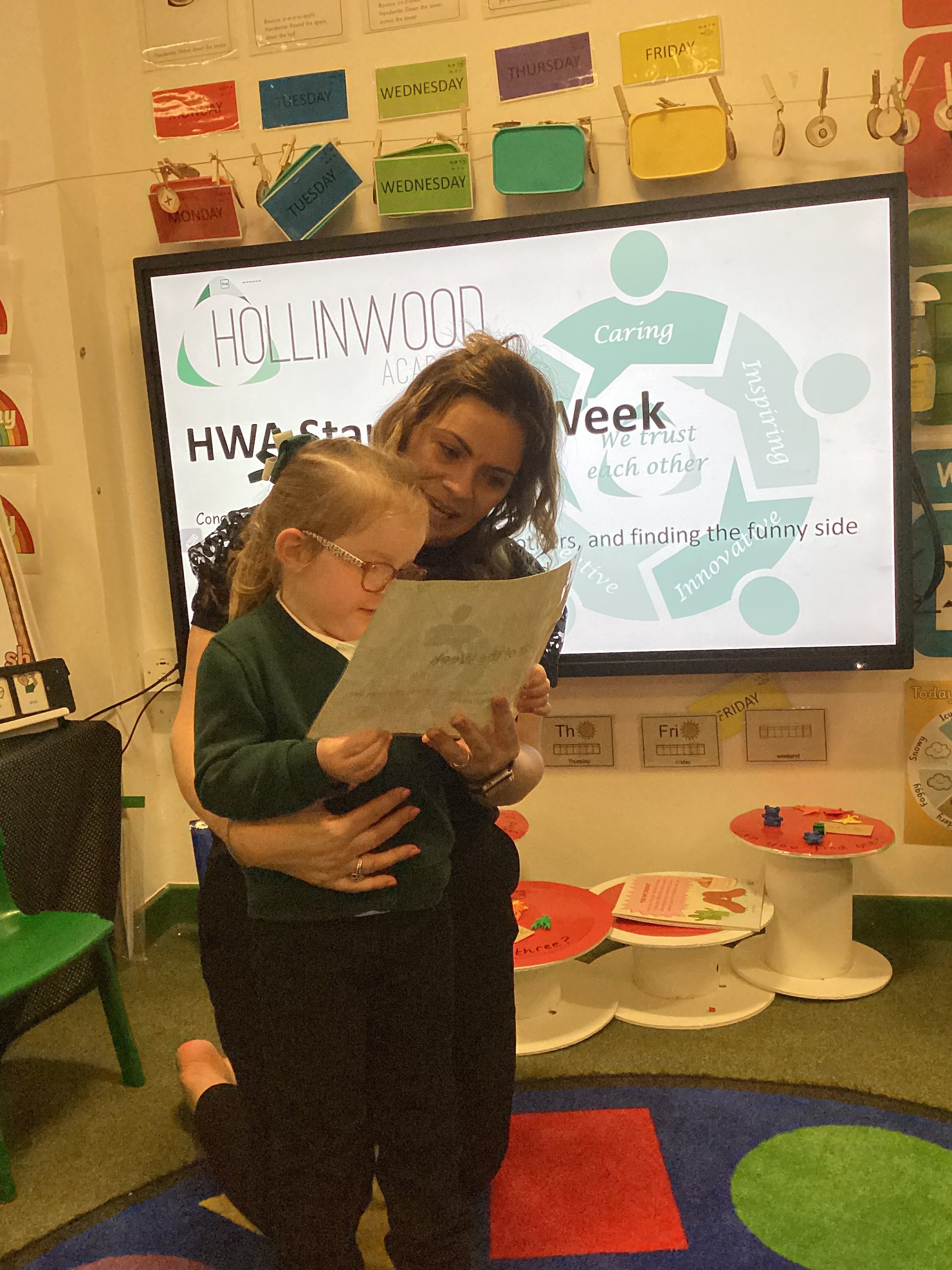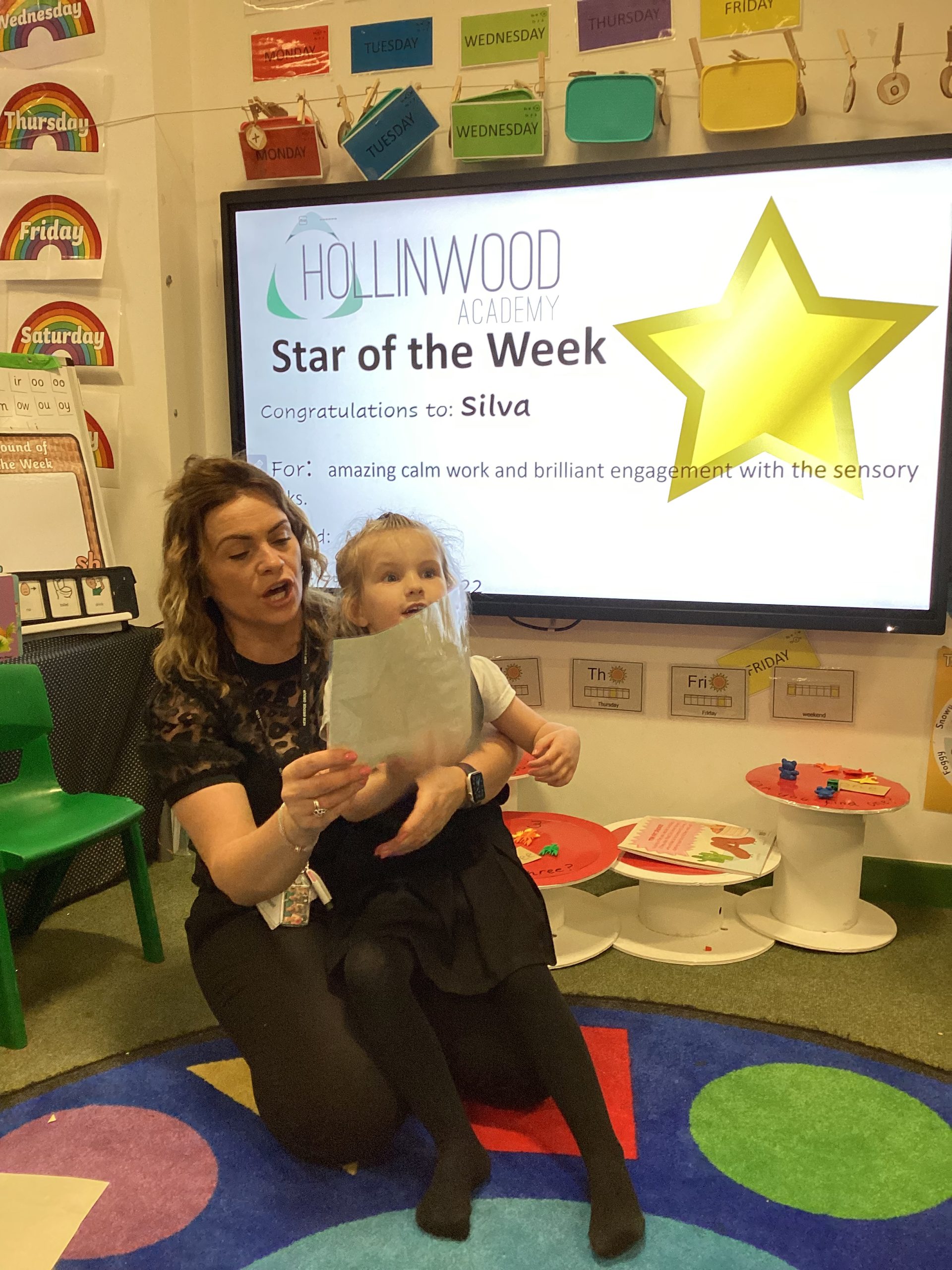 Miss Oakley's STAR of the week is Oliver for his participation in science, exploring different climates by touch.
Miss Oakley's HWA Caring STAR is George for trying his best to make friends and showing them that he cares.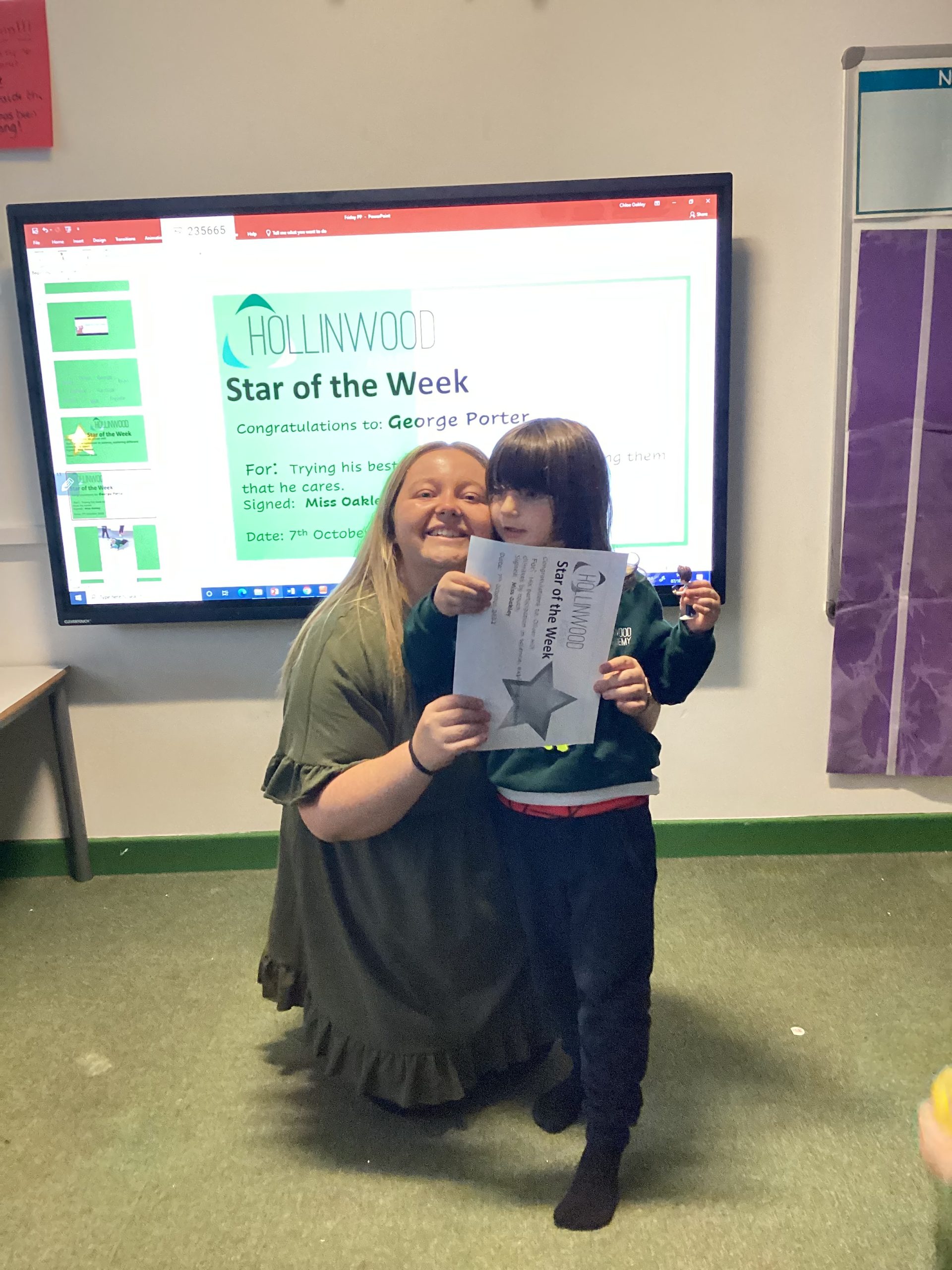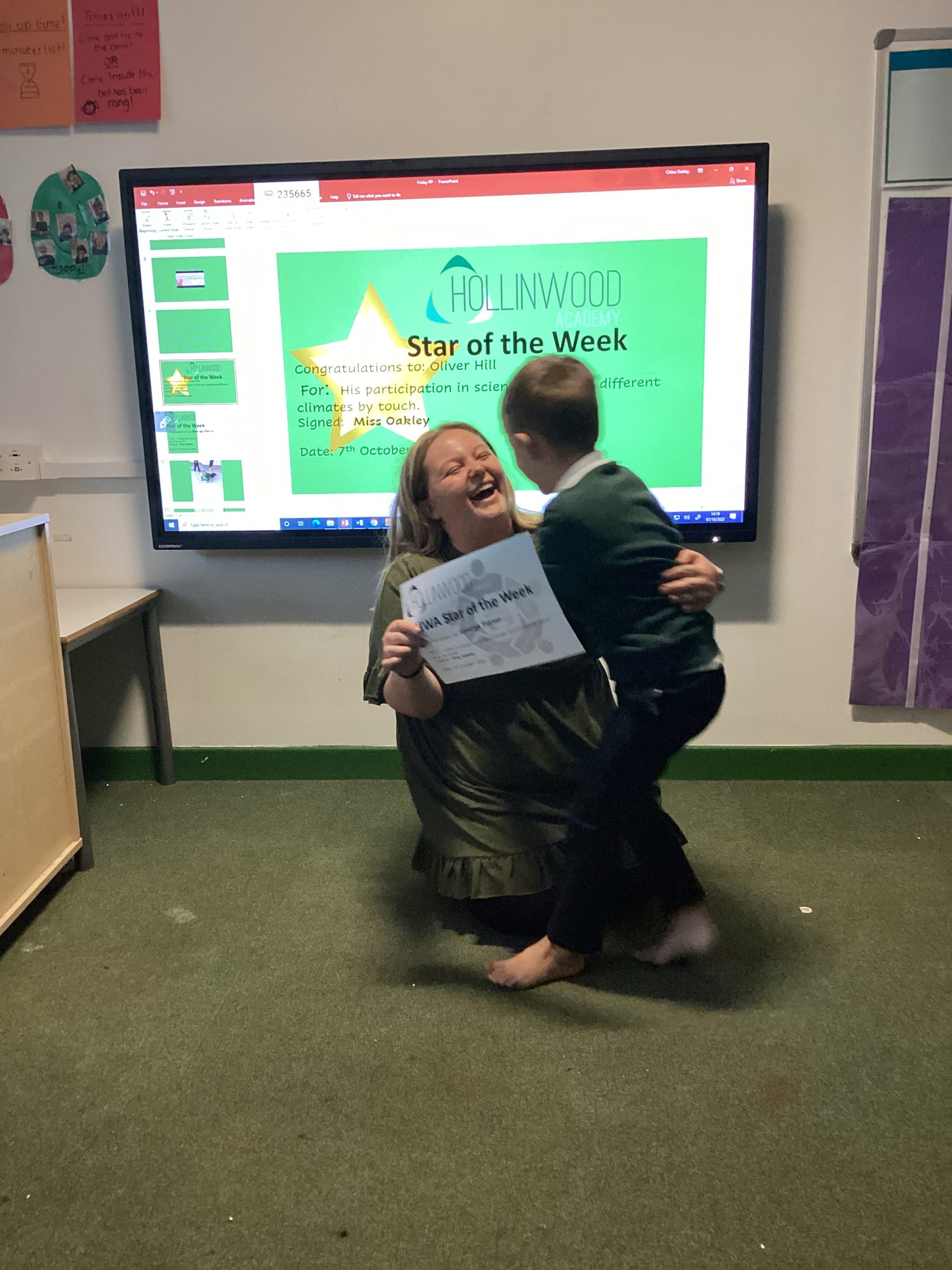 Miss Meadows' STAR of the week is Noel for repeating some language and increased attention in his work.
Miss Meadows' HWA Caring STAR is Jack for being helpful to his peers during communication sessions.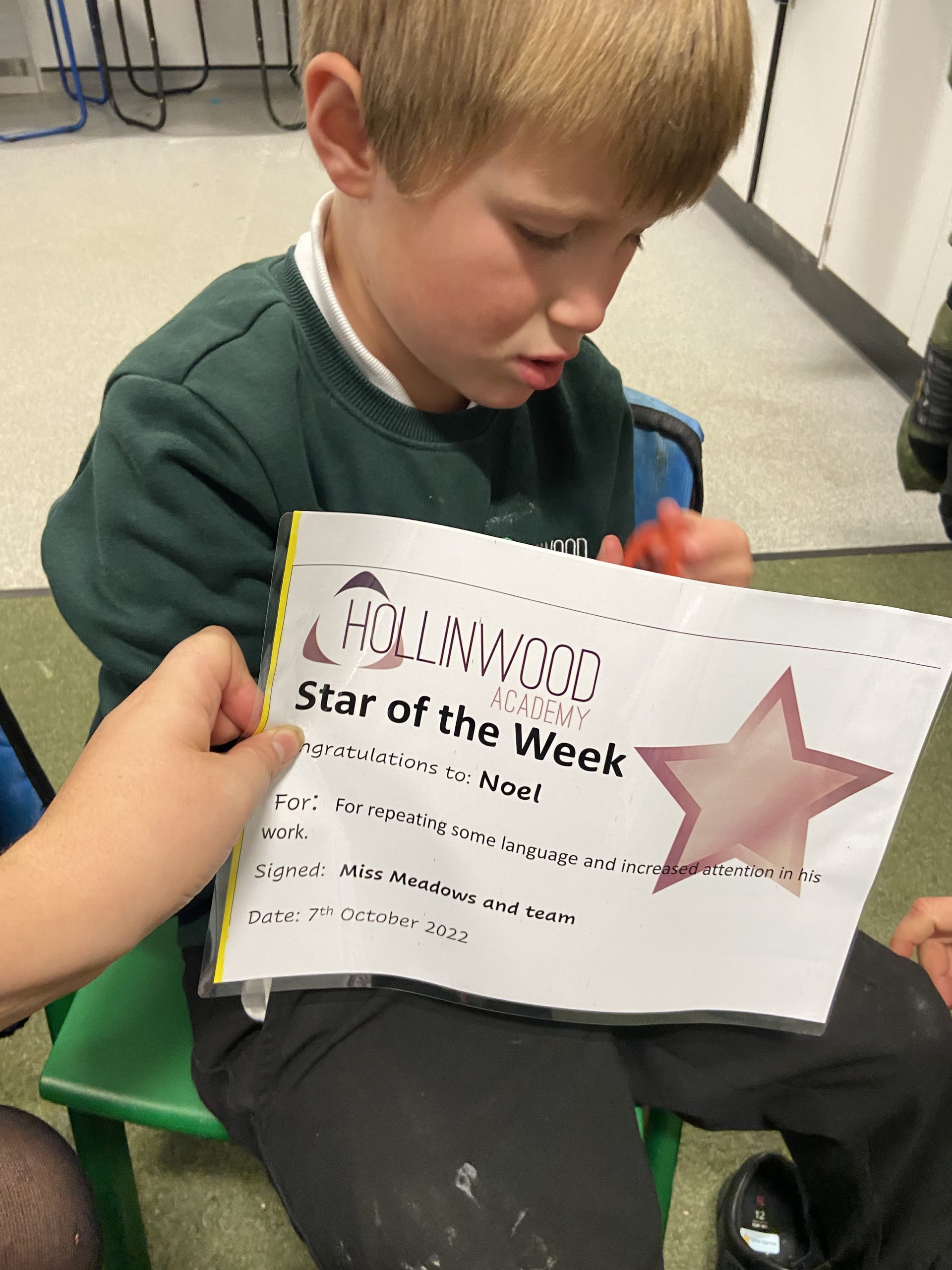 Mrs Woodhead's STAR of the week is Louis for initiating play with an adult and sharing a book.
Miss Pietraszewska's STAR of the week is Lewis for using polite words when ordering his dinner in the canteen.
Miss Pietraszewska's HWA Caring STAR is Mysha for looking after her friends and making sure they are wearing a hat when is cold.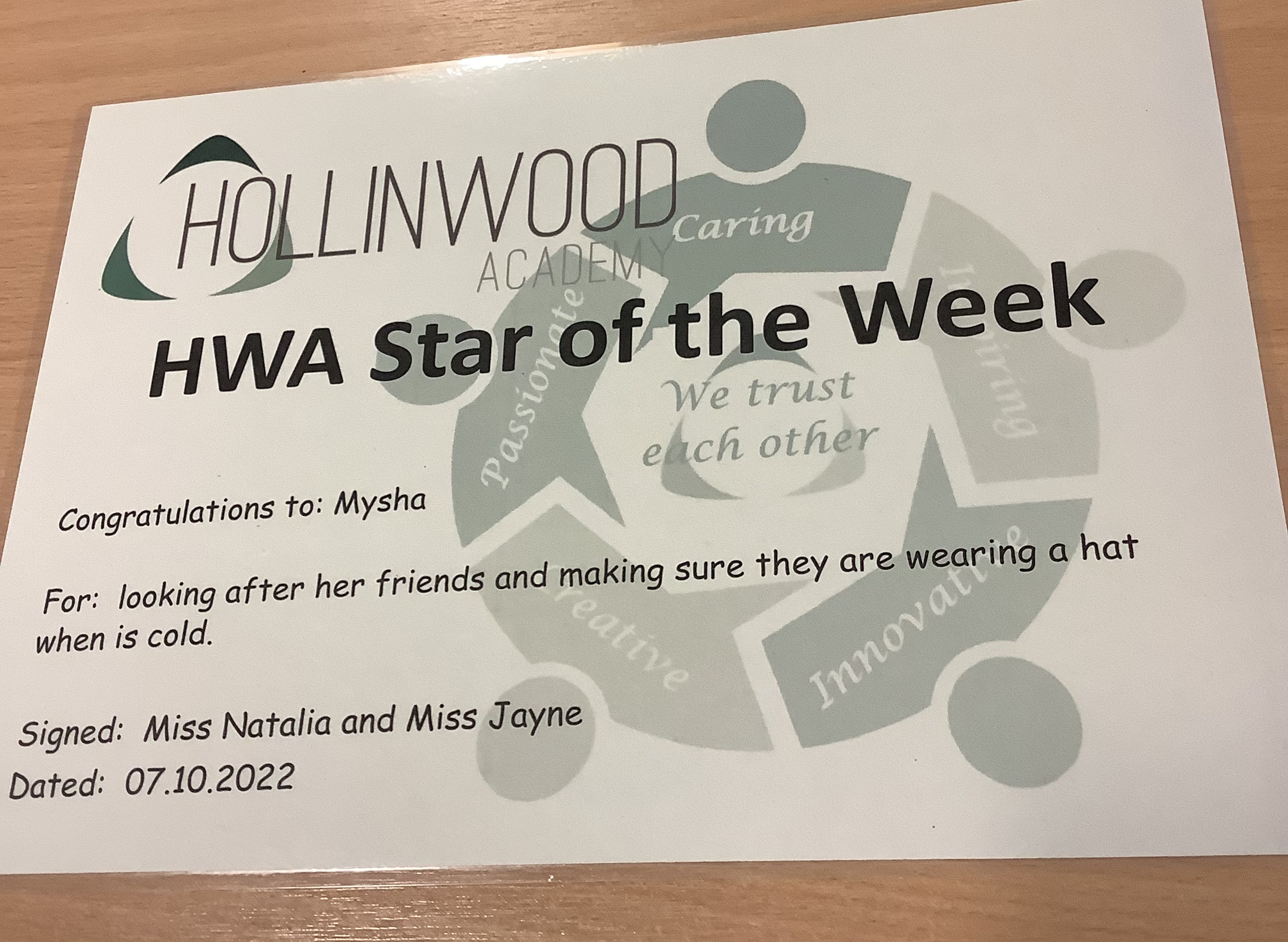 Mrs Halkyard and Miss McDonald's STAR of the week is Cole for super team work in Science this week. Well done!
Mrs Halkyard and Miss McDonald's HWA Caring STAR is Shane for demonstrating our Autumn target 'We Are Caring' by always being kind to my friends.
Mr Corrigan's STAR of the week is Jason for settling in really well to his new school.
Mr Corrigan's HWA Caring star is Oscar for holding the door for a friend.
Mr Corrigan's WOW moments go to Jared, Jason, George, Brooke & Derry. Well done!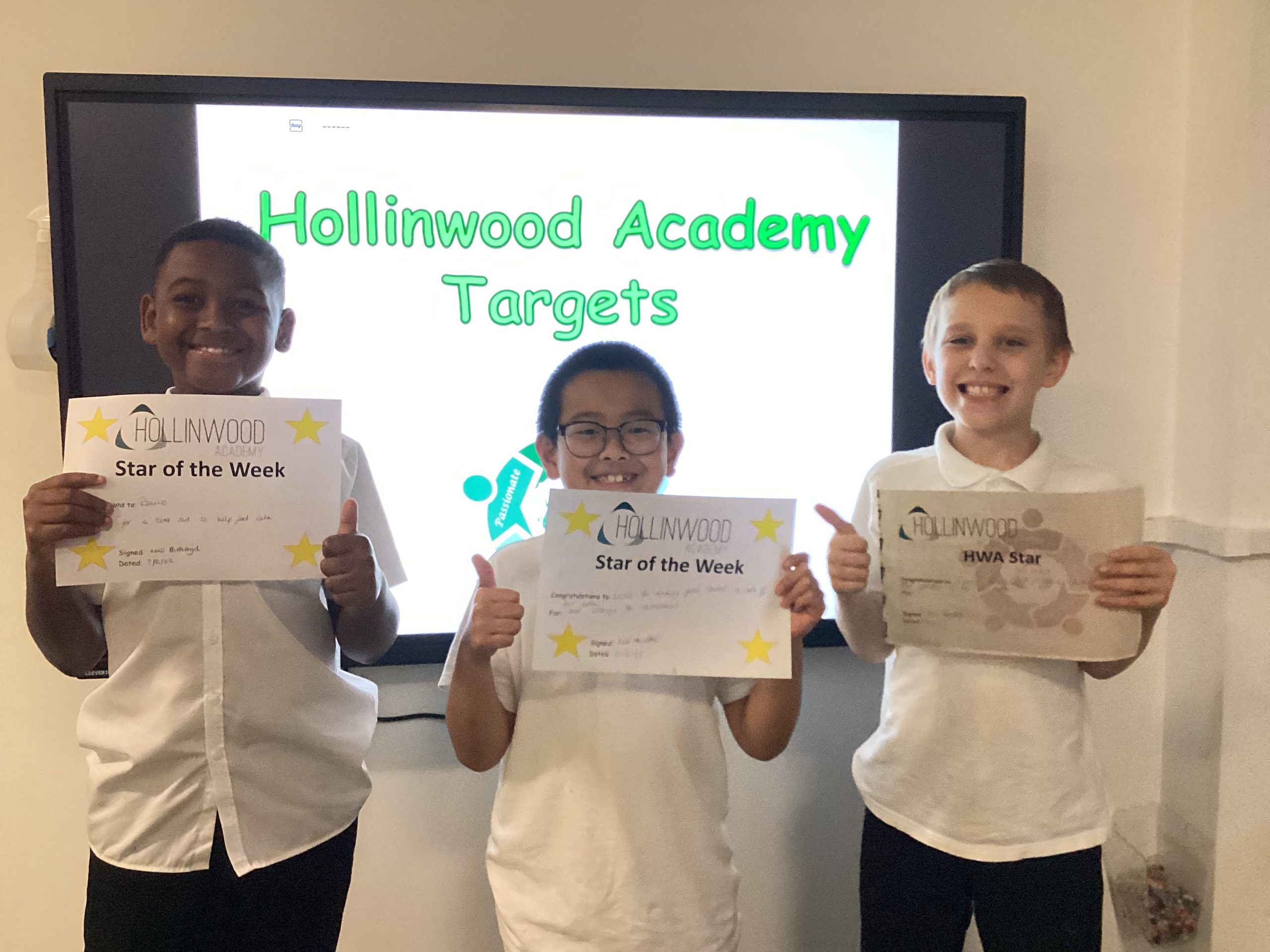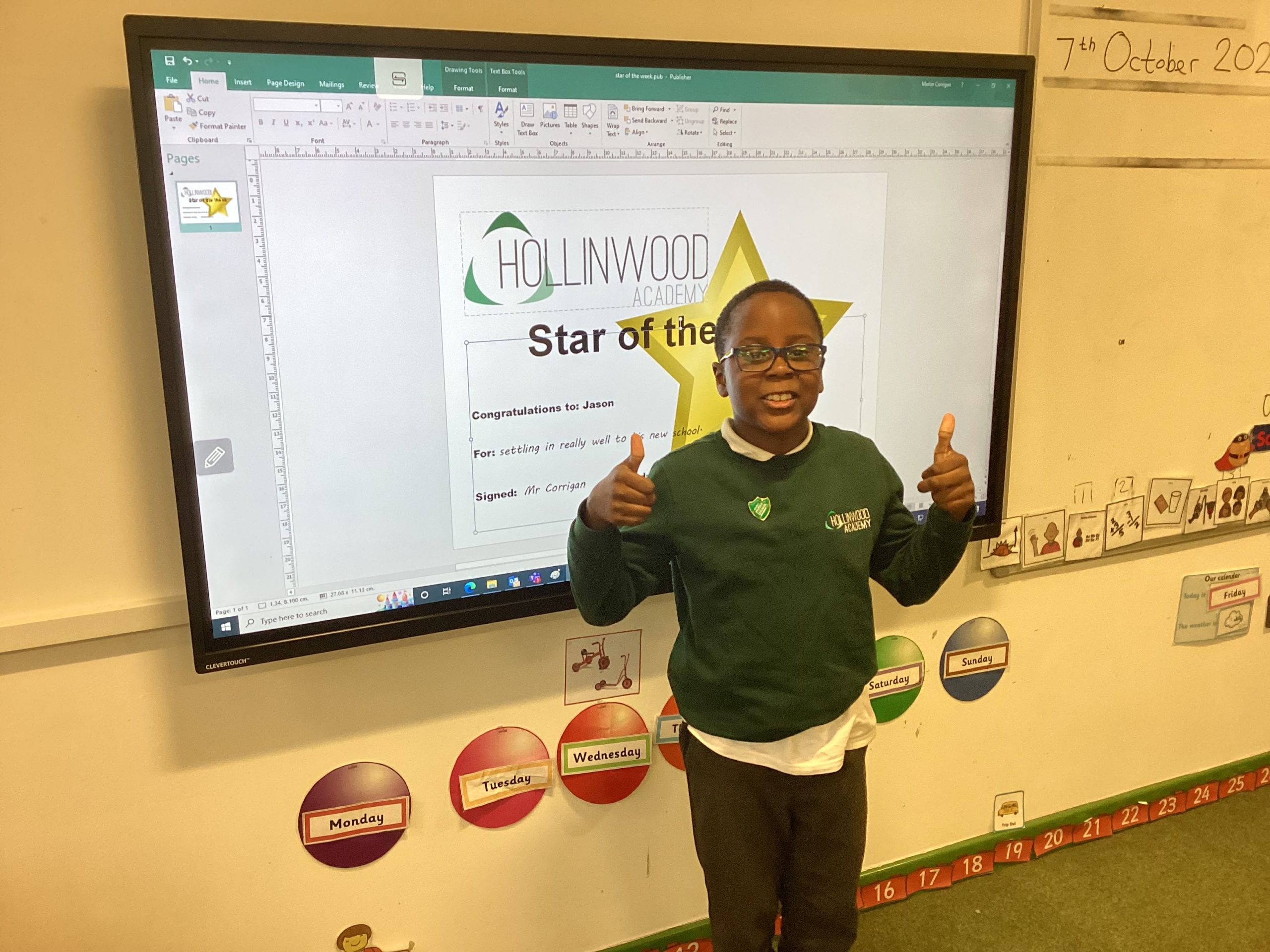 Miss Prescott's STARs of the week are Renico for asking for a time out to keep calm and Lucas for making good choices in all of his lessons and following instructions.
Miss Prescott's HWA Caring STAR is Ebon for heling a friend fasten their seatbelt to keep them safe.
Miss Tootill's STAR of the week is Zack for listening to instructions and making the right choice.
Miss Tootill's HWA Caring STAR is Dylan for being caring and helpful in class.
Mrs Davies' STAR of the week is Daniel for using his PECS symbols to request de-escalation techniques.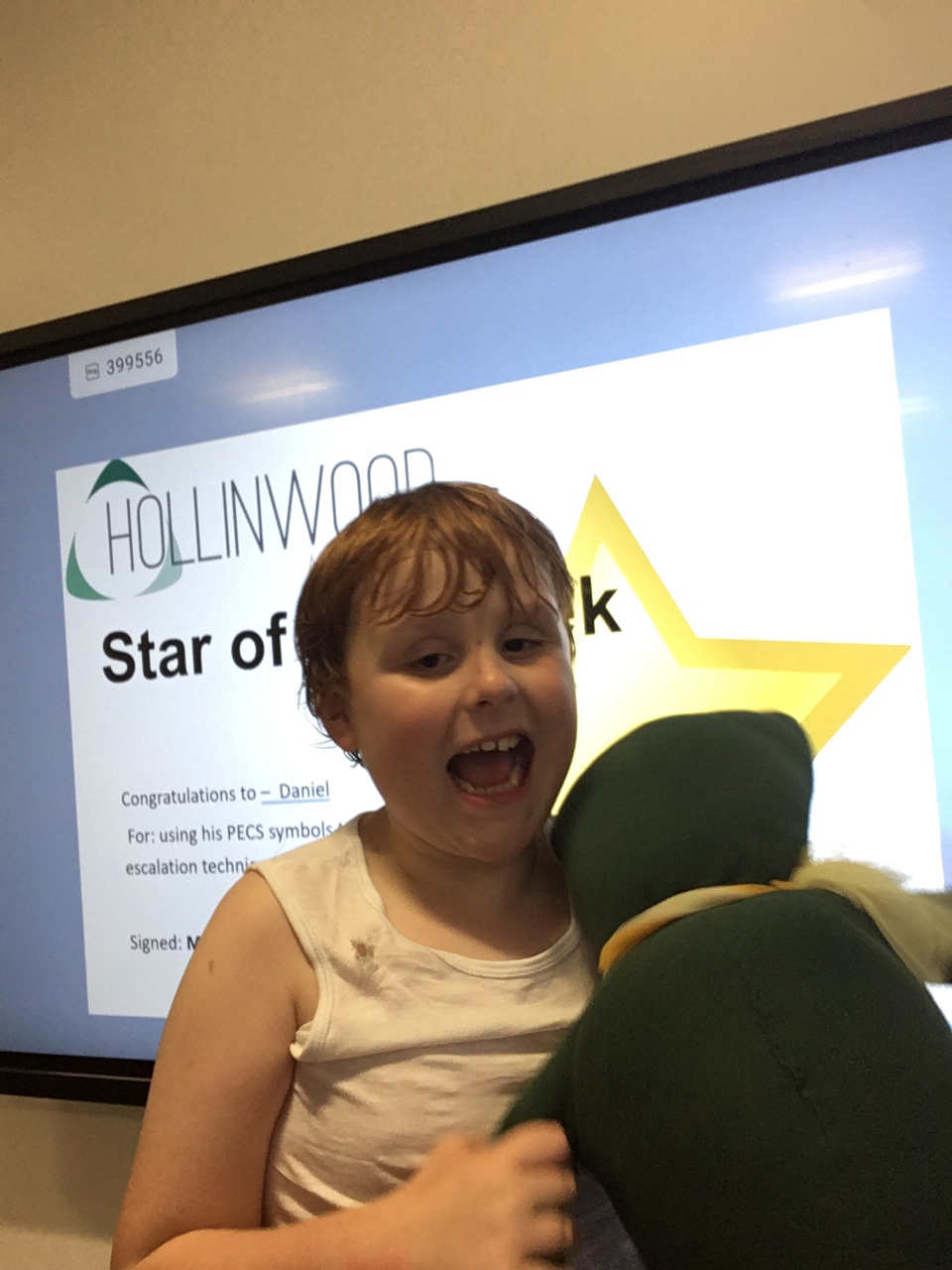 Miss Parkinson's STAR of the week is Lucas for showing resilience with his maths work this week.
Mrs Parkinson's HWA Caring STAR is Oliver for showing he is caring by being courteous and holding the doors open for staff.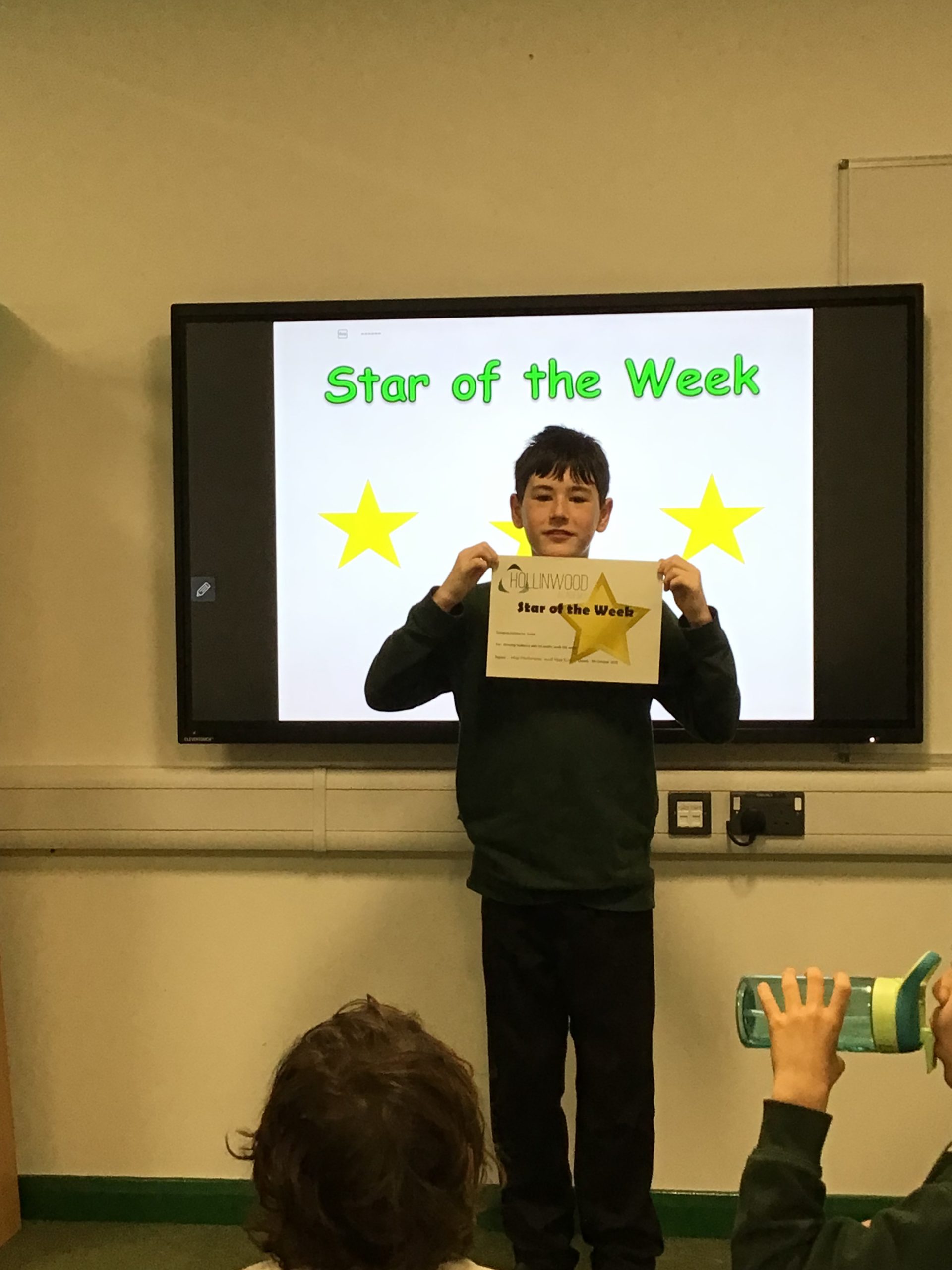 Mrs Matthews' STARs of the week are
Joshua for his contributions to our debate work and 
Tyler for  a wonderful fact file about the Megladon. 
Mrs Mathews' HWA STAR of the week is
Ethan for checking on his friends safety. 
Now to our 'Commitment to Learning Stars':
We are busy planning our October holiday club and letters have been sent to families to gather an interest. Please note the deadline for expressing your interest is Friday 7th October 2022 or we will be unable to allocate your child a place.
Don't forget that we are supporting the charity Young Minds and their #HelloYellow mental health awareness campaign. As part of this, we would like to invite all our children, young people and staff to wear something yellow on Monday 10th October and bring in a donation to support Young Minds.
I hope you have a lovely weekend.
Mrs Millard