Blog 30.09.2022
Last week the whole school was in discussion about our student council and anti-bullying ambassadors. This week, we have welcomed our new student council and anti-bullying ambassadors and they have all been presented with their new badges.
Here are our Secondary student council (some of our students did not want their pictures taken):
Brody
Victoria
Ryan
Thomas
Ibrahim
Brayden
Bobby
Alex
Alfie
Dekon
Olivia
Thomas
Josh
Dominique
Mariam
Aaron
Alfie
Thomas
Here are our Anti-bullying ambassadors (some of our students did not want their pictures taken):
 Callum
Joshua
Oliver
Cameron
Oliver
Edward
Zach
Luke
Prez
Lucas
Emily
Luca
Alex
Ali
Shaun
Finley
The children and young people were thrilled to be awarded with their new titles and the school council held their first meeting this week. I can't wait to work with these students this year to help improve our school community.
Let's see what some of the classes have been doing starting with Miss Tootill's class…
"What a fantastic return to school we've had! We can't believe we are already four weeks into the school year and on behalf of myself, Miss Sutcliffe and Mrs Booth, we want to say how well are children have settled back into learning. Last week we appointed Alexia to represent our student council – well done Alexia!
Jake, Fatima, Connor, Madison and Zack have continued to demonstrate our Hollinwood Academy school values and greeted our new starters Dylan, Millie and Alexia with a friendly smile.
In History we have explored the terrible Tudors and we continue to learn about the stars, moon and wonders of space in Science. In PE, Mr Ottoway and Mr Leeson have played games and taken us to our local swimming facilities to embrace our swimming skills.
On behalf of myself, the classroom support and our children we can't wait to share our learning journey over the next academic year and wish our families the very best!"
Now to Miss Bones' form…
Settling back into school with 10CBS!
"The staff in 10CBS are so pleased by the students all getting stuck back into their work and preparation for their GCSEs."
Science
"In science we have been researching different types of cells in plants and animals. We looked at the roots in cress and the cells in celery, which let us bring our knowledge to real life.
We also investigated diffusion at different temperatures and concluded that diffusion is much faster in hot water."
English
"This half term in English, we have been looking at the play 'An Inspector Calls'. We have looked into the language techniques used by the author J B Priestly and the effects he may have wanted upon the readers. We also analysed the traits of the characters to see how they were portrayed in 1912 when the play was set."
Maths
"With our GCSE preps starting, in Maths, we have been learning about congruent triangles. We have been using our mathematical knowledge to figure out whether or not triangles are congruent, with reasons why. We've also been practicing to draw triangles with precise lengths and angles using compasses and protractors."
Options
Food
"In Food, we made Mac n Cheese. We practiced careful measuring of ingredients. We've also had to make sure our concentration was on point, as we did not want a lumpy sauce for our pasta! We will be focusing on making a roux for our next practical."
Art
"We completed our research project on the German artist Karl Blossfeldt, stuck some images of his most famous work in our sketchbook and then had a go at making an Artist Copy of our favourite image to practise our tones!"
DofE
"In DofE, we have been exploring different walking routes around Castleshaw. We have been building our stamina each week, as the walking routes have been becoming trickier. We enjoy getting fresh air, seeing some amazing views and embracing nature when we have DofE. We've spotted some horses, sheep and alpacas!"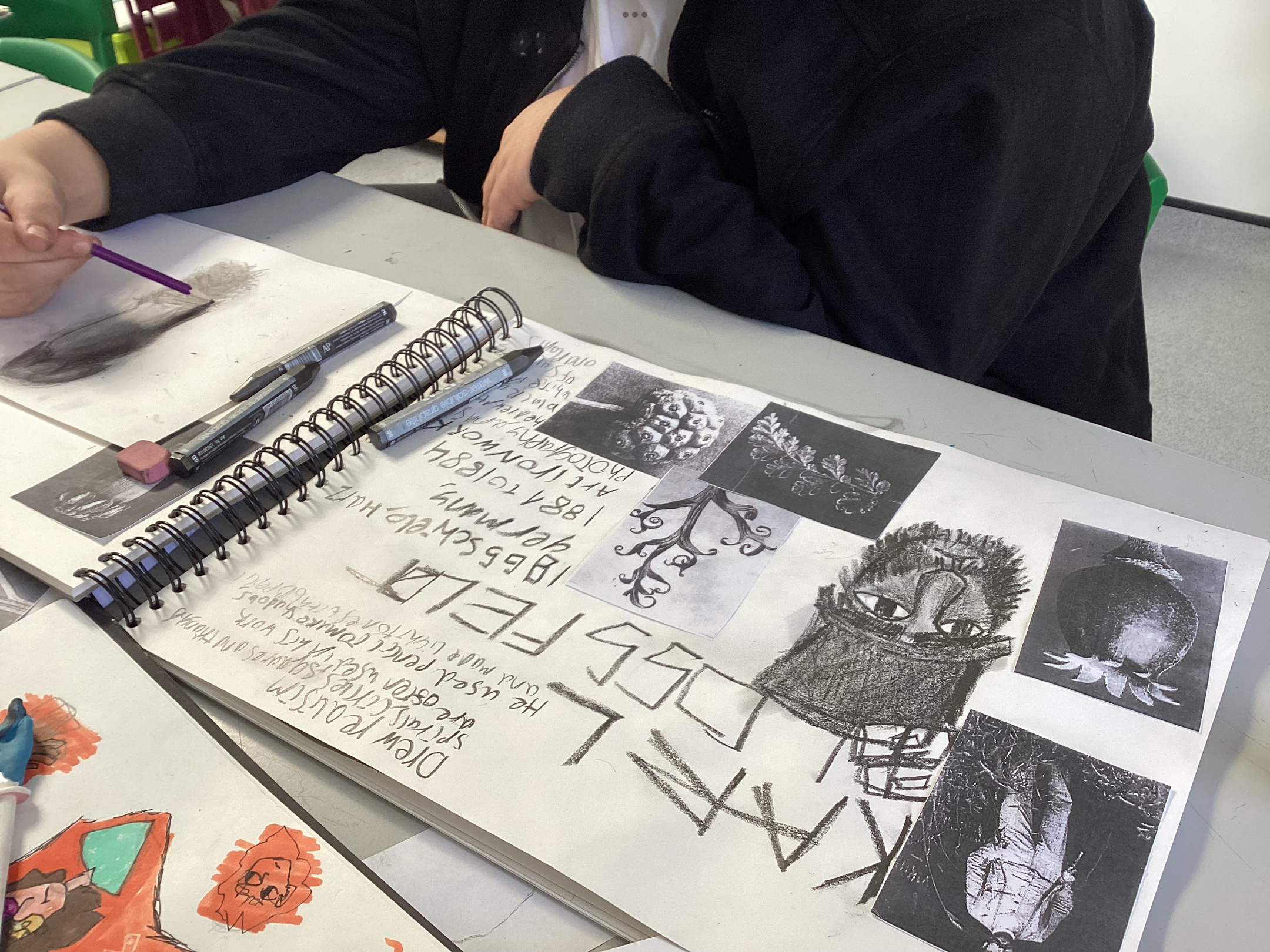 Now to Miss Nuttall's form…
"In food technology the class learned how to different sauces and experimented doing so with various techniques. Everyone did really well with their sauces and enjoyed taking some home with them.
In English, we finished the book 'The Woman in Black' by Susan Hill which is an excellent ghost story. The class have been looking at the context of the story, which is set in Victorian England, as well as Susan Hill's reason for writing a period ghost story. They have also been exploring how the writer creates atmosphere in the book and have written some amazing paragraphs of analysis!
This week we went to Castleshaw for Outdoor Education on Monday and enjoyed the morning breeze walking around the countryside.
In science they have been learning about biodiversity and extinction and in drama they have started reading the play DNA by Dennis Kelly. They have enjoyed getting in role and reading out parts!"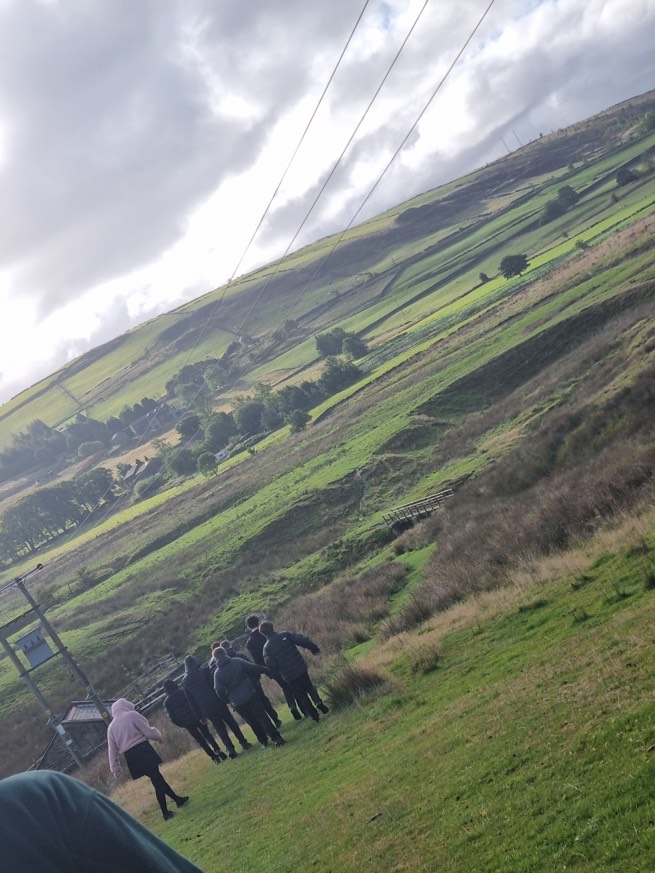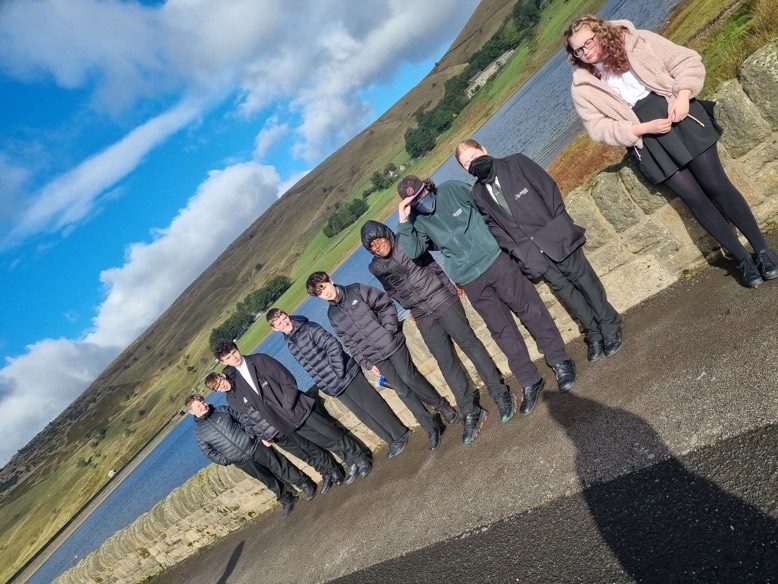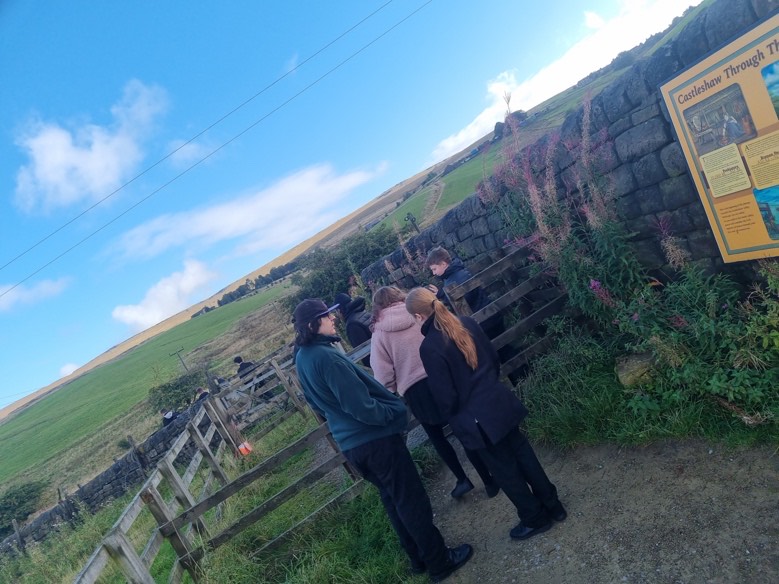 Now to our amazing SUPER STARs and HWA Caring STARs…
Mrs Lerigo's STAR of the week is Alfie for using the symbol timetable brilliantly.
Mrs Lerigo's HWA Caring STAR is Silva for being much calmer and making everyone happy with her smile.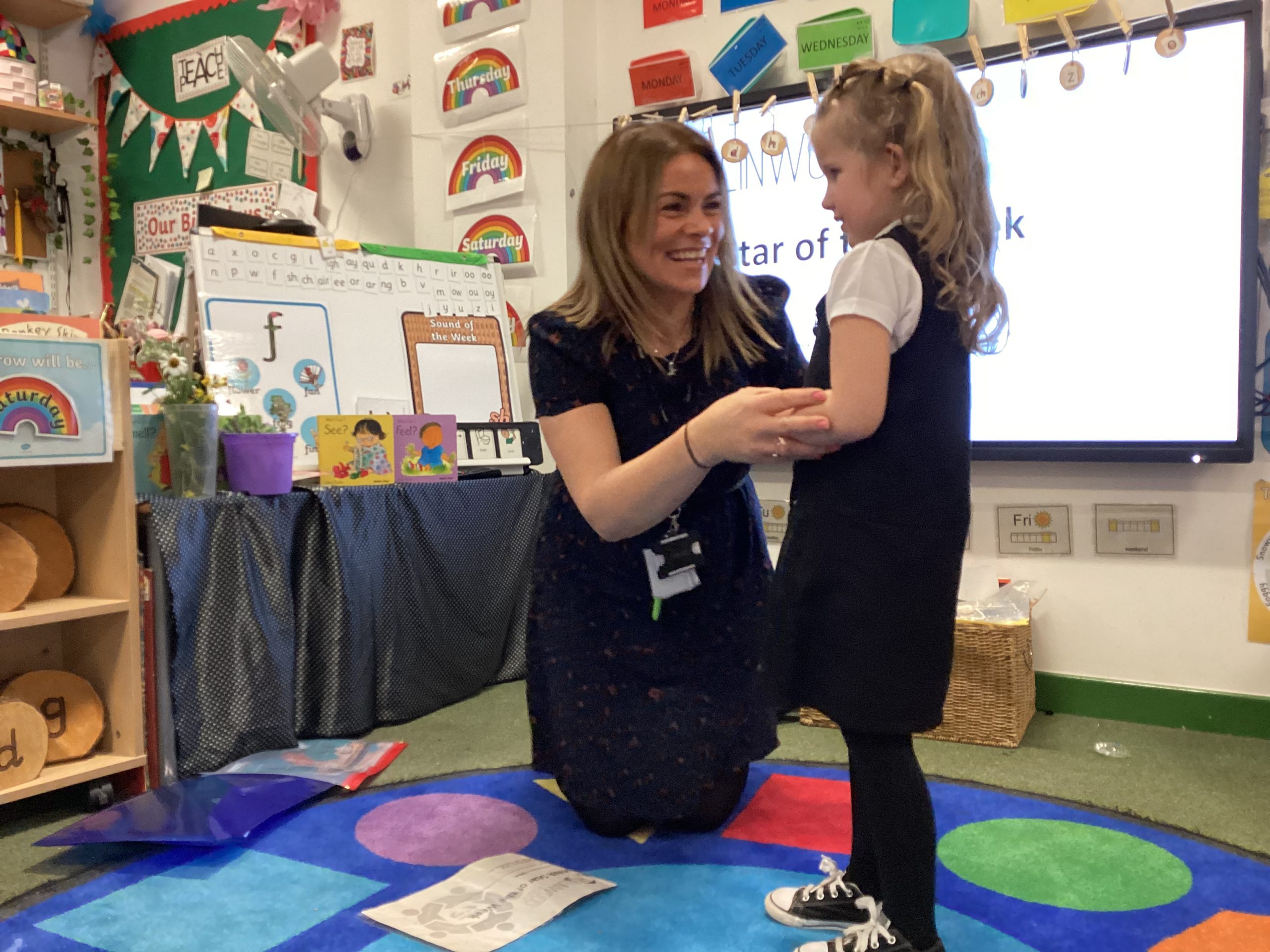 Miss Oakley's STAR of the week is Euan for his outstanding participation in all subjects this week.
Miss Oakley's HWA Caring STAR is Zachary for trying to cheer up his friends when they were sad.
Miss Meadows' STAR of the week is Ohud for paying attention and using his language skills to communicate his needs.
Miss Meadows' HWA Caring STAR is Maja for being kind and sharing in the playground with others.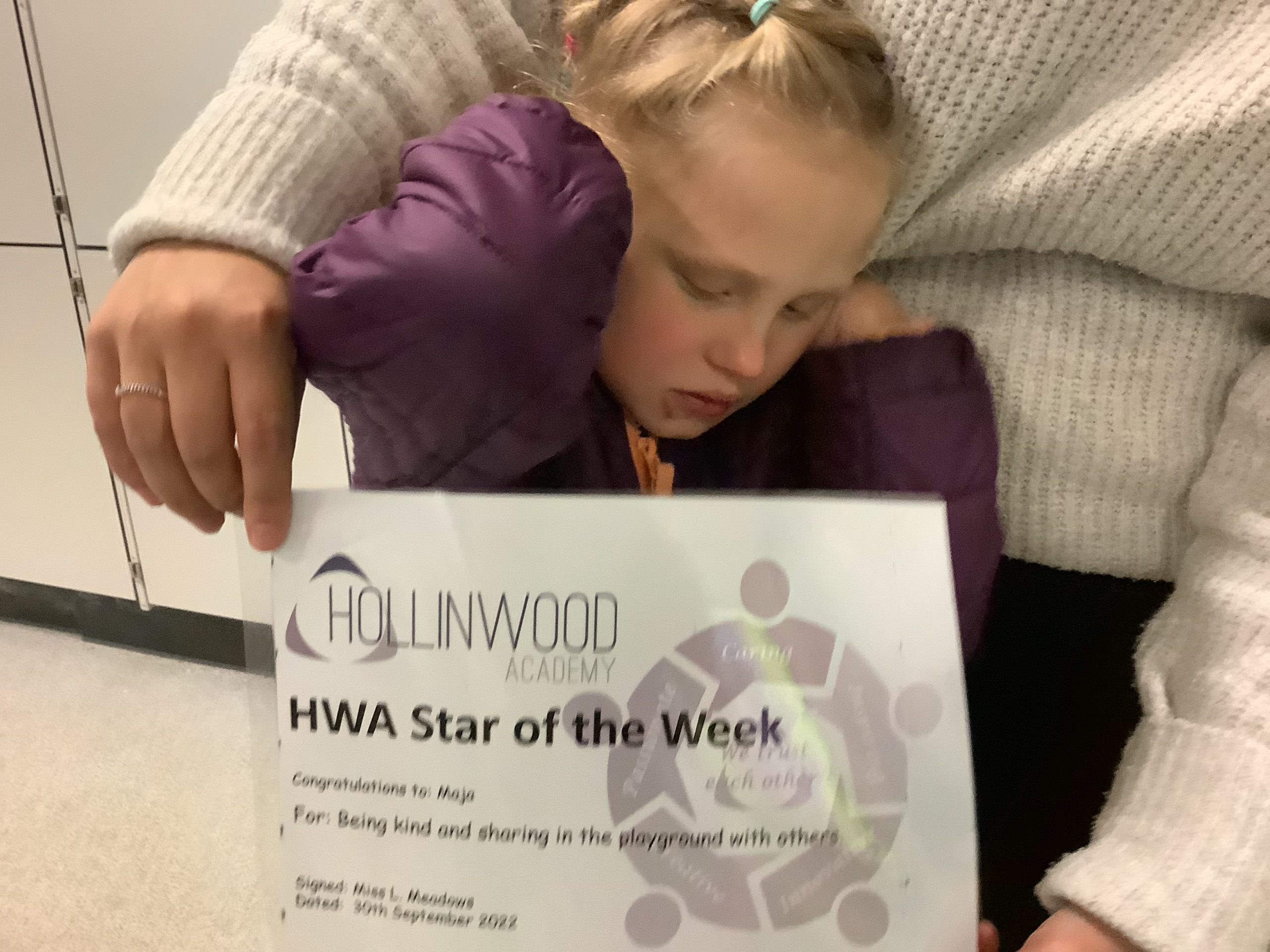 Mrs Woodhead's STAR of the week is Riley for helping his friends tidy away the toys after an activity.
Miss Pietraszewska's STAR of the week is Eliora for great listening and following instructions.
Miss Pietraszewska's HWA Caring STAR is Maya for sharing with friends and making sure they are okay.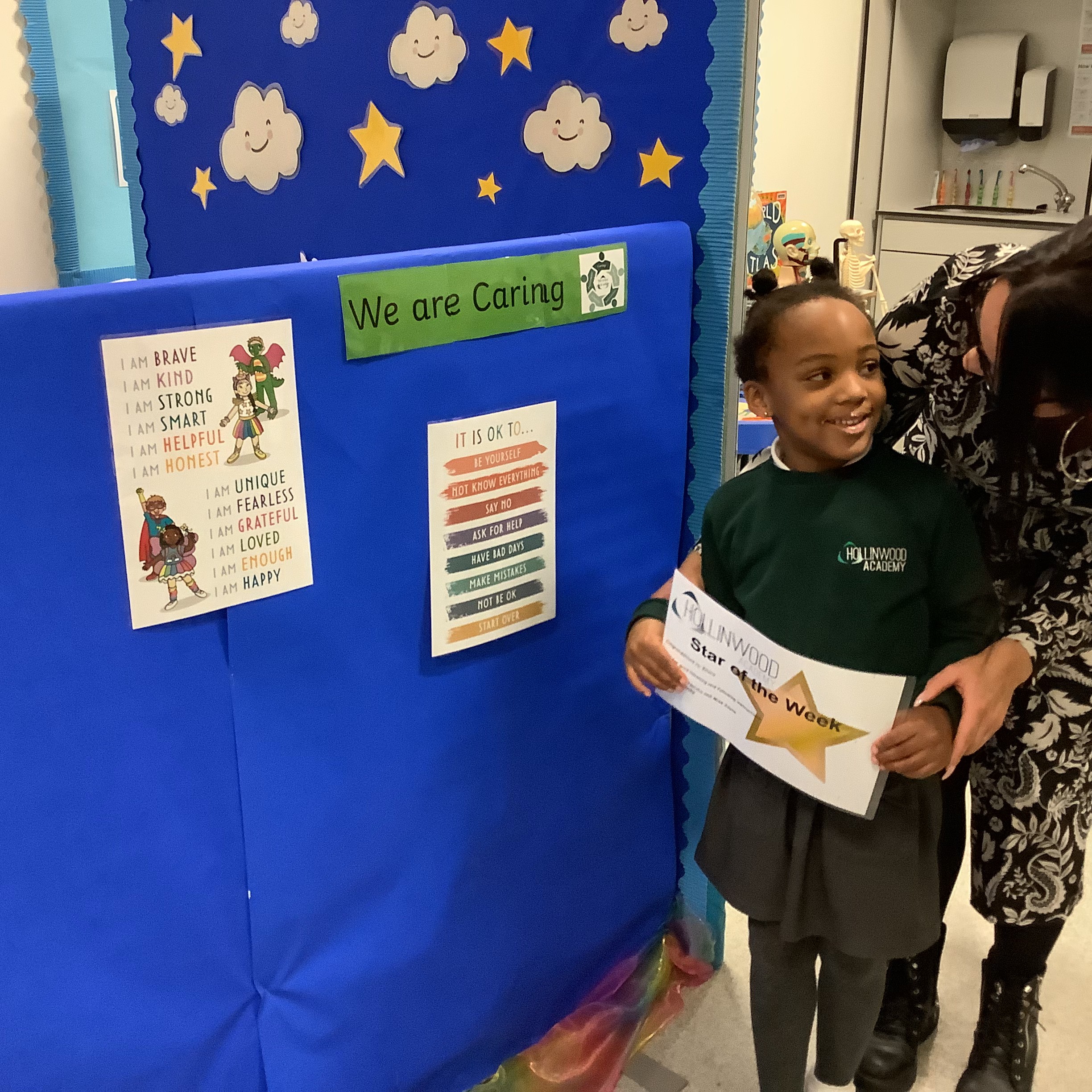 Mrs Halkyard and Miss McDonald's STAR of the week is Blaire for making the right choice after a tough start of the week! Well done, keep it up!
Mrs Halkyard and Miss McDonald's HWA Caring STAR is Loki for demonstrating our Autumn target "we are caring by being kind to my friend and offering her to go at the front of the line even though sometimes I struggle to not to be first."
Mrs Halkyard and Miss McDonald's DOJO winner is Logan. Well done!
Mr Corrigan's STAR of the week is Jared for a great start to the year.
Mr Corrigan's HWA Caring star is Lewis for being a good friend this week.
Mr Corrigan's WOW moments go to Brooke, Jason and Jared. Well done!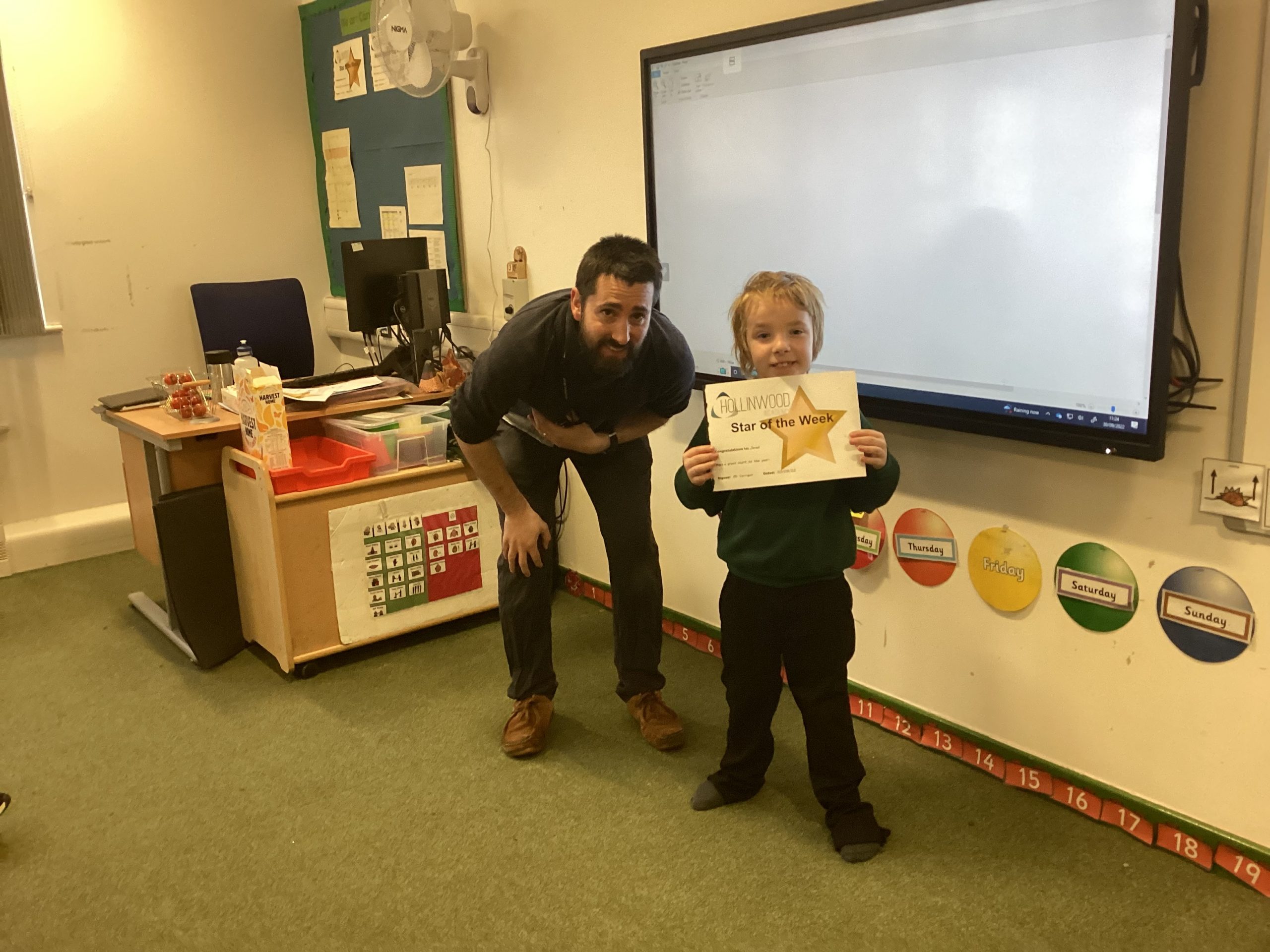 Miss Prescott's STAR of the week is George for using his iPad at home and school safely.
Miss Prescott's HWA Caring STAR is Renico for understanding his friends sometimes need a time out.
Miss Tootill's STAR of the week is Millie for working hard in maths and phonics.
Miss Tootill's HWA Caring STAR is Madison for demonstrating caring values.
Mrs Davies' STAR of the week is Shayan for expressing his feelings when he's been tired.
Miss Parkinson's STAR of the week is Daniel for not giving up with his maths work all week.
Mrs Parkinson's HWA Caring STAR is Lewis for showing he is caring each morning helping miss Parkinson.
Mrs Matthew's STAR of the week is Sam for always contributing fabulous ideas in lessons'
Mrs Matthew's HWA Caring STAR is Joshua for for always making good choices and for being a good friend.
Miss Tootill kindly organised a staff Macmillan Cake and Coffee Day today. Staff members brought a range of cakes and sweet treats that staff could enjoy at break and dinner and any loose change or donations were greatly appreciated. We managed to raise £74 that will be heading to Macmillan Cancer Support. It was lovely to see staff enjoying the treats and a fantastic effort from all involved but a big thank you goes to those who donated cakes and biscuits.
I have a busy weekend of birthday celebrations, netball, football and dance. I hope you have a lovely weekend too.
Mrs Millard